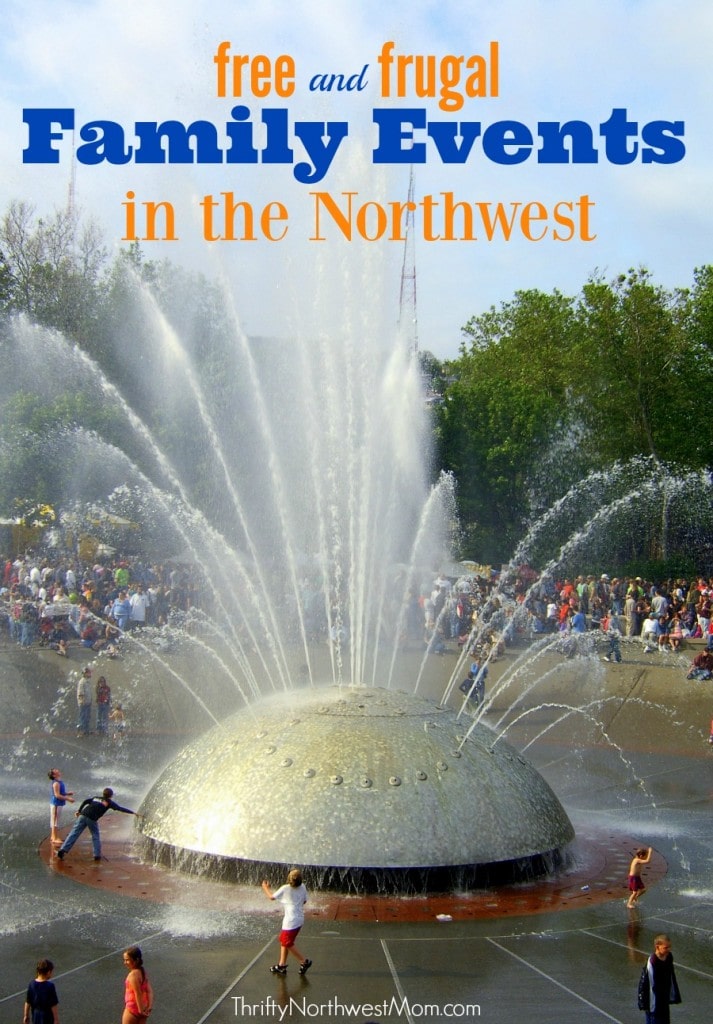 With Halloween just about a week away, we have a good amount of fun festive events popping up that are listed below! Something for everyone to enjoy this weekend. We even have a fun magic show, a grand opening of a new restaurant, a special showing and discussion of the documentary about Mr. Rogers, and more! We hope everyone has a great weekend.
Make sure to check out these fun ideas around the Northwest:
And if you find a fun, frugal event that's not listed, feel free to leave a comment so we can add that event to our list.
Cheap Event Tickets for Seattle Area
Head to Goldstar and select Family events to easily find these. Some of the tickets sell out fast, so it's a good idea to buy ahead if you see an event your family would want to attend!
School House Rock Live – Seattle; $12 (reg. $24)
Colville Corn Maze – Colville; Comp – $5 (reg. $6 – $8)
AMC Yellow Tickets – Anywhere Except CA, NY, NJ; $9 (reg. $13.50)
Comedy Sportz – Seattle; $5 (reg. $10)
How I Became a Pirate – Tacoma; $7.50 (reg. $15)
Find more Cheap Event Tickets for Seattle area on Goldstar HERE.
Cheap Event Tickets for Portland Area
Head to Goldstar and select Family events to easily find these.
KidsFest – Portland; $2.50 (reg. $5)
Schoolhouse Rock Live – Gresham; $7 (reg. $14)
Find more Cheap Event Tickets for Portland area on Goldstar HERE.
Things To Do in Seattle Area
Friday, October 19th, 2018
Film Screening: "Won't You Be My Neighbor?" with Mr. Rogers – Seattle; 6pm – 8:45pm; $5; Watch a special screening of the award-winning documentary featuring Fred Rodgers, "Won't You Be My Neighbor?" Doors open at 6 p.m. The movie begins at 6:30, ends around 8:05. Then after they'll have a parent discussion. Click HERE if you'd like to watch the trailer. Very good eye-opening documentary of Mr. Rogers, don't want to miss it. Pre-register online!
Funky Family Fall Festival – Seattle; 5:30pm – 7:30pm; Free; Come in costume and
enjoy carnival style games, crafts, haunted mini golf, and more! Costumes welcome.
Glow-in-the-Dark Skate Night – Seattle; 5:45pm – 7:45pm; $3; Enjoy themed music, games, raffles, a costume contest and more all with Glow in the Dark.
Hamlin Halloween Haunt – Hamlin; 6pm – 8:30pm; Free; Listen to spooky songs and stories as you toast marshmallows around a campfire, ride the hay wagon and play Halloween games.
Monster Bash – Seattle; 6:30pm – 8pm; Free; They'll have music, carnival games, face painting and lots of treats.They'll have a costume contest, so make sure yo wear you're costume!
Self-Guided Fall Tours at Remlinger Farms – Carnation; 10am – 3pm; $9; Have fun with this self-guided tour perfect for large and small groups activities include a pioneer home, corn mill, country fair theater, steam train, barnyard, hay jump, climbing wall and more.
Super Squash Scavenger Hunt – Bainbridge Island; 10am – 4pm; $17, $12 seniors & military, $10 students 13 to 18, $6 children ages 5 to 12, free for children 4 and younger; Be given a map and then try searching for all the hidden squash.
Story Time with Betsy & The PJ Library – Seattle; 11am; Free; Enjoy the songs, activities, and storytelling.
Fright Fest – Federal Way; Times Vary; Pricing Varies; From September 28th to October 28th you can witness the park be turned into a fun spooky atmosphere on the weekends.
Open Art Studio – Seattle; 10am – 5pm; $15 age 6 and older, $10 age 5 and younger; This sounds like fun to do, they even provide the materials! I have to admit I'm interested in checking out this "splatter" room they have.
Mommy Matinees at the Movies – Seattle; 9:30am; Children 5 and Under Free, Adult tickets are Matinee Pricing; Every Friday you can show up with your young children and don't have to worry about interrupting anyone with a crying or antsy little one. Actually, enjoy yourself, worry-free.

Saturday, October 20th, 2018
Exploration For All: Autism Early Open – Seattle; 8am – 10am; Free; All families affected by autism spectrum disorder are invited to explore Pacific Science Center during a special free morning visit before they open to the public. Explore without heavy crowds, softened general lighting and decreased the noise level.
Fall Foliage Festival – Federal Way; 10am – 4pm; Free;  Enjoy the  fall colors at the Rhododendron Species Garden. Check out the plant and pumpkin sales, enjoy fall treats, and view pop-up artist demos. Gardening workshops and garden tours, too.
Harvest Festival – Carnation; 10am – 4pm; Free; They'll have hay rides, a pumpkin patch, food, crafts, animals and more. Some activities may require a small fee.
Mercer Slough 25th Anniversary Open House – Bellevue; 10am – 4pm; Free; Celebrate 25 years of hands-on environmental science programs and nature exploration at Mercer Slough Environmental Education Center! You can tour the site, classrooms and take a hike through the wetland and forest.
Caspar Babypants Concert – Seattle; 10:30am – 11:30am; Free; Enjoy a free concert for the kids from local kindie favorite Top Pot Donuts.
Super Squash Scavenger Hunt – Bainbridge Island; 10am – 4pm; $17, $12 seniors and military, $10 students 13 to 18, $6 children ages 5 to 12, free for children 4 and younger; Have a fun day with the family and grab a map to hunt for the pumpkins and squash! Fun active event for the whole family. You're just paying for park admission.
Family Magic Show at the Seattle Center – Seattle; 1pm – 2pm; Free w/ $5 suggested donation; You don't want to miss this weekend show. It's going to be a fun spooktacular performance.
Spiders of the Duwamish – Seattle; 1pm – 3pm; Free; Join naturalist Jef Rahlmann on this free, educational walk through the Duwamish River Valley to search for spiders, explore their habitat, and dispel your fears.
Get Crafty Saturdays: Not-So-Scary Skeletons – Bellevue; 1pm – 3pm; $4; Create a spooky sign that features cotton swab skeletons. Supplies limited, first come first serve. Recommended age 4-10 years old.
Crossroads Cultural Arts Series – Bellevue; 1pm – 3pm; Free; Enjoy a family-friendly cultural arts performances on the Eastside at Crossroads Mall's Market Stage. This weekends performance is from Urvasi Dance Ensemble.
Fall Festival at Camp Korey – Mount Vernon; 11am – 4pm; Free; Pick the best pumpkin out of our very own pumpkin patch, enjoy a variety of Camp activities, and more!
Renton History Museum – Renton; 10am – 4pm; Free; Enjoy a free museum day.
Halloween Storytelling Train – Snoqualmie; 11am – 4pm; Adults $20, Seniors $16, Children $10; This sounds like such a fun event! Dress in costume for a small prize, enjoy a fun train ride with storytelling, warm cider, and more.
Diwali: Lights of India – Seattle; Noon – 6pm; Free; Enjoy live music, dance, visual exploration, authentic foods and goods, workshops, demonstrations and hands-on learning for kids and adults. Don't miss the puppetry, face painting, art, food and more.
Indoor Pumpkin Patch – Bothell; 11am – 4pm; Free; Enjoy the fun of a pumpkin patch without being cold! They have indoor cornstalks, straw bales, fancy gourds and tons of pumpkins. Large pumpkins are $10 each, small pumpkins are $6 each.
Apple Festival at Lattin's Country Cider Mill & Farm – Olympia; 9am – 5pm; Free, $5 parking; Take the family and enjoy some fall fun with apple tasting, music, maze, farm animals, face painting and so much more fun.
Saturday Farmers Market – Anacortes; 9am – 2pm; Free; Come rain or shine to enjoy live music while browsing fresh vegetables, hot food, and kids activities. Dogs are welcome too. Click here if you want to check and see if you have a Farmer's Market in your area that maybe we don't have listed.
Sunday, October 21st, 2018
22nd Annual Walk for Kids – Seattle; 9am – 10:30am; Free; Help raise funds for the tuition assistance program. Parade through the Market to the Market Atrium for a dance party with The Not-Its!
Sunday Public Sail – Seattle; 10am – 3pm; Free; Enjoy a nice 45-minute boat ride. Sign up for a slot in person, they have several trips throughout the day and space is limited.
Monday, October 22nd, 2018
PlayDate SEA – Seattle; 5pm – 8pm; Free; Enjoy free admission to this fun indoor play place every Monday after 5pm.
Thursday, October 25th, 2018
Grand Opening of Ivar's in Issaquah – Issaquah; 10am; Free; Celebrate the grand opening of a new Ivar's this Thursday with a ribbon-cutting ceremony. As well as complimentary chowder and seafood samples, giveaways along with light entertainment for all ages.
Things to Do in the Portland Area

Friday, October 19th, 2018
Harry Potter Free Art Exhibit & Event – Portland; 5pm – 8pm; Free; Harry Potter, Star Wars, Disney & Marvel Art Event featuring Nationally Recognized Fine Artist Christopher Clark. Receive a Free 9″x11″ Harry Potter print (max 1 per party of 2). They encourage you to dress up!
The MAiZE at The Pumpkin Patch – Portland; 10am – 6pm; Adult 13 years+ $8, Children 6 to 12 years old $6, Seniors $6; Portland's Original corn maze located on Sauvie Island is celebration 20 Years of getting Portlanders Lost! Come challenger our beautiful 8-acre MAiZE maze!
Apple Tasting Festival – Portland; 10am – 5pm; Free; Enjoy apple tasting as a family. Apples and pears are available for sale and are still only 99 cents per pound.
Zazzy Zoe Plays Music – Portland; 4:30pm – 5:15pm; $5-$10 suggested donation; Enjoy live music for the family to enjoy together.
Lady Bug Nature Walks – Portland; 10 am; $3-$8 per child (sliding scale); Take your 2-6-year-olds on a nature walk to discover trees, plants, insects, animals, and much more.
Saturday, October 20th, 2018
Hillsboro Air Fair – Hillsboro; 11am – 3pm; Free; Come out and explore one of Oregon's busiest airports: take a tour of the airfield, try your hand at flying into Hillsboro Airport on a simulator, see aircraft up close, and more! Hillsboro Airport Air Fair has something for everyone!
Fall Festival – Portland; 11am – 3pm; $2 per person, $10 max per family, Scrip is 25 cents each; Enjoy family fun with face painting, arts and crafts, bounce house, festival games and more.
Home Orchard Society's 2018 All About Fruit – Canby; 10am – 4pm; $5 for members (family $10), $7 for non-members (family $12), Free if you join HOS at this show; See and taste hundreds of varieties of heirloom fruit from the Pacific Northwest including apples, pears, plums, grapes, kiwis, quince, also cider presssing, and more.
The Hive Harvest Family Gathering – Portland; 11:30am – 1:30pm; Enjoy spooky crafts, a costumed kids yoga class, and grab a pumpkin for painting! Costumes are encouraged.
Cardboard Costume Creations – Lake Oswego; 10:30am – 12:30pm; Free; Need a costume for Halloween? Let's recycle ordinary materials into incredible costume creations. Engineer your constructions in unexpected ways using materials like cardboard, plastic, felt, and even LED lights for sparkle. Lead by Tinker Camp Instructor Denise Slattery.
Lloyd Center Ice Rink – Portland; 2pm – 4pm; $9.31; Celebrate Dia De los Muertos a bit early with radio station 93.1 El Rey! We will have $9.31 Ice Skate, Prizes, Temp tattoos, and more!
Family Resource Fair – Beaverton; 10am – 2pm; Free; Meet with over 30 non-profit organizations that offer free and low-cost services to families. We'll have a raffle, and kids get a free book! Ages 10 & under with family.
The Wiggle Room – Portland; 9am – 7pm; 1st Child $11, Sibling $8, Crawlers/Wobblers $5; Celebrate The Wiggle Rooms 1 year anniversary. They'll have prizes and giveaways from local businesses, a small bouncy house, and tent, and exciting new announcements!
Open Saturdays at Philip Foster Farm – Eagle Creek; 10am – 4pm; $5 per person, or $20 per family; This event sounds fun and educational about pioneer life. Explore and learn all about the Oregon Trail. Don't forget to pack a picnic to make it even more exciting!

Sunday, October 21st, 2018
Sunday Family Matinee – Portland; 2pm – 4pm; Free; Enjoy the auditorium's posh seats while you watch. This weekend feature is Captain Underpants.
National Events:
Barnes & Noble Saturday Storytime Enter your zip code to see special storytime events at your local Barnes & Noble store.
Michaels' Kids Club – every Saturday from 10am-noon; $2 for children ages 3 and up with all supplies included. There are also special projects for spring break. Check your local Michael's store to see if they are participating in this weeks' project.
Lakeshore Learning Stores– every Saturday from 11am-3pm there are fun free crafts at Lakeshore Learning Stores for ages 3 and up. Check with your local store to see if they are participating.