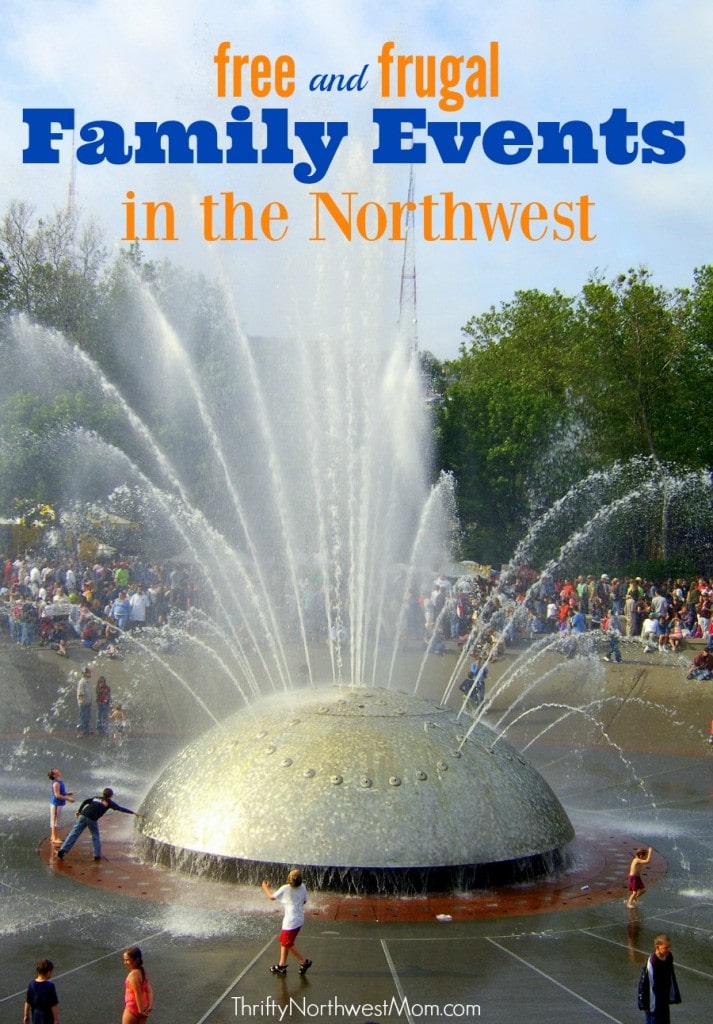 With everyone almost out of school now we're seeing a lot more events, festivals, carnivals popping up. It's great to be able to have so much to choose from to fill the weekends with for the family. Hope you all have a great Memorial Day weekend.
Make sure to check out these fun ideas around the Northwest:
And if you find a fun, frugal event that's not listed, feel free to leave a comment so we can add that event to our list.
Cheap Event Tickets for Seattle Area
Head to Goldstar and select Family events to easily find these. Some of the tickets sell out fast, so it's a good idea to buy ahead if you see an event your family would want to attend!
AMC – Multiple Locations; $9 (reg. $13.50)
Comedy Sportz – Seattle; $5 – $7.75 (reg. $10 – $15.50)
Find more Cheap Event Tickets for Seattle area on Goldstar HERE.
Cheap Event Tickets for Portland Area
Head to Goldstar and select Family events to easily find these.
Bead Faire – Portland; COMP (reg. $7)
Portland Timbers 2 Soccer – Portland; $6 (reg. $10)
Find more Cheap Event Tickets for Portland area on Goldstar HERE.
Things To Do in Seattle Area
Friday, May 24th, 2019
Northwest Folklife Festival – Seattle; 11am – 10pm; Free (they do Suggest a donation $10 per person or $20 per family); Fun multicultural festival for all to enjoy. Learn, dance, play, they'll have an area with family-friendly activities as well.
This year, the family-friendly activities and performances continue to grow, with the Discovery Zone, Kindiependent Showcase, and other spectacles galore. Highlights include: exciting performances by Recess Monkey, The Not-Its!, and Squirrel Butter; interactive workshops including learning Brazilian capoeira, African drumming, sea chanty songs, playing the Native American flute and so much more!
You can see all of the Discovery Zone activities here and the list of family-friendly performances and showcases here.
Bitter Lake Movie Night – Seattle; 6pm – 8pm; $8 per family; Head out with the family for a fun movie night and dinner provided.
Hoppy Hour at Elevated Sportz Trampoline Park – Bothell; 10am – 12:30pm; $10 Jump age 3 and older, $7 Kidz Play toddlers and older, or $12 combo; Enjoy discounted tickets at this indoor play park.
Paint Me A Story – Kenmore; 10am – 10:30am; Free; Preschool-aged children get to listen to a story and paint along. RSVP so they can better plan and prepare.
Mommy Matinees at the Movies – Seattle; 9:30am; Children 5 and Under Free, Adult tickets are Matinee Pricing; Every Friday you can show up with your young children and don't have to worry about interrupting anyone with a crying or antsy little one. Actually, enjoy yourself, worry-free.

Saturday, May 25th, 2019
Vietnam Veterans Memorial Park Grand Opening – Seattle; 11am – 3:30pm; Free; Opening and dedication ceremony of the new park this weekend. They'll have fly-overs, color guard performance, and a special pinning ceremony for all Vietnam veterans in attendance to honor their service. The dedication ceremony is free for the public to attend, but the Museum's exhibits and galleries require paid admission. RSVP isn't required but requested.
The Family Picture Show – Seattle; 11:30am; $8; Head to the cinema with the family for a playful set of animated and live-action films created for kids.
Memorial Day Fan Event – Kirkland; 11am – 5pm; Free; You're invited for a special complimentary fan weekend. They'll be serving BBQ and hosing Pro Safety Bradley McDougald of Seattle Seahawks from 1pm to 2:30pm for a meet and great.
Northwest Folklife Festival – Seattle; 5pm – 5;45pm; free; KalaAlaya School of Dance will be performing at the festival today.
Greyhound Meet & Greet – Seattle; Noon – 2pm; Free; Get a chance to meet and greet with retired Greyhound breed ambassadors. Volunteers will be available to answer all your questions about adopting, fostering and living with this type of pet. The dogs will be freely moving around for hugs and kisses.
Get Crafty Saturdays! – Bellevue; 1pm – 3pm; $4 material fee per child; Arts activity for ages 4 to 10. Art is usually seasonal or exhibitions themed.
CFAD Playlab – Seattle; 1pm – 4pm; Free; Drop in at the Architecture and Design to explore various activities. Best for kids ages 5 to 10.
Alki Point Lighthouse Tours – Seattle; 1pm – 4pm; Free; Get a chance to look inside a lighthouse. Children ages 7 and younger are allowed to visit the landing, but only 8 and older can visit the top. This will be open now from Memorial Day weekend through Labor Day weekend.
Free Open Play – Issaquah; 10am – 2pm; Free; Enjoy free open play at Springfree Trampoline.
Sunday, May 26th, 2019
Sunday Public Sail – Seattle; 10am – 4pm; Free; Center for Wooden Boats offers 45-minute rides on Lake Union. Sign up for a slot in person. They have several trips throughout the day.
Family Fun Time – Seattle; Noon – 2pm; Free; Let the kids blow off some energy with a bounce house and enjoy snacks, coffee, and water as well. They do this every 4th Sunday of the month.
City Cars & Coffee: Porsche, Mini & Hot Rod Rally – Seattle; 11am – 3pm; Free; Come and check out some show, racing, novelty cars, and hot rods with the family on Sunday. Coffee is to be served as well.
Ballard Farmers Market – Seattle; 10am – 3pm; Free; Do some shopping, get some fresh vegetables and fruits. Maybe even try some of the food!
Things to Do in the Portland Area

Friday, May 24th, 2019
Rose Festival Opening Night & Fireworks – Portland; 5pm – 11pm; $5 – $8; Celebrate the opening day with Fireworks at this fun three-weekend carnival. With plenty of different activities such as concerts, games, food, and more. They have online/presale tickets for $5, then at the gate tickets will be $8. Kids 6 and under get in free.
Memorial Day 99w Drive-in – Newberg; 6:30pm; $5 – $9; This is a fun drive-in movie showing of the movies The Goonies AND Detective Pikachu all weekend! Get a free clown bag of popcorn if you wear a Goonies shirt or any item from the movie or the other movie!
Vanport Mosaic Festival 2019 – Portland; 10am – 10:30am; Free; Join in to honor victims and survivors of the 1948 Vanport flood as they install a permanent memorial plaque at the Bandstand.
Family Movie Night – Portland; 4pm – 6pm; Free; Enjoy a free showing of the Lego Movie 2. Snacks will be served as well.
Spring Movie Night – Vancouver; 6:30pm – 8:30pm; Free for members, $3/person (age 3+) or $15/family for non-members; They'll be playingThe Incredibles movie. Bring blankets, pillows for seating and cash for snacks and popcorn.
Saturday, May 25th, 2019
Power of the Pig – Portland; 11am – 2pm; Suggested Donation of $10; Come and meet pigs that eat leftovers and provide therapy to residents at Blanchet Farm. Celebrity pig P. Iggy Smalls will be there as well feed the pigs compost, face painting, and play games.
Pearson Education Center – Vancouver; 10am – 5pm; Free; Open Saturday is this weekend at the Pearson Field Education Center. The youth of all ages can experience STEM education through aviation.
Guided Nature Walk – Portland; 10am – 11:30am; Free; Enjoy a relaxing nature walk with the family this weekend. The topic is Birds; Art of Nesting.
Columbia Springs' Family Nature Days – Vancouver; 10am – 2pm; Free; Explore the questions of what do salmon scale and a tree have in common. They'll have volunteer-led activities, games, and guided walks.
Very Hungry Caterpillar 50th Birthday – Gresham; 11am – Noon; Free; Celebrate the Hungry Caterpillars birthday with a storytime and a fun craft.
Portland Mercado 4th Year Anniversary – Portland; Noon – 7pm; Free; They'll be celebrating 4 years of building community with live music, art, and kids activities.
Memorial Day Service – Portland; 3pm – 6pm; Free; Memorial Day event in honor and celebration of those who have proudly served our country. Pet contest, pet parade, live music, service, and Veteran-related presentations.
Fish with a First Responder at Cabela's – Tualatin; Noon – 5pm; Free; Cabela's will be having a free foster family-friendly event all weekend with a BBQ, kids crafts, photos, catch and release pond for fishing, music, and more! With Love will be there as well handing out special items for foster families and little ones under age 6. They'll have a ceremony at 2pm to honor first responders and Military.
Doki Doki Con 2019 – Portland; 9am – 8pm; Free; Convention hosted by Portland State University Anime Club. They'll have cosplay contests, video gaming, various panels, manga library, arts, crafts, karaoke to name a few things. Check out the website for a full list of activities and schedules.
Montgomery Pop-Up Plaza – Portland; 8am – 5pm; Free; Join as they transform Montgomery Street with an art fair, free food, music, crafts, and more.
Kids Fishing Event – Salem; 9am – Noon; Free; Volunteers will be around teaching casting, fish anatomy, knot tying, and Outdoor Chef Kurt will be there to cook your fish while waiting. Youth 17 and under can fish for free.
Memorial Day Weekend Fun in Tillamook Forest – Tillamook; 11:30 – 3pm; Free; All weekend long they'll be having an array of different activities to attend and enjoy as a family. Such as talking about teas from leaves, roots, and flowers of plants, a bird, butterflies to name a few. Just check out the website for more of a breakdown of each one to see what you're interested in attending.
Kids Morning Skate – Portland; 10:30am – Noon; $7.50; This skate session is designed for kids 10 and younger and their families. It'll feature kids choice music, fun skate games, and a visit from Chipper the Squirrel. One adult free per paid child.

Sunday, May 27th, 2019
Kidical Mass PDX Family Bike Ride – Portland; 1:30pm – 4:30pm; Free; Something relaxing, but with some exercise to do this Sunday with the family. They'll have a short, nearly flat ride from Gabriel Park to the Alpenrose velodrome and Pendleton Park. Which ends near burrito and frozen yogurt shops across the street. Kids riding should wear a helmet, be able to ride straight, start and stop. Cargo bikes, trikes, etc are good too.
National Events:
Bank of America Museum Admission – Various Locations; Any cardholders with Bank of America can enjoy FREE admission to various museums! Check out the list in your state to check out which museums are participating.
Barnes & Noble Saturday Storytime Enter your zip code to see special storytime events at your local Barnes & Noble store.
Michaels' Kids Club – every Saturday from 10am-noon; $2 for children ages 3 and up with all supplies included. There are also special projects for spring break. Check your local Michael's store to see if they are participating in this weeks' project.
Lakeshore Learning Stores– every Saturday from 11am-3pm there are fun free crafts at Lakeshore Learning Stores for ages 3 and up. Check with your local store to see if they are participating.