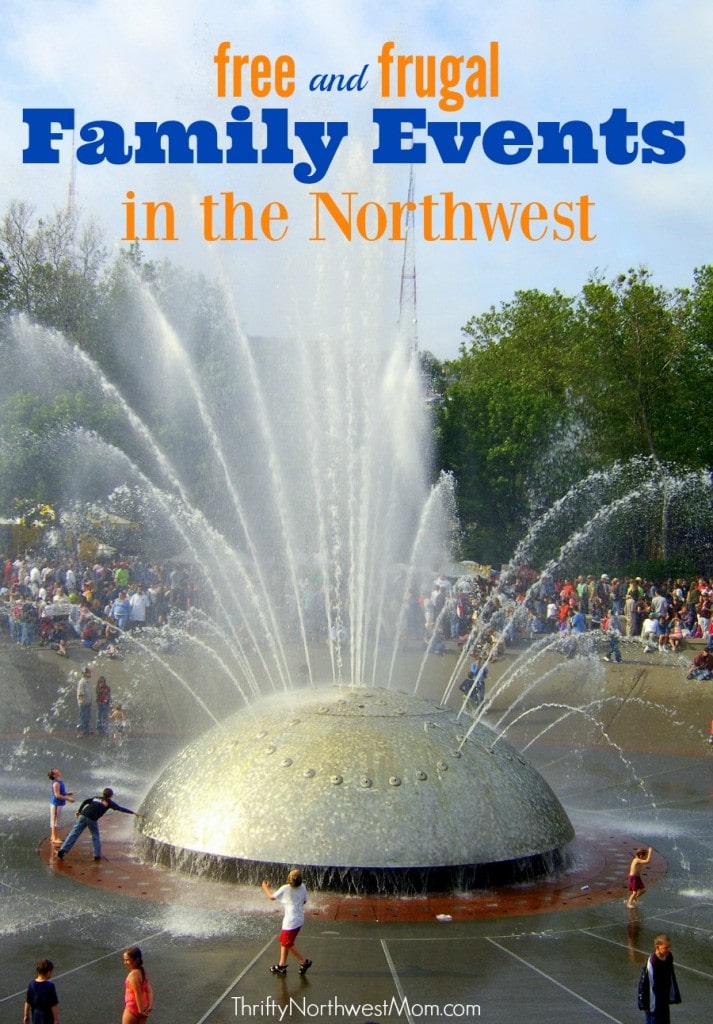 Happy first weekend of SPRING! We're so ready for nicer weather. We have quite a few fun things happening like the Woodburn Tulip Festival and the Home and Garden Show. Something for everyone to enjoy. :)
Make sure to check out these fun ideas around the Northwest:
And if you find a fun, frugal event that's not listed, feel free to leave a comment so we can add that event to our list.
Cheap Event Tickets for Seattle Area
Head to Goldstar and select Family events to easily find these. Some of the tickets sell out fast, so it's a good idea to buy ahead if you see an event your family would want to attend!
AMC – Multiple Locations; $9 (reg. $13.50)
Comedy Sportz – Seattle; $5 (reg. $10)
Seattle University Baseball – Bellevue; $5 (reg. $10)
Find more Cheap Event Tickets for Seattle area on Goldstar HERE.
Cheap Event Tickets for Portland Area
Head to Goldstar and select Family events to easily find these.
Northwest Children's Theater Presents Tenali: The Royal Trickster – Portland; $10.50 (reg. $20)
Find more Cheap Event Tickets for Portland area on Goldstar HERE.
Things To Do in Seattle Area
Friday, March 22nd, 2019 
Home & Garden Show – Mount Vernon; Times Vary; Adults $7, Military $5, Seniors $5, Kids 15 and under FREE; Attend this fun home and garden show this weekend! They'll have a bunch of different fun and exciting things going on. Creating, building, experience. So many different activities!
Fill Your Cup Friday – Bellevue; 8pm – 11pm; Fill up a 16oz Menchie's Yogurt cup for just $5!
March Madness – Seattle; 5pm; Free; Join Van Asselt Community Center for March Madness fun such as games, prizes, food, and basketball games on the big screen.
Stone Soup Theatre: As You Like It – Seattle; 7pm; $10; Watch this short production of Shakespeare's 'As You Like It' performed by Stone Soup Youth Conservatory.
Ballard Locks Free Tour – Seattle; 2pm – 3pm; Free; Free public scheduled walking tour and starts at the Visitor Center.
Park Ranger Program: Who's In Your Backyard – Bellevue; 10am – 11am; Free; Learn all about bears and how to be safe in bear country.
Wee One's Weekly – Tacoma; 9:30am – 11am; Free for members, $5 for non-members; Drop in and enjoy thematic and musical programs perfect for toddlers, preschoolers, and their grown-ups during the academic year. This weekends theme is U is for Unicorn.
Hoppy Hour – Bothell; 10am – 12:30pm; $10 Jump age 3 and older, $7 Kidz Play toddlers and older, or $12 combo; Enjoy discounted tickets at this indoor play park.
Children's Story Time – Seattle; 11am – Noon; Free; Every Friday you can enjoy story time with Steph! Anyone who likes a good story is welcome to attend.
Friday Night Magic for Kids – Seattle; 4:30pm – 6:30pm; $5; This is a fun after school Magic the Gathering cards club for kids ages 17 and younger.
Mommy Matinees at the Movies – Seattle; 9:30am; Children 5 and Under Free, Adult tickets are Matinee Pricing; Every Friday you can show up with your young children and don't have to worry about interrupting anyone with a crying or antsy little one. Actually, enjoy yourself, worry-free.
Skwim – Seattle; 7pm – 8pm; $3.75 youth/seniors, $5.50 ages 18 – 64; Bring the family to play a mixed game of water polo and frisbee golf.
Story Time with Betsy and The PJ Library – Seattle; 11am; Free; Join Betsy for stories and songs.
Friday Night Skate – Seattle; 5:45pm – 7:45pm; $3 per person; Family skate night with the latest pop music, races, and lights.

Saturday, March 23rd, 2019
Wagner Education Center Grand Opening – Seattle; 10am – 5pm; Free; Celebrating the grand opening of the new facility for The Center for Wooden Boats this Saturday and  Sunday with plenty to see and do! Ribbon cutting ceremony will be at 10am on Saturday. Tour the new place, take part in activities such as free boat rides, membership discounts, sign a sail, and more.
Build A Birdhouse – Mount Vernon; Times Vary; Free; This weekend Saturday and Sunday at the Home and Garden Show kids 15 and under can get a chance to build their very own birdhouse to take home!
Light, A Children's Planetarium Program – Lakewood; 12:30pm – 1:15pm & 2pm – 2:45pm; $6 for participating children, Adults get in free; Reserve seats for just the children and attend this fun interactive show for ages 3-12. Learn why the moon is bright, why we have shadows and more.
Easter Bunny Pictures at Kidz Kaboodle – Tacoma; 1pm; Free; Every Saturday at 1pm now until Easter, they'll be hosting the Easter bunny! You can come and take photos of your children with the Easter bunny.
Holi Celebration – Issaquah; 11am – 3pm; Free; Celebrate Spring with this carnival of colors. They'll have colorful paint and vegetarian Indian food for purchase. The event is free, but you'll need a Discover Pass for vehicle entrance to the park. A one day pass is $11.50.
Holi – Festival of Colors – Redmond; Noon – 5pm; Free Entry; Celebrate community with this fun colorful event. They'll have 5 hours of dancing, music, Indian food for purchase and more. Its free entry, but color will need to be purchased.
Spring Carnival & Silent Auction – Shoreline; 10am – 2pm; Free; Celebrate Spring with games, crafts,  and prizes! Kids can trade in their carnival trinkets for previously loved, hand-curated toys. They'll also have snacks and bake sale items. A silent auction with many items to bid on.
Music YoU-Fest – Everett; 1pm – 5pm; Free; Fun family friendly event to make music, participate in free workshops, scavenger hunts, prizes, and more.
Community Carnival and Auction – Lynnwood; 1pm – 4pm; $8, $5 children; Living Wisdom School is hosting this community carnival and auction. They'll have a bounce house, games, live music, food, raffles, and more.
Concordia Community Preschool Fair – Tacoma; 10am – 12pm; Free; Come and learn about family and preschool services in the area. Pot a few starter plants, receive seeds and gardening materials, and a snack! Check out the Tacoma Fire Truck, meet Rhubarb from the Rainiers, and more.
The Golden Years – Seattle; Noon – 4pm; Free; Local Seniors and their families are invited to attend this 50s themed event at Queen Anne Retirement Community. They'll have vintage cars on display, tents and indoor activities, costumes and tasty old-fashioned snacks, music, dancing, and more.
Family Wild Walks – Seattle; 1:30pm – 3pm; Free; This is an hour and a half nature walk for the whole family. During the event, they stop along the way for games, hands-on activities, and learning.
Springing for the Violins – Seattle; 10am – 11am & Noon – 1pm; $12; Learn all about the violin in an environment specifically for children on the Autism spectrum and sensory sensitivities. Instrument exploration before and after the show, meet-and-greet with featured musicians and a 35-minute performance. Doors open 30 minutes before the show.
Car Seat Safety Checks – Seattle; 10am – 12:30pm; Free; Child passenger safety experts will check your child seat, booster seat, or seat belt and answer any questions you may have. Safety checks are first come, first serve.
Celebrate Ostara – Seattle; 2pm – 5pm; Free; Celebrate Ostara and the Spring Equinox! Write out your dream on a piece of paper, put it in an eggshell, cover with soil, plant seeds and nurture it into life. They'll have a short ritual and meditation then have a fun craft to decorate plastic Easter eggs to take home. A potluck will be happening as well, bring something to share if you can. If it's nice they'll be at South Seattle College Arboretum, if it's raining they'll be at the Delridge Library.
Hellboy Day 2019 – Seattle; 10am – 8pm; Free; Celebrate the 25th anniversary of comics Hellboy and the upcoming release of the motion picture.
Teen Action Fair – Seattle; 10am – 3pm; Free; Celebrate the youth and connect with different organizations working to make a difference. Featuring many performances, youth-led open mic, art showcase, activities and more.
Knights Bowl – Puyallup; 9am – 6pm; Adults $5, Children 10-15 $3, Children under 10 free; As part of the WYFC Farm League Paladin Youth Football and 253 Elite are presenting the Knights Bowl. This 7on7 and 5on5 event is sure to thrill. Don't miss it!!
Discovery Day – Des Moines; 10am – 2pm; Free; Enjoy free viewing of the marine biology and aquarium facility of Highline College.
Sunday, March 24th, 2019
French Fest – Seattle; 11am – 5pm; Free; Annual celebration that celebrates French-speaking cultures. They'll have music, dance, food, and fashion.
Kids & Oils – Seattle; 3pm – 4pm; Free; Learn how to use the power of plants to get rid of toxins in your home. There will be gluten-free playdough for the kids to play with and hands-on learning for the adults.
Ballard Farmers Market – Seattle; 10am – 3pm; Free; Celebrate the first weekend of Spring. Do some shopping, get some fresh vegetables and fruits. Maybe even try some of the food!
Seattle Aussie Rules Kids Clinic – Seattle; 9am; Free; This is a fun kid's clinic they'll be introducing the kids to low-contact Australian Rules footy.
Sunday Public Sail – Seattle; 10am – 4pm; Free; Enjoy a nice 45-minute boat ride. Sign up for a slot in person, they have several trips throughout the day and space is limited.
Things to Do in the Portland Area

Friday, March 22nd, 2019
Wooden Shoe Tulip Festival – Woodburn; Times Vary; Prices Vary; This is a fun event celebrating the return of Spring! The event runs from March 23rd to April 29th this year. You can walk through 40 acres of beautiful flowers, enjoy food, and fun for the whole family. Check out our review of this annual event here.
Roald Dahl's Willy Wonka – Portland; 7pm – 9pm; $5 Students/Seniors, $7 Adult, Free w/ Oregon Thespian Card; Enjoy this theater performance of the classic story about candy, dreams, and life lessons.
Demo with Music Together of Portland – Portland; 9:30am – 11:30am; Free; Sing, dance, laugh and play at this free class with Music Together of Portland.
Stellaluna Puppet Show – Portland; 5pm – 6pm; Free; Fun puppet show based on the book by Janell Cannon.
Free Vision Screening – Portland; 11:30am – 12:30pm; Free; They'll be providing free vision screenings for preschoolers aged 3 to 7.
Ladybug Walk – Portland; 10am – 11:15am; $3 – $8; Toddlers, preschoolers, and adults get to explore and discover nature with an Environmental Educator.
Messy Art Studio – Portland; 9am – Noon; $8 for 1 hour or $10 and stay as long as you want; Have fun making and creating while being allowed to get messy in the process!
The Craft Factory – Portland; 10am – 11am; $5; Toddler time to create a fun craft! Crafts are intended for ages 3 and younger.
Free Community Measles Vaccination Clinics – Vancouver; 1pm – 7pm; Free; Get a vaccine against Measles. Check out the website for more details.
Lo e la Mamma (Mommy and Me) – Portland; 10am – Noon; Free; This is free fun and weekly Italian language playgroup for children led by native Italian teacher lo e la Mamma.
Tallulah's Daddy – Portland; 10:30am – 11:30am; Free/$5 suggested donation per child; Have fun with this musical performance.
KiLoFriday at Mississippi Pizza – Portland; 4:30pm – 5:15pm; $5-$10 suggested donation; Enjoy live music for the family to enjoy together.
Saturday, March 23rd, 2019
Kids Morning Skate – Portland; 10:30am – Noon; $7.50; This skate session is designed for kids 10 and younger and their families. It'll feature kids choice music, fun skate games, and a visit from Chipper the Squirrel. One adult free per paid child.
DUMBO Movie Release Craft – Portland; 9am – 1pm; $10; Make your very own Dumbo the Elephant, enjoy free tickets to see the movie. As well as promotional items and a treat to take home when you finish.
World Forestry Center – Portland; 10am – 5pm; Free; Free admission to the World Forestry Center this weekend.
Hula for the Family – Milwaukie; 3pm – 4pm; Free; Learn Hawaiian language, songs, and simple hula dance.
Tiny Tot Play – Portland; 10am – Noon; $2, cash only; Enjoy some fun and get out some energy at the Woodstock Community Center this Saturday.
Amazing Bubble Man – Portland; 11am -12:10pm; $6 – $15; Join Louis Pearl, the bubble man as he puts on a fun show with bubbles. Advanced tickets are $10 Adult, $6 for children under 12. At the door, tickets are $15 and $8, babies in arms and lap children are free.
The Alphabeticians Family Rock – Portland; 4pm – 5pm; $4 per person; Rock n roll music for families.
Nature Walk at Tryon Creek – Portland; 10am – 11:30am; Free; Join a park guide for a nature walk. This weekends theme is Slugs: More Than Slime.
Kids' Club: Strawberries – Wilsonville; 11am – 11:30am; $7.50; Join in planting strawberry plants in a unique container. Learn about this wonderful fruit.
Preschool Sensory Storytime – Portland; 9:30am – 10:15am; Free; Storytime specifically welcoming families of children on the spectrum.
Open Gym Sensory Saturday – Beaverton; 9am – Noon; $8 – $10; Gymnastics program in Oregon, and is carefully designed to support children and teens with Autism and related disorders.
Winter Farmers Mercado – Portland; 11am – 3pm; Free; Attend to support local growers, artisans, and Latino entrepreneurs. They even have kids activities and live music! This event runs until March 23rd!

Sunday, March 24th, 2019
JASO Sakura Sunday – Portland; 11am – 2pm; Adult $10-$15, Child aged 15 and under $5; They'll have children's activities, light snacks, Japanese tea tasting, and more. Tickets are not available on site, you must purchase in advance. They also have family ticket packages.
Family Entertainment: The Not-Its! – Portland; 2pm – 3pm; $6; Family friendly music rock show! Refreshments will be available for purchase and kids under 2 and sitting on laps are free admission.
Willow 30th Anniversary – Portland; 2:30pm – 4:30pm; $2 per person; Enjoy a showing of the movie Willow to celebrate the 30th anniversary.
Bike Shop Storytime & Bike Ride – Portland; 10:30am – 11:30am; Free; Have a nice storytime with the kids and also take part in a family-friendly bike ride. Show up early to ask about borrowing a bike for riding. Clever Cycles has a few bakfietsen and longtail kid-carrying cargo bikes to loan for families who want to join in on the fun.
National Events:
Bank of America Museum Admission – Various Locations; Any cardholders with Bank of America can enjoy FREE admission to various museums! Check out the list in your state to check out which museums are participating.
Barnes & Noble Saturday Storytime Enter your zip code to see special storytime events at your local Barnes & Noble store.
Michaels' Kids Club – every Saturday from 10am-noon; $2 for children ages 3 and up with all supplies included. There are also special projects for spring break. Check your local Michael's store to see if they are participating in this weeks' project.
Lakeshore Learning Stores– every Saturday from 11am-3pm there are fun free crafts at Lakeshore Learning Stores for ages 3 and up. Check with your local store to see if they are participating.