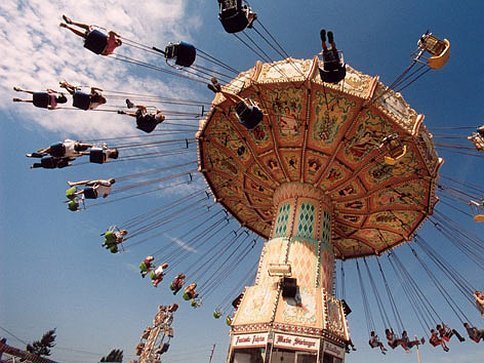 Washington State Fair Discount Tickets!
The Washington State Fair is what used to be called the Puyallup Fair. The Washington State Fair is the largest single attraction held annually in the state of Washington and continually ranks in the top ten largest fairs in the world. It's a favorite around her for families, but can add up with ride tickets, so this discount may come in handy.
This year is new in that it is opening the Friday before Labor Day weekend, so that means that it will be open ONE extra week this year – from September 2nd – 25th, 2016! So, basically you can head to the fair almost all month long in September.
Here's discounted packages available right now thru Get My Perks:
WA State Fair Ticket & Ride Bundle – $72 (valued at $102 – save 27%). Get 2 gate admissions to the WA State Fair + a 150 ride & game ticket voucher for Funtastic Midway or Sillyville rides of your choice (excluding the Extreme Scream). This offer is valid any one day from Sept 2 – 25, 2016 (closed Tuesdays this year)
Discover the Dinosaurs Exhibit Bundle – $16 (valued at $23) Get 1 gate admission to the WA State fair + 1 admission to the Discover the Dinosaurs exhibit (new this year). This offer is valid any one day September 2 – 25, 2016 (closed Tuesdays this year).  The Discover the Dinosaurs is a walk-thru exhibit where you can see dinosaurs like the T-Rex, Triceratops, Iguanodon, Apatosaurus, & Stegasaurus.
Find all of the Washington State Fair discount ticket options here!  Another option is to purchase the Dizzy Pass bracelets that you can use during the week on select days or on one weekend (9/10 & 9/11) for unlimited rides for $32 (weekdays) or $35 (weekend) right now (does not include gate admission). This price will go up after 9/6.
Fine Print:
"ADD TO CART" button will redirect to TheFair.com for final purchase

Following redirect, select "BUY TICKETS" for chosen package(s) at TheFair.com

Valid for use any one day September 2, 2016 through September 25, 2016 (closed Tuesdays)
No refunds or exchanges
Please print ticket prior to arriving at the Fair; tickets cannot be scanned on mobile devices
If will-call delivery option is selected instead of FREE print-at-home option, customer is responsible for ticket delivery fee
Ticket value includes all other applicable fees
Riders must be at least two years of age and meet the height requirements of each individual ride
Ride tickets not valid on the Extreme Scream
Promotional value expires after 9/25/2016