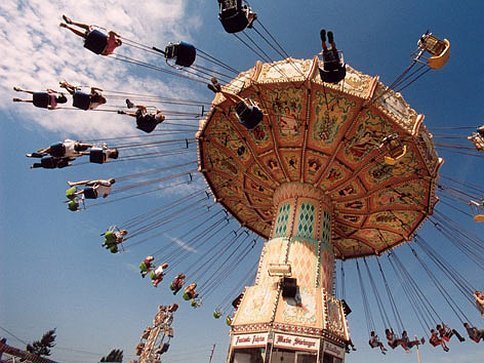 Washington State Fair Discount Tickets!
The Washington State Fair is what used to be called the Puyallup Fair. The Washington State Fair is the largest single attraction held annually in the state of Washington and continually ranks in the top ten largest fairs in the world. It is coming right around the corner too. This years fair dates are August 30st to September 22nd, and we are already seeing the deals roll out. The Fair will be closed on Tuesdays and 9/4, so make note of those closure dates when planning your visit.
It's a favorite around here for families, but can add up with ride tickets, so this discount may come in handy.  Two of the most popular deals we usually find for the Washington State Fair are the:
Kids Free Days
Everyone Gets In Free
Ride Bundle 
**Student Tickets Update: 
Note that there has been a significant change this year in ages for ticket prices. Student tickets are now for ages 6 – 12 (kids 5 and under are always free). Kids ages 13+ will now require an adult ticket (in the past those student tikets where good for kids up to 18). I am not sure how this might affect the free student tickets that the kids get at school yet, so if any of you know be sure to comment and tell us how that is working this year.
The BECU Kids Free Days will still be availabe to all kids 18 and under!
And we have the details on both of these offers below!
Free Admission Days at the Washington State Fair:
BECU is once again offering FREE admission for kids this final weekend of the fair, Kids get in FREE Labor Day Weekend, Aug. 30 – Sept. 2, courtesy of BECU!
Kids 5 and under are free each and every day of the Washington State Fair.
No coupon is necessary to take advantage of this amazing offer!
PLUS, Everyone gets FREE gate admission on opening day (August 30th) from 10:30am – 12:30pm with a food donation at any gate!
More Free Days – 
Every Monday – Military Appreciation Day – FREE admission for all active, reserve, and retired military and National Guard and their dependents, plus disabled veterans, when each shows valid military ID at any Fair gate. Full Details
Friday, Sept. 6 – School Supply Drive – FREE gate admission for all 10:30am – 12:30pm, with a suggested new school supply donation. Full Details
More Deals for the Washington State Fair to grab now:
Purchase a Fred Meyer Value Pack for $38.95. There's no better deal around – a 78 value! This is a particularly great value if your crew likes to ride the rides at the Fair – and it has to be purchased by 9/30 – it goes away after that day.
Value Packs are valid any day Aug. 30 – Sept. 22 and include:
2 gate admission tickets
10 food bucks
6 ThrillVille / SillyVille rides (your choice of any ride, with the exception of the Extreme Scream)
Lost World of Dragons Coupon – Buy 3 and Get 1 Free!
2 coupons for 50% off weekday parking (valid Monday – Friday, parking lot entry before 5pm, subject to space availability, not valid on Aug. 30)
Or get an unlimited ride pass for $10 off through tomorrow (8/29) if you buy online. That will make it $35 and the best price we could find for the unlimited ride pass.
If you want to save on concerts for the Fair, Get My Perks has a number of them available for 24% off here too.