Lands End Backpacks 55% OFF
Lands End has a good back to school sale going on. They are offering 55% OFF Backpacks right now. To get these discounts use promo code LUNCH and pin code 1888 at checkout.  Plus they are offering free shipping right now. Use all these promotions to get some super prices on their quality backpacks!
The sales on their backpacks and lunch boxes are always popular, and a great opportunity to find super deals on these lifetime guaranteed backpacks and lunch boxes. Medium Classmate backpacks are as low as $7.69 shipped (reg. $39.99). This is a super price!! This sale is only going on for 2 more days (through 7/18)
It might be a good time to grab these ahead of time for school next year, at these savings!
This is always one of the most popular backpack deals we see each year, and based on previous feedback from TNWM readers, they are good quality and hold up over the years (and they offer a lifetime guarantee)! It is hands down the most popular backpack deal we see annually.
I got my kids backpacks and lunch boxes last year during this sale, and they held up very well for the entire year (they washed up well too), and are still holding up strong through this year!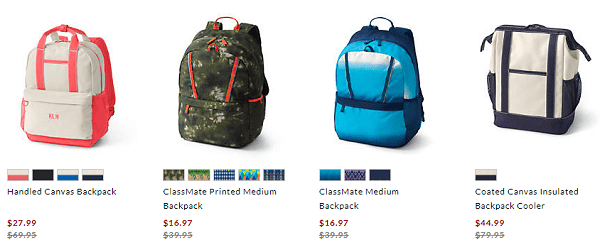 Here are some of the backpack deals you'll find: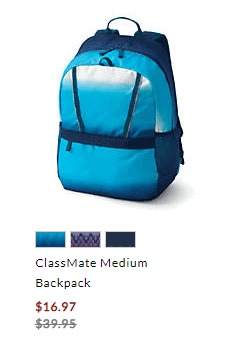 Medium ClassMate Backpacks – starts at $16.97 (regularly $39.95)
(this is the size I got my elementary age daughter)
Plus, use promo code LUNCH + pin 1888
Pay $7.64 shipped!
Small ClassMate Backpacks – as low as $16.42 (regularly $34.95)
(this size is good for younger kids)
Plus, use promo code LUNCH + pin 1888
Pay $7.39shipped!
Large ClassMate Backpacks – as low as $19.97 (regularly $49.95)
Plus, use promo code LUNCH + pin 1888
Pay $8.99 shipped
Super price for these backpacks!
See the rest of the Lands End Backpacks at landsend.com.