Pottery Barn Discount Backpacks & Lunch Bags
Pottery Barn is having rare discounts on their very popular backpacks & lunch bags, with up to 75% off. We found backpacks on sale for as low as $12 as part of this sale, and if you are a new email subscriber you can choose to get 15% off at the bottom of the page, if you sign up for their emails. That would make the backpacks just $10.20! Backpacks and lunchboxes are shipping for free too (note – the panda wildlife one does not)!
I have friends who have these backpacks & lunch bags and boy, are they heavy-duty & durable – very long-lasting. And for this price, it can't be beat for such a high quality backpack! You could have your child pick it out early for next year – there are a lot of fun styles to choose from.
These items are going very fast & are limited on sizes today so I'd check it out soon if you're interested!
*If you're new to Pottery Barn kids emails, there should be a popup that will show when you first login & if you are new & sign up for emails, they will send you a 15% off discount code. I just did this & received the code within 5 minutes. It saved me an extra $6+ on my order.
Here are a few of the best deals I found at Pottery Barn Kids::
This gingham style is $12 on sale, so would be just $10.20 if you got the extra 15% off.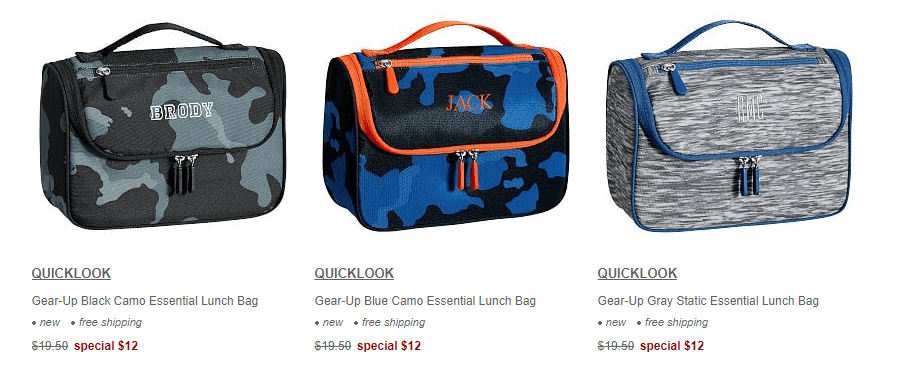 Lunch boxes on sale for $12 so would be just $10.20 if you got the extra 15% off.
Plus find many more options here for around $25 too (or $21.25 with extra 15% off)