Staycation Seattle – Things To Do In Seattle (& Greater Seattle)!
This post may contain affiliate links and I may be compensated for this post. Please read our disclosure policy here.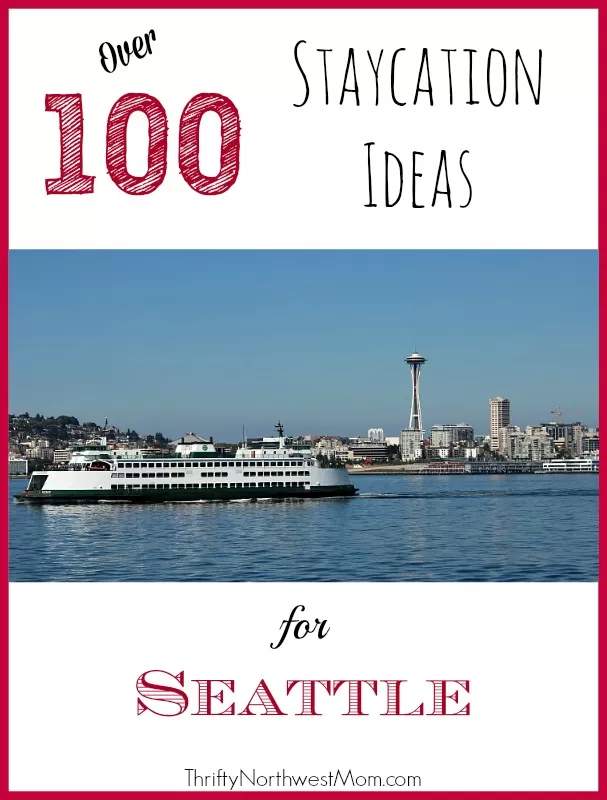 Staycation Seattle – 100+ Things To Do!
Staycation Seattle Ideas Updated for 2022
Looking for budget friendly vacation ideas for the Pacific Northwest this year?  We have over 100 ideas of things to do on a Staycation Seattle, to enjoy the city. With the high cost of airfare you might want to consider taking a "Staycation" in Seattle (or a mini vacation in Seattle if you live within driving distance)! Seattle, the "Emerald City", offers many things to do and explore beyond the well known Space Needle.
We have compiled a huge list of things to do in Seattle  that are budget friendly. You can also check out these Discount Tickets for Seattle if you're planning to attend an event or show!
We also have a round up of some of the best hotel pools in the NW if your looking for a hotel to stay in for a local staycation! You can check out our Portland Staycation article here, if you are looking for Staycation ideas and things to do there too.
🏠 Top accommodation in Seattle:
🏛 Top Seattle tours:
If you are interested in the big attractions in Seattle be sure to check out the Seattle CityPass to save money on thoseFind activities by area of interest:

Always Free In Seattle / Frugal Fun In Seattle
Free Museum Days
Festivals, Fairs & Events
National, State and Local Parks
Beaches, Pools & Lighthouses
Movies & Concerts
Sightseeing & Attractions
Discount Tickets for Sporting Events, Theater & More
Open Air Markets
Seattle Staycation Tips

If you are interested in what to do in the Greater Puget Sound area this summer be sure to check out the following:

Free Camping & Low Cost Camping in the NW!
Park Reviews for the NW
Pacific NW Travel Reviews/Ideas
Weekly Budget Friendly Getaways post
Kids Eat Free in Seattle and Portland Area


Always Free / Frugal Fun In Seattle

Staycation Seattle Center Area Ideas

The Seattle Center area offers many great options to enjoy the summer. The fountain at the Seattle Center is one of my kids' favorite areas to hang out on a hot day. You can then explore the Gates Foundation Visitor Center across the street completely free and much more! These are our favorite free and cheap ideas for this area, but be sure to scroll down for some of Seattle's bigger attractions also located in this area (Space Needle, EMP, Pacific Science Center & more).

If you want to know more about how to get around the downtown Seattle area checkout the transportations here.

Close to the Seattle Center :

Construction progress of interior views of The Spheres, photographed Thursday, Aug. 31, 2017, in Seattle, WA. (JORDAN STEAD / Amazon)

Visit the Amazon Sphere & Amazon HQ Tours

Ok, this one is still on my bucket list, but I have heard great things about the visits, and it looks super cool. You can reserve your spot to participate in a public tour of the sphere two Saturdays each month here. These are free but must be reserved in advance. You can also reserve a spot to do an unguided tour for free on more dates (can schedule up to 30 days in advance). You will need to bring your id to check in. Be sure to check out the full FAQ here.

Images of Amazon's Seattle, Washington, campus, in both the downtown and South Lake Union neighborhoods. (JORDAN STEAD / Amazon)

You can also schedule to tour the full Amazon HQ campus here (they have a dog park, it includes Spheres, and more). These tours are available on Tuesdays and Thursdays.

Images of Amazon's Seattle, Washington, campus, in both the downtown and South Lake Union neighborhoods. (JORDAN STEAD / Amazon)

The other spot you will want to be sure to check out (and it is included in the Amazon HQ tour) is Amazon Understory. This is their visitors center, and is free to all, and includes interactive experiences as well. It is a self-guided, museum-style exhibit.

Lastly, stop in to check out the Amazon Go Store. There is no need to check out at this store. You just sign into your Amazon Go app before entering the store, and then grab what you want and go. The app automatically checks you out!

The Seattle Waterfront offers some great spots to eat, parks, ferries, the Aquarium, The Great Wheel, Wings Over Washington and Boardwalks just for starters. You can then take an elevator or walk up some stairs to enjoy the Pike Place Market, The Post Alley, and then you are about a 10 minute walk from Seattle's Shopping district. There is FREE valet parking available for up to 3 hours when you shop, dine, or enjoy all that the Seattle Waterfront has to offer!

Here are our favorite free and frugal ideas for this area:

Staycation Seattle Ideas for the Heart Of Downtown

Downtown Seattle (sometimes referred to as the Shopping District), boasts the 5th Avenue Theater, Benaroya Hall, The Seattle Public Library, Westlake and Pacific Place Malls, Sky bridges, and great shopping.

Chinatown in Seattle is a truly authentic experience. There are wonderful restaurants, great markets and festivals too! Another benefit of visiting Chinatown is that parking rates are much more affordable in the International District than they are in Downtown Seattle.

Here are our favorite free and affordable picks for the area:

West Seattle

Positioned across the water from Seattle, you can get there from Seattle by crossing the West Seattle Bridge or by boat. It offers great beach fun, wonderful restaurants, art and more!

Seattle Tours:

We mentioned a couple above (like the Amazon tours, or the walking tours of the Seattle Center) but here are a couple of additional tours you might enjoy!

The Seattle Chocolate Tour – this is on the south side of Seattle, but a fun experience that involves free chocolate tasting!

Other tours to consider that have a fee associated with them are: 

Museums

Seattle offers so many opportunities to enjoy museums and the arts for free – more than just about any other city I have been to. There are museums that are always free, as well as museums that offer free entrance days. I would also recommend checking out your local library. Many of them offer free museum ticket for library card holders!

Here is a list of how to get into Seattle area museums completely free:

Always FREE:

Seattle Area Museums offering free admission on the first Thursday of each month: 

Seattle Area Museums offering free admission on the first Friday of each month: 

More Free Museum Days:

Festivals, Fairs and Events

Each year we will update the Festivals and Fairs for the NW article here, with current dates.

Here are the main festivals, fairs and events going on around greater Seattle this summer:

National, State and City Parks in Washington

If you are from the Northwest, then it is easy to take for granted what natural beauty surrounds us. We have a number of parks as well as great programs which run in many of the parks throughout the summer!

(Jen and I took blog pictures from Kerry Park, and that is the view of Downtown you can get if you trek up there. It's a great spot for pictures with the city in the background!)

More City Parks:

Beaches, Pools & Lighthouses – Perfect for Staycation Seattle Visits

Sunny days may be fewer here in the Northwest, but when they show up we have some great beaches and water activities to enjoy it!

Here are some  of our favorites:

Movies & Concerts

You will find free movies and concerts all throughout the Pacific Northwest during the summer. Here is a list of those included in or near the downtown Seattle area.

We have a full round up of where you can find outdoor movies in the NW here, including those in Seattle area.

Concerts – 

Check out our full list of Summer concerts here, including those in the Seattle area.

Sightseeing / Attractions

Seattle is famous for some of its well known attractions like the Space Needle, zoos and more. If you plan to visit some of these, I highly recommend looking into the CityPASS. It will allow you to be a tourist in your city for a week at one set cost. There are also more affordable alternatives to some of the more well known attractions like the towers.

Here is a list of great Seattle attractions you can explore this summer:

Under $10 Attractions:

$10 & up Attractions:

(You may want to consider purchasing an Entertainment book as it includes savings for many of the local attractions, like BOGO free tickets for the Woodland Park Zoo and more in previous years books!)

Discount Tickets for Sporting Events, Theater & More

Looking for ways to get a deal on event tickets for sporting or theater events. Here are some resources we have used to help us save with our families:

Open Air Markets

The markets are a wonderful way to purchase everything from fresh produce and meats to great flowers and keepsakes. They are also lots of fun to just to hang out and people watch. There are often street performers you can enjoy and other events. Turn your grocery shopping into a fun day out!

Staycation Seattle Tips

So now you know where to go…here are some of our favorite tips for saving while getting here and throughout your day on a Staycation Seattle!