Seattle Center – Artists at Play Playground
This post may contain affiliate links and I may be compensated for this post. Please read our disclosure policy here.

Seattle Center Artists at Play Park
The Pacific Northwest is filled with many opportunities to get your kids out and active on a budget. At the top of that list are the many parks we have throughout the Northwest. These include National Parks, State Parks, Neighborhood Parks, Water Parks, Lakes, Skate Parks and more! Lets face it though, not all parks are created equal. Not every family is looking for the same thing in a park outing, and different parks appeal to different ages. Some are all day outings, and some are perfect for a short outing. This park, the Artists at Play Playground, is a great day adventure as there is more to do in the immediate area, in addition to the playground.
Be sure to check out our Staycation Seattle post for many more ideas on what to do in downtown Seattle too!
We also post a weekly Frugal Family Fun roundup, of each weeks best and most affordable entertainment and event options for families. Be sure to check that out for more ideas on what to do on a budget!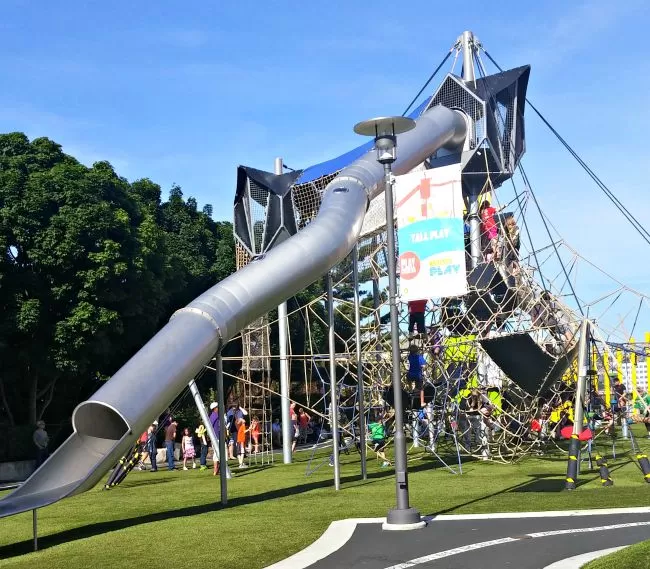 Seattle Center Artists at Play Playground / Park
Highlights:
My girls and I have been to this park twice now, and it is the kids favorite park! I have to say I was impressed with the park as well. It seems like so many parks being built these days are smaller then I recall as a kid, but this one has some serious climbing structures, as well as big slides and more! We spent 4 hours in this area having fun for a total of $25 ($6 for parking for 4 hours and lunch at Mod Pizza – you could do it for less if you packed your own lunch).
A couple of my girls favorite things about the park include: 
Great climbing structures
Big tall slides to play on (bigger then you will find at most parks these days)
So much else to do in the area (including the Seattle Center Fountain for water play)!
Things To Know: (fees, parking availability, are there bathroom facilities, what to bring)
If you do not live near the Seattle Center area, your biggest cost getting to this park will be transportation. You can take public transportation, or drive in and pay for parking.  More information on how to get to the Seattle Center can be found here.
The Artists at Play playground is located between EMP and the Center House.
A couple of notes on parking in Seattle if you choose to drive in: 
Sundays are free parking days if you can find street parking (as well as holidays).
If you can find street parking, it generally ends up being the most affordable. We arrived at 9:30 am and were able to easily get street parking nearby. By 11 am the spots where filling up, and much tougher to find.
You can find more parking information and rates here (Seattle Center is between Queen Anne Ave &  5th Ave. and Mercer Street Denny Way on this map (using the Denny Triangle)
Tips for visiting:
There are public restrooms in the Seattle Center House.
Bring a towel and clothes for water play if you plan to let your kids enjoy playing in the Fountain nearby.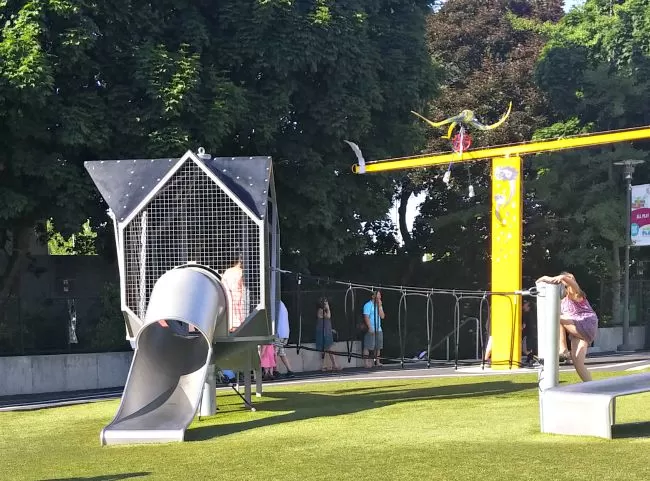 Recommended for ages:
We saw kids of all ages playing here. It is geared mostly towards elementary age kids though, but there are a few smaller areas that younger kids can play on too.
Recommended eating spots nearby:
The playground is next to the Seattle Center House, which is full of lots of different dining options. There is also a great coffee spot, The Grind, right across the street next to the Bill and Melinda Gates Visitors Center.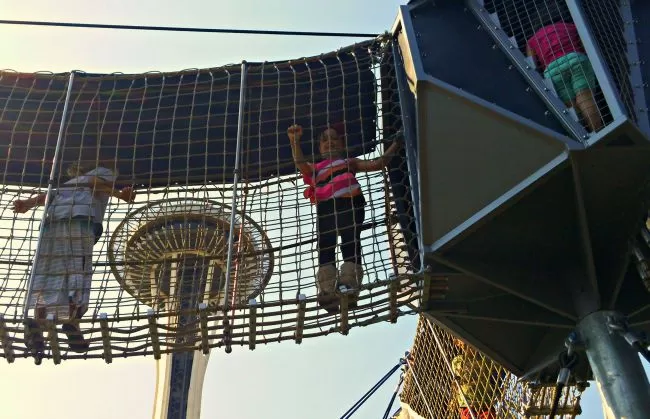 Location:
You can find directions to the Seattle Center here, and more details on where you will find the Artists at Play Park here.
Review:
Its days later, and my kids are still talking about how much fun they had on our day down at the Seattle Center. We initially planned to do the Space Needle as a splurge, but the kids were having so much with all the free stuff, we decided to save our money and do that another time. There were kids of all ages at the park, and everyone seemed to be having a blast.
There are different areas for the kids to play at this park. There is a climbing structure that is very high compared to most playgrounds. The kids loved this one, and it can get crowded, but its very exciting for them to be able to climb so high. There are two large metal slides that come down from the climbing structure. The slides are high, but not super fast.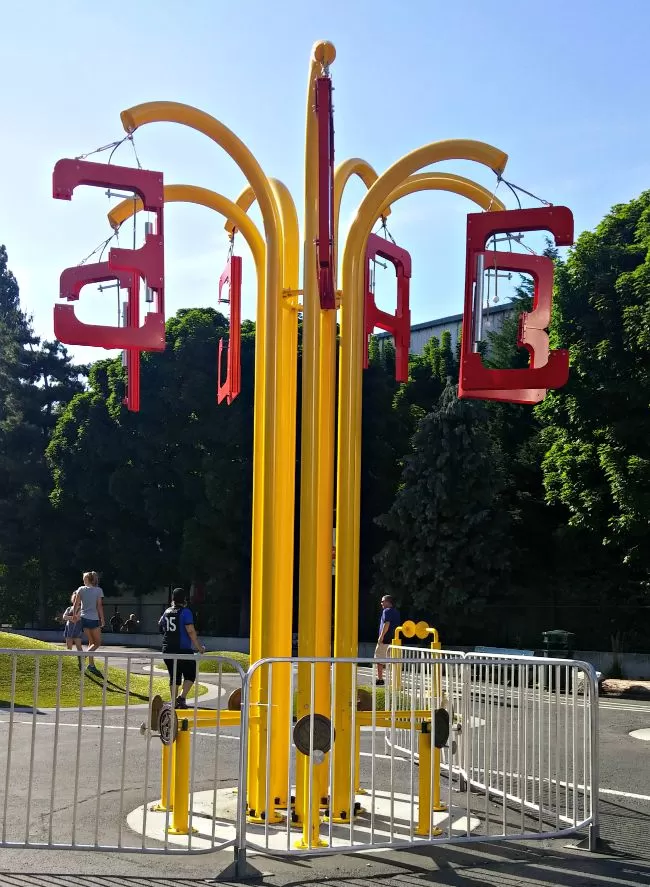 In addition to the climbing structure, there is an in the ground merry go round (that you can turn like you do the tea cups at Disneyland so nobody has to push it). There are also a few swings and many musical type toys (chimes to play, microphones to talk through etc). There is also a large maze on the ground the kids can work their way through.
There is plenty of seating for parents around the park. There is also a shaved ice stand for treats while the kids play, right on site.
My kids have officially sanctioned this playground their favorite one, and they have been to quite a few. I think its really the height of the climbing structure that makes this park fun for kids that are getting a little older. I love it because there are so many other things to do in the area that I can turn it into a outing that they will remember, and not spend a fortune for all that fun!
Additional Tips: (are there BBQ pits onsite, rental facilities, etc.)
If your able to visit during a weekday, verses the weekends you can avoid the larger crowds.
Beyond the playground, there are some other great free activities in walking distance. Here are a few of my kids favorites: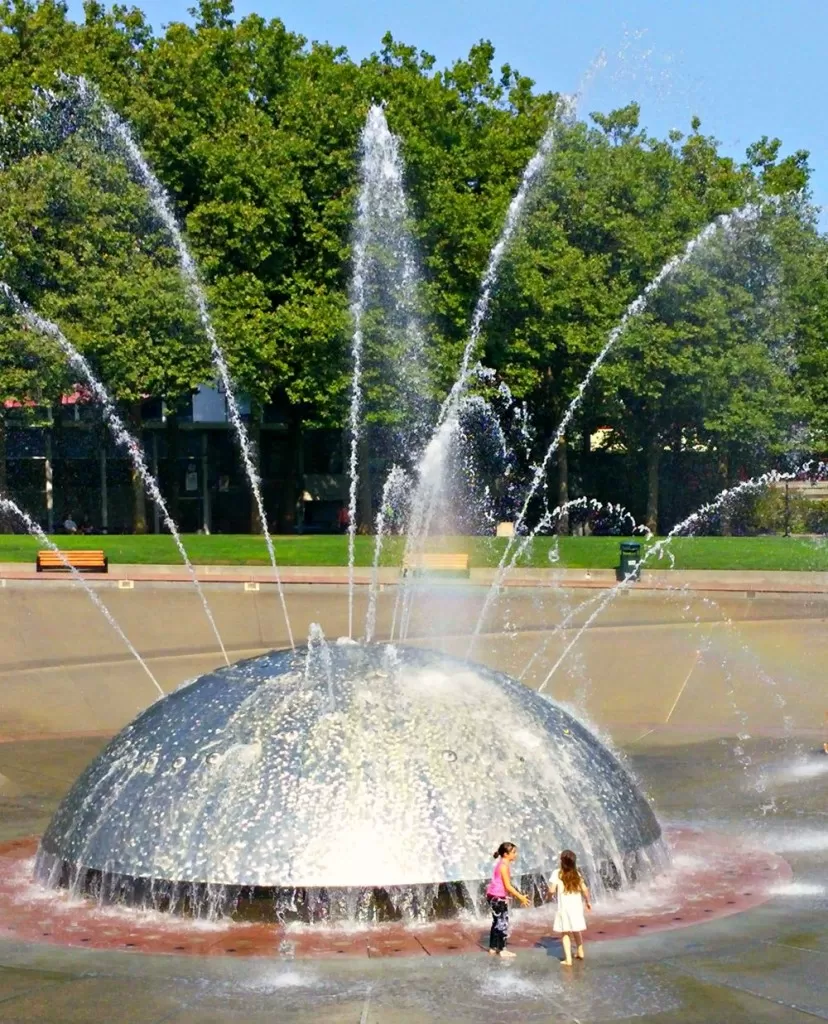 We did not come prepared with swim clothes – but I just could not keep the kids out of the fountain. It was worth letting them soak their brand new school clothes for sure!
The kids had a BLAST playing at the center fountain on a hot day recently. They told me that is was their favorite water park (their words, not mine)!  There were lots of kids playing when we were there, and the water is treated so it should be safe to play in. I tried taking them to a different local water park a few days later, and all they could talk about was wanting to go back to play at this fountain.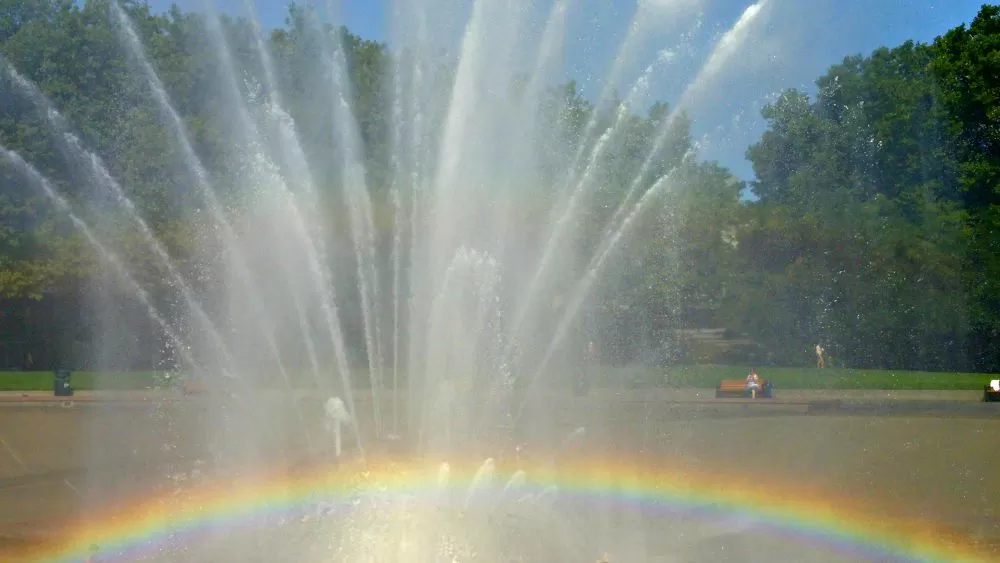 They play music to the fountain, and put on water shows to the music from time to time too. The day we were there, when they let all the fountains flow a beautiful rainbow would pop up.  My kids could not get enough time in this water fountain, they just loved it.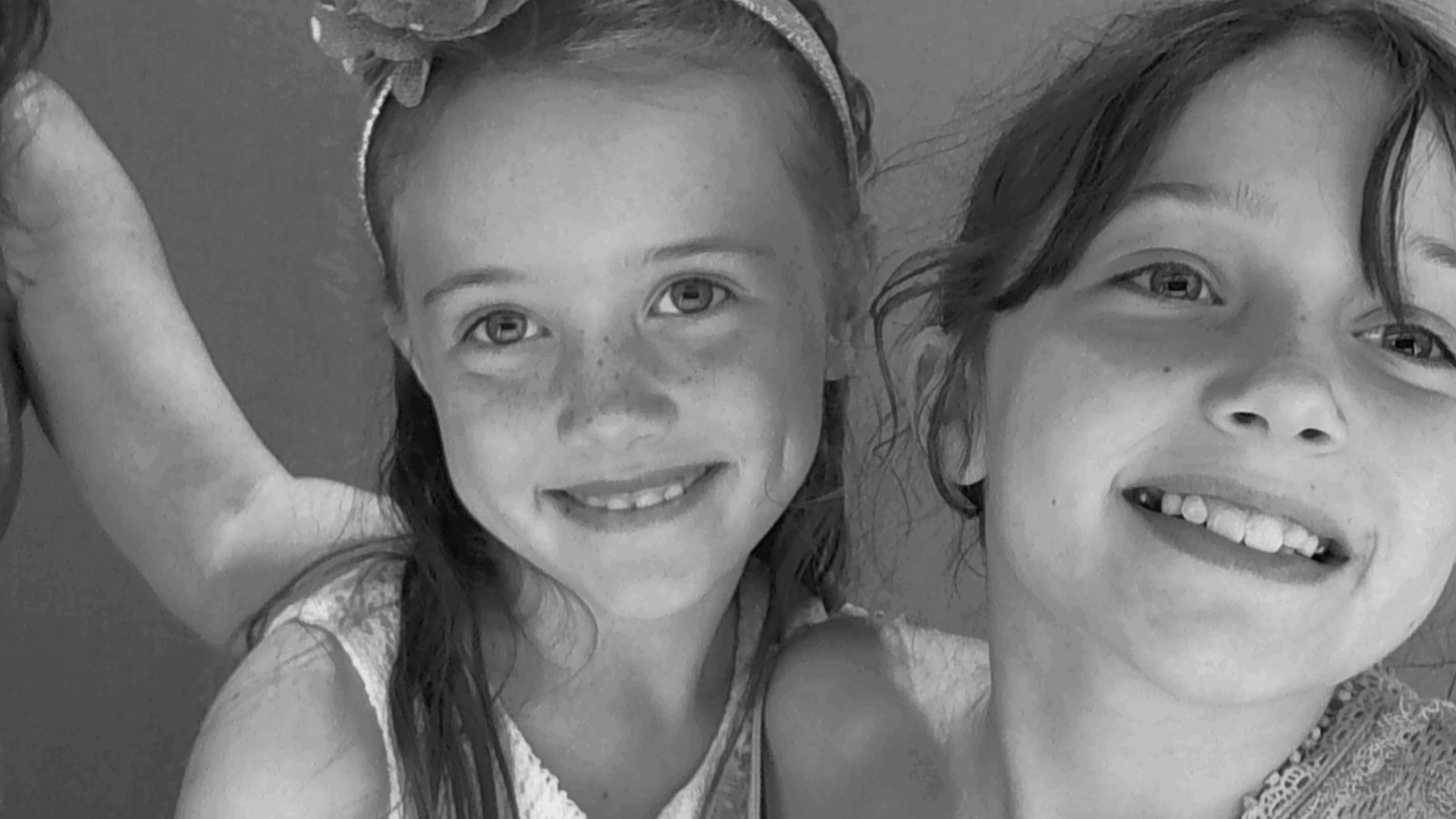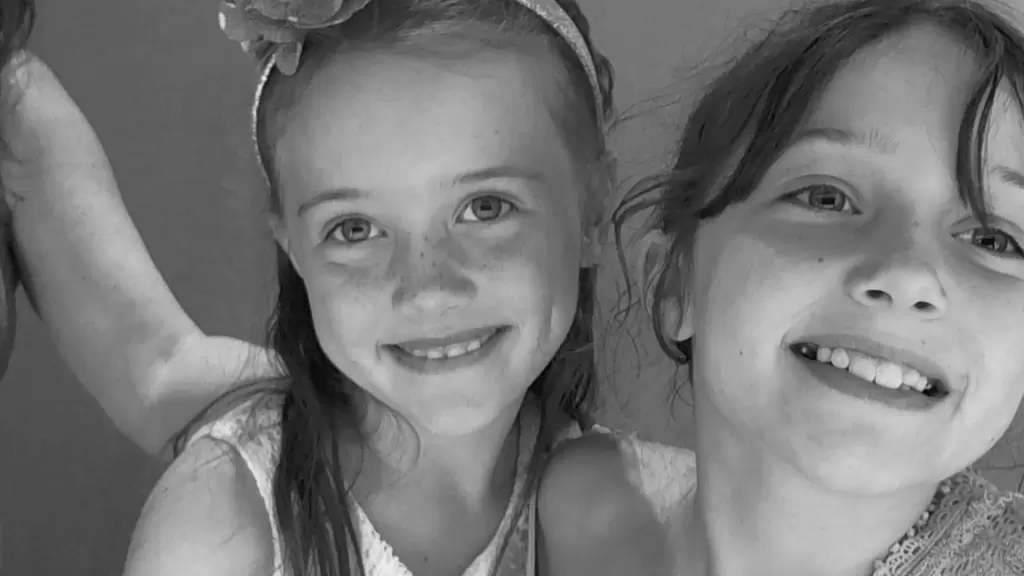 After lunch I took the kids over to the Bill and Melinda Gates Visitor Center. Its right across the street and admission is free for all. I had visited the center previously without the kids, but was not sure what they would think. They loved it. The visitors center is not huge (4 small rooms with exhibits to work your way through) but there are a number of things for the kids to do, especially in the last room. And they can learn about helping others, so its not only fun but also educational.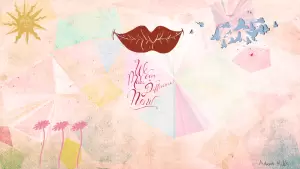 A couple of things the kids can do at the visitors center, is take a picture of themselves and it will display on a large movie screen in the room. My kids got a kick out of this. You can also send one to your email address or share on Facebook (thats one my kids took above).
They can also design posters about making a difference, and send to yourself. Those are the posters my kids designed above.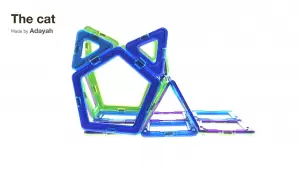 And, there is a table with lots of different connect type of toys for the kids to play with. They can design their own inventions, name them and take a picture of them to save! Those are the two my kids did during our recent visit above.
Find out more about the Bill and Melinda Gates visitor center here, with hours ect.
There are a number of other paid attractions in this area that are very popular (like the Space Needle, and Pacific Science Center). Some more free things you can do, that we did not make it to include the Frye Museum and Skate Park. The Monorail is also very affordable if you want to take a trip down to the shopping district of Seattle. Find all of these ideas and more in our Seattle Staycation post here.