Triple Play Resort in Coeur d'Alene Idaho – Water Park + Attractions that Teens Will Love!
This post may contain affiliate links and I may be compensated for this post. Please read our disclosure policy here.
Disclosure: We were hosted for our stay at the Triple Play hotel for the purposes of this review so we could share our personal experience with the hotel. We were not hosted for the water park + family fun park.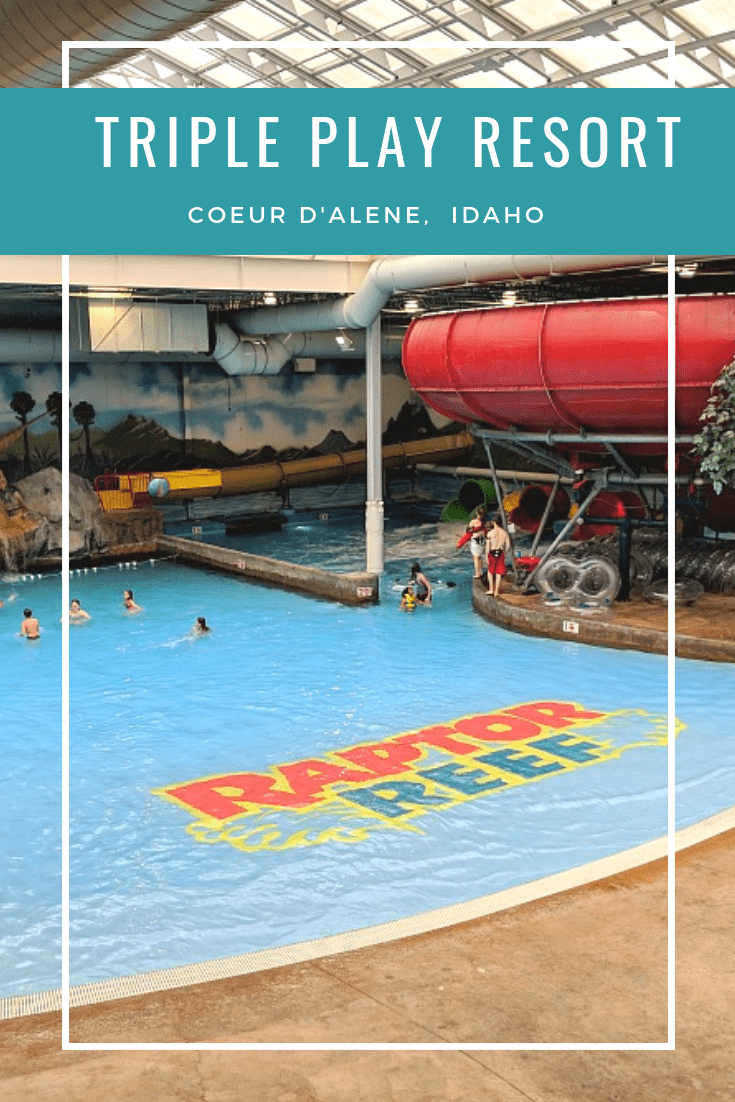 Triple Play Resort in Coeur d'Alene Idaho
If you are looking for a new destination for family fun during any season, the Triple Play Resort in northern Idaho, is definitely a place to bookmark & put on your list!
The Triple Play hotel & family fun park/water park is located just 20 minutes north of Couer d'Alene in Hayden, Idaho and just 45 minutes from Spokane, WA. The resort is located right on Highway 95, which is one of the routes headed up to Sandpoint or if you're continuing up northward to Canada & Banff National Park.
It is a great option for fun for the whole family, but most especially tweens & teens, with its variety of indoor & outdoor entertainment activities and adventurous water park rides & features.
You can visit for the day as part of your northern Idaho vacation or if you live nearby as the Family Attractions & Water Park is open to the public. Or make it your destination as they offer a hotel with rooms & suites on site & offer Stay & Play packages to make it a full weekend of fun, without having to leave the hotel.
Raptor Reef Water Park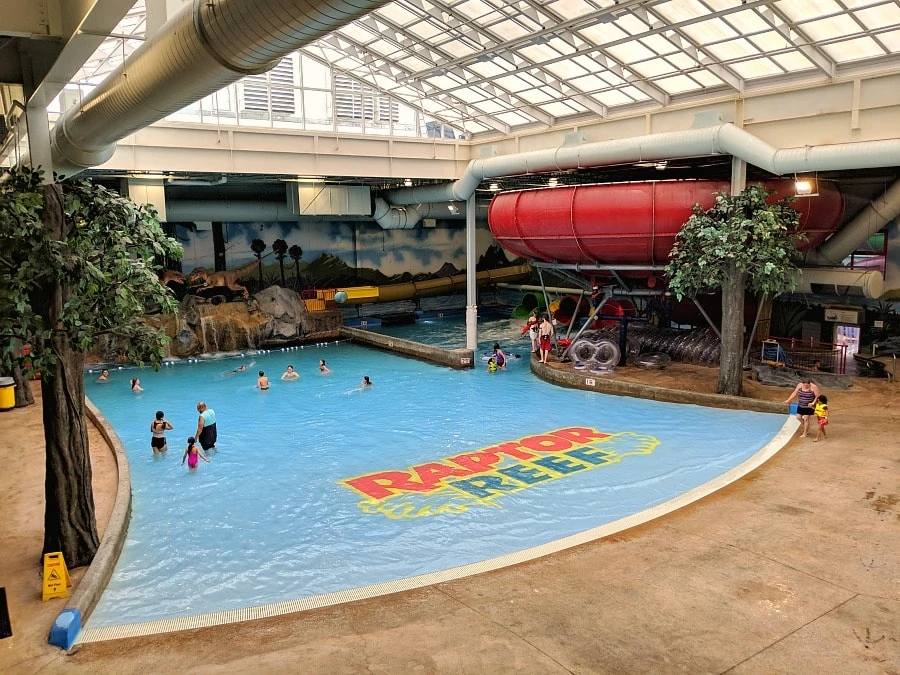 Raptor Reef is the waterpark at the Triple Play resort. It's a 25,000 square ft facility with a variety of features. This is definitely the water park which is definitely geared towards older elementary, tween/teens & adults who love some thrills, although there is fun for all ages of kids as well.
Raptor Reef is a great place to head when the weather is not the best as it's always a comfortable 86 degrees at the park. But even better, in the summertime, they open up the retractable roof so you can also enjoy the warm weather outdoors too & maybe even get a little sun inside.
4 Water Slides –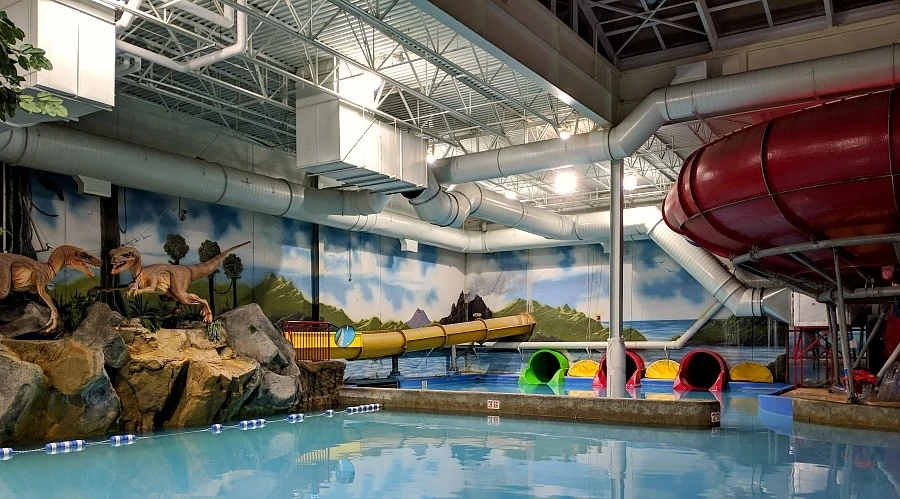 There are 4 waterslides here at Raptor Reef & let me tell you, these are rides that your adventure loving kids, teens & adults will love! They definitely provide some thrill. One of the waterslides is 390 feet long too. You can see all of the waterslides in the picture above – 3 of them empty into the pool in the background & there is a 4th waterslide on the far left. These are all 2 person inner tube rides – you can either ride by yourself or with a partner on the double inner tube.
This large bowl-shaped waterslide is called the Velociraptor Vortex and it was definitely the highlight for my husband and girls for the thrills. You ride down the slide to emerge into this huge bowl and you will spin around & around until you finally make it down a small opening for another fast-paced waterslide before shooting out into the pool. It is definitely the one that got my heart pumping fast & that's when I decided to head for the relaxation of the hot tub – ha!
This ride was definitely the popular ride for anyone who loves adventure,  especially tweens & teens  (my girls wanted to go on it over & over). It reminded me of the thrill level of the raft ride at Great Wolf Lodge, maybe even a bit more thrilling as you wind around & around the big bowl & then shoot thru it at the end.
Wave Pool –
The wave pool is always a hit with the whole family and they keep it entertaining with 6 different wave patterns and up to 3 foot waves.   Dino lovers will love the big dinosaurs at the front of the wave pool.  A unique aspect to this wave pool is that they allow you to use the waterslide inner tubes in the wave pool.   I  loved this as it felt like I was relaxing in the ocean – minus the salt water & getting washed up by a big wave on the beach. :)
Children's Lagoon Play Area –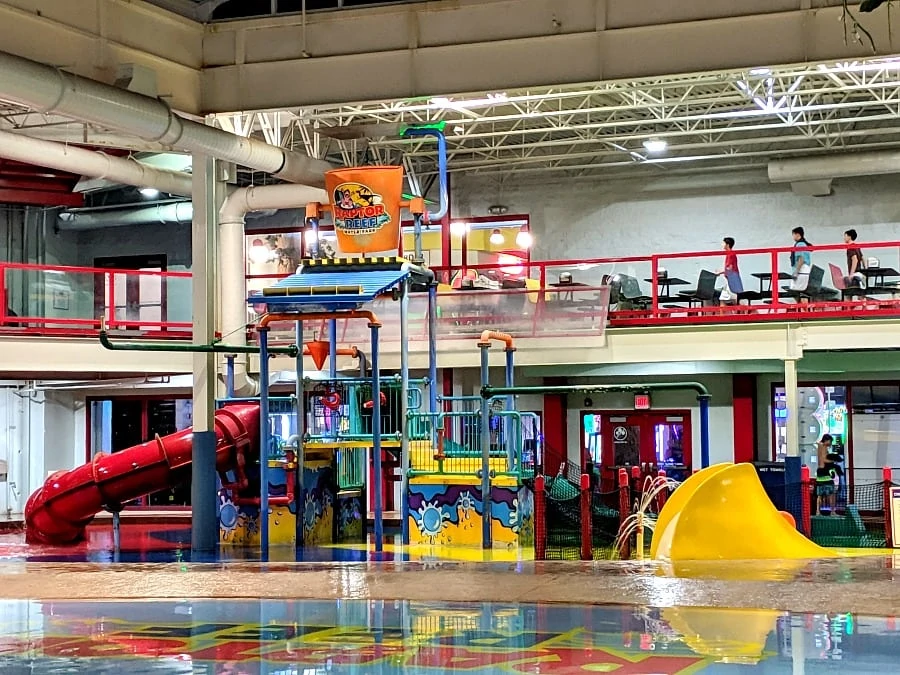 The children's play area was a great area for the younger kids (ages 4 & under) with several smaller slides, fountains, water guns and more. It also features a 300 gallon dumping bucket full of water, which is always a hit with any age . There is only 11″ of water (maximum depth) in this entire area, so it's great for the little ones especially while giving parents peace of mind.
Indoor / Outdoor Jacuzzi Pool
The indoor/outdoor jacuzzi pool was definitely the fave for parents – we all tended to migrate here & hang out for awhile (especially as the temps were a little lower than a typical hot tub so you could stay in it a bit longer). Kids ages 3-12 can visit the hot tub with a parent for up to 10 minutes, too.
I loved the fact that it was both indoor & outdoor as it can get toasty in the hot tubs inside an indoor water park, so it was perfect to be able to sit outside. This was a very centrally located hot tub, so I could easily keep track of my kids riding the waterslides as I sat in the hot tub (even watching them walk up the stairs from my vantage point outside).
Things to Know about the Water Park:
Food – They do have food you can purchase upstairs with plenty of tables, which also give you a great vantage point to see the entire waterpark. You cannot bring in any outdoor food, though (unless it's cake & ice cream for a party).
Seating – Get there early to ensure a lounge chair. If you're staying in the hotel, people do line up at least 10-15 minutes before it opens in the breakfast room (this is where the entrance to the Raptor Reef & other attractions is). So, if you want to be able to relax on the lounge chairs during your day, you'll want to go early. Or go late, which is what we did, visited in the evening & there was more available chairs then too.
Life Jackets – they do have life jackets available for little ones if you need them
Parties – They have a special party room if you want to host a birthday party here. Make sure to check out their specials page too as they often have birthday party specials, too.
Lifeguards – When we visited, there were 2 lifeguards on duty watching the waterpark.  One was on the top floor at the entrance to the waterslides. The other lifeguard was watching the main floor.
Family Fun Attractions:
The Triple Play resort not only has a great water park for the family but they also have a large family attraction park. You do not have to be staying at the hotel to visit the Attractions or Water Park as it is open to the public for day passes or evening passes. But, it is very convenient if you are staying on site as you can come & go between your room to take breaks or to get changed after you visit the water park & head to the attractions (or vice versa).
Here are the different activities available at the Triple Play Park::
*The outdoor mini golf and go karts are weather permitting (we were there on several rainy days so they did close down for bad weather, but they were open during sun breaks).  The outdoor bumper boats are open during warmer summer weather.
These are all included in the day or evening pass. You can also purchase each activity separately if you choose.
Laser Tag: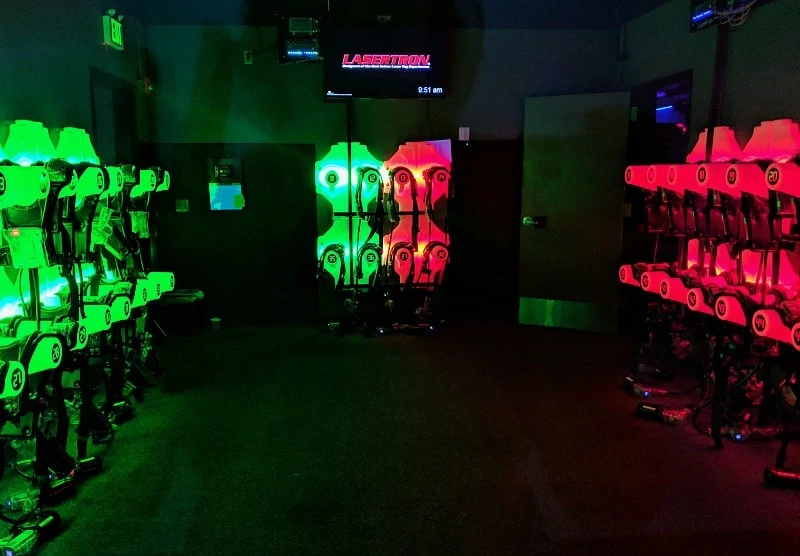 Laser Tag was definitely the highlight of all the activities for my family. We had a blast – I honestly didn't think I would enjoy it as much as I did, but they break you up into two teams & you compete against each other. This was one of the most popular of all of the activities, so if there would be any lines, this would be where you would find them as each session lasts for about 15-20 minutes due to the safety lesson/explanation & then 2 rounds of playing. But definitely worth waiting for this activity!
Rock Wall: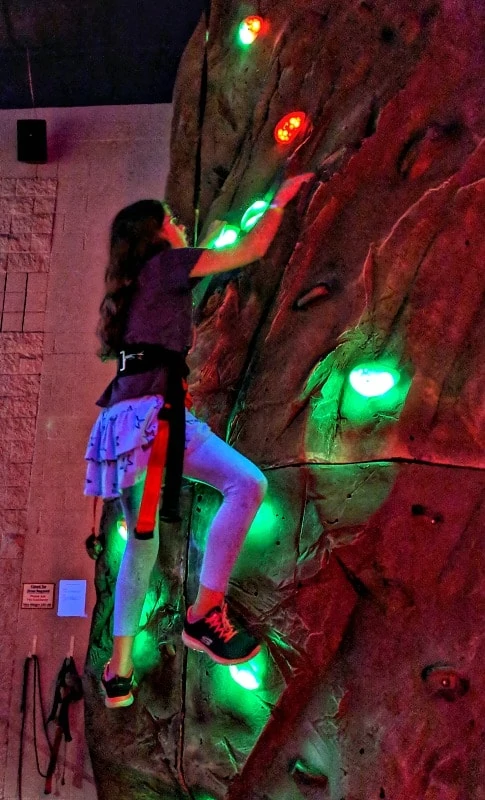 There is an indoor rock wall so that kids can practice climbing. In the evening, it turns into glow-in-the-dark rock climbing. If your kids love to climb, they will love this extra challenge at night!
Laser Maze: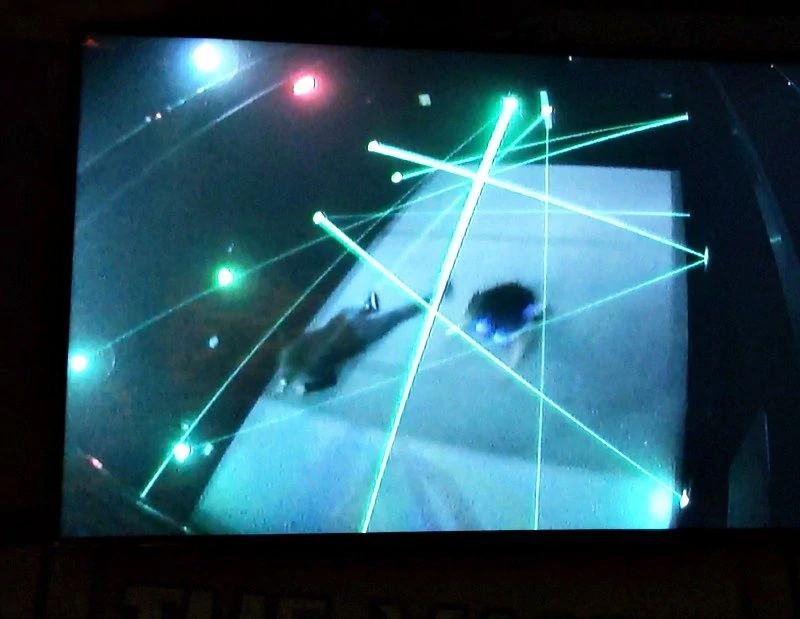 The kids had a blast in the Laser Maze —  this is a room where you have to wiggle your way thru without touching any of the lasers. It was hilarious to watch from the tv screen (shown above, which is why it's so blurry but wanted to show what it looked like) as they wiggled and moved all around the room to try to beat the lasers.
Mini Golf: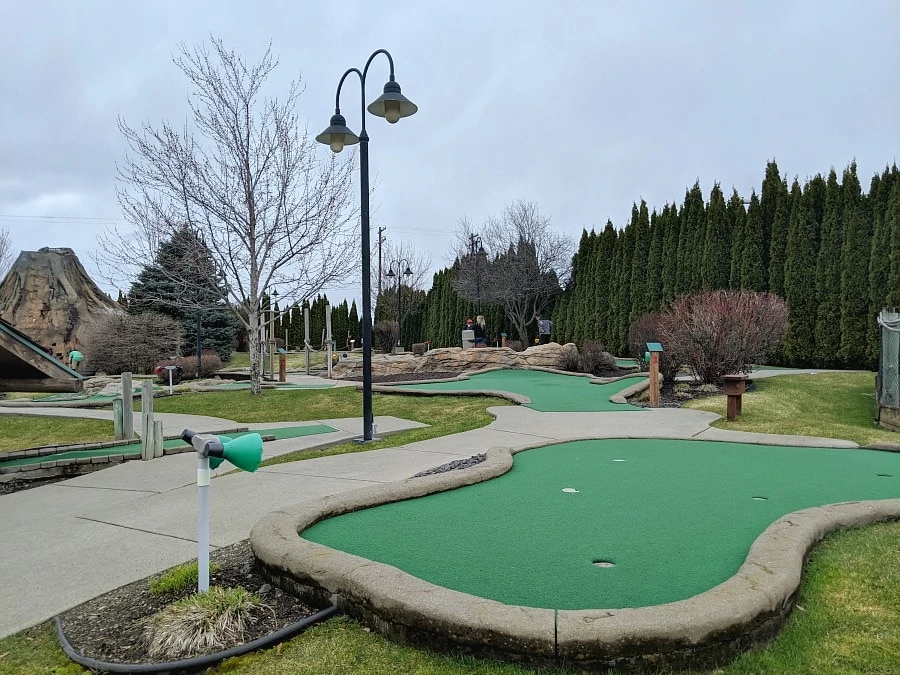 They actually had two different options for mini golf – an outdoor course as well as an indoor glow-in-the-dark course. There are a variety of obstacles for each course to keep it interesting and entertaining for the whole family.
Go Karts:
Go Karts was definitely the most popular activity at Triple Play during our visit, so if you want to visit this one, I'd plan your timing to get there early in the day or later in the day to beat some of the crowds.
More Activities included in Pass:
Glow in the Dark Bumper Cars
Bumper Boats (summer season)
Bowling
Activities that are an Additional Cost:
Ropes Course – this is an additional $4.95/person to add to your day or evening pass.  It is a 32 foot ropes course with3 levels and up to 25 feet in the air. You are safely tethered with a harness & supports and you can this course on your own at your own pace.  There is also a smaller version for younger kids that is only a few feet of the ground so parents can help if they'd like. This activity looked like a fun challenge for kids, teens & adults.
Arcade – There is a large arcade at the Triple Play for any downtimes between activities. Or you can head there on a different day as you don't need a pass to visit the arcade. You can purchase a card to load and the tickets you earn will be "virtual tickets", loaded onto your card to redeem at the prize counter. Our day pass that we bought from the hotel also included a card with $5 loaded for each of us to use in the arcade, which gave us a chance to try our favorite games.
Mining Sluice – this is a fun activity where you can purchase a bag of rough mix & put it thru the trough to get cleaned with the water to "pan" for fossils, arrowheads & real gemstones.
Triple Play Resort Hotel & Suites: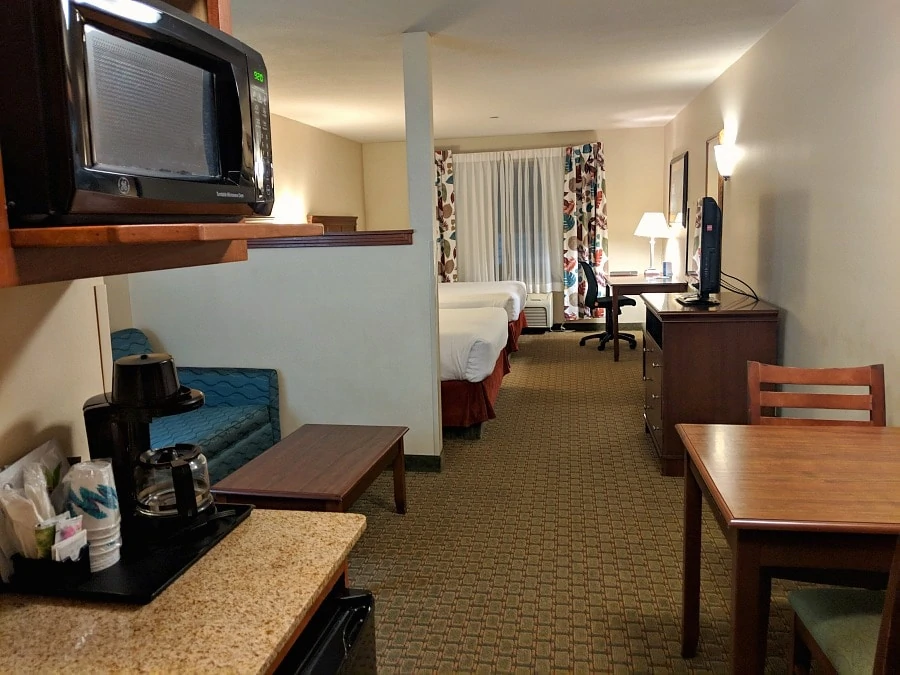 2 Queen Bed Suite Room
As I've mentioned, you can visit the Triple Play attractions & water park just for the day or as part of your stay at the Triple Play hotel. It is definitely most ideal to stay at the hotel if you are wanting a few days of fun activities as it is so convenient to return to your hotel room during the day, especially with a visit to the waterpark & the attractions. The waterpark & attractions are literally right next door, the building right next to the hotel, connected by a hallway, so it's a short hallway walk from the main lobby into the family fun area.
It was so nice to take a break and relax for a bit between a few of the activities –  this would definitely come in handy for kids who need a nap or just some time away from the activities to decompress so they don't get too exhausted.
The Triple Play rooms range from standard king & 2 queen bed rooms as well as king & 2 queen room suites and a 2 bedroom suite, to accommodate all different family size. At the time of posting, rates start at $119 for the rooms only (you will pay separately for the waterpark/attractions unless you book a Stay & Play package). We stayed in a room with 2 queen beds, pullout couch, microwave, coffeemaker & mini fridge. This was a nice size to have a little extra space when coming back to the hotel room during activities to relax.
The hotel offers a hot breakfast buffet daily, so between the complimentary breakfast & having a fridge, you could eat some of your meals in the room to help you save on costs. We've found that always looking for hotels that either offer a fridge & microwave or an included breakfast is definitely a way we can lower costs. We'll bring sandwich fixings to keep in the fridge & we could eat these between activities or the water park when coming back to our room.
Check for the best current rates on Booking.com here.
Or Find more great rate options on Trivago here too. 
Call the Hotel Directly for Specials – We did not purchase our attraction/water park passes until we arrived at the hotel (unsure of whether we would do the full day pass or just the evening pass based on our schedule) & the hotel actually offered several discount options to purchase the passes when we arrived.  One option (at the time of our visit) was to visit the water park only for the full day & it was just $15 (reg $24). So I would recommend calling the hotel directly to ask if they have any specials you can purchase over the phone or when you arrive as compared to the online prices.
Specials Page for Attractions – Make sure to always check out the listed specials available at Triple Play. An example of a few specials they were offering (at time of posting): Buy a Child's Pass, get a Mom's Pass for free (day pass or waterpark pass) on Mother's Day. Buy one get one free waterpark passes on "Dinosaur Day" and more.
Specials Page for the Resort Rooms – This is where you can find any specials they have going on for room discounts as well as any discounts on their Stay & Play packages.
Email List – Make sure to sign up for their email list to stay up to date on special discounts, packages & area events. This is a great way to find out about limited time specials that they may not advertise on their website or social channels
Costco Triple Play Discount Cards – Costco sells a Triple Play Family Fun Park, Single Day Pass eVoucher for $42.99. The Costco Triple Play Pass includes:
Single Day Pass
Includes Raptor Reef Indoor Waterpark and Ropes Climbing Course
PLUS a $5 Game Card to the Arcade
eDelivery
All of those items would cost you close to $55 if you bought them directly from the Triple Play website, so it is a nice savings!
Social Media Discounts – Make sure to follow the hotel on their various social media accounts as I noticed that they share special discount days on each of these . accounts including fundraisers which are supporting a great cause as well as taking advantage of discount tickets to the Triple Play attractions & water park.
AAA Membership -If you call about your rate, make sure to ask for the AAA membership or if you book online,  it will show you the option of the AAA rate, which looks to be around $10 lower room rate. Just make sure to have your AAA membership card when you check in to get that rate.
All in all, the Triple Play Resort & Raptor Reef water park offer quite the mix of fun and adventure that kids and teens will love during any season. When you need a break from the heat, the rain or the snow, these activities will get your adrenaline going & you can have a family fun adventure for any age. It can be hard to find activities that the teen crowd will love, but the Triple Play fits the bill with its wide variety of activities to interest everyone!
Have you visited the Triple Play resort – what did you think?
Here are more ideas for Northern Idaho::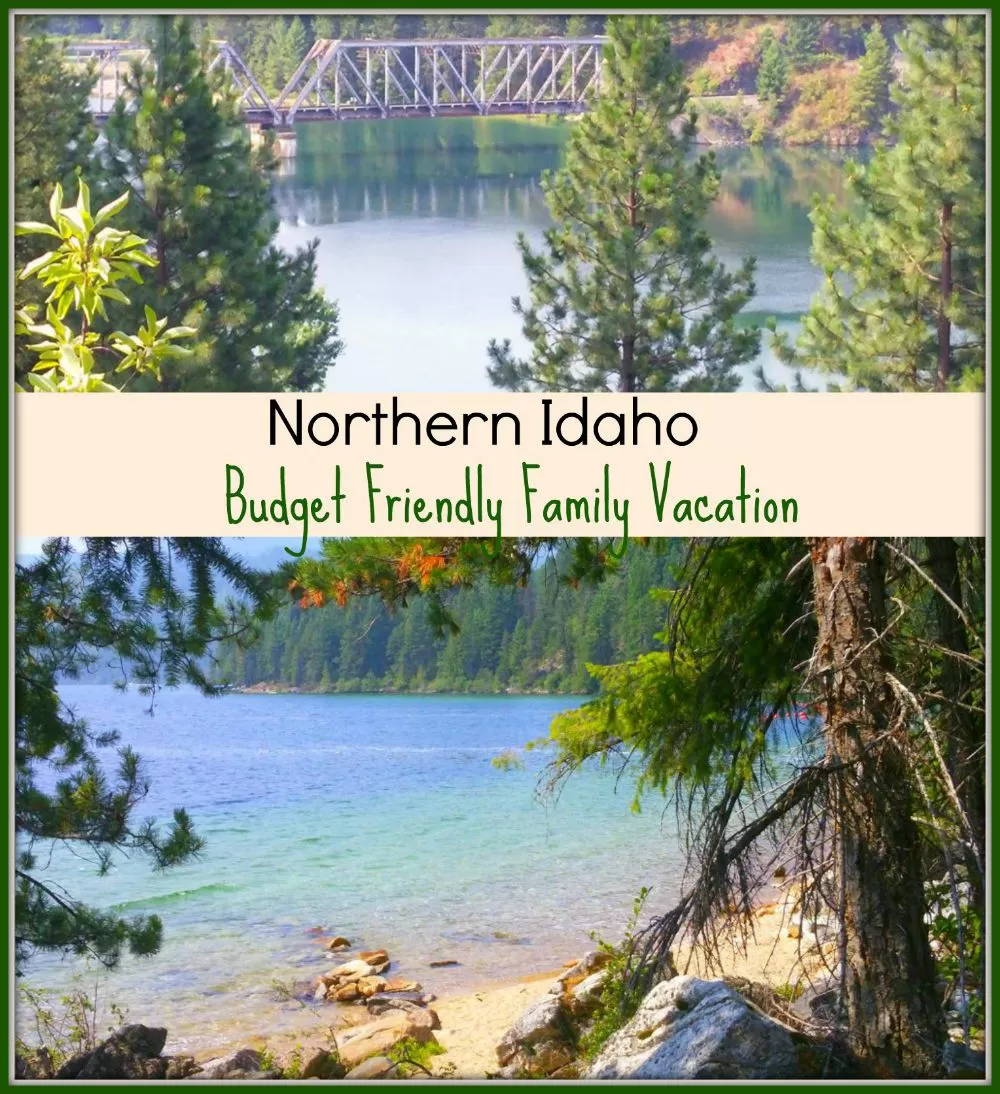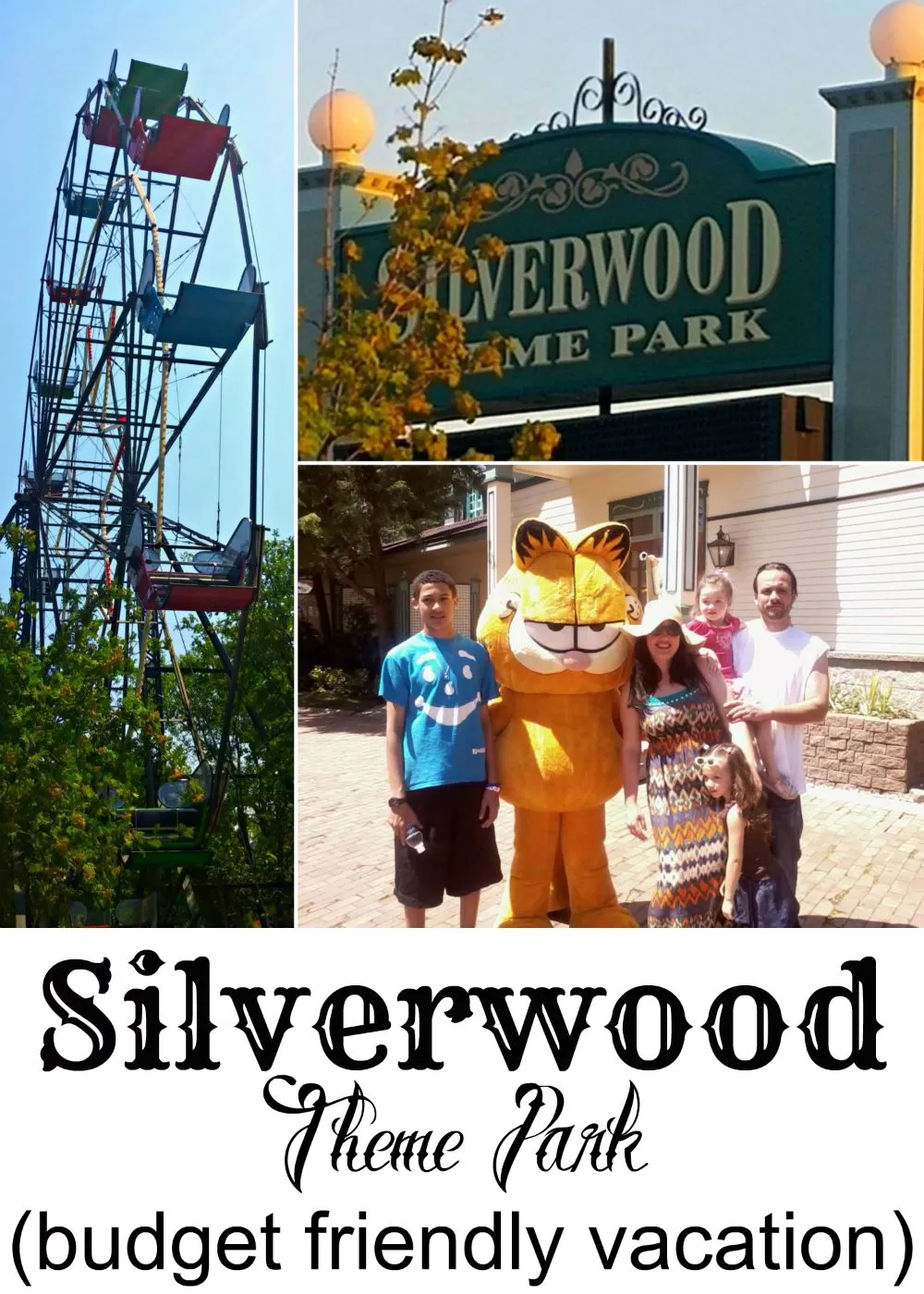 Where to Find Silverwood Discount  Tickets