Silver Mountain Resort in Kellogg Idaho – A Hidden Gem for Families with Skiing, Tubing, Water Park & more!
This post may contain affiliate links and I may be compensated for this post. Please read our disclosure policy here.
Disclosure: We were hosted for our stay & tubing at the Silver Mountain Resort for the purposes of this review so we could share our personal experiences with the resort, waterpark & ski resort.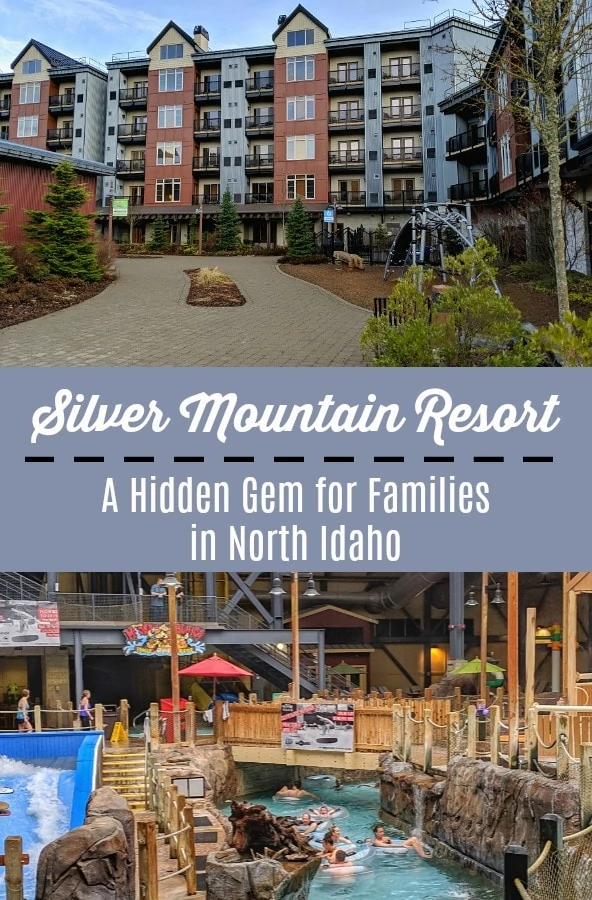 Silver Mountain Resort & Silver Rapids Waterpark in Kellogg Idaho
Check current rates and reviews for the Silver Mountain Resort – 
Reviews and rates on Kayak.com here

During the month of January they offer special Ski and Snowboarding Lesson deals. Last year it was just $109 +tax for an adult or $89+tax for youth. This offer includes a beginner area ticket, lesson and rentals. Info here.
Just 40 minutes from Coeur d'Alene and a little over an hour from Spokane is a hidden gem of a resort that's a great fit for families in the panhandle of Idaho –  Silver Mountain Resort. It's close to the border of Montana (two hours away from Missoula,  MT) if you are looking for a place to stop with your kids on a road trip to Glacier or Yellowstone National Park.
We will be headed to Yellowstone this summer, so we are seriously thinking about a stop at Silver Mountain to break up the drive as it is about 5 1/2 – 6 hours from the Seattle area. It is literally just minutes off I-90, so it's a great option for road trips if you are wanting a place for the kids to unwind & have some fun before hitting the road again on your trip.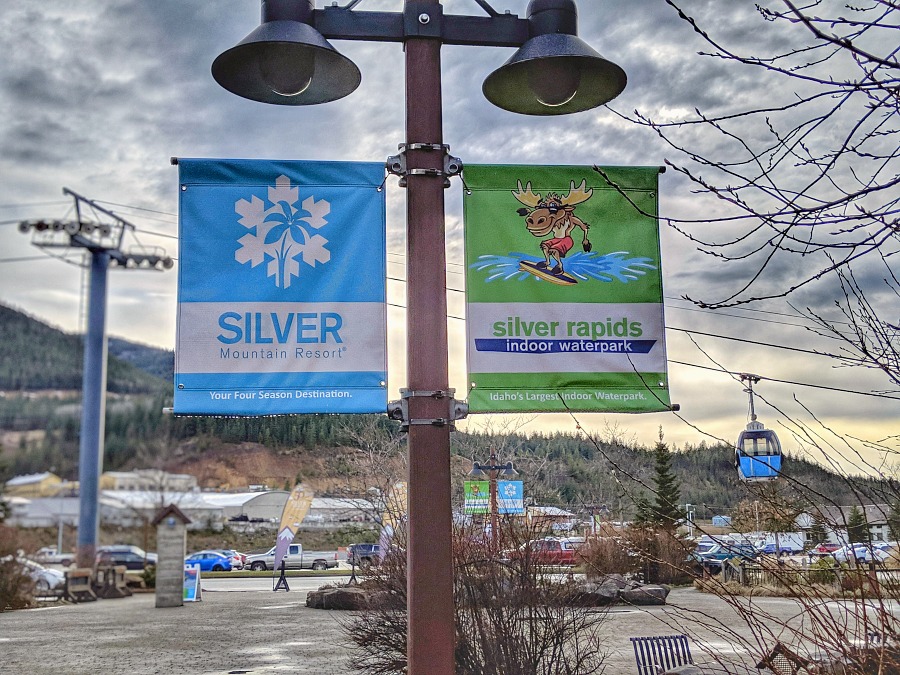 But I'd suggest that you consider Silver Mountain as more than just an ideal road-trip stop, but as prime destination for a week or long weekend getaway with family. This resort had so many family-friendly features and it has not just a ski resort that's a gondola ride away, but also an amazing water park.  The water park admission is included with your hotel stay, too.
The hours work well between the ski resort & the water park that you can ski or snowboard all day & then head down to the water park for the late afternoon evening. We did just that one of our days there -spent the day outdoors tubing & skiing at the ski resort, rode the gondola down the mountain right to the resort & then headed to the waterpark for the evening.  It just makes for a stress-free and enjoyable visit when you don't have to worry about driving & can enjoy the gondola ride and everything is in such close proximity.
Silver Mountain Resort is in Kellogg,  Idaho, a former mining town, that's nestled in the Bitterroot Mountains of the Rockies. It's a short 20 minute drive to the town of  Wallace, a unique town to explore. This is a destination to enjoy any season as you can enjoy the snow sports at the Ski Resort in the winter and then take advantage of numerous hiking & mountain biking trails in the summer. It is also close to the popular Route of the Hiawatha rail to trail bicycle route to enjoy in the summer.
Silver Mountain Resort Lodging: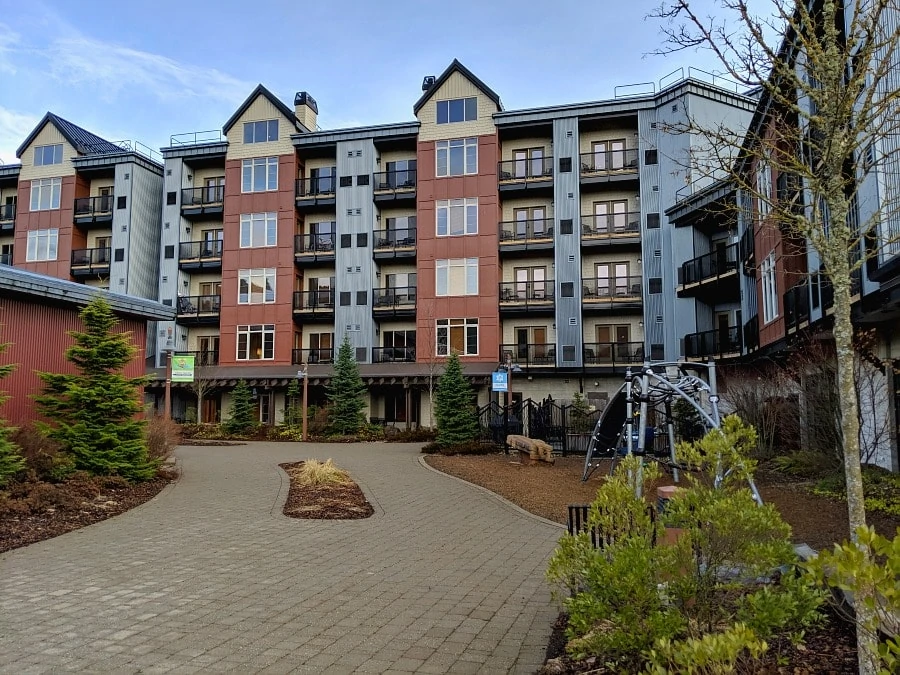 Silver Mountain resort lodging consists of condos all located in the village right in Kellogg, just a few minutes off of I90 for easy access on & off the freeway. They offer everything from studio size condos to two bedroom condos that sleep up to 6 people. These are actually condos that you can purchase, but they do rent them out like hotel rooms for visitors. We stayed in a one bedroom suite & what we loved about the rooms is that they all have kitchens (even the studio, which is a smaller kitchen) but still offers you an opportunity to have a fridge & counter & some meals in your room if you choose.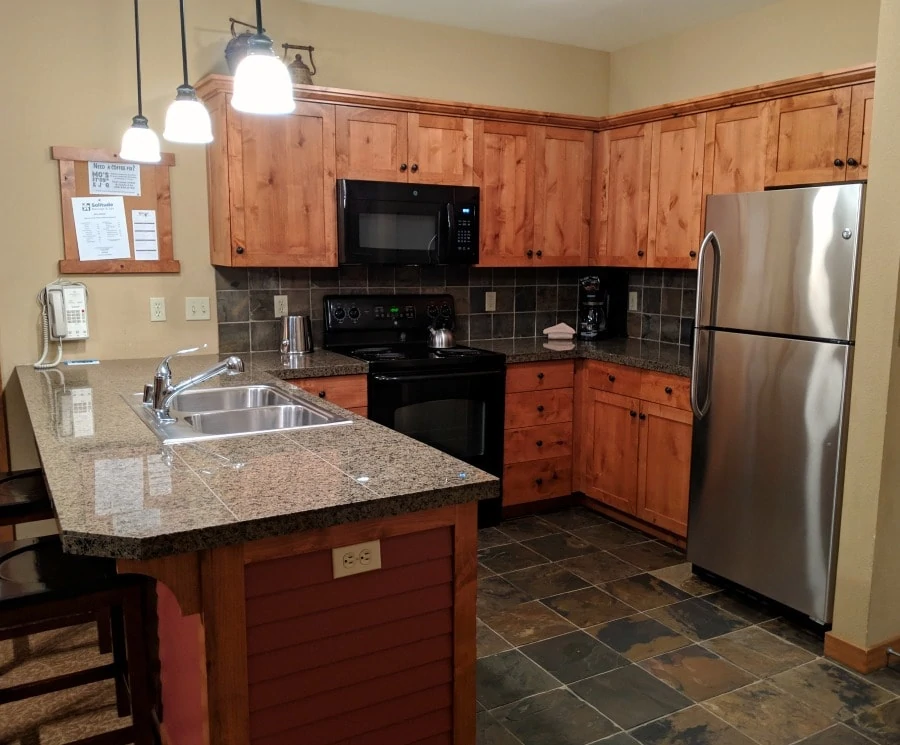 We love to have a kitchen available as it is a great money-saver for us to eat some of our meals in the condo. Ours had a full kitchen with full size fridge, stove/oven, dishwasher, microwave, coffeemaker & toaster.  The suite also had a large dining room table & a fireplace in the living area (perfect for those winter evenings after you've spent the day on the slopes). There was a separate bedroom with king size bed and our kids slept on the pullout bed in the living room.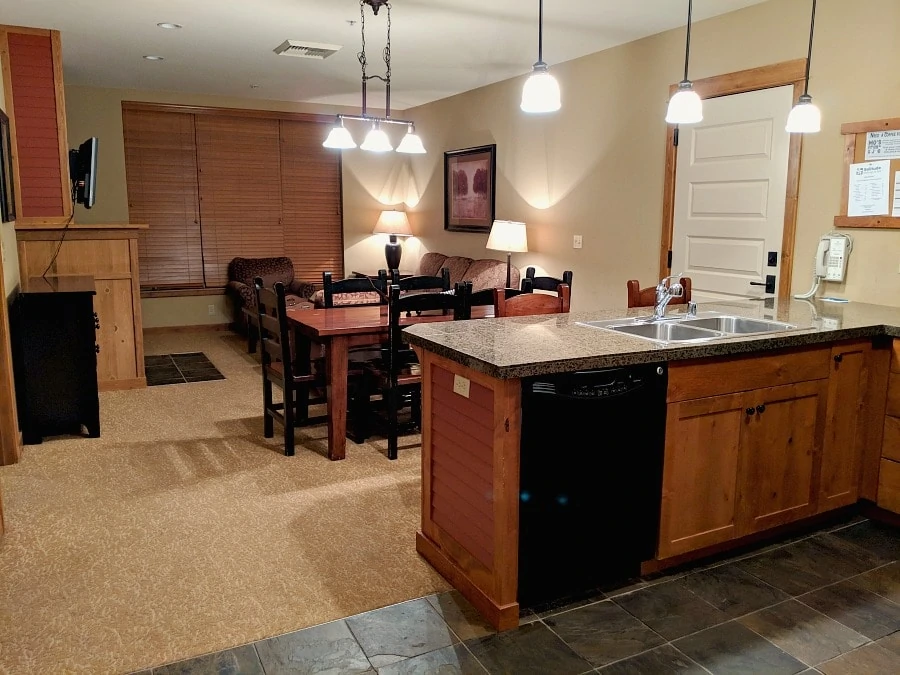 Overall, the lodging was very spacious and a place you could feel comfortable staying for a length of time with your family due to the comfort & variety of seating & space throughout the suite. We never heard any of the other guests either and it was a full week when we were there, but it never felt crowded or any issues with noise.
We stayed in the Morning Star Lodge, which has several buildings all right in the heart of the village & our building was directly across from the water park and just a building away from the gondola.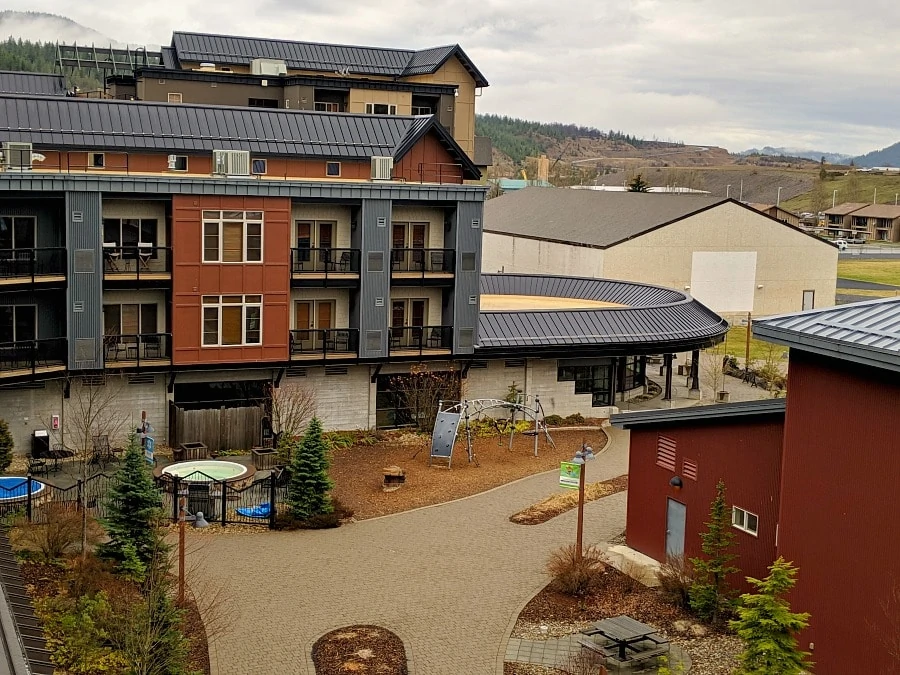 We had a small balcony that looked right out onto the water park building. I wondered if we would ever hear any noise from the water park, but this wasn't an issue at all.
Within the hotel in the halls & main spaces, they give you a glimpse into the history of the Silver Valley with tasteful photos from generations ago, showing the area in the height of the mining times. It was like a mini museum seeing all the pictures as you walked thru the hotel – love that they incorporated the history of the area into the hotel.
More features of the Silver Mountain lodging:
Outdoor hot tubs – there were two outdoor hot tubs outside of our building & I heard there were several more hot tubs around the Silver Mountain property for guests
Fire Pits – relaxing around a fire pit during any season is one of our favorite family past-times, so we took advantage of the fire pit one evening & purchased a s'mores kit from the front desk & enjoyed our first s'mores of 2019
Pet Friendly – if you want to bring your pooch along with you, they do offer some pet-friendly rooms at the resort
Location – this is the prime location to stay thanks to the proximity of the lodging to the waterpark, the ski resort (via the gondola just steps away from the lodging) & the village with several restaurants/cafes,  shops & more. It is like a miniature version of a larger ski village you'd find in Colorado or Utah, which I think many Northwest ski resort areas are definitely lacking, having easy access to all the amenities within such easy walking distance. We love to explore the surrounding areas, but otherwise, we could have gotten by with not using our car at all during the stay.
Pricing:
I have found Silver Mountain Resort to have very reasonable pricing considering water park admission is included with your stay, especially if you are headed there in the off-season. Currently, I have found prices as low as $103 for a family studio room that sleeps 4 & includes a small kitchen for select dates in May (check website for current rates). The prices will definitely vary depending on the time of year you are traveling (summer rates are higher of course) & holiday timeframes, but it's a great option for a variety of budgets, especially if you are flexible with your dates.
Silver Rapids Waterpark: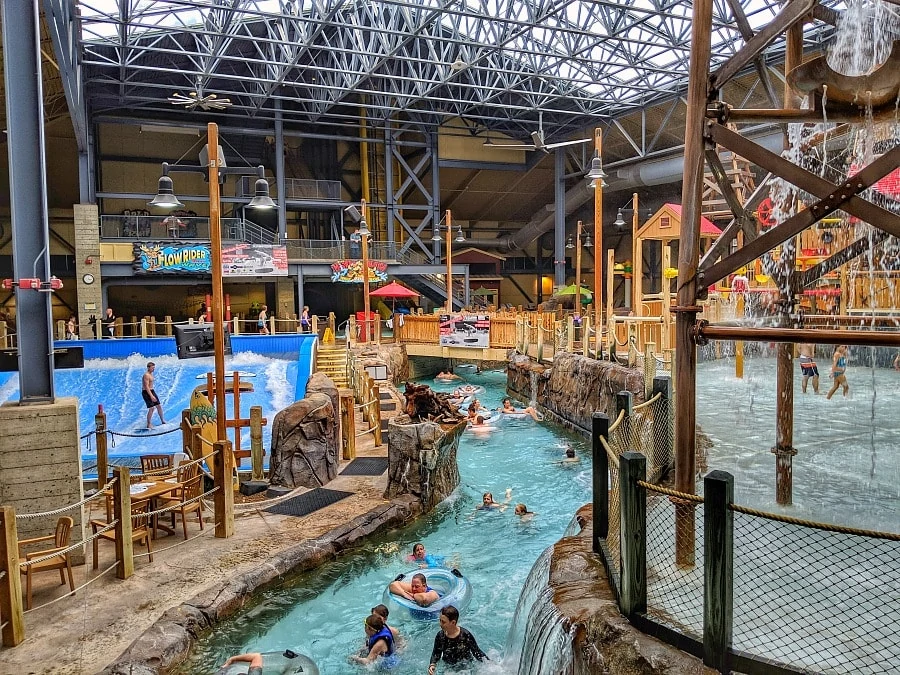 Silver Rapids Waterpark
On the grounds of Silver Mountain resort is Idaho's largest indoor water park, Silver Rapids Waterpark. This waterpark is 42,000 square feet big and the temperature is always kept at a nice, warm 84 degrees inside. The water park is designed for both swimmers & those who can't swim as the water is no deeper than 4 feet anywhere.  They have a wide variety of water activities that makes this water park a very family-friendly place to spend your day.
We had the opportunity to check out the water park during the first week of April, which was a busy week for them for one of the Spring Break weeks.  But, what I loved most about this water park is that even though there were a decent number of families there, it never felt crowded or overwhelming, which I definitely feel at times in other water parks (we did go in the evenings to visit, but even when I walked by during the daytime, it never looked crowded).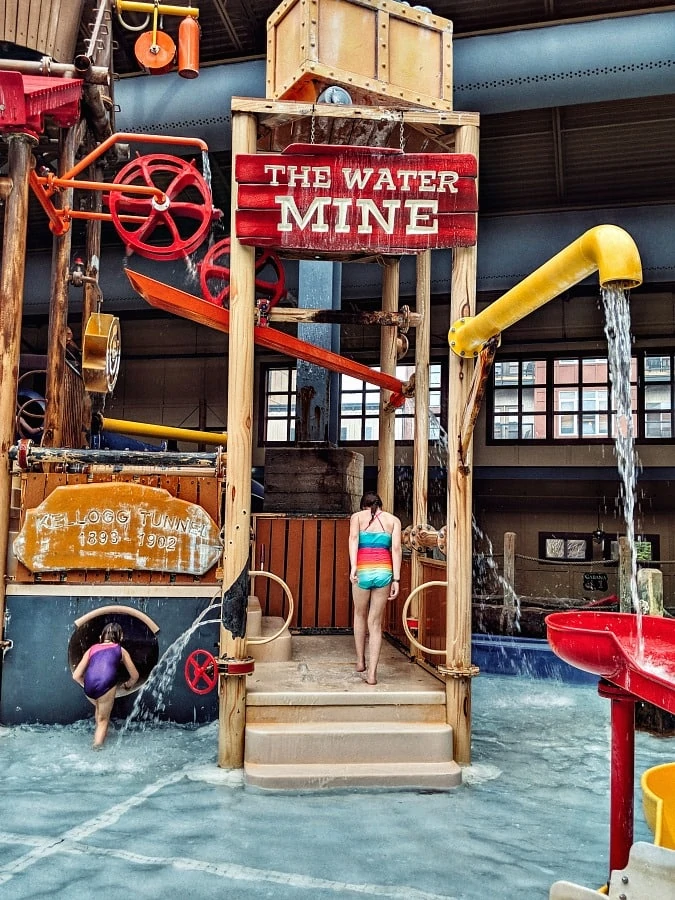 Part of that is that it feels very open & airy, thanks to the large skylights covering the majority of the roof & the large windows all around. I'm sure it is beautiful in the wintertime with the snow-capped mountains as the backdrop.  Having that openness & brightness in the building really helped to make it feel more relaxing & enjoyable, especially for mom & dad. For the first time, I felt much more comfortable at a water park as it didn't feel as overwhelming to keep track of the kids if they went on their own rides. The layout  just made it feel much more manageable from a parent's perspective.
Our kids had an absolute blast, too! So much to keep them busy! We only spent a few hours there each day as we were busy exploring other areas of the resort & community during the day, but my kids could have stayed & enjoyed it all day. I think this water park is perfect for elementary & tween age kids, but with some great options for the younger kids too, with special play areas for babies & toddlers.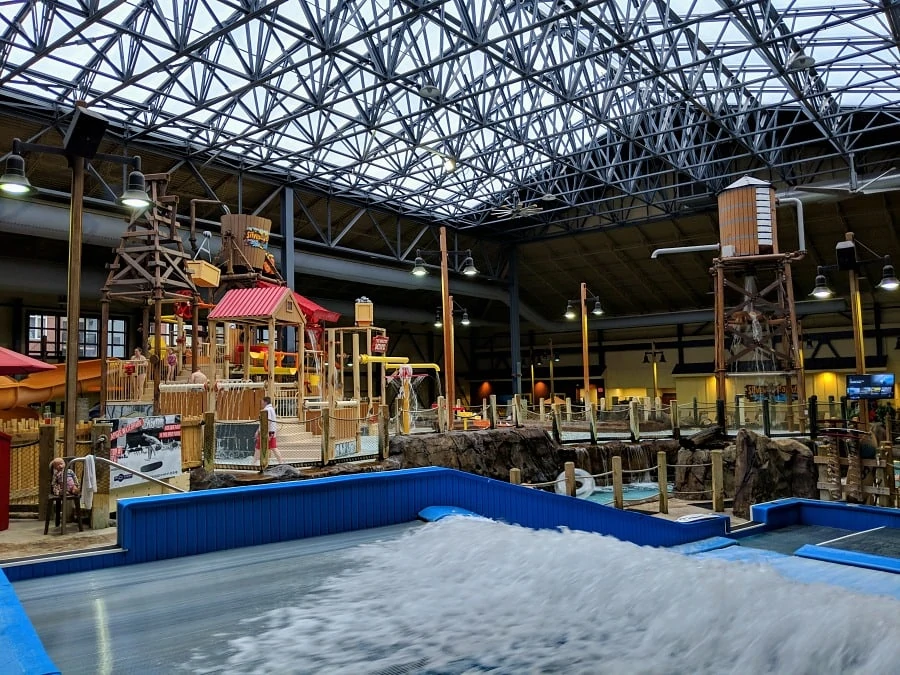 If you stay for one night at the resort, you can check out the water park both on the day you arrive (as early as 1pm) and the day you check out (as long as the waterpark is open),  which we found to be a great value for the price you pay to stay at the resort.  We had to check out by 11am but then just loaded up our car (& the parking is in a gated lot) & then were able to stay at the water park until that evening.
What to Know about Silver Rapids waterpark:
Great for any ability level, whether you can swim or not, as the water is no deeper than 4 feet anywhere.  The deepest area is the lazy river and you can use an inner tube in this area or swim
Get two nights of water park access for every night that you stay. So if you stay one night at the resort, you can access the waterpark on the day you arrive as well as the day you leave.
Life jackets if you need them and they will also have towels for you to use
It was much easier to keep track of kids with the layout of the park – easy to see in different areas
Many options for younger kids to participate with the whole family
Plenty of lifeguard staff stationed around the water park. Gives you much more peace of mind to know there are many watchful, trained eyes
There are lockers which you can pay for if you want to store your items securely
The entrance is outdoors,  so even though you are staying at the hotel, you will need to dress warmly to get to & from the hotel to water park during the colder months
Features of the Water Park:
Silver Rapids Water Park has a variety of features and plenty of options to keep the whole family having fun. In addition to all the water park features, there are also two food counters with your typical water park fare (burgers, nachos, etc), as well as a bar at the 2nd floor restaurant if parents want to head up there to relax.  My girls loved ending our day at the water park with an ice cream cone.
Flow Rider – If you are looking for thrills, this is the first place to head at Silver Rapids. The FlowRider is a continuous wave with over 60,000 gallons of water per minute moving at 35 miles per hour – it's definitely powerful, but also a very safe environment to try out surfing or body boarding, with plenty of padding all along the walls of the wave area.
My younger daughter decided to try out the body boarding & she had so much fun, she decided to try it again the next day. If it's a busier day at the water park, this is the place that will get the longest lines as it's just one person at a time & they do give them several minutes at a time (& several tries if they fall off the first few times). But, you will definitely get the most adrenaline rush from this feature. We saw lots of teens & adults trying their hands at the surfing, but there were definitely kids trying their body boarding skills too.
Tip: If you want to have more time to learn how to surf in this safe environment, they do offer surf lessons an hour before the waterpark opens too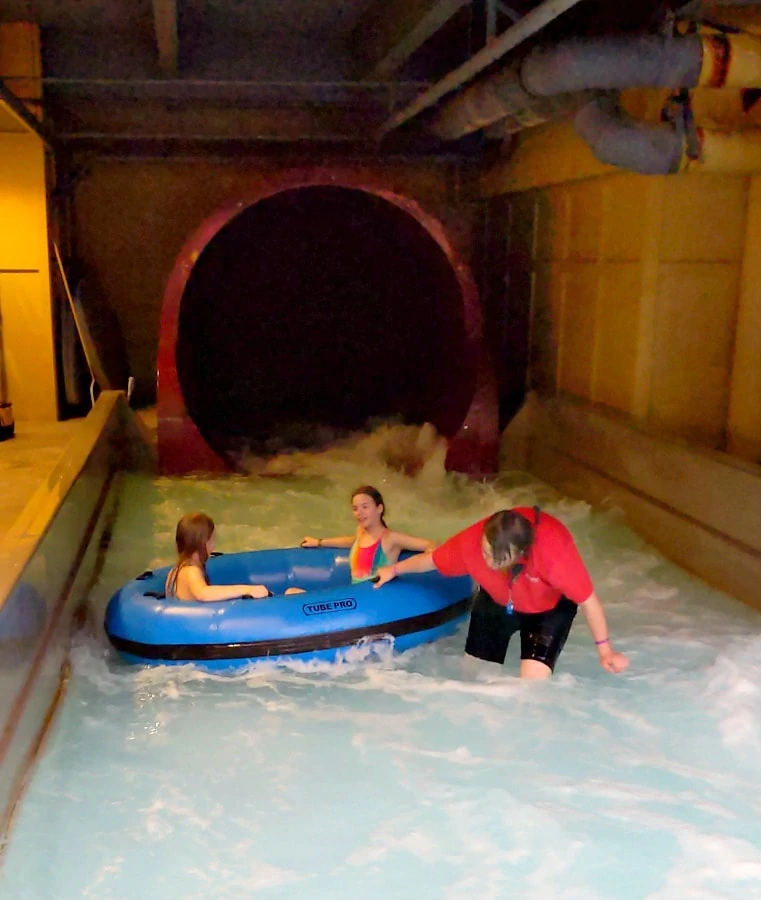 Water Slides – Silver Rapids has a variety of waterslides at their park for different ability levels. Our personal favorite (& the most popular) waterslide was the "Moose Sluice", a family raft ride up several flights of stairs. This raft fits 4 (possibly 5 if younger kids) and is thrilling enough for everyone to enjoy, but definitely did not feel too fast or challenging as we saw a lot of little kids riding it with their parents and emerging with big smiles.
There are also 2 single tube waterslides up at the top level with the family raft ride, which require single inner tubes. These are for kids ages 48″ & above & these waterslides are about the same level as the raft ride. The lines went quickly for this ride as the slides are a bit shorter than the raft ride, so we loved these slides because we could ride it so many times.
In addition to the 3 main waterslides, there are 2 smaller tube slides for the preschool & elementary kiddos. These are right in the center of the main play area, Miner's Island & they were a great length & speed.
Lazy River – My favorite part of the water park was the lazy river. This lazy river is right in the center of the water park and weaves around the various water features such as the Flow Rider, Miner's Island (a water play area) & more. They have inner tubes you can ride or you can swim without a tube, too. It's a nice, leisurely ride for the most part, although you do have to dodge waterfalls here & there, so just be prepared to paddle away or get wet.
Miner's Island Water Play Area – This water play area is full of lots of fun features to keep kids entertained for awhile. They have the always popular giant tipping bucket, as well as another large bucket that has continuous water coming out. It's like a giant playground with bridges, sprayers, interactive water valves, the two kid-sized tube slides and so much more.
Hoop Lagoon & The Crossing – These areas are tucked in the back of the water park near the water slides. The Crossing is a special area just for kids to cross over floating lily pads using a net above them to pull themselves across. And the Hoop Lagoon is 4 basketball hoops so they can get a rousing game of water basketball going with anyone in this pool area.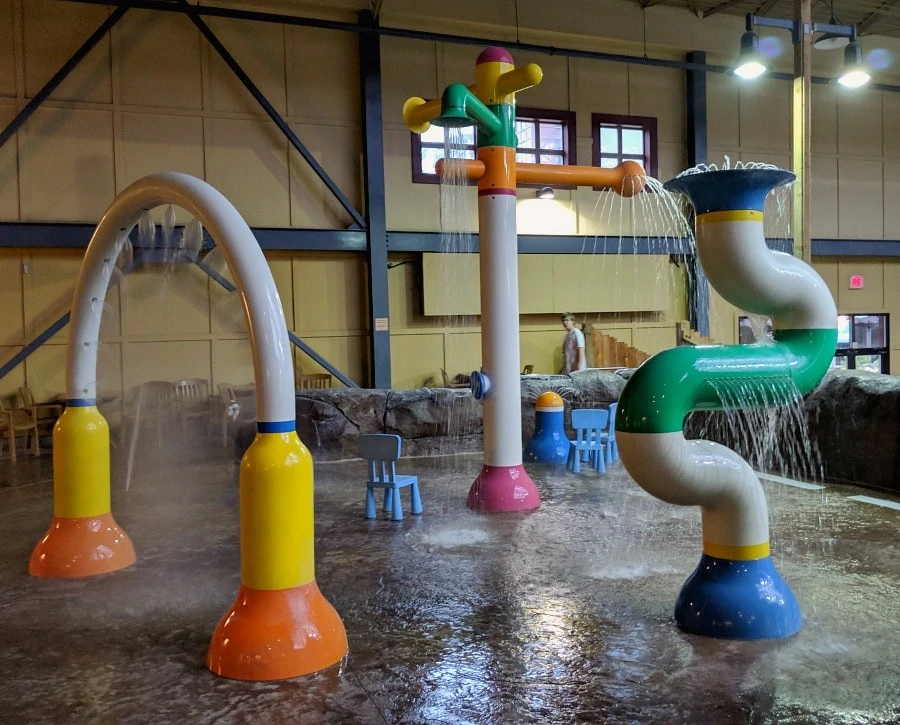 Splash Zone – This is an area that we saw babies on up to the older kids enjoying this splash zone.  Kids will love the interactive features & spray fountains, bubbles & misters in this area.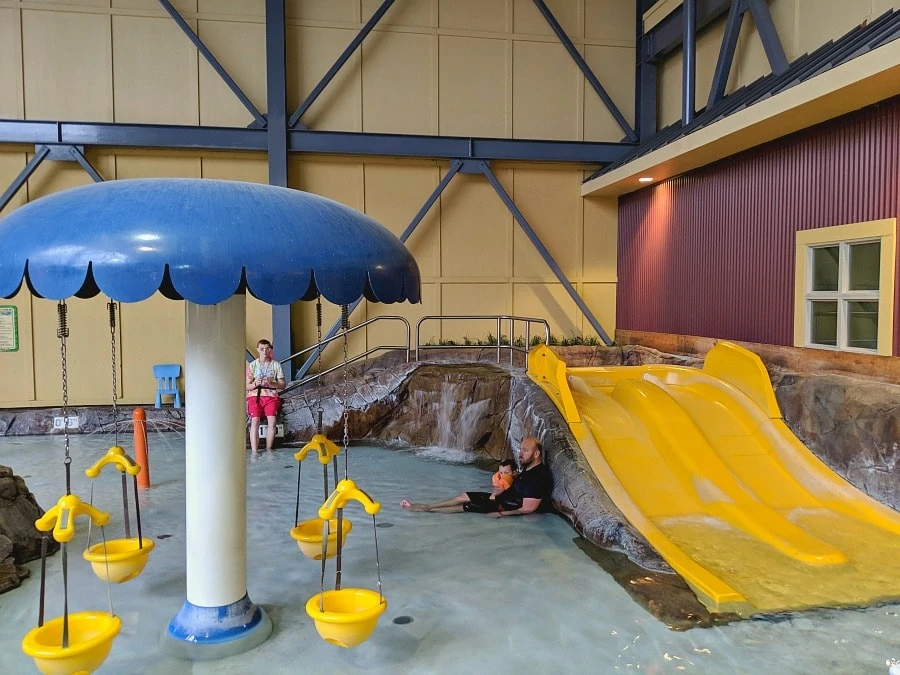 Baby & Toddler Zone – The Pollywog Pond is the perfect place for the little ones. It is set off in a corner so it has a little separation from all the bigger kid activities (& helps to keep the kids more contained a bit) & it's a shallow water pool with 2 kiddy slides & a water swing. There is also a life guard stationed just at this location to give you peace of mind.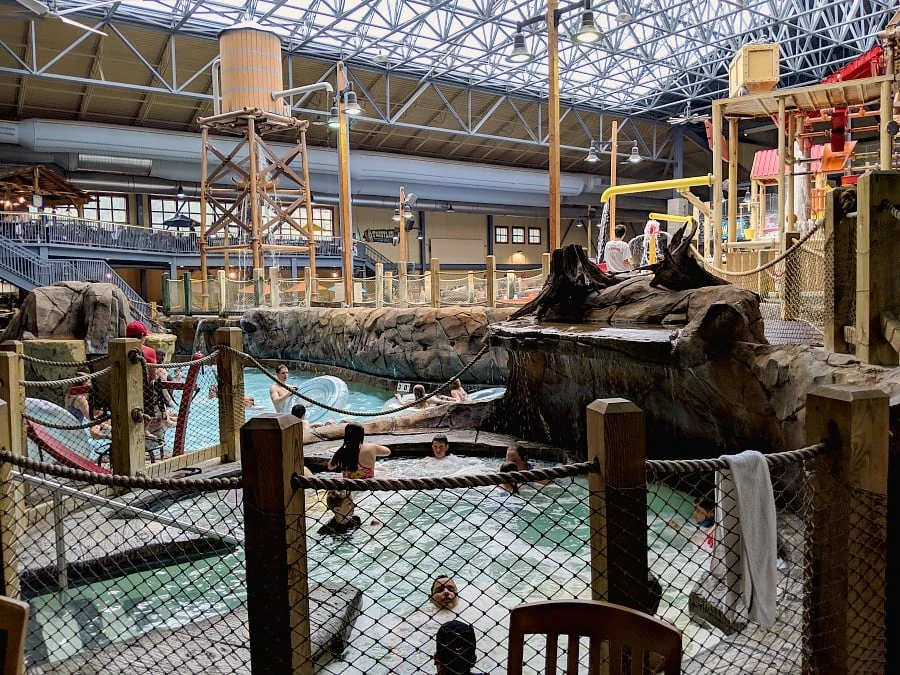 Hot Tubs – There are 3 different hot tubs in the water park. There is a large hot tub off to the side of the lazy river (this is more kid-friendly as the temps do not get as hot) & then they have 2 hot tubs up on the 2nd floor mezzanine level beside the eating area. I felt that the downstairs hot tub had a great view that I could keep an eye on the kids in several areas of the park.
Silver Mountain Gondola
Whether or not you are a skier, I highly recommend taking the Silver Mountain gondola up to the mountain ski resort.  The gondola runs during the ski season as well as the summer season (starting Memorial Weekend) from the village as its base.   It is North America's longest gondola ride at 3.1 miles (around 20-25 minutes long). In the winter, it is your transportation up to the Silver Mountain ski resort to go skiing, snowboarding & tubing.  In the summer, they open up the mountain for mountain bike trails,  hiking, kids' play areas & beautiful views once you get up there via the gondola.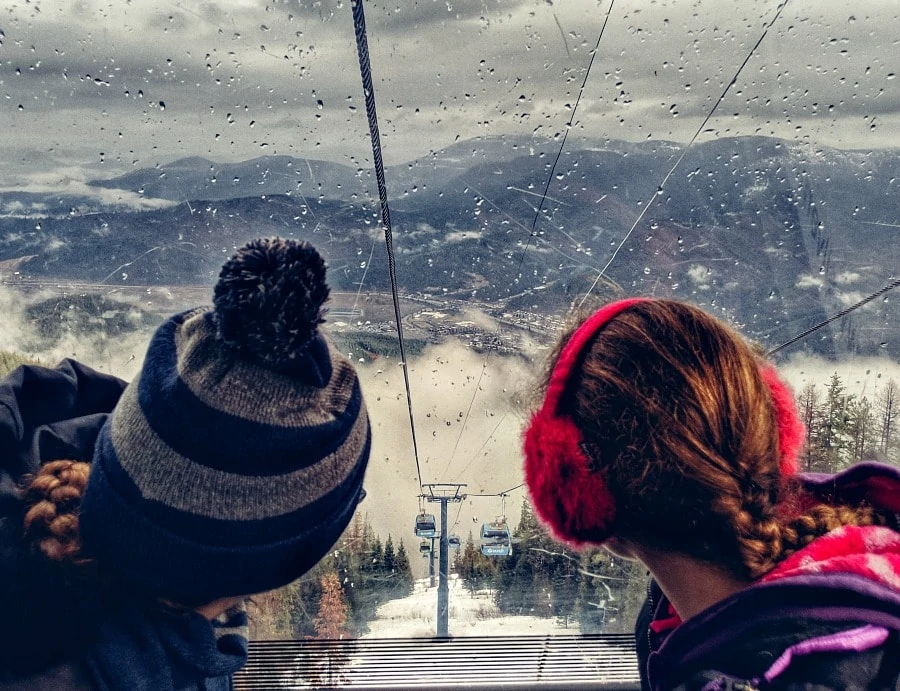 Silver Mountain Gondola
We love to see gorgeous views & taking the gondola ride was so relaxing and peaceful to enjoy those pretty views of the Silver Valley & the Bitterroot Mountains (part of the Rocky Mountain range). Especially as it did not involve any driving up windy mountain roads, but you could relax as the gondola starts right from the Silver Mountain resort village & town of Kellogg, which is just off I90. So, not only will you be treated to the views of the town of Kellogg & the valley on your ride, but then you will have those gorgeous views from up on the mountain once you arrive.
The gondola is included if you are headed up to ski, snowboard or go snow tubing & if you just want to take the scenic gondola ride, they have specific rates for that, too ($19 for adults & $15 for kids 4 & up at time of posting).
Silver Mountain Ski Resort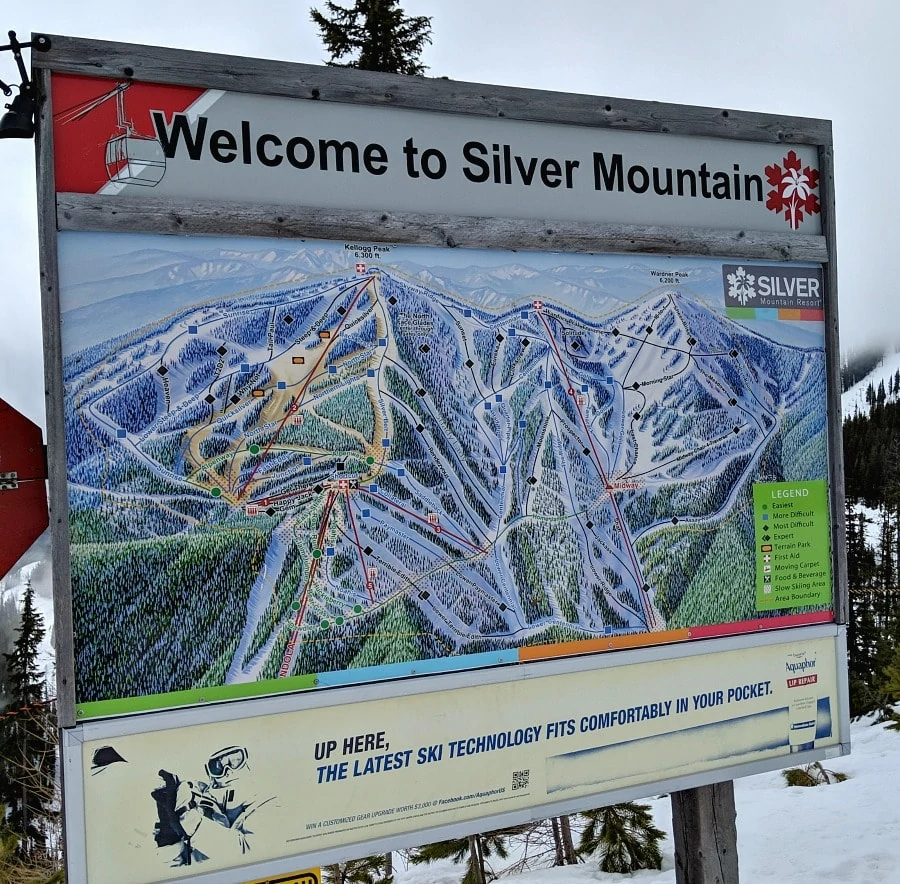 The Silver Mountain Ski Resort is accessed by the gondola and once you arrive, you will have over 70 trails to choose from for your ski routes, between the Kellogg Peak & Wardner peak. They get more than 300 inches of snow annually & have over 1600 acres of terrain for skiing & snowboarding routes. As you can see, there are a lot of different options for every skill level.
They do also offer snow tubing right outside of the lodge.  The tubing sessions typically run from January – April (dependent on weather) on most weekends & holidays.  The sessions are 2 hours in length & the snow tubing tickets include the gondola ride & snow tube rental.
We were there over Spring Break the first week of April & had the opportunity to try out the tubing (it's one of our favorite things to do in the winter). What we loved is that they have a magic carpet ride to bring you up the hill after each ride – so nice to not have to trek up the hill with your tube each time. There were 4-5 lanes & they are all monitored by an attendant to ensure that tubers were waiting for people to exit before tubing. They also have straw down at the bottom for ease of stopping.
It was definitely a great tubing option for families, especially those with younger kids, with the way the tubing is set up & less steep hills so even the little ones will feel comfortable. When we were there, it was nearing the very end of skiing season, so the snow wasn't as slick & you did get stuck a bit on the hill, but I'm sure it's much better when there is fresh snow.
If you want to get your kids on skis or snowboards, they also have a number of options for ski or snowboard lessons & packages. For as low as $79 at the time of posting (check current rates), kids can get an hour & a half lesson,  lift ticket & rentals or $99 for a full day with 2 lessons, lift ticket, rentals & lunch. These lessons are available on weekends & holidays.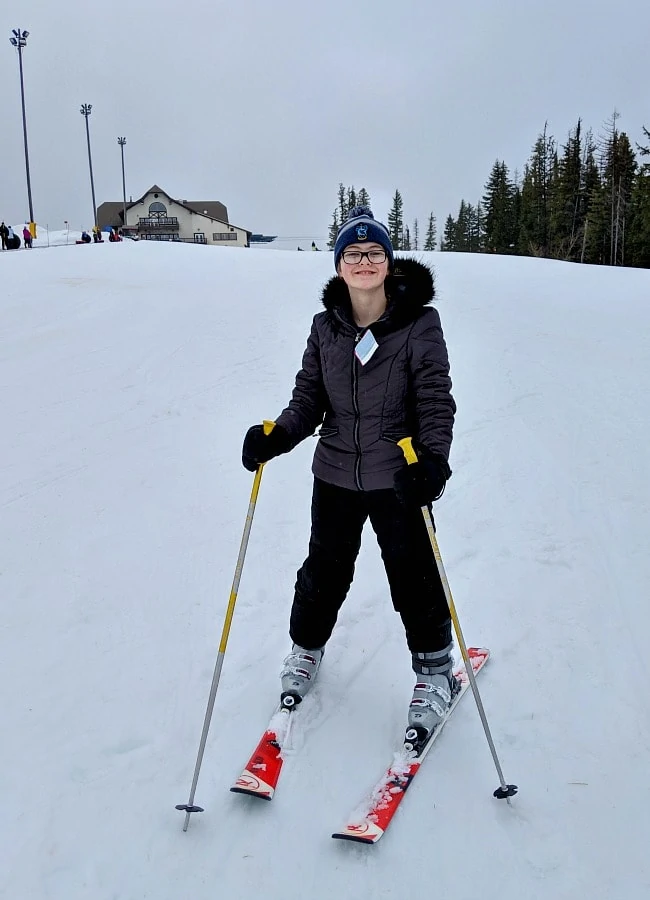 Kids Ski FREE at Silver Mountain!
When you book your stay for this March (2023), kids ski free with the purchase of an adult lift ticket! Limited to 1 free kids (ages 7-17) lift ticket per adult lift ticket purchased. Reserve your ski and stay package by calling 866.344.2675. Plus we share more info on Free Skiing for 5th Graders programs here, if you are interested in where to find free skiing for your kiddos.
We happened to be visiting on a weekday so there weren't any lessons, but they had a great offer at that time for rentals, so we decided to have our girls try out skiing for the first time with my husband & I teaching them. It was the perfect place for them to learn as the beginner hill was not steep or long at all (& very quiet when we went in the off-season) and then we could ride the magic carpet ride back up (it was on the other side of the tubing hill). It just felt very doable for them with the size of the hill & they were able to learn quickly and feel more comfortable after a few hours of practice. So, a nice option for kids to learn to ski or snowboard or continue lessons as well.
Silver Mountain Village:
Outdoor Fireplace at Noah's Canteen Restaurant
There are several restaurants in the Silver Mountain village, including full-service restaurants like Noah's Canteen with typical American fare and Wildcat Pizza for an easy, casual dinner (or order in for your room with free delivery). Stop by for a coffee in the AM or froyo in the afternoon at Mo's Froyo & Joe. You'll find several shops as well (including a sports shop for all things winter in case you forgot something at home) and a spa for massages,  spa treatments & more.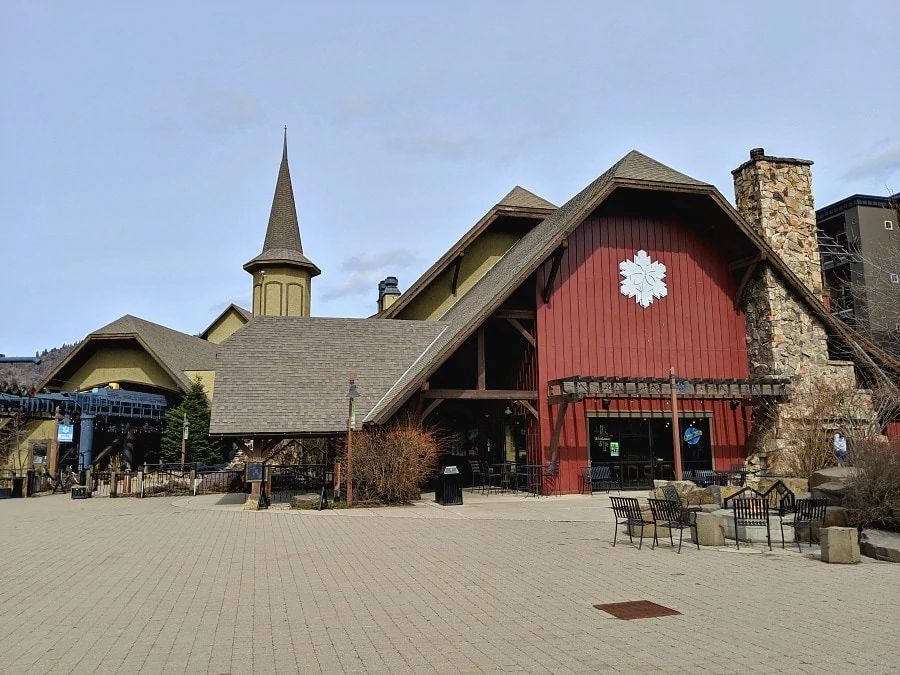 We liked that this was a small, little village setting with dining, shopping & necessities if you didn't want to leave the resort after a busy day at the ski resort or water park. The size made it feel very comfortable & doable for any size family & especially with younger kids, so you didn't have to worry about long walks with tired kids at the end of the day.
All in all, we were highly impressed with our stay at the Silver Mountain resort! It quickly became a family favorite & 2 nights was not nearly enough! We are are definitely hoping to stay there again this summer along our trip to Yellowstone because it was a great location so close to the freeway & a nice place for the whole family to unwind & have fun & break up a long trip! Plus, we'd love to come back & visit in the summer when the area will be a prime destination for outdoor fun with hiking, bike rides & more.
Even though it's a further distance from the Seattle area, it's definitely one of our top favorite family destinations in the Northwest because of all of the amenities & fun activities that the whole family enjoys. I loved the way the resort really catered to families & how the water park never felt overwhelming.
Let us know if you have visited Silver Mountain resort & what you thought of it!