5 Ways to Use Coconut Oil
This post may contain affiliate links and I may be compensated for this post. Please read our disclosure policy here.
This past year I have become a little obsessed with coconut oil.  I first started researching it because my grandmother has severe dementia and possibly Alzheimers disease and in my research, coconut oil has been found in some studies to help. Through that research, I discovered a number of other uses and benefits so I joined the coconut oil band wagon!!  I am still experimenting with it especially in cooking, but it has already become a staple item in our home not just in the kitchen!
Where to Find Organic Coconut Oil:
Vitacost

Costco (in March 2013, it was $21.99 for 78 oz  = $.282/oz)

Trader Joes

Fred Meyer in the natural section. 
Face Wash:
Yes, you read that right! I rub coconut oil on my face every night to wash my face. Before you knock it, try it!  I was skeptical at first but now I'm in love.  I had started about a year ago breaking out around my chin area–the dreaded acne at 40 maybe you've heard of! Well, with 40 creeping on my doorstep, I thought I was done for in the skin department.  I have never really struggled with acne or skin issues beside the occasional zit.  I have had pretty good skin until now so I was willing dispute my skepticism to try anything.
I tried the coconut oil and I was surprised and pleased with the results!  It took about a week but my chin cleared up!  I have noticed in general my face is softer, less blackheads and no more dry patches on my forehead and cheeks.  And the most surprising result less oily around my nose! Seriously, less oil!  Another benefit I've noticed is no more chapped lips this winter!!
So how do you do it?
Here are recipes I have found beneficial:
For Dry Skin: 3 tablespoons coconut oil and 1/2 tablespoon olive oil – heat together, mix and let cool to form a "solid" face wash solution.
For Oily Skin: 3 tablespoons coconut oil and 6 tablespoons Caster Oil – heat together, mix and store in container ( this tends to be more " liquidy")
For regular or combination skin: Straight coconut oil
 How to use it:
Rub coconut oil mixture all over face and massage into skin (don't forget the lips)

Soak a wash cloth in very hot water, wring out and place over face for 10-30 seconds

Repeat with the wash cloth 2-3 times

Use wash cloth and gently wipe face
That's it!! I don't even use moisturizer on my face any more. (I do use a small amount of cocoa butter lotion on my neck and chest nightly but not my face.)
I probably don't have to tell you that this is cheaper than most face wash soaps – it is especially cheaper than buying the face wash and moisturizer.  In August when I started, I filled a 3 ounce Rubbermaid container and I am halfway through it.  I wash my face morning and night — so that is only 1.5 ounces in 6 months! 
I love that coconut oil doesn't contain any harsh chemicals!!!
 *Castor oil can be found at most grocery stores, health food stores and online – see the different options available at Amazon right now.
Moisturizing Hair Mask or Conditioner:
This is so easy! Just coat your dry hair in coconut oil (don't skimp on the amount) and leave on your hair for 20 minutes to 1 hour.  Be sure to massage it in to your scalp.  After the coconut oil mask has done its magic, rinse your hair in the shower with warm water.  I find it hard to do this too often because of my busy life with two small boys, but each time I do,  I am super pleased with the results.  My hair is shinier, softer and feels silky, but not greasy.
You can also make a coconut oil conditioner to use whenever you wash your hair.  I haven't done this but a few friends have and LOVE it!! It's on my list to try!
Recipe for Coconut Oil Conditioner:
Combine 1/4 cup coconut oil and 2 tablespoons honey.
Rub into hair
Let sit 1-2 minutes and
Rinse with warm water.
Using Coconut Oil in place of butter: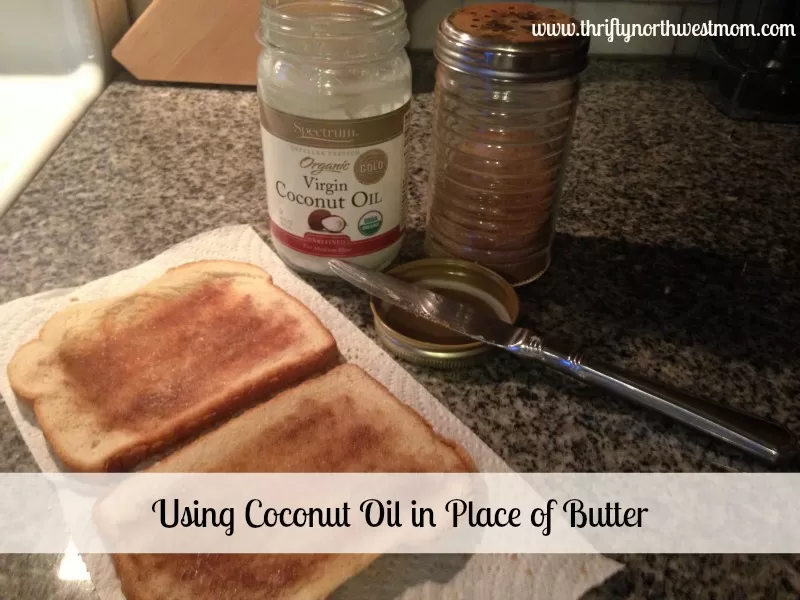 Another favorite use for coconut oil is in place of butter on toast. Our favorite is "sprinker toast" (what my boys call cinnamon and sugar toast). If you're wanting to give coconut oil a try,  this is probably the simplest way.  Simply spread it on the toast (it melts at a low heat so a little goes far) and sprinkle with cinnamon and sugar! The heat of the toast will melt the coconut oil into the toast. My boys love it. One of my boys doesn't like coconut, but he loves the coconut oil spread too!!
Oil for Sauteing Meat, Fish or Veggies:
I have also started using coconut oil to replace olive oil when sautéing foods –  especially fish and some chicken recipes.  I find it does burn a little faster than olive oil,   so I cook at a slightly lower temp.  One of my favorites ways to use it is with the Costco salmon patty.  I love these for an easy lunch! And my four year old loves them too!  Simply put two teaspoons coconut oil in a pan on the stove on medium heat and let melt.  Then add the salmon patty and cook according to packaging.  I love that it adds a mild coconut flavor to the salmon–(kind of like coconut prawns, but a lot less work).
Coconut Oil Frosting: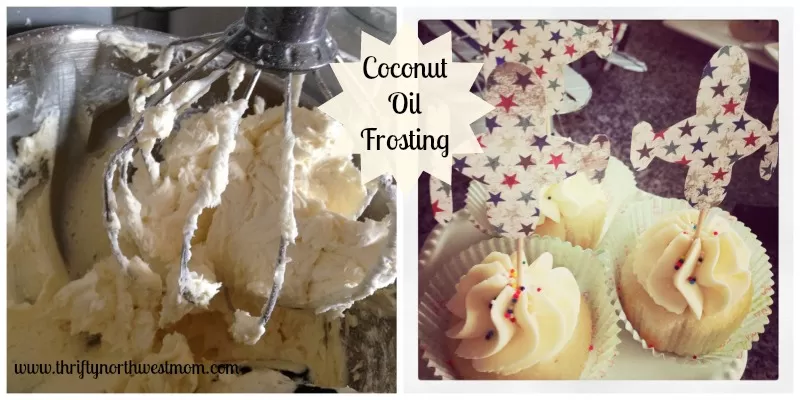 My latest use for coconut oil – FROSTING!! What a yummy way to use your coconut oil!  Not that I'd recommend this way daily, but . . .oh my, it's so yummy!
Recipe for Coconut Oil Frosting:
3/4 cup coconut oil (solid at room temp)
3-4 cups powdered sugar (sifted)
2 teaspoons sea salt
2-3 tablespoons coconut milk ( I am also obsessed with this but that would be a whole other post!)
Mix coconut oil, salt, milk and powdered sugar in a mixer,  adding the sugar  with 1/2 cup at a time until it has the consistency you desire. Be sure not to beat too fast because coconut oil melts at a low heat.
These are just a few of my favorite ways to use coconut oil.  Love that it is so healthy and you know exactly what is in it!
Make sure to check out all the Thrifty NW Mom Facebook Fans' favorite uses for Coconut Oil!
What are your favorite uses for coconut oil?
Here are more DIY posts you might be interested in:
By contributor Sarah