Make your Own Spice and Seasoning Mixes
This post may contain affiliate links and I may be compensated for this post. Please read our disclosure policy here.

Make your Own Spice and Seasoning Mixes
In my hope of helping my family eat better and more frugally,  I have been making some of my own spice mixes using fresh herbs when I can and also taking advantage of the great prices on bulk spices from places like Winco and Costco.  Even Fred Meyer, in their natural section,  has bulk spices that are so much cheaper than purchasing the prepackaged items. If you live near a  Cash & Carry restaurant supply store, they also have great prices on bulk spices.
Some spices we use a lot at my house are taco seasoning mix, Greek seasoning mix (our favorite is Cavender's), Pumpkin Pie spice (I use this almost always when a recipe calls for cinnamon) and Italian mix for pesto, sauce, garlic bread and dips.
Tips: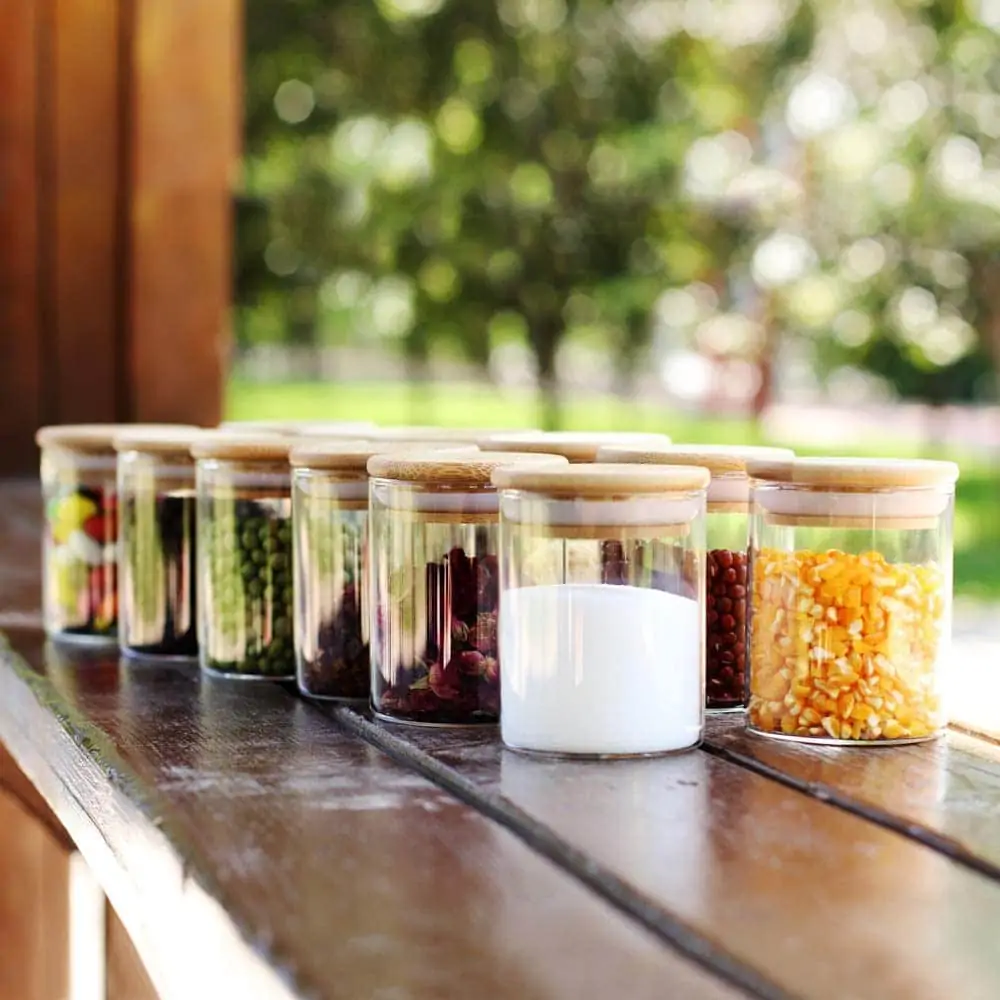 Grab some great spice jars off of Amazon, to store you spices in
You can also find salt and pepper shaker sets at the Dollar store that will work too.
I like to mix all the spices in my (cleaned out of course) coffee grinder.  Using the grinder helps to make the spices a uniform size and mixes them together really well.
Add a magnet to the lid of your spice jar and then to the underside of a cabinet, to create extra storage space for them.
Here are some of my favorite DIY mix recipes using bulk spices:
Ranch seasoning is a staple in many pantries, and we have a simple and delicious recipe to make it yourself here.
You can use ranch on so many things too. Use it to make ranch dressing, or to season up chicken to bake, or in casseroles and more. It is a great one to keep in stock in your spice cabinet.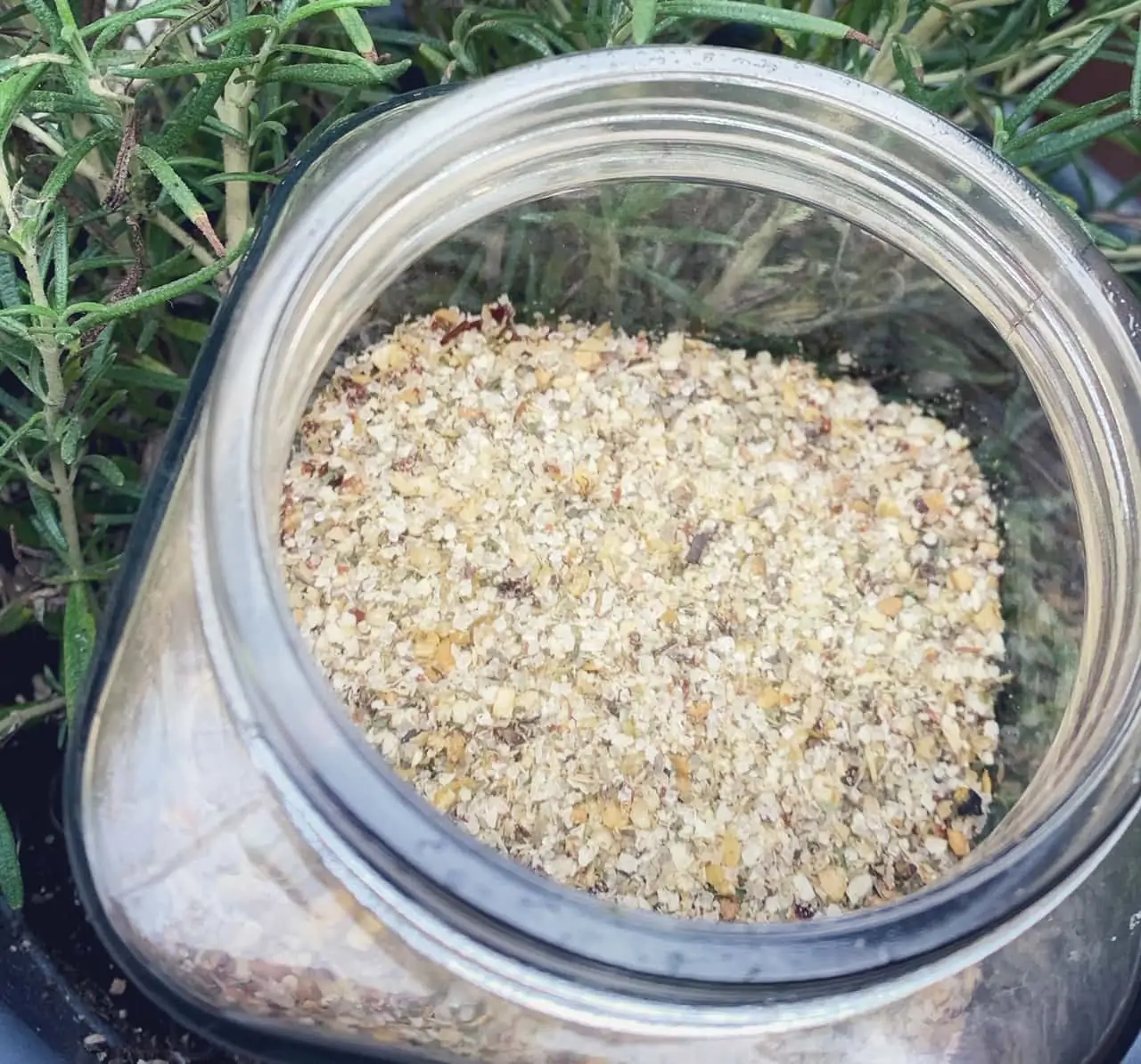 Greek Seasoning Recipe
I love to use Greek Seasoning on Chicken for this Gyro recipe. It also is great to add to olive oil as a dressing, use it spice up hummus and more. One of my favorite things to do is add it to some diced potatoes and fry them up, then sprinkle with feta and a splash of lemon juice. These are just a few ideas on how to use this seasoning.
Here is how you make it: 
2 teaspoons salt
2 teaspoons Greek oregano
2 teaspoons garlic powder
2 teaspoons onion powder
1 teaspoon dill
1 teaspoon marjoram
1 teaspoon black pepper
1 teaspoon dried parsley
1 teaspoon beef bouillon
1 teaspoon dried rosemary
1 teaspoon corn starch
½ teaspoon thyme
½ teaspoon cinnamon
½ teaspoon nutmeg
½ teaspoon sugar
Combine in mixer, bowl or mini chopper.  Store in air tight container.  Use 1-2 teaspoons of mix as called for in recipes.
How to Make Your Own Taco Seasoning (Mild)
Yield: Equivalent of 4 packets of taco seasoning
Taco seasoning is a staple in my house. I use it for beef tacos, chicken tacos, fish tacos, to season up pinto and black beans, to make sauces for various Mexican dishes and more. It is one of my most used seasonings, so it is a great one to know how to make at home.
Here is how to make your own taco seasoning:
1/4 cup chili powder
1 tsp garlic powder
1 tsp onion powder
1 tsp crushed red pepper flakes
1 tsp dried oregano
2 tsp paprika
2 Tbsp. ground cumin
2 tsp sea salt
1 tsp black pepper (optional)
Combine all ingredients in a small bowl. Store in an airtight container.
To use: Use approximately 2 tablespoons of taco seasoning in place of a packet of commercial taco seasoning. To prepare taco meat, add seasoning & 1 cup of water to one pound of browned meat and simmer over low heat until liquid is gone.
Make Your Own Pumpkin Pie Spice Mix
This spice mix comes in handy especially in the fall and winter, but you might need it year round. Plus, it is so easy to make, requiring only three ingredients.
Here is how to make your own pumpkin pie spice mix:
2 Tablespoon ground cinnamon
2 teaspoon ground ginger
½ teaspoons ground nutmeg
Mix all of these together and store in air tight container.
Italian Seasoning Mix
Italian Seasoning mix is another staple in my spice cabinet. I use this on so many things, like seasoning all kinds of meats, for dressings, dips and even to roast veggies with.
Here is how you can make your own Italian Seasoning Mix:
1 Tablespoon garlic salt
1 Tablespoon onion powder
1 Tablespoon sugar
2 teaspoon dried oregano
1 teaspoon black pepper
1 teaspoon thyme
1 teaspoon basil
1 teaspoon parsley
¼ teaspoon celery salt
¼ teaspoon paprika
¼ teaspoon crushed red pepper flakes
Mix all of these together and store in air tight container. We use this mix for pesto, various sauces, garlic bread and dips, as well as part of a yummy Italian dressing for salads.
Italian Dressing Recipe for Pasta Salads or Green Salads:
2 tablespoons of the above mixture
h ¼ cup red wine vinegar
 2/3 cup olive oil
2 Tablespoons water
Mix all the ingredients together and use as a dressing for your favorite salads.
Savings: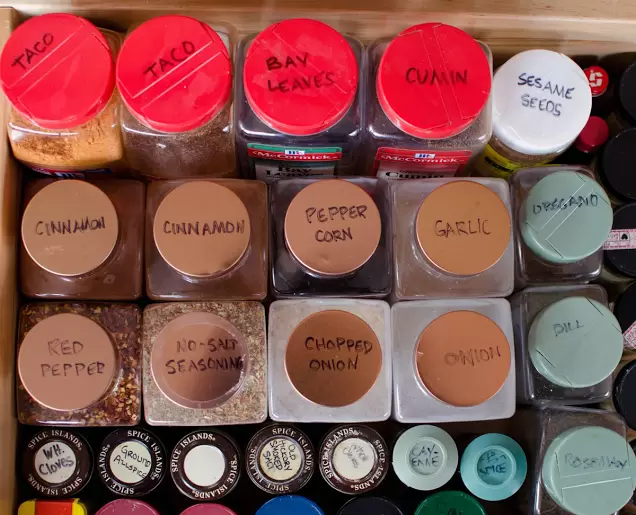 It is really quite cost-effective to make your own spice mixes.  In some cases, the cost is about ½ of what it costs to get it pre-packaged!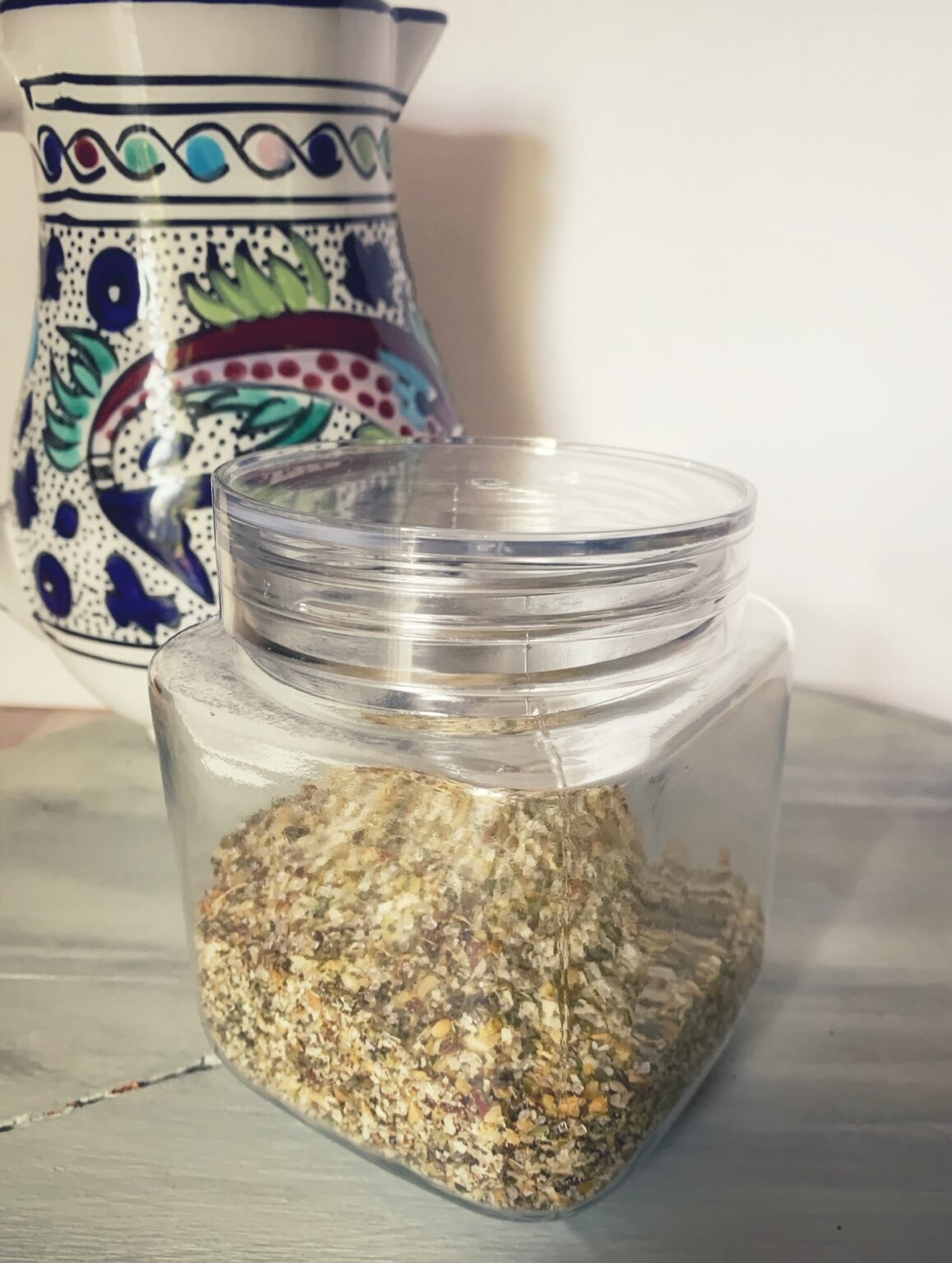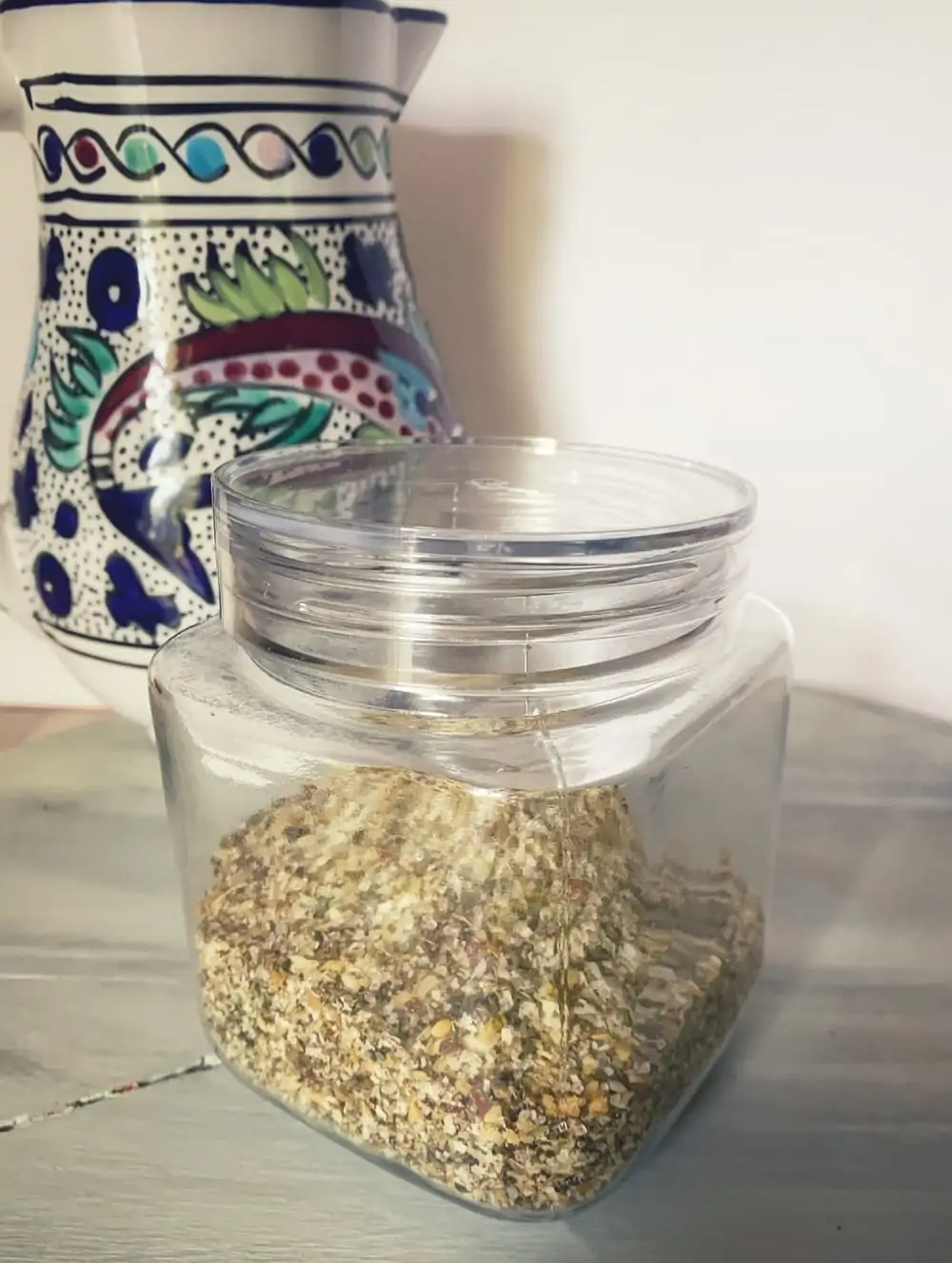 Plus, it gives you the opportunity to put them in your own containers, and that can look great too. You can reuse older spice containers, or buy in bulk like we mentioned above, use mason jars, or we found these cute containers at the dollar store with lids for items that we use more of (like the Italian, and Taco Seasonings).
You might also be interested in tips on how to organize your pantry, now that you have all your homemade spices ready!