How To Organize Your Pantry On A Budget
This post may contain affiliate links and I may be compensated for this post. Please read our disclosure policy here.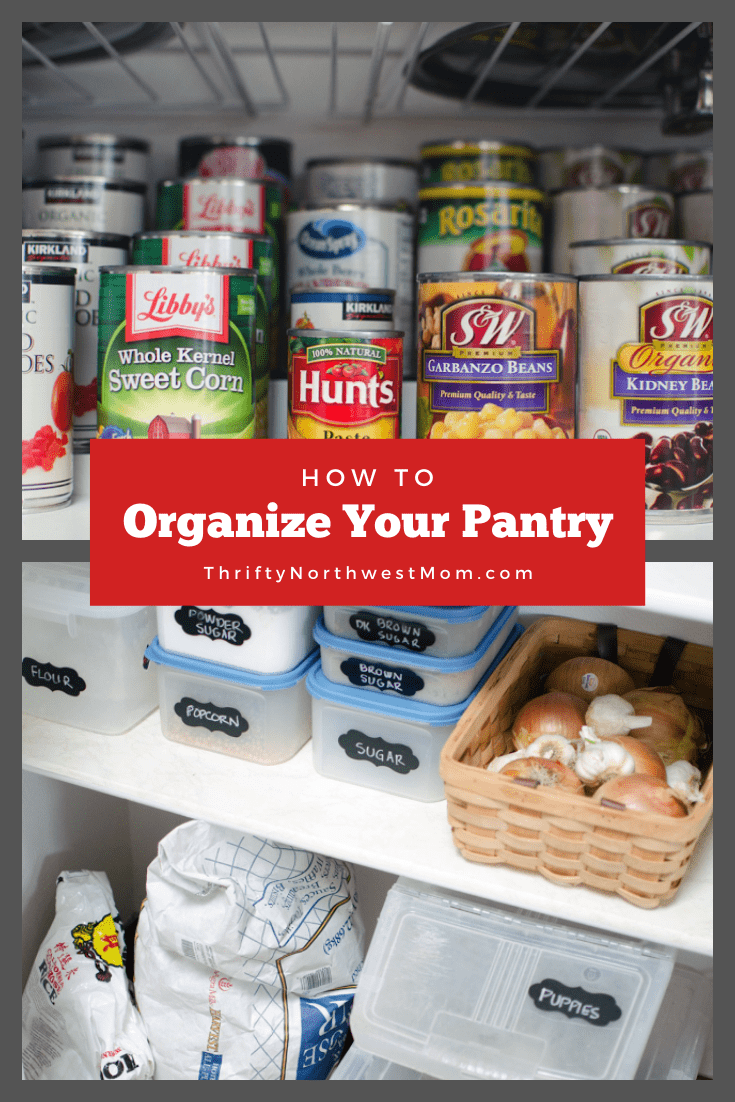 How To Organize Your Pantry On A Budget
If you ask most people where they work the most, they would typically describe their desk or office area. In reality, the kitchen is by far the hardest working room in your home. It is specifically designed to support daily work and specific tasks. The layout, the type and location of large appliances and the placement of cabinets should be arranged to best serve your needs as you feed your troops multiple times daily. Devoting some Spring Cleaning hours to organizing your kitchen in a way that supports the daily work you do caring for your family is one of the best investments of time you can make.
A pantry is a cook's best friend. Being able to keep everything you need in one spot rather than crowding already overworked cabinets is a blessing. If you don't have a pantry, consider adding an armoire to your kitchen or breakfast area if you can find the space. Entertainment armoires are selling for $20 to $50 on Craigslist and in thrift stores. As people continue to get rid of old model TV's, they don't want that bulky piece in their living space. Snapping up one of these armoires and adding some strong shelves can make it extremely functional as a bargain storage piece.
If you are lucky enough to have a pantry of any shape or size, keeping it organized is the key to making it functional. Pinterest is full of cutesy crafts using baby food jars and other decorative items, but frankly I don't have time to mess with any of those. We feed people 3 meals daily out of our kitchen and I frequently find packs of hungry teenage guests grazing in the vicinity — baby food jars are not going to cut it!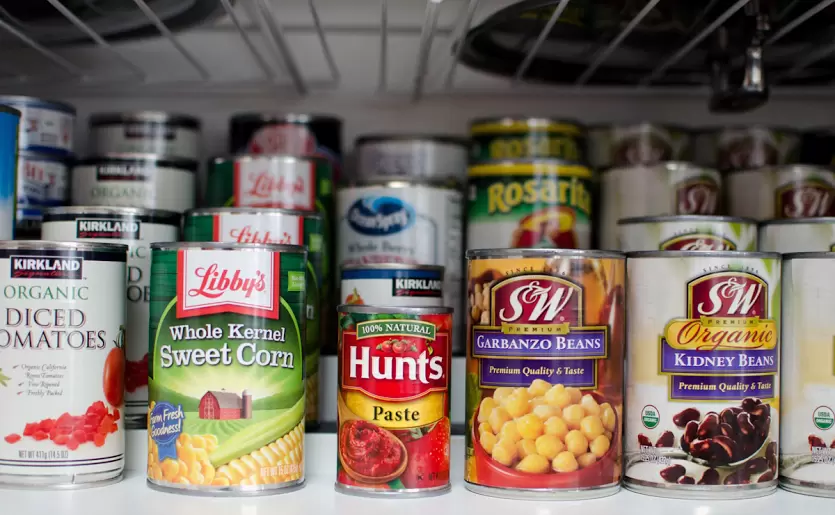 1. Keep your items in plain sight
Arrange items so you can see what you have.
This is where I did invest in one item from a storage shop — a step for canned goods. It makes it so much easier to see what is at the back of your shelf! You could replicate this by stacking up pieces of wood to make steps, no hammering involved.
Add a small narrow shelf at the back in between your larger shelves. This creates a great place to put small boxes or thing that might otherwise be lost in the shuffle.
Reserve your eye level shelves for items like canned goods where you have many different varieties to save you bending over or climbing up to search.
As a note, I also tried turn tables from an organizing store thinking I could find condiment bottles much easier that way. Huge waste of money! They left lots of unused space around them and the bottles tipped over and fell off if you did not turn the tables extremely slowly. A turtle would move faster.
2. Use the entire space from top to bottom
Think strategically about what can go up and out of reach or what can sit on the floor.
I place light weight refills of things I store elsewhere on the top shelf of my pantry.
If you buy in bulk to save money – large, heavy, air tight containers can sit on the floor
Tuck a step stool into the lowest level of your pantry to make reaching the highest Boxes of plastic storage bags, rolls of garbage bags and paper towels all can be stacked up on the top shelf, and they are not difficult or dangerous even to lift down when needed. I have had heavy items crash down when I tried to reach them – save yourself the headache (literally). and refill to smaller container on higher shelf. You don't want to be pulling out your 25  lbs of flour every time you bake a cake, though it's definitely the most cost effective way to buy it. shelves easier. If you have small children you may want to tuck it into a nearby closet to deter them trying to climb and reach those goodies you placed up high.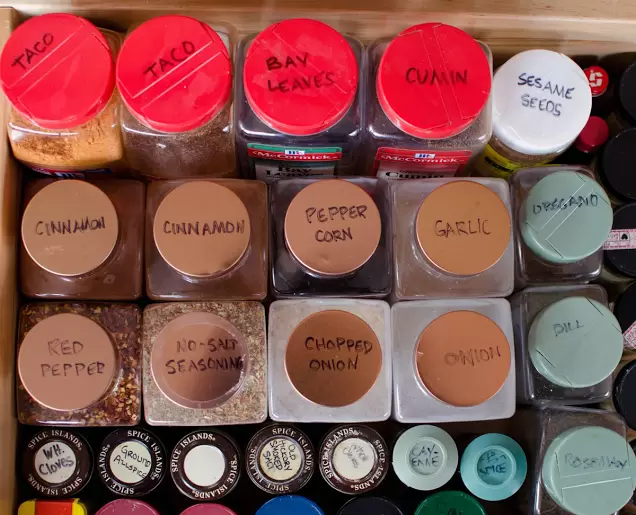 3. Group small items together
Collect smaller items into open containers like baskets. Spice packets, packages of dried fruit or chilies can be awkward to store so throw them into one place.
Consider moving some small items that would be better elsewhere out of the pantry. Spices are hard to find if you stack them behind each other on a pantry shelf. They are also used frequently and should be located close to your primary work surface or cook top. There is no need to purchase a special storage solution for your spices! Just use a drawer and write the name of the spice on the lid with a sharpie so you can see all of your spices at the same time.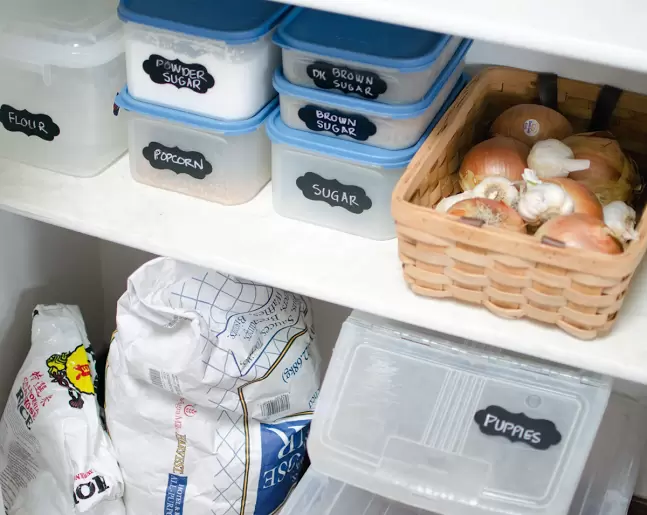 Storing your flour, sugar, powdered sugar and other dry ingredients in stackable containers that keep them fresh makes sense. But don't spend a ton of money trying to make them match.
Unify different containers and add a little charm with chalkboard stick on labels. These 12 for under $3 at my local Michael's Arts and Crafts store. I would recommend adding a dot of glue under each end because they do have a tendency to peel, but I love the look.
If you don't want to deal with chalk smudging or rubbing off use a paint pen for a containers that keep them fresh makes sense. But don't spend a ton of money trying to make them match.
5. Take items out of their case
I remove items from large boxes. If you buy in bulk often there are boxes inside of boxes like with Ziploc bags. Take them out and stack up the smaller ones more efficiently.
Remove rolls of garbage bags from their box. I store them on the top shelf on their side so I can reach up to the roll and just pull down one bag without bringing down the whole thing.
Some people like to stack cases of canned goods on top of each other thinking this saves space, but as soon as you have removed a few cans you are wasting real estate. Plus, once a few cans have been removed from the bottom box it starts to collapse. I would much rather stack them neatly on my shelf. If I put like items behind each other it doesn't matter if I can see to the back because I know it is the same thing and I'm not missing anything.
Spending time now rethinking your pantry organization can save you hours in the long run hunting and rearranging to get at things. Let's face it — time is the most valuable thing we have. I would rather spend 5 extra minutes with my daughter than trying to figure out where the baking powder is hiding. Happy organizing!
More Articles You Might Be Interested In:
Guest Post by Barbara Miller from Yes Spaces – You can check out her website for more great organizing tips!