Glamping in the San Juans at Lakedale Resort
In the past few years, I've started hearing more and more about these glamping locations around the US & even some here in the Northwest. The whole concept was something that was very interesting to me, though, as I am not someone who grew up camping. My husband on the other hand grew up in a family that camped all the time.  So, we've been trying to take our kids camping a lot more in the past two years.
The slower pace of camping and getting disconnected is something we all love now. However, there are aspects of camping I'm not a fan of as much these days: all the prep work & the mess when you come home, sleeping on the lumpy, uncomfortable air mattresses & the long treks alone to the bathroom in the middle of the night. So, the idea of glamping was definitely very enticing to me as it's a way to still be outside in nature and experience all the aspects we love about camping without all the work and with a little more comfort.
My family had the opportunity in early May to head to one of the most popular glamping resorts in the Northwest – Lakedale Resort on San Juan Island. I have been hearing about this resort for years as it's been a top-rated family friendly resort and just in the past few years, they have added the glamping aspect to their resort, taking it up a big notch in coolness factor. They have 2 different options for glamping, too, depending on what you are looking for – their Canvas Cottages or Canvas Cabins.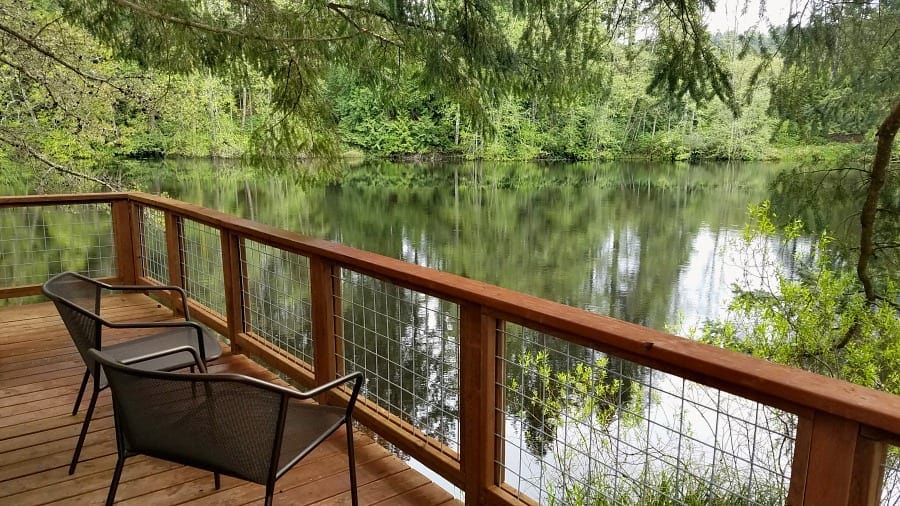 View from the deck of our Neva Canvas Cottages – what an amazing view to wake up to!
Let me tell you, this resort is unbelievable. Lakedale is located on the gorgeous San Juan island just about 10-15  minutes away from both Friday Harbor and Roche Harbor. Even though it's close to sightseeing favorites around San Juan Island, once you drive down the path to the resort, you really feel like you have gotten away from all the pressures of life & it feels like you're up in the mountains surrounded by 3 beautiful lakes and the forest. You really could drive up here & stay for days & not feel the need to leave because there is really so much to see & do on their 82 acre property. Plus, you get to enjoy the beautiful Washington State ferry on your way there & back, so that just adds to the fun of a trip to the San Juans (float planes also travel to the San Juans if you prefer a faster way to get there).
We were only there 2 nights, so we felt like we just barely touched the surface of all there is to do around Lakedale Resort. It is a gorgeous spot to head to any time of year as it's such a serene setting, but the summertime is when you'll really be able to take full advantage of all that Lakedale has to offer for families. Spring into early fall (April – September 30th, weather dependent) is also when you can experience "glamping" in Lakedale Resort's canvas cottages & cabins.
Not only is Lakedale Resort amazing for families to visit, but the entire San Juan Island really has so much for families to see & do. We will be sharing a San Juan Guide for Families next week, so make sure to check back for all of our tips on where to eat & what to do on the island and around Friday Harbor.
Luxury Camping at Lakedale Resort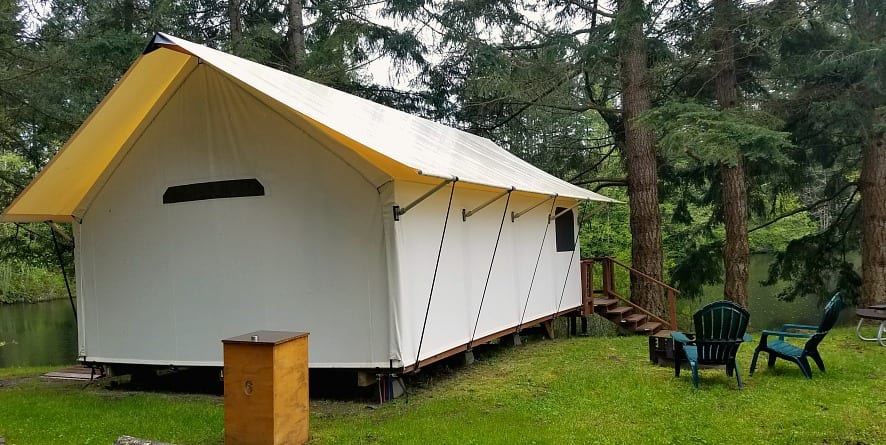 Lakedale Resort offers 23 glamping sites and there are two different kinds of glamping options, depending on what type of comfort & amenities you are interested in. We stayed in the Neva Canvas Cottages and they also offer Canvas Cabins as well.  These are only 6 of the Neva Canvas Cottages and they are all situated right on the lake, so you'll want to book early if you want to try out one of these cool cottages as they are so popular.  These 350 square foot Neva Canvas Cottages are the ultimate glamping experience as it truly feels like a boutique hotel suite when you step inside this beautiful cottage yet it's all housed right inside a canvas tent. For those of you who have always wanted the experience of camping while not giving up any of your cozy comforts, this is the place for you!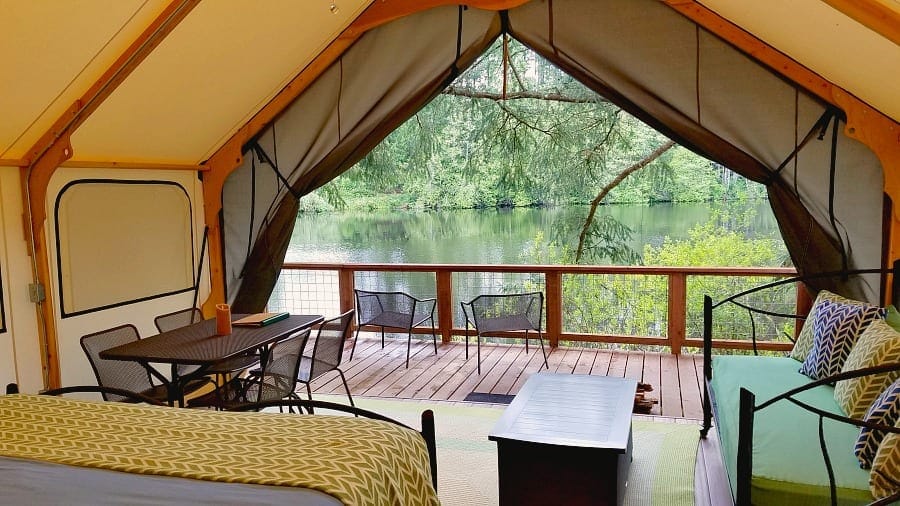 The setting is gorgeous with the quiet lake & forest surrounding you and the way the cottage is set up is to maximize your view of that picture-perfect lake.  You are still out in the woods and right up next to the lake and you can wake up hearing all the sounds of the forest and lake, which is one of my favorite parts of camping, but while still sleeping in comfort.