Spring Disneyland Savings – From $65 a day on Kids Disneyland Tickets – Save BIG By Traveling During the Spring!
If you are looking for a last minute Disneyland vacation deal, here are some super savings on tickets! The good news is that the ticket increases we recently saw for 2020 did not impact this deal on pricing for the Kids Spring Savings or the SoCal Resident offer. In fact, because the gate prices are higher, the savings for these two offers is even greater!
For a limited time only, you can save BIG when you book Spring travel dates to the Disneyland Resort. Spring is one of my favorite times to visit Disneyland, as the crowds are generally smaller, the weather is warm but not too hot, and it just seems like a more relaxed vacation to me. You can check out our article here on hotel deals near Disneyland (4 days for family of 4 from $434!). You can do a 4 night, 5 day vacation to Disneyland for a family of 4, with free breakfast, free parking and 4 day park hopper tickets for just $1664! That is a super price for all of that, and we show you how to do that below.
We've partnered with Get Away Today to give you the best hotel and ticket deals for your next trip to The Happiest Place on Earth. For travel now – May 21, 2020*, you can pay as little as $65 per day, per child ticket. With limited-time events like the Food & Wine Festival, you won't want to miss out on any of the fun!
Below, we've put together a sample package to show just how much you can save when you travel this spring.
Here are a couple of vacation package highlights that are part of the Disneyland Spring Sale from Get Away Today:
Get kids tickets from less than $65 per day! Check out all of the current Spring Sale deals below:
Spring Kids Special –
This spring, kids ages 3-9 can visit the Disneyland Resort for less than $65 per day! Just purchase a child 3-Day Disneyland Resort ticket for travel now through May 21, 2020. See how much you'll save off of gate prices with this special:
SoCal Resident Offer –
This spring, Southern California residents living in ZIP codes 90000-93599 can visit the Disneyland Resort for less than $65 per day! Just purchase a 3-Day Disneyland Resort ticket for travel now through May 21, 2020. See how much adults will save off of gate prices with this special:3-Day Park Hopper or 1-Park per Day – $116 off gate prices
3-Day Park Hopper or 1-Park per Day w/MaxPass – $131 off gate prices
Extra Day Free Tickets –
Get a 5-day Disneyland Resort ticket for the price of a 4-day ticket for travel any time in 2020 when you book with Get Away Today! See how much you'll save:
Save BIG on hotel + park admission packages by taking advantage of 4th night FREE offers here too. We are highlighting three vacation package offers for you below too – but there are many to pick from. I just traveled to Disneyland with a vacation package that Getaway Today booked for my family, on a recent Spring trip, and we stayed at the Courtyard Maingate – just a short walk from the front Disneyland entrance. We share that package, as we loved it. We also share more cost effective options too, if you want to save the most.
We found 5 day Disneyland Vacation packages for a family of 4 for as low as $1700 right now too at Get Away Today, that includes hotel and park tickets!
Last Spring we stayed at the Courtyard Theme Park Entrance, with the waterpark (and large rooms) and loved it. It is a quick walk to the park from there too. Here is more about this hotel.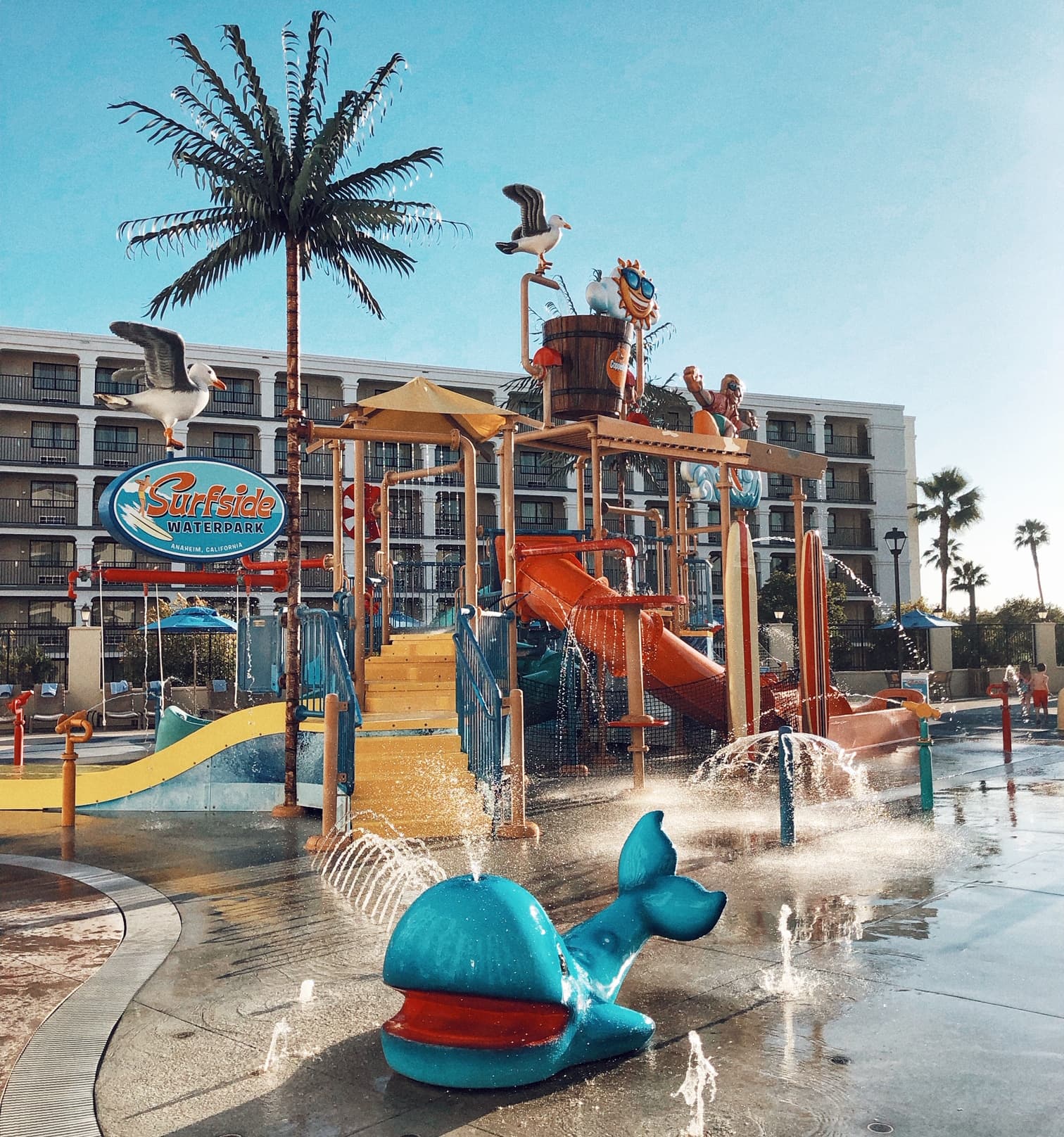 Stay at the Courtyard Anaheim Theme Park Entrance (Various dates now – End of April), 4 days at hotel, with 3 days n the park for as low as $2200 .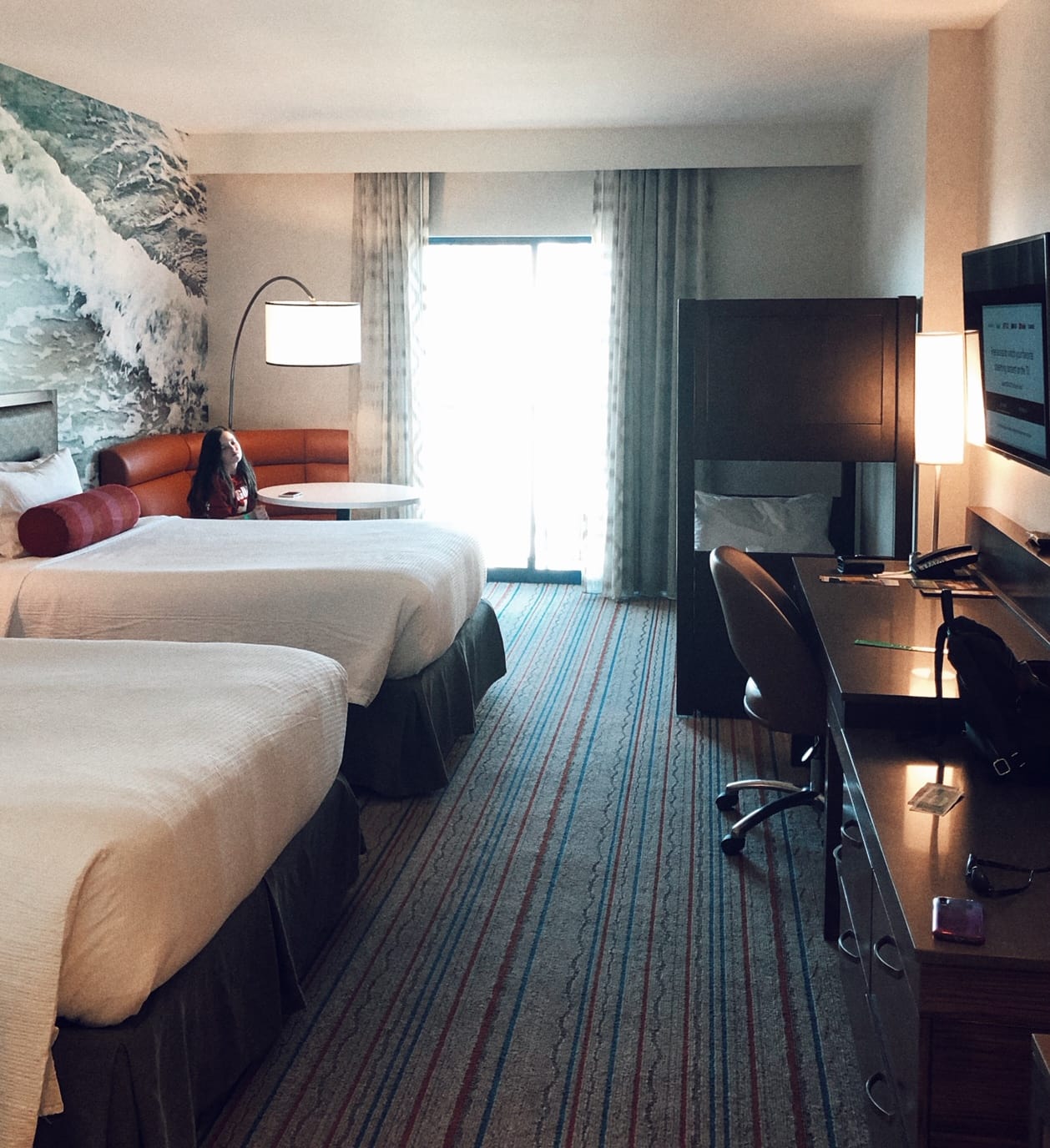 The reason I love this package, is that it is perfect for larger families (the rooms sleep 6). We stayed here for our recent February Disneyland Vacation, and the standard two queen rooms include a set of bunkbeds, and sleeps 6 people (including 2 showers)! This was our room, where there was not only sleeping accommodations for 6, but also a small dining area, large desk area, closet and small balcony.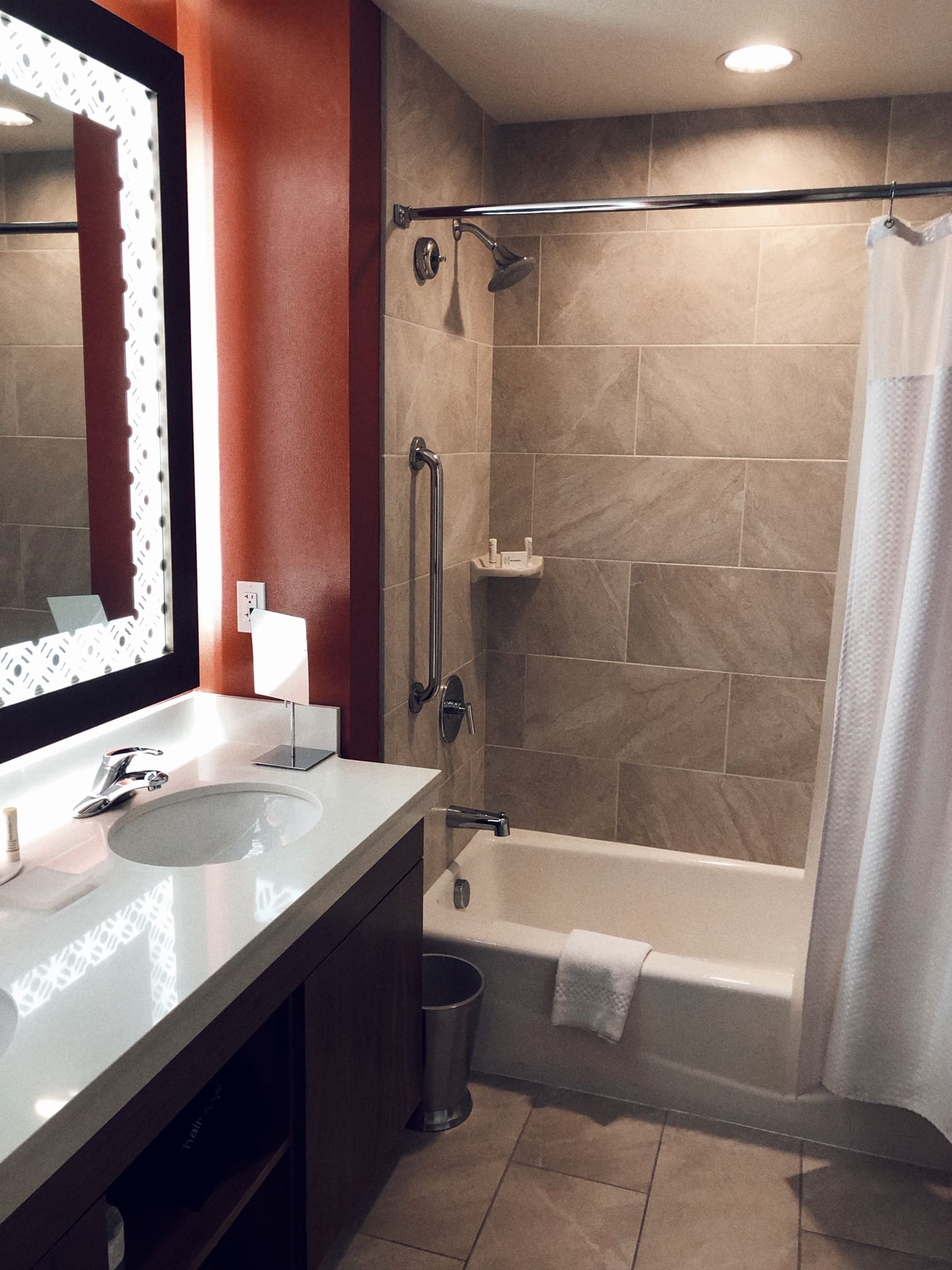 The bathroom was so spacious, that it includes this bathtub / shower combo, and sink area, and on the other side is a second walk in shower and toilet area with a door.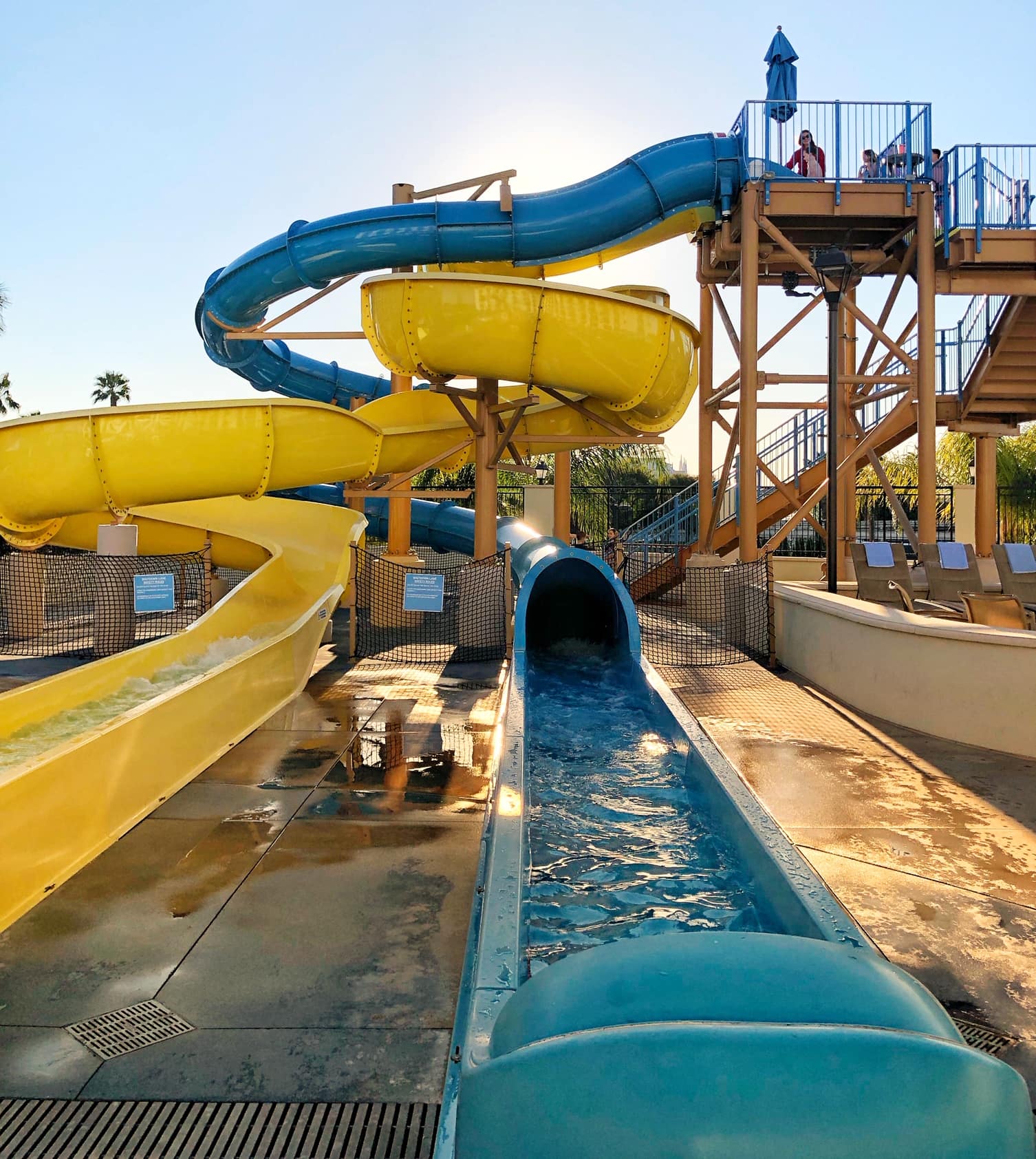 All guests of this hotel also get access to their own waterpark. The Surfside waterpark, is available to guests only, and it includes the spray splay area shown above, as well as these waterslides and a pool and hot tub. We checked in a day before we planned to be in the park, and just enjoyed the day at the waterpark.
In addition to the large hotel rooms and waterpark, there is a restaurant onsite (and a Mimis, Panera and McDonalds in walking distance) as well as a gift shop on site.
Here is a sample package deal you can find for a Spring stay at this hotel with park tickets, through Get Away Today (be sure to use promo code Thriftynwmom or mention us when booking on the phone to get an extra $10 off).
Package details:
3 Night Stay at the Courtyard Anaheim Main Gate Hotel – Across the street from the Disneyland Resort!
AMAZING Waterpark area, spacious rooms with bunk beds & views of Disneyland fireworks
3-Day Disneyland Park Hopper (2 adults & 2 children) Total Package Price = $2200
We found this price during the last week of April, put in your dates to find out what it would cost when you want to travel.
How to get this deal:
Visit Get Away Today or call 855-GET-AWAY to speak to a travel expert directly (let them know Thrifty NW Mom sent you for your extra savings, even over the phone).
No promo code needed, prices will be reflected in your cart.
Valid for travel now – May 23, 2019.* Blackout dates of April 14-22, 2019.
Ticket promotion can be combined with hotel specials to save even more!
Don't forget to mention promo code ThriftyNW to save an additional $10 off your hotel and tickets vacation package.
*Actual savings vary per ticket and are calculated based on annual park pricing. Largest savings are available during travel value dates January 7 – May 23, 2019, excluding blackout dates of April 14-22, 2019.
More details on the Disneyland Spring Sale:
Valid for 3, 4 and 5-day tickets now through May 23, 3019 with blackout dates of April 14 – 22
Can save up to $111 per ticket
Experience Get Your Ears On, Lunar New Year, Valentine's Month, Disney California Adventure Food & Wine Festival and more during this time
Combine with a hotel for even more savings
Use promo code THRIFTYNW to get an extra $10 off your package deals
If you do book a Disneyland trip, we share some fun ideas here and 5 free printables you can use to announce the news to them that they will be going to Disneyland!
More Disneyland Tips you Might Be Interested In:
(Find all of our Disney tips on our Disneyland Savings page here, or our Walt Disney World Savings page here).