Disneyland Transportation Options – Best Ways To Get There & Get Around (Plus Tips To Save)!
Disneyland Transportation Options – Best Ways To Get There & Get Around (Plus Tips To Save)!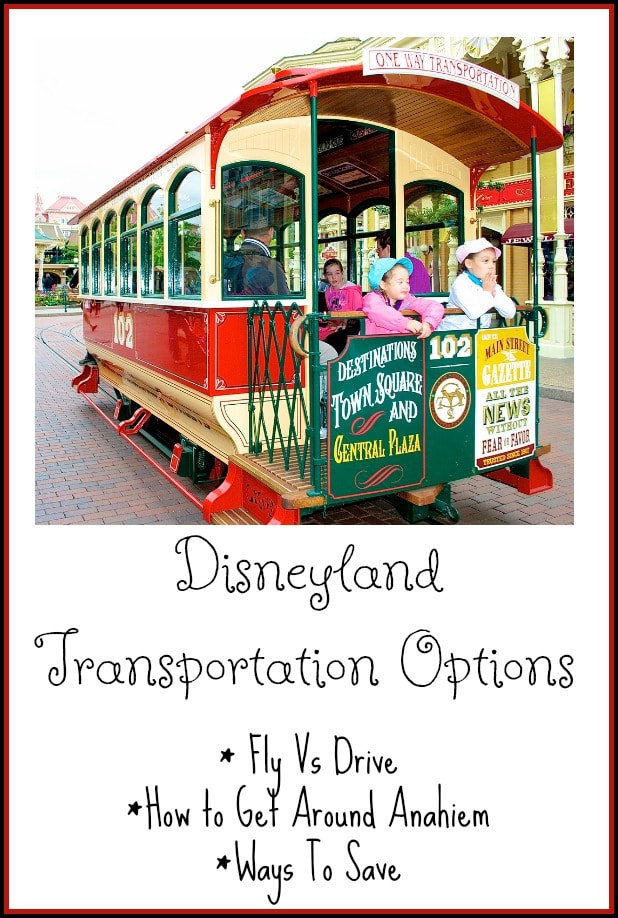 Disneyland Transportation Options
Planning a trip to The Happiest Place on Earth is filled with excitement, joy and a little bit of magic. However, unless you're one of the lucky ones who already lives close to Disneyland, it can be . overwhelming trying to determine how to get there and back. Luckily, I've partnered with my friends at  Get Away Today to give you the ultimate guide on Disneyland transportation options.
We have lots of tips on transportation options for a Disneyland trip below. Also be sure to request your free Disneyland planning video from Disney here, if you're thinking of taking a trip.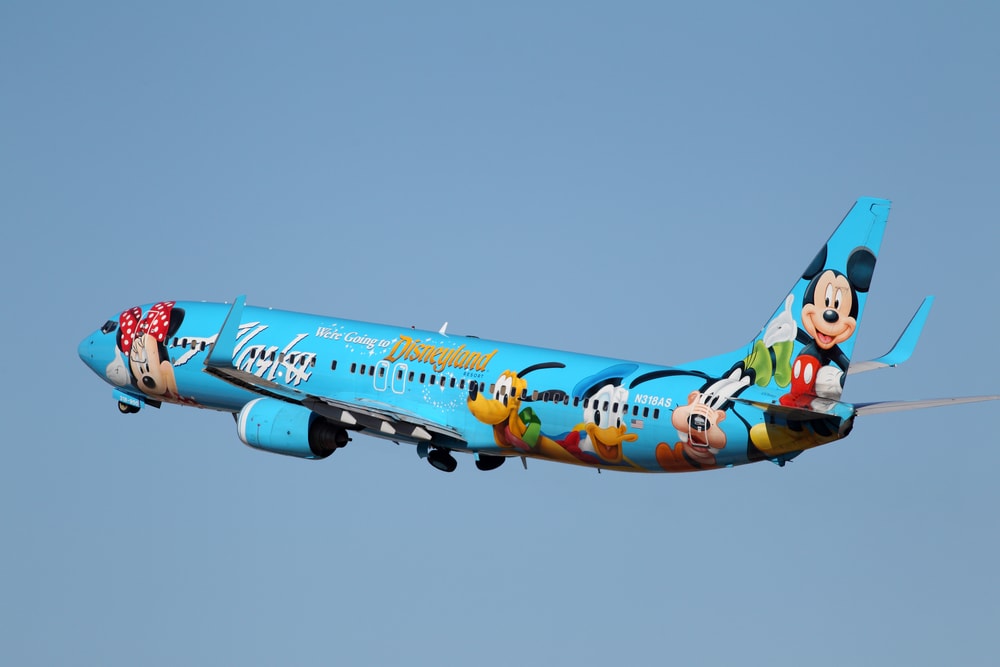 Fly vs. Drive:
First things first, you need to determine if you want to fly or drive to Disneyland. While a road trip can be fun, it also can be filled with a lot of long boring roads, "are we there yet?" comments and fighting within close quarters. However, it can save you A LOT of money in the long run, especially if you have a large family.
Flying to Disneyland – 
If you do decide to fly, you'll need to figure out what airport to fly into. Below, I've listed the most popular airports for Anaheim travel.
Long Beach Airport (LGB):
While it may be small, the Long Beach Airport is my absolute favorite airport to fly into. This charming airport was recently renovated, so it has the look and feel of a large airport, but without the big crowds. Plus, they have delicious dining options, little to no lines in security and it's only a 30-45 min drive to Disneyland. So, if you ever see a good deal on flights to the Long Beach Airport, make sure you snag it.
John Wayne Airport (SNA):
The John Wayne Airport is the closest airport to Disneyland and luckily, is never usually super busy. John Wayne is your best option if you're looking for the most stress-free and convenient option.
Los Angeles International Airport (LAX):
I would try to avoid LAX as much as you possibly can, however, I realize that some of the lowest fares fly here. Although it's one of the busiest and biggest airports, you can navigate it if you really need to. I would suggest only flying in and out of LAX if it's an out-of-this-
world deal.
San Diego International Airport (SAN):
Obviously, you wouldn't want to fly into the San Diego International Airport if you're just planning on traveling to Disneyland while on your vacation. However, this is a great airport to fly into if you find a great deal and want to add on a few nights in San Diego as part of your vacation.
If you do end up finding good flight deals, I would recommend booking them as soon as possible. Flight prices can change multiple times within the same hour! To keep up with the everchanging flight prices, I would recommend tracking flight deals. If you're not sure how to track flight prices, I would suggest using Google Flights or following an Instagram account that updates daily with flight deals from your area.
Driving to Disneyland 
Driving can be the most economical way to get to Disneyland, but there are some things to consider when looking at the driving option. Other costs you will want to consider if driving include:
Disneyland Parking – will you drive your car to the parks and pay for daily parking, or leave it at your hotel and take one of the modes of transport listed below.
How long will it take you to drive, and will you require additional hotel stays for the trip (and how does adding that cost in compare to flight costs).
Parking at your hotel – is there a fee for this (or can you find a hotel deal that includes parking).
You can find directions to Disneyland here.
*** Pro Tip for Saving on Gas 
If you plan to drive, gas will be one of your biggest transportation costs.
Here is one trick we use to save on gas for Disneyland trips:
Buy Disney Gift cards during a rewards offer at one of your local grocery stores and use them for food or other costs while at the park, but earn extra gas discounts. You will need to research to see if they have gas stations on your route once you leave your home state, but it can really help on those gas costs with some careful planning. For example when. Safeway runs a get 4x the gas rewards on gift card purchases, so you can get 4x the amount of points towards a gas discounts for whatever you spend on Disney gift cards. My family was able to save $1 per gallon off each fill up with a little careful planning during one of our road trips down using this method.

Airport Transportation:
So now that you've landed, what's next? You'll want to find a reliable and highly rated transportation service to get you to and from the airport. Whether you reserve it in advance or want to worry about it once you get there, here is a list of reputable options you can choose from below:
Karmel Shuttle Service:
I love using Karmel Shuttle Service because they tailor everything to you. Instead of waiting for other shuttle services to make their rounds, Karmel Shuttle is always on time to pick you up. Although you do need to make a reservation for this shuttle at least 72 hours in advance, they'll actually track your flight
to see what time you'll land. In addition to this, Karmel Shuttle is also available to pick you up/drop you off at any Anaheim area hotel for the ultimate convenience. Looking for a private shuttle? You can book either a shared or private shuttle, depending on what's best for you and your family. Plus, Get Away Today offers discounts on all Karmel Shuttle Services, so you can save you both money and time.
Disneyland Resort Express:
If Karmel Shuttle Service isn't an option, you can always look into using the Disneyland Resort Express. Unlike Karmel Shuttle, the Disneyland Resort Express only is available at LAX and John Wayne. In addition to this, the shuttle only comes once every hour. So, if you miss the shuttle by just a few minutes, you'll have to wait until the next one comes around. While this shuttle service does occasionally offer kids free specials, I would recommend exploring other options first.

Uber & Lyft:
Uber and Lyft are both great options for transportation, especially if you didn't reserve a service in advance. Although they are different companies, it's all the same, so feel free to use whichever one you feel more comfortable with. A majority of the time you can find promo codes online that will give you a free ride or $15 off your first one, so be sure to be on the lookout for those to save some extra cash. To use either of these services, you'll need to download the prospective apps. Once you do, it will ask you to create an account and input your card information. After this, you'll want to input your current location, the location you need to go to and what type of vehicle you need (this will depend on how . many passengers you have with you.). Once you do this, the app will search for the closest driver in your area and notify them to come pick you up. I've found that even with a tip, this is the most economical option, especially if you split the total with someone else.
Hotel Transportation:
Of course, you'll ideally want to choose a hotel that is close enough to the park that you can walk. However if you happen to have a hotel that's farther away, don't fret! The city of Anaheim has so many transportation options to choose from, that you'll be at the Disneyland Resort in no time. Below, I've listed some of my favorite ways to get around below.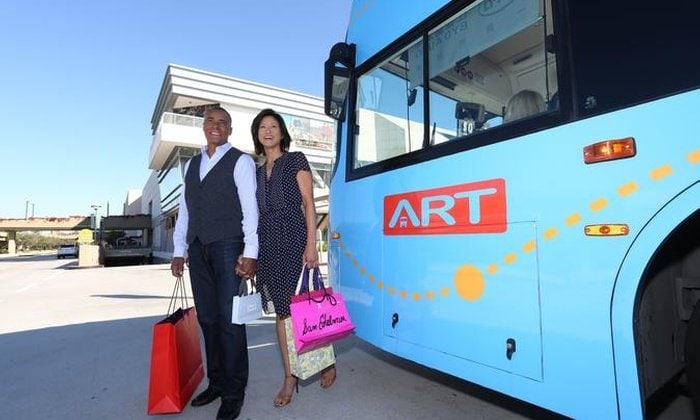 ART: Anaheim Resort Transit (known as ART) is probably the most convenient way to explore Anaheim.
Not only does it partner with a majority of the Anaheim hotels, but it also travels to Anaheim locations other than Disneyland. Want to go to the Packing District, Knott's Berry Farm or an Anaheim Angels game? The ART Shuttle can take you there. While it might take a little bit of planning, you can easily plan . your stops to get where you need to go.
We used the Get Away Today 5-day passes mentioned below, on our last trip to Disneyland, as we stayed at a Disney Good Neighbor hotel. It was really convenient as the Art ran from our hotel to Disneyland and back every half hour, so it was very convenient to plan around.
***Pro Tips for Saving on the ART Tickets:
Get Away Today offers discounted shuttle prices where you can get a 5-Day unlimited shuttle pass
for the price of 3, or a 7-Day unlimited shuttle pass for the price of 5. The best part? Kids ride FREE with a paying adult.
Groupon sometimes has an offer for Discount ART Tickets as well, so if you are not bundling them with your Get Away Today (the offer above, and it will likely be the best deal for more the one day of transportation) then check Groupon to see if they have a current offer.
PCA Shuttle:
While the PCA shuttle service only partners with a few hotels in the Anaheim area, it's still worth looking at if it's your only option. The PCA Shuttle service will get you to and from the Disneyland Resort without any hassle. Plus, Get Away Today also offers discounted PCA shuttle tickets in addition to ART. Uber & Lyft: Like the airport, Uber and Lyft drivers are everywhere in the Anaheim area. Both of these companies are great options if you're looking to go to locations that the shuttle services don't reach, or if you're leaving the park after the shuttle has stopped running for the night. However, as a tip, head over to the Downtown Disney entrance to reserve a ride back to your hotel. This way, you don't have to worry about the busyness of South Harbor Blvd.
As you can see, getting to and from the Disneyland Resort is easier than ever before. If you're looking to plan your next Disneyland vacation, make sure you book with Get Away Today. With discount tickets, hotel specials and a flexible Layaway Plan, you're bound to have the best vacation yet! To book, visit getawaytoday.com or call 855-GET-AWAY to speak to a travel expert directly. Don't forget to mention promo code ThriftyNW for an additional $10 off your vacation package. Let them know that Thrifty Northwest Mom sent you!
Disneyland Articles to Help You Save Even More: