Disneyland vs Disney World – Which Is Best For My Family Vacation?
This post may contain affiliate links and I may be compensated for this post. Please read our disclosure policy here.

Disneyland vs Disney World – Which Is Best For My Family Vacation?
Note – this Disneyland vs Disney World article has been updated for 2021, but there are lots of changes going on at the parks currently, so be sure to note that somethings will be slightly different right now (like no fastpasses or magic mornings,)
If you are contemplating a Disney vacation for your family, you might be asking what you should consider about Disneyland vs Disney World, in order to decide where to go. If you've ever wondered whether you should vacation at Walt Disney World or the Disneyland Resort, I'm here to help. We have been to both parks (many trips to Disneyland, and I used to work at Walt Disney World in college, plus have more recently traveled there with my family). In addition to our own personal experience, we have partnered with our friends at Get Away Today to map out some of the main differences, to help you decide where you should which one might be the best vacation fit for your family. Once you have gone through the differences, and have a better idea of which location is going to fit best with your vacation goals, then be sure to check out these pages for more planning help:
We live in the Pacific NW, so there are some definite travel distance and time issues. If you live in the Western part of the country Disneyland will be the closest to get to, and if you live on the Eastern half, then Walt Disney World is closer to you. Since many folks fly, and you can sometimes find flight prices that are comparable to both destinations, there are many other things to consider beyond just travel time. We break those down for you below.
You will want to start by checking on flights, to see how they compare to both destinations during your travel time frame. We find using a site like Airfare Watchdog makes this process really simple (you can check multiple carriers to see it all in one place).
In addition to travel distance and cost, here are some other differences you will want to consider.
Main Differences between Disney World and Disneyland
Location – 
The main difference between Walt Disney World, and Disneyland is what we alluded to above: where they are located. Walt Disney World is in Orlando, Florida, while the Disneyland Resort is in Anaheim, California.
Generally speaking it seemed those closer to the Eastern side of the country trekked to Walt Disney World, and those on the Western side to Disneyland, but there are so many more things to consider, beyond just location. Especially if you will be flying vs driving anyway.
Size of the Theme Park – 
The other big difference between Disney World and Disneyland is size. Walt Disney World is much larger than Disneyland, and includes many more parks to explore. While at first glance bigger may seem better, there are some pros and cons to both and we will discuss those here, and then get into the nitty gritty of the actual differences in the parks based on size and layout in the next section to follow.
Based on your travel style and preference, as well as how far you will have to travel to get to each park, these might be pros or cons for you.
Walt Disney World is huge. It has 4 main parks (I need at least a day to explore each), plus two themed water parks (each can also be a full days experience) and Disney Springs (like a downtown Disney area with shopping and dining, etc). This is in addition to the many other themed kinds of attractions for families in the area. None of these are in walking distance to each other, so when visiting Walt Disney World you will either need a car, or to plan carefully for their many transportation modes. While there are a number of transportation options, it will take time to get from place to place (vs Disneyland, where they are all in walking distance to each other).
Disneyland on the other hand, has two main theme parks, and a downtown Disney area (shopping and dining, etc), and all are within easy walking distance of each other. They are also in easy walking distance of many hotel options too, so you can visit this area with no rental car needed.
Pros & Cons of the Larger Size of Walt Disney World: 
Pro is that there are so many parks, you will be able to experience much more than is available at Disneyland
The con to this is that it will likely require more time and more money (we spend at least 5 days in the parks at Walt Disney World, vs 3 at Disneyland, for example – and this does not include time at the waterparks or downtown Disney areas).
Pro to Disneyland is that it is a really easy trip. We fly or drive down, and then park our car and everything from there is in walking distance for the most part (if you stay off-site you will shuttle in to the park, and then it will be walking distance from there).
You can often find better Disney Resort prices at Walt Disney World. That is mainly because there are many more resorts in this area, and Disney has 3 resorts that are in the economy value price range. Disneyland only has three Disney resorts total, and that means that you will pay a higher premium usually, even if you are looking at its most affordable option (Paradise Pier).
On the flip side, all of the Disneyland Disney resorts will be in walking distance to the parks. Disney World resorts will require you use transportation options to get to all of its parks, but in general their properties are also much larger.
I also find the California weather to be more moderate year round. We have been caught in a number of downpours in Florida (we were on vacation, we did not mind), and the weather in the summer can be brutally hot. Spring is a wonderful time to travel to both parks, but especially nice if you are looking at Florida.
If I had to sum up the main differences I consider based on location and size, I would say this: 
— I avoid Florida parks in the summer. It can get so hot my kids don't have nearly as much fun. California can get warm too, but I have found the Florida heat to be harder in the summer months.
— Disneyland is an easy vacation, in terms of getting around, and makes it perfect for shorter stays.
— Disney World has almost endless options, and is wonderful for a longer visit (or if you visit more often you can pick and choose).
Differences between Disney World and Disneyland – Parks To Visit and Layouts
There are multiple "lands" within each Resort, but they are organized differently at each.
Walt Disney World Resort – Kingdoms
Walt Disney World covers a lot of ground in Orlando. There are four separate Parks, each with their own themes and lands within. The best way to get between them all is via bus, monorail, water taxis, the Skyliner, Uber or even Lyft.
The four Walt Disney World Parks are as follows: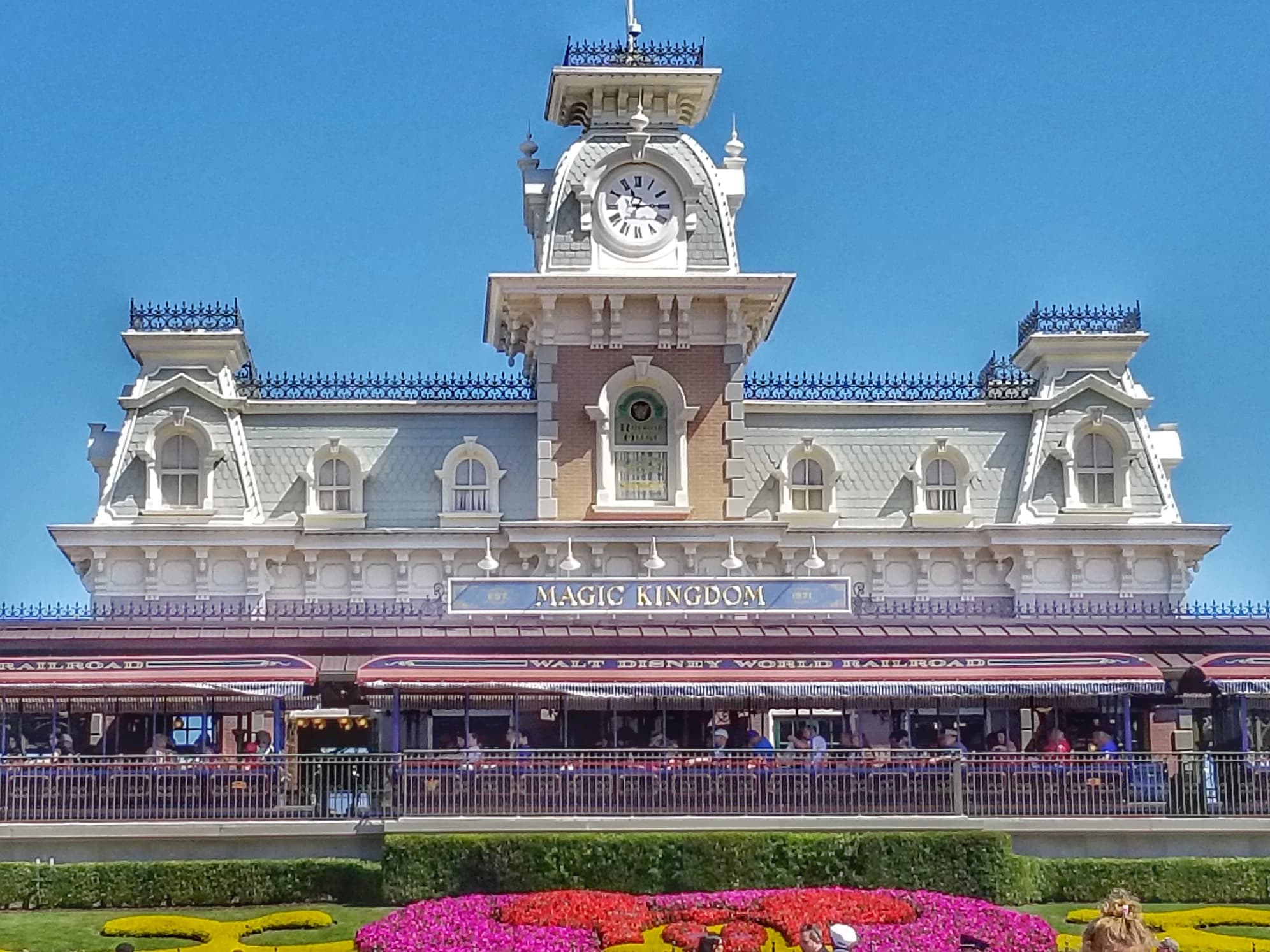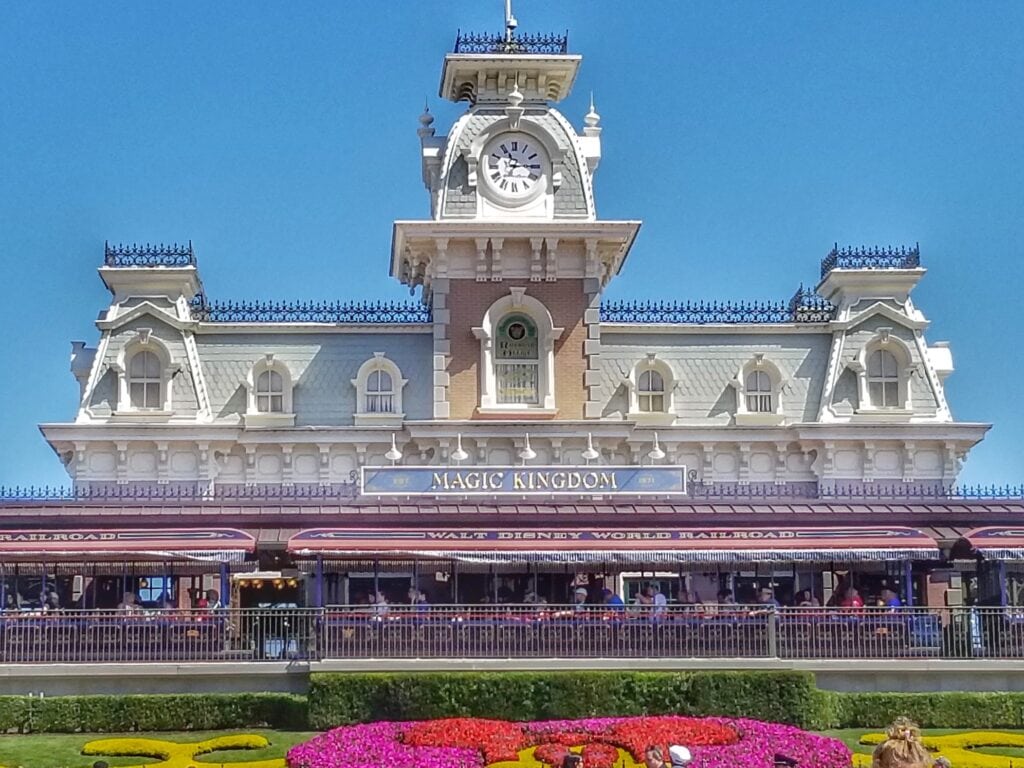 ● Magic Kingdom Theme Park – Home to classic Disney rides and attractions, including
Big Thunder Mountain Railroad, Haunted Mansion, Jungle Cruise, Peter Pan's Flight and more. Magic Kingdom is sectioned in lands that are similar to what you find at Disneyland Resort.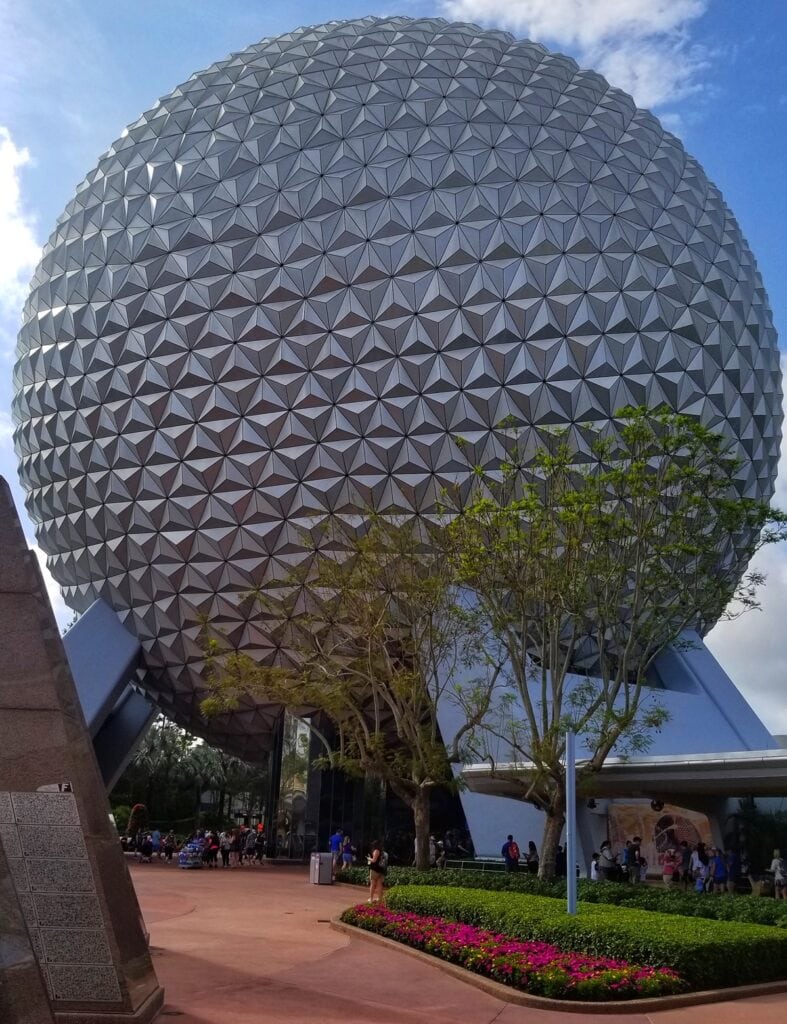 ● EPCOT Theme Park – (**Update – EPCOT is currently undergoing a major remodel of the park!) This theme park takes you around the world. Experience the flavors and interactive experiences throughout Epcot, including Phineas and Ferb: Agent P's World Showcase Adventure, The "What If" Labs, Mission: SPACE and Soarin' Around the World.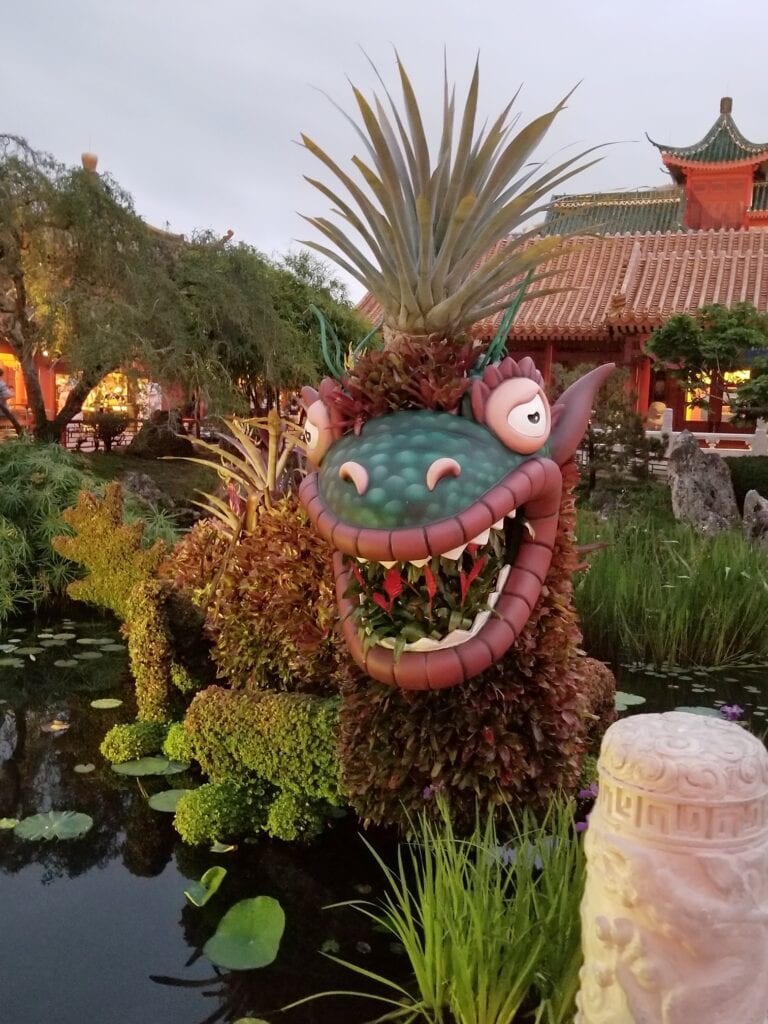 My favorite part of Epcot though, is to visit all of the countries represented in this park!
● Disney Hollywood Studios – Home of Star Wars: Galaxy's Edge, Toy Story Land and so
much more, Hollywood Studios also has Star Tours – The Adventure Continues and The Twilight Zone Tower of Terror.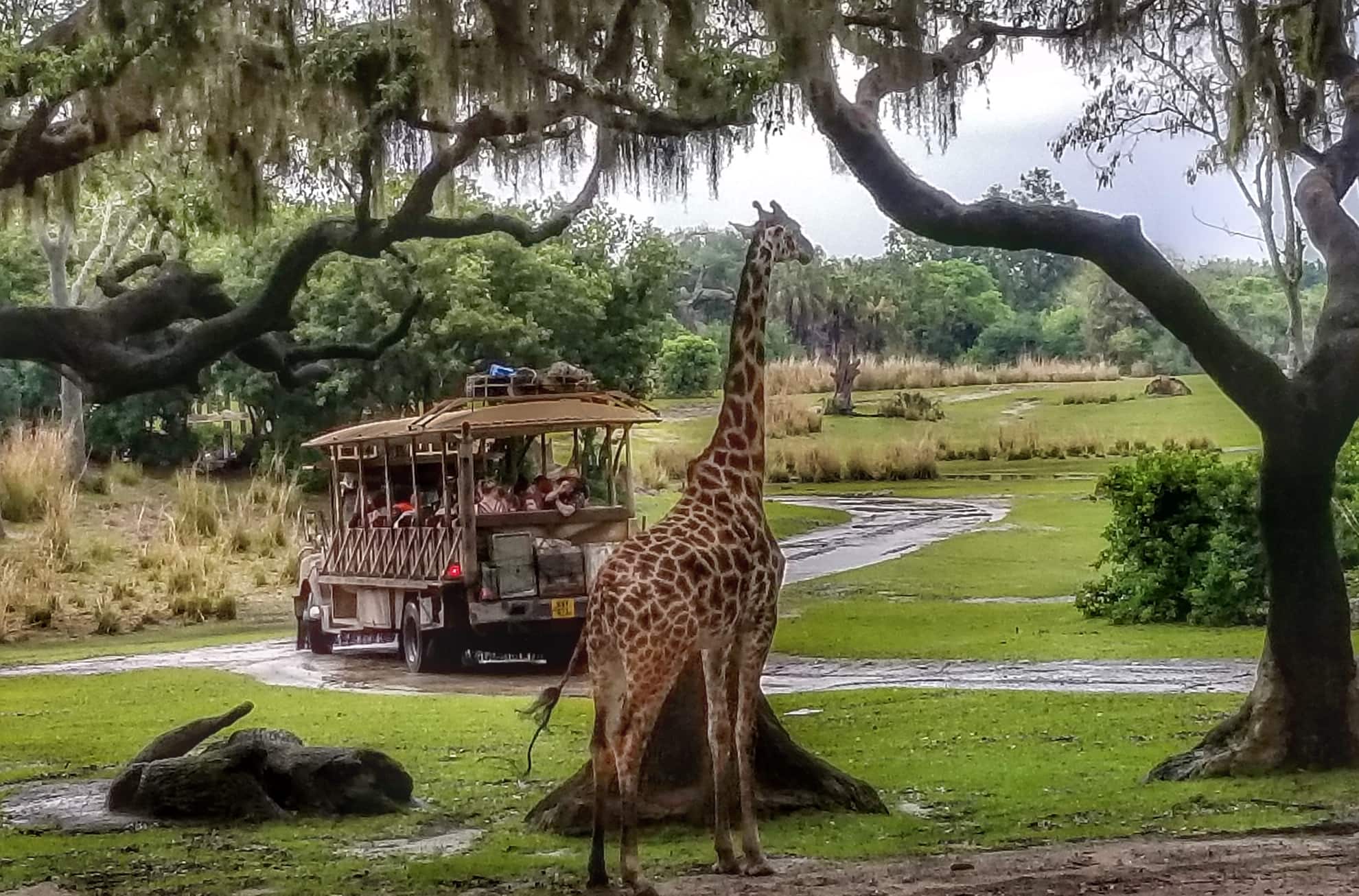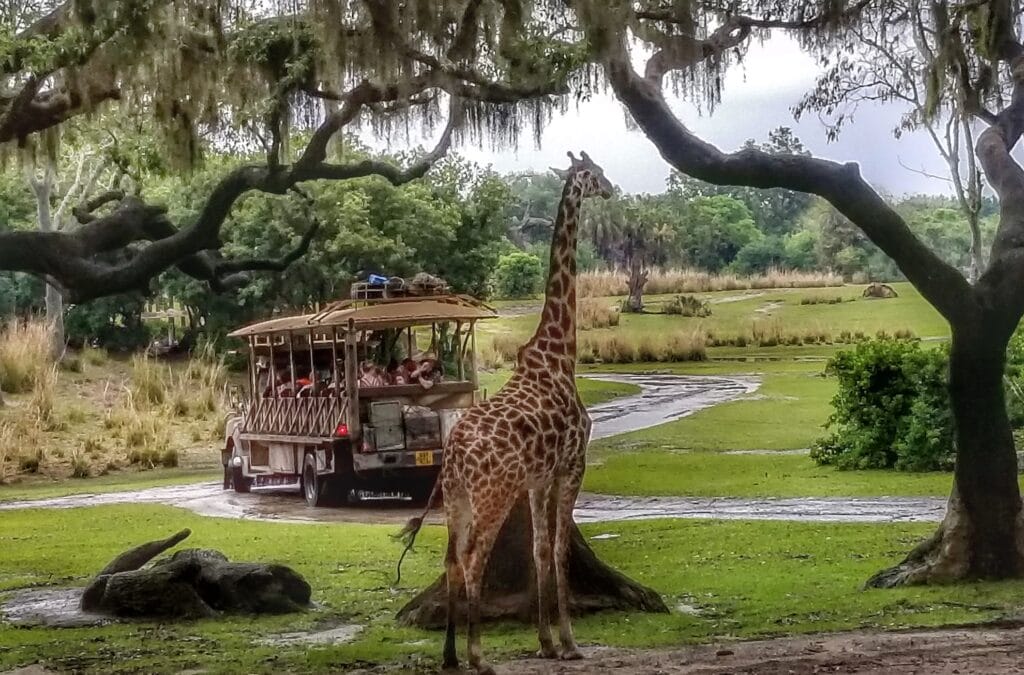 ● Animal Kingdom Theme Park – Animal Kingdom brings animated Disney creatures to
life!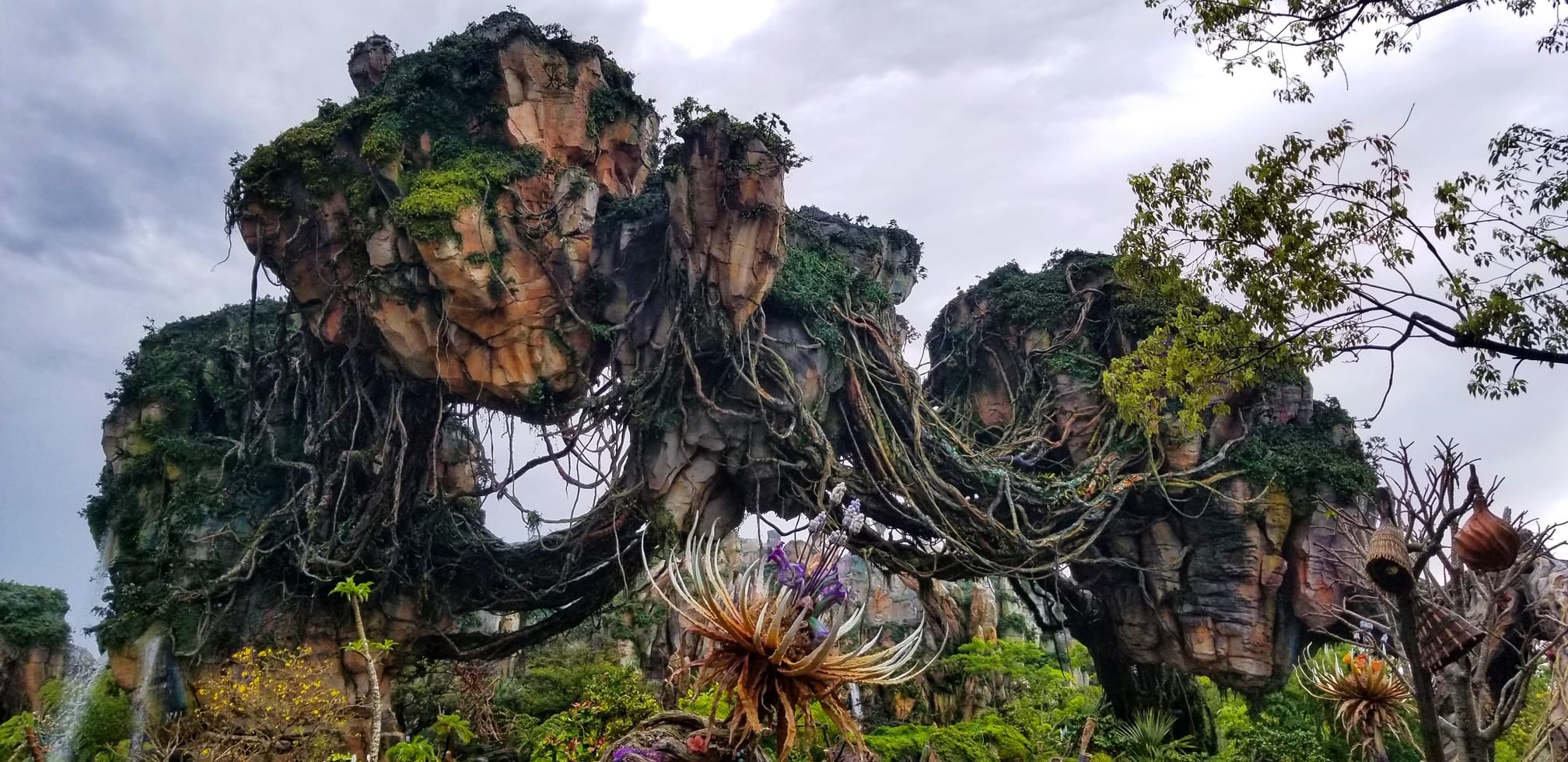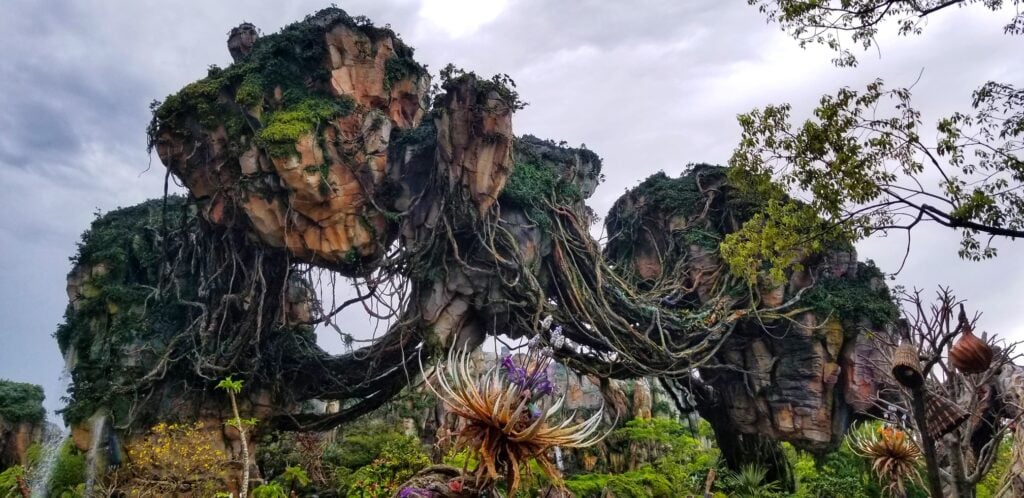 You'll find Avatar Flight of Passage, DINOSAUR, Expedition Everest – Legend of the
Forbidden Mountain and Tree of Life.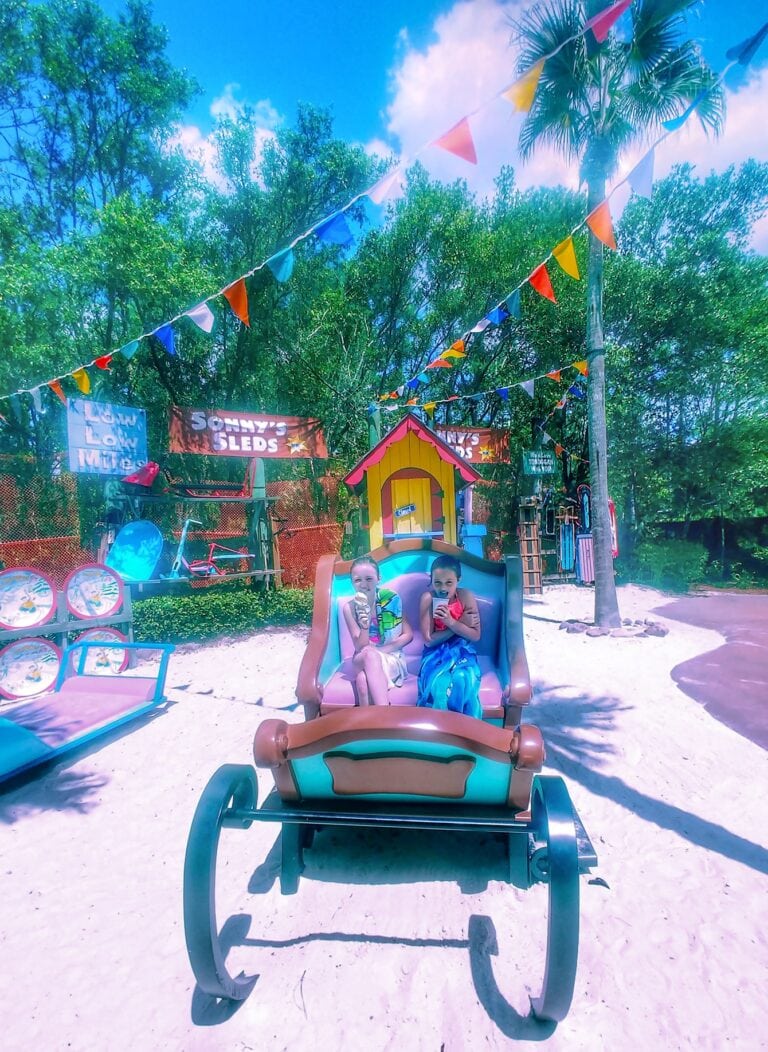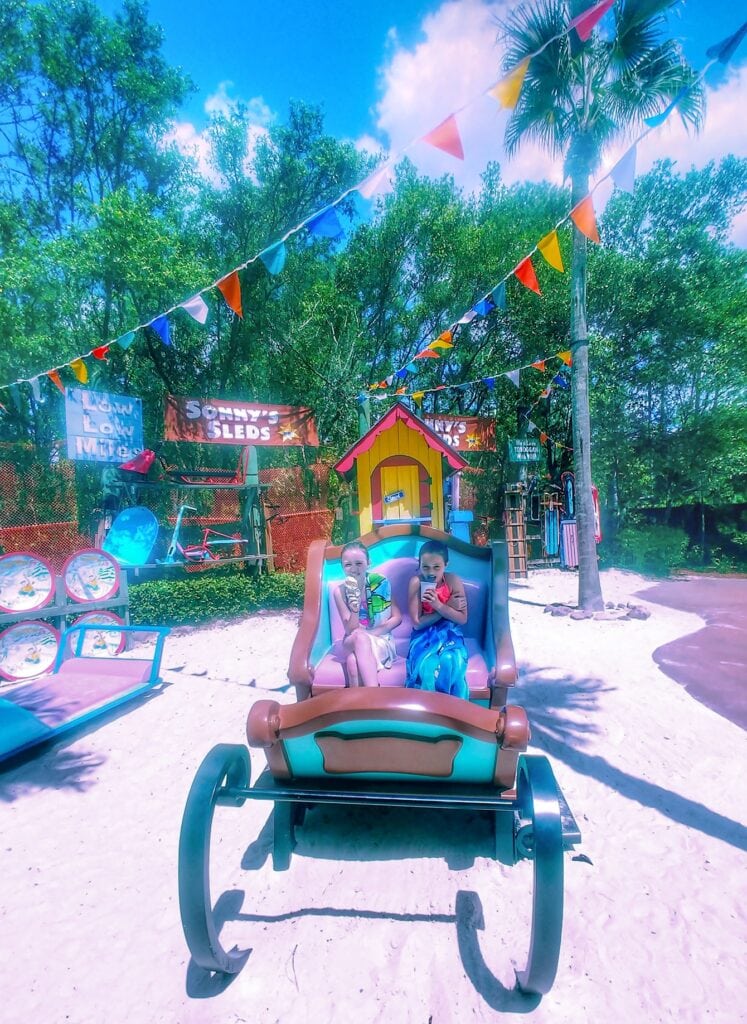 In addition to the four theme parks, Walt Disney World is also home to two themed water parks. They're accessible with valid theme park admission that includes Park Hopper Plus.
● Disney's Blizzard Beach Water Park
● Disney's Typhoon Lagoon Water Park (currently closed)
Last, but not least, Disney Springs is a shopping/dining district at Walt Disney World. Here you'll find restaurants, shopping, activities and more to enjoy. It does not cost anything to get into this area.
Disneyland Resort – Lands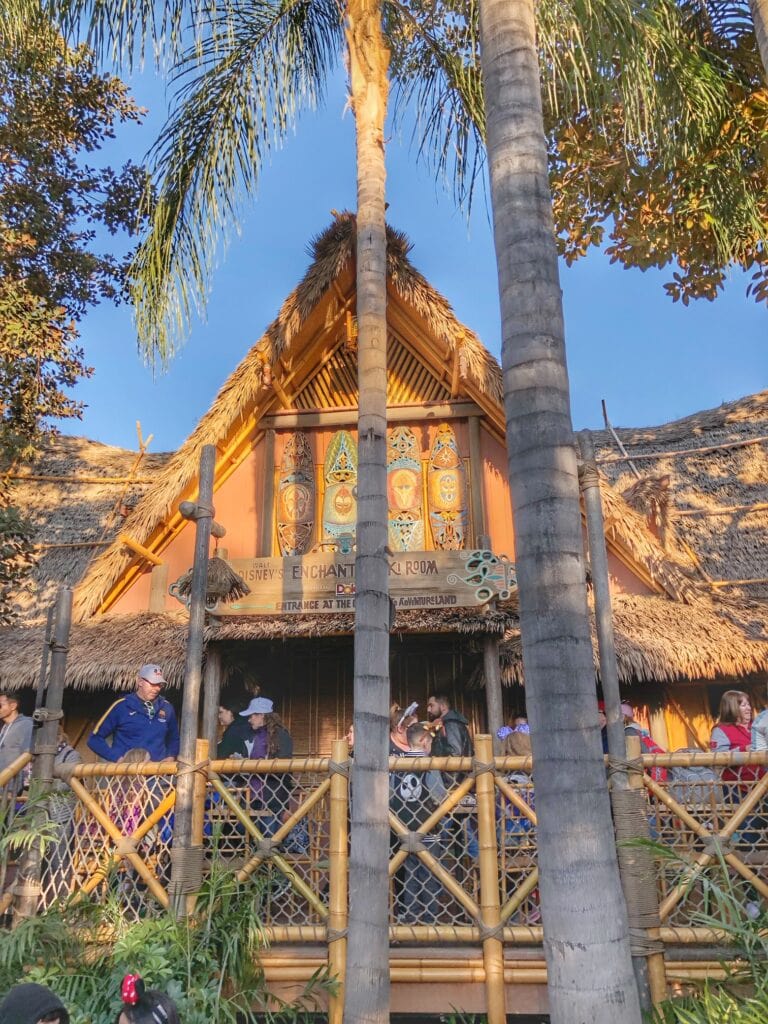 The themed lands in the Disneyland Resort are close enough to one another that they're all within walking distance. Disneyland is not spread out as much as Disney World, and that includes the two separate Parks – Disneyland Park and Disney California Adventure Park.
Within Disneyland Park you'll find the following sections filled with themed rides and attractions:
● Main Street, U.S.A.
● Adventureland
● New Orleans Square
● Critter Country
● Star Wars: Galaxy's Edge
● Frontierland
● Fantasyland
● Mickey's Toontown
● Tomorrowland
Across from Disneyland Park is Disney California Adventure Park. Inside this separate theme
park you'll find a number of themed areas as well.
● Hollywoodland
● Avengers Campus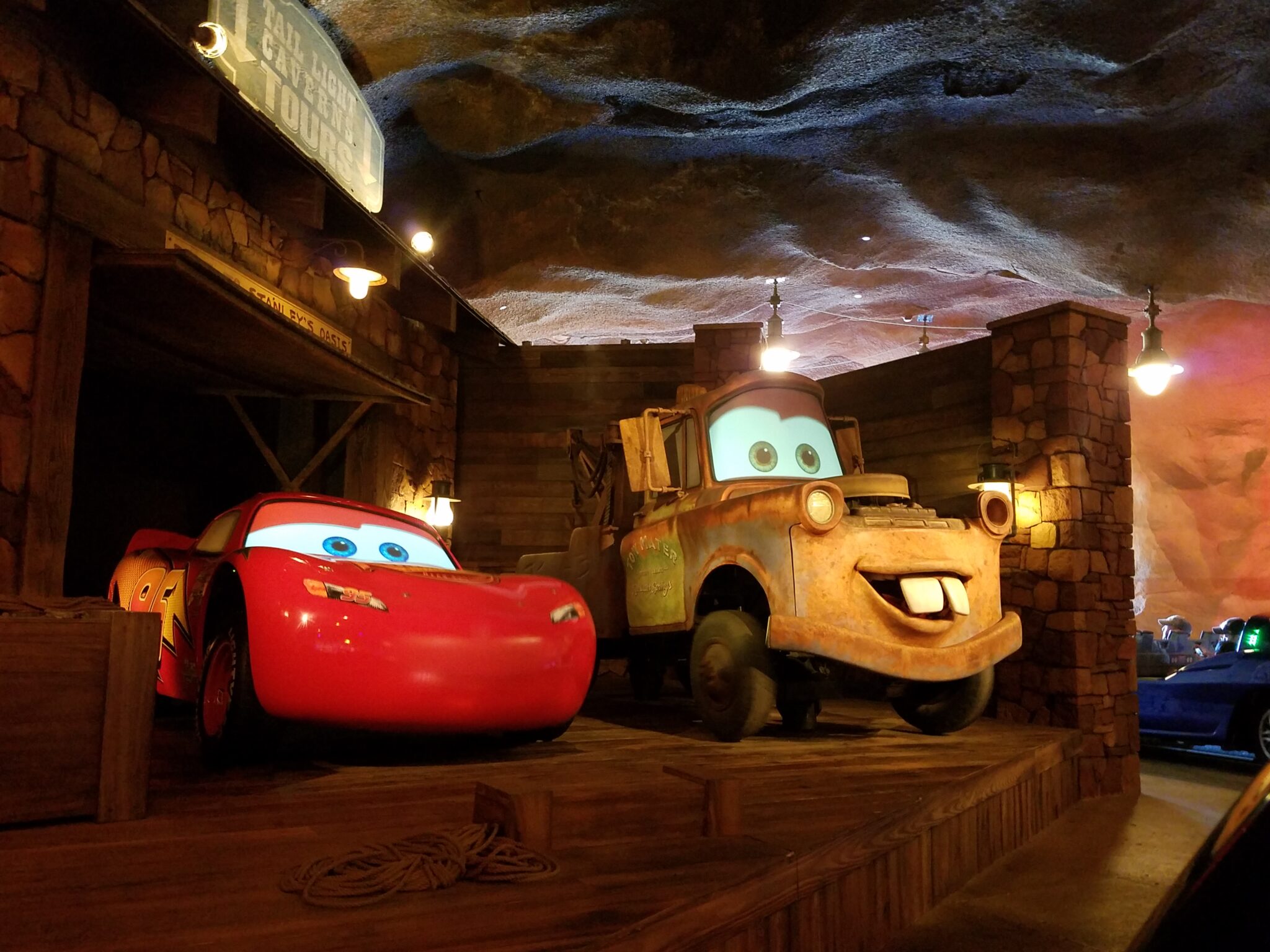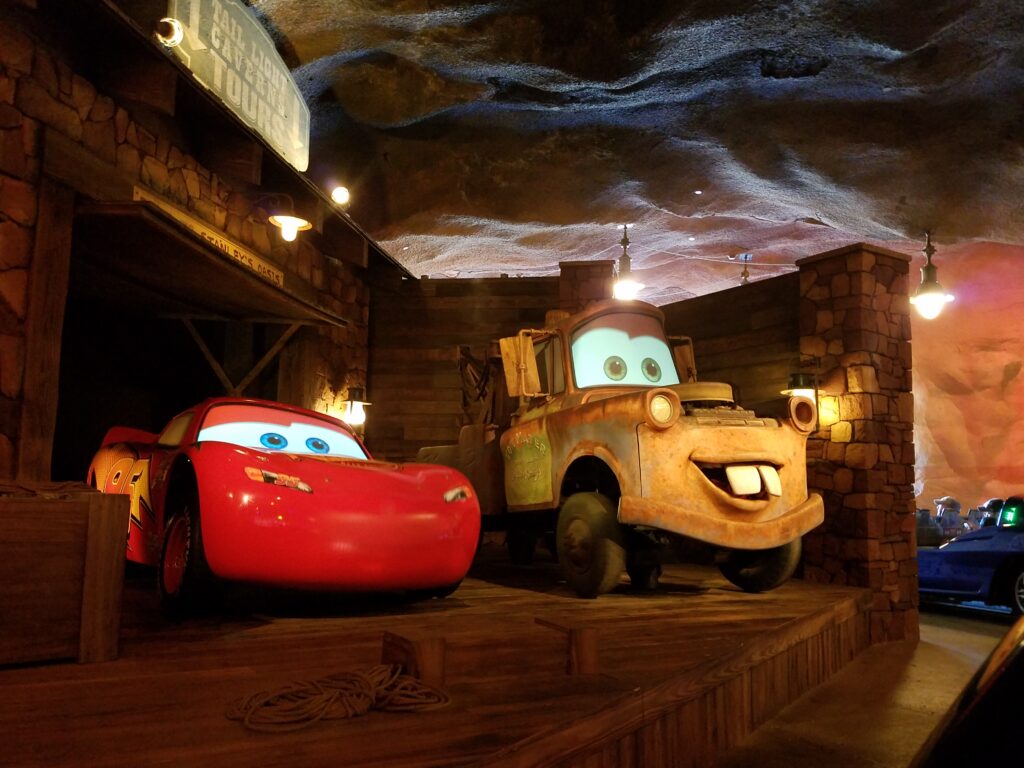 ● Cars Land (unique to Disneyland Resort)
● Pacific Wharf
● Pixar Pier
● Grizzly Peak
In addition to the separate theme parks, Disneyland Resort also offers a shopping/dining district called Downtown Disney. It contains numerous restaurants, including Black Tap Craft Burgers & Shakes, Salt & Straw, Naples Ristorante, e Bar, Earl of Sandwich and so much more. You'll find a giant Disney store here, The LEGO Store, The Disney Dress Shop, Sephora, and Disney's Pin Traders, to name a few. You do not need theme park admission to access Downtown Disney, so it's a great experience to have on a day you're not planning to be in the Parks.
You can find a list of best value restaurants near Disneyland here, and best value restaurants IN the Disneyland Resort Parks here.
Differences Between Disney World and Disneyland – Park Perks, & Onsite Hotel Perks
There are some differences between perks you can enjoy at each park. We will break some of those down here.
Hotels
Another difference between Disneyland vs Disney World is the number of onsite hotels. Since Walt Disney World itself is so much bigger, it makes sense that there are over two dozen onsite hotels to choose from. Disneyland Resort has three onsite hotels, with one actually inside Disney California Adventure Park.
Perks of Staying at a Walt Disney World Onsite Hotels
(check out our tips on choosing to stay onsite or offsite at WDW here)
Magic Bands at WDW – 
Perks of Walt Disney World onsite hotels include Magic Bands, which are electronic
access to your hotel room and merchandise purchases. These come free with your vacation package when staying onsite at a Walt Disney World hotel, or are available for purchase if staying offsite. They are not available at Disneyland parks currently. You will also get access to to make Advanced Dining Reservations, purchase food and more with these. They can definitely make things more convenient, since you can just wear them saving you the need to carry a bag if you do not want to.
Complimentary Transportation for WDW – 
Guests staying onsite also have access to complimentary theme park transportation options, which will save you money getting around the parks (and add lots of convenience too). We drove down on our last trip, and had to pay for parking at each park daily, and it would have been nice to have access to many of the transportation options. You will find theme park transportation options to be many, like monorails, skyliners, water transport and buses.
Food & Additional Perks for WDW Hotel Guests – 
Certain times of the year Walt Disney World offers a Free Dining Promotion, where dining is included with your vacation package. You must book with a WDW resort to qualify for this perk (and book when it is available). We also share some of our favorite restaurants at Walt Disney World here, if you want to plan ahead (which we recommend).
In addition guests have access to character wakeup calls and in-room celebrations. Plus it's just fun to stay immersed in all the magic in a Resort hotel with unique theming! Disney World onsite hotels range from Value, Moderate and Deluxe.
When you book a 2-Night or longer Disney World vacation package (theme park tickets and
onsite hotel) with Get Away Today, you can take advantage of Get Away Today's complimentary concierge service. You'll receive customized planning assistance, including making Disney World dining and attraction reservations up to 180 days prior to travel.
Perks of Disneyland Resort Onsite Hotels
As with a Walt Disney World onsite hotel, the three Disneyland Resort Hotels have many
benefits. For one, they're all located within walking distance of the Resort. This helps you save a
lot of time during your vacation, and gives you easy access to your room if you need to return for a midday break. This is especially true if you stay at Disney's Grand Californian Resort & Spa, which has its own exclusive entrance to Disney California Adventure Park. Other perks of Disneyland Resort Hotels include complimentary merchandise delivery, Character wakeup calls, themed pools and easy access to your reserved Character Dining experience. You'll also find unique decor in all three hotels, and select rooms offer views of Disneyland so you could potentially see fireworks and other shows from the comfort of your room.
Disneyland offers fee based transportation options, but much of Disneyland is all in walking distance if you stay at one of their resorts.
● Paradise Pier Hotel – Value
● Disneyland Hotel – Moderate
● Disney's Grand Californian Hotel & Spa – Deluxe
If you'd like to stay off-property during your vacation, Get Away Today partners with many
"Good Neighbor" hotels near Disneyland as well. Many offer perks to Get Away Today guests
including complimentary breakfast, theme park shuttles, discounted parking fee, waived resort fees, in-room fridges/microwaves and so much more.
Disneyland vs Disney World- How Long Should I Stay?
Recommendations
Now that you have a general idea of how the Resorts and their hotels are mapped out, you can
get a better understanding of how much time you'd like to spend on your vacation. Depending
on the age of your travel party, it can vary. However, I have some suggestions based on what
I've learned and what Get Away Today has shared with me.
Walt Disney World Length of Stay
Typically, you want to give yourself at least four days for a Walt Disney World vacation. In
theory, this gives you one day to spend in each of the four Parks. However, this doesn't give
much time for visiting the water parks or the shopping district. If you can, consider giving
yourself an extra day or two so you can move at a slower pace and soak in all the magic of Walt
Disney World. For the best vacation experience, it's recommended you get a 5-Day or longer
Park Hopper ticket. Remember, you can always get expert travel advice from Get Away Today,
even if you opt out of the complimentary concierge service!
Our family took 10 days to enjoy our last trip to WDW, and thought that was perfect. Coming from the NW, two days were travel days (getting there and getting home) which left us with 8 days of fun. Here is a recommended itinerary.
Get a 5 day Park Ticket (we did single day tickets for our visit, as we did not want to deal with jumping around with the parks further apart).
We enjoyed one day at each park, and then the 5th day was for the park we felt like we needed more time at
We took a break mid week and drove out to the beach for a beach day (we had a rental car for our visit)
We took another day mid-week to spend a day at one of the Disney Water Parks (my kids chose Blizzard Beach).
We took another day to enjoy the Orlando area, and Disney Springs (my kids had a list of places they wanted to visit like the cupcake ATM at Disney Springs, the largest McDonalds in the World, and Old Town & Food Trucks! If you want to visit other theme parks in the area like Universal Studios, etc, you will want to use this day for that or build in an extra day.
Disneyland Resort Length of Stay
The most popular ticket option sold by Get Away Today is the 3-Day Park Hopper. This allows guests to go between both Disneyland Park and Disney California Adventure Park on the same day, all over a 3-day period. This generally offers enough time to see much of what Disneyland Resort has to offer. However, if you'd like to enjoy time at your hotel pool or even a day at the beach, I suggest extending your vacation. You can actually purchase 5-Day Disneyland tickets for the price of just 4 days through Get Away Today, which is a great way to stay and play longer, for less!
My family generally does a 5 day 4 night vacation to Disneyland. A sample itinerary looks like this.
Day one get checked in to the hotel and enjoy Downtown Disney and Hotel pool
Day two and three, hit each park one day (we do always get a park hopper for Disneyland, as you can walk between parks, and that means you can go to the other park if one closes earlier, etc)
Day fourth we use to hit rides in both parks we missed the first two days or want to go on again.
Day five is check out day and spend time at pool or downtown Disney if we are not departing Anaheim early.
You will want to build in extra days, or cut back on days at Disneyland if you want to enjoy any other theme parks in the area like Knotts, Universal, etc.
Save with Get Away Today
Now that you know some of the major differences between Walt Disney World and the Disneyland Resort, you're ready to book! You can book vacations at www.getawaytoday.com, or you can always call a travel expert directly at 855-GET-AWAY. Getting advice and a quote for your vacation costs you nothing, so don't hesitate! Remember, when you book Southern California theme park tickets and hotel with Get Away Today, you can save an additional $10 off their already discounted prices by using code ThriftyNW. Whether you book Disney World or Disneyland, let them know ThriftyNW Mom sent you!
More Resources To Use for Disney Trip Planning & Saving: