Disney World Dining – Our Top 10 Favorite Restaurants To Eat At & Tips For Planning Your Dining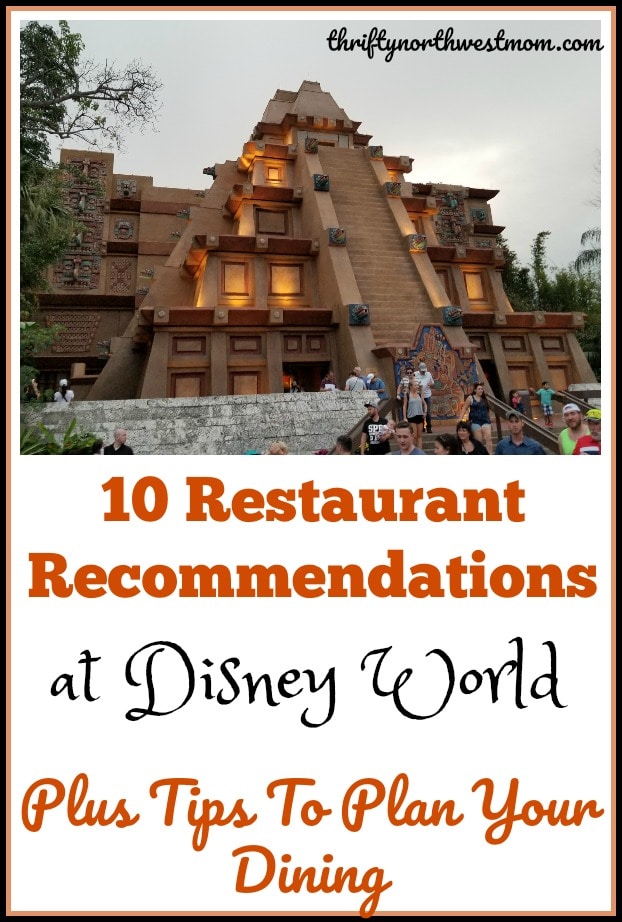 Disney World Dining – Our Top 10 Favorite Restaurants To Eat At & Tips For Planning Your Dining
When we were planning our recent trip to Disney World, we started asking folks we knew that had been there recently, about tips for traveling. Many folks highly recommended that we make reservations for restaurants we wanted to eat at. We do not often make dining reservations, so I was not sure how I felt about that. So we decided to make reservations for some days, but not for others so I could share insights into how this worked out for us. Eating out at Disney World was a different experience for us, from Disneyland, and it does turn out that dining reservations are very useful in these parks.
I will share some of the tips I picked up, that helped us feed our family easily. If you plan to eat in the parks, it can really add up quickly. Planning ahead can save you big. Not only will a little planning go a long way in keeping you on budget, but if you are paying for Disney meals, you want to get ones you will enjoy. One thing I heard folks share with us in the planning process, was that they wish they had planned their dining experiences better, to make the most out of enjoying some of the famed Disney spots. So we share many of the tips that others shared with us (and that we tried and loved ourselves here), so you can make the most out of your dining experience, by doing a little planning.
If you are looking for tips on how to save the most on dining, check out our article here on Saving Money on Food at Walt Disney World.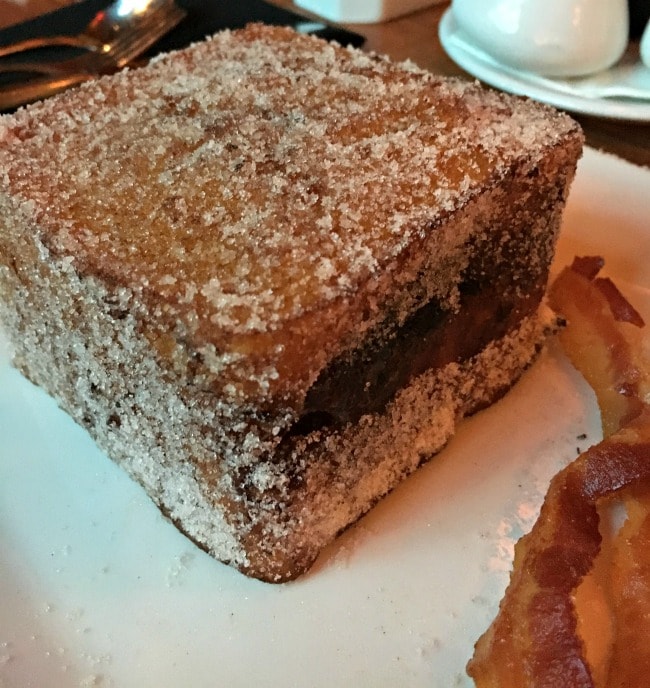 Tonga toast from Kona Cafe at the Polynesian
In general, we felt like the Dining Reservations were very useful in Magic Kingdom and Hollywood Studios, and we preferred to go without them at Epcot and Animal Kingdom. The reason is that we preferred to eat our way around Epcot in the World Showcase (snacking from country to country at the counter service options). I would make reservations for the Garden Grille next time, though. For Animal Kingdom, there are not many sit down restaurants in that park, and one is pretty pricey, so we found that to be a good park to save some on the counter service options. We share our favorite restaurants in each park below.
We did not make it outside of the parks too much, but there are many great dining options in many of the Disney Resort areas too. I cannot make any recommendations based on personal experience, but will share what recommendations were made to us by multiple sources, in case you want to research them more and get out of the park some.
Advance Dining Reservations (ADRs)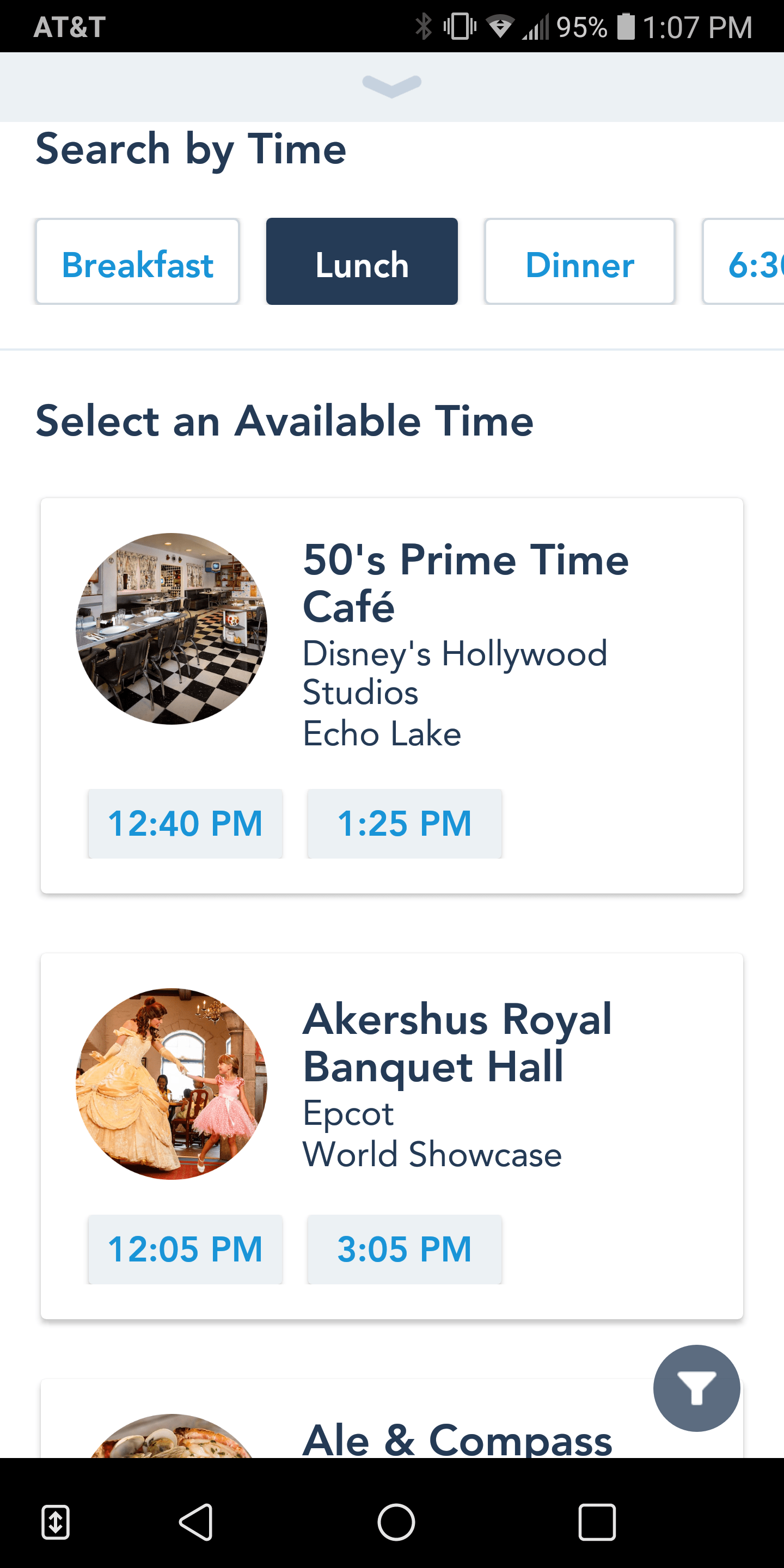 ADR's is a term you will hear repeat Disney World vacationeers throw around. It stands for Advanced Dining Reservations, and means just that – making reservations ahead of time. You can do this through calling ahead, or using concierges onsite, or using their app. We found using the Walt Disney World app to be the easiest and most convenient way to do this. It is called Disney My Way, and we found it super helpful to book spots we wanted to eat. You simply put the date and time you want to book, and number in your party, and it will give you a list of locations, restaurants and times available for a reservation.
It will require you to put down a $10 hold with a credit card when you make a booking. You are only charged this if you do not cancel your reservation 24 hours ahead, and then do not show up.
If there is a restaurant you really want to eat at, you should book an ADR for that as soon as you possibly can. If you are more spontaneous, and do not want to be held to a tight schedule, you can use the app to find what is available the day of your visit, and book the reservation on the fly – but if you are traveling during busier times your selection will be very limited. The most popular restaurants can book up months in advance during those times. I recommend connecting your credit card to your Disney account if you want to do it this way, as it will be easier to make quick reservations when they become available.
While there were definitely crowds during our visit, they were not as bad as the prior weeks. If you are traveling during a busy season, these are a must or you may not get in to some restaurants.
Here is what we found with the ADRs during our trip: 
They will save you long wait times and can even provide you better table options. For example, when we visited the Sci Fi cafe they told us we could pick from either style of table since we had a reservation, and we would get the first one of that style to become available. It looked like the folks that did not have reservations where waiting for quite a while for their tables, as they were serving them popcorn while they waited.
If there is not a wait for a restaurant you have reserved, you can easily change the time. This helped our family, as we got hungry about an hour and a half prior to our reservation. I noticed there was no line when we walked by, and they happily changed our reservation to that time and got us right in. I did notice a very long line waiting for a table when we left though, so this may not work at all times. It is nice to check in though, if you have a reservation for later then you would like.
Book ADRs as far in advance as you can, for best options. This is particularly true for busy times.
Check back regularly for the restaurants you want to eat at if reservations are not available at first. They open up often, and you can get what you are looking for sometimes. For example, we booked later then most, and the Sci Fi cafe only had a 9pm seating. We wanted to eat there so I initially booked that, however I would check the app daily (only takes a few seconds to look). About a week before our travel date I saw a 6pm time become available so I reserved that, and canceled my 9pm slot.
Check the menus ahead to make sure your family will eat there. The ambiance can make you want to book a spot, but you get there and realize there is not much on the menu your kids will eat – and it won't likely be a cheap meal – so its best to know ahead of time if your family will actually enjoy the food too, and not just the ambiance.
Our two favorite parks for restaurant reservations were Hollywood Studios, and the Magic Kingdom. We balanced our budget by using reservations in these two parks and then eating at counter service options in other parks.
Eat At the Walk Up Counters (and use the app to order from). This will save you time and money!
The Disney parks have many options where you walk up to a counter to order and then find seating yourself. There is generally lots of seating around these areas and these options are more affordable than the sit down restaurants. In our experience, most meals were $14 and under (versus $15 and up in the restaurants). Kids meals can run you $9 to $10 in the parks, but they usually include a drink too.
We often ordered two meals at these spots and shared them (2 adults and 2 kids), then would get a dole whip or something along those lines for desserts.
When you use the app, many counter service locations offer the option to order off the app and pick up at a special window for the pre-orders. It will alert you when your order is ready and you can go right to the window and grab your food. This wait was much quicker then folks ordering in the long lines in our experience.
Plus, you can check the menus on the app ahead of time, to plan where you want to eat at and make your budget stretch the furthest (it always seems to cost us more when we order on the fly for my family).
Disney World Restaurants that we love: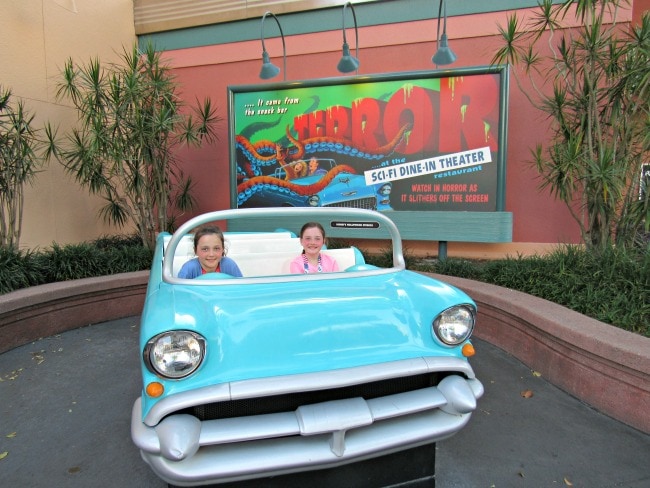 Outside of the Sci Fi Dine In Theater – our favorite dining experience!
Here are a few restaurants that were recommended to us and we recommend the ones we loved to others. If you have a favorite dining spot, please let us know. You can also google terms like "Sit Down Dining at Disney World" to get others' recommendations. We are typically more casual diners, so we did not do any of the really fancy restaurants. Plus, the fact that these restaurants were already pricey enough for our tastes.  Most of these restaurants will cost you $14 to $35 (we generally ordered on the $15 side, but just to give you an idea of what to expect), but the high end ones can be even more.
Hollywood Studios (this is where we had our favorite dining experiences) –
Sci Fi Diner – This one was our very favorite. Mainly for the ambiance, but the food was good too. It is a burger and sandwich kind of menu, with great home style milkshakes. Everyone in my family said this was hands down their favorite dining experience. When you get in, they seat you in a car in a room that is set up to look like a drive in theater. The cars face a movie screen, that plays clips the whole time. We let the kids sit in the front seat, and we took the back, and it *almost* felt like a date night out! I did think the burgers were better then others we had earlier.
Everyone loved their meal, but mostly we really enjoyed relaxing in a fun environment for a break, as we took time to eat. It can get a bit chilly in there if you are coming in from a hot day, as it is air conditioned, but that was our only complaint at all.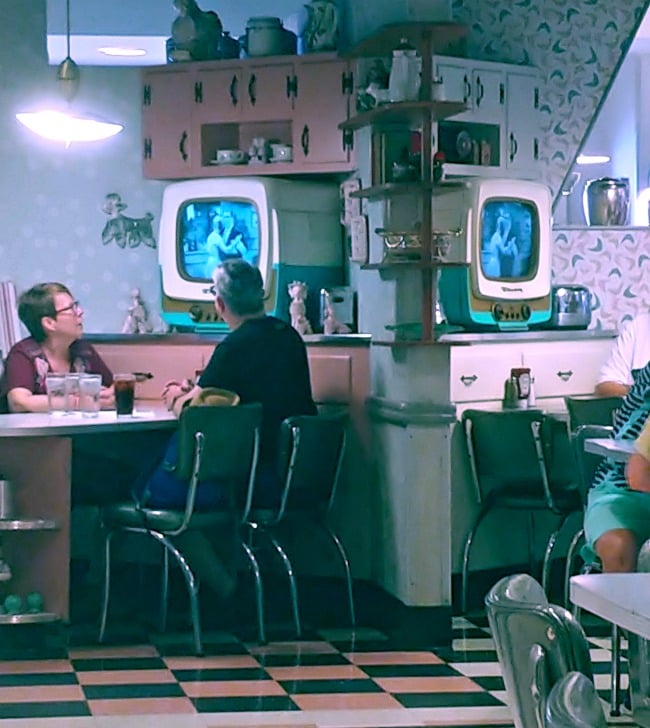 Prime Time Cafe – To be honest, the menu was not our favorite here, but the kids still said it was one of their favorite dining experiences – and some folks will love the menu. It has a good down-home cooking menu (like fried chicken and pot roast) and my husband did really like the food, so if you like the heavier food options you will likely enjoy this menu. The milkshakes are terrific. They recommend the PB&J and my husband got that and loved it (it tasted like a peanut butter cup milkshake to me – it was good!). The ambiance in this restaurant is super fun! It is set up like a home from the 50's era. TVs and curtains theme the dining space really well and the wait staff have a sarcastic but friendly approach. They are obviously in character, and were very fun to interact with. Did I say my kids loved this spot? This is one that would be good to share a meal, so you can experience the ambiance but save some money. We also opted to do lunch here, as dinner menus can be even more expensive.
Epcot –
Eating our way around the countries in the World Showcase at Epcot –
I am a little partial in this park, as I love to "Eat My Way Around" the World Showcase in Epcot – and get a little taste of different cuisines from around the world. We tasted sausage in Germany, beef sticks in Morocco, wine in Italy, bubble tea in China, and much more. This is not the most economical way to eat – but it was so much fun. We just all shared bites of different dishes, until we were full. It was like a tasting party as we grazed through the day! It is not the best way to eat if you are really hungry  (if you do it like we did and share different dishes), as it is more like grazing, versus sitting down for a big meal. Everyone could get their own meals at each stop but that would really add up in cost. What I would do next time is have a nice lunch at the Garden Grille and save the tasting my way around the countries for the evening, after we have had a big lunch.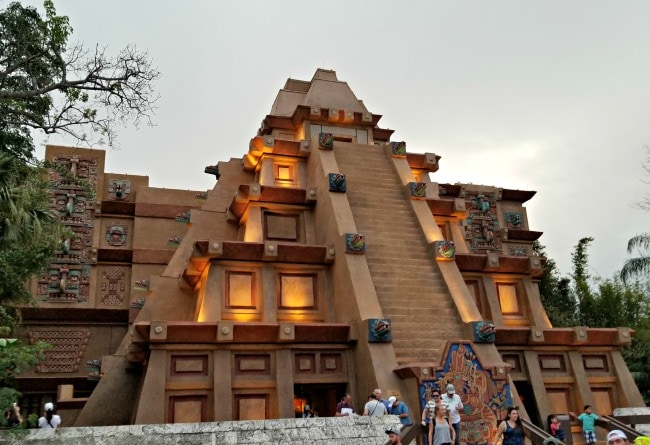 One very popular restaurant in Mexico in the World Showcase is the San Angel Inn Restaurante. You will likely need reservations to get in here, but the ambiance is very nice. This spot is set up to make you feel like you are eating dinner along the river in the evening, under the Mayan Ruins. This is another one of the restaurants where you are paying for the experience and reviews on the food itself are pretty mixed, but folks seem to love the ambiance in general.
This is a picture from the gardens where they grow food that they use in the restaurant!
Garden Grille was a spot we learned about too late and did not get the chance to try, but it's on my list for a future visit. This is a rotating restaurant that moves around the Living with the Land exhibit. They also do Chip and Dale character dining here, but I would have liked to just enjoy the rotating restaurant.
We also learned on the exhibit that they use much of the food they grow there for the restaurants onsite. It looked like a very cool spot to dine with the family! They also have a Sunset Grille here that is a counter service option, with the freshly harvested food from this exhibit.
Honestly, Epcot had so many places we wanted to dine at, but just not enough time (or money) to hit them all!
Animal Kingdom –
The Africa area of Animal Kingdom – it has one sit down restaurant and a handful of counter service options (including Dole Whips, grilled corn, and much more).
The Animal Kingdom seems to offer the least amount of options for sit down restaurants, so it is a good day to try to save some on your food budget. There are many counter service options, but they are not always open (will depend on the season). For example we found many of the counter service options in Africa closed down during our visit. The did make fresh roasted corn in the main area of Africa, which we really enjoyed. They also had a fruit stand (in the same area) so it can be a fun park to snack your way through. The big restaurant there is Tiffins, which is pricey. We did not try it, but I did think the lounge right next to it was a great option (on your way into Pandora Land).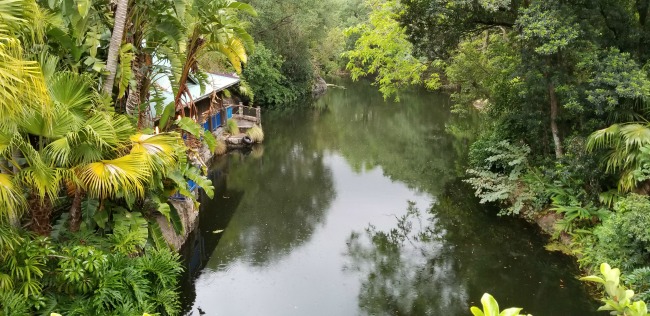 Nomad Lounge – This spot had great river views if you ask to be seated outside and some very comfortable looking couch areas to lounge in. It is not a full menu, but more like a bar menu, so it's best if you want a bite but are not starving. I liked it as a spot to relax for a bit, without spending a fortune. The food you can order includes a handful of small plates (like chicken satay or pork ribs) for around $10 to $15 a plate and then share. It is probably more like a snack for most people, but a great way to sit down for a bit with some good food.
If you're looking for a spot to get away from some of the crowds, we found the Dinosaur area to be less crowded then the rest. They have a Restaurantouras that is a counter service, but was much less crowded vs some of the other areas in the park.
Magic Kingdom –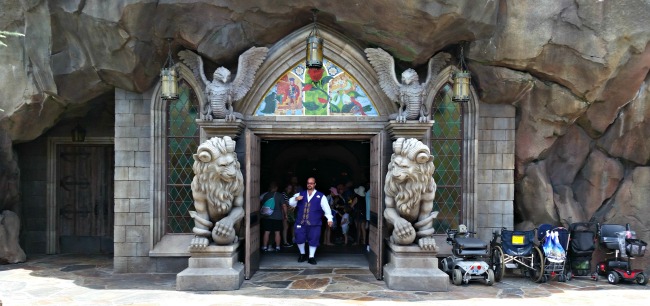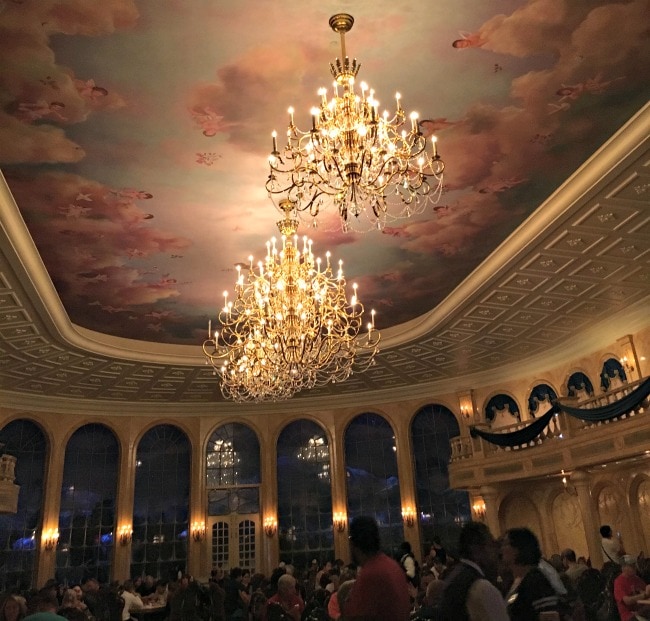 Be Our Guest – this restaurant came highly recommended to us, but sadly we were not able to get reservations. It books up well in advance of travel dates. It is also a more expensive restaurant, entrees will run you around $35 to $59.99 (so I did not try too hard to get reservations there), but if you are looking for something special in the Magic Kingdom, many folks recommended this one to us. I included it here, since so many people recommended it, it really seems like many people's first choice for a special meal at Disney.
Tony's Town Square Restaurant – Italian style eatery themed after Lady and Tramp. This is a nice spot to stop before heading out of the park. It is at the beginning of Main Street, so close to the exit for the parks. Everything on Main Street seems to get crowded, so you will want reservations. They offer various Italian foods, including pizzas you can share to save on your bill.
You can find a list of all the Disney dining options in the app, or online here, to view the menus and learn more about other options too.
Two of my kids favorite dining adventures out of the park included: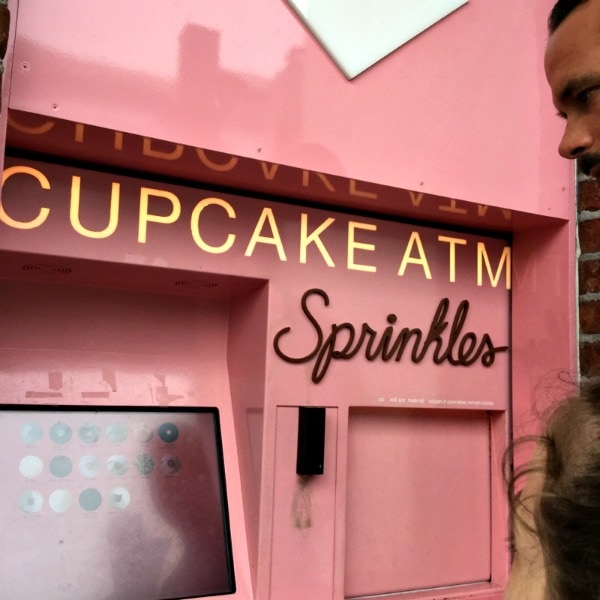 Order your cupcake at the ATM and pay there.
The Cupcake ATM at Disney Springs – my kids have been talking about this cupcake ATM for a couple of years now. They took me on a wild hunt in Downtown Disneyland this past summer, before they realized it was at Disney World in Disney Springs (the newly remodeled downtown Disney area).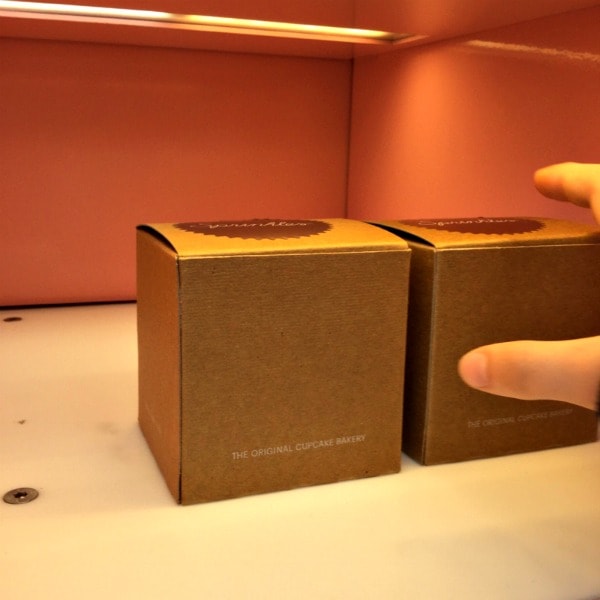 Your cupcakes are delivered in boxes, via a door that opens on the ATM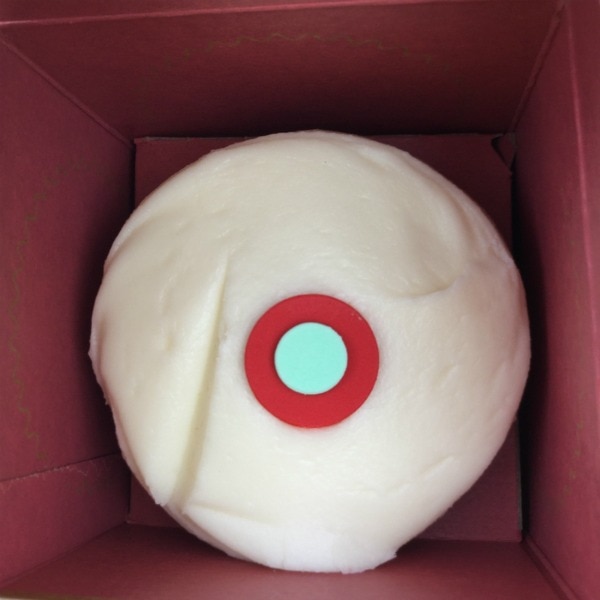 This is the red velvet cupcake in the box that one of my girls ordered.
You can buy the cupcakes at this walk up cupcake ATM just outside their cupcake shop. The cupcakes were around $5 each, but were a good size (we split one cupcake between two of us – but some may prefer their own cupcake). For a treat, the kids were thrilled with in this area, I thought $5 was an ok price (and they were delicious)!
You can also go in the store and actually look at the cupcakes you want to buy, but the Cupcake ATM was on my girls bucket list, and I thought some of your kids might enjoy it too!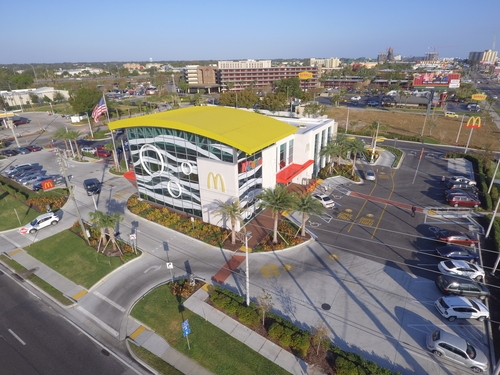 The Biggest McDonalds in the World in Orlando – now before you say no to this one, you should know that this McDonalds serves wood fired pizzas, pastas, and has a fully stocked sundae bar in addition to their normal menu items. My kids found this on You Tube last year and had to visit. It was about a 15 minute drive from where we were staying near Disney (it is near the Universal Studios area), and it was a fun bucket list adventure for them. It is a two story McDonalds, where you order at electronic kiosks, and the customer service is some of the best we have experienced.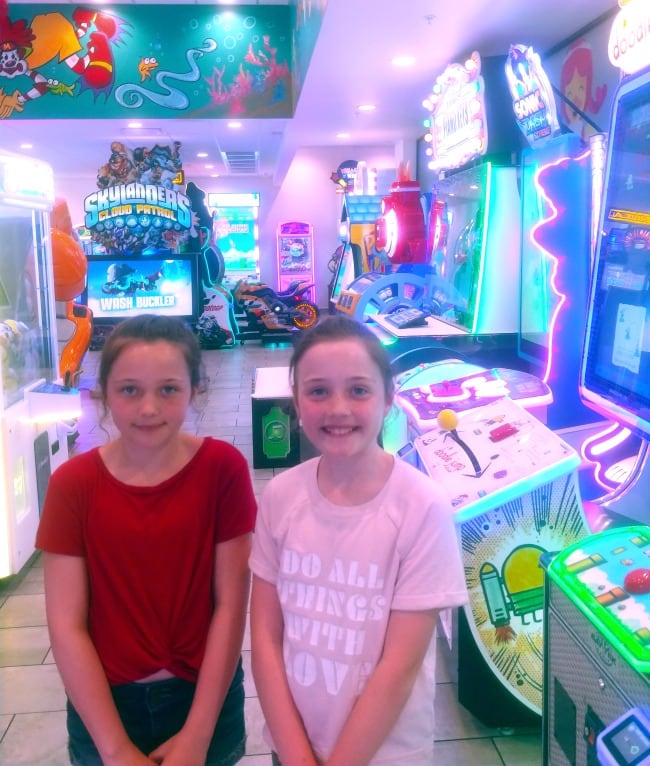 The second story is an arcade and huge climbing/play structure, and my kids had alot of fun here. It was also probably the cheapest meal we had during our stay – that is until I had to hand out arcade money! We all had a great time visiting though.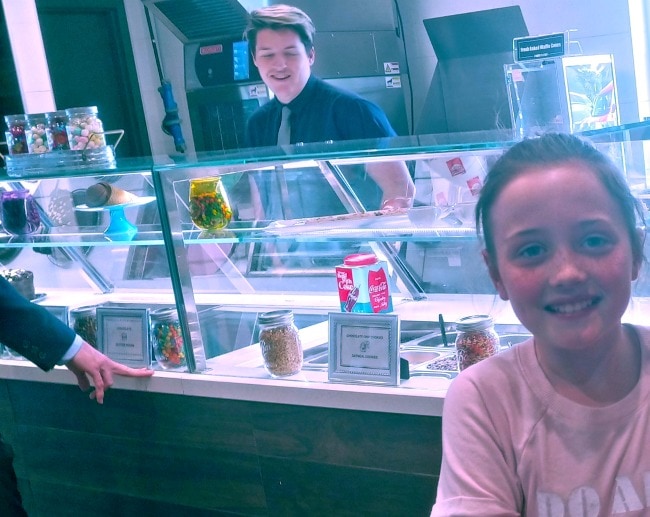 The Dessert Bar at the Worlds Biggest McDonalds!
Recommendations for Places To Eat At Walt Disney Resorts:
I mentioned above that we never made it to any of these restaurants, simply because we ran out of time. Wanted to save you some research time though, and share a few of the spots that were recommended to us, in case you want to venture to some of the resorts for a special meal. Here are a few folks said they liked:
Hoop Dee Doo Review Musical at the Wilderness Campsite – This is a show and meal, so it could be a good one to plan on a day you won't be visiting a park. They feed you family style (sounds like it is BBQ type food), but from what I hear this is a fun one for elementary age and young kids.
Enjoy a Luau at the Polynesian Resort at the Disneys Spirit of Aloha Dinner Show   – this one is another dinner and entertainment show. It is over $60 per adult, so it is a splurge event, but it sounds fun! The Ohana restaurant in the Polynesian is another one we heard about more than once.
Beaches and Cream – This one is located between the Yacht Club and Beach Club resorts, and is a popular destination for families. They have something called The Kitchen Sink, which looks like a huge dessert that the whole family can enjoy.
A few folks mentioned Boma at the Animal Kingdom Lodge, too, if you want a buffet with both African dishes and American flavors.
Does your family have a favorite spot to eat at Walt Disney World that we missed?
Other Articles you Might Be Interested In:
Disney Free Dining Offer & Ways To Save on Food at Disney World
Ways to Save On Park Tickets for Walt Disney World