Free Comic Book Day 2019 – Saturday October 26th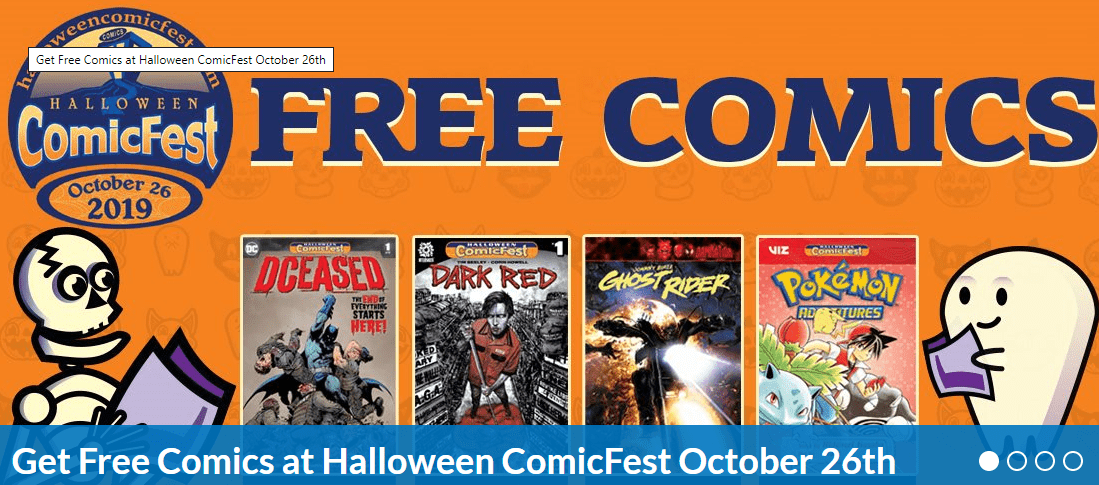 Free Comic Book Day 2019 – Saturday October 26th
FREE Comic Book Day 2019 is coming up soon. It is the second one this year (first one happened back in May – and the next one is in May 2020). However, they are hosting a free one for Halloween Comic Fest this coming weekend too, and will take place this Saturday, October 26th. Free Comic Book day is an opportunity to head into local comic book shops, and they will be giving away select comic books for free. This year there are a number of comic books you can choose from, and many of the locations will have other festive activities going on as well.
The offers will depend on the location near you, and what they determine they want to give away at their shops. Many local libraries also sign up to get comic books that they will give away on the free comic book days!
You can go online to their website and plug in your zipcode to find a location near you offering free comic books. The main locations they are featuring are bookstores.
I have also found that a number of libraries participated in the FREE comic books event in past years, so you may want to call your local library to see if they will be participating this year.  Feel free to leave a comment if you find a participating library so we can share for other readers.
If you are looking for ways to get great deals on Comic Books outside of the free Comic Book days, try these ideas:
Look for Comic Books at garage sales. We have often found nice stacks of comic books for just pennies a comic book at garage sales!
Check out comic books at your local library
Ask in free community groups, on places like Facebook, to see if anyone is giving comic books away.
You can download free online comic books here. There are other online sources for free comic books too. Simply search to find others if you are looking for more.
Check events at your local comic stores. Many will have other promotions throughout the year where they may offer free comic books (like giving out a free comic on Halloween to trick or treaters in some areas for example).
Request copies of free comic books that focus on money saving skills here (including Avengers versions and more)!
Don't forget to check out all the other fun free or frugal activities happening around the Northwest & around the country.