Back to School Shopping on a Budget – Ways to Save on School Supplies
This post may contain affiliate links and I may be compensated for this post. Please read our disclosure policy here.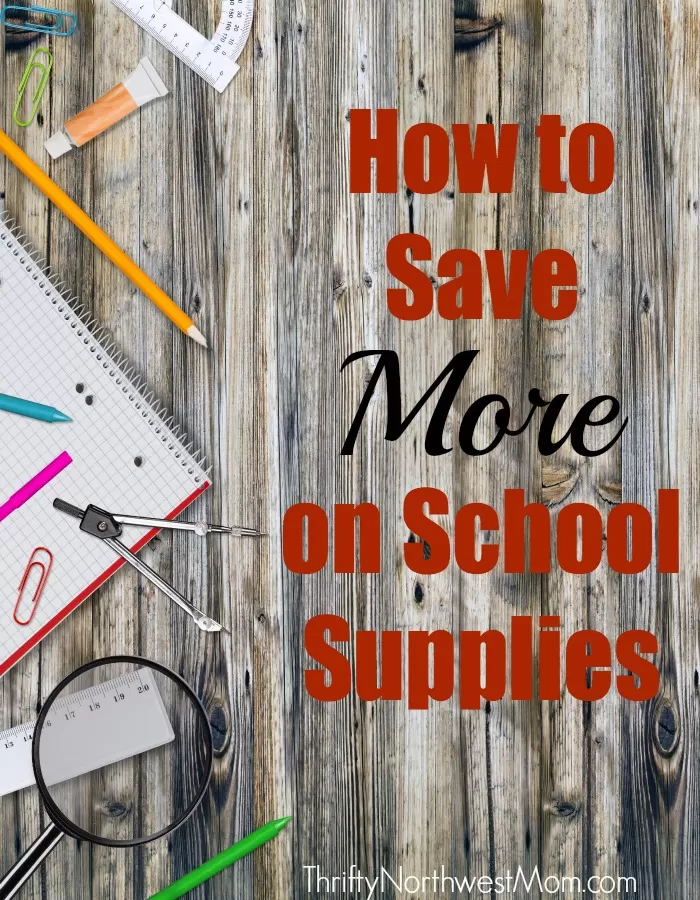 The average American family will spend over $600 for back to school time when you add up all the costs and if you have several kids in school, the school supply items can really start to add up.  We've compiled our best tips on ways to save on school supplies both in the stores & online.
In addition to the tips to save on School Supplies, you can find all of our back to school savings tips here.
Ways to Save on School Supplies:
Take inventory of your current supplies:
Before you do any shopping, make sure to gather all the supplies from previous years to see what you have extra of (often teachers will send home those extras at the end of the year), any items that can be reused (like backpacks – if you got a good, sturdy backpack, those can be used for several years), or even repurposed. Maybe all a notebook or binder needs is a new designed cover to make it look new again.They have so many fun types of duct tape, washi tape & other fun craft supplies to make some old & basic supplies look very creative & original – often better than it looked before!
Make a plan & set a budget:
Gather your lists of what is required to bring to the classroom from the school supply list & what your child will need during the year for supplies on their own at school and at home for homework & projects. The more you can buy now when the sales are so good, the less you'll spend throughout the year. This is called stockpiling – buying ahead when the item is on sale so you have enough in your supply to last until another great sale & don't have to spend full price if you run out. You definitely will not find school supplies this low again (except for clearance sales after school starts, but then the selection is quite thin) – so stock up for the year!
Sit down as a family & figure out a plan & a budget for spending money on school supplies, as well as clothing, before you start shopping & head to the stores. This is a great time to teach your child about the value of money & being good stewards of money. If your child is really interested in having a trendy backpack, lunch bag or binders (for the younger kids), then you might talk about ways you can cut costs on other items to have money to use on a special item. Or if your tween/teen is wanting the popular athletic shoes or name-brand clothing items, then set a budget & think about ways to really cut costs with school supplies & negotiate what is most important for them.
Do your research to maximize your savings:
Once you have your budget & list of what you need to buy, then start checking out the current back to school deals happening in the stores & start comparing where the best prices are. Look at the store ads for the week in the Sunday paper & compare which stores have the best deals on the items you need.
Tip:  It's always best to shop as early in the week as possible to find the best selection on the deals as the school supplies do get picked over later in the week!
How to Find the Best Deal:
1) Drive around to multiple stores each week to find the best deals & take advantage of the the loss leaders (these are the items that the store is taking a loss on to get you in the door & checking out the rest of their deals). This approach will definitely save you money as you are taking advantage of the best deals. If you live close to a number of stores that are all around the same area or if you're already heading near these stores already, this could work well. The key is to not make alot of separate trips but incorporate them into your current trips.
The disadvantages are the time you're using to drive around to the stores if they are not already on your route somewhere as well as the gas to get there, which could negate the savings you're getting at the stores. It is also not as convenient if you're shopping with young kids. But by starting early with your shopping, you can do this shopping naturally as you head out on errands by having your plan & lists prepared ahead of time.
2) Shop at just one store  for all your back to school shopping- head to a store like Target, Fred Meyer or Walmart & get all of your shopping done at once – school supplies, lunch supplies, backpacks, clothing & tech deals if needed too. The great thing about  Target or Walmart, you can price-match if you find better prices that week at a different store. You'll need to have the store flyer with you, though & make sure to read all the fine print & exclusions.
3) Shop online to save time & money on gas & take advantage of online coupon codes, free shipping offers & cash-back savings – More & more people are shopping online this back to school season & finding some great deals .  The advantage to shopping online is that you can save time & money for gas plus you can also go thru cash-back sites on your purchases and get money back. Shop thru a site like Savings.com to get coupon codes & free shipping offers for the stores you're interested in. You can also sign up for stores' newsletters & FB pages to find out about special coupons they're offering.
4) Combination of all these strategies – this is probably the most realistic strategy that you might be able to do a combination of all of these different options – shop the loss leaders at specific stores when possible & convenient & keep an eye on online deals & then buy the bulk of the rest of your deals from one store, while utilizing manufacturer & store coupons
Store Shopping Strategies:
1)  Buy Generic Vs Name Brand – When possible, look for the generic version versus the name-brand items. Often, the generic item will be as much as 50% lower in price versus the name brand.
Sample Examples:
Crayola Blunt Tip crayons – $1.50  OR  Up & Up Blunt Tip crayons – $.75 (Target store brand)
        Crayola 12 pk of pencils – $.99 OR Rose Art 12 pk of pencils – $.52
*Note: Teachers do often have preferences on brands for certain items such as Crayola crayons/markers, Fiskars scissors & Ticonderoga pencils (those were listed on my lists). If possible for your situation, they typically prefer these items because the work better for students in the classroom. So, you may want to get the name-brand for teachers to use at school & then use the generic items at home for homework, projects etc. There are some products though that the generic will be just the same as the name-brand 
2)  Use Coupons on Name-Brand Items & Pair with Store Sales – An even better idea is to look for those deals on the name-brand items & then find manufacturer or store coupons to pair up with the sale to get a fantastic deal. This way you're still getting the name brand item & often for cheaper than what you'd pay for generic. This is what we find with grocery shopping & couponing – you can get the name-brand items that you like for cheaper than generic by watching for the best sales & stockpiling when you can combine the sales with coupons.
Sample Examples:
Mead Five StarPocket Folders – $.50 on sale
Buy 2 Use $1/2 Mead Five Star coupon
Final Price: 2 for FREE (compared to generic folders which are $.15/ea or $.30 for 2)
Papermate Pens (1o pk) – on sale for $1
Use $1/1 Target printable coupon
Final Price: FREE pk of 10 pens (Compared to  Up & Up 20 pk of pens for $1 or $.05/ea) 
You can also combine manufacturer coupons with store coupons & a sale for the best case scenario! 
Sample Scenario:
Hefty Slider Gallon Storage Bags (17 bags) – $2.24  (a popular item on teacher's school supply list)
Use  $.55/1 printable coupon
Stack with $1/1 Target printable coupon
Final Price: $.69 
(These are not current examples – just ideas to show you how it works)
3) Avoid trendy designs – Talk with your child about your budget & decide on maybe 1 item that they can choose the style & then maybe use more basic designs for the rest of the items to save money. For example, if they really want a fun, cool backpack, then let them choose the one they want but then opt for a basic, solid color lunch bag. Or vice-versa. For teens, if they are wanting to spend money on spendy, name-brand clothes, then talk about getting more basic school supplies (binders, etc).
These are just a few ways to save on back to school supplies.  It's all about being prepared & strategic in your shopping to find the best deals. When you use a variety of money-saving strategies, you can find the most affordable options for your family & your needs.
More Back to School Ideas::
Check out all of the updated information about back to school sales & deals  plus here are more ideas:
Healthier DIY Lunchables for kids
Simple DIY Lunchables for Back to School
Fall Bento Style Lunch – Pumpkin Patch
7 Healthy Lunch Ideas for Back to School
Back to School Supplies for Video Game Fans
More Bento Style Lunch Box Ideas
First Day of School Traditions
Get more inspiration from our Back to School Pinterest board.
We'd also love to hear what your best tips are on saving money on school supplies!