Seven Healthy Lunch Ideas for Back to School
This post may contain affiliate links and I may be compensated for this post. Please read our disclosure policy here.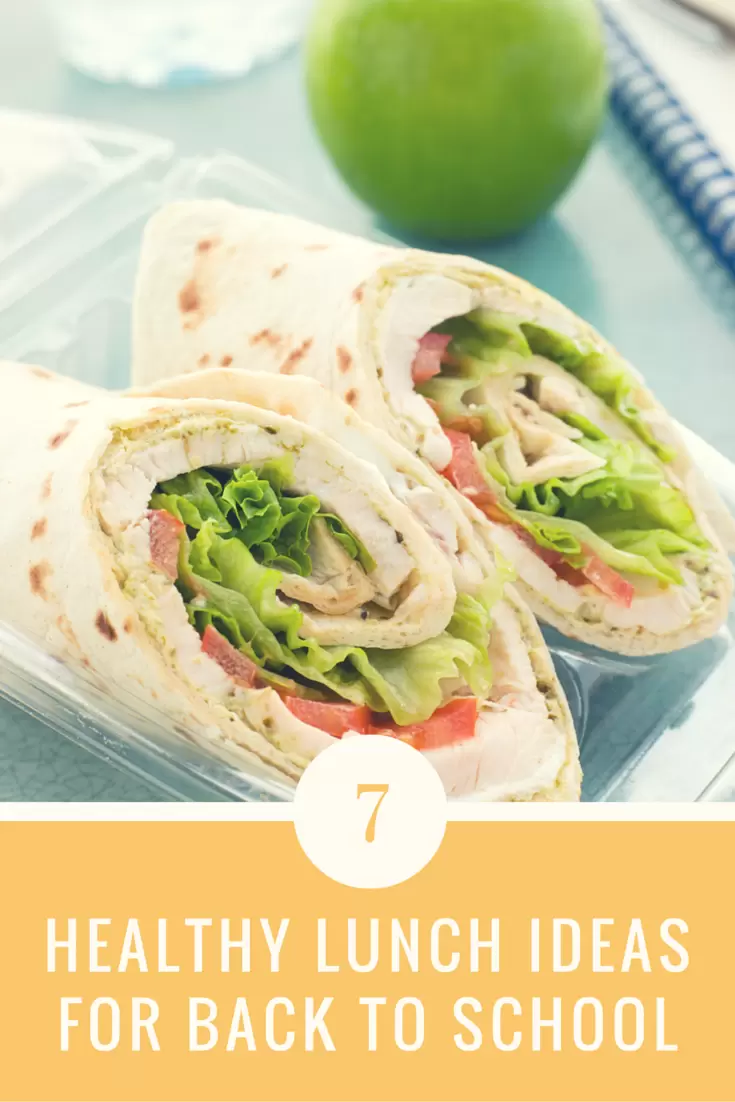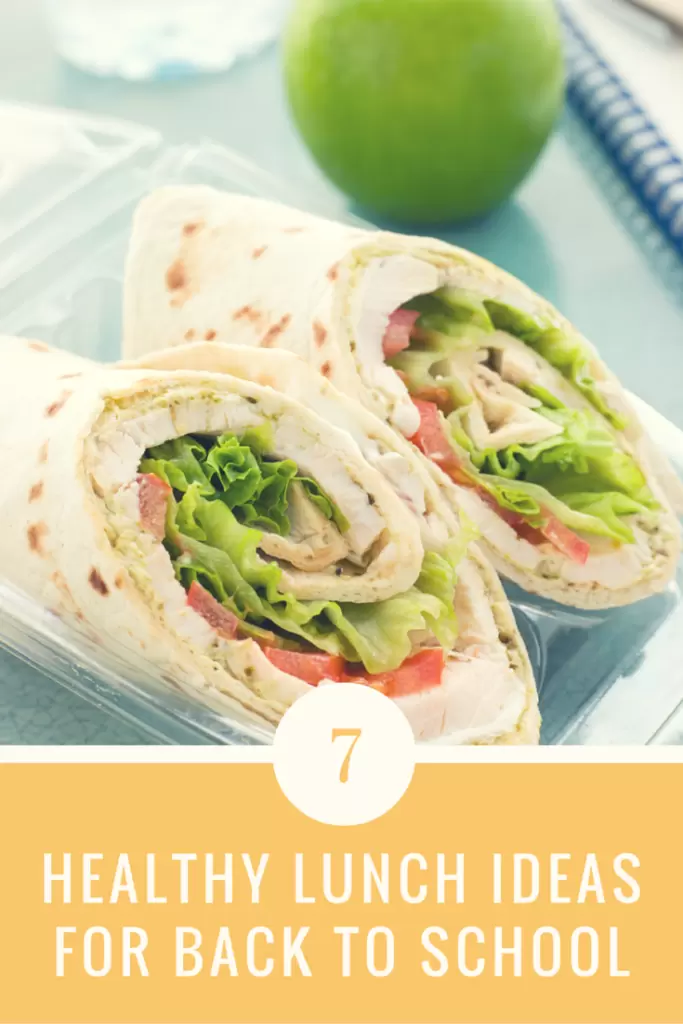 7 Healthy Back to School Lunch Ideas
Back to school season means it is time to start thinking about lunches. You might think that in order to pack a fast lunch it needs to be filled with fat filled snack foods. But the truth is, you can still pack a healthy lunch in a jiffy. Take a look below at 7 healthy back to school lunch ideas so you can send your child back to school with a lunch that will be filling, fueling, and above all healthy.
1. Cottage Cheese Salad
Place low fat cottage cheese in a bowl and cover. Include baggies of toppings such as fresh fruit, nuts, coconut, and granola. Let children top the cottage cheese with the toppings they enjoy and then stir and enjoy with a spoon.
2. Salads in a Jar
This lunch idea never gets old. Place fresh greens in a mason jar and layer with fresh toppings such as cucumber, tomatoes, low fat cheese, seeds, and chopped egg. Include dressing for the child to add, shake, and enjoy when lunch time arrives.
3. Banana Boats
Send a peeled banana in a covered dish. Include toppings for the banana such as nuts, seeds, coconut shreds, peanut butter, jam, or granola. Let children sprinkle the banana with the toppings and enjoy.
4. Lettuce wraps
You can make all sorts of tasty lettuce wraps. Try low fat turkey or chicken, low fat cheese, low fat mayo, cucumber slices, or even chicken or egg salad. Wrap and include a crunchy side such as pretzels.
5. Yogurt Parfaits
Give your child a low fat yogurt of their choice. Add sides of granola and fresh fruit and invite the child to make their own parfait. They will love mixing up their own sweet treat come lunchtime!
6. Quick Dippers
Cut up various fresh vegetables, low fat cheese, and add in some pretzel sticks. Include a side of low fat ranch for dipping. Kids will love this finger food sampler and the dip along with it. You can even add in some nuts or rolled up turkey if you wish.
7. Cucumber Sandwiches
Cut cucumbers into slices. Break apart some fresh turkey to place between the slices. Add some low fat cheese or mustard if you wish for the perfect little bite sized sandwiches. No bread required.
Give these 7 healthy back to school lunch ideas a try and see how your child likes them. They are healthy options that are fun and taste great, and are sure to make the back to school season a little bit easier.
Some Bonus Idea I like to use for my kids include:
Making smoothies, and freezing them the night before. They are then usually unfrozen, and still cold at lunch time. If I am short on time, I will send the bottled smoothies you can buy in the grocery store, and just use a freezer pack to keep chilled until lunch. We tell you how to freeze ahead here, and also get this great make ahead smoothie recipe here.
More Back to School Lunch Ideas: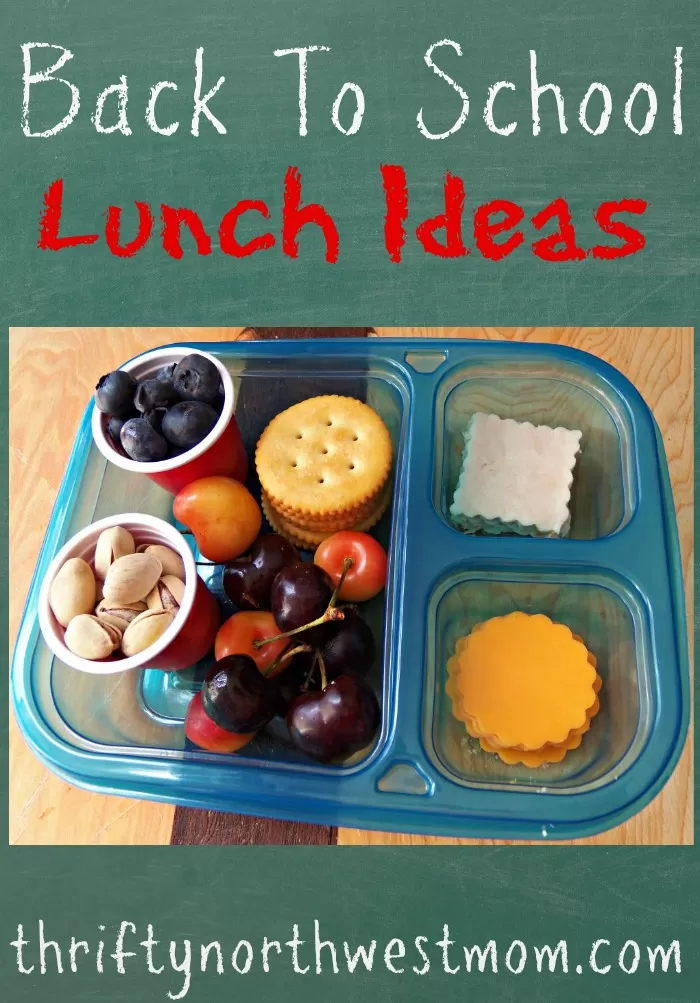 Check out all of the updated information about back to school sales & deals  plus here are more ideas:
Check out our Huge list of Back to School Lunch Ideas here!
40+ Lunch Boxes for all Ages (including Bento Boxes)
Lunch Box Cubes – Easy to Pack School Lunches + Fun Lunch Box Ideas