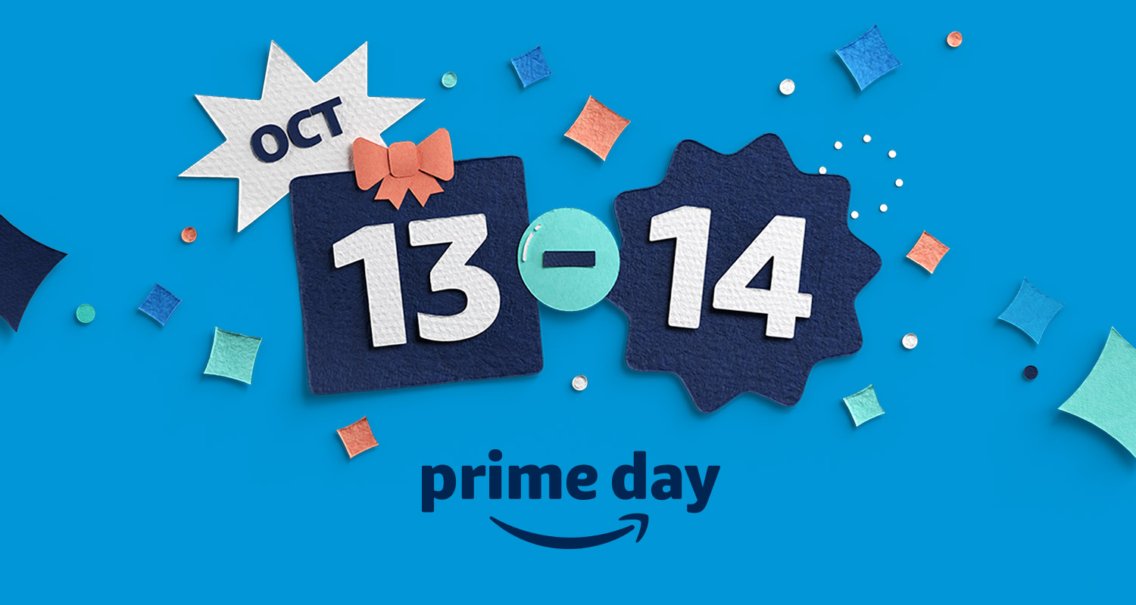 Prime Day Is Oct. 13-14, 2020 This Year!
Tips for Shopping the Amazon Prime Day Sale!
Amazon's big Prime Day Sale will start this year on 10/13and run through 10/14 (although in the past we have always seen some deals roll out early) and they always tout this as the Black Friday sale in October! There will be tons of deals. Amazon will feature more than 100,000 deals in electronics, toys, video games, lawn & garden, outdoor items, kitchen & more. New lightning deals will happen every 5 minutes!
The deals will only be available for Amazon Prime Members, so if you've been debating about signing up  for Amazon Prime, this is the opportunity to test it out – so you can take advantage of these sales.
There is a $1.99 Amazon Prime Trial that you can sign up to try it out & this means you would have Amazon Prime during Amazon Prime Day too. If you are going to sign up for this one, I would wait until around the 8th of October, so you will have access to the early deals, but can go through the full two days of deals too. You could also sign up for a 3 month Amazon Prime Day service for $33, too.
We wanted to share some tips with you on what to expect with Amazon Prime Day deals!

Amazon will offer a $10 credit to use on Prime Day to members who spend $10 on items sold by select small businesses in Amazon's store
Early Prime Day Deals Start Now
Starting today, Prime members can shop early offers and deals everyday leading up to Prime Day on October 13 & 14.
Amazon Devices: Starting today, get two Echo Dot devices for $39.98 and Fire TV Recast for $129.99 to store up to 75 hours of HD programming. Plus, save up to $100 on Fire TV Edition Smart TVs and get the all-new Toshiba 43-inch Smart HD Fire TV Edition TV for $179.99. Starting October 6, get the Toshiba 32-inch Smart HD Fire TV Edition TV for $119.99 and the Insignia 43-inch Smart 4K UHD Fire TV Edition TV for $199.99; save $40 on Echo Show 5; get Echo Auto and enjoy hands free access to Alexa in your car plus six months of Amazon Music Unlimited for $19.99; and save on smart home security with Blink Mini indoor cameras—one for $24.99, two for $49.98, or get Echo Show 5 and Blink Mini for $54.99.
Amazon Music: For just $0.99, Prime members who haven't yet tried Amazon Music Unlimited can get four months of the premium streaming tier with unlimited access to more than 60 million songs ad-free, and now a wide selection of popular podcasts.
Audible: Prime members can save $50 on a year of Audible Premium Plus. Audible members will also get access to the Plus catalog, featuring more than 10K Audible Originals, audiobooks and podcasts, all at no additional cost.
Kindle Unlimited: New customers to Kindle Unlimited save 50% off a 6-month subscription.
Kindle Book Deals: Spend $20 on ebooks and get a $5 ebook credit; Plus, Prime members can choose two, new select Kindle books for free.
Amazon Fashion: Save up to 30% on select Vineyard Vines clothing for men, up to 15% on select fall fashion from Shopbop including boots, denim, and more, up to 30% on select top trends from premium women's fashion, including ASTR the Label, Splendid, and Alo Yoga, up to 30% on select kids' and baby clothing and shoes, up to 30% on select styles from Calvin Klein, up to 30% on select Dress the Population, 4SI3NNA, and Black Halo dresses.
Amazon Brands: Save up to 40% on select clothing styles including Amazon Essentials and Goodthreads, 40% on pet essentials from Wag, 20% on Belei skin care products, 20% on baby essentials from Mama Bear, 20% on health and personal care products from Solimo, 20% on coffee and snacks from Amazon Fresh, Happy Belly, and Solimo, and 20% on health and wellness products from Revly, Amazon Elements, and Amazon Basic Care.
Amazon Fresh: Members can enjoy $15 off their first order of $50 or more on Amazon Fresh plus item level offers throughout the store. Visit amazon.com/Fresh for more.
Home: Save up to 20% or more on furniture brands including Modway, Lane Home Furnishings, Walker Edison Furniture Company, and Nathan James. Save up to 20% or more on select rugs from brands including nuLOOM and Artistic Weavers. Save on Martha Stewart Hunts Table Lamp Living Room Decor and Madison Park Signature Colette table lamp.
Prime Video: Today through Prime Day, Prime members can enjoy a selection of titles to rent or buy with up to 50% off on select titles.
Tools: Save up to 20% on select DEWALT saws and drills and up to 15% on select DEWALT impact driver and drill combo Kits.
Toys: Save up to 30% on select toys from Green Toys.
Smart Home and Appliances: Save 20% on Broan Appliances and 15% on Midea compact refrigerators. Save on Kasa Smart Dimmer Switch by TP-Link and SYLVANIA Tungsten halogen light bulbs.
Lawn & Garden: Save on Masterbuilt Electric Smoker and accessories, select BLACK+DECKER outdoor tools, Back to the Roots Water Garden, American Lawn Mower Company electric lawn mower, Champion 3400-Watt Portable Generator, and more.
How to Shop the Amazon Prime Day Sale::
1 – Sign up for Amazon Prime – sale is only open to Amazon Prime members!
The most important thing to remember that this is a very special sale on Amazon in that it is limited to only Amazon Prime Members this time. So these deals will only be available if you're a Prime member. It's not too late to sign up, though – if you want to try a free 30 Day Amazon Prime Trial  
2 – Make sure to follow the Thrifty NW Mom Facebook Page and Facebook Group
We will be posting deals in both our Thrifty NW Mom Facebook page as well as the TNWM Facebook group.  Definitely make sure to follow the TNWM Facebook group in addition to the page as Facebook lowers the number of folks who see our posts if we post too often on the Facebook Business page, so we only post every hour or two in there, but we can post the deals as frequently as they come in the Facebook group, so these will be the most real-time updates and I will also share lightning deals in here as well direct from Amazon as they go too fast to be able to write up on the blog!
We also try to ask folks what they are looking for in the Facebook group & will be trying to search for specific deals that people are requesting in the group as well (time-permitting) so that's a great way to let us know if you're looking for something specific.
3- Make sure notifications are set to "on" in Thrifty NW Mom Deals Facebook group AND the Thrifty Northwest Mom Facebook page.

Make sure that you have selected to receive notifications for "all posts"  in the Thrifty NW Mom Facebook Deals Group and on the  Thrifty NW Mom Facebook page  This will help ensure that you will see the updates faster as we post them during the Amazon Prime Sale tonight & tomorrow!
4 – If you miss a Lightning deal, get on the wait list right away!
Unfortunately Amazon's lightning deals have gotten so popular that they often get 100% claimed within moments of going live. This is something that many people don't know to do – if a Lightning deal sells out & goes to 100% claimed, it's still not too late (unless it says that the wait list is full). If it just says that it's 100% Claimed, you can still get on the Wait List!  You may click on it & a box may pop up right away, saying they put the deal in your cart or you may have to wait till one becomes available – which could be 2 minutes or 10 minutes.
Once you put a Lightning Deal in your cart, you have 15 minutes to decide if you want to buy it (use this time to research the item & decide if you really want / need it!). If you decide not to buy it & take it out of your cart or it expires in your cart, then it will go to someone who is next in line on the Wait List.So, always, always get on the Wait list if there is still room on a Lightning Deal! You still  have a very good chance of buying that item! Just make sure to not leave your computer as an alert will pop up letting you know that you are off the wait list & can buy the item but you only have 15 minutes from when you move off the wait list.
5 – Types of Deals to Expect from Amazon Prime Day
There will be several types of deals available on Amazon Prime Day, but the important thing to remember is that prices can change at any time. We are already seeing that today before the official Prime Day sales start that prices are changing very quickly.  So, you do need to make decisions quickly but have a plan in place before you start shopping for what will work for your budget. But then do your research quickly if a deal becomes available as it may not last long, especially the really hot deals such as TV deals. Lightning deals make sure to sign up for them quickly & then you have 15 minutes to research & decide.
The type of deals we'll be seeing are:
Spotlight / Deal of the Day Deals – these are the big promotions which *should* be available for most of the day (but we have seen that the really popular deals can definitely sell out early, so buy them early if you really want it. Just because it is their Deal of the Day does not mean it will be available all day.
Lightning Deals – These are the deals that will go very quickly – some of them will be announced ahead of time with start times (or hints of the deal) while others will just pop up. You'll want to scroll thru the different categories to see what they have available. Once you put it in your cart, you have 15 minutes to decide.
Follow the Amazon Prime Day Deals page here, to stay on top of what has been released so far, and what is coming!