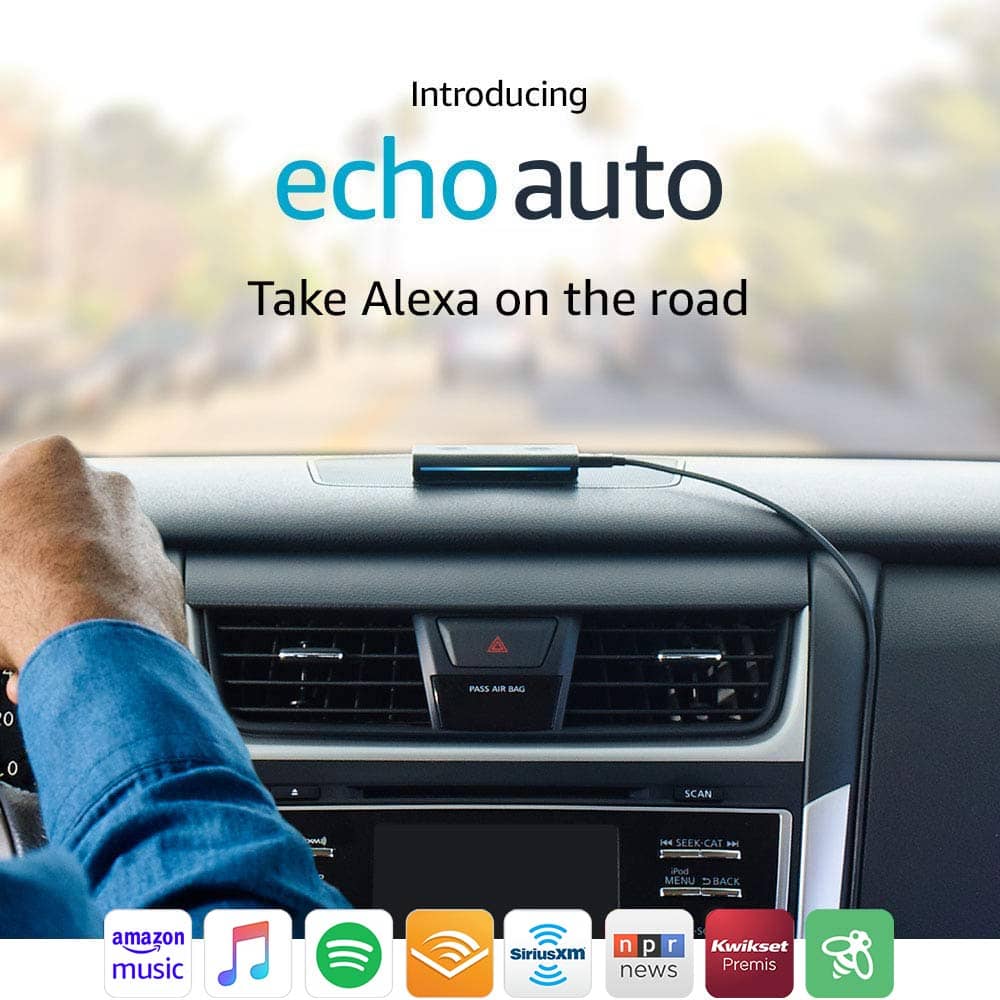 Amazon Echo Auto – Lowest Price!
This is now available for everyone!
If you are a fan of the Amazon Echo, they have come out with a version you can use in your car – the Amazon Echo Auto. It connects to your phone to help you do many things hands free while driving, like play music, find gas stations, make phone calls, ask for directions and more.  This is now on sale for its best price for Black Friday for a limited time!
It is mounted on your dash and is suppose to be able to hear you over your music and all. It could be a very nice way to add some of those modern functions to your car!
Previously, you had to request an invite, and then wait to get that in order to make a purchase. Now, they have it out of beta, and everyone can buy. I must confess that I purchased one when it was in beta a couple months back, but I have yet to set it up. I plan to do that this week so I can let you all know how it works. I wanted to buy it for grandma, who has a hard time using map features on her smart phone. I think this could be a nice option, as she can just tell it where she wants to go! You can also do things like listen to your play lists and so much more.
Plus, there is currently a sale on this product going on here on Amazon.
Comes with 3-month trial of Audible Currently:
PLUS, you can currently get a free three month free trial to Audible, to get free audio books, with your Echo Auto Purchase (you can also get a free one month trial to Audible here if you are not purchasing one)
Make sure you read the technical aspects of it, as it is only compatible with certain smart phones right now.
More about the Amazon Echo Auto:
Connects to Alexa using your phone, is ready in seconds, and plays through your car speakers. Includes Echo Auto Dash Mount.

With eight microphones and far-field technology, Echo Auto can hear you over music, A/C, and road noise.

Use your voice to play music, check the news, open the garage door, find the nearest gas station, and more.

Play Audible books, stream podcasts, or listen to Amazon Music, Apple Music (coming in 2019), Spotify, Pandora, SiriusXM, or NPR.

Make calls, set reminders, add items to your shopping and to-do lists, or manage your calendar.

With over 50,000 skills and counting, Alexa is always getting smarter. Skills are like apps and let you do more with Alexa.

Set location-based routines—automated actions Alexa can start when you leave the office or get home.

Ask for directions and Alexa connects to supported apps like Google Maps. Apple Maps and Waze support will be coming in 2019.