Amazon Outlet, Best Daily Deals & Lots More Ways To Save On Amazon!
This post may contain affiliate links and I may be compensated for this post. Please read our disclosure policy here.

Amazon Outlet, Best Daily Deals & Lots More Ways To Save On Amazon!
Did you know that there is an Amazon Outlet store online, that offers big savings! We share this and lots more tips on finding the best Amazon deals, to help you get the best deals available on Amazon across various shopping categories (apparel, kids, Amazon devices, and so much more)!
Amazon Outlet Store & More Amazon Online Shopping Tips To Help You Save The Most!
Amazon online shopping is a great way to save on all kinds of items you might need, without having to leave home! They sell just about everything from food, to clothing, toys, household items and much more. One of my favorite spots to look for an Amazon deal is the Amazon Outlet Store.
We will share more about this and other ways to save shopping on Amazon below. Here is a list of places you will find special deals on Amazon:

Did you know Amazon has an Outlet store online, that you can shop for some great savings opportunities? I love to check it weekly, and have gotten some things I love off of it.
The Amazon Outlet Store carries all kinds of discounted savings on products across lots of different categories. The best savings we usually see in the Amazon Outlet Store though, are the Overstock Savings. You can shop those here.

Get $30 When Shopping Via The Amazon App
Amazon is offering select accounts $30 to shop through the Amazon App. You can find out if you are eligible for this promotion here.
If you are eligible, the way that it works is: "Eligible customers who sign-in to the Amazon shopping app for the first time are eligible to get $15 off their first qualifying $25 order made on the Amazon shopping app. They are also eligible to receive an additional $15 promotional code ($15 off on $25 in-app purchase of qualifying items) for making a purchase in that app for the second time. Sign in and qualifying purchases must be completed before 11:59 p.m. (PT) December 31, 2022." Find more details on the promotion page here.

Find Amazon Coupons & Promo Codes 
Did you know that Amazon has an Amazon Coupons page here, with a number of coupons  you can use to save more on qualifying purchases. You will find coupons available for all kinds of items. This is one of our favorite ways to save  big on Amazon purchases.
In addition to coupons, there are also a number of Amazon promo codes you can use – often to save up to 50% off an item. These are provided by the sellers, so there is not a specific page they are listed on, but they will be listed on the product page when available.
The other great thing, is that you can stack both Amazon coupons & Amazon Promo codes when they are available on a product – for the biggest savings and best deals we often see. So, for example if a product has a 50% off promo code + a $5 off coupon – you would be able to use both of those savings offers on that product!
Follow our Deals page here, as we share lots of deals that we find with promo codes, and more daily.
Often times vendors will share with us a list of their available discounts on products they sell on Amazon, when you use a promo code. We will share some of those deals in our group here.
The Amazon Book Coupon Code is always a popular promotion that they push out a few times a year, and is a great way to save on books. We share information on those promotions here, when they are available.
If you want to save on groceries, you can find current coupons and deals on this page here for Amazon Fresh orders.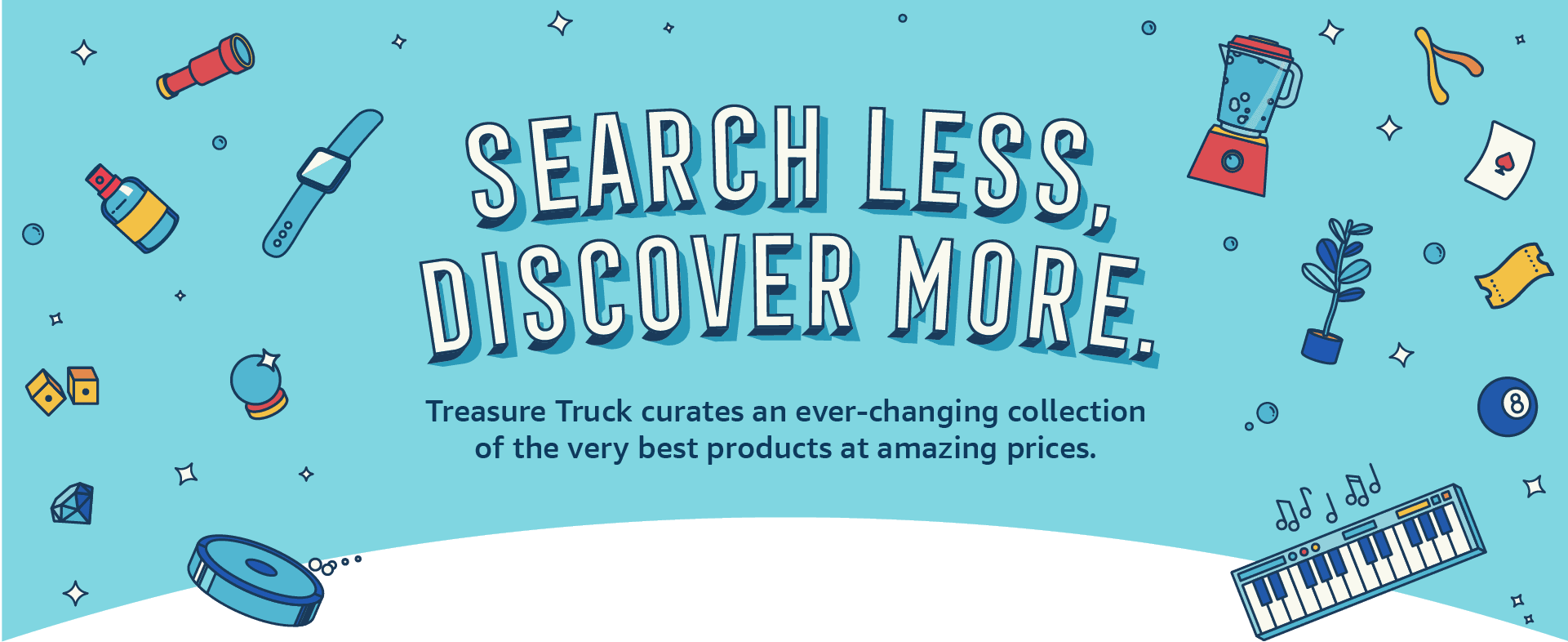 The Amazon Treasure Truck, is a fun opportunity to get hand picked special offers from Amazon. You start by texting "TRUCK" to 24193 to sign up for text alerts, and then they will text you these special limited time offers – and you can order what you like (they can run out though, so order early). Find all the details on how the Amazon Treasure Truck offers work here.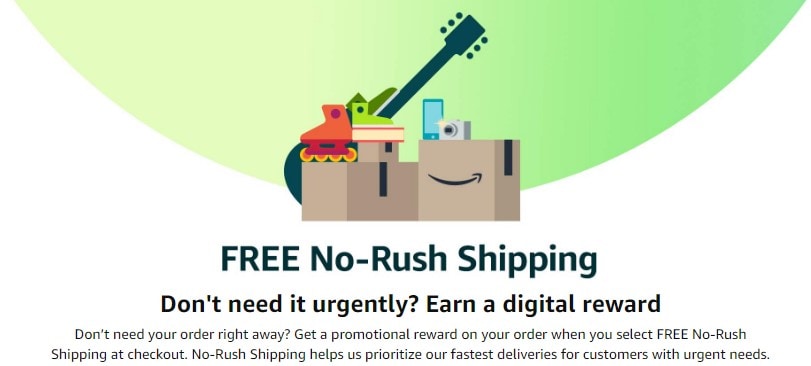 If you are not in a hurry to get your package, this is a great option. Select the No Rushing Shipping Option, to get free instant discount or reward (it will tell you what that is at the time you select it). This is a great way to earn digital credits and more if you are not in a rush to get your package (they still generally arrive in a reasonable timeframe – it may just mean 4 days instead of 2 for example).
Find current Amazon Deal of the Days offers here. These are deals that change out each day, but offer some great savings. They are one day only deals, so be sure to check back regularly (formally known as Goldbox deals).
You can save up to 15% off items when you use the Amazon Subscribe and Save service. The best part about the subscribe and save deals, is that you can use it with coupon codes and sale prices if they are available – to score some really great deals off of Amazon.
The way that Subscribe and Save works is that you are signing up to have the item you select mailed to you on a certain cycle (a subscription), so it will come every 3 months for example (you select the timeframe). You get 5% extra savings, or 15% if you have 5+ items set up on a subscribe and save subscription. This is a great way to save more, and you can cancel at anytime too if you decide to not have follow up items sent. Find all the details on this program here, as well as subscribe and save deals that are currently available.
Check out Amazon Second Chance, to save by:
Trading in your used items for discounts and credits
You will find most of the savings opportunities here with Amazon devices, but there are a few others included too. Find out more about how their trade in program works here.
Buying used items that have been refurbished for big savings!
This is one of my favorite ways to save on electronics especially. Many of the refurbished items come with limited warranties, and you will usually get a great value when shopping these items. Amazon inspects these items and then grades them, so you will know what kind of condition they are in. Plus, they also offer a 30 day return policy if you are not happy.
Amazon Warehouse 
Along these same lines, be sure to check out the Amazon Warehouse. It provides discounts on open boxed items, as well as pre-owned options too. Find the Amazon Warehouse page here.
Do An Amazon Filtered Search To Find the Best Deals
On Amazon, if you use the sort by lowest price feature, chances are you will get pages of products you are not interested in. So, it is not really that useful. If you are wanting to find some of the best deals on Amazon, you can use some of these tricks to find them quickly.
To find items that are under a certain dollar amount, do a search for things like "Lunch Boxes under $10" for example, right in the Amazon Search Bar.
Use the Price Sorting Option on the left hand side of the page (select Under $25 for the lowest priced options). For example if you search for bed spreads, then select that option – it will return all bed spreads available for under $25 (vs sorting by lowest price where you will get pages of items that are not even bed spreads).
Some pages will allow you to sort by Discount – High to Low. This will return the products you searched for with the biggest percent off (and seems to work better than sorting by price Low to High).
To find items that are a certain percent off, start by searching for the item you want. Lets say you are looking for bed spreads. Search for those in the Amazon search bar. Next you will add a string to the end of the URL, with the percent off you want to sort them by adding this &pct-off=50 (change the 50 to the percent off you want to sort by). Here is an example of adding that to the end, when wanting to sort by 50% off.
We share all the details on how Amazon Layaway works here, but essentially you can spread your payments across 8 weeks, with no interest or extra fees. This can make it easier to grab those deals when they happen, or shop special deal events like Amazon Prime days etc. 
Amazon Free Trials & Digital & Subscription Deals:
We have also provided some tips for saving the most while shopping with Amazon online at the bottom of this post, so be sure to read through those. Let us know if we missed your favorite Amazon savings tip!
More tips for saving the most when shopping on Amazon:
Use Amazon Prime for free 2 day shipping on many items, access to free books through the lending library, free music, and free movies and TV shows! You can sign up for a FREE 30 day trial to see if its a good fit for you before buying a paid subscription.
To find the best deals for each category easily, click on the category you are interested in, then select "Deals" at the top of that Amazon page. There you will find a bunch of savings options for the specific category you are interested in.
You can also use Amazons Prime Pantry service, to conveniently shop for many staple items, and be able to find coupons available for those items, if you don't want to hunt for them all over. There is a flat shipping rate of $5.95 for Amazon Prime Pantry Boxes!
Amazon Family subscriptions will help you save on many baby related items, including diapers and wipes, plus we do weekly round up of the best deals available for diapers and wipes here to make saving easier.
Amazon student program offers college students a FREE 6 month membership with free 2 day shipping, special savings perks, access to Prime benefits and more!
Shop with rewards points. If you have  a debit or credit card that offers rewards, many allow you to shop through Amazon with those points. You can set your points up to automatically be applied to your Amazon account and you can choose them as a payment method at checkout!
Plus, be sure to check out all of the Amazon online shopping deals we post throughout the day here, for the latest Amazon deals!