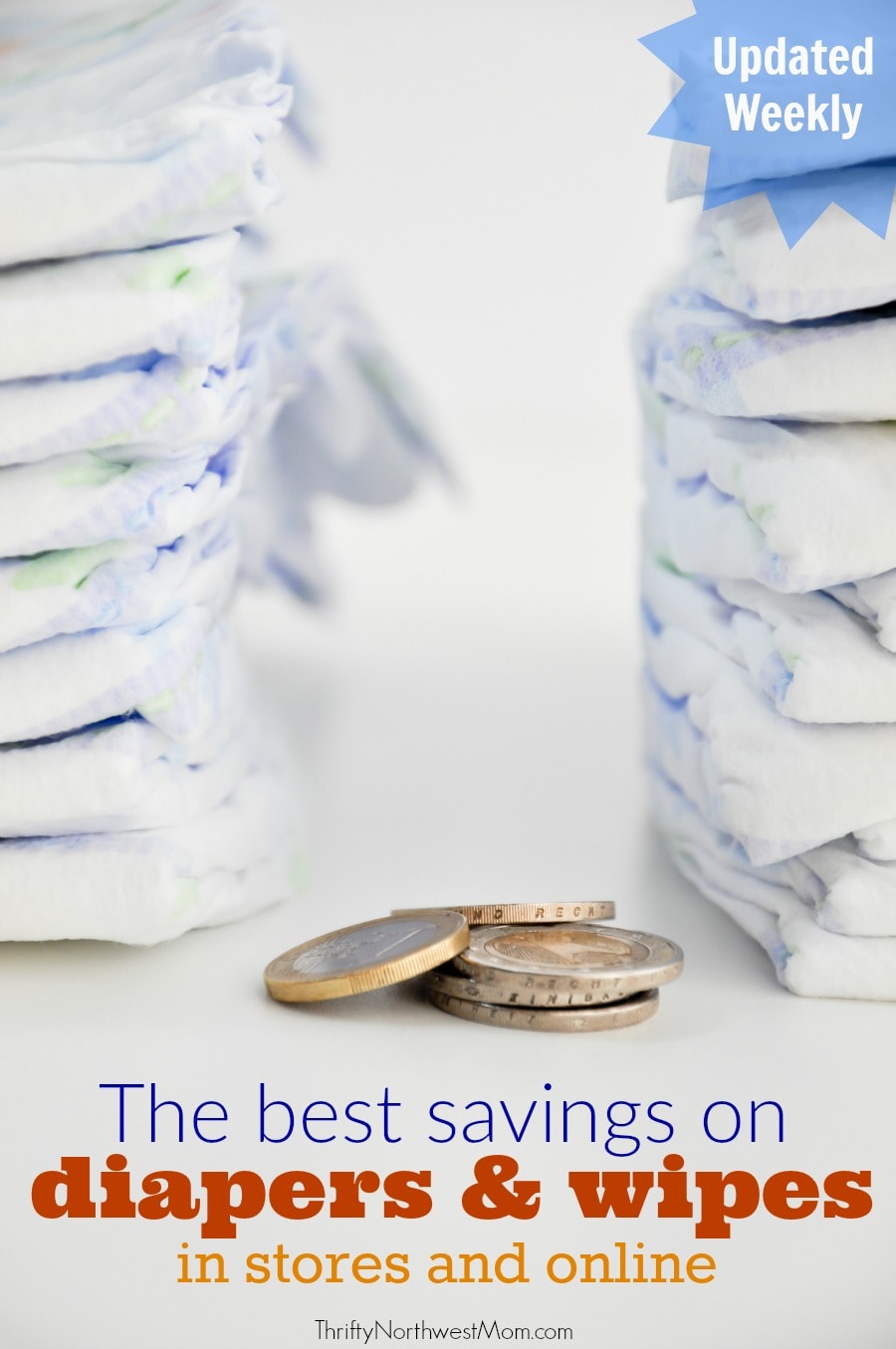 Diapers can be a big expense for families, when raising young kids. We have a round up of this weeks best in-store diaper prices. We also have a round up of the best Amazon Family (formally Amazon Mom) diaper deals for this week, if you would rather shop from the convenience of your own home.
If you want to compare prices to Costco, be sure to check out our Costco Price list here to see what diapers will cost there.  
If you know anyone about to have a baby, be sure to let them know about the Amazon Baby Registry!  It's a cool tool Amazon offers where you can add anything to your list for folks to see and buy for you (it even allows you to send Thank you notes from the system). Then you will get a discount offer of 10% or up to 15% for Amazon Mom members, on anything left on your list that you want to pick up (so it's a great way to get an Amazon coupon)! Enjoy FREE Super Saver Shipping and FREE 90-Day Returns on eligible products too.
(We also have this post on how to make a diaper cake, if you have a baby shower coming up and want to turn these diaper deals into a super cute gift)!
Here are some More Deals for Moms (Diaper Deals Below): 
Amazon Mom Diaper Deals:
Amazon recently made some changes to the Amazon Family program, without any big announcements, but here is what it looks like has changed:
They are no longer providing Amazon Family members a 20% discount on diaper purchases. 
To get the 20% purchase, you will need to have 5 + items in your Subscribe & Save (so 4 items other then diapers). This is how it has been working for other subscribe and save deals, but now it looks like its required for diapers too, even for Amazon Family Members.
We have heard from some folks, that they are still getting the 20% off on diapers that were already in their subscribe and save, but not new subscriptions (unless there are 4 other items in there too).
Some of these online deals may also have a coupon available or may be available for Subscribe & Save meaning a lower overall price.
Diaper Deals:
Wipes:
Training Pants & Pull Ups:

Amazon Family is a membership program where members receive exclusive Subscribe & Save discounts, special promotions and FREE two-day shipping on millions of items with Amazon Prime. Exclusive Subscribe & Save discounts include 20% off diapers and wipes and 20% off other family essential subscriptions when 5 or more Subscribe & Save items arrive on your month delivery day.
Best Diaper Prices In-Store This Week:
Looking for a high value Huggies coupon? Be sure to sign up for the Huggies New Mom Club too, to receive exclusive savings and special offers for Huggies Coupons.
Target (thru 5/18)
Free $15 With baby wipes, diapers & training pants purchase of $75 or more
Rite Aid (thru- 5/18)
Huggies Snug & Dry $17.99
$1/1 package of HUGGIES® Diapers (Not valid on 9 ct. or less)
Final Price $16.99
Walgreens (thru- 5/18)
Pampers Jumbo Pack Diapers or Training Pants 2 / $20.00 or $12.99 ea.
$3/2 Pampers Add To Card Coupon
$2/2 Pampers Swaddlers Diapers printable [ETS]
Final Price $8.50 each wyb 2
Fred Meyer (thru- 5/15 – 5/21)
Huggies Diapers BUY 3, GET 1 FREE
$1/1 package of HUGGIES® Diapers (Not valid on 9 ct. or less)
*Remember that Amazon prices are subject to change at any time. The price was current when this deal was posted; however, the listed price may be more or less on the product when you check.