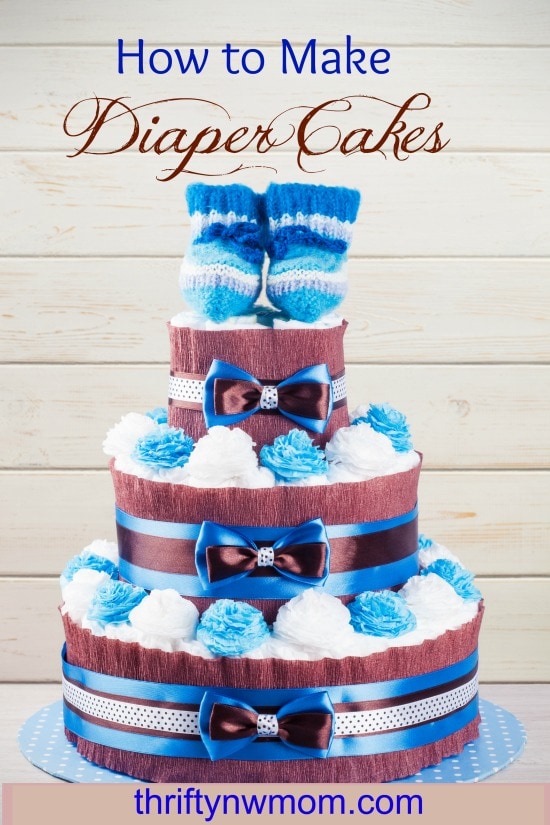 Diaper Cakes – How To Make a Cute Baby Shower Gift On A Budget!
There are so many baby items that are affordable. Plus, if you shop ahead you can get some great deals on diapers. If you are one of those who stockpile your free items here is a cute way to turn those frugal finds into gifts that look anything but cheap – make a diaper cake!
I remember getting a diaper cake at my last baby shower, and it is one of the gifts that stands out the most in my mind. It was so fun to receive, and they are even funner to make!
How to Make A Diaper Cake:
Supplies needed –
1) You will need a base. Something as simple as some cardboard you have around the house can be covered with foil or you can purchase a nicer cardboard base at your craft store/ party store
2) One bag of small rubber bands (about 50 ct and preferably the clear ones if you can find)
3) About 8′ of 1″ ribbon
4) All of those baby items you have been stocking (J&J buddies bars, diaper cream, shampoo, lotions, bottles, stuffed animals, q-tips…whatever you have on hand)
5) The diapers you have stockpiled (approximately 50)
6) Double stick tape (although you can make any kind of adhesive tape work)
How to make the cake –
1) Roll each diaper up (so it ends up looking like a toilet paper roll). Secure with a rubber band. If you want diaper design to show keep design on outside as you roll, if not roll design side of diaper inward.
2) You will be making 3 tiers ( If you are short on diapers you can do two tiers and top with stuffed animal for third tier, or even just do a one tier cake, and decorate the top with items).
To assemble first tier start with one diaper as your center and stand 5 or six diapers around that. If you have a bottle you can use that as your center rather then a diaper for a more decorative look. You can also fill it will small items like pacifiers, etc. if you have those on hand. Secure outside of tier with ribbon (if you have narrow ribbon on hand you may want to start with that so you can use your one inch ribbon more concisely for finishing touches).
For second tier use similar technique only using approximately 15 diapers to create tier. Once again secure with ribbon.
For third tier use approximately 27-30 diapers. To make this big tier easier tie off a smaller circle of diapers and continue to build around that.
3) Take your cardboard base and secure the largest tier to the base with double stick tape (you want to keep it from moving around, but not end up making it difficult for recipient to take apart). Place second tier on top of that, again securing with tape. Lastly place the smallest tier on top, also securing with tape.
4) Wrap your 1″ ribbon around each tier in an attractive way.
5) Now the fun part, begin to stuff all of the freebies in each tier in a decorative way.
What to do if you don't have a stockpile already built up. How about make a quick run to the dollar store, or to the trial size section at Target, etc. for great baby deals.
Heres some ideas for how to get the items needed at BIG Savings:
For less then $20 you could have a very cute gift for the expecting mother you know. You could even just buy the diapers and use it as a way to display them in a very memorable way for the mom to be you know!