Why You Should Consider Disney World Vacation Package vs. Tickets Only
Walt Disney World opened back up this week. Not only did the parks open, but ticket sales have restarted as well. Disney World initially stopped all 2020 ticket sales when they announced a re-opening date, and we were not sure if they would open those sales back up this year, so it was big news when we learned that they had. They initially put a pause on ticket sales for 2020, as the process for buying and using Disney tickets has changed for this year. You will need not only tickets, but park reservations to use them. So while ticket sales are back open, there are some reasons you might want to consider booking a Walt Disney World vacation, verses purchasing Disney World tickets separately right now.
Why  You Should Consider Booking a WDW Vacations, vs buying just tickets:
Our partners at Get Away Today (whom are also Disney experts) are strongly suggesting that guests purchase Walt Disney World Resort packages (a minimum of a 2-night Disney Resort Hotel stay + two theme park tickets) vs. ticket only orders for the following reasons:
Packages have ultimate flexibility/+ refund-ability up to 30 days prior to check-in
Guests are limited on the number of days they can reserve park visits for in the new park reservation system. Disney Resort and other select hotel guests are eligible to reserve days for the length of their stay – so it helps simplify this process.
Note that you can only make reservations for one park per day, during this time, so their is no point right now in purchasing park hopper options.
Packages can be held for just $200 down with final payment due 30 days prior to travel
Packages include all standard Walt Disney World Resort perks such as free transportation using Disney's Magical Express
Get Away Today's complimentary concierge services include detailed planning assistance and price monitoring – if a qualifying special or lower price comes out after booking, we'll automatically apply it!
Plus, you can get a $100 booking bonus on packages right now.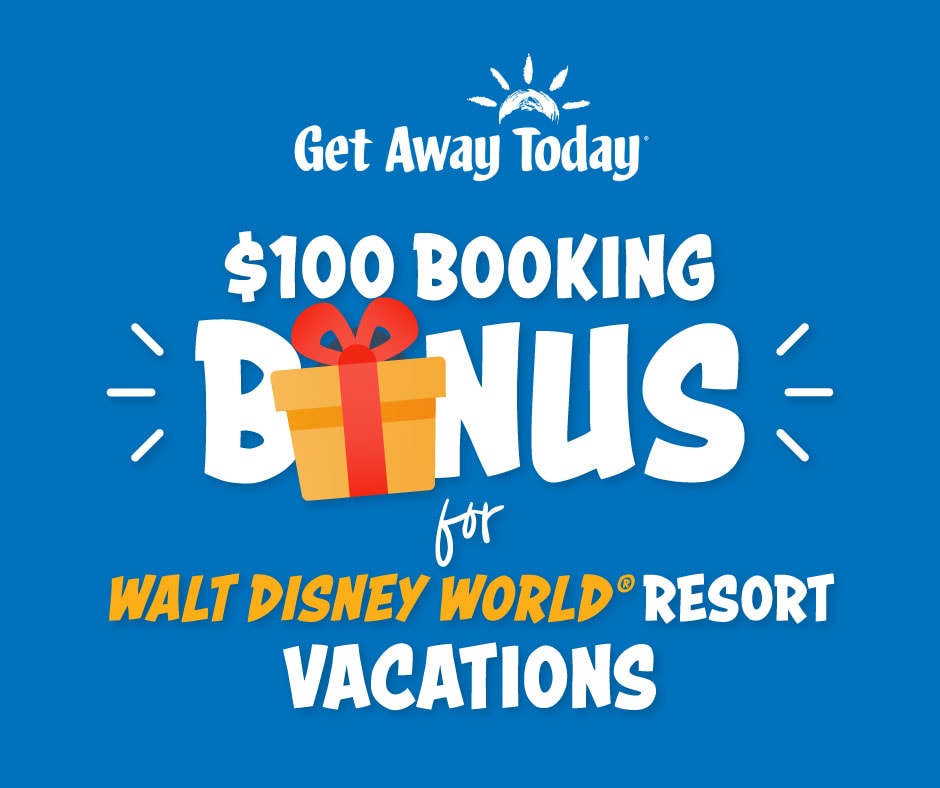 Get $100 Booking Bonus & Other Current Walt Disney World Vacation Promotions!
$100 Booking Credit Promotion – 
When you book your Walt Disney World® Resort vacation* with Get Away Today for travel through September 26, 2021, you'll get a $100 Booking Bonus! Your booking bonus includes a $50 Disney Gift Card for your trip + a $50 Get Away Today credit for future travel valid for any of our destinations.
Plus, when you book with Get Away Today, you'll receive all of the perks that come standard with your Walt Disney World® Resort package and these bonuses:
Complimentary Concierge Services, including detailed planning assistance. A certified Disney Travel Agent is more valuable now than ever before as there have been many changes to the Park experience.
Complimentary Price Monitoring. If Disney releases a discount or special that can be applied to your reservation, we will do so automatically!
*Walt Disney World® Resort vacation must include 2-night or longer Disney Resort Hotel and at least two theme park tickets to qualify for $100 Booking Bonus and complimentary concierge service.
Florida Resident Specials – 
Right now Disney has also released last minute travel deals for Florida residents. They can save up to 35% at the WDW Disney Hotels.
Book Now – Get Future Deals & Promotions Applied To Your Vacation – 
Another tip from the folks at Get Away Today. They are recommending that people book now to confirm availability, especially for their theme parks. Then, they'll automatically "Get Our Price Monitoring" to your purchase, so if another promotion comes up later that you qualify for, they'll automatically apply it retroactively to your vacation purchase.
More Articles You Might Be Interested In:
Disney World Dining – Our Top 10 Favorite Restaurants To Eat At & Tips For Planning Your Dining
Should I Visit Walt Disney World or Disneyland For My Family Vacation?