Stitch Fix – Try it for Free – Styling Fee Waived
Have you tried Stitch Fix before? If you are like me, I have been hearing so many people raving about Stitch Fix, but I have not tried it out yet. But I heard about their limited time offer to try it out for free with no styling fee (Reg. $20 styling fee), and I decided it is the perfect time to try it out.
This means you can order a Stitch Fix box for free which will include clothes, shoes and/or accessories to be delivered right to your home (after filling out a styling questionnaire) & their stylists will curate & send you 5 items. If you decide you don't want to purchase any, you can send it back in a postage-paid envelope for free.
So, who's ready to take the plunge with me?  I will show you what I receive in my first box, so make sure to check back in a few weeks!
How Stitch Fix Works: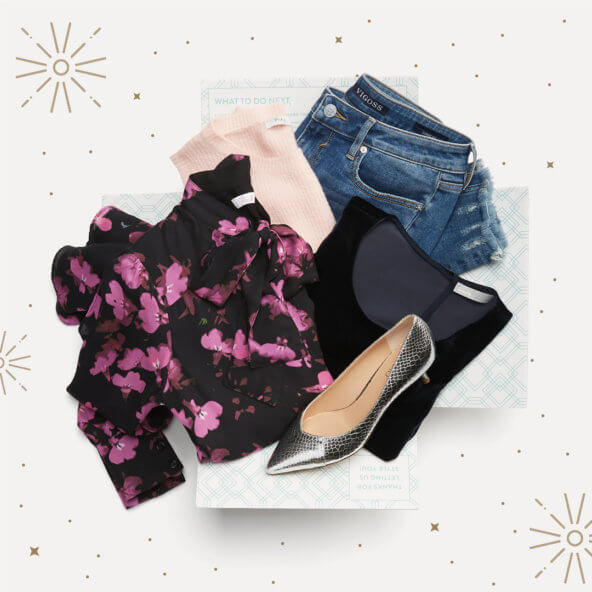 Stitch Fix is basically like having a personal shopper putting together outfits for you – all from the comfort of your own home.  Fashion is just not my strength at all, so I like this idea of a personal stylist picking out items for me to try and giving me styling suggestions on how to wear the pieces. I've seen so many cute outfits that ladies are finding from Stitch Fix, so their stylists definitely have great taste.
Stitch Fix also offers men's clothes & stylists as well so this is for men & women. They also offer plus sizes, maternity and petite sizes, too.
Steps:

Head to Stitch Fix and fill out information about yourself & your style, fit, and preferences. This is a very detailed Style Quiz where you can share your size, the look of items you prefer, colors, etc. You can even include links to Pinterest boards if you have any boards with styles you like.
You will be sent 5 items that the stylist has curated for you which can include clothes, accessories, even shoes. You pay a Styling fee of $20 for the stylist to put together all of these items for you and send them to you.
Once you receive your box, you then have 3 days to decide whether or not to keep any items or all of the items. You will not be charged for any of the items if you choose to send all of them back. Or you can keep one, two, three & send the other back.
If you keep even one item, your $20 styling fee will be applied to your purchase of that item(s). If you choose to keep all the items, you will get an extra 25% off the entire box.
If you want to send any or all of the items back to Stitch Fix, they include a free USPS return envelope which you place your items in & send back in any mailbox. You will not have to pay shipping costs to send it back.
Cost:
All you are charged is the $20 styling fee to try out a Stitch Fix box – and if you end up buying even one item, the $20 styling fee goes towards the cost of that item.
However, for a limited time, there is NO $20 styling fee – which means you can try out a Stitch Fix box totally FREE! You can get a box sent to you at no cost to you (you will have to enter your credit card information in case you choose to keep any items or if you don't send the items back in the 3 days). But if you decide you don't like any of the items, you can send them all back with free shipping & the shipping bag is included.
You will also pay for any items you want to keep – and there is a range of prices from what I've heard. I plan to tell them I want the items that are the least expensive, just to keep it more frugal, so we'll see what shows up in the first box.
Sign up for a Stitch Fix box for FREE for a limited time!