Blackstone Outdoor Grills on Sale
Blackstone Outdoor Grills on Sale
Walmart is releasing some early Black Friday deals even as early as this October & one of the deals they have released early is their Blackstone Outdoor Grills deals! These are their Black Friday price, but you can buy now & save the same as you would at Black Friday time!
These Blackstone Grills Walmart Deals can be hard to find in stock – so if they are showing as out of stock, make sure to check back as they have been coming in & out of stock as they are so popular. And now is the time to buy as the fact that they are going in/out of stock so easily may make it very hard to find when we get closer to Christmas.
Blackstone ProSeries 2 Burner 22″ Propane Griddle with Transport Wheels is just $174 right now (reg. $274)
Here's more information about the Blackstone Griddle Grill:
The Blackstone ProSeries 2 Burner 22″ Propane Griddle will look great in any outdoor patio or kitchen area. Enjoy spacious side shelves that allow you to have a larger food prep space. The griddle surface is made of quality rolled steel and has a built-in grease management system that makes cleanup quick and easy. The cooktop surface is heated by two H-shaped, stainless steel burners. This creates two distinct heat zones to cook over. Also enjoy easy-transport wheels and a place to store a 20 lb. propane tank. Pair this griddle with any other Blackstone ProSeries items to make more delicious outdoor food and grow your griddle collection.

Blackstone ProSeries 2 Burner 22″ Propane Griddle with Transport Wheels
Rear-grease management system
362 square-inch griddle surface
Two heat-control dials
Durable metal Structure
Open frame for easy fuel access
Propane tank storage shelf – compatible with 20 lb. propane cylinder (sold separately)
Follow griddle seasoning instructions in user manual
24,000 BTU's
Model #2063
Blackstone Adventure Ready 17″ Griddle with Electric Air Fryer – $197 (Reg $247)
Here's more information about the Blackstone Grill with Air Fryer:
If you've always wanted to take your air fryer to the great outdoors, now you can! Consider the game changed. Introducing the Blackstone Grill with Air Fryer – the Blackstone Adventure Ready 17-Inch Griddle Air Fryer Combo. The rough and tough Adventure Ready Griddle with Air Fryer will surely impress your friends and family wherever you are. The Griddle and Air Fryer make the perfect combination for breakfast, lunch, and dinner. Throw in some hash browns while you cook pancakes, or some French Fries while you make the perfect smash burger. With this amazing duo, the possibilities are endless. And if you find yourself cooking more than you thought, this great combo includes a 20 lb. propane adapter hose.
Travel-sized air fryer-griddle combo makes it easy to fry on the go
275-square-inch cooktop surface
4-quart electric air fryer drawer for roasting, baking, and frying
Rear grease management system for easy clean-up
Rolled steel griddle top
Stainless steel burner provides evenly dispursed heat across the griddle surface
12,500 BTUs
Hood and side handles with orange non-slip grips
Powered by 1-pound propane tank (griddle) and electric plug (air fryer)
Includes 20-pound adapter hose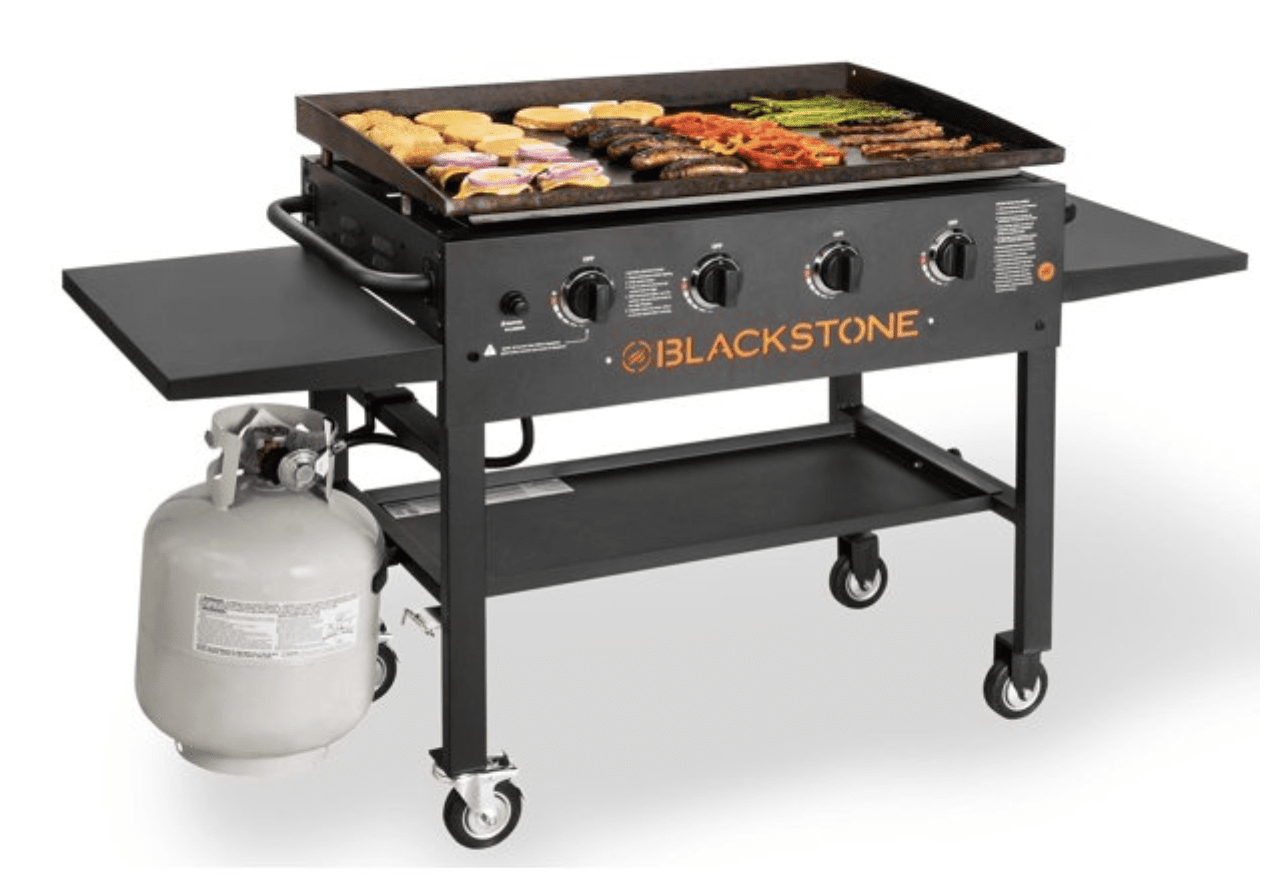 Blackstone 4 Burner 36″ Griddle Cooking Station with Side Shelves – $297
As the cornerstone of Blackstone Products, our 36-Inch Griddle Cooking Station offers an expansive 36″ x 21″, 756 sq. in. cooking surface; easy assembly with a quick and easy ignition button; two cantilevered work surfaces and a bottom shelf to make food preparation convenient; easy to remove griddle top, held stable by a stout steel frame and four industrial strength caster wheels, 2 of which lock; thick cold rolled steel griddle cooking surface; steel frame powder coated in protective black; and four independently controlled 15,000 BTU stainless-steel burners, for a total of 60,000 BTUs controlled low-to-high for versatile cooking options. We know you will love using our Blackstone 36″ Griddle Cooking Station this summer as much as we will!
Blackstone 36″ Griddle Cooking Station
68.3″ L x 27.5″ W x 41.3″ H; 192.5 lbs
4 independently controlled burners
Long-life stainless-steel tube burners
Maximum heat output of 60,000 BTUs; 15,000 per burner
1-AA electric push button igniter (battery not included)
7 gauge (3/16), thick rolled steel surface for premium heat retention
Handy fold and go design makes the griddle portable for any occasion
Four industrial strength, caster wheels (two are lockable)
Large 720 square inch cooking area; perfect when cooking for large groups
Griddle top removes easily
Large grease can and hanger included
Propane tank fasteners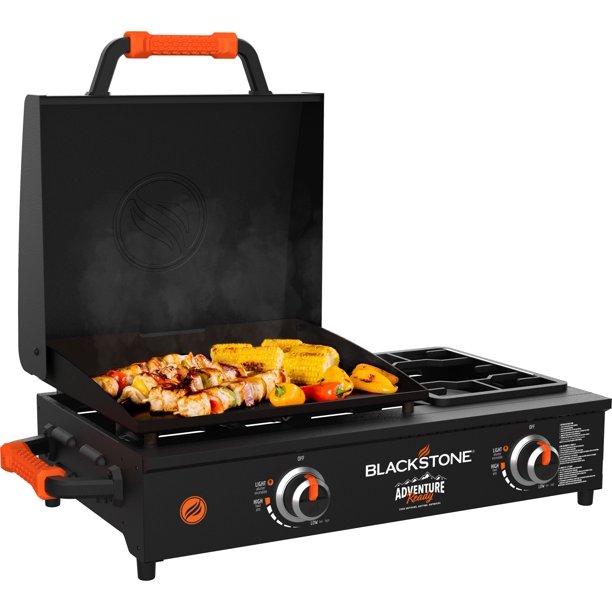 Blackstone Adventure Ready 17″ Tabletop Griddle with Range Top – $147 (reg. $174)
The Blackstone Adventure Ready 17″ Tabletop Griddle with Range Top Combo is ready to take on your wildest cooking dreams. Perfect for those who want to take their cooking to the next level and add a little bit of spice to their typical routine. This unique combination expands the possibilities while out of doors and all you need is propane. Make homemade hot cocoa on the burner while breakfast cooks on the griddle, or stir the gravy while steaks reach the perfect level of doneness. The two independent burners will give you more options and more control! The griddle is ideal for cooking up eggs, steak, pancakes, and more. The range top is perfect for soups, sauces, frying, or seasonal drinks. The easy assembly and portability will have you taking this griddle everywhere you go. The Adventure Ready Griddle is the perfect griddle for all your adventures, like camping, hunting, boating, and fishing.
Blackstone 17 Inch Griddle With Side burner
Side burner stovetop
2 Adjustable temperature cooking zones
Piezo ignition
Cast iron grate over side burner
Rear grease management system for easy clean-up
24,000 BTUs
267-square-inch cooktop surface
Stainless steel tube burner
Easy assembly
Side handles make this griddle easily portable
Hood allows you to trap heat while cooking
Uses a 1-pound propane bottle (bulk tank adapter included)