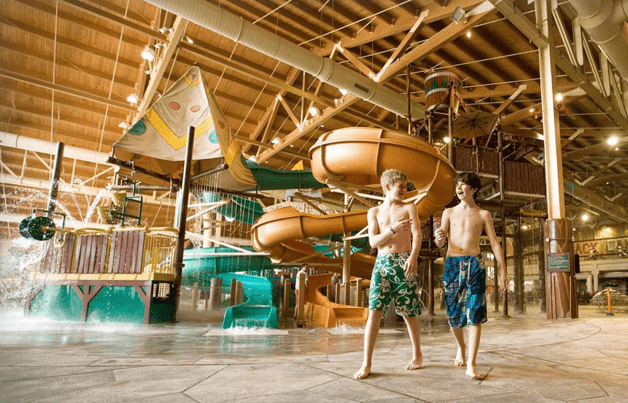 Discount Great Wolf Lodge Deal!
If you missed the last Groupon deal, Zulily is back with their popular Great Wolf Lodge discount lodging & waterpark deal right now!  You can get a Great Wolf Lodge deal with lodging & water park tickets as low as $159.50 for a family of 6 for a Ground Mound Wa. stay (or as low as $139nt for other locations). These are fantastic rates for dates that go into the summer time (it can get very expensive in the summer months)! Find all of the deals for Great Wolf Lodges around the country here.
If you are interested in the Ground Mound Wa. location, this deal starts at $159.50 for the family suite! Here are some examples of some of the current deals:
You can book 2 nights from Sun – Wed and pay $319 (that is just $159.50 a night!) for up to 6 ppl and waterpark passes in a standard suite
Book 1 night from Mon- Wed for $179 for up to 6 ppl and waterpark passes in a standard suite
You can book a Friday to Saturday stay in a themed suite starting at $319.
Book stays from May until 07/05/2018!
No refunds for purchased vouchers
Stays are for the arrival dates of the offer you purchased only.
Blackout dates: 5/18, 5/20-5/21, 5/26-5/28, 6/1
Two vouchers per order.
One-night stays may be combined for up to two nights.
Voucher does not include tax or fees.
Reservations required and are subject to availability.
Reservations cancelled within four days of arrival will forfeit voucher.
No refunds for purchased vouchers.
Cannot be used for previously placed reservations.
Must be 21 years of age or older to check-in.
Not transferable.
No cash value unless otherwise required by law.
Cannot be combined with other zulily or Great Wolf Lodge vouchers or promotions.
Voucher good for one time use only, any leftover funds will be forfeited, as permitted by law.
Promotional value expires 07/05/2018, unless prohibited by law.
Paid value expires in accordance with applicable law.
**You can find current Great Wolf Lodge promo codes and savings in this post here too if you want to compare prices!
Make sure to check out our tips for ways to save while you're at Great Wolf Lodge, too.  For more ways to save, make sure to check out additional ways to save at Great Wolf Lodge using the military discount, signing up for E-mail alerts on discounts and more.
Save
Save
Save