Woodland Park Zoo Tickets For Less + Things to Know!
This post may contain affiliate links and I may be compensated for this post. Please read our disclosure policy here.
Woodland Park Zoo Tickets for Less + Things to Know
One of our favorite family friendly activities in Seattle is heading to Woodland Park Zoo for the day. The zoo is not just a typical zoo, but it's such a beautiful, park-like setting that you feel like you are really experiencing a part of the beautiful Northwest when walking around the grounds. Even though it's right in the city neighborhoods, you feel like you are in a peaceful, tranquil park with the animals interspersed throughout the park as you walk along.
This beautiful setting makes it a fun place to visit no matter the weather – whether it's a beautiful sunny day or it's a cloudy or rainy day, it's still a fun place to visit for the day. On rainy days, kids will enjoy hanging out in the Zoomazium (Indoor playground) & or riding the covered carousel. There are more indoor exhibits, too, to have breaks inside.  And it's such a gorgeous spot to bring a blanket for a picnic on the grass when the sunshine is out & it's a warm, pretty day. Kids can run around the grass while you relax at a picnic table & enjoy the setting as you take a break from seeing the animals.
We've put together some helpful tips for visiting the zoo at Seattle with your family as well as the best ways to save on admission costs, too!
Tips for Visiting the Zoo
Where to find the Zoo
Woodland Park Zoo is located in the Phinney Ridge neighborhood of Seattle, north of the downtown area. It's only about 10 minutes north of the Space Needle (with no traffic) so it's a quick trip up there if you are wanting to head to the zoo on a trip to visit Seattle.
Address:
Woodland Park Zoo    5500 Phinney Ave N     Seattle, WA 98103
Woodland Park Zoo Map
If you are looking for a map of Woodland Park Zoo, you can find them all here if you want to take a look at the animal areas before you visit. You can also download it to plan out your outing before you visit, which can help when you have young children if you want to make sure you park at the best location & know the areas you want to focus on first. They also offer maps  & guides for accessibility, sensory guide & more to help those with special needs.
Woodland Park Zoo Parking
There are 2 main entrances to the zoo where you will find parking. The West Entrance is at Phinney Ave N between N 55th & N 56th St. The South entrance is located at 750 N 50th St.
The South entrance parking lots are the Hippo parking lot (near the African Savanna exhibit) and there is also more parking in the lower Woodland Park lot at N 50th & Aurora Ave N, .1 mile from the South entrance.
The West entrance parking is in the Otter or Penguin lots. You can access the Otter parking lot through the Penguin lot on Phinney Ave N or the Bear parking lot on N 59th St
Access to the West Entrance is available through the Otter and Penguin parking lots. The Otter parking lot can be accessed through the Penguin lot on Phinney Ave N., or the Bear parking lot on N. 59th Street.
Parking costs $6 for the first 2 hours, $2/ea additional hour & maximum of $12/daily.  You can pay for parking online with the Pay by Phone app. If you have membership, you will get a discount on parking, so that needs to be paid at the gate.
Pro Tip: Arrive early in the day & you may luck out and find free street parking in the residential neighborhoods near the zoo! 
Woodland Park Zoo Hours
The zoo is open from 9:30 – 4pm daily (except for Jan 1 – 22, 2023 when it will be open Thurs – Sun from 9:30 – 3pm). These hours are through April 30, 2023. They will then stay open longer for the summertime hours.
Exhibits at the Zoo
We love that the zoo at Seattle is so spread out & it really is like a beautiful, wooded park you can explore & see the animals in such a natural setting. It's one of our favorite ever zoos because the setting is just so tranquil & gorgeous!  The zoo is 92 acres which are divided into bioclimatic zones with different natural habitats.
Here are the different animal exhibits you'll see:
African Savanna
Ambassador Animals – these are the special programs where you can meet the animals & learn more about them – see the programs for your visit here
Assam Rhino Reserve
Australasia
Butterfly Garden (this is open seasonally)
Penguin Exhibit
Living Northwest Trail
Temperate Forest
Trail of Adaptations
Tropical Asia
Tropical Rain Forest
KIds will love the Zoomazium – indoor playground – perfect for rainy days or anytime they need a break to run off some energy.  This is available for kids ages 8 & younger.
Woodland Park Zoo Tickets & Discounts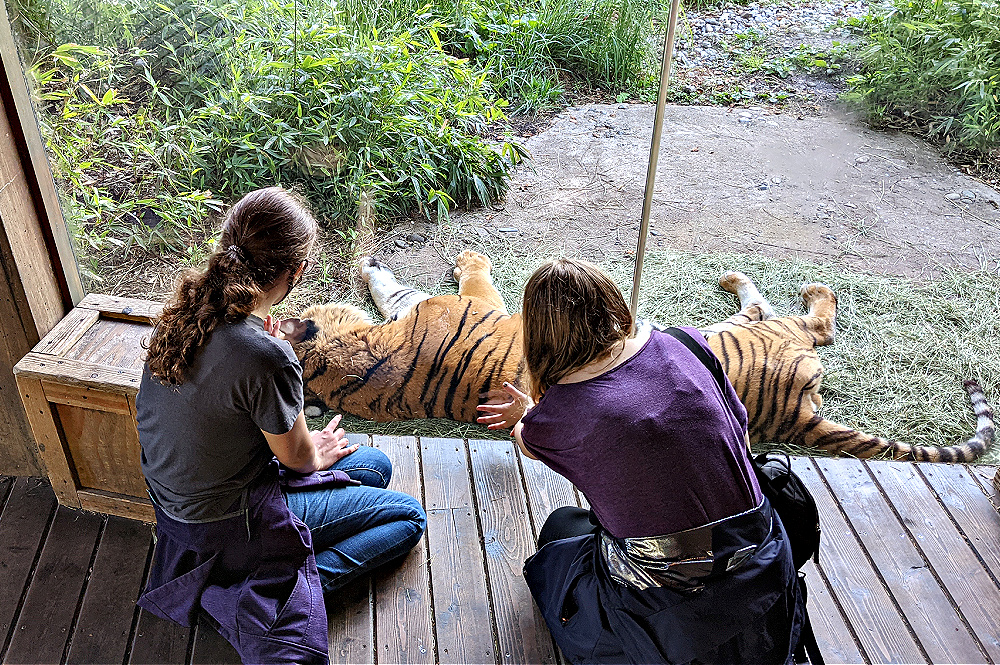 Enjoy Woodland Park Zoo at children's admissions prices on January 29 & 30! Tickets for discounted winter dates are now available.
Find all of the information about Woodland Park Zoo tickets here!
Ticket Prices
Adults (13 – 64) – $19
Child (3-12) – $13
Senior (65+) – $17
Zoo Discounts
Find the info about zoo discounts here
Military Discount:
Military Adult (13+) – $16
Military Child (3-12) – $10.75
(Must show ID & limit of 7 per transaction)
Kid at Heart Discount Days:
All tickets (up to 5000/day) will be sold at child pricing for adults ($13/ea compared to $19/ea).  Once the 5000 tickets are sold, then it will be regular admission for adults.
Here are the dates for 2023 so far:
January 29-30, 2023
February 5-6, 12-13, 26-27, 2023
March 5-6, 12-13, 19-20, 2023
Restrictions: Cannot be used with any other discount. Valid only for the date and time selected. If Kid at Heart tickets are sold out, tickets may still be purchased for that date at full price. Kid at Heart tickets are non-refundable. 
Homeschool Discount Days for 2023:
If you are wondering if they have any Woodland Park Zoo student discounts, they do offer discounted rates for field trips with local schools as well as homeschool specific visit days.
Tickets are sold at $10.50/ea for homeschool families. Find more info on their website.
Spring Dates
Friday, April 21st, 2023
Friday, April 28th, 2023
Discounts for People with Disabilities:
$2 off ticket price.  (1:1 aides are complimentary)
Age Friendly Seattle Gold or FLASH cards
– the Gold Cards are for individuals age 60+ from
Age Friendly Seattle
& FLASH cards are for people with disabilities (age 18-59). This gives you admission at 75% off regular admission prices. You'll need to show your Gold or FLASh card at the gate.
Discover Ticket – available for foster & kinship families or recipients of EBT/Washington Quest, P-EBT or WIC assistance (limit of 6 per family, WA state residents only)
Adults (13+) – $5
Child (3-12) – $5
*Make sure to bring valid verification & photo ID (includes EBT/P-EBT card, WIC voucher/card, DSHS kinship caregiver card, CYF caregiver authorization form, foster caregiver license certificate or ID
Buy Ahead Discount
Receive 10% off when you purchase your full-priced general admission tickets 4 or more days in advance – buy tickets here
Woodland Park Zoo Membership
One of the absolute best ways to save at the zoo if you want to visit regularly is to buy a zoo membership. It will easily pay for itself in just several visits if you plan on going several times at least during the year. PLUS, one of the best benefits of a zoo membership is that you get reciprocal half-price admission at zoos around the country (over 150 locations) So if you are traveling to any other locations, this can save you money at a new location, too! It's a win-win! You can also bring guests in with your membership  at half price(how many will depend on your membership level) & more benefits. Here are just a few more benefits:
Discounted parking rates (except special events)
Named adult(s) receive half-price admission for guests* (quantity determined by membership level)
Half-price admission to 150+ reciprocal zoos and aquariums across the U.S. and Canada
10% discount on all regular priced merchandise at ZooStores on site
10% discount for food and beverages on site (does not apply to special events)
Pre-sale tickets to zoo tasting events and ZooTunes concert series
Pre-sale registration for zoo summer camps
Invitation to the zoo's member appreciation night, Zoofari
Discounted tickets to WildLanterns, the zoo's popular holiday lantern festival
More Discount Ticket Options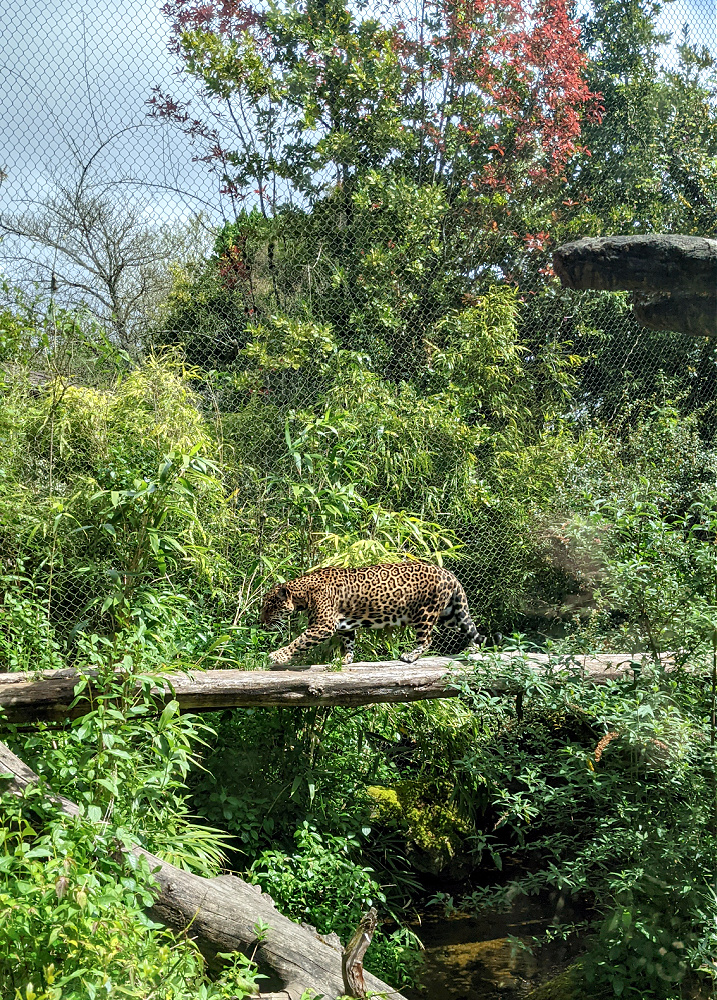 Free Woodland Park Zoo Tickets from the Seattle Public Library
If you have a Seattle Public Library card, they offer a museum pass for free admission to a number of different museums & parks, which includes the Woodland Park Zoo.  You can reserve a pass up to 30 days in advance of your visit but there is limited availability. New passes are available each day after 12pm. You can reserve one pass to a museum once every 30 days from the date of your visit.
The Woodland Park museum pass permits up to four (4) people in free(with children two and under admitted for free). Not valid for admission to ticketed events (WildLanterns, fundraisers, and after-hours events that are of part of a regular admission).
They do go VERY fast, so make sure you check them out close to noon for the new release of passes if you are interested in these, as your best chance of getting them.
The good news is that it's not only people who live in Seattle who can get a Seattle Public Library card, but there are many other ways to get a library card. (More details here)
If you live, work, go to school or own property in one of their free service areas you can get a free Seattle Public Library card. You will have to provide proof of employment, student enrollment or taxpayer status. This includes:
The cities of Seattle and Bothell
King County, except the towns of Yarrow Point and Hunts Point (see their reciprocal use agreement with the King County Library System)
You can also get a free Library card if you have a current Library card from:
Everett Public Library
Kitsap Regional Library
Pierce County Library System
Puyallup Public Library
Sno-Isle Regional Library System
Tacoma Public Library
Timberland Regional Library
Seattle CityPASS
Seattle CityPass is an option for discounted tickets if you will be visiting multiple attractions in Seattle.  They now have two options available which both include Woodland Park Zoo.  Find all of the information about the Seattle CityPASS here
The first is a 5 ticket pass and the second is a 3 ticket pass. For the 5 ticket pass, you can see 5 attractions, two of them are preset (the larger ones) and then 3 of your choosing. The prices for this option are:
Adult Seattle CityPASS – $115
Child Seattle CityPASS (ages 4-12) – $87
This option will save you 40% off regular ticket prices
Attractions included: Space Needle (2 visits to the top within 24 hours), Seattle Aquarium, Argosy Cruises Harbor Tour, MoPOP, Woodland Park Zoo, Chihuly Garden & Glass
They also have a 3 ticket option called Seattle C3 pass. The C3 pass is more affordable and offers 2 new attractions that are not included on the standard CityPass for Seattle. The prices for the Seattle C3 pass are:
Adult Seattle C3 – $73
Child Seattle C3 (ages 4-12) – $53
This option will save you up to 30% off regular ticket prices
Attractions included: 
Seattle Aquarium, Argosy Cruises Harbor Tour, Woodland Park Zoo,
Museum of Flight
& Sky View Observatory
The important part to know about a CityPass though is that the Pass is valid for 9 days, starting with the first day of use. But if you were wanting to see at least 2 of the attractions on the list, it's definitely worth the savings!
Groupon Woodland Park Zoo
At  times, you can find discount tickets on Groupon – so always make sure to check first just in case to see if there are any offers available.
Special Events at Woodland Park Zoo
Woodland Park Zoo Concerts
What could be better than enjoying a day at the zoo & ending with Zootunes outside in the sunshine during the summertime in the PNW? The zoo offers some great bands as part of their Zootunes concerts with a big lineup of concerts every summer!
Wild Lanterns – Woodland Park Zoo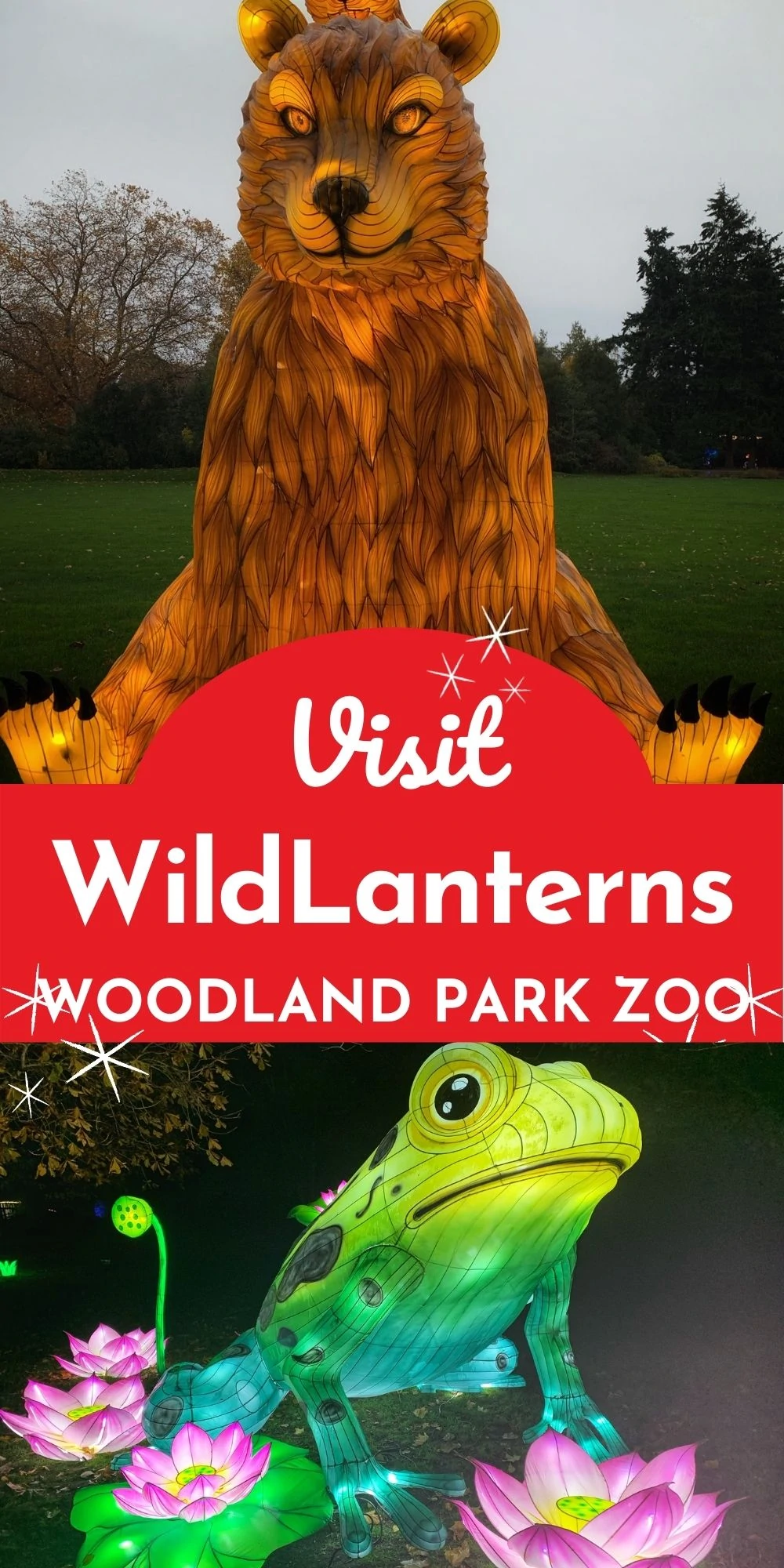 We love that the zoo offers a fun, unique light showcase at Christmas and even better it extends beyond the holidays & into January, too (thru Jan 22, 2023 this year)! If you are interested in Woodland Park Zoo Lights – make sure to check out our review to learn all about how it works, ticket prices & more!
Restaurants near Woodland Park Zoo
If you really want to save money, you can bring your own food in to the zoo picnic-style & use a picnic table or bring a blanket to sit on one of the large grassy areas. You can relax while the kids enjoy running around the grassy area.  You just need to make sure you keep the food to designated eating/drinking areas.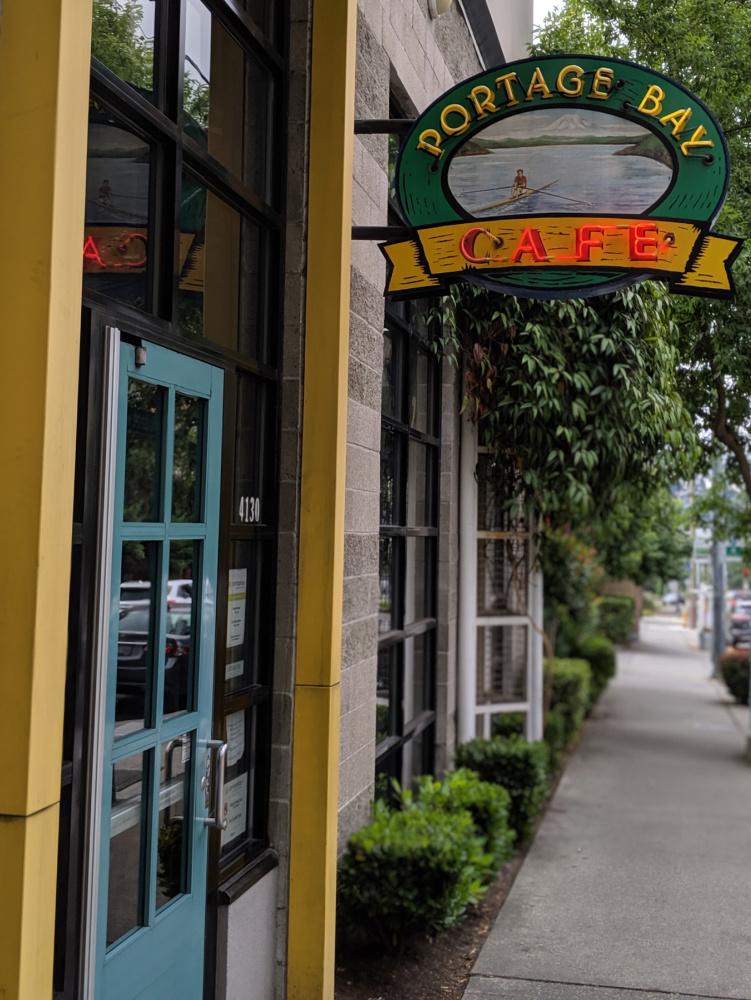 Portage Bay Cafe – while this is in the University District, you'd take the 45th exit on the other side of the freeway from the zoo, so it's not too far to stop in at Portage Bay Cafe for breakfast before you head to the zoo for a day of fun. I love that all of their locations have breakfast bars, where kids & adults can add fun toppings to their pancakes, waffles & french toast, such as seasonal fruits, whipped cream & more. There are also great kids' menus gluten free options & more. The only issue is that they do get quite busy on weekends, but they have some outdoor seating options as well at the University location.
Dick's Drive In  – take exit 45th (instead of 50th) on your way to/from the zoo & grab some old-fashioned burgers – they are so affordable & Dick's is always a hit with the kids too!
Gorditos – If you love Mexican, Sia's family loves Gorditos as it's an affordable option for good Mexican food & family friendly. They are located north of Woodland Park off 85th.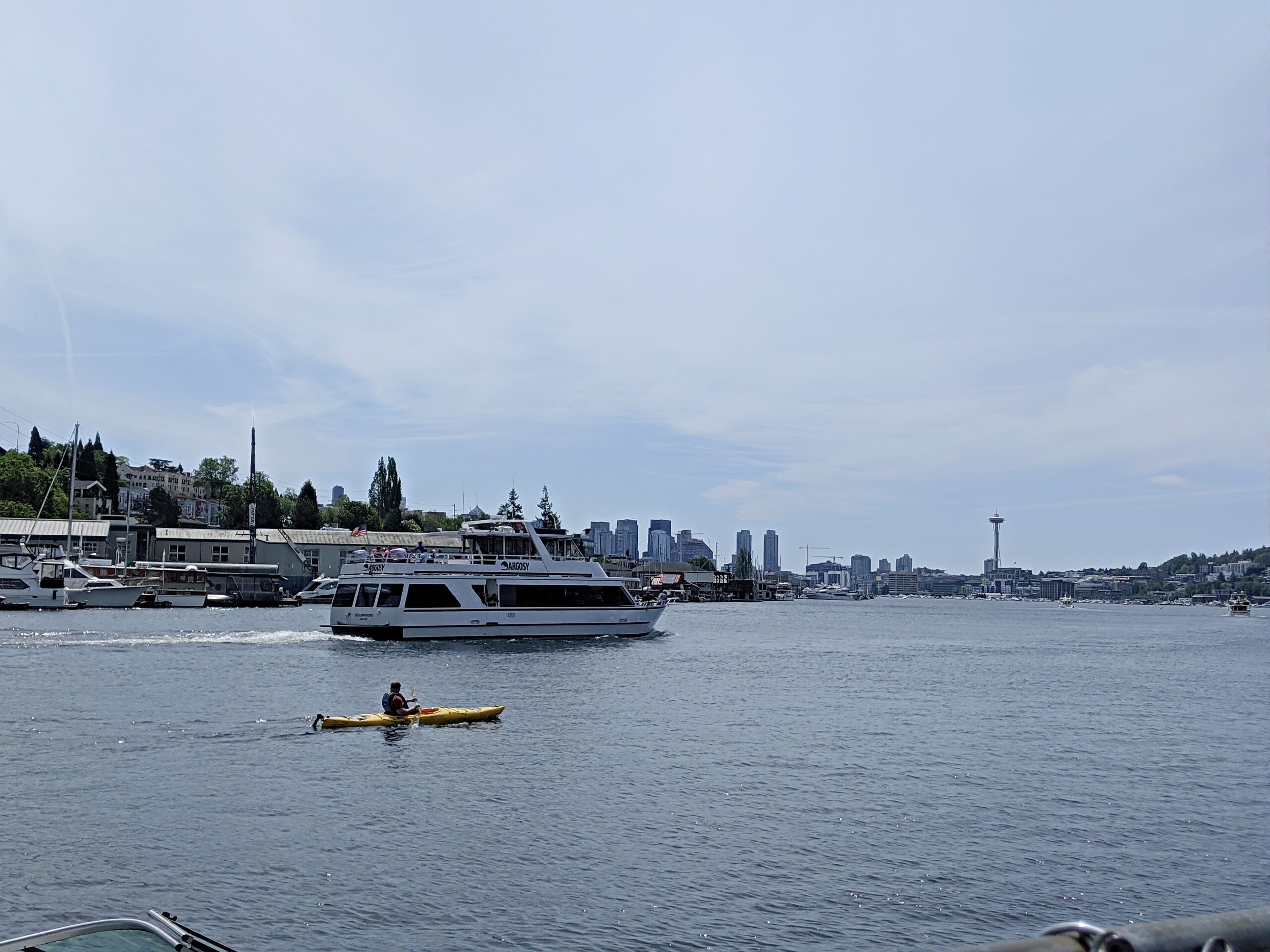 The view of Lake Union from the Fish Bar deck
Ivar's on Lake Union – one of our favorite places to eat when we're down around north Seattle is at Ivar's right on Lake Union. There are several options – you can go for a nice, sit-down meal at the Ivar's Salmon House (the food is delicious) & the views are incredible from inside the restaurant or sitting outside on the deck of the Space Needle & Lake Union. Or you can just grab food at the walk-up fish bar. If it's a nice day, we love to just grab food at the fish bar & bring it back on the back deck. Most of the deck is for the Salmon House, but a small portion with a few tables is available for customers of the Fish bar to sit at. And it's so fun to watch the boats coming & going right thru the Montlake Cut right there & take in those gorgeous views of the Space Needle & the city! So kid-friendly with all the action happening if it's a nice enough day to eat outside!
Hotels Near Woodland Park Zoo
Staybridge Suites – this is the closest location to Woodland Park zoo if you want to stay closer to the zoo versus downtown. It's located on Aurora Ave north of Lake Union. I have not stayed here but it looks like it gets good reviews & it has an indoor pool which is great for the kids & a suite hotel would give you more room with the kids & more options for bringing some of your own food, too.
Hyatt Regency Seattle – If you want a hotel that's more central to a lot of activities in Seattle , the Hyatt Regency is a great option. It's only 15 min or less to Woodland Park Zoo too. One of the best aspects of this hotel are the floor to ceiling windows throughout the hotel – absolutely gorgeous views of the downtown area! Check out our review here!
Residence Inn by Marriott at Lake Union – this is a great location as it's close to Lake Union (just across the street) & a bit out of the main downtown area so it's not quite as busy & I think it's more picturesque. All of the accommodations are suites & so family-friendly with separate living quarters for kids/parents & full hot breakfast buffet included.  There's also an indoor pool as well. Find our review for the Seattle Marriott Residence Inn here
More info about visiting animals around the Pacific Northwest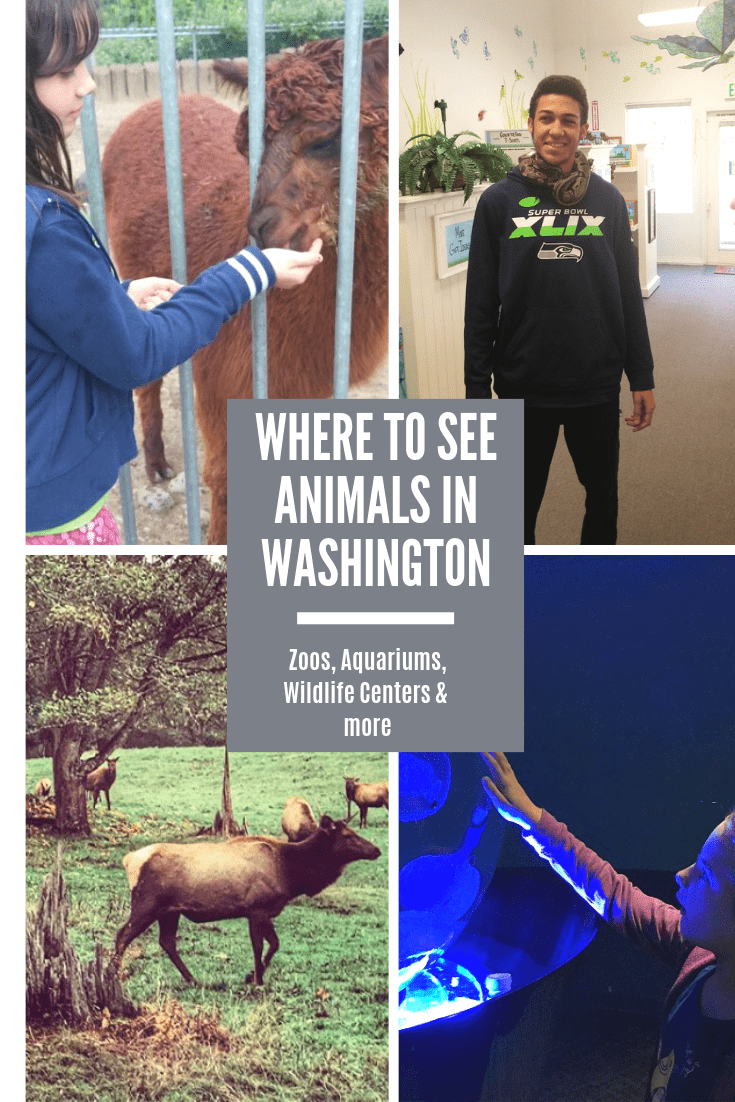 Where to See Animals in Washington – Zoos & Aquariums
Point Defiance Zoo & Pacific Seas Aquarium – Tacoma, WA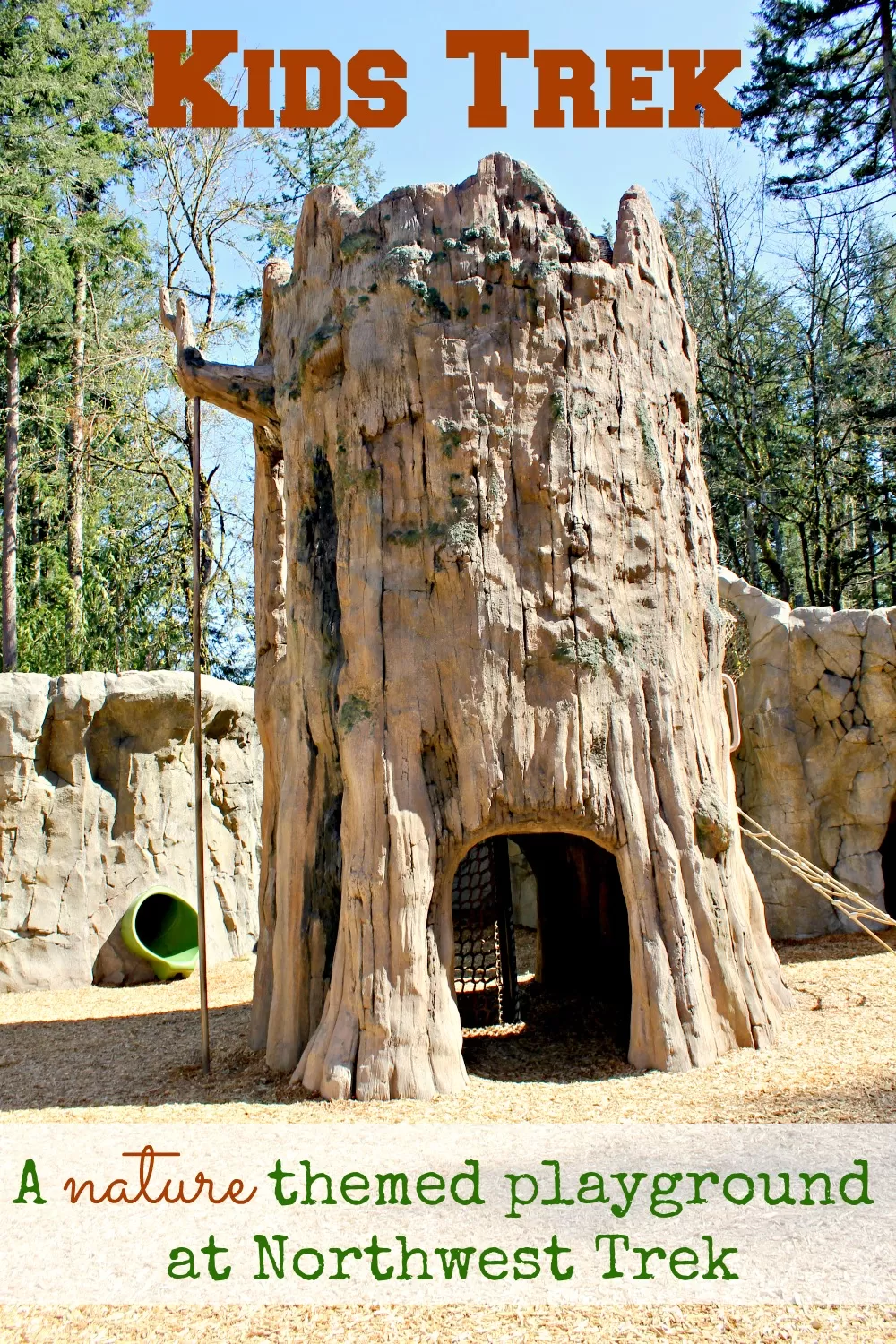 Northwest Trek – Eatonville, WA (near Mount Rainier)