Pacific Seas Aquarium – Point Defiance Zoo in Tacoma WA – Kid Friendly & Ways to Save!
This post may contain affiliate links and I may be compensated for this post. Please read our disclosure policy here.
The new Pacific Seas Aquarium at Point Defiance Zoo in Tacoma, WA is opening September 7, 2018 & we have a review about all you can expect to find at the new Aquarium plus ways to save when visiting the zoo!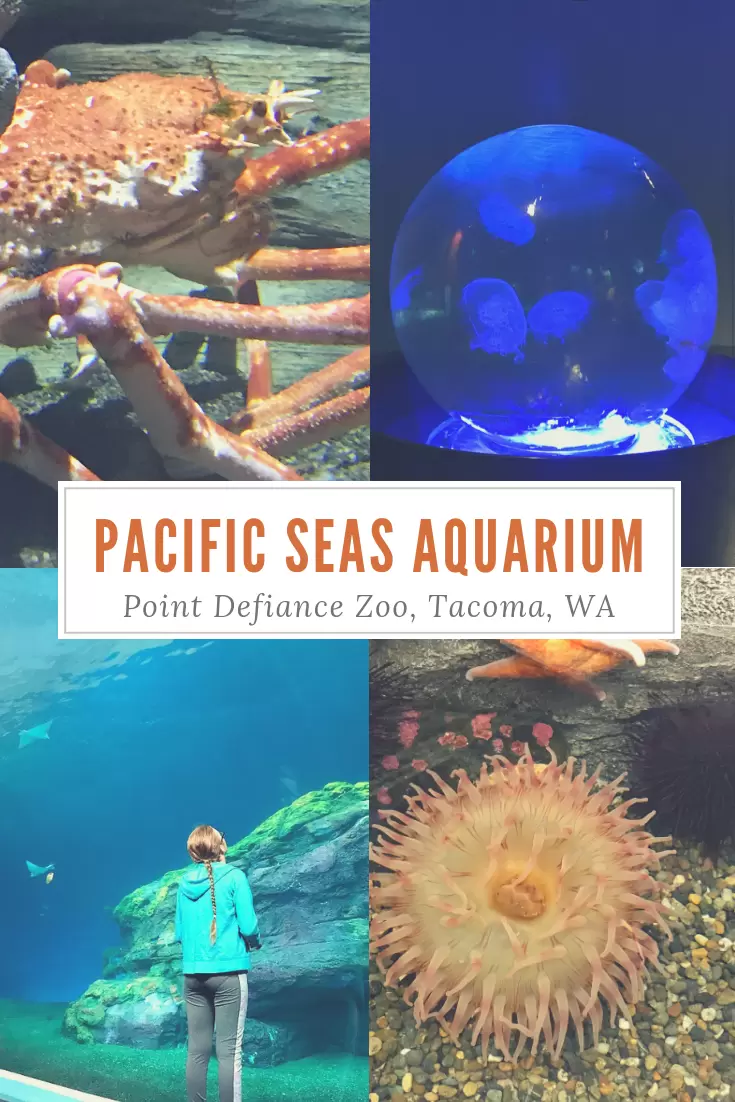 Pacific Seas Aquarium – Point Defiance Zoo 
The time has finally come for the long-awaited new aquarium to open at the Point Defiance Zoo in Tacoma, WA. Opening date is Friday September 7, 2018, with  and we had a chance to preview the new Pacific Seas Aquarium to tell you about our favorite aspects of the aquarium. My family & I were totally impressed – it is a gorgeous 35,000 foot facility and there are so many fun features that the whole family will love. The messaging throughout the aquarium is all about education & how to get involved with protecting marine life.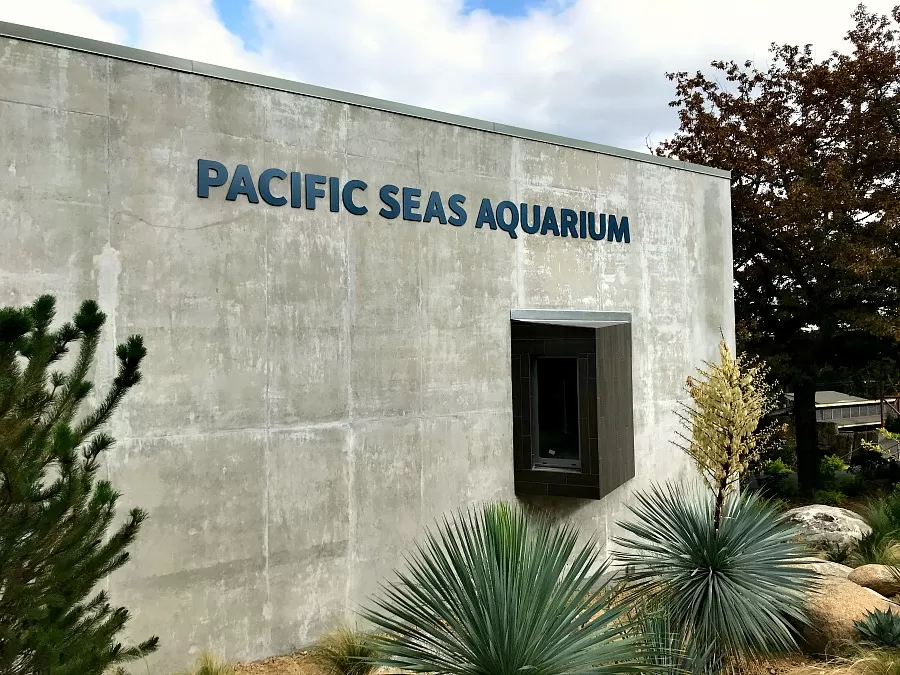 With the addition of the new Pacific Seas Aquarium, that means the Point Defiance Zoo is back to having two amazing aquariums.  The South Pacific Aquarium is where you'll find Stingray Cove to get up close & touch the stingrays, shark tank (home to 16 sharks) & where you can sign up to dive in with the sharks, as well as the tropical fish tanks.
Highlights of Pacific Seas Aquarium: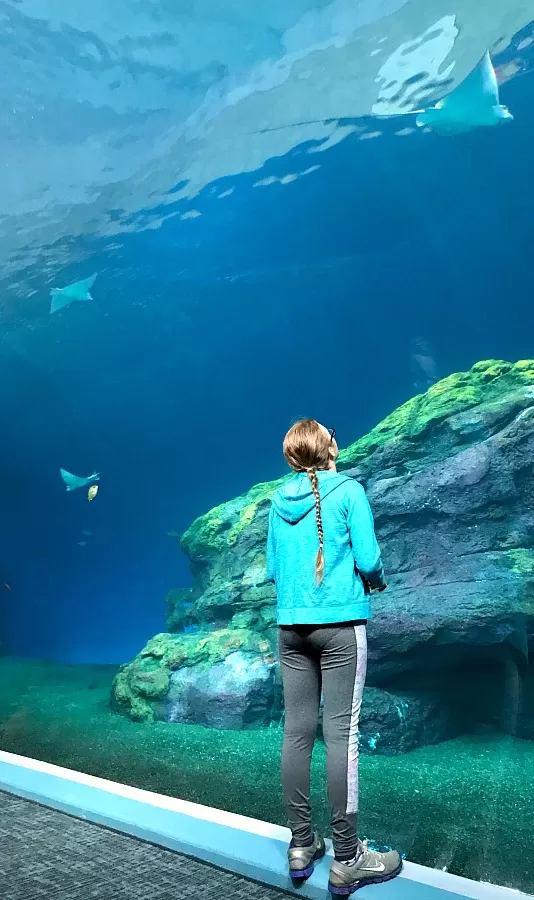 The highlight of the Pacific Seas Aquarium is the two large tank exhibits. When you enter the Aquarium, you'll see the largest exhibit, which is the Baja Bay tank. This 280,000 gallon warm water tank features spotted eagle rays, 2 green sea turtles, scalloped hammerhead sharks & many subtropical fish. They will be adding more & more fish over the next few months, too. You can see this exhibit on the top floor & bottom floor. I loved the bottom floor of this exhibit as the tank goes over your head in an arch so you can watch the rays, sharks & more swim over your head, which gives you that surreal feeling of glimpsing it from underwater. I think the kids will really love this view!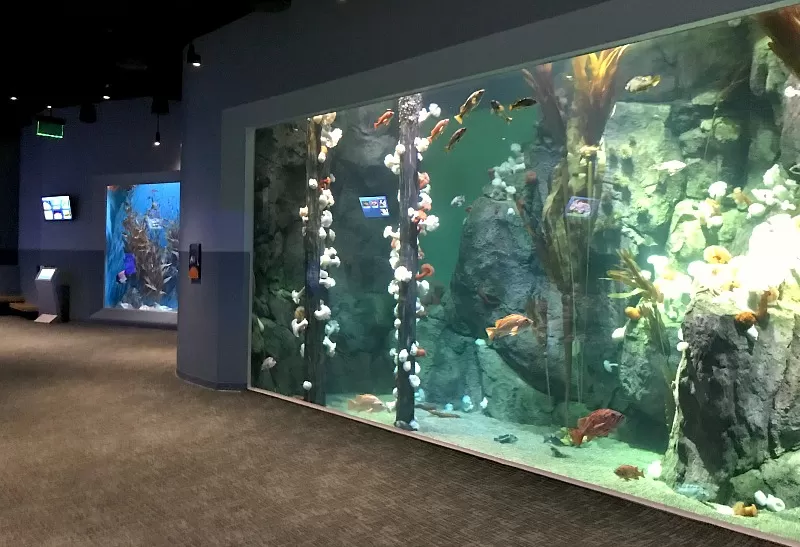 The other large tank is the Northwest Waters 100,000 gallon tank, which features marine life from our local area. Interesting fact – there are over 400 sea anemones in this tank & they hand feed each of them.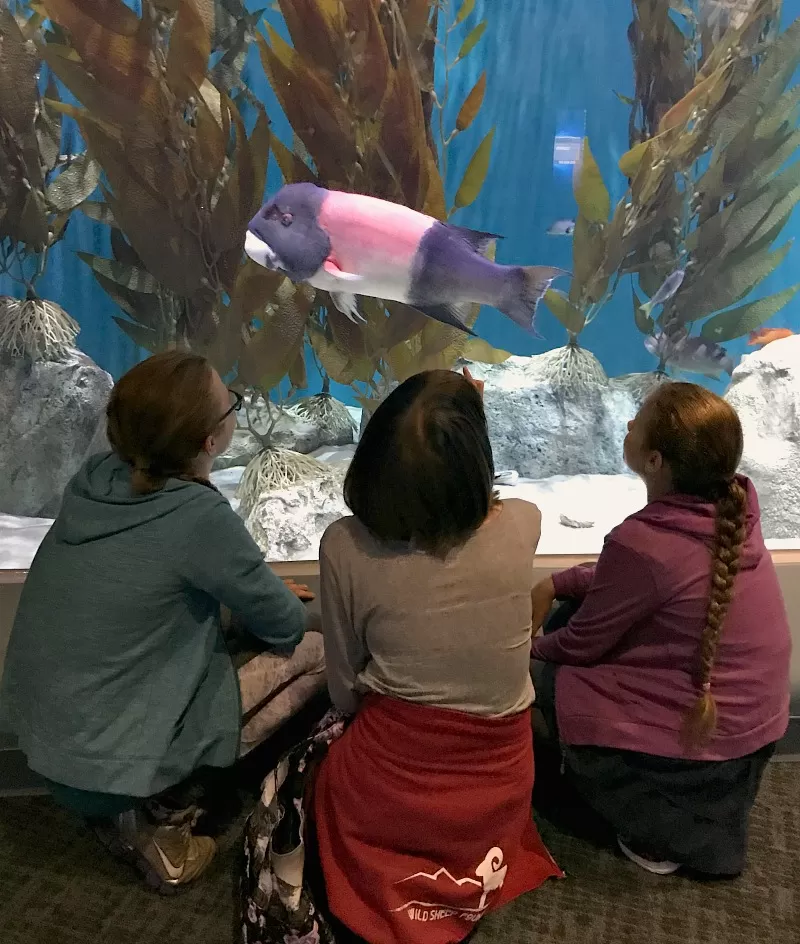 A highlight in this tank is Buddy, the California Sheephead fish you may remember from the North Coast Aquarium. He's been a favorite in the aquarium for years.
On the top floor, you will also find the Jellyfish area. This was my favorite area – loved watching the jellyfish move thru the water. There are so many fun photo ops, such as the jellyfish & the blue background to really show off the uniqueness of each jellyfish. I loved being able to study them up close with the different color backgrounds and in the Jellyfish Globe (see below).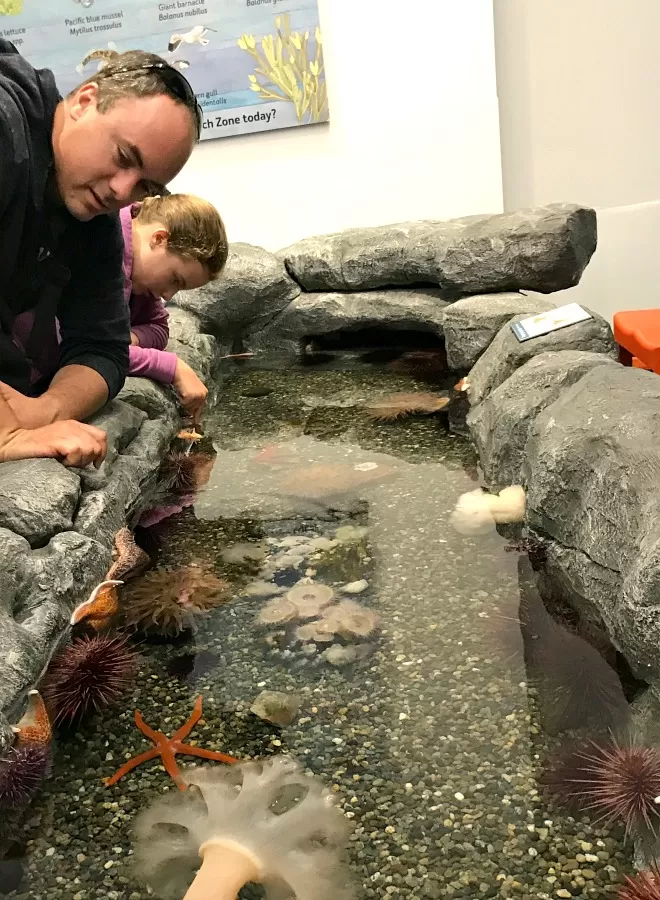 I can bet that your kids will not want to leave the Tidal Touch Zone once they discover it! This is a nice, large space to accommodate a lot of kids to get up close & touch the marine life they would see here in the Puget Sound.
Kid-Friendly Features:
The whole aquarium is obviously very kid-friendly & the whole family will love it. These are just a few special features I wanted to mention about how much effort they went to, to make this very kid-friendly & ideal for kids of any age.
Jellyfish Globe – This is one of only two free-standing jellyfish enclosures in the nation. The feature that kids will love is that you can run your hands along the globe.
It has water running down it like a little fountain of water cascading over the globe, which is fun to feel as you watch the moon jellyfish move around inside the globe.
Tidal Touch Zone – This is going to be a favorite area for your kids as it's such a large space that kids can touch sea life, such as starfish, sea anemones, and more.
They have 2 different areas in this large room where they can check out all the sea life. Plus, there are 3 sinks for washing hands after the touch tank & a long bench where parents can hang out. If you have kids like mine, they could stay here forever touching all of the animals, so I appreciated a place to sit & relax while they took their time examining all the animals.
Coloring Area – In the downstairs Baja Bay exhibit area, there is a table & chairs for little ones to color & bring home a picture from their visit.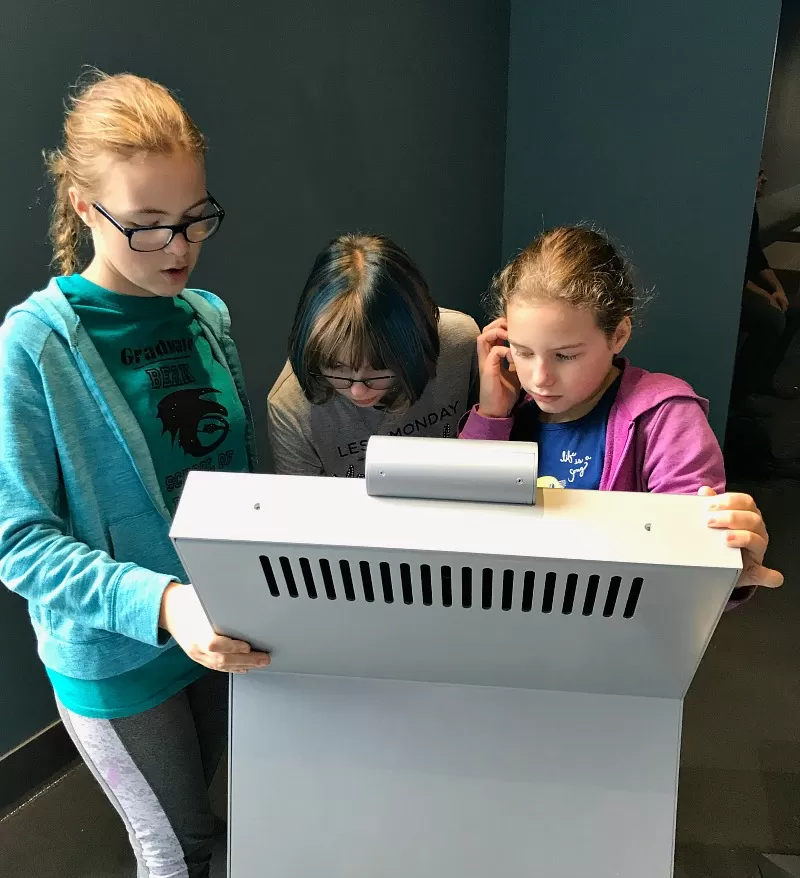 Waves of Change Exhibit – At the end of your visit to the Aquarium, they have this exhibit to reinforce & teach about ways that we can all help our environment with a pledge on ways you can make a change in your habits to protect sea life.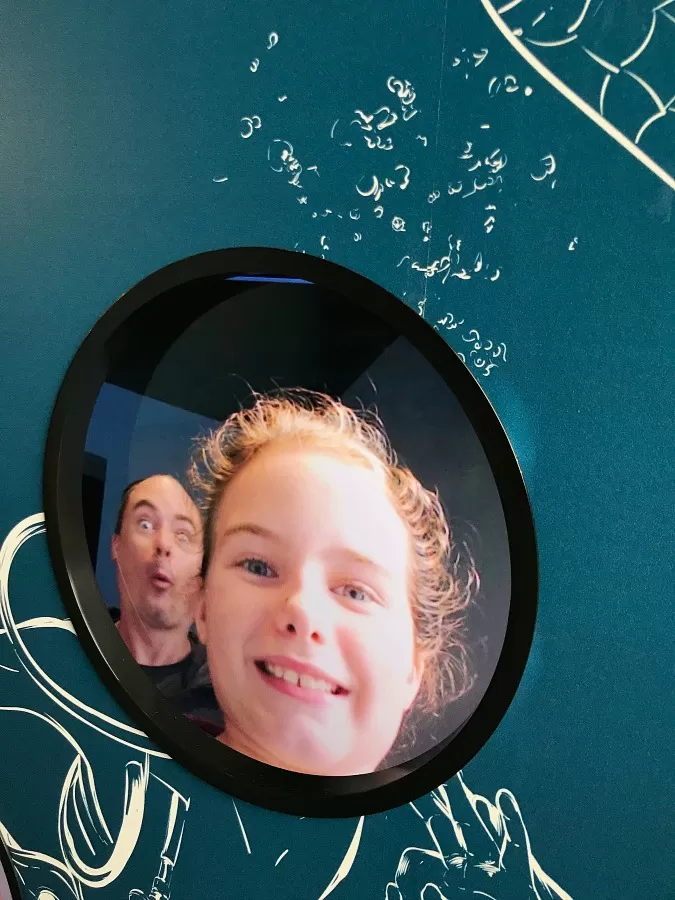 Once you take the pledge of how you will help the ocean, pose for a photo & you'll find your photo soon up on the wall in front of you. Our kiddos had fun making silly faces & seeing them on the wall (my husband may have had a little fun too ;) )! And we loved that it reinforced all they had learned while visiting the Aquarium about conservation & protecting sea life.
Interactive Kiosks – At most of the exhibits, there is a corresponding, interactive kiosk where kids could learn more about the fish & sea life in that exhibit. They could learn about the size of the fish, where it typically lives, what it eats, fun little quizzes & videos & more. This was something our girls gravitated towards, wanting to learn more about what they were seeing in that exhibit by using those kiosks in addition to all the signs around the aquarium.
Artwork – They have beautiful artwork throughout the aquarium using Puget Sound local artists. My personal favorite was the gorgeous glass jellyfish you see right as you enter &  leave the aquarium.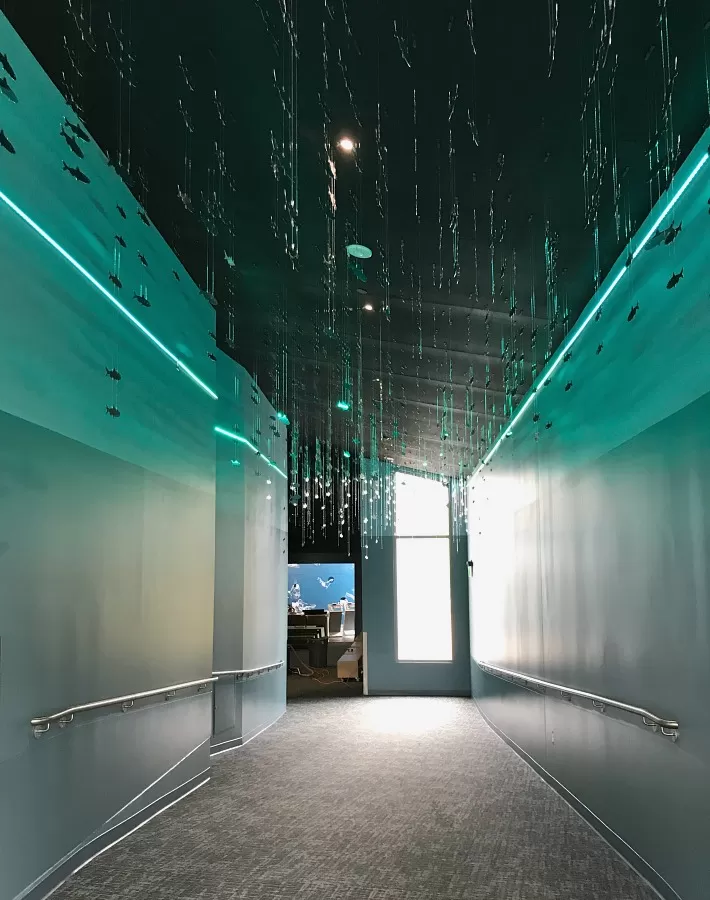 My girls loved the special lighting that changes as you go down the ramps to the bottom floors along with schools of fish hanging from the ceiling (I think this would be a highlight for younger kids and babies, too!). With the light coming thru the windows, it makes the silver hanging fish shimmer & look like they are swimming above you.
Stroller friendly – the new aquarium has nice wide spaces & wide paths to get down the levels. I noticed this right away as it will be easy to get around with your stroller while keeping up with your older kiddos exploring the aquarium. Plus, I bet young kiddos especially will love all the fun lights that change & artwork (school of fish hanging from the ceiling) as you move down the halls to the lower levels.
Things to Know:
Look for new sea animals to be coming to the Aquarium from now thru the end of the year. It is a very specialized & complex process they go thru to move the animals to the new aquarium, so there will be more animals introduced to the new aquarium on a regular basis over the next few months until the end of the year.
Restrooms use reclaimed rainwater for flushing (when available) – They collect the rainwater in a cistern to use for flushing when it is available
Water Bottle Filling Station – I loved that they have a water bottle filling station right next to the restrooms. This is to encourage people to use refillable water bottles & reduce plastic water bottle consumption, a big step towards helping to get plastics out of our oceans.
Gift  Shop – There is a gift shop specific to the aquarium right when you exit if you or your kids want to bring home any treasures to remind them of their visit to the Pacific Seas Aquarium
Free Coloring / Activity Sheets for Pacific Seas Aquarium:
Point Defiance Zoo has created a set of 4 coloring & activity sheets for kids to get them excited about the sea life they will see at the new aquarium. These are free to download & print off! Have your kids color them before or after your zoo trip! Also, a great resource for teachers to use in the classroom.
Ways to Save at Point Defiance Zoo: 
*Buy Tickets Online – Save $2/per ticket by purchasing your tickets online before you arrive instead of buying at the gate
*Tacoma Resident Free Days – There are 12 days a year that Tacoma residents can get in free to the zoo. If you live in Tacoma, this is the time to head to the zoo with your family for a family fun day on a budget!
*Special Event Days – One of the best times to save at the zoo (if you don't live in Tacoma) is to visit on a special event day. Every year they hold special events for Mother's Day, Father's Day, Veteran's Day & more where you can get discounted or free admission to the zoo. In October at Zoo Boo, each person in costume will get $2 off admission.  Check out the year at a glance calendar to see the schedule of events to put on your calendar.
*Entertainment Book – Buy a yearly Entertainment book & you will find a Buy One Get One Free coupon in the South Sound Entertainment Book
*Yearly Membership – A year membership to the zoo will pay for itself in 3 visits. If you plan to visit multiple times, this can be a significant savings. Especially as you will also get reciprocal membership to zoos around the country for free or discounted prices to those zoos with your membership.
Let us know what you think of the Pacific Seas Aquarium & what your favorite aspects are of the Aquarium!
Disclosure: We received tickets to the zoo to visit the new Pacific Seas Aquarium to share our review with you. All opinions are 100% my own.