Mount Hood Railroad's Train to Christmas Town – Discount Tickets!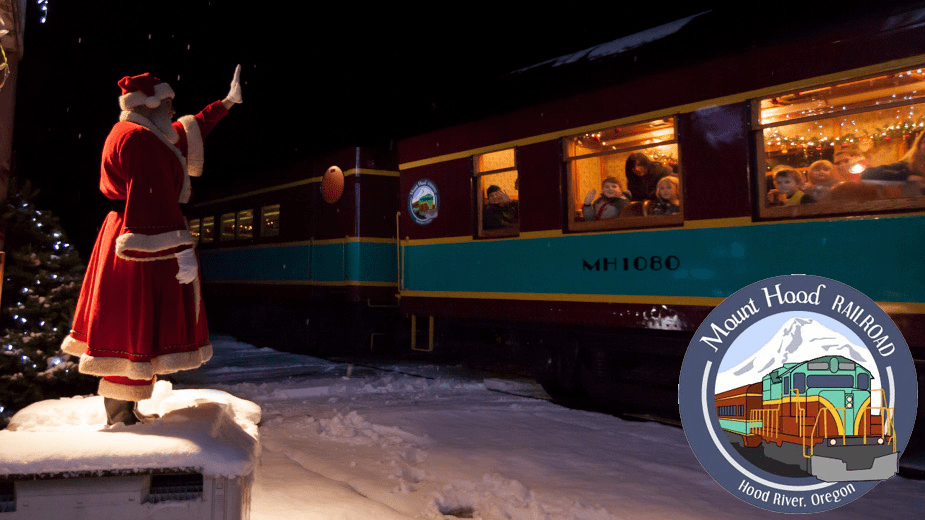 Mount Hood Railroad's Train to Christmas Town – Discount Tickets!
If you are looking for magical experiences this holiday, the Mount Hood Railroads Train to Christmas Town is a fun one, and we found discount tickets for the event. The discount tickets are $33 per ticket, vs the standard fare of $47 per ticket.
To get this deal head to Get My Perks here, and select Portland as your city. You should find this discount offer on the Portland page!
There are currently dates available in November and December, but it is a limited time offer and tickets may sell out – so if you are interested check it out soon!
Here is what Get My Perks has to say about the Christmas Town Train Excursion:
Get into the holiday spirit aboard the Train to Christmas Town!
Feel the holiday magic in the air the moment you arrive! Climb aboard and have your ticket punched by the conductor on our real working train. The music begins as we depart the station and you'll be clapping along to our peppy theme song, based on the popular children's book. Riders can interact with an engaging cast of characters, and new in November 2019, a sequel to the original book will be available for purchase!
Merry elves will be dancing in the aisles leading sing-alongs of favorite Christmas songs and serving cookies and hot chocolate! At Christmas Town, gather at the windows to wave to Santa and his elves before they climb aboard to walk through the rail cars to greet each boy and girl and present them with a special gift. Be sure to have your camera ready to capture this moment!
We are excited to welcome new riders aboard and returning ones who want to continue the holiday tradition of visiting Santa by train. The magic of Christmas if for all ages, not just children.
The book was written by Peggy Ellis, a lifelong educator and was illustrated by Jeffrey Lee, who is best known as the graphic artist behind the 1980's arcade game Q*bert.
Other Christmas Events in the Pacific Northwest that you Might Be Interested In ::
Lumaze Christmas Lights – Discount Ticket Offers
Free Christmas Tree for 4th Graders!
Pacific Northwest Christmas Events, Tree Farms and Bazaars