Pacific Northwest Christmas Events for 2020 – Drive Thru Lights, Drive Thru Nativities, & much more!

Pacific Northwest Christmas Events in 2020
It's finally December & I think we could all use some special holiday cheer this season. We have put together a BIG list of Christmas events & ways to celebrate the season with your family here in 2020. While there are a number of typical Christmas activities that are postponed this year, we love that so many businesses & event locations are pivoting & offering new experiences for families this year.
Plus, if you have a 4th or 5th grader, they can get a free Christmas Tree this year too. Find all the details on that here!
More Holiday Information:
U Cut Christmas Tree Farms around Seattle, Tacoma & the greater Puget Sound
Free Santa Photos in the Northwest
If you see an event or activity that we missed, leave a comment or email us at thriftynorthwestmom (at) gmail.com and we'll add it to the post! Let us know what your favorites are, too, and what you like about them!
Where To See Christmas Lights
North of Seattle Area: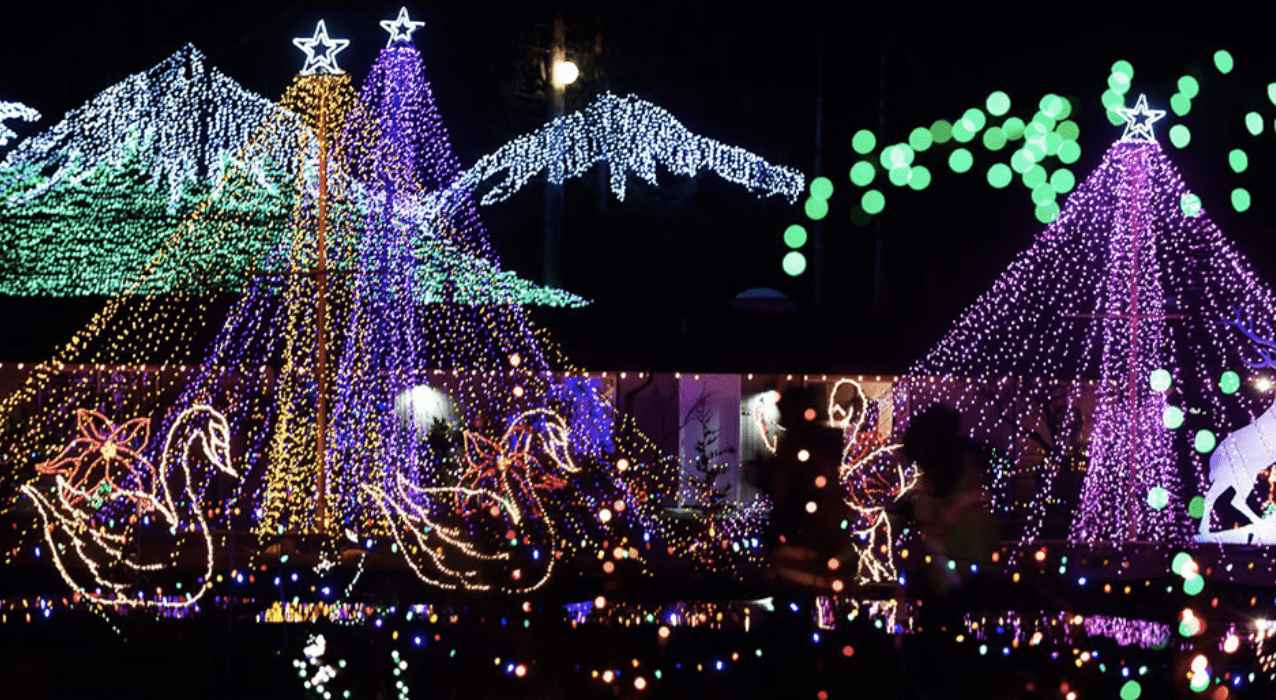 Photo courtesy of Lights of Christmas
Lights of Christmas –  Stanwood, WA; $20 – $25 per vehicle.  This is a drive-thru Christmas lights event this year. Dates run from Nov 27th – Dec 30th (make sure to check their site for the exact days they are open) from 5-10pm. You do need to purchase tickets ahead of time & they are selling fast. You will see spectacular lights, dazzling displays, wave to Santa and Mrs. Claus, while listening to Christmas music from the comfort of your own car. Fun for people of all ages and affordable for everyone.
Anacortes Community Light Show – Anacortes, WA; Dusk. Free. This is a community wide light show & competition. There is an online map & community members can drive by businesses all lit up & vote for your favorites. This is from 12/11 – 12/18 at dark.
Holiday Lane – Main Street, Concrete, WA; Sat 12/12 from 6-8pm. Free event. This is a special event where local businesses have a Christmas decorating contest & Santa will make an appearance at the brightly lit Town Tree, near the old fire hall on Main St.
Wintertide Lights  – Everett, WA; Daily until December 31st from 4:30 – 8pm. Free admission but they are accepting canned food donations. This is a self-guided evening walk through their gardens, lit up for the season.
Check out the list of neighborhood Christmas light displays that Skagit Kid Insider has put together & other great Skagit County events going on as well.
Seattle Area: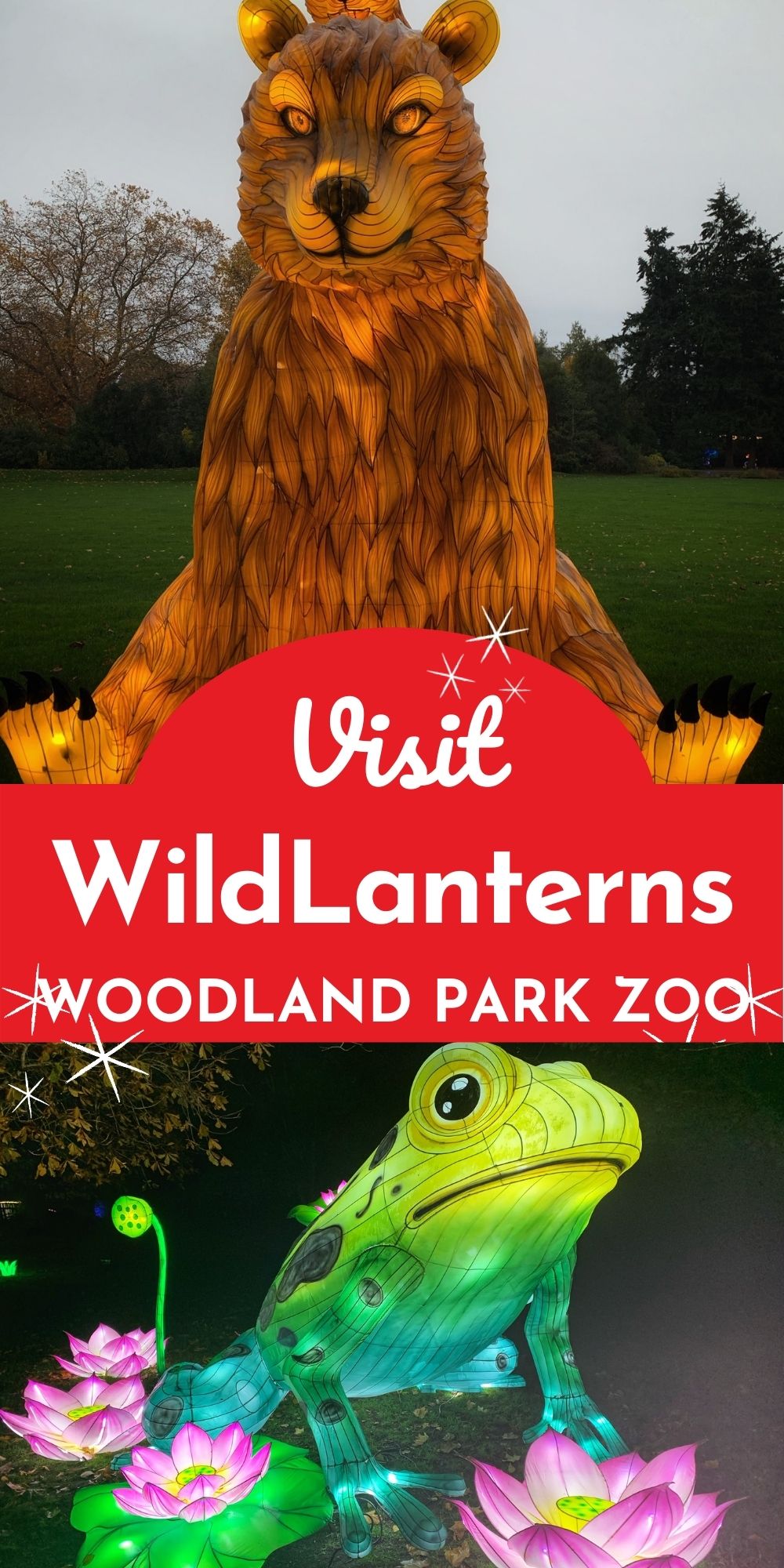 Snowflake Lane – Bellevue, WA; Free. They will be offering twinkling lights, Christmas music playing & snow! While this will not involve live performers or any parades this year, you can either drive thru or walk thru this winter wonderland of lights. This will happen every night from 5 – 9pm, from 11/27 – 12/24.
Wild Lanterns – Seattle, WA at Woodland Park Zoo. 11/13 – 1/17/21 from 4-8:30pm. Purchase timed entry tickets online (prices range from $24 – $29/person). Discover wild places and creatures from around the globe in this immersive lantern festival.  Read Sia's full review of their experience & see all their pictures.
Gileadvent Drive Thru Christmas Experience – Carnation, WA; This is available on Dec 20 & 21 from 5-8pm. Free event (donations accepted) This is a drive-thru event to experience the magic of a lit-up Camp Gilead wonderland. There will be hot chocolate, Christmas cookies, carolers, live excerpts from The Nutcracker, candy canes from Bucky, Christmas Stories with Lyle, a live nativity & more. Plus a free event button.
Snoqualmie Winter Lights Drive Thru Event – Snoqualmie, WA; Thanksgiving to New Years; Free admission.  This is a delightful holiday drive with stops for selfies & holiday photos or grab & go treats from local shops/restaurants. Make sure to follow the trail map online for dazzling light displays at the Salish Lodge to the Sno-King Ice Arena.
Starlight Lane – Lumen Field Event Center Garage, Seattle; Opens December 10th – December 20th (as of right now, I'm thinking that could change); $40/vehicle for tickets. Celebrate the holiday season with a spectacular audio-visual lighting and laser display, synchronized to a rockin' soundtrack, while safely socially distanced from the comfort of your own vehicle.
South of Seattle Area: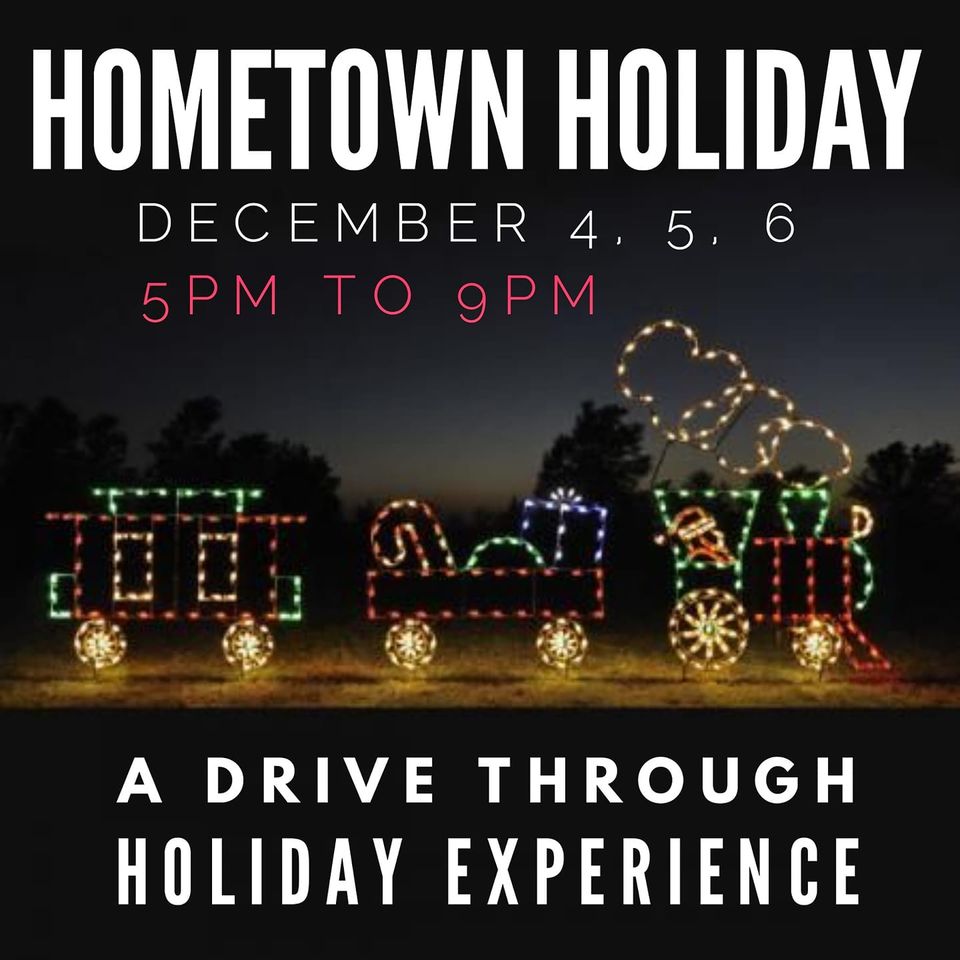 Photo courtesy of Hometown Holiday
Zoolights – Point Defiance Zoo at Tacoma, WA; 11/27 – 1/3/21 from 5-9pm every night.  Tickets are $10 – $14/person. They have transformed the zoo into a colorful winter wonderland with over 700,000 lights. See dazzling 3-D animal light displays with new safety protocols. The changes are that the carousel, goat area & both aquariums will be closed. You need to purchase timed online tickets ahead of time. Other safety protocols are: face coverings, social distancing, one-way paths & outdoor areas only.
Fantasy Lights – Spanaway, WA; Runs 11/21 – 1/3/21 from 5:30 – 9pm every night. This is a drive – thru event. Drive through the 2-mile long Christmas lights display.  Tune your radio to AM1700 to listen to special holiday music while you drive.  Please anticipate very long waits, especially on Friday and Saturday evenings.  Admission is $15 – $20 per vehicle (non-peak vs peak nights). There are also discount days on Nov. 30-Dec. 3, Dec. 28-Jan. 3, 2021 for $10/vehicle. When you purchase your tickets online, you can get a $3 discount, too.
Holiday Magic Drive Thru Event – Washington State Fairgrounds, Puyallup, WA; Runs from 12/4 – 1/3/21. $35/per vehicle (there is a $5 off coupon in the local Valpak mailer, so look for that). However, they have shared that most of the dates before Christmas are sold out, so purchase quickly if you are interested in this for the week after Christmas. Enjoy a festive, safe holiday experience with your family and friends at Holiday Magic – drive-thru style! Immerse yourselves into the magic with breathtaking lights and fun displays that only the holiday season can bring. Marvel at the lights, fun displays, enjoy sweet treats, Fair foods, unique holiday light-up merchandise and more. Famous Fair Scones, elephant ears, funnel cakes and more. Or, if savory is what you're looking for enjoy turkey legs, burgers, pizza, Caesar salad.
Hometown Holiday Event Drive Thru Lights Display – Enumclaw, WA; December 4 – 6th from 5-9pm.  $10/car & purchase your tickets online for a timed entry. This will be a country, hometown, community Christmas cruise full of lights, fun performances and holiday sounds!
Light up the Mansion at Meeker Mansion – Puyallup, WA; Fri & Sat evenings in December before Christmas from 5-8pm (First night is 5-9pm on 12/4).  Free admission to drive thru the grounds. Drive thru this new holiday light display featuring the original lights from Puyallup's historic Twinkle Lane. Drive thru the mansion's carriage entrance & they will hand out candy canes & you can enjoy while you drive thru the beautiful grounds.
Winterglow at Powellswood Gardens – Federal Way, WA; There are 12 nights available to visit in December. 4:30 – 9pm Tickets are $12, kids $5 & 3 & under free. Timed entry, one way route & face masks required.  This is an opportunity to visit these beautiful gardens & see it aglow with holiday lights for Christmas.
Holiday Light Display at Carpinito Bros – Kent, WA;  Available daily 8am – 9pm; Free admission. Pretty Christmas light display to check out while you are checking out their store & Christmas trees/wreaths.
LeMay Lights – Spanaway, WA; Dec 18th – Jan 3rd; $12/vehicle. You will need to purchase timed tickets online. Drive Thru Lights Display on the grounds of Marymount to see the beautiful holiday lights & their cars on display too.
Christmas Lights at MRCC – Enumclaw, WA; now thru Jan 3rd, nightly. 4pm – midnight. Free admission. Park your car, tune your radio to 91.7 FM and enjoy! Show repeats every half hour.
Make sure to check out Red Tricycle's great list of neighborhood Christmas light displays around the Seattle area (I would add Sky Island in Bonney Lake to the list as it's a long street full of beautiful lights – we go every year for years, such a great display!)
Destinations around WA:
Leavenworth Christmas Lights – Leavenworth, WA. Christmas lights in the town will be on from Thanksgiving to Valentine's Day this year. There will be no special Christmas lighting events, but the lights will be on to enjoy throughout this entire time. Weekends are very busy, so they recommend visiting on a weekday or after the holiday rush. If you can't make it to Leavenworth this season, you can enjoy the lights virtually on their Facebook page & they will be highlighting different town shops too for the holidays to purchase from online.
Small Town Holidays in the Lake Chelan Valley – Each weekend in December, they will have magical holiday lights, fireworks every weekend, Santa Neighborhood Tours every Fri & Sat, Wine Barrel Train rides at 1pm in downtown Manson every Saturday, Lady of the Lake Holiday Boat Parade every weekend & Holiday Lights at the Lake Driving Tour. There is also a Historic Chelan Parade of Windows competition. Wineries will also have outdoor, tented, heated & cozy spaces with fireplaces & holiday lights. Great getaway location!
Christmastown USA  – Shelton, WA;  Wander thru a Christmas Tree Maze on First Street (open daily thru December) & free admission. It's best viewed at night with thousands of lights to make a festive family picture.  Roast a marshmallow on the family fire pits or write a message on an oyster shell to hang on one of the giant trees. On weekends, there will also be an outdoor Christmas market, a gingerbread challenge & more.
There is also a Holiday Dining Wagon in "Christmas Town USA"  which starts December 4th; Costs $100 for dinner & the ride thru town for up to 5 guests. There will be dinner wagon rides on select evenings through the decorated streets of downtown Shelton (compliant with rules for safe, outdoor dining). You will dine outside under the covered carriage as they give you a tour of the beautiful lights in town + music, hot chocolate & you choose from the menu for dinner.  (they will add more dates soon)
Oregon Locations:
Drive Thru Oregon Zoolights  – Portland, OR; Prices vary from $50 – $65/vehicle (depending on night). This is a drive-through experience to let visitors enjoy a dazzling display of 1.5 million lights from their cars. You can pre-order snacks when you purchase your timed tickets. If you are a zoo member, you can get discounted admission (25% off).
Winter Wonderland – Portland International Speedway, Portland OR; $28 – $39/vehicle (depending on the night you go). Must buy tickets online before you go.  This is a drive-thru Christmas light display on the raceway with over 250 colorful light sets. They will have virtual goodie bags as well with a QR code they give you.  Discounted tickets can also be purchased at Portland metro Safeway and Albertsons locations for $20 (per car entry) at the customer service desk, starting in late November, until tickets are sold out.
Clackamas County Winter Fair – Clackamas, OR; now thru 12/27; $20 – $30 (it is $20 if you go during the week & buy online first); This is a  ¼ mile drive thru experience of the sights and sounds of Christmas. Come see the thousands of lights and the beautiful 100-foot light tunnel. Santa will be at the Winter Fair on select days. Children will be able to wave at Santa and place their letter in his special mailbox!
Christmas Activities:
North of Seattle: 
Lighted Christmas Stroll through Pioneer Village – Ferndale, WA; Weekend Dates in December. Free admission. Stroll through Pioneer Village which will be lit up with beautiful Christmas lights (no indoor cabin access).
Drive Thru Santa Parade – Burlington, WA; 12/18 from 2-4pm. Free admission, donations appreciated. Drive thru event where kids can drop off their Christmas list & say hello to Santa. You can also bring cards for the residents of HomePlace nursing home & support Dementia Support Northwest.
Santa Breakfast Drive Thru – Sedro Woolley, WA; 12/12 from 8:30 – 1am; Free admission. Kids enjoy a free breakfast of pancakes, sausage links, fruit & milk/juice (parents can join by donation). Cascade Middle School Choir will be there to sing holiday tunes & Santa will be on hand to talk with each child. Bring your own camera for pictures. (I have seen mixed info about whether this is still happening or not, so call first before going)
Seattle area: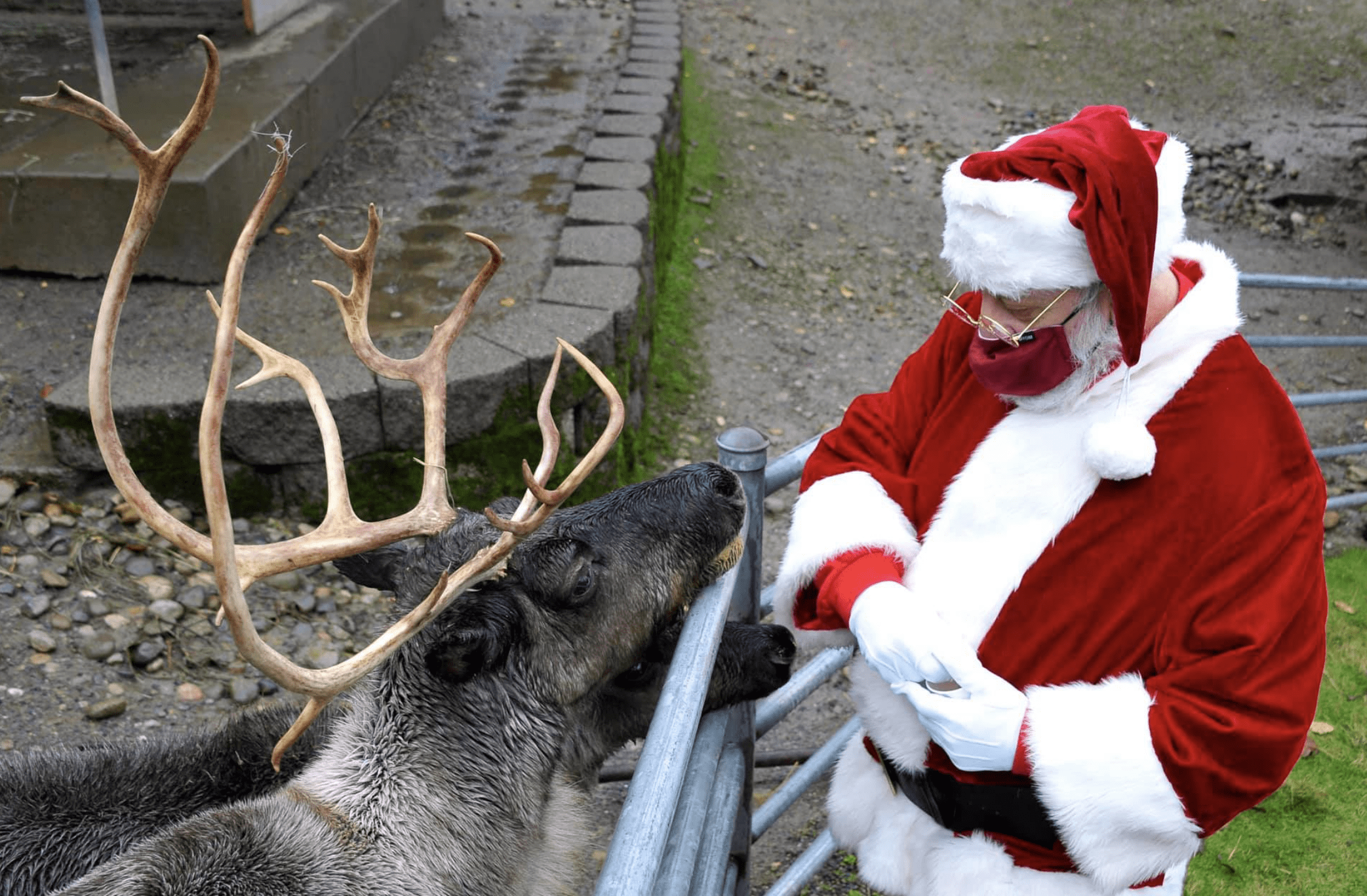 Photo courtesy of Issaquah Reindeer Festival
Issaquah Reindeer Festival – Cougar Mountain Zoo, Issaquah, WA; Dec 1 – 30th from 10:30 – 3:30, 4:30. Tickets are $13.50 – $16.50.  This is an exciting outdoor celebration at the zoo.  This year Santa or Rudolph will safely be taking photos outdoors in their Grand Traveling Sleigh! Enjoy the sights and sounds of the holidays, see all of your favorite animals and more. They have timed tickets, masks, social distancing, one way signage, & more.
Holiday Lights & Delights – downtown Seattle, WA; 11/27 – 1/9/21; Dazzling holiday-themed light sculptures will come to life in Westlake Park, with more than 80,000 lights shining from larger-than-life installations of presents, arches, trees and more. This year, it will also feature an augmented reality adventure to designated spots throughout parks, sidewalks and plazas in the downtown Seattle retail core. Bring your smartphone to discover this digital winter wonderland hidden in plain sight.
Molbaks – Woodinville, WA; See a 14-foot high poinsettia tree and more than 25 varieties of poinsettias. (There won't be any santa pictures this year)
Swanson's Nursery – Seattle, WA;  Nov 27th – Dec 24th; While there will be no reindeer visiting, you can still visit Swanson's Nursery to see their Model Train Village. The theme is "A Pacific Northwest Holiday". There will also be a self-guided Holiday Adventure Tour of the nursery with stations for kids to learn fun facts & test their knowledge.
Drive up Santa Event at Palisade Restaurant – Seattle, WA; Fri & Sat Dec 11-12 & 18-19, 4:30-7:30 pm. Come to Santa's Workshop at the Palisade. They will have twinkling lights, gently falling snow & guests can hop out of cars & under the portico for a socially distanced photo with Santa & Mrs Clause (you'll be on the bottom steps & they will be up at the top of the steps). There will be a photographer on hand for Santa photos for $40 which can be downloaded later.  Guests are encouraged to bring a food or cash donation for NW Harvest. Plus every car that brings a donation will be entered to win a drawing for a bike worth $400 in value (2 bikes donated). You can order a meal from the Palisade restaurant while you wait & food will be delivered to your car. The menu can be viewed at https://palisaderestaurant.com. Order online or call Palisade at (206) 285-1000.
Light the Park Drive By Hot Air Balloon Glow – Seattle, WA; Sat 12/12 4:15 – 6:30pm; This is either a drive-by or virtual event. They will feature 2 hot air balloons all lit up at night at City Hall Park in Normandy Park area of Seattle. They will start inflating the balloons at 4:15pm & the balloons will be up for over an hour glowing in the dark. (weather permitting)
Areas south of Seattle: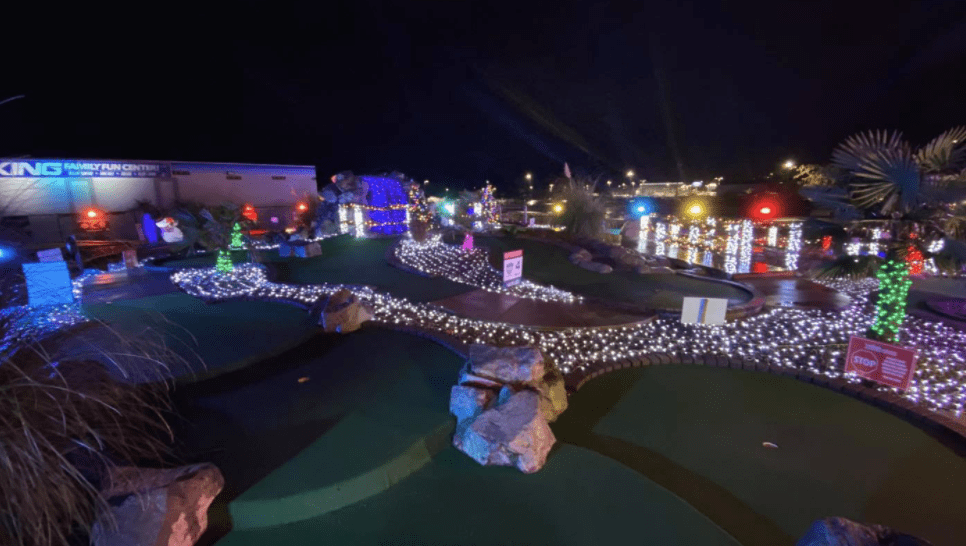 Photo courtesy of King Family Fun Center
Christmas Themed Mini Golf – King Family Fun Center; Puyallup, WA; Available Fridays, Saturdays & Sundays (also available to rent for private rentals during the week). $10/person (3 & under free). Free hot cocoa when you book online.
Reverse Parade of Lights – Lakewood, WA; Sat 12/12 from 6-8pm; The Parade of Lights will be in reverse with a stationary display of floats & vehicles lined up in Colonial Plaza. People can drive thru Colonial Plaza to view the floats & vehicles & there will be Christmas music & Santa will be there to wave to, as well.
Eatonville Reverse Christmas Parade – Eatonville, WA. Sat 12/5 at 6pm.  You will drive thru in your vehicle & see a stationary display of floats & vehicles lined up for some Christmas fun.
Reindeer at Watson's Nursery – Puyallup, WA. Reindeer are on site until Dec 24th. Free to visit. Kids can visit with Donder & Blitzen, Santa's Reindeer on the nursery grounds.
Christmas Nights Drive Thru Event – New Community Church, Maple Valley . December 4th – 6th from 6-7pm. Donation of $5 (goes to food bank or bring a food bank donation with you) Drop off letters to Santa, check out amazing Christmas lights & visit a living nativity.  There's even an Elves candy chute from the 2nd floor. Plus, a Christmas scavenger hunt to win prizes & you'll check out a huge 80′ Christmas tree & much more.
Fox Hollow Farm – Issaquah, WA; Dec 11th – 20th (see exact dates on website); Prices are $16.95/person before 3 & $22.95 for afternoon/evening. They will have an old-fashioned Christmas market, baby animals, home-baked goodies, many twinkling lights, & a meet & greet with Santa & a few of his reindeer friends. Plus, admission includes a private ride in the covered Hay Wagon  with Santa
Holiday Cheer Up – The Village at Chambers Bay, University Place, WA; Fri 12/11 from 4- 8pm; This is a reverse parade – enjoy some holiday cheer as you drive thru the village with festive characters, music, giveaways & much more.\
Family Christmas Drive Thru Event – New Life Church, Kent, WA; Fri 12/18 from 6 – 8:30pm; Free event; This is a drive- thru event with Santa Clause & Friends at the church.
The Nutcracker at the Drive In Movie Theater – Shelton, WA; Thurs 12/17 at 7pm (gates open at 6pm); $30. This is a film featuring Ballet Northwest's performance of the Nutcracker this year. Great way to support this dance company & watch the Nutcracker on the big screen (you can also watch at home with streaming options too)
Christmas Movies at the Drive In Theater – Shelton, WA; Fri – Sun 12/18 – 20. Tickets are $8/adults & $3/kids ages 6-11 (kids 5 & under free). They will be featuring Elf & National Lampoon's Christmas Vacation movies. Check the website for times of showings.
Christmas Drive-In Movies at the Outlet Collection – Auburn, WA; They are showing two movies – Elf on 12/25 evening & The Polar Express on 12/26 evening at the drive-in movies – watch the movies from your car on the big screen. $40 for your car & as many people as fit in your car with seatbelts. Showtime is at 7pm & doors open at 5:30pm.
Photo Courtesy of Drive Thru Nativity
Drive Thru Living Nativity – Center at Norpoint, Tacoma, WA; Saturday 12/19 & Sun 12/20 from 6:30 – 9:30pm. Free tickets, but you do need to register for a ticket for which day you will come.  Step on the Road to Bethlehem from the comfort of your car! On your journey, you'll meet centurions, shepherds, and angels as you hear the true story of Christmas! We invite you to drive through this one-of-a-kind living nativity with live actors and animals. 
Drive Thru Live Nativity – Sumner, WA; Sat 12/5 at 5-7pm. Free. Enjoy a Christ-centered message of the Savior's birth from the safety of your car. Located in the parking lot of The Church of Jesus Christ of Latter-day Saints . The drive-thru should last around 15 minutes, come at anytime during that window of time.
Living Christmas Card – Lacey, WA; Fri 12/11 & Sat 12/12 from 7-9pm; Free. This says it's a drive/walk-thru event . This is a live retelling of the Christmas story.  There will be festive music, drive through Christmas scenes with live Christmas characters, and take home bags of goodies and Christmas cheer for all children!
Christmas Island at Maytown – Maytown, WA; Starts 11/28 – 12/26, 4:30 – 9:30pm.  Free admission.  Enjoy the marvelous sights and sounds of this historic display! Drive through or park and enjoy socially distanced outdoor viewing.
A Lot of Christmas – Drive Thru Nativity – Poulsbo, WA; Dec 18 – 20, 6-8pm, Cost is $5 or a non-perishable food donation. All proceeds will go to Fishline Food bank. You will drive thru the event in your car, thru 4 scenes featuring live animals, with the singing of carols & a huge Christmas tree decked out with all the trimmings.
Santa Trains
Photo Courtesy of Northwest Railway Museum
Santa Express Rides – Snoqualmie, WA From 11/28 – 12/19. weekends. Tickets are $24/ea (2 & under free). Join Santa and his elves on the Yuletide Express on this new 25-minute holiday train ride, guests will board the festively decorated antique coaches at the historic Snoqualmie Depot. The excursion will travel west to the top of Snoqualmie Falls, pausing briefly at the crest to see the impressive and awe-inspiring view of the river valley below before returning to Snoqualmie. Every child will receive a small gift from Santa, and each ticket-holder will receive two (commercially packaged) cookies.
Santa Holiday Train – Chehalis, WA; Dec 18th – 20th! limited seating remains). $15/person (or $20/person for premier seating). 30 minute rides. Santa will be handing out candy canes and visiting with each and every family on the Santa Holiday Train.
The Polar Express – Chehalis, WA; Dec 18 – 20th, Dec 24 – 27; Tickets are $38/person (2 & under free). All Aboard for this magical train ride to the North Pole! Bring the kids and listen as The Polar Express ™ is read aloud, cocoa is sipped and Santa drops by to visit with each child!
Mt Hood Christmas Train – Hood River, OR. (this is currently on hold, but keep an eye on their Facebook page to see if they start with tickets again) Ride the Mount Hood Railroad Christmas Train to the North Pole to pick up Santa and his elves! This new event is based around their own storybook – 'The Mount Hood Railroad Christmas Train'.
Fun in The Snow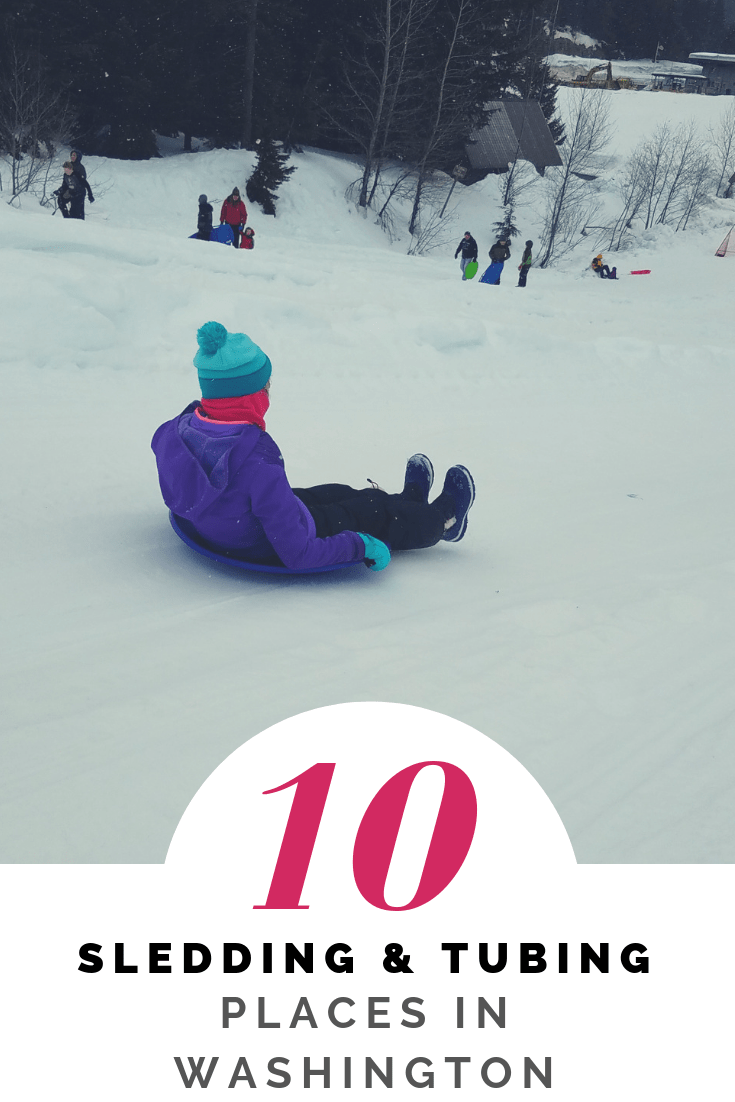 Snow Tubing & Sledding – Check out our big list of all the best places to go sledding & tubing in Washington (this list is updated for 2020 season)
Snow Shoeing – Snowshoeing is a great family fun activity – learn about snowshoeing at Mount Rainier as well as general snowshoeing tips
Winter Hikes – Hiking is a great way to get outdoors & spend time together as a family. These hikes are all great ones to do in the wintertime too (although Gold Creek Pond will involve winter gear as there is now snow there, but it's still very easily accessible with kids)
Virtual Christmas Activities
Winterfest – Free. Seattle's Winterfest is going virtual this year. They will be offering virtual Festal holiday videos. You'll find performances, cooking and craft demonstrations and other holiday traditions presented in video form. This starts November 27th & new content will be added every Saturday in December. There will also be  a virtual Student Showcase platform, featuring video content from schools and youth arts training programs. Content will be available starting November 27th.  The PTSA Reflections exhibit will also be virtual this year – this will be an online student art gallery available now.
Great Figgy Pudding Performances – Free. They will be highlighting different choirs with virtual performances every day from December 4 through December 16, 2020.  On Friday 12/11 at 7:30pm, they will have a televised Figgy Pudding special on King 5 tv channel.
Pacific Northwest Ballet – They will be offering virtual Pacific Northwest Ballet Nutcracker performances you can purchase to watch & stream at your home. The dates are 12/18 – 12/26. Price is $35 for the regular plan or you can buy the Digital Performance Plus for $55 to access the streaming a week early & there are other bonuses as well. This is a great way to support this ballet company which has been hit hard by no performances most of this year.
Live Holiday Character Bedtime Story – 7:30pm Wednesdays (see exact dates on Facebook). Free. Get your little one ready for bed & tune in to their Facebook Live bedtime story with an Enchanting Events character to read a bedtime story to your child.
Virtual Gingerbread House Contest – sponsored by The Benson Hotel, Portland, OR. Participants of all ages, amateurs & professionals, are invited to create your own gingerbread creations out of only edible materials for a chance to win prizes. Entries must be submitted by Dec 18th & winners will be announced by Dec 22. Find all of the contest rules & details on the press release on their website.
Let us know if you know of any other fun family Christmas activities to add to our list!