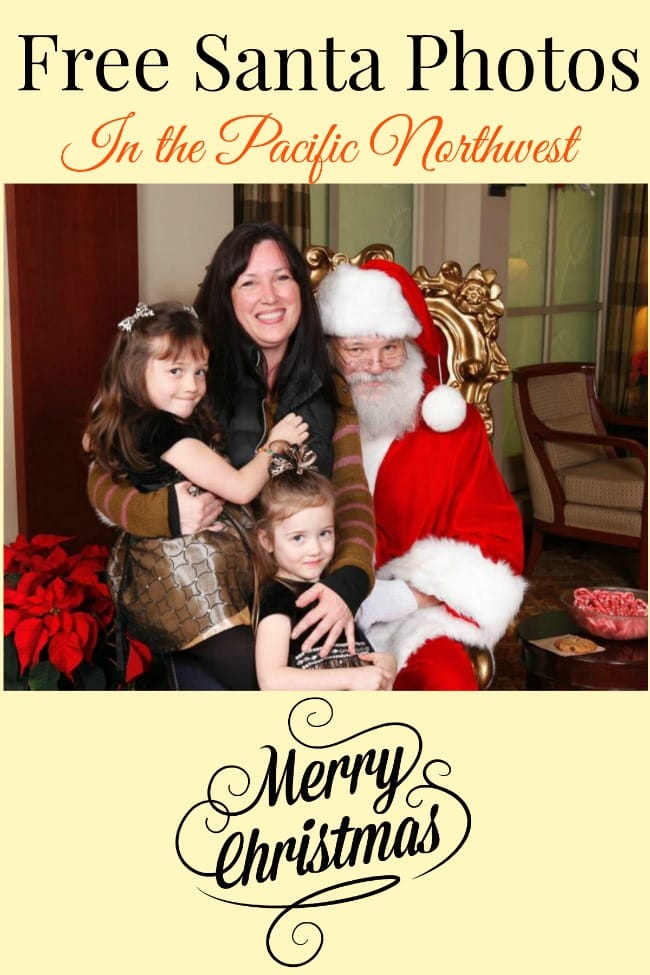 Free Santa Photos for the NW (Updated for 2016)!
Just a reminder that some of these free opps are this weekend, if you wanted to take advantage off them!
Santa photos are a tradition for many families, but they can be so pricey. The great news is that there are some quality free options available if you want. I have compiled a list of Free Santa Photo opps I am aware of. Please comment below with any additional ones you find. Some of the free photo opps are already going on!
My favorite thing about many of these free opportunities, is that many offer experiences – rather than just a quick photo (ie: there are free beverages and treats too)! We have done a few of these personally, and it has become a new family tradition for us!
Free Santa Photos Available Nationally:
Bass Pro – National – Now through December 24th. Get a free 4×6 studio quality photos with Santa in store, free games, crafts and more! Be sure to check their schedule for specific times.
Cabela's – Lacey & Marysville in NW , December 3rd, 4th, 10th and 11th (check your local store for details in your area, and times – they vary by store). 
Bring your children to capture the Spirit of Christmas with Santa at Cabela's. As Cabela's gift to you and your family, get a free 4×6 Cabela's keepsake frame and photograph with Santa.  Due to the popularity of this event, photo printing wait times may vary.
Free Santa Photos In The Pacific NW:
(Washington)
SPIRIT 105.3 at the Evergreen Beauty College in Renton and Everett (December 3rd, 1 pm – 4 pm) Join Spirit 105.3 at the Evergreen Beauty College (both Everett and Renton locations) for:
Free Santa Photos for the first 150 groups!
Free Haircuts for kids!
Free Mini Styles!
Winterfest – Burien, December 3rd 10am to 5pm
Free horse and carriage rides, hay rides, hot treats, in-store specials and FREE Santa Photo's!
An Old Fashioned Christmas – Stanwood – December 3rd, 10am to 2pm. There will be free photos with Santa, Treats, Coffee & Cocoa Live music of the Season, museum tours, crafts and more
Free Photo with Santa Food Drive – Stanwood, December 3rd 9am to 1pm – bring a non perishable food donation for your free photo!
Sambica Christmas Carnival – Bellevue – December 3,4 , 10 & 11th (Sat & Sun), 2pm to 8pm. Join the 5th annual SAMBICA Christmas Carnival. This free INDOOR event includes:
Carnival games & prizes
Free picture with Santa (one 4" x 6" & electronic file)
Complimentary coffee bar (latte, espresso, apple cider, & hot cocoa)
Inflatables – fun for kids & parents!
Motif Seattle (Formally Red Lion Fifth Avenue) –  Saturday, December 10th from 12am to 5pm.
This is one of my family's favorites. We discovered it a few years back, and it was great!  This year will be the Red Lion on 5th Avenue in Seattle's 5th Annual Santa Claus Photo Event, and they have moved it from the Lobby to their newly renovated restaurant.
Bring your family and friends by for your keepsake Christmas photo and a cup of hot cider or cocoa.
There will also be wine tasting for the adults and cookies available for all.
1 complementary keepsake photo and due to high volume no extra copies for sale.
I have been with my family for the past 3 years, and it's always a great picture (usually with elves and all). The hotel staff has always been warm and greeting in our experience, plus you can take the opportunity to enjoy all the other free Christmas activities in Seattle while you are there!
Christmas At The Old Cannery
–
 Sumner; Saturdays and Sundays, starting 11/25 through 12/18, 11:00am to 4:00pm (note lines can get very long for this event, and they will close the lines at 1pm if they are getting too long).
Enjoy FREE Santa pictures.
Horse drawn Carriage Rides will are available on the weekends. Lines can get long closer to Christmas (up to 3 hours), so we recommend going early.  They do accept cash donations for local food bank.
Here is a free photo we got with Santa and Mrs. Claus while we stayed at Great Wolf Lodge a couple of year ago. Get a great frame, and the photos you take with your kids and Santa can be just as fun as the professional ones!
Free Santa Photo Opps with Your Own Camera:
(Washington)
Here are some ideas for where you will find Santa if you want to get free photos with your own camera!
Pike Place Market – Nov. 26 – take pictures with Santa from 11am to 5pm!
Edmonds Tree Lighting Ceremony – Nov. 26th – festivities and photo opps with Santa.
Woodenville Winterfest at Molbaks on 11/27 – fun festivities and photo opps with Santa!
Mulkilteo Holiday Tree Lighting – 12/3 – festivities plus photo opps with Mr. & Mrs. Claus
Everett Tanks Giving – 12/3 –  festivities plus photo opps with Mr. & Mrs. Claus
Sky Nursery – December 3rd, Take photos with Santa and other festivities.
Lynnwood Holiday Open House – 12/4
Downtown Historic Snohomish – Weekends through December 20th.
Molbaks – Saturdays and Sundays through 12/21 10am to 2pm
Free Photos you can take yourself at Sunrise Village on 12/3,10 and 17thwith Santa in his Sleigh!
(Oregon)
Hometown Holidays December 8th in downtown Camas. (also enjoy hay rides, kids' crafts, tree lighting and a hot cocoa bar).
Decemberville  December 3rd  in Southeast Portland. Enjoy free antler ears while supplies last, double-decker bus rides, and more. Donations of toys and children's clothes requested to support. Raphael House.
Dennis 7 Dees – December 2, 3 and 4th – Bring your camera for free photo with Santa or the Reindeer
 Santa's Place – East Portland, Bring your own Camera and get photos with Santa and kids can play in the toy shop too!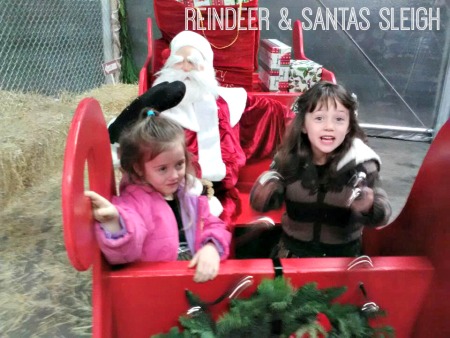 This Santa Sleigh is Carpinitos in Kent, and there are live reindeer for viewing behind the fence you see in the picture above. Viewing and photos with your own camera are FREE!
Free Reindeer Photo Opps:
Swansons Reindeer Festival in Seattle
Carpinito Bros in Kent
Watson's Nursery in Puyallup
Bothel Country Village
More Posts you Might Be Interested In: