Christmas In Bellevue – FREE & Affordable Family Fun for The Entire Family!
This post may contain affiliate links and I may be compensated for this post. Please read our disclosure policy here.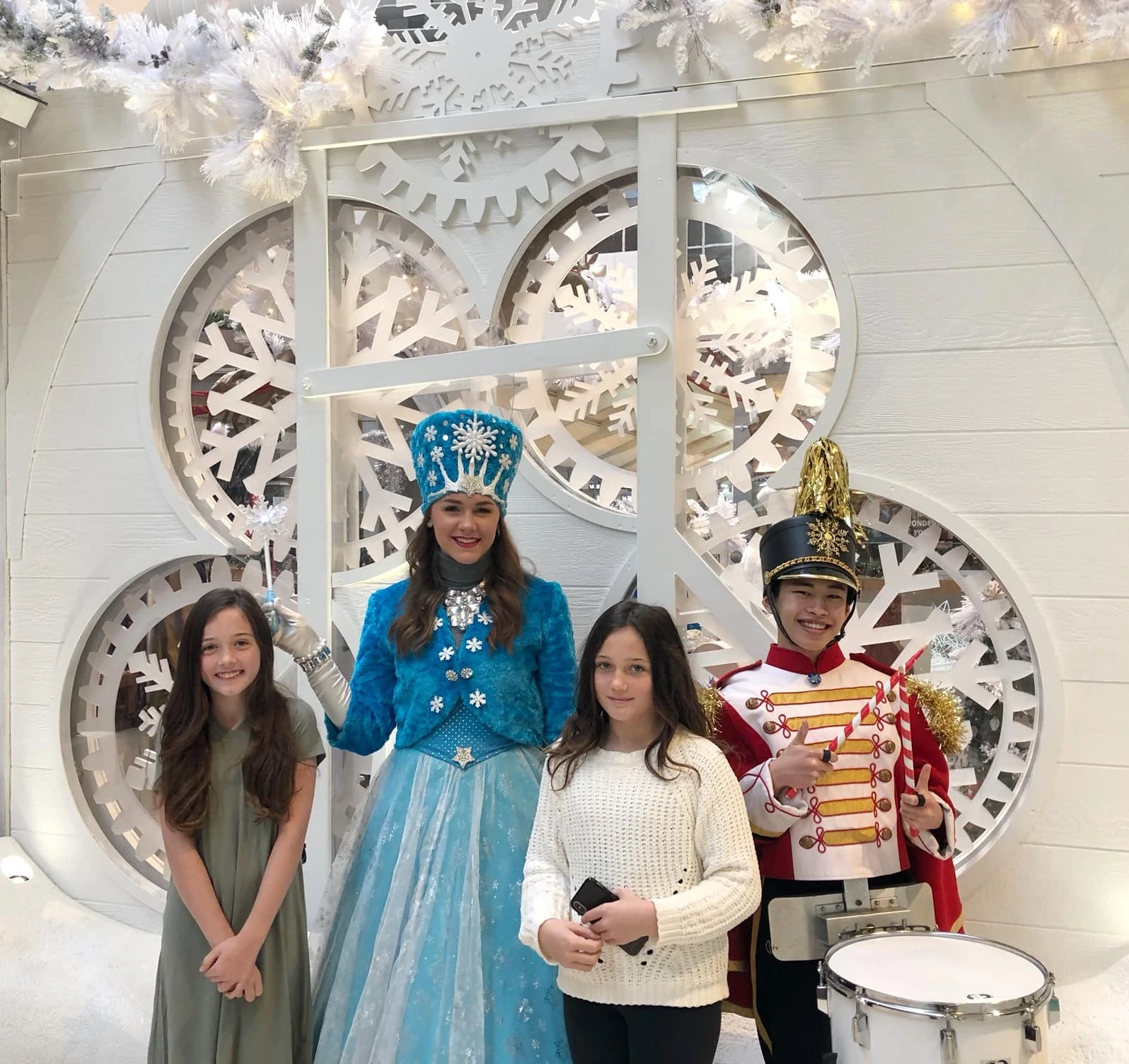 Christmas in Bellevue 
Bellevue has so many free and affordable things to enjoy during the Christmas Season, that we wanted to share with you some of our favorites. It is a great destination city to plan a fun holiday day out. We love to even make it an overnight trip. There are lots of things to do in the area, and I find getting in and out of Bellevue (and parking in Bellevue) to be much easier then Seattle. For that reason alone, it is a favorite of my families each Christmas Season, but beyond that there are a ton of festivities going on.
During our last visit to Bellevue we stayed at the Embassy Suites (we did a stay-cation over the summer). It is a little drive out of the downtown area, but it is such a family friendly hotel, and the prices are fair (they offer free full breakfast and free snack hours in the evening, so consider those cost savings and free parking too), so we love to stay with them. You can check out our review of the Embassy Suites Bellevue here if you are thinking of making it an overnight trip.
Here are some highlights of things we like to do in Bellevue during the Christmas Season: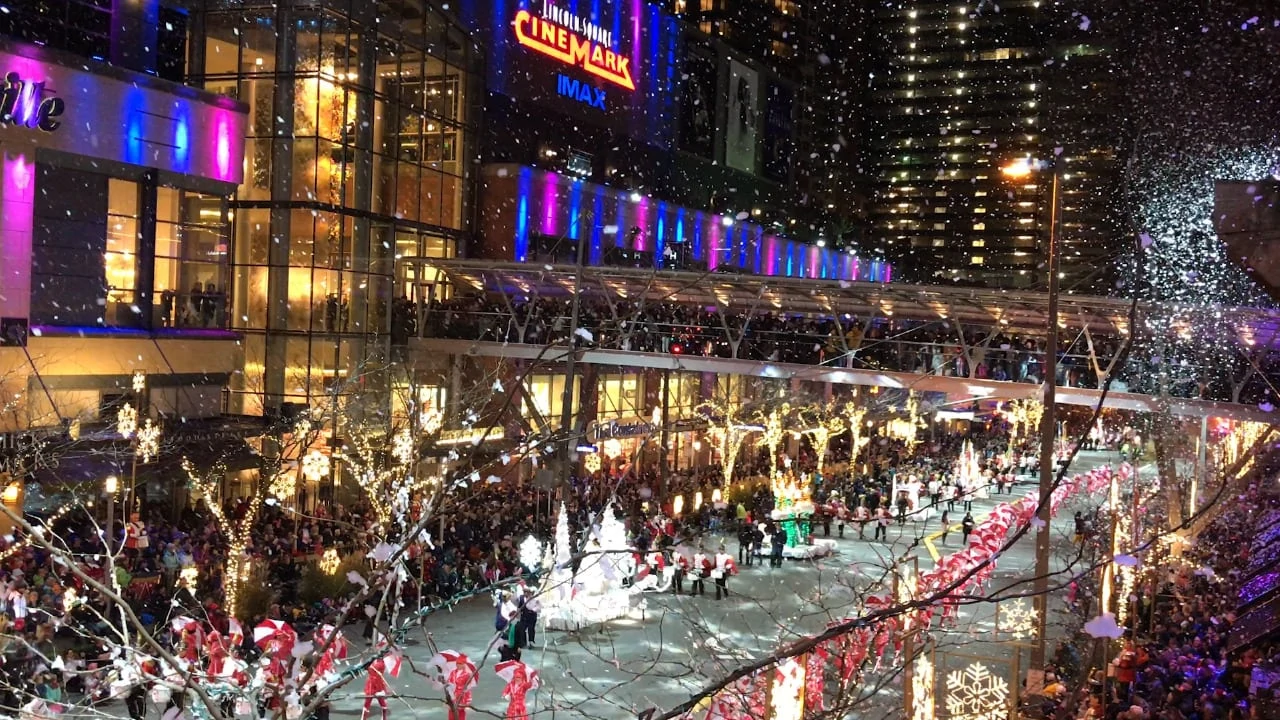 This is one of the big draws to Bellevue each Christmas season, and it is completely FREE! Each night through the end of the year, at 7pm, you will find a fun show happening at
It snows, and the Soldiers come alive, there is a parade and so much more. This is a wonderful family tradition to start, as your kids will remember this for years to come.
To avoid the hustle and bustle of Bellevue Way, we suggest arriving no later than 6:15 p.m. to ensure you get the best photos and view! Our recommended viewing spot is on the corner of NE 6th St and Bellevue Way NE, just outside the Bellevue Arts Museum.
After Snowflake Lane, head over to one of The Bellevue Collection's many restaurants for a holiday meal! We advise you make reservations as Snowflake Lane brings many visitors downtown. We tried to get in last year without a reservation, and it was a very difficult task – we were turned away from two spots before finding one we could wait for a half hour at.
Santas Snowflake Lane Factory (Pictures with Santa & More) – Bellevue Square –
If you are looking for a great spot to get Santa Photos, my kids loved the Santas Snowflake Lane Factory at Bellevue Square Mall. You start off by walking down a short hall themed with beautiful Christmas decor.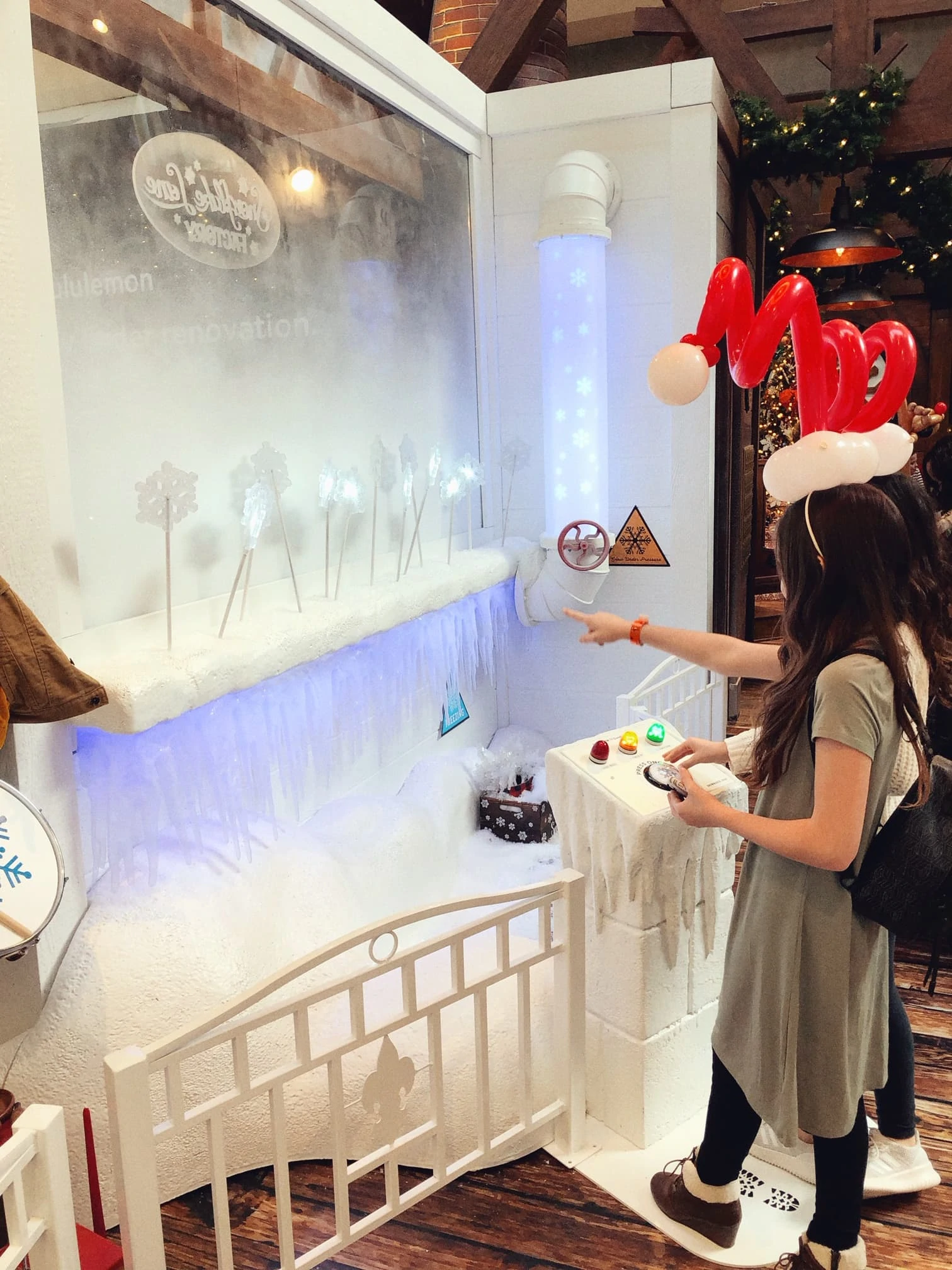 The kids can stop and make some snow for the parade that will happen later that evening!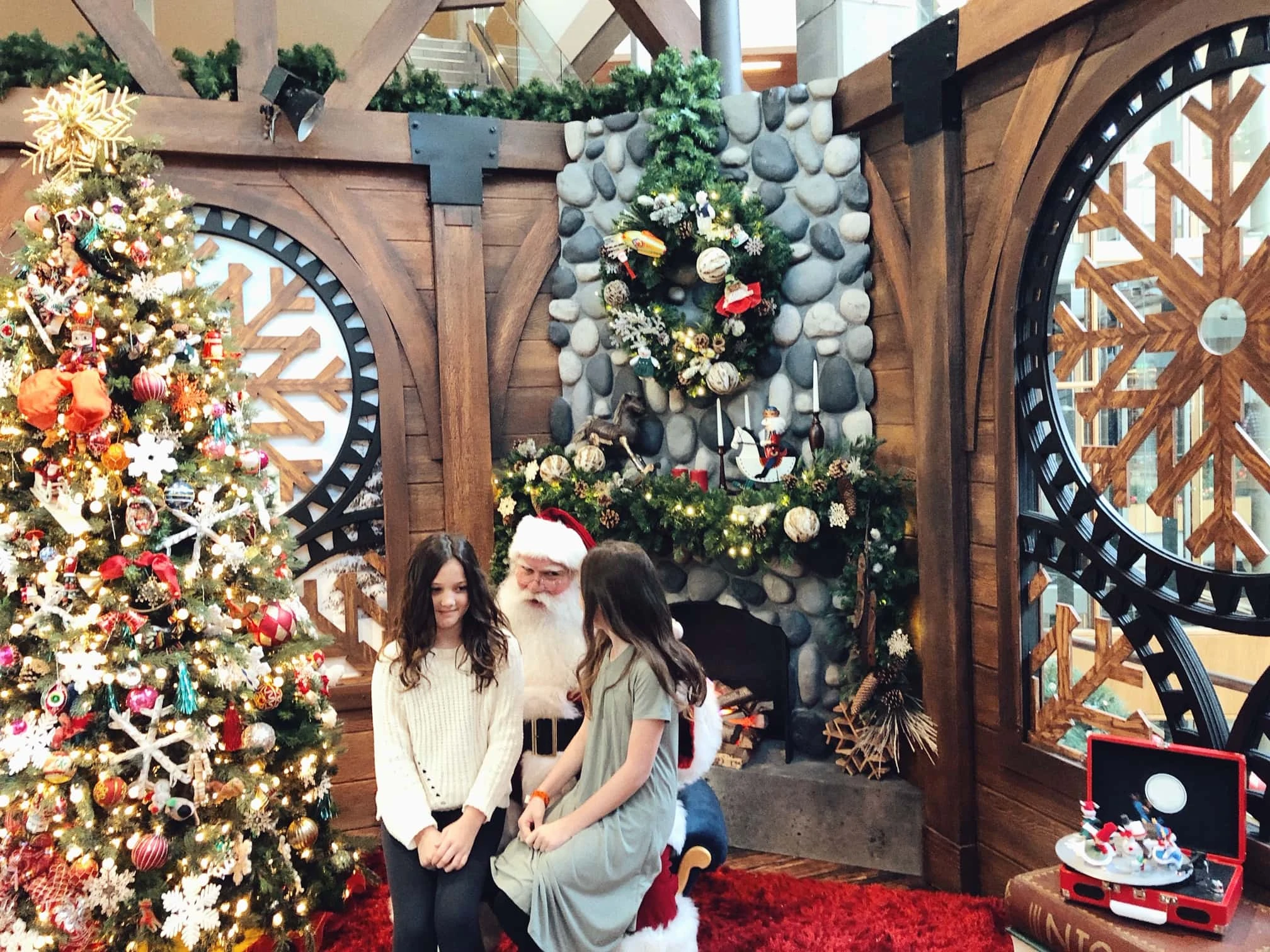 When they finally get to Santa they have a beautiful backdrop set up for photos. I loved the Santa photo we go here, the backdrop was perfect, and Santa was patient with my kids.
After you get your Santa photo there are some other fun things to enjoy at the Bellevue Square Mall too. You can start by checking out the Special Events Schedule here, to schedule your visit with holiday events you might be interested in.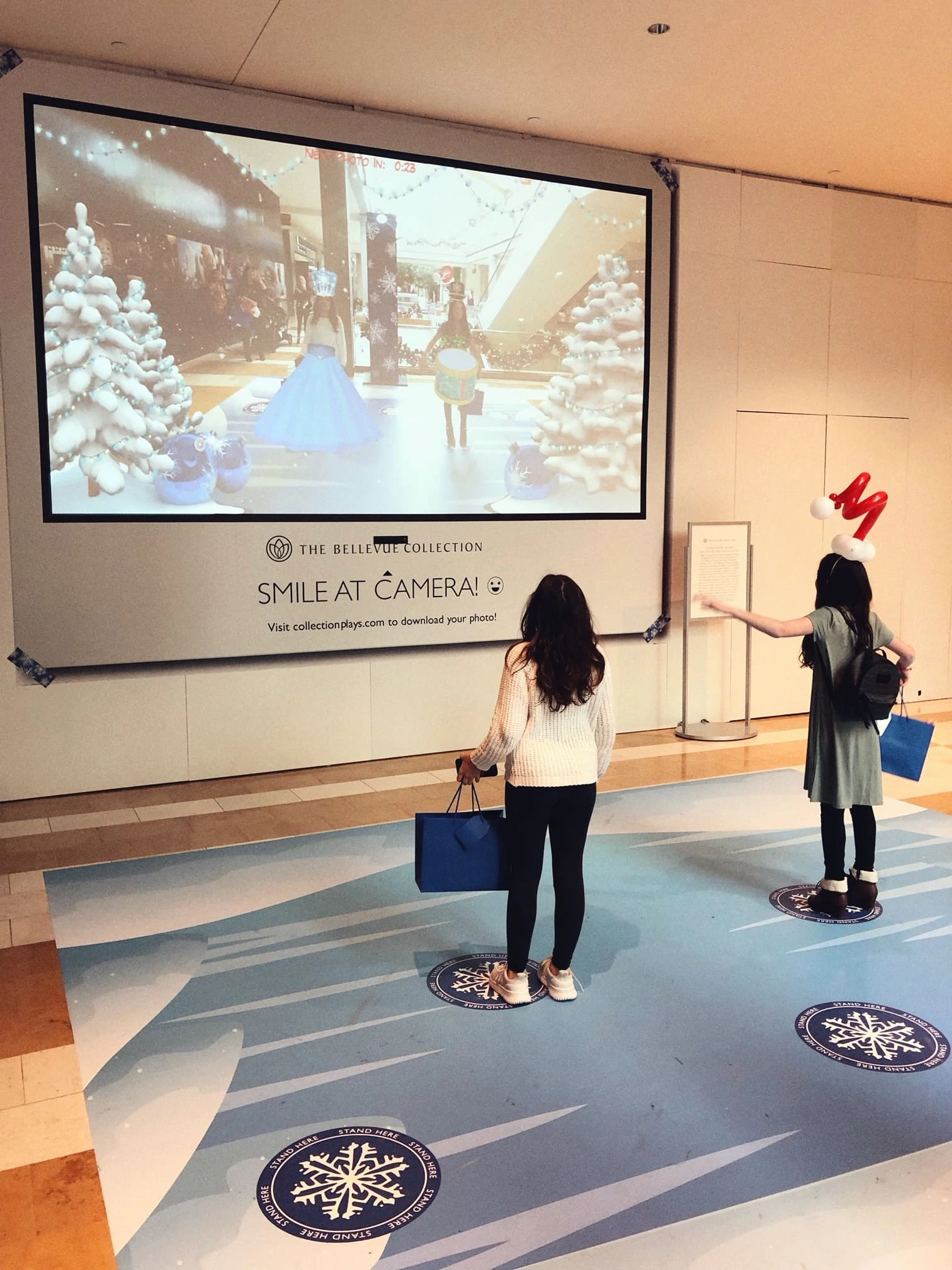 This Virtual Reality screen was great. The kids can find where they want to be placed in the picture, then they take an photo of  you that can be downloaded online for FREE!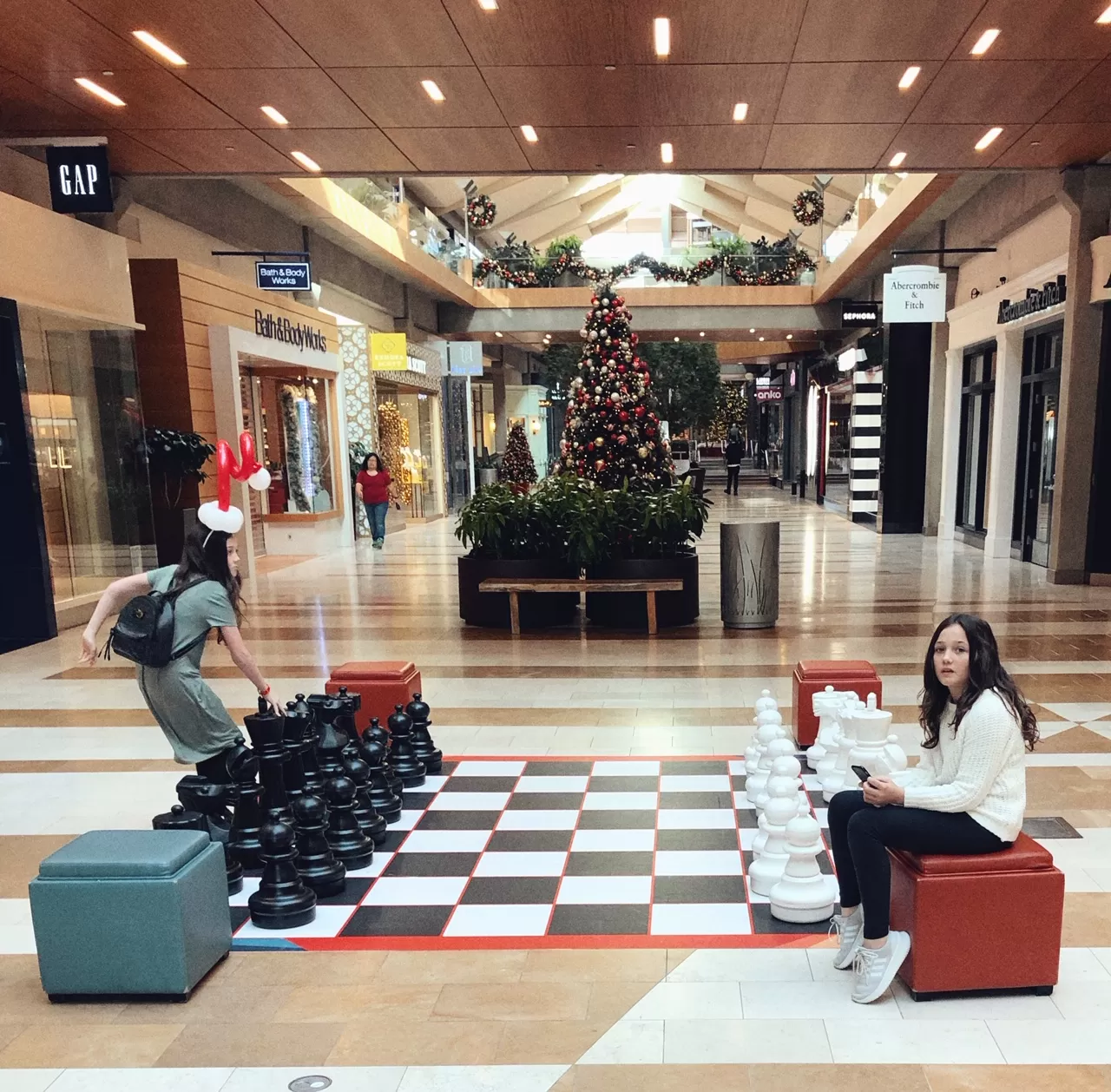 There are also some fun games the whole family can play near the VR screen (chess, connect 4 and more)!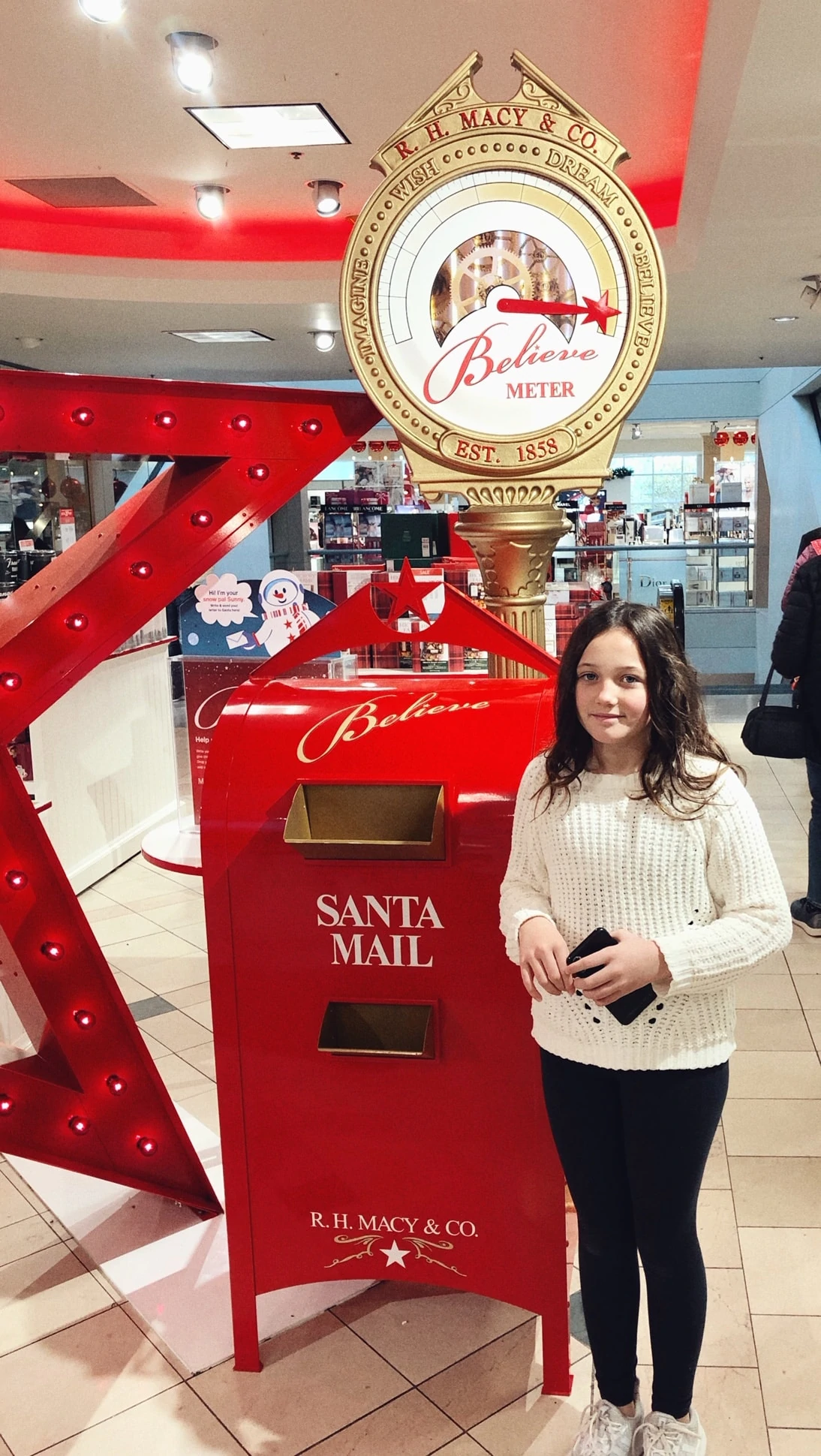 Santa Letters at Macys! If your kids want to drop off a letter to Santa be sure to visit Macy's, where they have a large letter box you can put those in.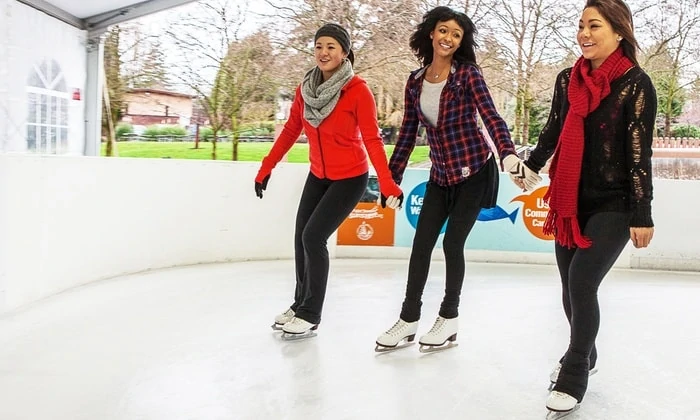 Ice Skating –
Bellevue has an outdoor ice arena my kids love. You can get discount tickets for it on Groupon too. We have already bought our Groupon for this year, and plan to take the kids out there to enjoy a day of ice skating in December. They cannot wait!
The Ice Arena is at the park right across the street from the Bellevue Square Mall, so easy to get to after enjoy the festivities there.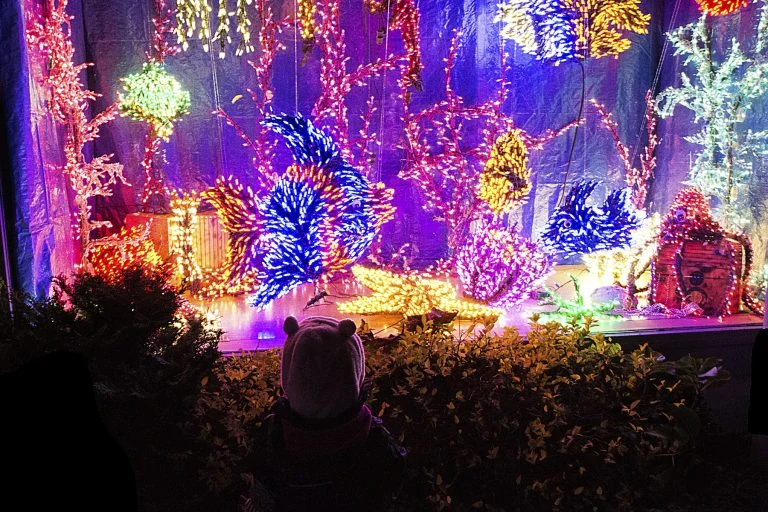 If your looking for a great place to look at Christmas lights, consider Bellevue Botanical Gardens. They have a few free nights, but even on the fee based nights, it still is very affordable. You can see our review of visiting Bellevue Botanical Gardens in the summer here, but come this time of the year it lights up with beautiful trails of Christmas light displays. Tickets are $5 per person; children 10 and under are free and do not need a ticket, so it is a very affordable event for families to see Christmas lights. It is a short drive from the downtown Bellevue area, but well worth it.
Other spots we love to entertain the kids in Bellevue:
Bowling, or Arcade Fun at Lucky Strike Bowling and Arcade.
There are tons of wonderful restaurants in the area.  We share a couple of our favorites in our Staycation in Bellevue post here (hands down, my kids favorite is Din Tai Fung (I recommend making reservations!). We have also heard great things about the Sugar Factory, but have not had a chance to check that one out personally yet (those we know who have, loved it!).
More articles you might like: