Bellevue Staycation – Exploring the Eastside with Your Family!
This post may contain affiliate links and I may be compensated for this post. Please read our disclosure policy here.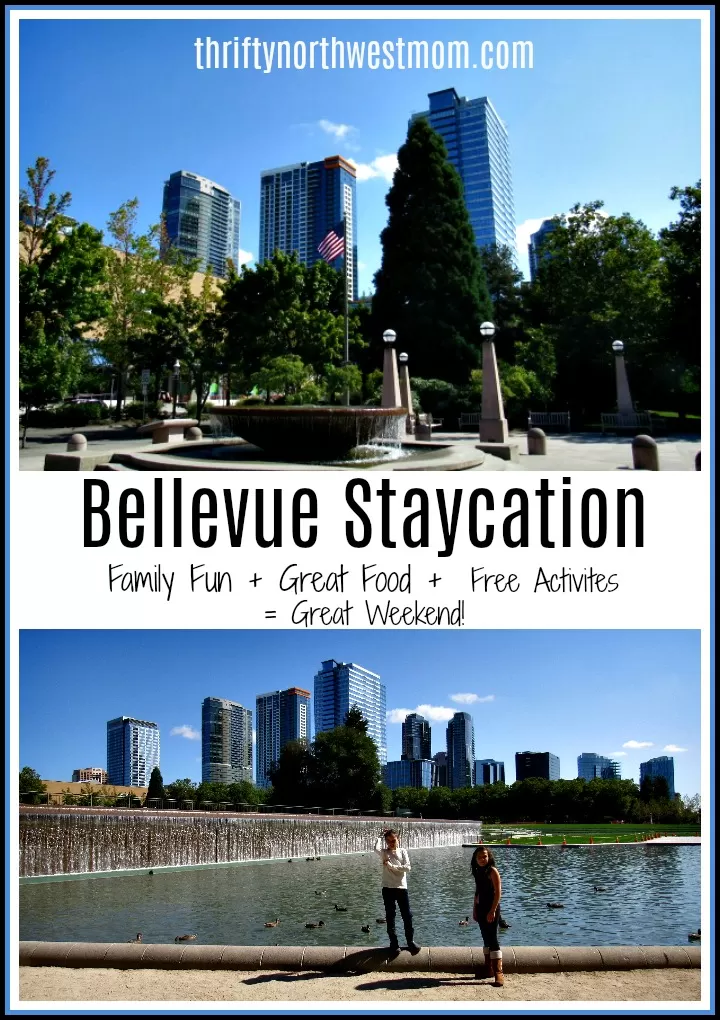 Bellevue Staycation Ideas
My family loves staycations. They are a way we can get out, and explore, relax or whatever our agenda is at that time, without having to deal with flights, or really long drives, etc. They are also great weekend opportunities, when you do not have alot of time for a vacation. The other thing I really like about staycations, is that they are often more affordable then a standard vacation.
We have shared over 100 ideas of free or low cost things to do on a Staycation in Seattle here, and Staycation Portland ideas here. Now, we are excited to share Bellevue Staycation ideas, and ways to explore the Eastside with many family fun ideas.
My girls, my mom and I recently did a girls weekend staycation in Bellevue and stayed at the Embassy Suites Bellevue as our base camp. We share more about the hotel here (offers free breakfast, cocktail/snack hour and more)! We had a great weekend, and share many ideas of things we did and enjoyed, and hope you enjoy them too. We will also be sure to provide a list of many ideas of things to do in Bellevue and surrounding areas, that you can use to plan your staycation in Bellevue.
I have to tell you, this little getaway really surprised me. We live about 20 miles outside of Bellevue, so not too far. I worked there for a number of years when I was a younger mom, but it had been awhile since we had explored the area. There was so much I realized I had not seen, and we had a really great weekend exploring, eating and relaxing. It makes a perfect short getaway. We planned our trip around getting some school shopping done (since there are multiple shopping options in the area) but you could really plan this just about any time of the year and have a good time. There was more then we were able to see and do in one weekend, so plenty of options depending on how your family likes to spend your time.
Ideas on What to See & Do:

Since we were doing some school shopping, we started at the Bellevue Collection's Bellevue Square. There are not tons of kids stores there, but what I found was that some of the stores had kids sections in them, and it is a very nice mall. This worked out well since my kids are hitting that pre-teen stage, and so there were some fun options for shopping that we don't have near us. Uniqlo was a favorite stop for my kids in this mall as far as affordable shopping goes, and its the only one in the area as well.
If you have little ones and want a break, you can head up to the third floor above the information desk, and there is an indoor playground the kids can enjoy (pictured above).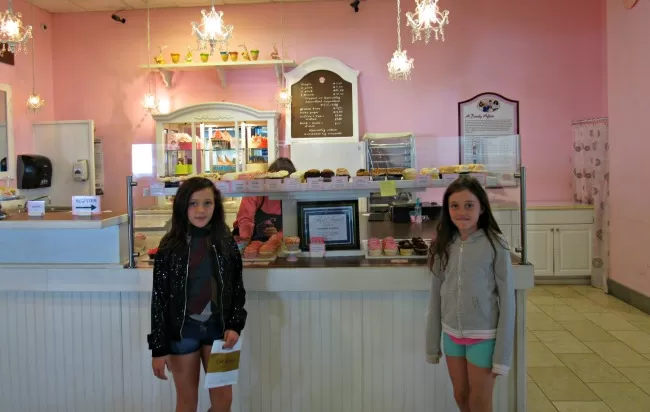 Also on the third floor was a cupcake shop my girls loved. We hit it twice during our weekend visit! The cupcakes where very good.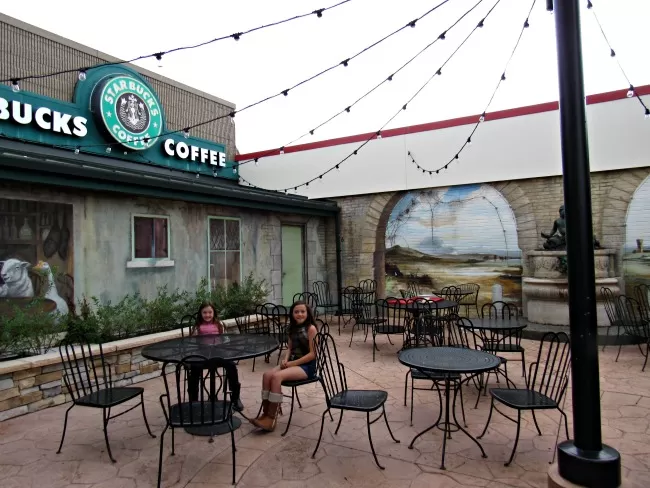 We had a great time at the Crossroads shopping area on a Friday evening. We started by having a nice dinner at Tutta Bella Neapolitan Pizzeria (see below for more on that). Then there was this really cool courtyard outside the mall (and book store) where you could relax with a coffee or dessert and do some people watching, or enjoy a cup of coffee. This mall offers various events (they had live music the Friday we were there) but it is a particularly friendly spot if you have little ones, as there is quite a bit for them to do.
This spot has shopping options that are more family friendly overall as well (like Old Navy, Famous Footwear, etc.), so was a good option for some back to school shopping for us.
Inside the shopping strip where spots like Wiggle Works for little ones, or an art studio where kids of all ages could paint ceramic pieces and more.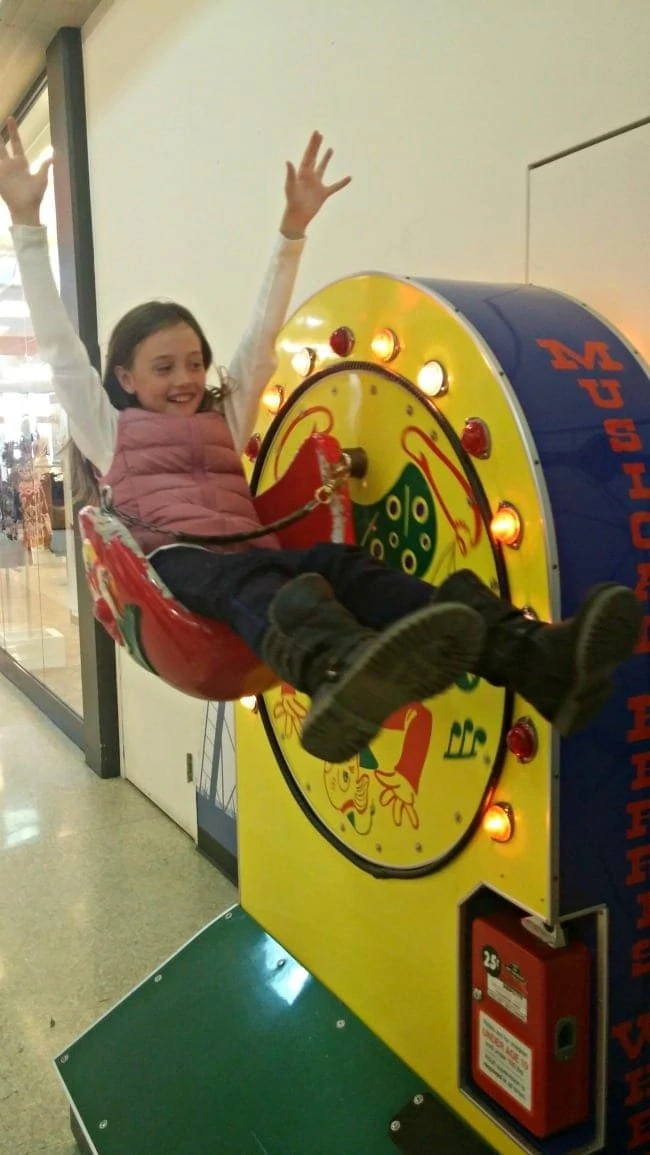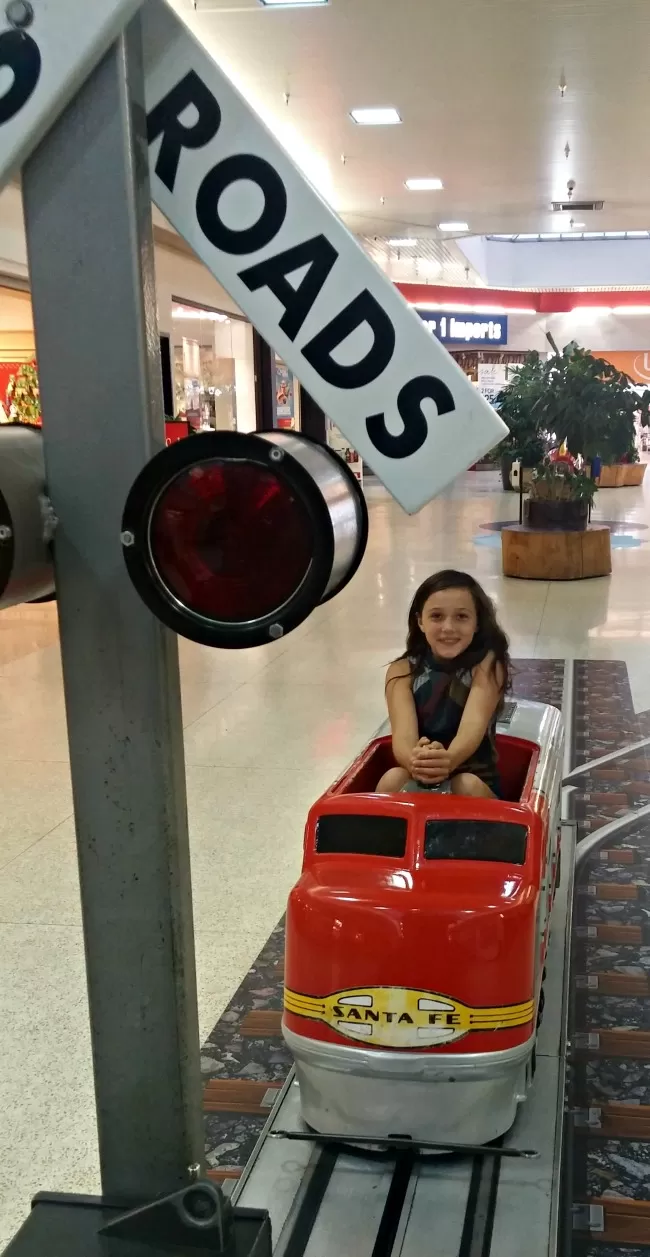 There were also these fun kids rides that run off of quarters! My kids were a bit big for them, but insisted on partaking anyway! You will also find a jumbo chess game and board game tables, and many more family friendly things to do for an afternoon or evening here.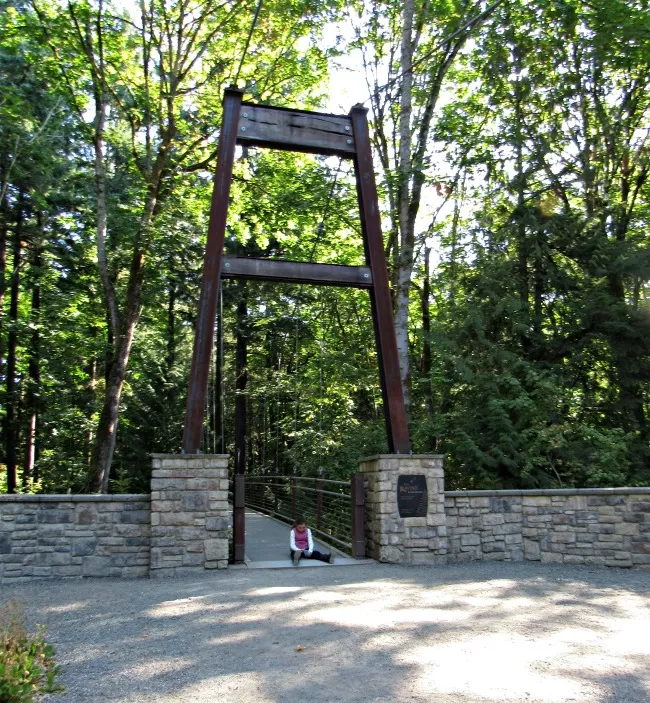 Visiting the Bellevue Botanical Garden was a highlight for us! We have a full review of our visit to the Bellevue Botanical Garden here. I highly recommend a visit. It's free, and a beautiful and serene spot just a short drive from the downtown area.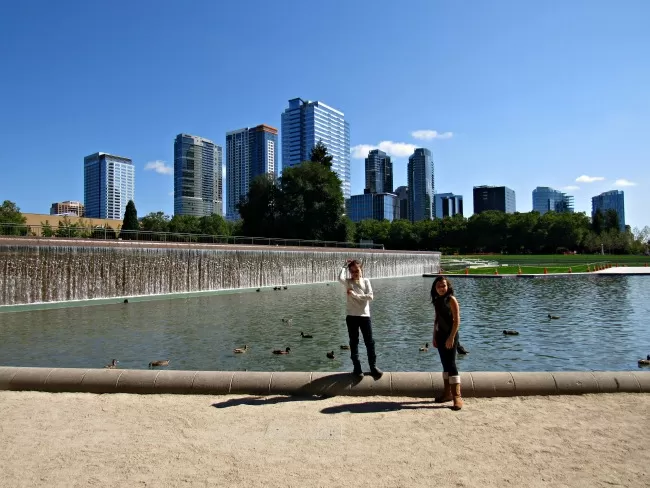 Bellevue has some really great parks. We visited a few during our weekend trip, but there were more then we could make it to see. That leaves plenty to explore for another date!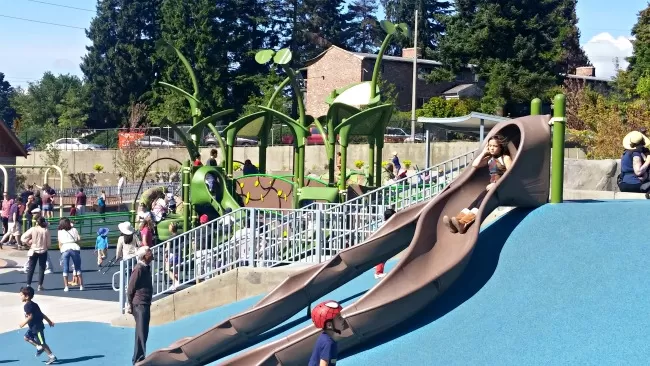 Downtown Bellevue Park – This spot is a very popular park in the downtown Bellevue area (right across from the mall). We have a full review of the park here, but it offers a fantastic playground, spray park for the summer, walking paths, green spaces, water features and more!
Wilburton Park – My kids love parks that offer a zip line, and this was one of them. It was not crowded when we visit, and you can couple this one with a visit to the Botanical Garden as they are very close to each other (can walk from one to the other). You can find a review of this park here.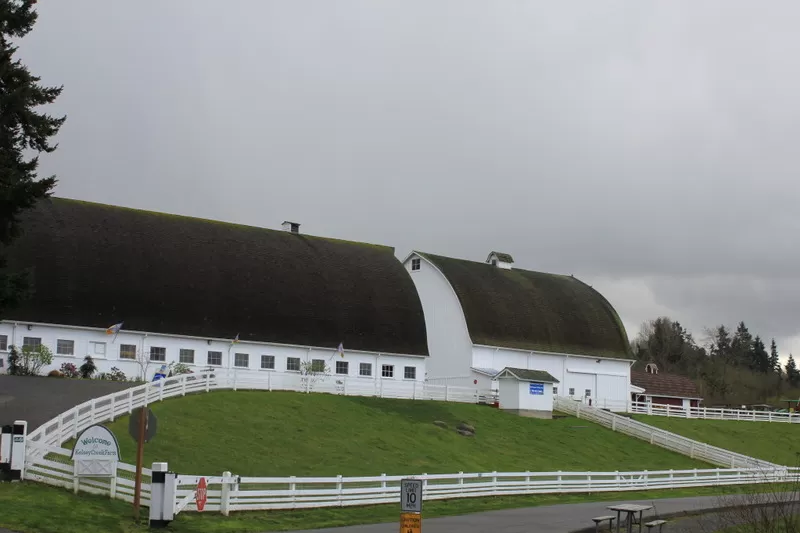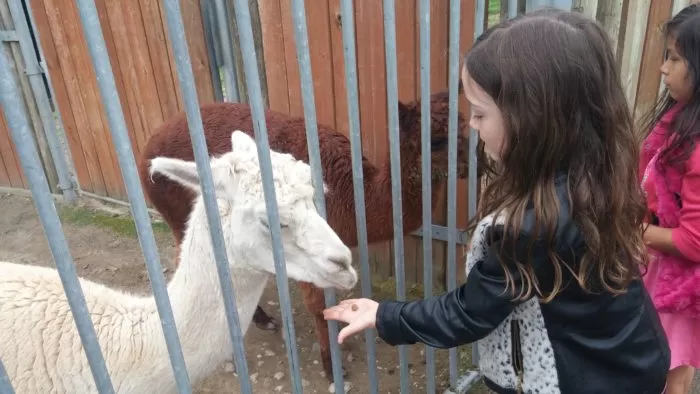 If your kids love zoo's, and you don't mind a short drive you can visit the Cougar Mountain Zoo in Issaquah as well. It's about a 15 minute drive from the downtown Bellevue area, but it's a pretty drive.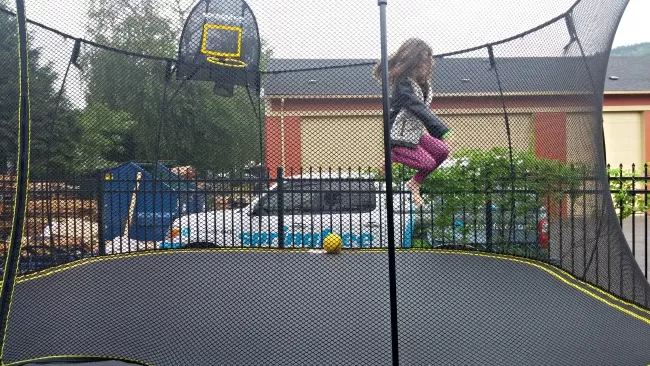 If you do head up there, be sure to stop in at the Spring Free Trampoline store, as your kids can enjoy some free trampoline fun too!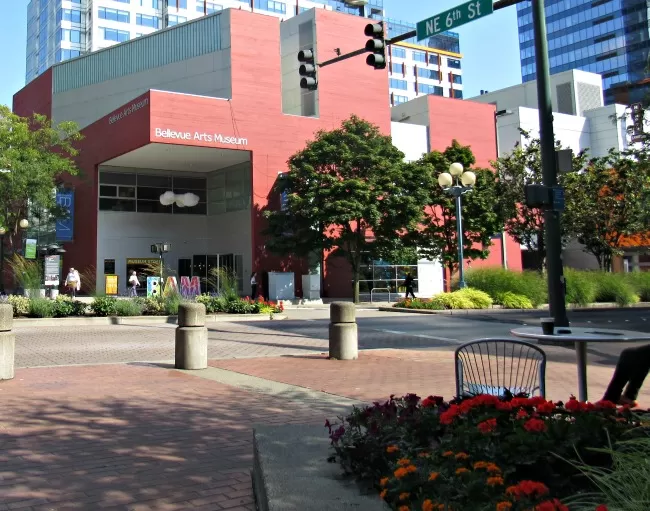 The Bellevue Art Museum is located directly across the street from the mall (outside Macys, near the Cheesecake Factory area). There are a handful of ways you can enjoy the Bellevue Art Museum for free. You can free get free admission to the Museum the first Friday of each month, or students can get in for free on the second Wed. of each month with this coupon here. You can also get free tickets from the Public Libraries if you have an active library card (free to get). If you are visiting as a family, they also offer many kids events. You can find the schedule for those here.
This is a fun STEM oriented kids museum in the downtown Bellevue area. It can add up for a family, but there are some special programs that offer discount admission rates (The Museums for All rate is $3 per person for up to 4 people with proof of participation in the following programs: EBT, CHIP, Provider One, or WIC), or you can get free tickets from the Public Libraries if you have an active library card (free to get).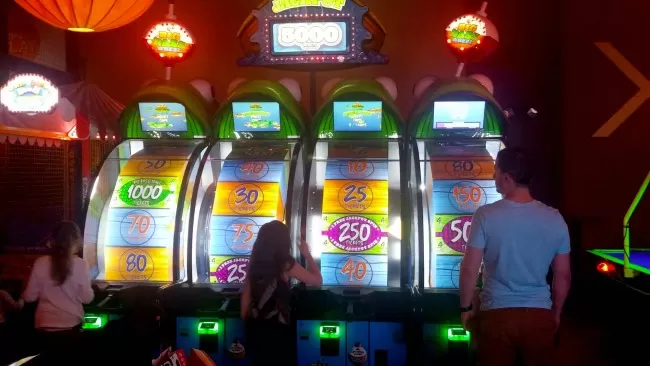 This spot is located in the Lincoln Town Center, and you can get there from the street front, or you can also take one of the glass sky bridges across from the Mall area. We went in the afternoon (it turns into more of a nightclub atmosphere in the evening) and the kids had fun playing some arcade games for sometime for $20 (I got two $10 cards).
Where to Eat: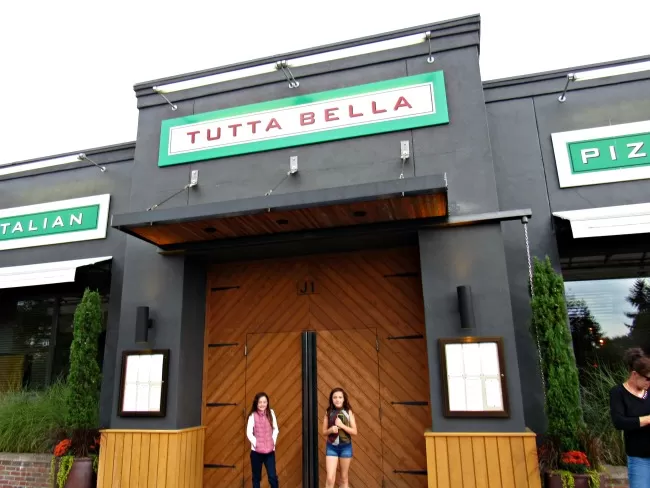 We ate here Friday night, and it was a great Friday night spot. The food was delicious, the prices affordable, and it was a nice casual atmosphere.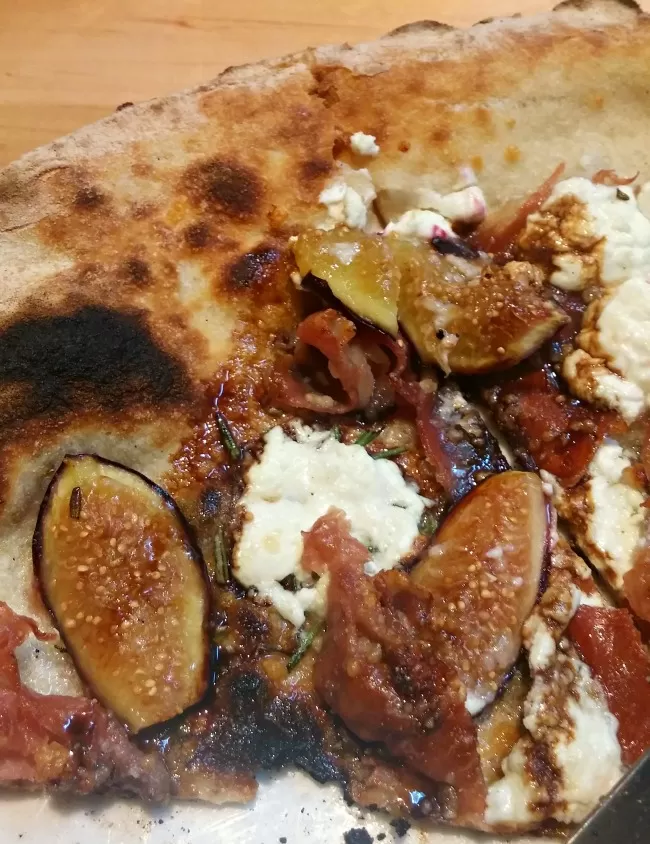 I had their seasonal fig pizza, and it was amazing! The prices here were very family friendly if you share a pizza, and we really enjoyed our evening here. It was laid back, service was great, and we were able to explore the Crossroads Mall afterwards.
If you want a splurge meal this place was one of our favorites. We went for lunch, as dinner can get pricier, but it was a real treat. We ate there on a warm day, so the front of the restaurant where open to the street and we were able to people watch and relax with a cool breeze while we ate. The food was outstanding and the ambiance was one of my favorites. I do recommend going for lunch to help you save over what dinner will cost.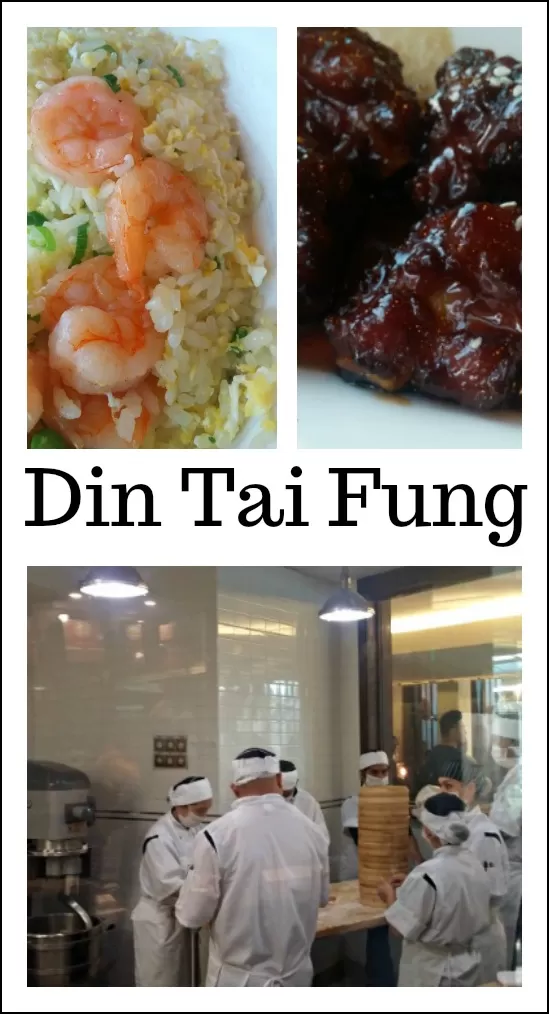 This was one of our favorite dinners out. It's located in the Lincoln Center, right across from Bellevue Collection Mall. You can watch them making the noodles in the front windows, and you order the food family style and share. Everything we ate here was delicious, and it was unanimously one of our favorite spots for the entire family. Service was very attentive here as well. I do recommend making reservations. It seemed to be the busiest spot in the area, and there was quite a wait outside.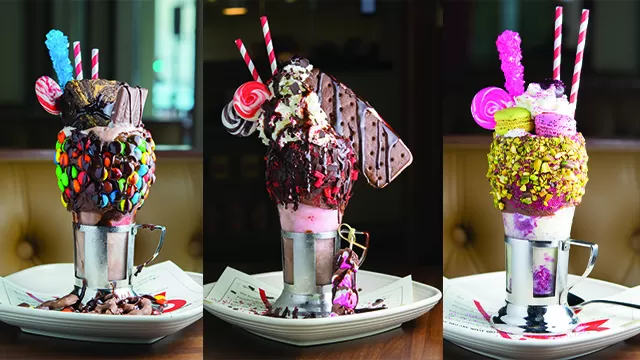 If you are looking for a special treat while you are in Bellevue, take the kids to Vivo 53 for an Insane Sundae. It's one dessert time they will never forget!
More dining ideas:
In addition to the spots we dined at during our weekend, you can find many more options here including Hokkaidos Ramen Santouka, which I have heard is great. There are more affordable spots, or look for a happy hour special, or share a plate. The dining selection was great, so we enjoyed some splurge spots on our trip.
Looking for more ideas on what to do on a visit to Bellevue. Be sure to check out the Visit Bellevue Washington site. Not only do they have more ideas on family friendly things to do, there are also great ideas for a couples getaway and more. They also offer some ideas on weekend itineraries page here or the weekend getaways page here, if you want someone else to do the planning for you.
More articles you might be interested in:
Disclosure: Visit Bellevue Washington hosted our stay so that we could share our favorite experiences with you. All opinions are 100% my own.