Wilburton Hill Park – Bellevue (Zip Line for Kids)!

The Pacific Northwest is filled with many opportunities to get your kids out and active on a budget. At the top of that list are the many parks we have throughout the Northwest. These include National Parks, State Parks, Neighborhood Parks, Water Parks, Lakes, Skate Parks and more! Lets face it though, not all parks are created equal. Not every family is looking for the same thing in a park outing, and different parks appeal to different ages. Some are all day outings, and some are perfect for a short outing. Find all of our NW Park Reviews here, and the Free National Parks days here.
We also post a weekly Frugal Family Fun roundup, of each weeks best and most affordable entertainment and event options for families. Be sure to check that out for more ideas on what to do on a budget!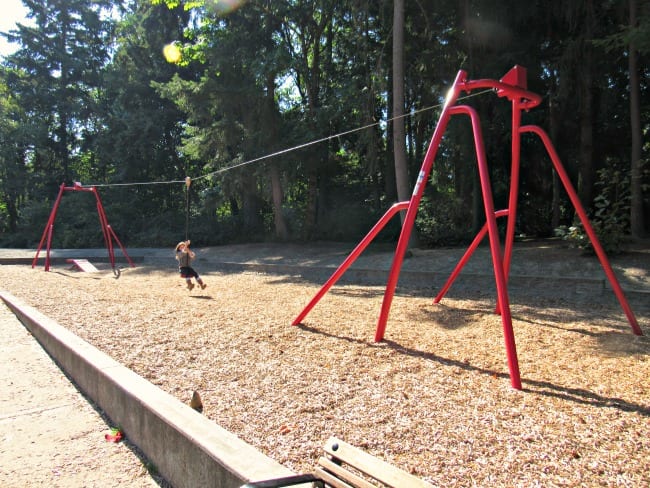 Zip Line The Kids Can Play On At This Park
The Willburton Hill Park is a 105.49 acres large is the largest upland park in the city of Bellevue. It is also connected to the Bellevue Botanical Gardens via the Lake to Lake trail. Between these two parks, you can have a few hours of fun with the kids! You could even follow the Lake To Lake Trail over to Kelsey Creek Park (it's 10 miles in all and more stops on the way), if you really want to make an entire day of it.
There is a zip line, which is one of my kids favorite toys to play on in a park, and lots of green space and various sports fields (soccer field, tennis courts, walking trails, etc).
Things To Know: (fees, parking availability, are there bathroom facilities, what to bring): 
This park is located on the Lake to Lake trail, which also connects it to the Bellevue Botanical Gardens (so you can park for free at either the park or the gardens and walk in between them.
There is exercise equipment for adults to use while the kids play, if you want to plan play time around time for you to get some exercise too!
Restroom facilities are available at both the park and the gardens.
Recommended for ages:
All Ages
Recommended eating spots nearby:
Walk over to the Bellevue Botanical Gardens Cafe for coffee, drinks and lunch menu.
Location:
450 110th Avenue NE, Bellevue, WA 98009-9012
From I-405, take the NE 8th Street exit going east. Turn right onto 124th Avenue NE. The park is on the left at the intersection of 124th and Main Street.
Review:
This park has tons of green space, and many sports fields (soccer, baseball, a running or walking track and tennis courts!). Plus, there is plenty of grassy space if you wanted to bring some of our own outdoor games to set up. We stumbled upon the park while we were walking trails from the Bellevue Botanical Garden, and where surprised by what a great park it was!
There is a play structure that has plenty for kids to do. For starters there is the zip line that you see above (my kids favorite).  There were swings, merry go rounds, and plenty for the kids to play on.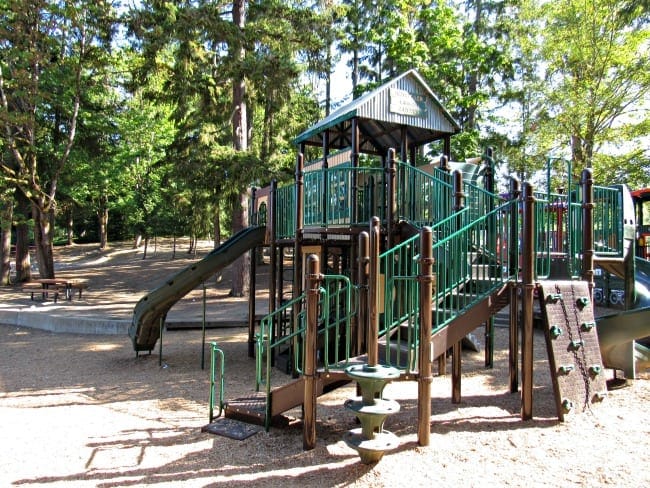 This is the main play structure with slides, and lots to climb around on.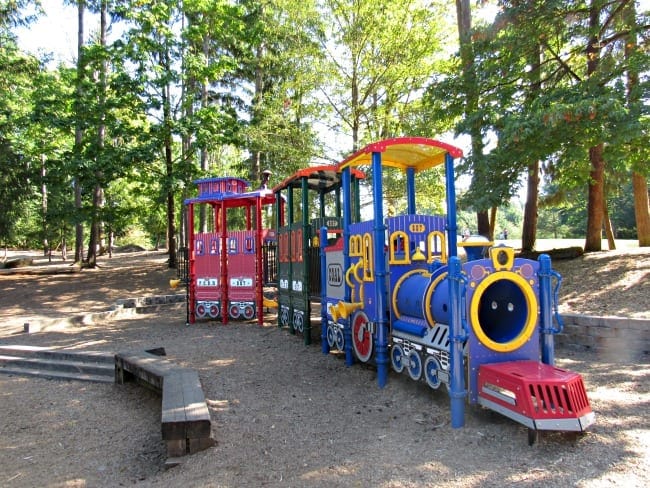 There is also a train themed play structure for younger kids, or train lovers.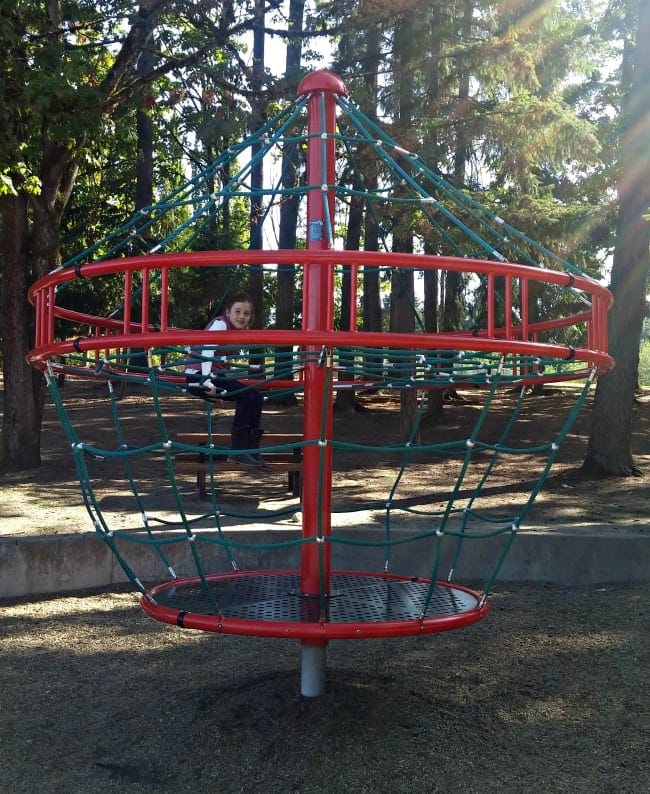 The merry go round is that fun kind, where they can climb to the top of it and be spun around!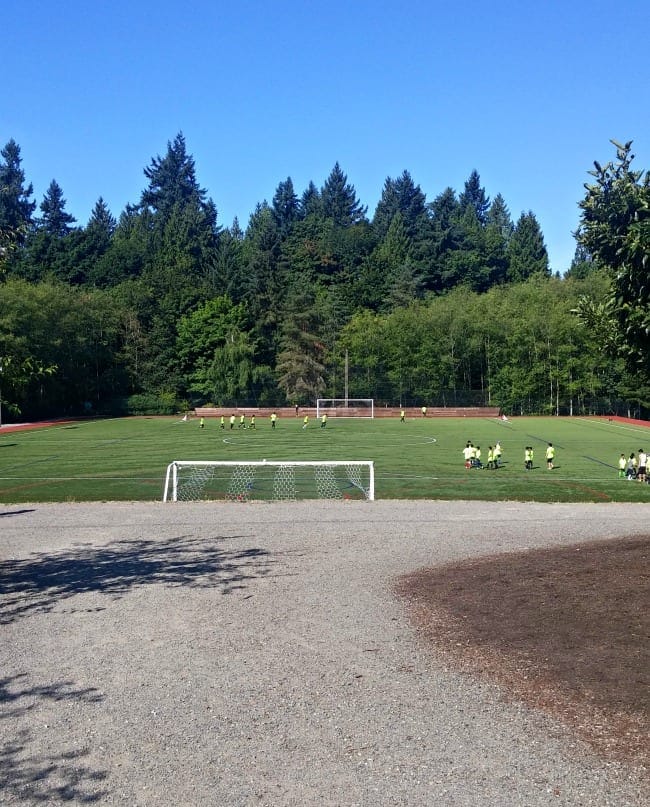 Here is a picture of the soccer fields, and the track that goes around it.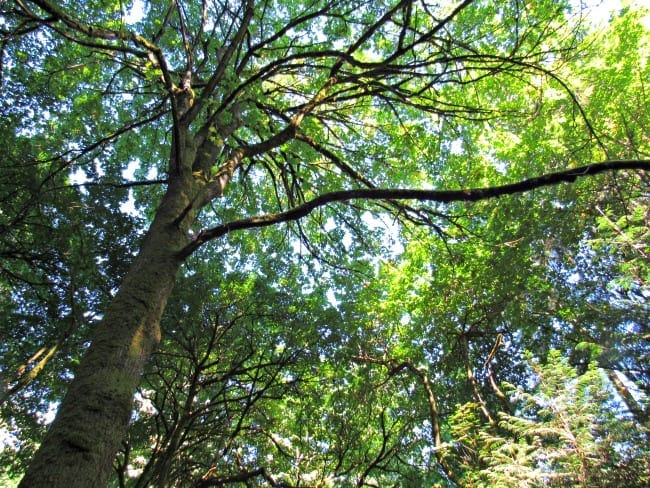 And there is plenty of shaded area in the forested areas around the park (here is a picture from the trail we walked in from).
We had a great day hanging out at this park, and exploring the Botanical Gardens. I look forward to going back!
More articles you might be interested in:
Bellevue Botanical Gardens