New Bellevue Downtown Park – Park Review
This post may contain affiliate links and I may be compensated for this post. Please read our disclosure policy here.

The Pacific Northwest is filled with many opportunities to get your kids out and active on a budget. At the top of that list are the many parks we have throughout the Northwest. These include National Parks, State Parks, Neighborhood Parks, Water Parks, Lakes, Skate Parks and more! Lets face it though, not all parks are created equal. Not every family is looking for the same thing in a park outing, and different parks appeal to different ages. Some are all day outings, and some are perfect for a short outing.
We will be providing you with a series of park reviews, so you will have some more detailed info when planning a day of frugal park fun for your family. We would also love to hear your thoughts and opinions on these parks. Please comment below with your review, additional tips, or anything else you want to add. If you have requests for additional parks that you would like to see reviews on please email us at [email protected] We are always looking for new ideas!
We also post a weekly Frugal Family Fun roundup, of each weeks best and most affordable entertainment and event options for families. Be sure to check that out for more ideas on what to do on a budget!
Highlights: (Favorite aspects of the park)
The Downtown Bellevue Park is in walking distance from the Bellevue Square Mall (you can even park there and walk over), plus its near many restaurants in walking distance if you want to do lunch too. Its a 21 acre park and there is water play, a sensory friendly playground, fields to play in, a walking trail around the park, and beautiful water features.
Things To Know: (fees, parking availability, are there bathroom facilities, what to bring). 
Water spray features will typically be operational from 10 a.m. to 8 p.m. daily through Labor Day.
There are a few parking lots in different areas around the park, plus its right across the street from the Bellevue Square Mall (park in the parking lot next to the 365 by Whole Foods store), so free parking should not be a problem visiting this park with so many options.
The parking lots for the park are:
The main lot is on 100th Avenue NE, and the entry is close to the mid-block of 100th between NE 4th Street and NE 1st Street.
The secondary lot is on NE 1st Street close to the intersection of NE 1st and 100th Avenue NE.  This lot is immediately adjacent to the playground.
It can get crowded on warm days, but there is lots to do.
Recommended for ages:
All ages. The playground equipment is best suited to pre-school and younger school age kids.
Recommended eating spots nearby:
Mod Pizza is near with their $5 mini pizzas. There are many restaurants in the mall, and surrounding areas too. 365 by Whole Foods store across the street as well. You can go in there and get some items you could enjoy as a picnic out at the park!
Location:
450 110th Avenue NE or PO Box 90012, Bellevue, WA 98009-9012
Review:
We were spending a weekend in Bellevue recently, and visited this great park that has recently gone through some new renovations. It was pretty impressive, and we all had a good time enjoying the park for an afternoon. We coupled our visit with some back to school shopping at the mall across the street, so were able to get some shopping done, and enjoy some relaxation and play time at the park too.
The Bellevue Park has recently gone through a major remodel, and it has alot to offer families now. There is a playground that was designed to accommodate many abilities and be accessible to kids off all different physical abilities. There is also a spray park area that kids can use to keep cool on warm summer days.
In addition to the playground there are walking paths and lots of green space for picnics, or many people were playing games like soccer and volleyball on the various fields while we were there.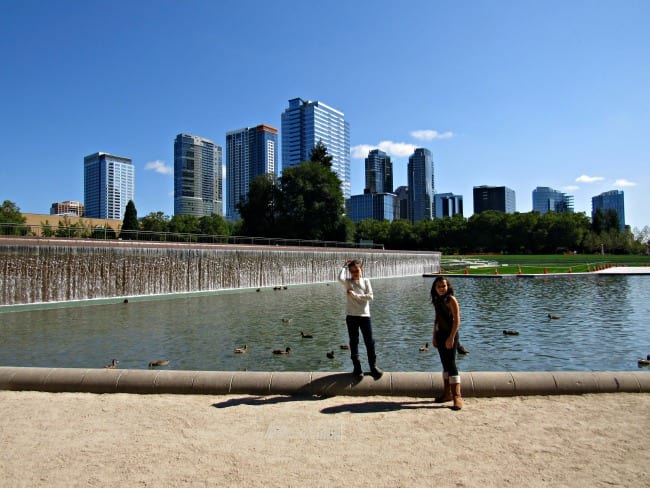 There is a beautiful water feature in the park, where the ducks are swimming around and the downtown bellevue skyscrape is your back drop.  There are benches nearby to sit in and enjoy the scenery, so it could make a great date visit too.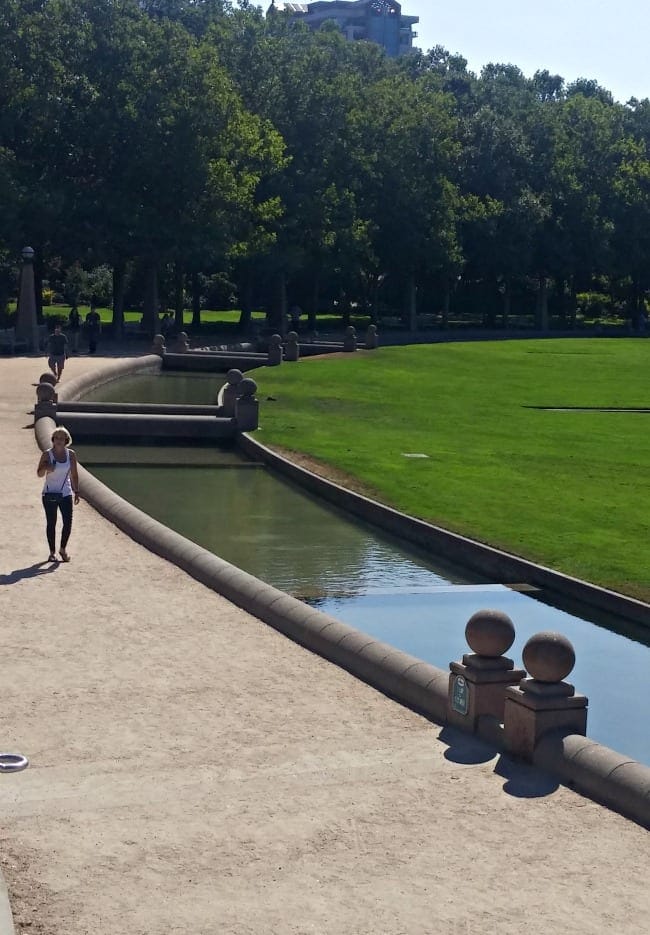 This canal goes around much of the walking path part of the park. There were many people out on their lunch breaks taking advantage of the walking trail, but not so many that you could not enjoy it yourself.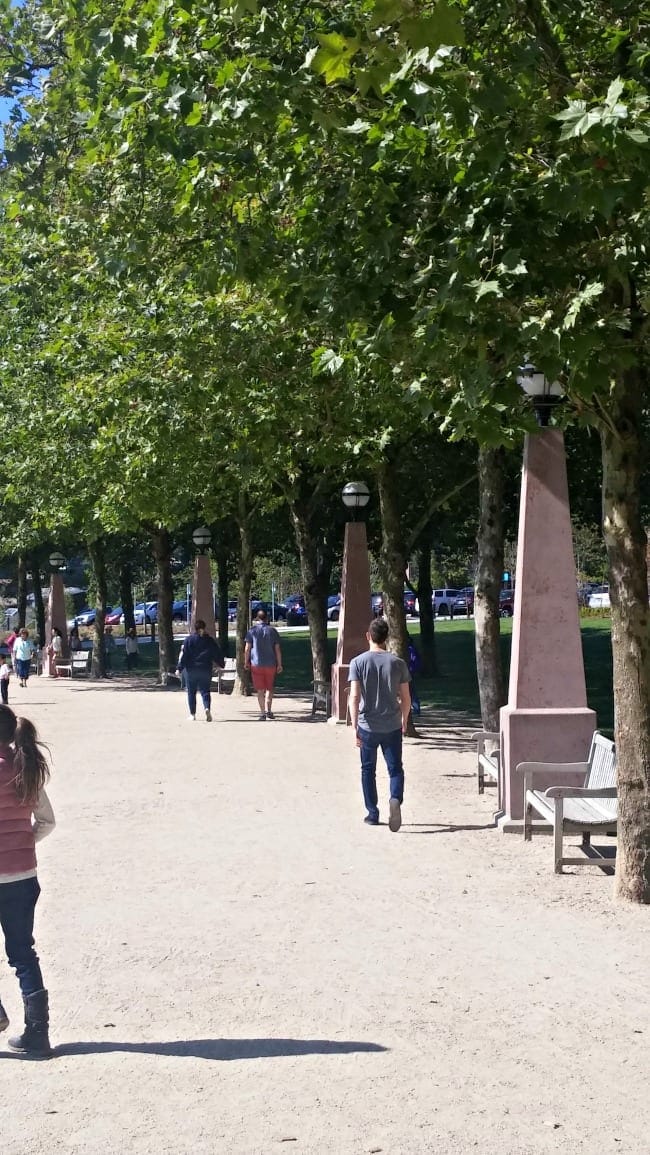 The walking path from another viewpoint. There is a 1/2 of walking trail that is easy to walk or push something like a stroller on.
The park as these great slides that kids can access via stairs, or from a walking path that goes up the other direction.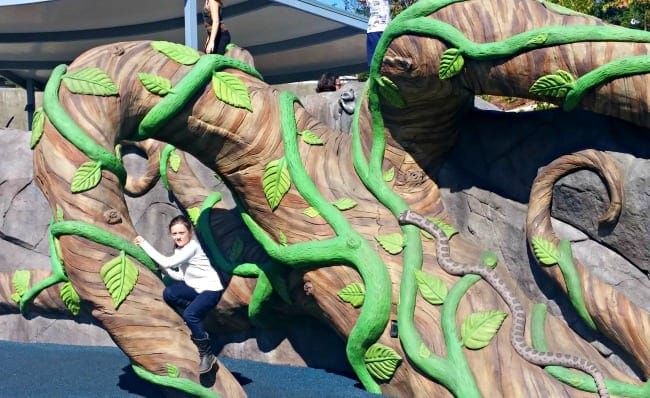 The Bean Stalk climbing structure was a hit with my kids for sure!
There was an in the ground trampoline, which was unique for a playground. It was not as bouncy as a normal trampoline, but still something fun that you do not find in every play yard.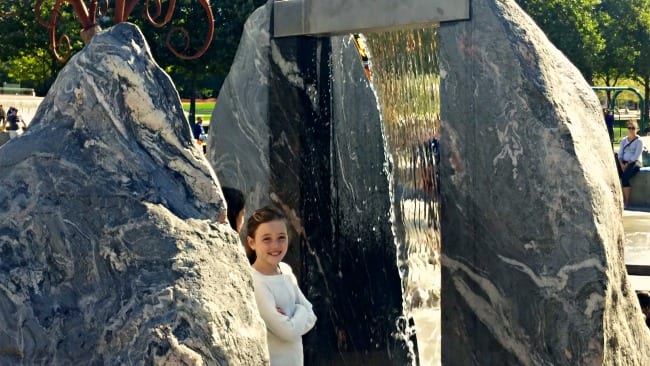 Waterfalls cascade from the rocks in the spray park area of the playground. There was other water fun too, but this area was very pretty.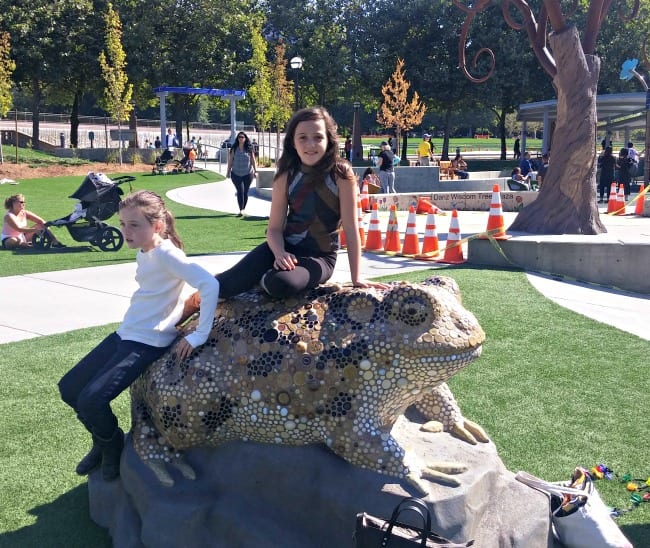 Lots of things the kids could climb on, including this fun mosaic frog.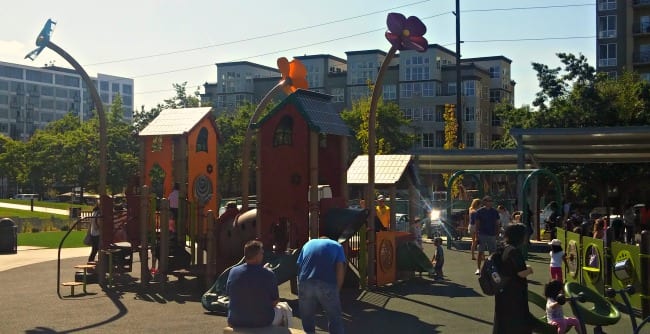 Whimsical play around for younger kids.
And a four person teeter totter that my kids thought was pretty cool.
Overall. we found the park to be clean and full of options of things to do. Although there were lots of people there on a Saturday in the summer, the playground is large with lots of area to play. Because of its size it can be harder to keep an eye on your kids if there of different ages and want to play in different areas, but we did not witness any issues while we were there, just something to keep in mind.
Additional Tips: (are there BBQ pits onsite, rental facilities, etc.)
There are restroom facilities, and again the mall is across the street if you wanted to go cool off with some air conditioning and use their restroom facilities.