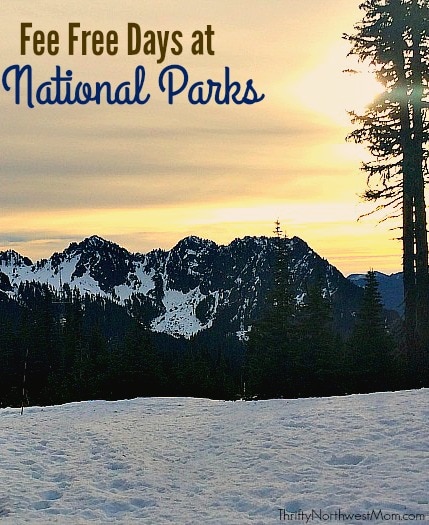 Free National Parks Day 2017
*This is a quick reminder that there  are several fee-free National Park days coming up for National Park Week in April, 2017. April 15 – 16 & April 22 – 23, 2017 are all fee-free days at any National Park or National public lands.

************
The National Parks have announced the FREE National Parks Days for 2017! On these Fee Free Days, you can get admission to National Parks  and Forests or Wildlife Refuges across the US that usually charge fees to enjoy. There are many that are free all the time, but there are 107 parks for you to enjoy on these fee-free days. Such a great way to explore new parks or old favorites with your family on a budget!
I love these fee free days and we have some beautiful parks in the NW worth exploring. Pack a picnic to take on your trek and all you need is some gas to get there for a great money saving day out!
Even though it's Spring, you can still enjoy some winter activities – check out our tips for Snowshoeing at Mt Rainier National Park.
Tips for Visiting National Parks During the Off-Season:
And if you're wondering if it's worth visiting National Parks during the off-season, make sure to check out our tips for visiting the National Parks during the Off-Season. It can be a great time to visit as you don't have all the crowds but can still experience the beauty of the parks & hidden gems you may not have otherwise found.
*Fee waiver includes: entrance fees, commercial tour fees, and transportation entrance fees. Other fees such as reservation, camping, tours, concession and fees collected by third parties are not included unless stated otherwise.
Free Admission to National Parks & Federal Lands for 4th Graders in 2017-2018 School Year:
Don't forget about FREE admission to National Parks & Federal Lands for all 4th graders this year from September 1st 2017 – Aug 31, 2018. We did this last year & got to visit some awesome National Parks with our girls including Crater Lake, Olympic, Redwoods, and Mt Rainier.
Here are the Free National Parks days schedule for 2017-
January 16: Martin Luther King Jr. Day
February 20: Presidents' Day
April 15-16 and 22-23: Weekends of National Park Week
August 25: National Park Service Birthday
September 30: National Public Lands Day
November 11-12: Veterans Day Weekend
Looking for a suggestion on where to go? Read about my family trip to Mt. Rainier National Park (pictures included!).
Do you have a favorite National Park you would like to recommend to the rest of us?  Leave a comment below, or share on the Thrifty NW Mom Facebook page (you can even upload your favorite photo from your family's trip there!).
Save
Save