National Park Free Admission for 4th Graders for 2021 – 2022 School Year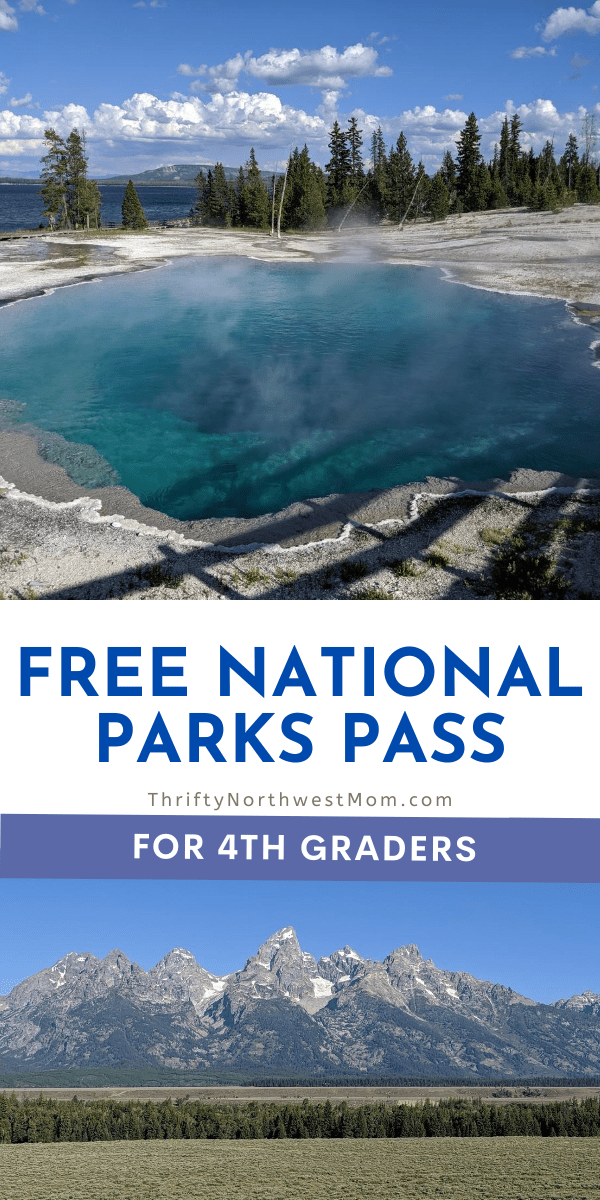 National Park Free Admission for 4th Graders in 2021 – 2022 School Year
Good news –  all 4th graders will get FREE admission to National Parks for the 2021- 2022 school year. Starting on September 1st, 2021, every fourth grader in the country will get an Every Kid in a Park pass that will be good for FREE admission to all of America's National Parks & federal lands & waters. This will be good for the 4th graders & their families (since it's typically a family/car admission to get in). The pass will be good for a full year till August 31, 2022.
This pass applies to student's who are in 4th grade for the 2021 – 2022 school year. This is part of Every Kid in the Park initiative. Both of our families have taken advantage of this program this past few years, and we were able to save on many National Parks the last couple of summers, and just loved this program. It has saved us at National Parks in Washington, Oregon, California, Montana and Idaho. Its awesome!
It's really easy to use as well. You just sign your child up. print your pass and show it at the parks when you check in.

Make sure to check out our post about how to go about getting the pass & what it looks like, plus we have tips on visiting National Parks in the off-season!
In past years you have also been able to use this pass to get a free Christmas tree, so keep an eye on that program here too!
How many of you have 4th graders who will benefit from this initiative?
You can also find a list of Free National Park Days for everyone here.
We are so excited about the Every Kid in a Park, which is geared towards inspiring and educating 4th grade students about the National Parks and Federal Lands & Waters around the country. The goal of this program is to show 4th grade students & their families the importance of protecting & preserving our natural wonders and historic treasures for many years to come. It's important to keep kids visiting the parks, lands, and waters to develop a love of the great outdoors & amazing historic locations, to instill the desire for them to want to protect these special areas of our country.
How to Get Your 4th Grader the Free Every Kid in a Park Pass: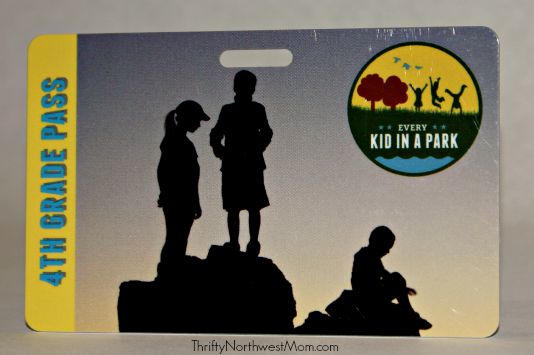 Visit the Every Kid in a Park Website with your 4th grader – Click on "Get My Pass". Your 4th grader will then need to fill out an adventure diary. It's basically just a quick little game about what they'll see on their visit.
Print off your Personalized Pass – Once your 4th grader completes the game, fill out your zip code and then you can print off his /her pass.
Visit the EveryKidInAPark.gov website for information about National Parks & federal lands & waters near you. These are great sites to help you plan your trip.
Head to the National Park or federal land of your choice for a visit & bring your printed pass. Your 4th grade student must be in the car with you in order to receive free admission for your family.
Give the Pass to the Ranger on Duty to exchange for your child's actual "Every Kid in a Park" pass. The ranger will ask if your 4th grader is in the car & in our case, they asked her if she was in 4th grade. My daughter then got the card (seen above) to use all year (I am keeping it for safe keeping :) ).If you are visiting a park or federal land that does not require admission but does have a parking fee, you can also put your printed pass in the dashboard to count as the parking fee. Once you are able to exchange the printed pass for the Every Kid in a Park card, then you can put the card in the dashboard as payment for the parking fee.
You'd be surprised just how many federal lands & waters there are near you. Here in the Northwest, we have a number of locations including several popular National Parks, as well as a number of federal lands & waters. Head to FindYourPark.gov to see a list by state or search by category of the type of park you're interested in. We have a 4th grader this year, so we are excited to see how many federal lands/waters we can check off our list to visit with my daughter's pass this year!
Examples of Federal Lands & Waters in the Western Region:
Mt Rainier National Park
Grand Mesa National Forest
John Day Fossil Beds National Monument
North Cascades National Park
Siletz Bay National Wildlife Refuge
Sequoia National Forest
Olympic National Park
San Juan Island National Wildlife Refuge
Crater Lake National Park
These are just a few of the many parks & lands you can visit in the Northwest for some fun adventures as a family & great educational experiences for your child! Plus you have the whole country to explore.
Tips for Visiting a National Park during the Off-Season:
When my daughters were in 4th grade, we were excited to get our Every Kid in a Park pass and try it out to see how it all worked out.  We headed to the National Park closest to us  –  Mount Rainier National Park – to explore the park together as a family. We were camping nearby at Alder Lake Campground, so we were able to head to Mount Rainier two days in a row for a few hours each time.
On our visit to Mount Rainier, the weather was foggy & rainy off & on which made seeing the actual mountain more difficult, but that didn't stop us from having a lot of fun as a family at the park. So I wanted to share some tips on how you can enjoy your visit to a National Park in any weather during the off-season.
1) Stop in at Ranger's Station to ask about recommended hikes
Even with the fogginess, Myrtle Falls was gorgeous for a short hike!
When we visited Mt Rainier recently, we knew the visibility was not great at the bottom of the mountain, but wondered what the weather was like at the top near the mountain. So we asked the Ranger Station at the Longmire entrance about the weather & the hikes they recommended. They let us know that the mountain was not visible due to rain & fog on that particular day, so they highlighted better hikes for us such as the Myrtle Falls Hike at Paradise, where we could see a beautiful 72 foot high waterfall after a short 1 mile hike.  I love this hike as it's short & easy, with a paved trail & you cross a bridge over the creek & then just right off the trail, you can walk down the steps to a gorgeous viewpoint of Myrtle Falls. On a clear day, you'll see majestic Mount Rainier right behind the waterfalls; but even without the mountain view, it was still so pretty!
The rangers also shared about some hikes closer to Longmire so we could still get a good hike in through old growth forest & enjoy the national park if we didn't want to head all the way up the mountain.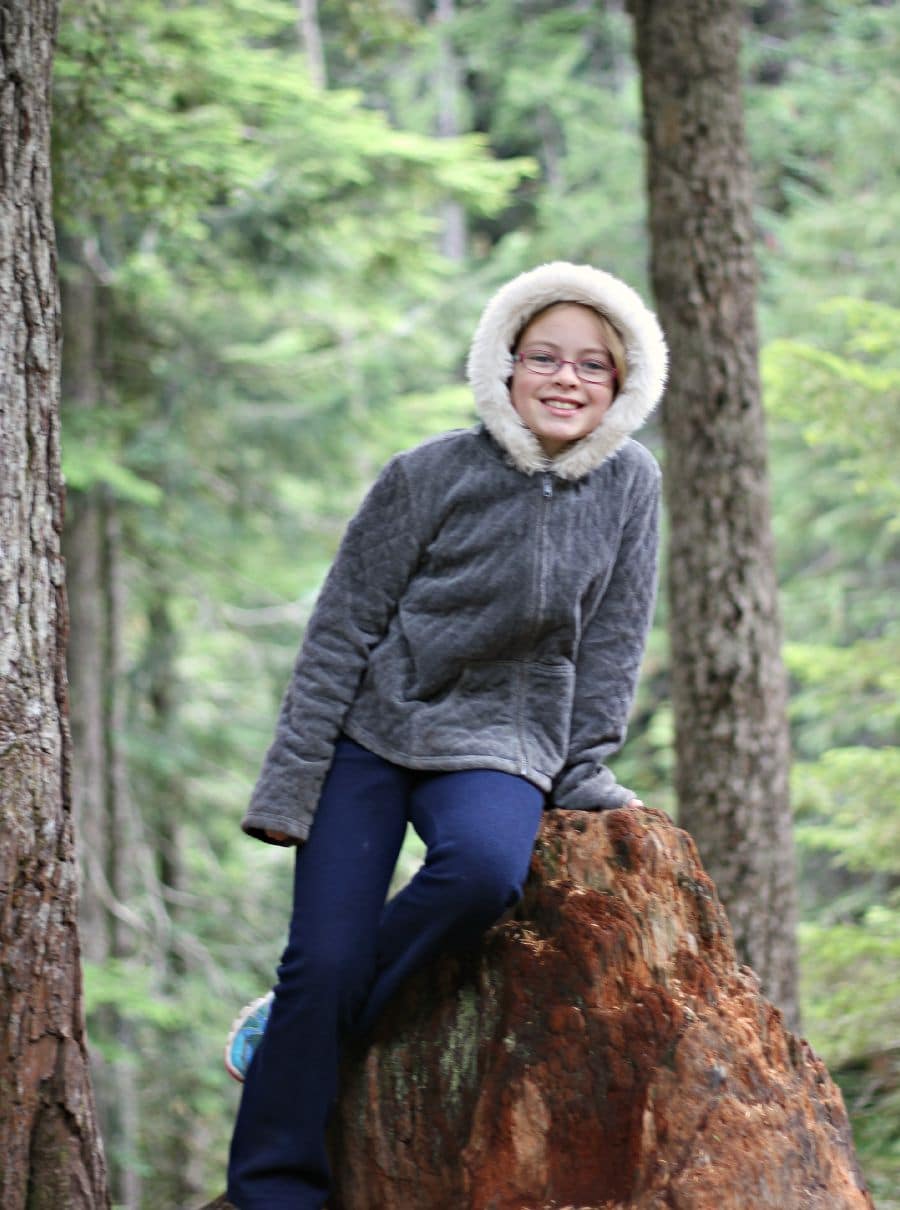 My daughter in 4th grade, exploring & loving the trails through the old growth forest
It turned out that the shorter hike right near Longmire through old growth forest, Twin Firs Hike, was the favorite hike of the weekend for our girls. They found a number of huge, downed logs along the hike which were perfect for climbing & exploring – something every kid loves to do. Even though it had been raining off & on that day, the old growth forest provided such thick cover that we barely even noticed the rain.
We also made a stop at Christine Falls on our way up to Paradise Visitor Center.  I have been up to the Paradise side of Mount Rainier a number of times and somehow we have never stopped to view these gorgeous waterfalls. You see a glimpse of the waterfall from the road, but it doesn't do justice to the view that is just right below the road. You just pull off into the parking area and walk down a short distance to a view under the road to gaze at the 69 foot waterfall with a bowl shaped opening at the bottom.
There are still SO many awesome hikes typically that you can enjoy even if the views are not great at a National Park, such as hikes through the forest, waterfall hikes & more! But you want to make sure you know which ones are going to be best, so that you don't do a long hike just for a gorgeous view to find out that view will be hidden, but instead focus on other beautiful aspects of the park.
2) Visit the Visitors Center to learn all you can about the National Park or Public Land 
We often don't have enough time when we visit a National Park to learn as much as we can about it, as we just want to get out & explore the trails & get as many pictures as we can.  So, by visiting on a day in the off-season when the weather may not be at its peak, it has the added benefit of giving you more time to learn about the park you're exploring & use the educational resources they have provided for you to learn more.
National Parks have some great interpretive displays with information about the history of the park, wildlife you will find at the park & more.  Many National Parks will also offer short movies that share more about the history & information about the National Park, which is another way that kids may enjoy learning more about the park.
3) Complete the Junior Ranger Program
Mount Rainier as well as most all of the National Parks offer the Junior Ranger program as a fun incentive for kids to learn more about the park. Just head to the Visitors Center or Ranger Station at the park & ask about the program. Our girls got a booklet to fill out for the Mount Rainier Junior Ranger program. They had fun on our hikes looking for animals & plants as one aspect of the booklet and doing some of the puzzles & word searches & more. We weren't there quite long enough to finish the books yet, so we brought them home to finish & then bring back on our next visit. But, when kids turn in their completed booklets, a ranger will review the work & swear in the child as an official Junior Ranger. They will give the child an official Junior Ranger badge, too, which kids can collect.
4) Try out a unique activity while visiting the National Park 
Just because you are not headed to visit the National Park during the peak season, doesn't mean you won't find some amazing experiences to try.  At Mt Rainier National Park, the summer is definitely the peak season, especially as that's when all of the areas of the park are open. However, it is gorgeous any time of year, but especially in the winter.  We headed to Mt Rainier this past winter in January and it was one of our favorite visits. We borrowed some snowshoes from friends & rented some for our kids and headed out for a fun day of snowshoeing at the Paradise area of Mount Rainier. This was an all-new way to experience the mountain in the winter weather with all the snow. Find out all the details about our snowshoe trip to Mount Rainier – it would be great to do in the late fall, winter or early spring – just check on the snow conditions before you go.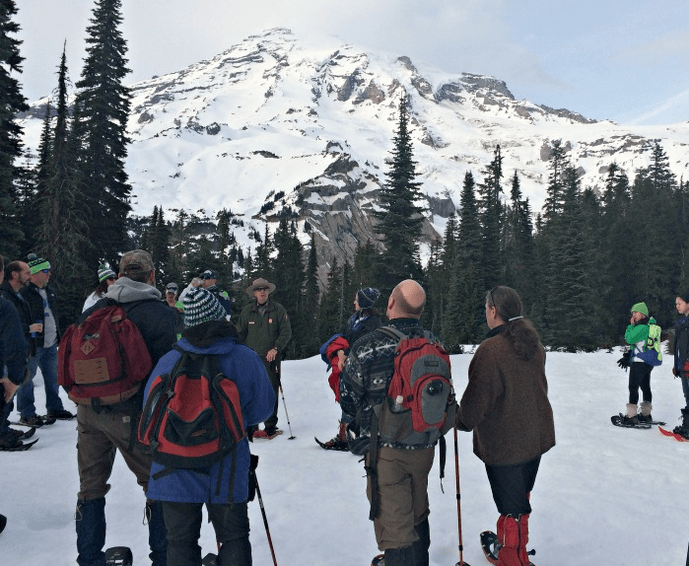 We found out about this idea at the Washington State Fair actually as they had a display all about snowshoe tours they offer for free in the winter. We ended up going on our own as my daughter was too young for the tour (but she did great on her own), but found a snowshoe tour that was happening while we were there. They even offered the snowshoes for folks to use during the tour for a donation of $5/ea.
Mount Rainier also offers sledding once they have received enough snow at the Paradise area of Mount Rainier. Unfortunately we had so little snow last year, that they weren't able to open the area up for sledding, but that was a rare year. We're hoping for a good sledding year at the mountain this year! Here's a list of activities to do with your kids at Mount Rainier.
5) Relax, Explore & Enjoy the National Park Inn 
There is just something about a National Park Inn – I just love the coziness & history of these beautiful buildings. Most National Park Inns are historic, wood buildings, which are fun to explore & learn about their history as you walk around the Inn, as well as to just relax and unwind, especially after a hike. We had done several little hikes within Mt Rainier National Park on our visit and it was a cold, wet day, so we were pretty chilled by the time we were done. So we headed into the National Park Inn for some hot cocoa to warm up.
We discovered once we were inside, we didn't want to leave. It was just so cozy & comfortable in there, with big chairs & couches, a big fire in the fireplace warming everyone up & a piano player playing soothing tunes right in the middle of the room. My girls and I just huddled up on the couches & we could have taken a nap if we didn't have to head back down the mountain before dark. We also saw others who had brought a deck of cards or another game to play together as they relaxed after a busy day of hiking.
6) Start a tradition of National Park Passport Booklets & Stamps
If you have a 4th grader and really plan on taking advantage of visiting National Parks, as well as other federal lands & waters, I'd suggest you look into the Passport to Your National Parks booklets. These are $8.95 – sold either in the National Park gift shops or you can buy them online at EParks.com, too. These booklets list every National Park in the country & you can buy & collect commemorative stamps at each National Park you visit. Or you can stamp the page with the cancellation stamp at the park after you visit.
I had one of these booklets when I was a kid as we traveled to a lot of National Parks as a military family – we'd hit the National Parks on our big moves back & forth across the country – and I really enjoyed seeing all the locations we visited over the years. It was a treasured memento for me, so we thought it would be fun to start with our girls. Kids love to bring their books with them & find the spot where they can stamp their books, either in the Visitors Center or the Ranger Station. Find a list of locations with the stamp cancellations.
These are just a few of the many ways you can enjoy a National Park any time of year! I love visiting in the off-season as the crowds are much smaller and you'll be amazed at the beauty you will encounter by visiting at different times of year.
If you do have flexibility in your schedule for your visit during the off-season, make sure to stay tuned to the National Park's website and social media sites to stay up to date on the current weather conditions. Most National Parks will offer daily weather conditions on their website as well as webcams showing the current views. But if not, you can call the Ranger Station for more information.
At Mount Rainier, you can stay up to date with their National Park page with current conditions & road closures, safety information & more.  On that page, they have links to the webcams around the park as well as daily weather conditions, which is really helpful.