Ways to Save on Summer Travel
This post may contain affiliate links and I may be compensated for this post. Please read our disclosure policy here.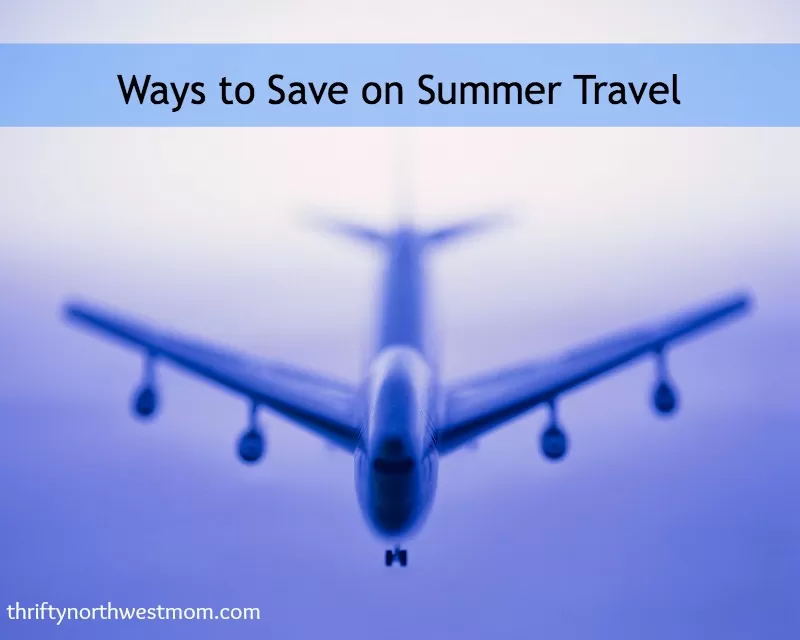 Like most families, we love taking a vacation over the summer, whether it be a big vacation or a  little weekend getaway but costs can add up quickly if you don't plan ahead and find ways to save on lodging, food, activities and more.
You can use these tips for big family vacations, "staycations" (playing tourist in your own area), or even just weekend or day excursions during the summertime!
Do Your Research
Start planning as soon as you can, whether it be for a short weekend trip or a week-long trip. The sooner you start planning, the more opportunities you'll find for discounts.
1. Resources to use when researching the city or area you'll be visiting
Chamber of Commerce –

Visit their website

or call the Chamber of Commerce directly
Convention & Visitor Bureau's website (just google "Dallas Convention & Visitor's Bureau" for example). Great resource for general information, kid-friendly activities, coupons/deals & more
2. Make list of top places to visit
Wish List – Once you've done your research, then come up with your wish list of sights to see, sporting events, restaurants, parks, beaches, etc
Make this a family affair – get your kids involved in the planning & deciding what they'd like to do on vacation.
3. Look for Discounts
CityPass.com – They offer 5-6 top sightseeing sights in a package deal which is up to 50% off admission prices. Valid for 9 days (14 days in Southern CA). Decide whether this would be a good deal for your family or not – how many of the places were you wanting to go to? Or is it a better deal to look for individual discounts?
Websites – Check out the specific websites for the attractions, sporting events, museums, hotels, & more that you're wanting to go visit. They may have web-only specials or special discount/free days (ex: Museums often offer a FREE day 1 day or night/month.  Also, sign up for E-Newsletters to be notified of special promotions, discounts & more.
Follow the businesses/attractions on Facebook & Twitter – they often post one-day deals or specials for their fans
Sign up for the daily emails for group-buying sites .  These sites offer 1 Day deals with 50-90% off discounts for restaurants, sightseeing tours, memberships to zoos, aquariums, hotel discounts & more
Here are a few of the top group buying sites:
Reciprocal Membership Programs at museums, zoos, science centers – If you have an annual membership to your local museum, zoo,science center – check to see if they are part of a Reciprocal Membership program where you can get FREE admission to zoos, aquariums & more around the country. Go on the website or call them to find out.
Military Discounts –

Blue Star Museum Program

– Free admission for active-duty military & their families to over 600 museums nationwide this summer (this typically runs Memorial Day-Labor Day typically); Also, make sure to ask about military discounts anywhere you go.
National Park Pass – here are some great ways to get in free or save big on visiting National Parks:
4. Free / Inexpensive Places to go with your Kids on Vacation:
Find out about local festivals & fairs – free entertainment, lots of food options, games/activities for kids
City, County or State Parks – Find ones near rivers, lakes, ocean beaches. Check for free events going on while you're there – nature walks, guided hikes, etc
Family-friendly hikes – Check with your Chamber of Commerce or the National Park or National Forest offices
Go to the waterfront, beach, walking the boardwalk
5. Ways to Save Money on Food:
Save $$ on food to save up for a few special meals or put the money you save towards more fun attractions & events!
Cooler in the car – Bring a big cooler if traveling by car.  Pack a portable backpack cooler or get a styrofoam cooler if traveling by air to your destination. Bring lunch meat, peanut butter & jelly, bread, cheese sticks, fruit, juice boxes. Don't forget wipes & napkins!
Water – Bring packs of water for road trips (cheaper than stopping at convenience stores). Or bring reusable water bottles by car or air & fill up throughout the day
Stop at rest stops versus convenience stores – means less impulse-buying!
Choose hotels with free breakfast or eat breakfast in your room. Bring cereal & buy milk at the store-use with paper cups. Or bring instant oatmeal & use the coffee pot for water.
Switch & have sandwiches for a picnic dinner at the park – then make lunch your bigger meal out (less expensive than dinner)
6. Ways to Save Money on Lodging:
Use travel sites such as Travelocity, Hotwire, Kayak, & Priceline
Hotel Website – Go to the specific hotel's website & look for web-only specials & sign up for their newsletter. Also, follow the hotels on Facebook & Twitter
Ebates & Shop At Home – Book your hotel (& airfare) thru

Ebates

 to get cash-back on your purchases
Camp to save the most money on lodging & food  
Here are a few options of places to check out for camping.
KOA campgrounds

– tent & RV camping, cabins, lodges. Often offer pools, playgrounds, planned activities for kids. Check out the the KOA website under the "Hot Deals" section.
County, State or National Park campgrounds
You might also be interested in our article on how to save on travel by using Costco Travel too!
 What are your favorite tips for saving on summer travel expenses?