Seattle CityPASS – Discount Pass for Seattle Attractions like Space Needle, Chihuly & more!
This post may contain affiliate links and I may be compensated for this post. Please read our disclosure policy here.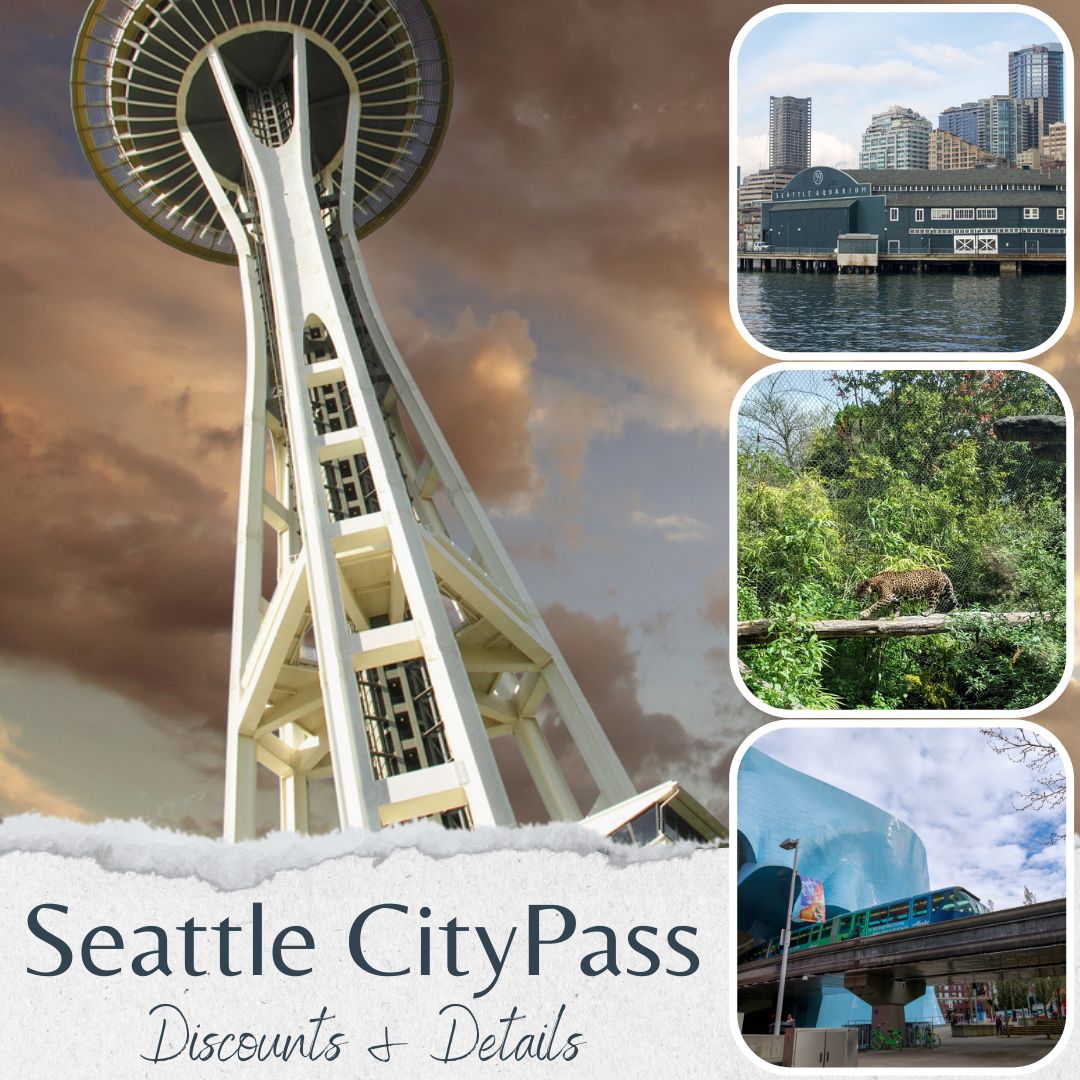 Seattle City Pass Discount Attractions Pass!
Seattle CityPASS Discount – Way to Save on Seattle Attractions!
If you are going to be visiting Seattle for a few days or just want to do a Staycation around Seattle for a few days and see all the best attractions…. hands down, the Seattle CityPASS is the way to save the most on admission to all the top attractions in Seattle. Those ticket prices really start to add up, but the City Pass gives you a really nice discount on attractions that it is very rare to find discounts.
Make sure to check out our Seattle Staycation post, too, for more ideas for a Seattle Staycation on a Budget!
 CityPASS for Seattle at these prices::
The Seattle CityPASS is now offering two different option. The first is a 5 ticket pass, and the second is a 3 ticket pass. For the 5 ticket pass you can see 5 attractions, two of them are preset (the larger ones) and then 3 of your choosing. The prices for this option are:
Special Cyber Monday / Travel Tuesday Promotion!

Through 12/2 you can get and extra $12 off CitiPass Seattle pricing with this offer from our partners at aRes Travel!
They offer tickets for $2 less than regular prices, and then use promo code CYBER to get an EXTRA $10 off each ticket! This promo code should work for all cities, but here is how the Seattle Citipass pricing will look with it.
Adult Seattle CitiPass tickets should drop to $107
Children's Seattle CitiPass tickets should drop to $77
Grab them at these special prices here, and use coupon code CYBER at checkout for the extra $10 off per ticket!
Regular pricing:
Adult Seattle CityPASS – $115
Child Seattle CityPASS (ages 5-12) – $87
This option will save you 45% off regular ticket prices
(Note on children under 5. If you are visiting with children under 5, look under the age option on the checkout box and there is a link that says "child under5?" If you click on that it will provide a pop up box that will tell you what the age is for free admission or the price for kids. So for example many of them offer free admission for kids 4 and under. However the zoo offers free admission if you are 2 and under. You can then decide if it is worth buying a child one depending on where you are going – but based on that info it should be cheaper for you to buy one admission ticket to the zoo and get in free the rest of the places if you have a child 4 and under for example.) 
Here are all the attractions that are included in a Seattle CityPASS::
Space Needle Admission (includes 2 visits to the top within 24 hours (could be during the day & at night?)
Seattle Aquarium
Argosy Cruises Harbor Tour
Museum of Pop Culture or MoPOP
Chihuly Garden and Glass
Seattle C3 Passes
Seattle CityPass also just added a new offering, the 3 ticket option which is called Seattle C3. The C3 pass is more affordable, and offers 2 new attractions that are not included on the standard CityPass for Seattle. We outline the attractions included for each pass next. The prices for the Seattle C3 pass are:
Adult Seattle C3 – $73
Child Seattle C3 (ages 4-12) – $53
This option will save you up to 34% off regular ticket prices
Here are all the attractions that are included in a Seattle C3 Option::
Seattle Aquarium
Argosy Cruises Harbor Tour
Sky View Observatory
Updates for Seattle City Pass – 
Reservations are required at some attractions. Visit the Citypass Seattle how to guide for up-to-date attraction information including reservations, entry instructions, hours of operation and helpful tips to plan your visit.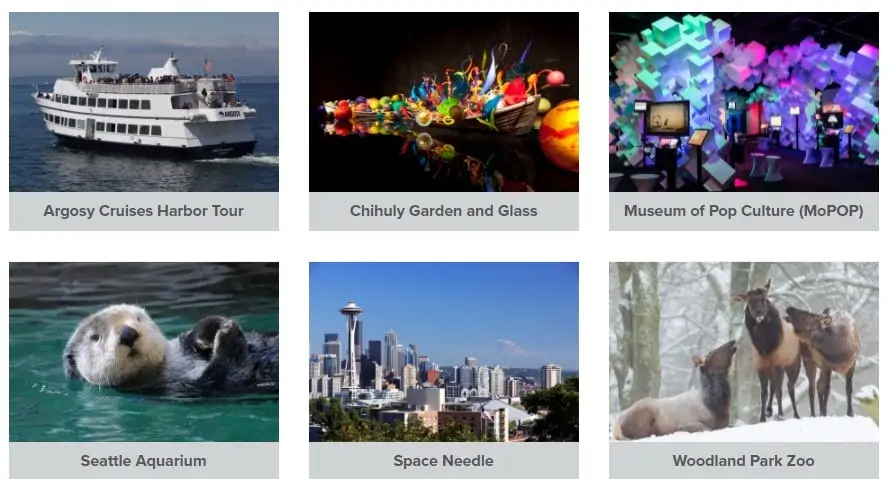 Is the Seattle CityPass Worth It?
Seattle CityPASS® tickets save travelers 46% off regular combined admission to the city's most popular attractions, if you plan to visit more than one attraction. For example Adult tickets are $115 (but carry a value $206); and Child ages 5-12 tickets are $87.
If you are wanting to see more than two of the attractions, the pass is definitely worth grabbing. Visiting 5 of the attractions, without the CityPass could cost you upwards of $200, so you are saving quite a bit if you will utilize it for all the attractions, especially if you are a family (and see these kinds of savings across multiple family members).
If you went with the Pacific Science Center and the Space Needle, it would cost around $90 for admission without a CityPass, so you can see how much you are saving with a CityPass discount. So this is a great savings if you want to experience all of these things.
You can also check out their Seattle Offers page here, for more discounts that are available with your Seattle City Pass (like free digital photos, 10% off purchases in certain locations, etc.).
Things to Know about CityPass Seattle:
The important part to know about a CityPass though is that the Pass is valid for 9 days, starting with the first day of use, so you can't spread this out over a long period of time. But several of these can be done in the same day, such as Seattle Aquarium and the Harbor Tour; Pacific Science Center, Museum of Pop Culture or MoPOP & the Space Needle if you wanted a busy day/evening, and then the Woodland Park Zoo or spread them all out separately to get the most out of each attraction over those 9 days. This would be fun to do if you plan on staying close to the city for a few days & you can go back & forth between these attractions.
It is not a pass exactly, but more of a booklet of tickets/passes that you will use to get in to each attraction. The info you need for the attractions (address, times, etc) is printed on the back of the tickets, making it easy to find. One important thing to know about the booklet, is that you are not suppose to rip out your own tickets (let them do that for you at the attraction, or it may be considered void).
The other benefit of the CityPass is that it allows you to avoid most main ticket lines. This is very nice in the summertime, when the tourists & crowds can be much busier, especially at the Space Needle. Definitely give yourself more time at the Needle, though, as there are always lines to wait to get in there.
If you want to see all seven attractions on the list, choose Chihuly and MoPOP to use your pass tickets on. Then there are some extra discounts in the coupon booklet for the Woodland Park Zoo and the Pacific Science Center (and they are the two lowest cost venues, so this will let you get the most for your money).
Grab your CityPASS for Seattle here!
Can I get a Seattle CityPass at Costco?
No, there is currently no Costco CityPass Seattle sales available at this time. As far as we have seen, Costco does not sell the CityPass cards for Seattle. Although there is no Costco CityPass, they do sell the GoCity cards (which are a similar concept, but more expensive – and they are not available for Seattle at this time).
Seattle City Pass Discounts Available:
If you are a AAA member, there is a slight discount by buying your passes through them. Let us know if there are other discounts we missed.
Another way you can save are to use a Credit Card with points to make your purchase.
Seattle CityPass Groupon offers are often available too. You can find those here. It is often the same price on Groupon as it is on the CityPass site, however sometimes you may find a promo code savings, or if you have Groupon bucks than this can be a better deal.
Seattle CityPass Military Discounts Available:
Some military bases may offer a discount to service members who purchase CityPASS products through the base. For information please contact your ITT office.
Seattle CityPass Review of Attractions:
As someone who has lived in the Pacific Northwest most of her life, and have enjoyed all of these exhibits, I think the Seattle City Pass is well worth enjoying. Be sure to follow us on Instagram here as well, for lots more ideas of activities and adventures to enjoy in the Northwest as well.
The Space Needle –
Seattle's most iconic attraction—the Space Needle—sits on the grounds of the Seattle Center, originally the site of the 1962 World's Fair. From the Space Needle's saucer-shaped observation deck, visitors enjoy views of Puget Sound and the Olympic and Cascade mountain ranges. For those who make the trip to the top after dark, the city's expanse of shimmering lights is the big draw.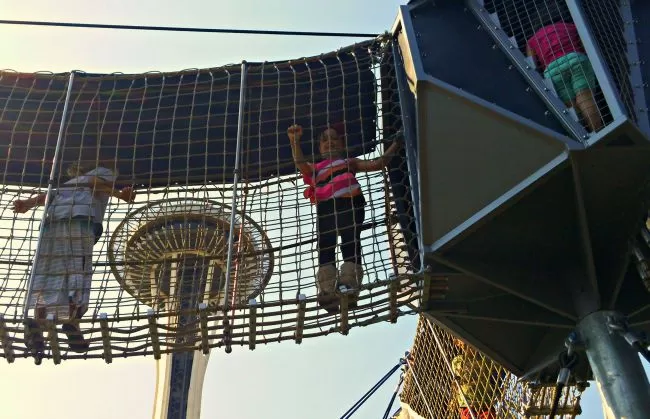 If you are going to the Space Needle, there is a super cool park right there too, for kids to enjoy. It is called the Artist Park, and we have a review on that here as well.
Seattle Aquarium –
Discover playful sea otters, graceful octopuses, luminous moon jellies and more. Be amazed by Window on Washington Waters, a 120,000-gallon exhibit with daily dive shows. Touch live sea creatures in tide pools. Immerse yourself in the Underwater Dome's 360-degree view. Take a virtual trip to the tropics in the Pacific Coral Reef exhibit. Learn about the Aquarium's mission: Inspiring Conservation of the Marine Environment.
Argosy Cruises Harbor Tour –
Learn about Seattle on this entertaining one-hour, live-narrated cruise of Elliott Bay and the Seattle Harbor while taking in views of the city skyline, mountains, shipping terminals, and historic neighborhoods.
Museum of Pop Culture (MoPOP) –
Explore some of the most significant moments in rock music, science fiction, and popular culture with hands-on experiences, iconic artifacts, and award-winning exhibitions featuring luminaries in the fields of music, literature, television, video games.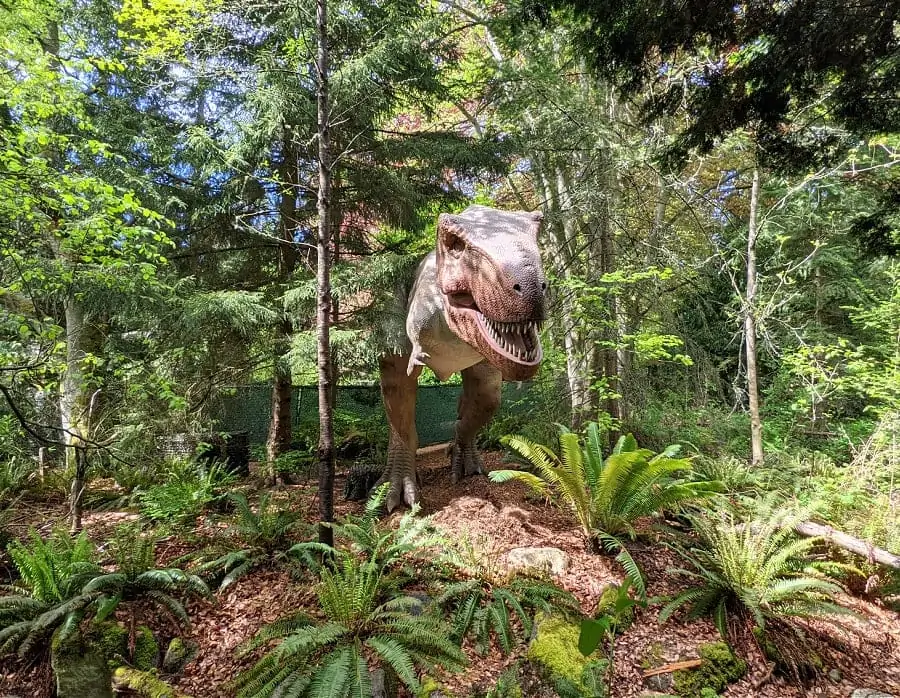 Woodland Park Zoo –
Take a global journey at Woodland Park Zoo—a 92-acre oasis teeming with 300+ animal species in lush, spacious settings. Discover the world of gorillas, rhinos, red pandas, lions, birds, reptiles and more. Meet charismatic ambassador animals at outdoor theater programs. Explore Zoomazium's indoor nature play space for kids. Experience free-flying butterflies in a seasonal garden and stroll through a 2½-acre Rose Garden. See and save wildlife!
Chihuly Garden and Glass –
Immerse yourself in a world where curiosity, creativity and color come to life. Visit the Galleries, ever-changing Garden and signature Glasshouse, where you'll be inspired by artist Dale Chihuly's innovation and passion.