Museum Of Flight Seattle, Review + Tips To Save There!
This post may contain affiliate links and I may be compensated for this post. Please read our disclosure policy here.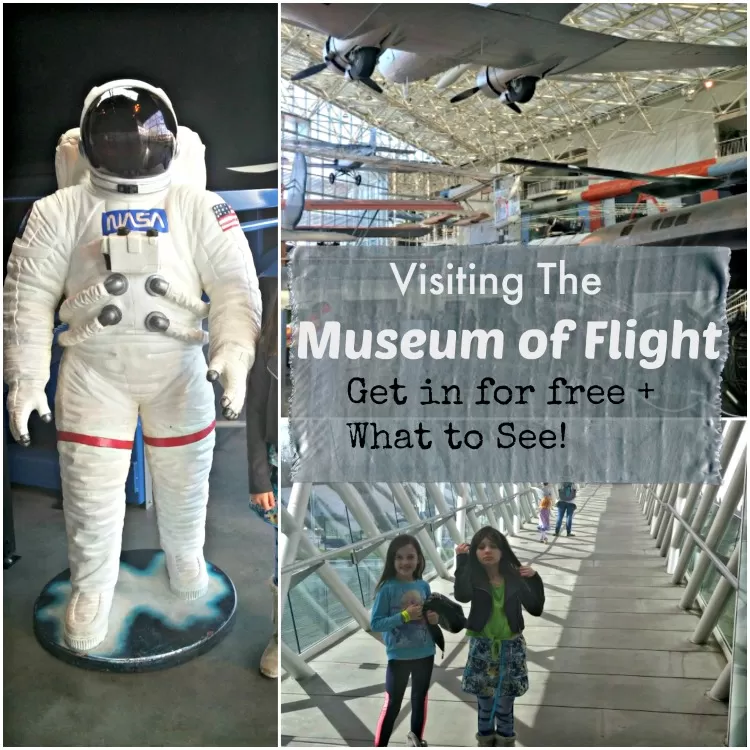 Museum Of Flight Seattle, Review + Tips To Save There!
We recently shared how you can get a free membership to the Museum of Flight through their very popular Connections Program! Kids 5-18 and an accompanying adult can enjoy the museum free of charge. This saved me and my two daughters $47, and is one of the best deals we have seen around, so I had to try it out recently with my kids.  We had a fantastic time, and wanted to share some highlight with you all in case you are interested in visiting the Museum of Flight.
General Tips for Visiting the Museum of Flight:
Get FREE Admission by joining the Connections Program
Get FREE Admission by visiting on the first Thursday of each month from 5pm to 9pm.
If you have a Seattle Public Library Card, use that to print out a FREE Admission Pass!
Kids 4 and under are FREE
Parking is FREE
Pack a lunch or snack if you want to save on food. There is a cafe, but you can also eat indoor or outside with your own food to save money.
Some exhibits are under construction, so be sure to check their site to see the schedule of what will be open and when.
They offer Family Friendly Workshops each weekend, if you want to plan your visit around one of these (they are free with admission).
The Museum is located in South Seattle (south of Georgetown). Find directions here.
Looking for more to do in the area. Check out our post on Oxbow Park and Georgetown nearby!
What to See at The Museum of Flight Seattle for Free (with admission):
While many of the premium experiences are fee based, there is PLENTY to see and do at the Museum of Flight at no additional cost to you. That means that if you take advantage of one of the free admission opportunities we shared above, you could plan a day of fun for just the cost of gas to get there!
You can find a full list of exhibits on the Museum of Flight's  website here. We have highlighted some of our favorite experiences below as well::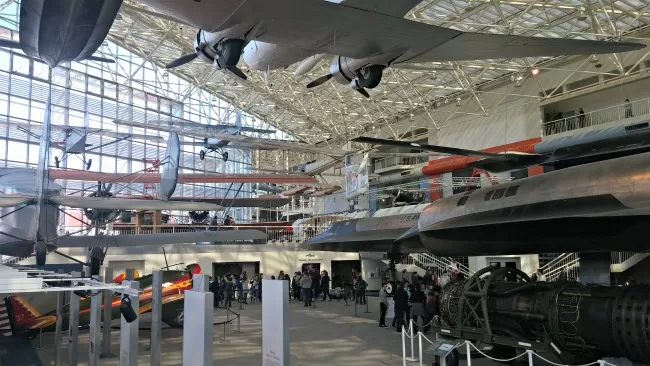 We first walked into the main exhibit hall area. This was very impressive, with various airplanes and helicopters hanging from the ceiling. This is where you will find lots of information to learn more about the history of aviation. This is also where the education center is, if you need to visit that (we were not able to print our Connections passes out in Black and White for some reason, so they sent us down here to get our bracelets for the program).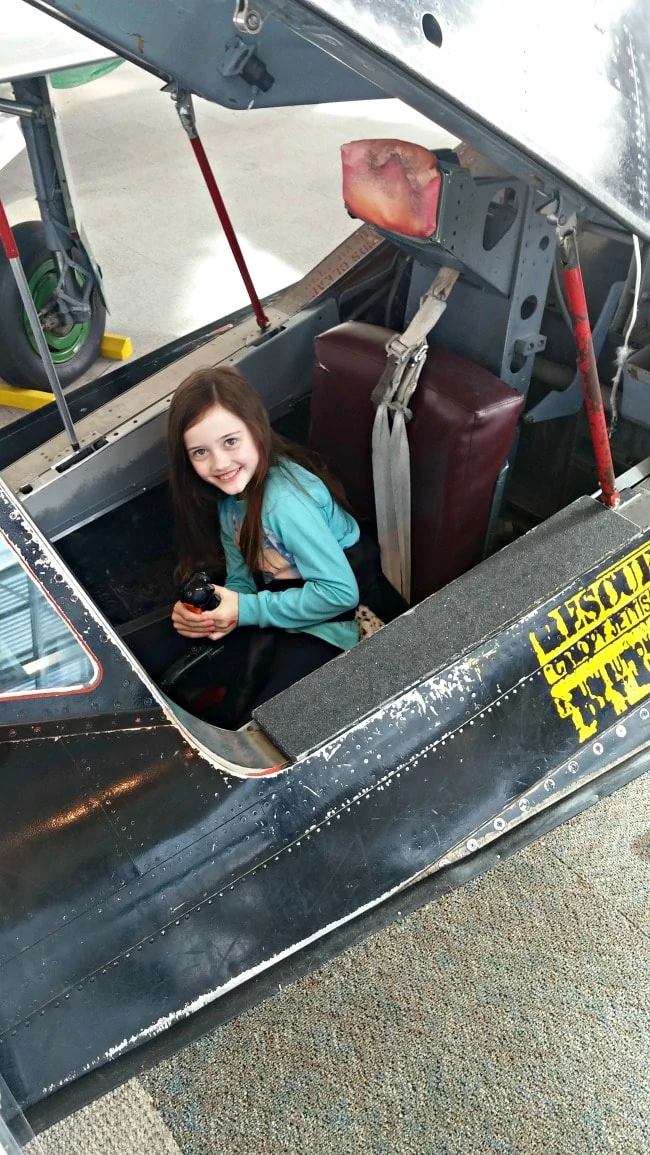 Here you will find all different ages of aircraft, and some fighter jets too. There are also a few floors to explore in this section. You will find exhibits like a 737 you can sit in and watch a movie, explore the inside of an older craft through video and more. There were also a few planes the kids could actually get in and strap on the seat belt and push buttons, etc!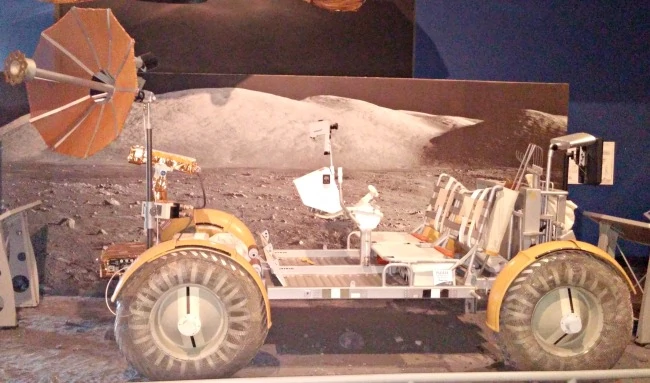 There is a space exhibit in the main building as well as one across the street in a secondary building. There are some fun space exhibits to see (my kids liked these especially well).
You can cross the street via this sky bridge, and visit a second space exhibit. When we were there recently, the large open air area where you can view large aircraft up close and in person was being remodeled. It should be open this summer though, with a new cafe, kids area and all, so we plan to head back to see that!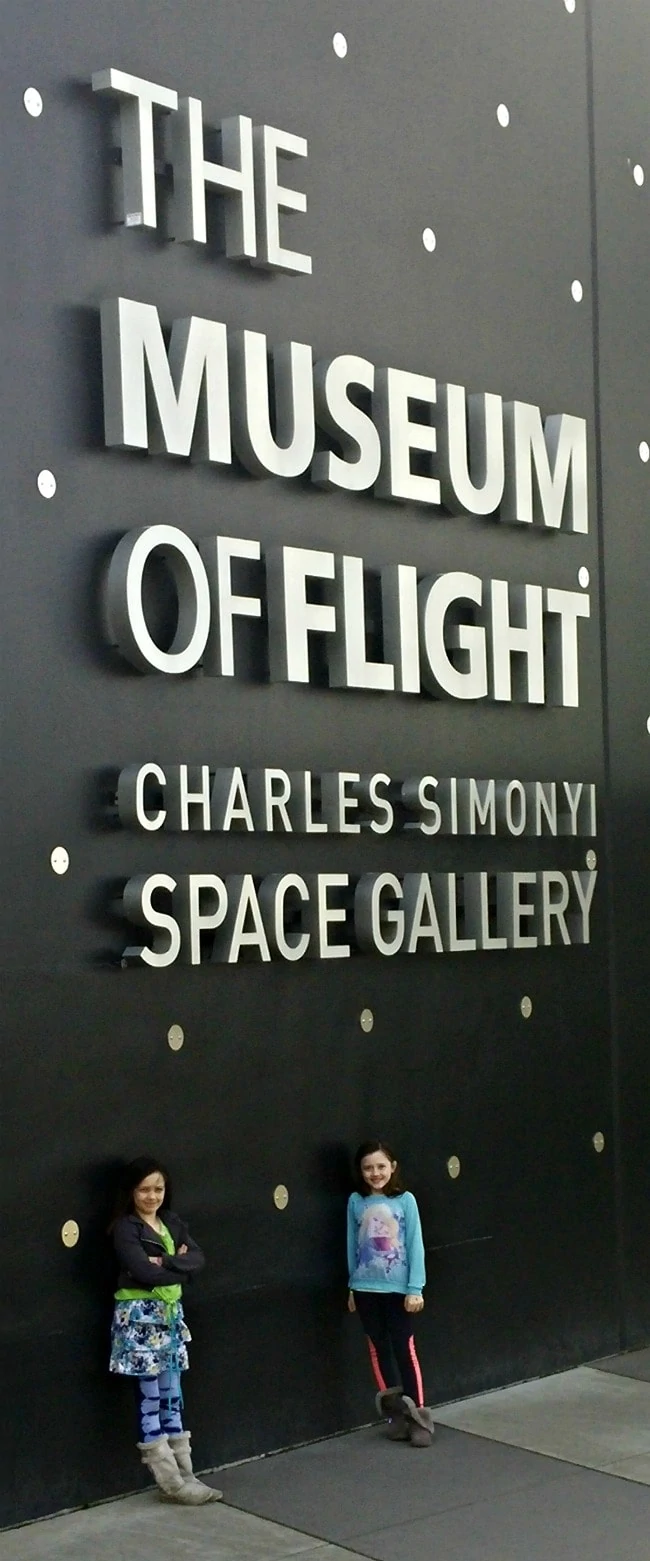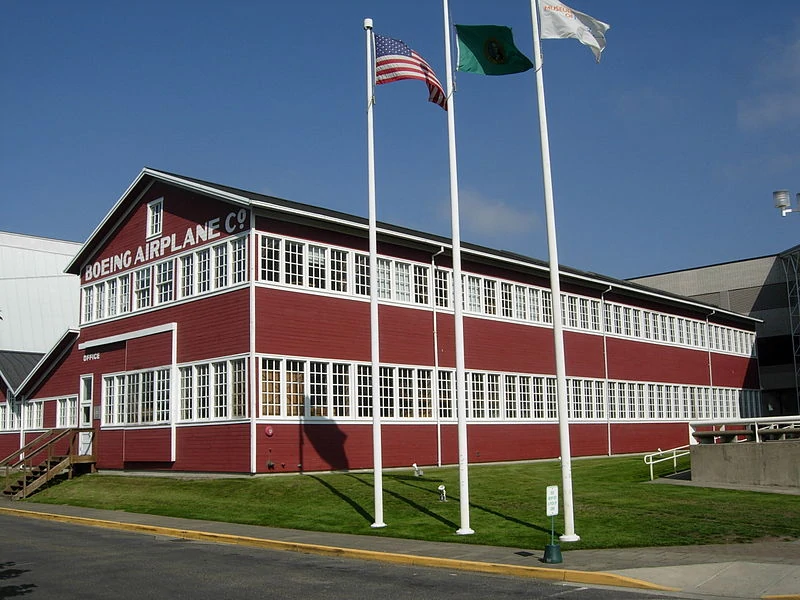 "The Red Barn" is the area of the museum where the Boeing company originally started building airplanes. Currently, its been restored, and now it is an exhibit dedicated to Pacific Northwest flight pioneers. It shows the history of this, plus includes displays of early equipment that was used to fabricate airplanes during that time, and more.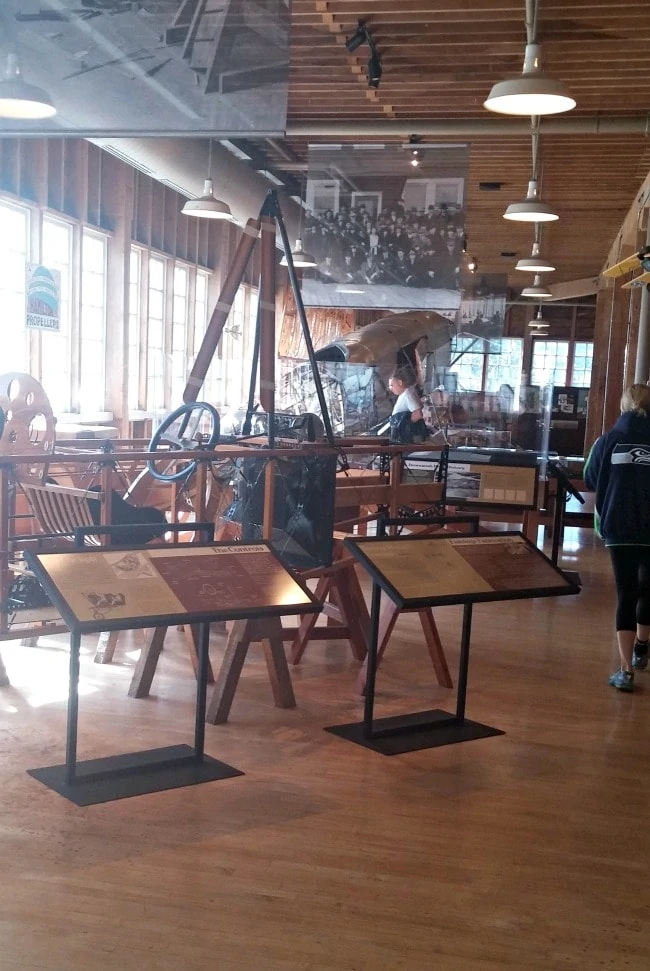 This is an inside view of the Red Barn area of the museum. There is both an upstairs and downstairs area, but its not huge.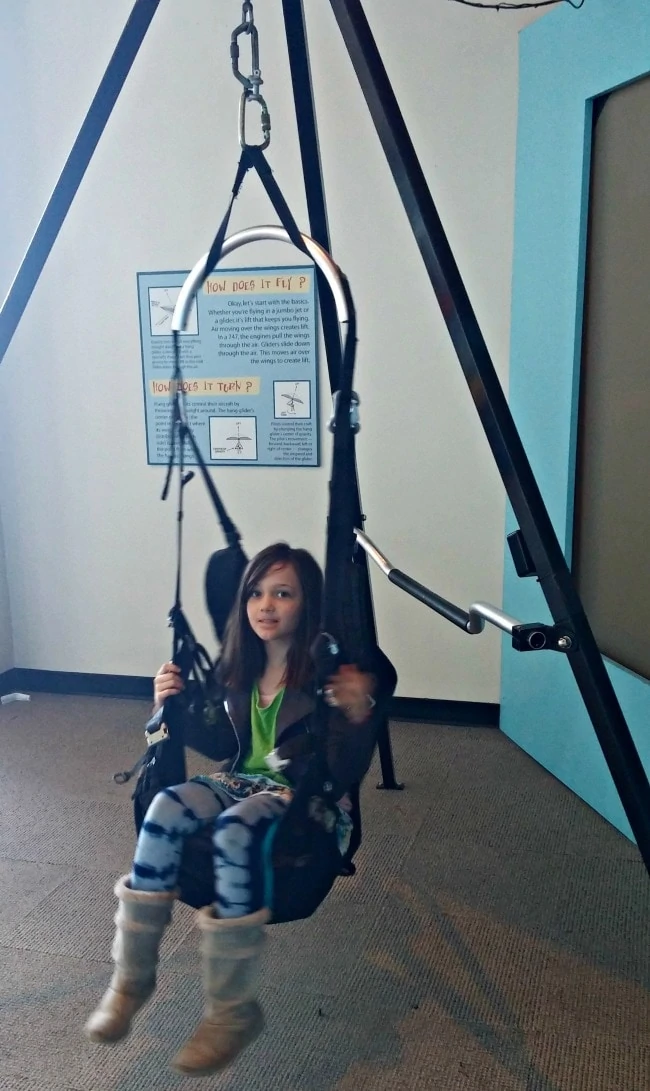 Back in the main exhibit hall there is a Kids Flight Zone area that offers some interactive exhibits for younger kids (this is a good spot for pre-school age kids especially). My girls were a bit old for it, and we made it through this section quickly, but there was a simulator to show the kids what it feels like to ride in a hang glider. There are also small airplane models kids can climb in and out of, and plenty of buttons to push!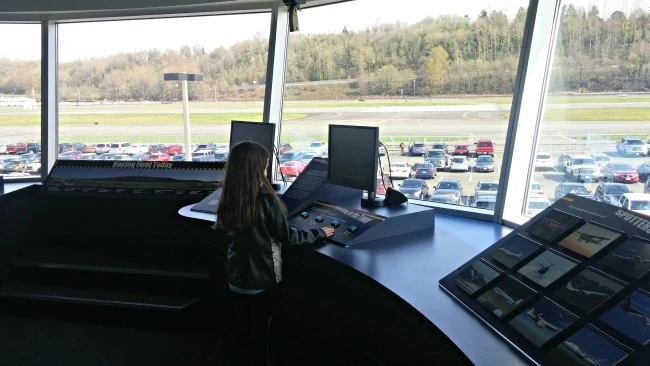 There is also a  model of an airport control tower that will give you a fun look into what it is like to be up on the control tower. One of my favorite things about this exhibit is that you can see a real Control Tower out the windows if you look North (up at Boeing Field)! This exhibit includes live voice feeds from radio traffic, lots of buttons to push, and some informational videos.
Paid Exhibits (even with admission):
There are a number of things that you can do at the Museum of Flight that will cost extra. Here are a few highlights that may still be affordable for your family (you can do things like tours of the space shuttle, but those will easily run a family over $100+).
The big highlight for my kids was the space craft flight simulator. This was not cheap, so you will want to prepare your kids ahead of time to let them know if they can or cannot do this one (it was $9 per person on our recent visit – more if you want to ride as a single rider). I found since I got in for free, I spent more then I normally would on these extra exhibits, so I just want to prepare folks ahead of time so you all can plan more intentionally then I did. My kids did love this ride though (can you tell by the smiles on their faces as they exited). You get a lesson on how to drive it (there is one person who flies the craft, and another one mans the guns). You practice on computers and once you are ready you can get in the actual simulator. It flips up side down and all around, depending on what the driver does.
If you want a little less movement, and pay a bit less too, there is a movie simulator ride. This one does not roll around, and you don't actually drive it, but get some of the experience via watching a movie in the simulator, and it is much more affordable.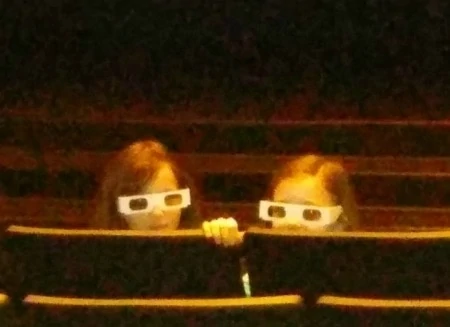 The 3-d Movie (Journey To Space is what is currently playing).  This cost $2 per person, but was a highlight for me and the kids. It was a great educational movie, that kept our interest, and we all learned something from the movie too. If you want to do an extra splurge this one is my recommendation.
There you have it, some highlights from our recent visit to the Museum of Flight. I will say that with all of the opportunities to visit for free, I think it is one of the best values you will find in the Northwest at this time. There is so much to enjoy, and we will be heading back soon for more too!
Do you have favorite things to see or do at the Museum of Flight that we missed? Let us know if you have more tips to add to this review.