10 Unique Parks In Washington State to Visit!
This post may contain affiliate links and I may be compensated for this post. Please read our disclosure policy here.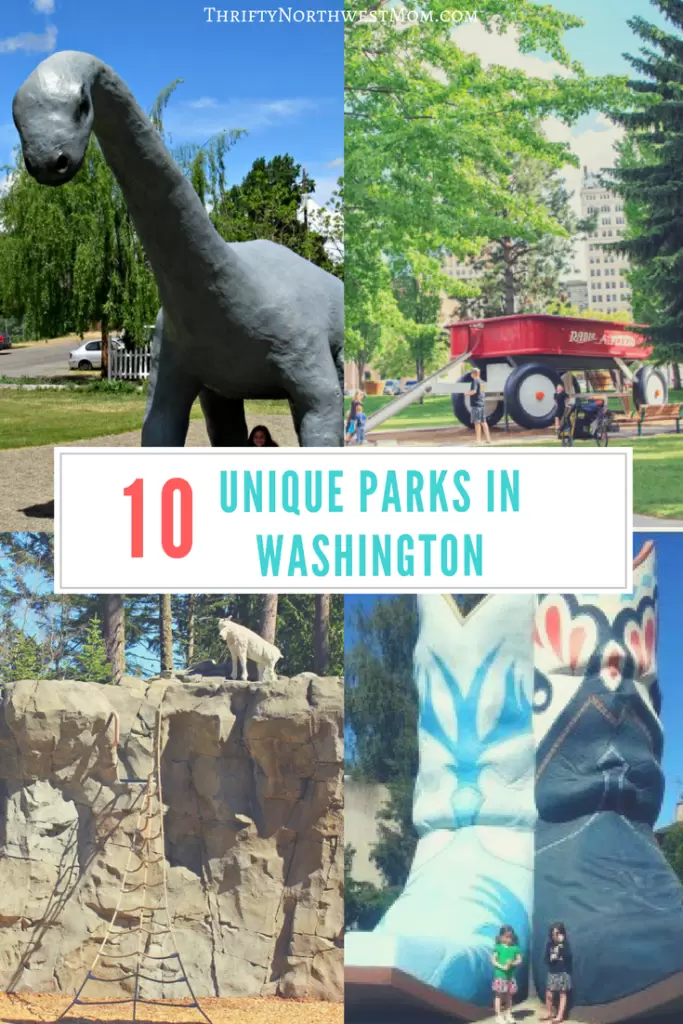 Ten Unique Parks in Washington
Parks are such a great (and affordable form) of summer fun. They provide opportunities to get outside and spend time with your kids and families without spending lots of money. My kids have their favorite local parks, but here is a list of parks they have found to be fun to visit at least once throughout Washington. Be sure to visit our Parks Review page here to find more local NW park reviews.
We are blessed in the Northwest with many great parks. Here is a sampling of some that are not only fun, but have some unique aspect to them to make them stand out, for one reason or another, from your standard park. If you know of a unique park we missed, be sure to share it below!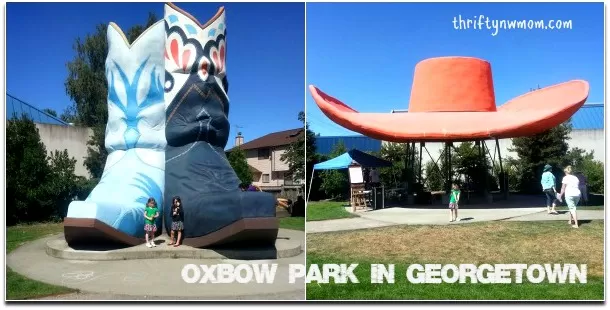 Oxbow Park – South Seattle (Georgetown) 
Now this was not our favorite park in terms of actual play structures, but every NW kiddo should see the iconic hat and boots at least once in their life! Plus, there are plenty of other things to do in the area like visit the Trailer Park mall, enjoy a day at The Museum of Flight (make sure to check out our review of the Museum of Flight & ways to save), or hit up the nearby spray park and more. There is also a little community garden on one side of this park, and often there are small festivals with vendors on site too.
The real draw for this park though is the Hat & Boots! Introduce your kids to a small piece of Seattle history.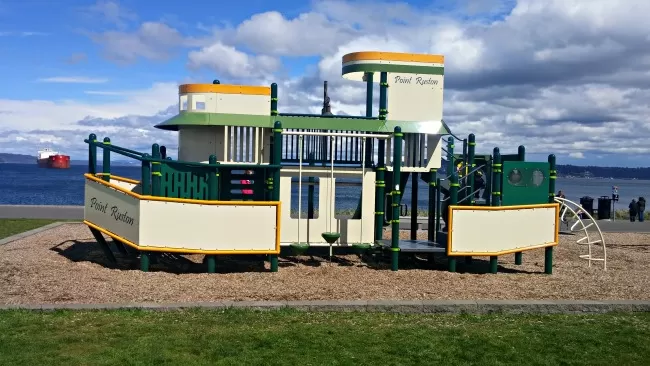 Ruston Point Ferry Park in Tacoma
Although the actual Ferry park is small, and really best suited for younger kids, there are many other adventures to be had at Ruston Point for the entire family.
It sits on a beautiful waterfront area with a paved walking trail for miles, and there is a little town center (Point Ruston) right above it so there is plenty to do in the area for the whole family.
More recently they have added a large hill full of "Chutes and Ladders" style slides for kids of all ages to have fun on. They are metal slides, so I always have my kids bring a sweatshirt they can sit on.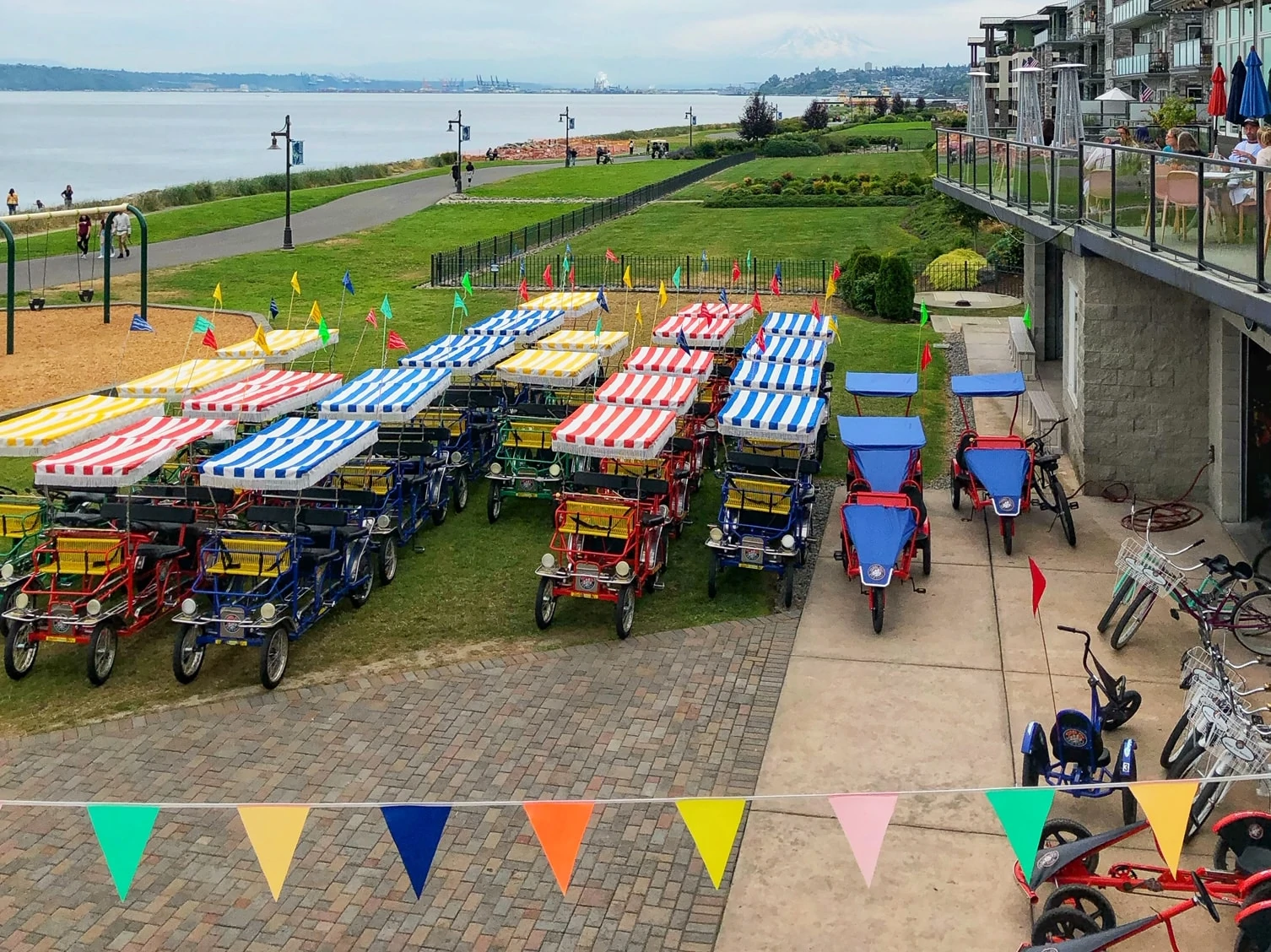 You can also do bike riding along the trail or even catch a movie and a bit to eat up in the shopping center (you can rent up to 6 seater bikes),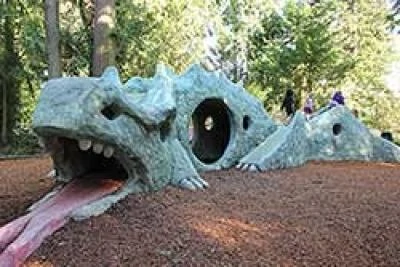 Photo Credit – Mercer Island Gov.
Deane's Children's Park is also affectionately known as the Dragon Park, and is worth a visit. It has a large dragon sculpture, that kids can slide down the tail from, or hide in its mouth – to mention a few things that kids love about this park.
There are also walking trials, and the very cool Adventure Playground is included inside here too.
Photo Credit: Adventure Playground
(** Update – it sounds like this playground is not currently open for drop in play, but they did still offer summer camp programs here last year, but it does not sound like they will be offering those for the 2021 summer season. We did call and ask about future openings, and at this time they believe that it may open in the future, but it is not looking like it will be opening for this summer at this time). 
This playground is different than most, as "children are provided toolboxes, various building supplies, safety items and the freedom to create build-it-yourself play zones with the guidance of Staff".
My husband is a carpenter and my kids love when they get to use tools and help dad build, so if you have a little one who likes to build this is one unique playground you will want to take them to check out. Be sure to have everyone wear closed toe shoes for this park!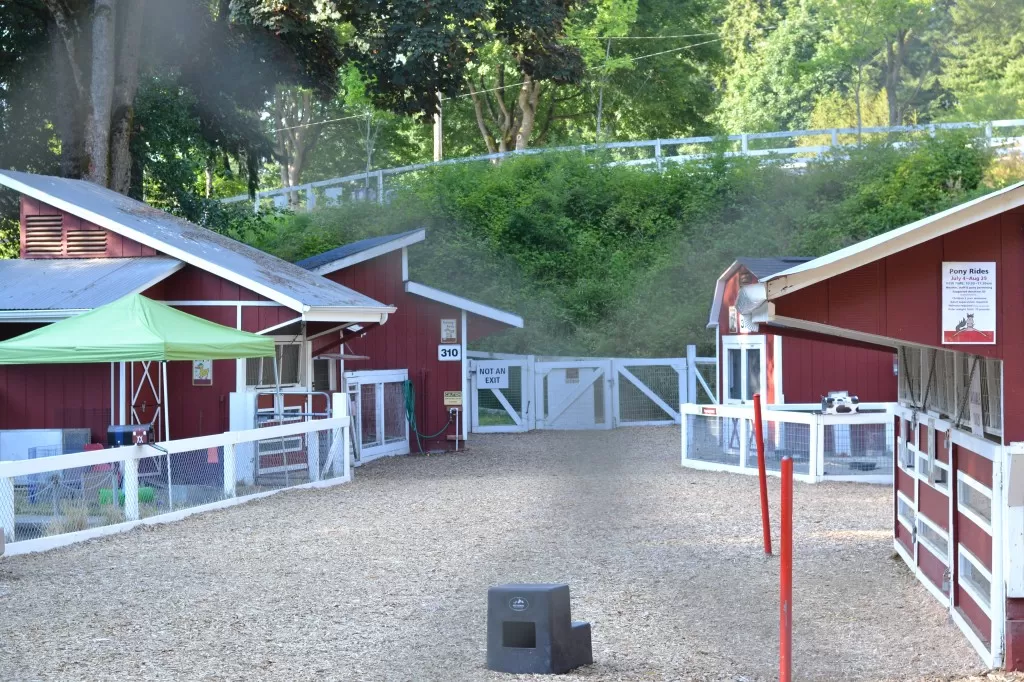 This park offers a little something for everyone. Find water play, a petting zoo, indoor swimming pool, playground and more! The park, petting zoo and spray park are free. The swimming pool has a fee (but is not expensive). There are also ice cream and snack trucks on site in the summer, but most people bring a picnic or bbq to enjoy. This park can get crowded in the summer, as it hosts many events, and is popular for local families as well.  It's not often you find one park that offers so many different things for families to do in one spot, with most of the activities being free!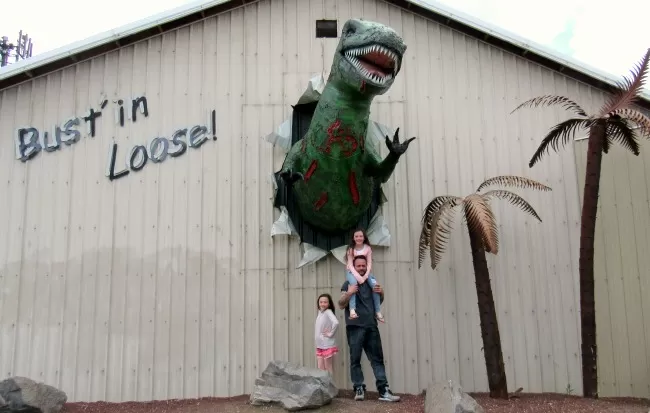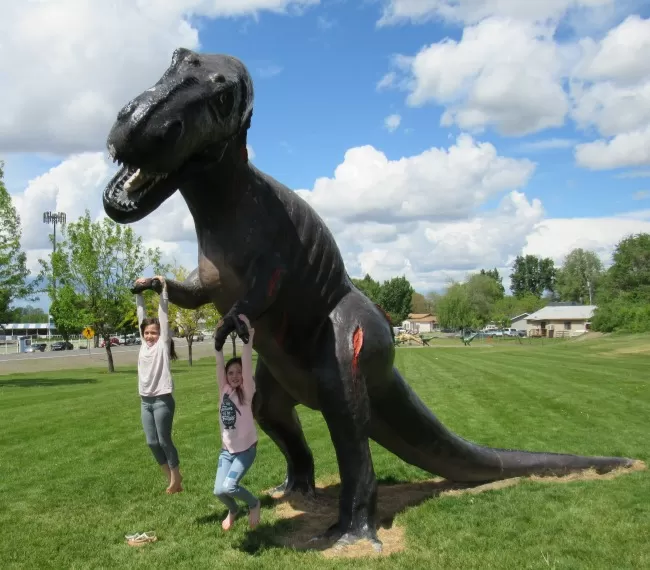 Dinosaur Park in Granger Wa (Yakima County)
We have a full review here of this park. Note that some readers have expressed concerns about the age of the park (its older) and that some experienced it being dirty. We must have hit it on a good day, because we really enjoyed it (mostly as a novelty kind of experience – not because it has a super play structure – but we are a dinosaur loving family, and so enjoyed the experience personally). You can drive through the town to see more dinosaurs too.
We visited as part of a bigger trip to Union Gap (its a little drive from there), but Union Gap has a wonderful and free Agriculture Museum you might want to check out too if your in the area. You can find our full review here.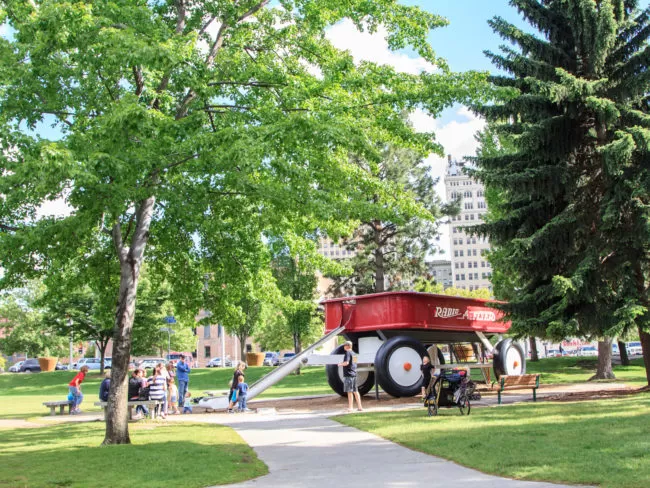 Photo Credit: City of Spokane Parks & Recreation
My family loved our time visiting the Spokane waterfront during the summer. This Red Wagon slide is a must see. If you don't  mind a little walking, there is so much to do there,  in addition to this fun playground.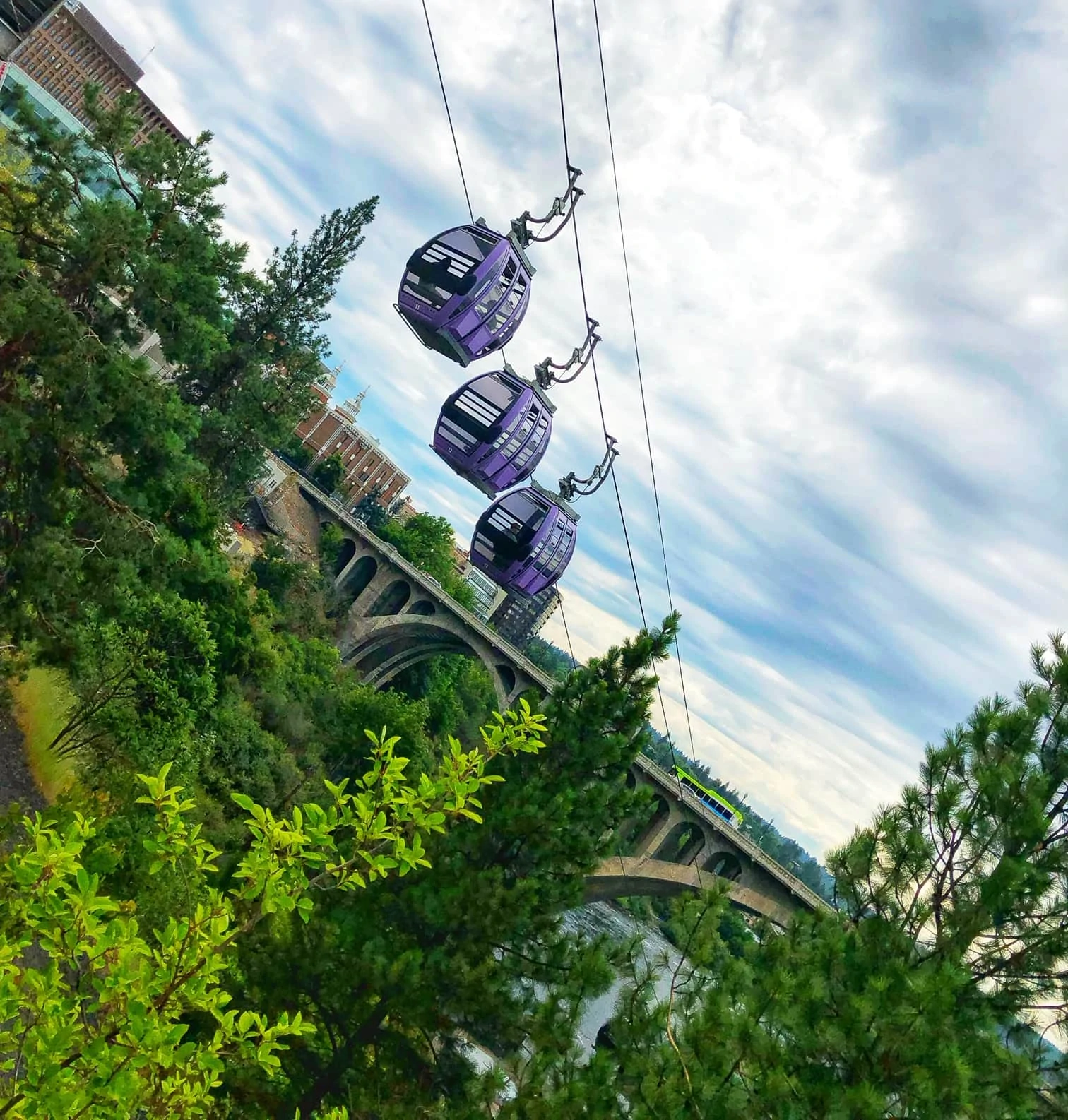 We enjoyed the spray park, took a Gondola ride over the falls, and there is even an amusement park in the area (and often free festivals). The playground itself is a real novelty though – it's getting harder to find big metal slides anymore and my kids love them!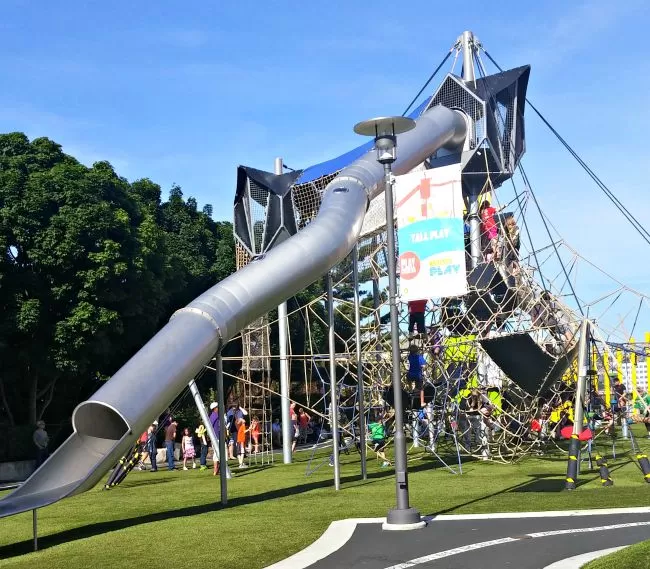 This one makes our list because of the height of the climbing structure. That and it's hands down my kids favorite park (at 8 and 10 years old). In a day where playgrounds seem to be getting smaller for safety issues, they built this one way up there and my kids cannot get enough of it. That and the Seattle Center fountain is a short walk away for lots of water play on a hot day too.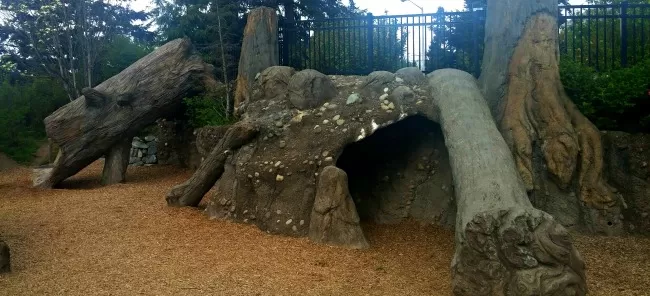 This spot out in Tacoma, near Cheney Stadium, is great for an afternoon of fun! There is a fun natural themed playground outside, including a creek bed that kids can run through. The Tacoma Nature Center is a 71-acre nature preserve encompassing Snake Lake and the surrounding wetlands and forest and there is plenty to do for an afternoon here. Bring kids in play clothes and let them get dirty at this playground.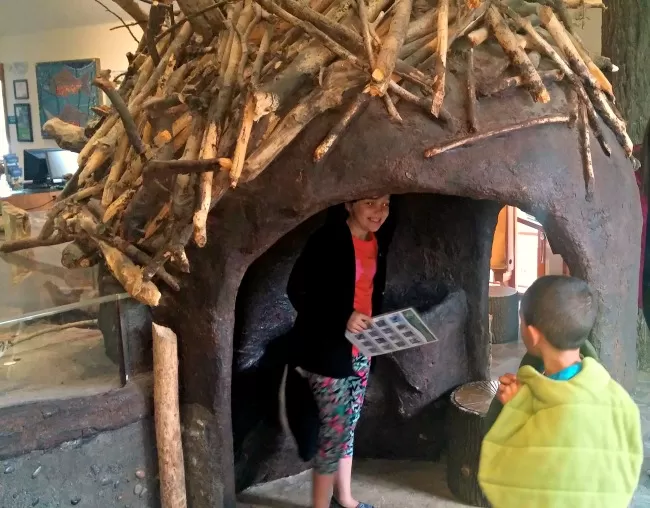 In addition to the outdoor playground, there is also an indoor play and exploration area, and trails and bridges you can follow around the lake. And all for FREE!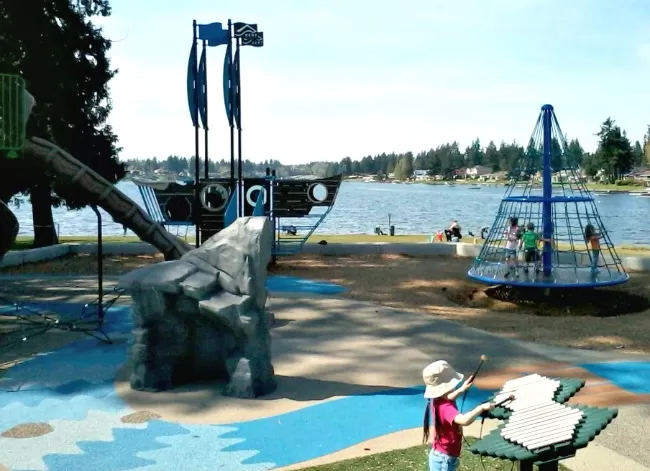 Lake Meridian in Kent has a park that has a pirate theme, with a pirate playship and all. It is also not far from the swimming area of the lake, so your kids can enjoy sand play as well as playground play here too (fields to toss a ball or frisbee on as well). There is also a dock if you want to get some fishing in for the day.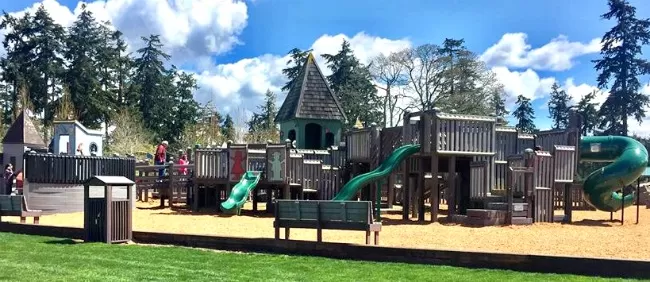 Castle Themed Playground & Parks at Fort Steilacoom in Tacoma, or Steele Lake in Federal Way
If your kids like castles, there are two great local parks in the Southend. They are Fort Steilacoom in Tacoma and Family Funland at Steele Lake in Federal Way.
The picture above is of the castle playground at Fort Steilacoom in Tacoma. There are also large fields to play games on, and swings and climbing walls. My kids stay busy at this playground for hours.
The Family Funland at Steele Lake in Federal Way has a castle themed playground, as well as the lake for swimming a sandy beach, trails and more!
While all of the rest of these are free, this last park will require that you pay an entrance fee, as it is part of the Northwest Trek. It is too good to not mention though!
This park will require you to pay for admission to NW Trek (but then you get to enjoy all that a day at NW Trek offers too!), but there is no fee to enter the park once you are in. It is a half acre playground that is a nature-based playground & adventure area for kids ages toddler to tweens. Make sure to check out our in-depth review of this kids nature play area.
More articles you might be interested in: