High Trek Adventures and Ziplines – Most Affordable Zipline Option!
This post may contain affiliate links and I may be compensated for this post. Please read our disclosure policy here.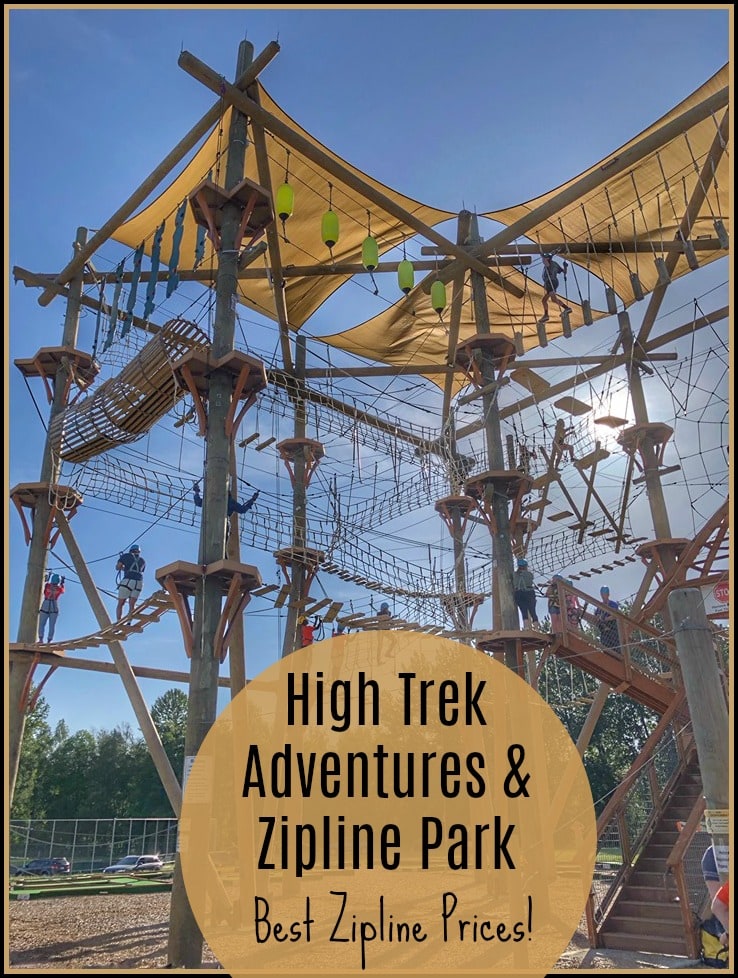 High Trek Adventures and Ziplines – Fun Day Out!
High Trek Adventure Park is full of family fun, and we share what you need to know to get out and enjoy this fantastic local adventure park! We visited during a previous summer, and loved our time there. It was a thrill for sure. They have made some changes due to current circumstances, so check out their updates here to make sure you are prepared on your visit.
You will have to make reservations ahead of time, and there are no bathrooms available. These are two examples of current changes to keep folks safe. Find all of the updates here.
Plus, they are now offering a special promo when you refer friends. Refer a friend to them, and get a free climb or laser tag voucher when they book using the email you send them (find all the details on this program here).
And, they have also now opened a new location in Lake Chelan as well. You can find more on that here too.
High Trek Adventure Park Review:
We visited High Trek Adventures and Zipline park last summer, and were very impressed with all there was to do there. It was a memorable experience for sure. If you are interested in trying out ziplining, it was one of the most affordable options we could find around as well. The other thing that is really cool about this adventure park, is that there is more to do beyond ziplining. One of the big highlights is the rope course. There is also laser tag, putt putt and more – so we found something to do for everyone in our party.  We share details about the various aspects of the adventure park, as well as some tips on planning your visit, and saving on admission.
Here are some current updates on the activities you will find available at High Trek Adventures This Season:
In addition to the great ropes courses shown here, and the zip lines, putt putt and laser tag, High Trek is adding some new adventures to their line up for this year.
They include – 
Axe Throwing is coming to High Trek Adventures.  They will be starting the construction of 2 outdoor Axe Throwing lanes which can accommodate parties of up to 5 people per lane.  More details and pictures will be coming soon, so stay tuned.
New Low Ropes Course and 2 Low Ziplines:  This year they will be installing a new 8 element Low Ropes course that will allow for more field trips and team building options.  At the same time, we are installing 2 ziplines that will be just off the ground to provide ziplining opportunities for younger guests or those that are a little too scared to get up to the 45′ tall ziplines.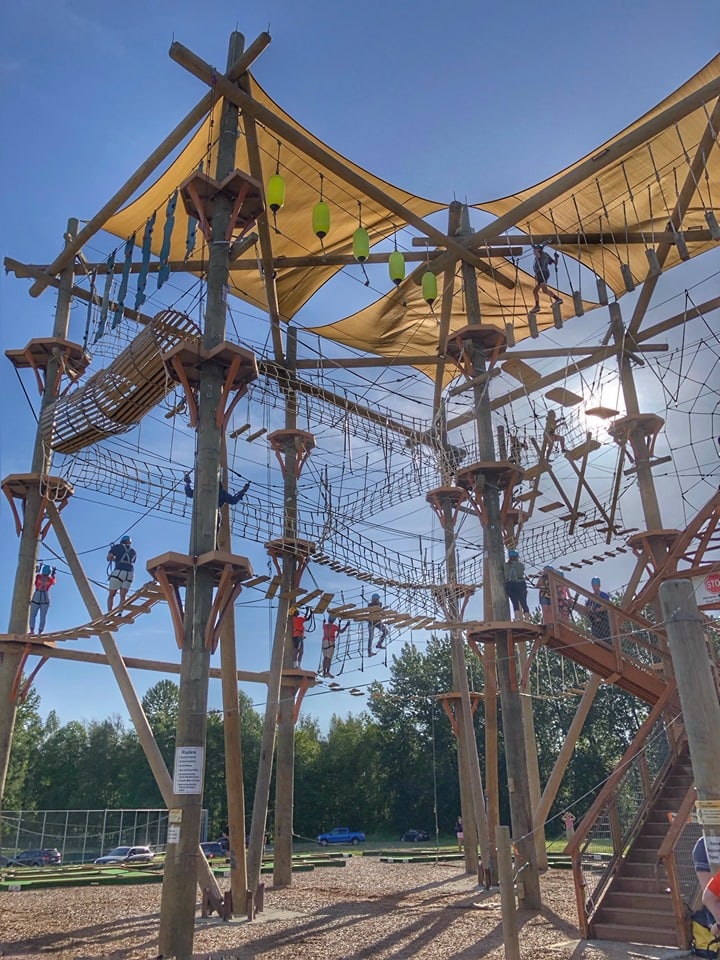 Our Review of High Trek Adventures:
I took my mom (kids grandma) and two tween daughters out to experience High Trek Adventures last summer. Together we range from super adventurous, to afraid of heights – but we all had a really great time. To be honest, my kids challenged me quite a bit here, and I am so glad they did. I am not sure I would have climbed it, if it were not for being too afraid to send my kiddos up there alone! But once I made it through it all, I felt great about doing it. They use a safety system I will talk more about below, that did provide me security, so that was really helpful. I was not prepared for how much higher it felt when you are walking on ropes up there, then it looked, so if you have not done much of this prepare yourself for that.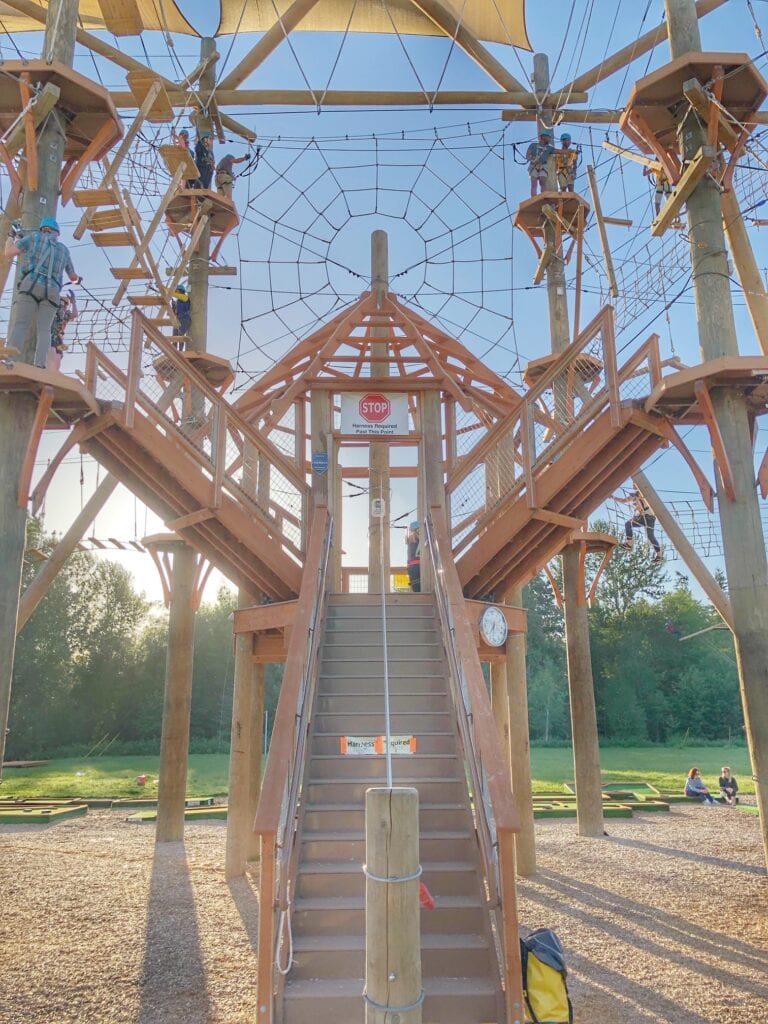 One of the best things about the rope course is that there are multi levels, so something for everyone. You go up the left side for the higher, more challenging rope course, and up the right side for the lower one (good for younger kids).
I did have one kiddo with me, who did get scared when she started up, and the staff was wonderful in helping her back down to where she was comfortable. She finished the day off playing putt putt golf. I was excited to hear that they are adding the lower to the ground zip line, as she would have loved that – and it makes it really nice for those with more than one child (that way if one is more adventurous than the other there is something for everyone).
My other daughter could not get high enough fast enough, and went on all the zip lines!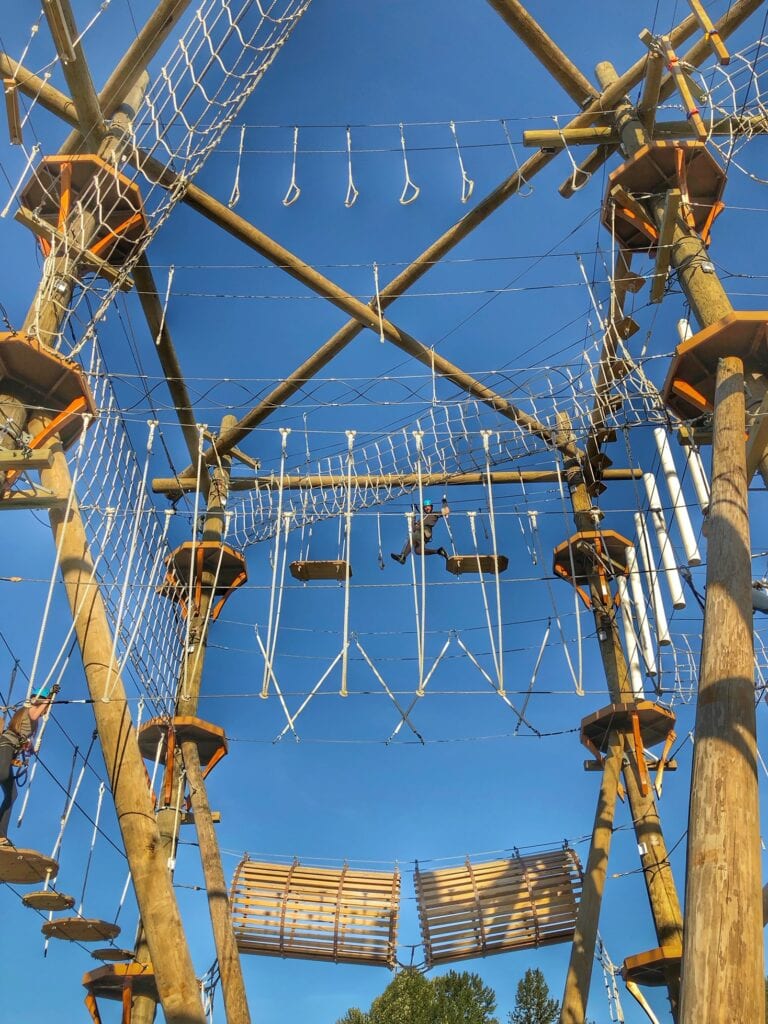 Ropes courses 
There was a variety of rope courses, some lower and easy, others higher and more challenging. This was my first time doing something like this, so I found them challenging (chasing my oldest daughter to the top) but doable. There were a few times that I went one route, and realized – oops, this one might be a little much for me, and had to back track and take another route – but that was part of the thrill.
The rope course can be enjoyed just as rope course challenges, but they also lead up to the zipline platforms that you launch from if you want to do the zip lines.
Ziplines
Here is an image of the ziplines that you access via climbing the rope course, and launching from the zip line pads there. There are more than one, and we never ran into a crowding issue – you wait until the next party has zipped on before heading to that platform, and they you take a rope elevator down from the last one to get back on the ground.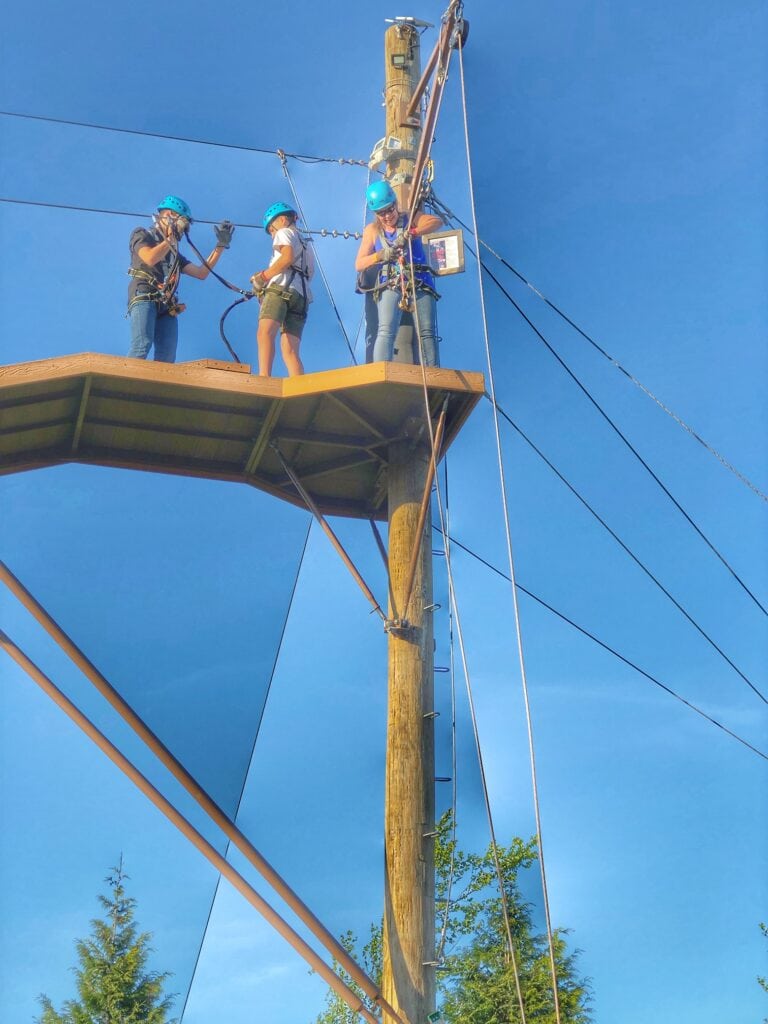 This is what it looks like when you are on the platform, moving from one zipline to the next. You always have one line hooked on (read more about how that works below), so there is that safety backup.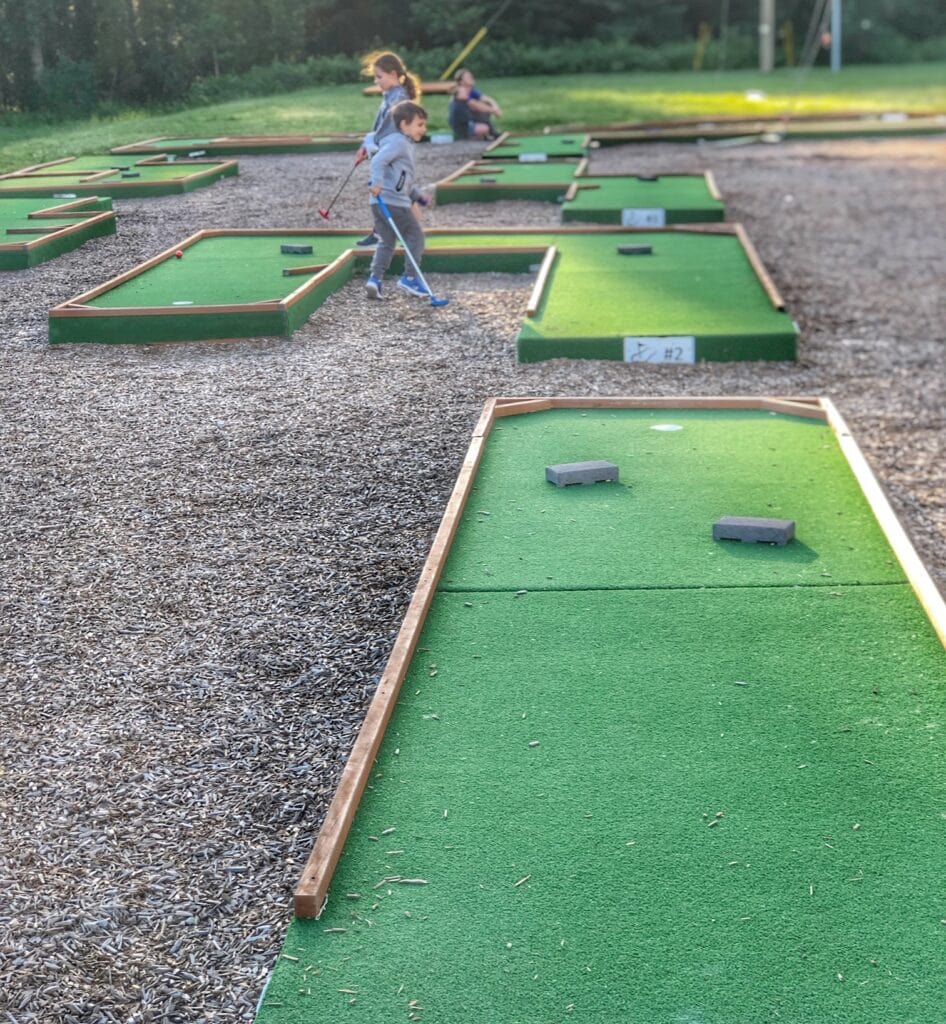 Mini Golf
They also offer putt putt golf, which worked out great for my party, as grandma and my youngest where able to enjoy this while my adventure seeker was flying through the ziplines!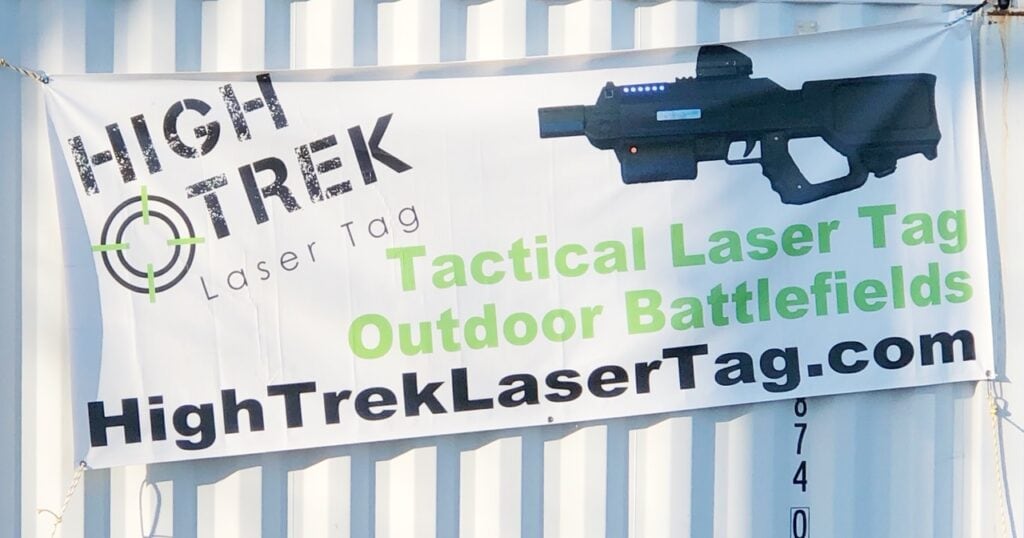 and Laser tag
Laser tag is another fun option for you to enjoy while visiting, or planning a party around.
How to Save at High Trek Adventures and Ziplines:
There are a handful of ways you can save on admission to High Trek Adventures. These include Pre-Season Deals on Annual Passes, Adventure Passes, and Climbing Vouchers through deals sites, among others
Annual Passes –
Right now you can get a deal on the Season Passes, by purchasing them early.
These passes give you access to the Ropes Course, Mini-Golf, and Laser Tag all season long with no limitations.  Season Pass holders can visit as many times as they like and do all three activities throughout the year.  They also get 20% off on companion tickets for the guests that they bring and 10% off merchandise and food & beverages from the HT Store.
Climbing Vouchers –
You buy these by the hour. You can save 10% off of that by purchasing at least 5 days in advance here. If you will be bringing kids 4 and up, that will only want to enjoy the Cadets Course (smaller course for kids), you can get those passes for less.
Buy the Voucher packs now, for a better savings offer.
Day Passes –
Adventure Day Passes are coming this year:  Similar to the season passes, the adventure day passes include 2 hours on the Ropes Course, unlimited Mini-Golf, and unlimited Laser Tag on one day of your choosing.  These passes provide the best value.
Deal Sites –
You will often find deals available on Groupon as well. There are currently some savings opportunities here on Groupon for Laser Tag packages.
Special Discounts –
High Trek Adventures offer special discounts for Military members, College students, Foster Families and aviation families as well as Spring Specials. Find more details on those on their discounts page.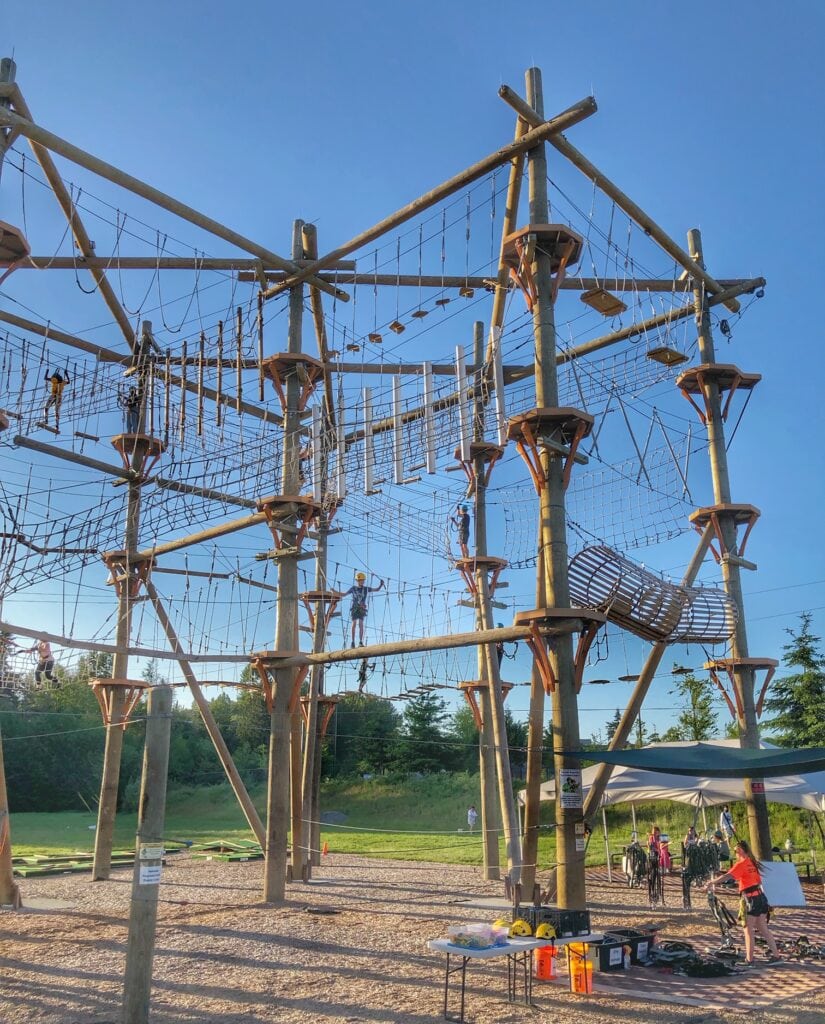 More To Know Before Visiting: 
They use a belay system that I really liked. It starts with getting you into your safety harness, and they there is a practice area you learn to clip onto and off of. It is set up with sensors so that you cannot unhook your first hook until you have your second one attached – so you are always hooked on. You hook on and off to move from one area of the course or zipline to another, but with this safety system you always remain hooked up until you touch down on the ground again. I am not sure I would have made it through this course, without that peace of mind!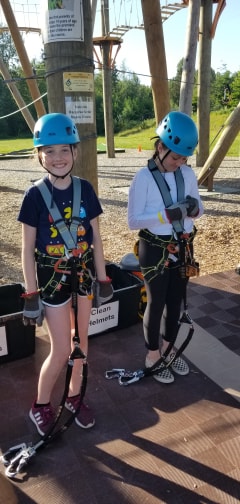 My girls are all geared up and getting ready to hit the course and ziplines. Their equipment all appeared in great shape, and well maintained to me, which was important.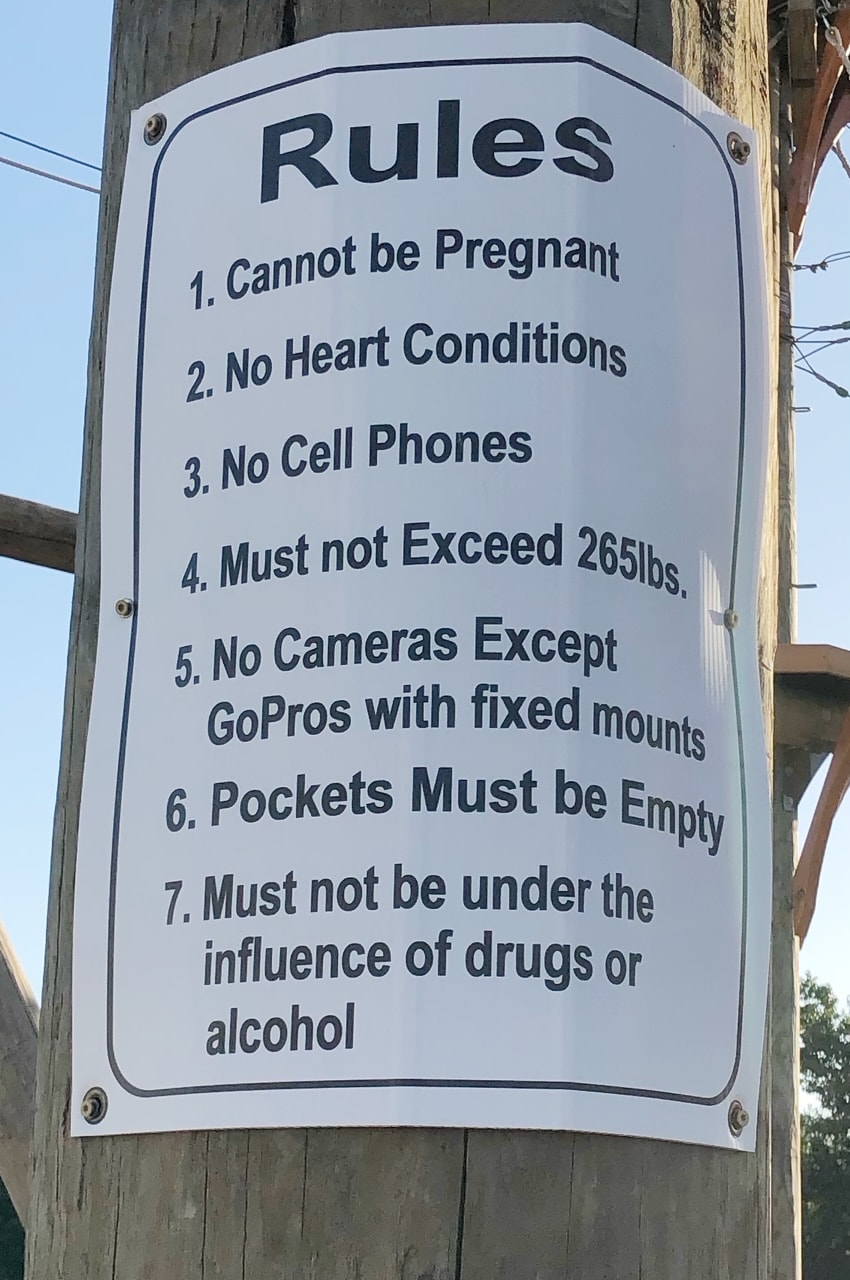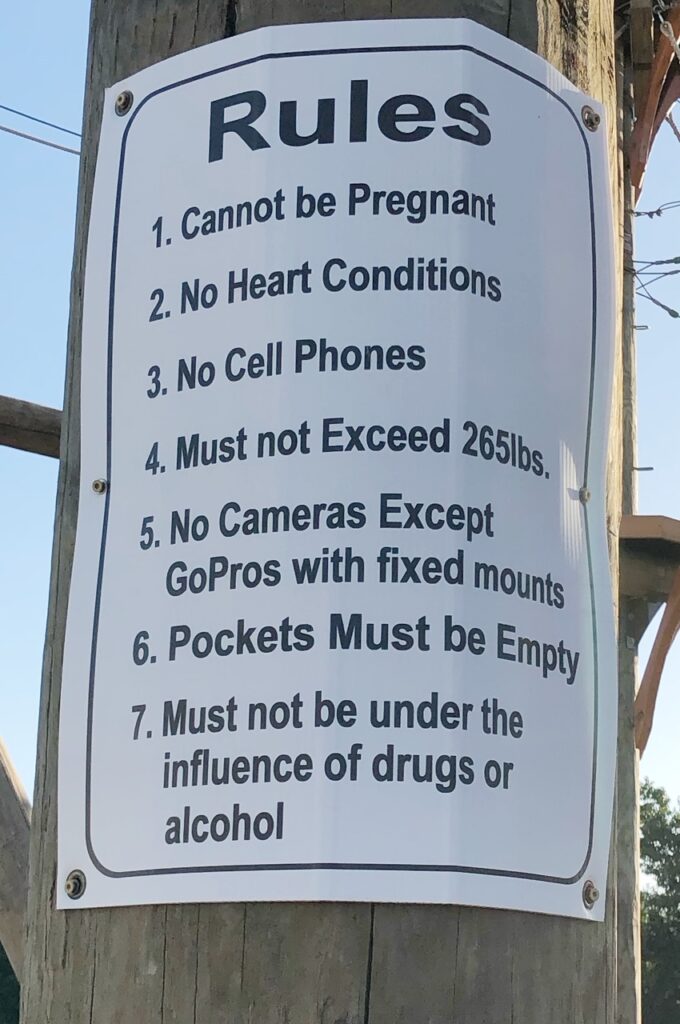 Some rules to know before you go!
You will also want to consider filling out the waiver forms before your visit to save you time when you arrive (this will be much more convenient for you).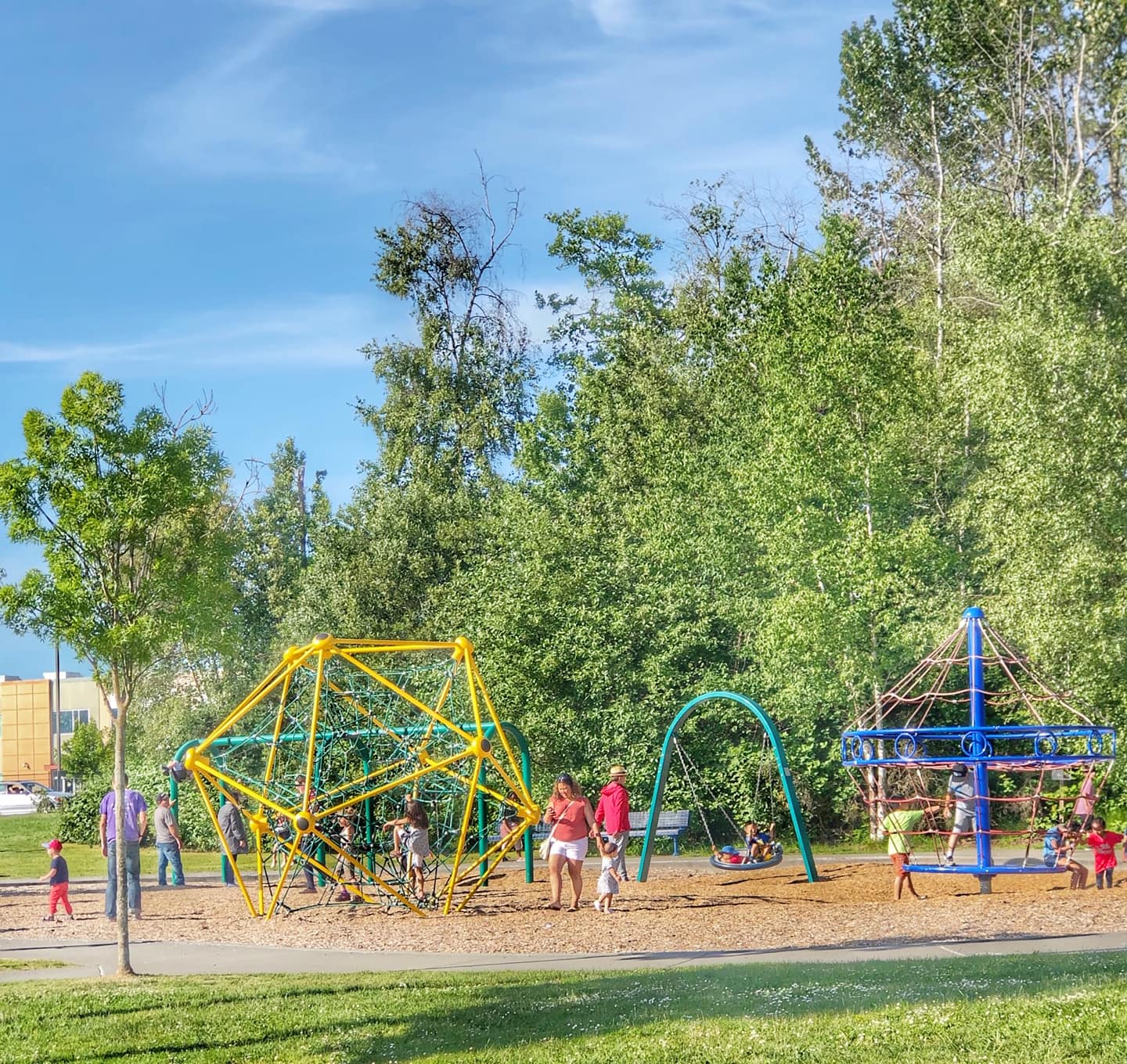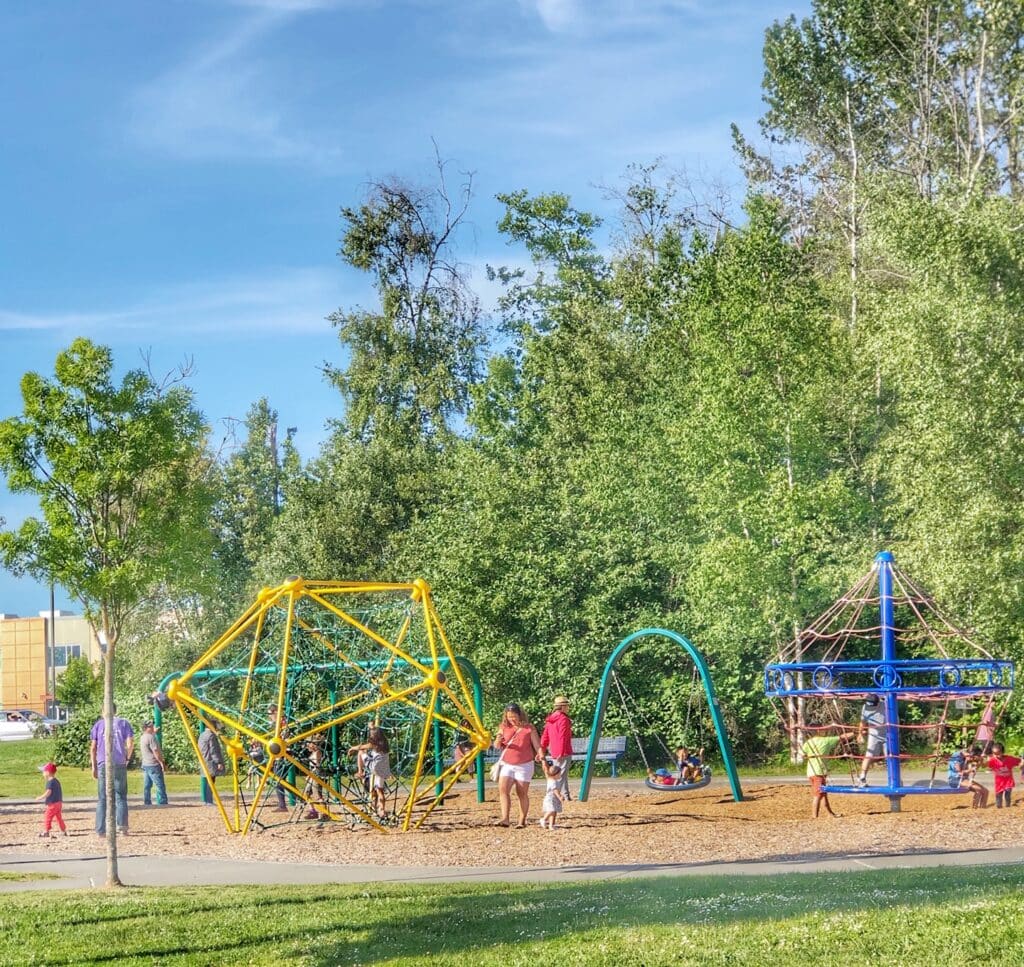 High Trek Adventures and Ziplining is located in Everett, adjacent to the Paine Field Community Park (about 5 minutes from Lynnwood on the freeway). You can pack a picnic and enjoy it at the park after, or they also have picnic tables you can use. There are a number of restaurants in the area as well.
More articles you might like –
Black Diamond Free Days (with Ziplining)