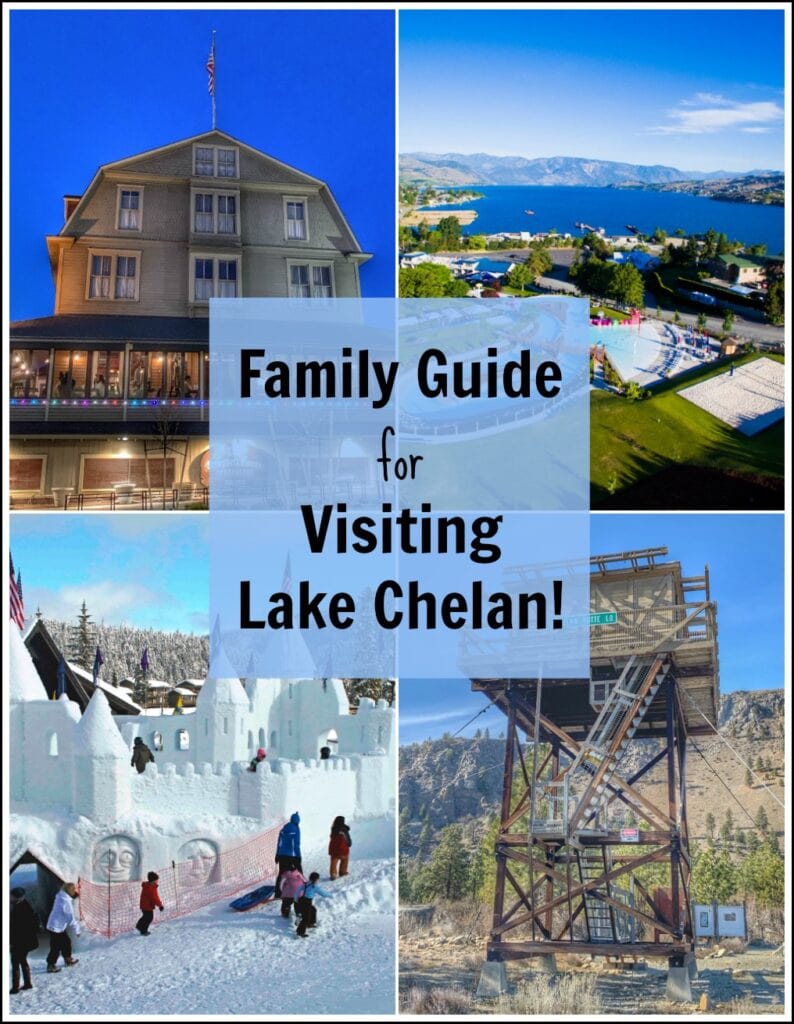 We were hosted by the Lake Chelan Visitors Center, so we could share about Lake Chelan with Thrifty NW Mom readers. All opinions are 100% my own.
Lake Chelan Family Guide – Where to Stay, What to Do & Where to Eat!
We recently enjoyed a short getaway in Lake Chelan over our kids winter break. While the town is much quieter this time of the year, we enjoyed a beautiful and relaxing stay. We also had the opportunity to scope things out for family fun year round. The Lake Chelan area is beautiful, and has some great activities for families, particularly in the summer as well as some snow activities in the winter. The rest of the year it will act mostly as a quiet and relaxing getaway, if that is what you are looking for.
The downtown area of Lake Chelan is comprised of a quaint street full of shops and eateries. There is also a riverfront walk that you can enjoy, and direct lake access from this area. There are a number of other spots you can drive to and enjoy, so there is plenty to do for the entire family.
We recommend that your first stop once you are settled into where you are staying, is the Chelan Chamber Of Commerce. It is easily located in the downtown area, and packed full of great info that will help you make your Chelan getaway the best it can be.
Family Fun in Lake Chelan – What to Do?
Chelan has many seasonal things to do for families (water fun in the summer and snow fun in the winter). We will share about the seasonal things below, but here is a list of things family can do year round in the Chelan area.


Enjoy shopping and eating in Historic Downtown Chelan
The Historic Downtown Chelan area, is so cute, and really easy to navigate. It is a great walking city, set up with nice sidewalks and cross-walks, etc. When you think of one of those magical "Main Streets" like you see in old movies, this is one of those – full of lots of charm.  We found a handful of great spots to eat in this area, as well as fun shops to explore for a little retail therapy. If you are looking for easy walking access to lots of things that Chelan has to offer, this is a great spot to stay near.

Just a few blocks from Main Street, is this Variety Shop, that sits next to Safeway, and it had just about everything you might need on your vacation – from river floats to swimwear and much more! My kids spent a good half hour in here, exploring row after row of merchandise.

Chelan Lanes – Bowling and Arcade Games
If you are looking to get out in the evening (or day) Chelan Lanes is a local bowling alley that is just a short drive from the Historic Downtown Chelan area. This spot fills up in the evenings, so come prepared to get on a waiting list (it went fast while we were there). We noticed many people where getting dinner there while they played too, so you can make it a combo dinner/entertainment outing as well.
Be sure to check their list of events for the days you will be visiting Chelan. While we were there we found some great deal nights, where bowling was super affordable.

There were even a few arcade games (3 or 4) for the kids to play with quarters, as well as a pool table if you want to enjoy some games. My kids enjoyed shooting some hoops while we were on the waiting list, waiting for a lane to open up.

Ruby Theater in Chelan – Enjoy a Movie in an Old Fashioned Movie Theater
Right in the historic downtown area, you will find this historic movie theater called the Ruby Theater, which is over 100 years old. They do run on a limited schedule during off seasons, but should have a full schedule of showings in the summer. Check out what will be playing during your visit here.

Enjoy the Outdoors – Walking, Biking & Hiking!
The Chelan area is full of outdoor biking and hiking adventures, but you will not have to go far to experience some great walking trails. There is a paved walkway right along the river front, and across bridges, that make for a great stroll anytime of the day. We loved getting up in the morning and grabbing a cup of coffee, and enjoying the riverfront walk that way.
If you are interested in biking, be sure to bring your bikes with you (or during the summer you can rent electric bikes). You will also want to make a stop into the Chelan Chamber Of Commerce to get some great resources and maps for where to find biking and hiking trails in the area. It is right in the downtown area, so an easy spot to check out and get all the resources you need to direct you to the things your family will enjoy. We picked up this biking trail booklet in person, but you can also request it be sent to you ahead of time here as well.
In addition, the summer and winter times bring even more seasonal fun for families. Here are some things you can enjoy during these seasons.
Summers in Chelan:
Summer is the high season for the Lake Chelan area. The weather is beautiful, lots of water play for families, and it makes a memorable lake summer getaway your kids will treasure for years.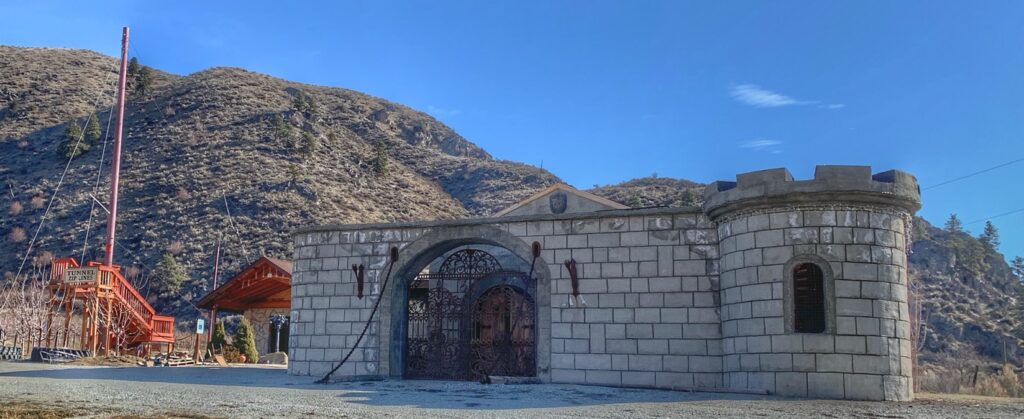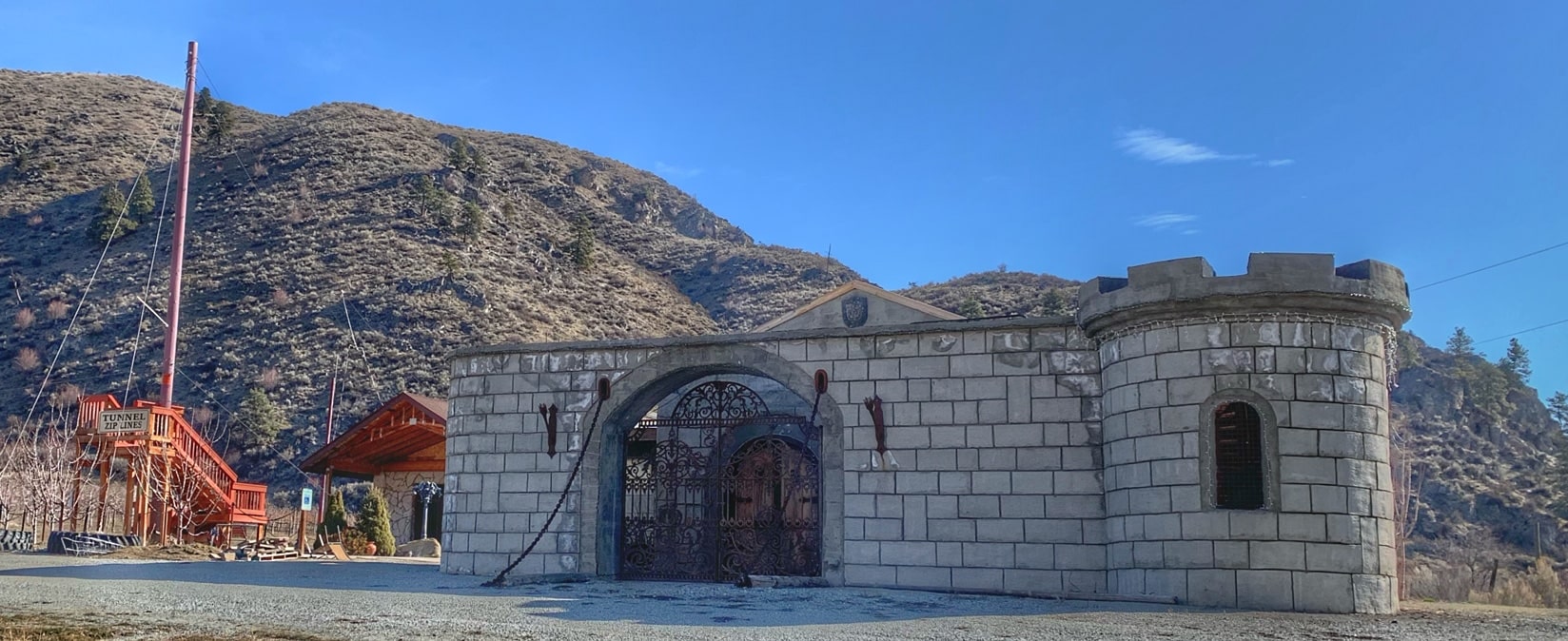 Castle Vineyards & Zip Lines Tours
You will likely drive right by this castle on the side of the highway on your way into Chelan. They open for Zip Line experiences Memorial Day Weekend, and could be a fun outing for the adventurous at heart. You can even combine it with a little wine tasting!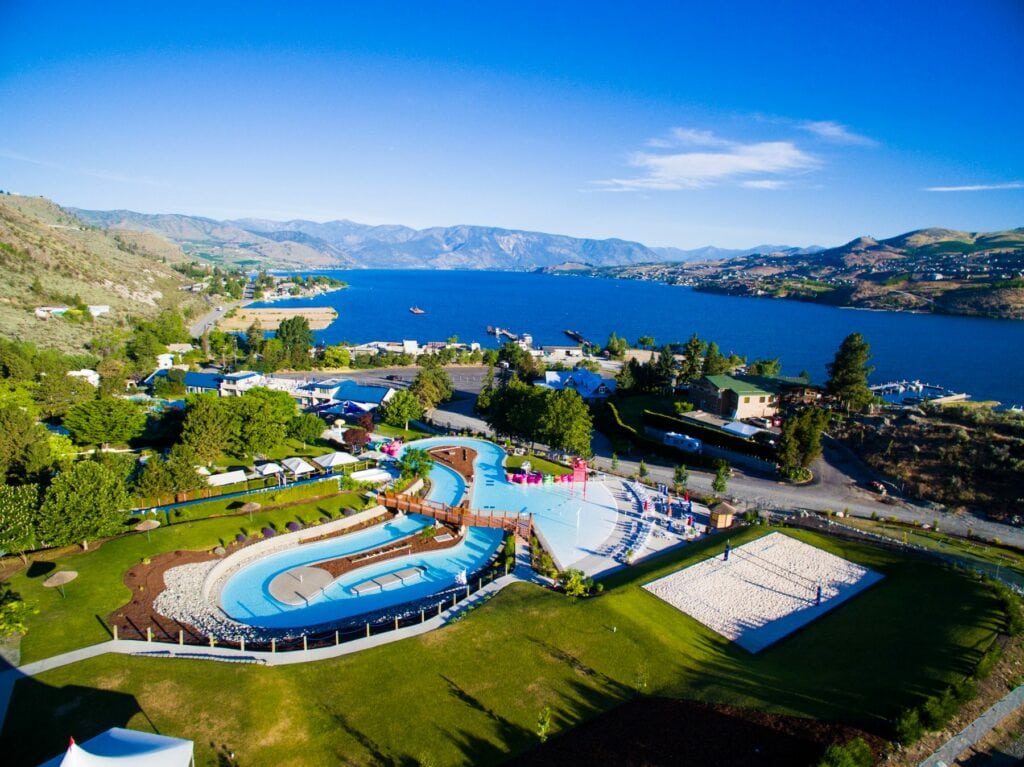 Image Credit: Lake Chelan Chamber of Commerce
Slidewaters Water Park in Lake Chelan
Slidewaters is a popular waterpark in the area, open in the summers, that has eleven waterslides, lazy river, splash pads and so much more. As we get closer to the summer months we often see discount tickets pop up for Slidewaters on Groupon.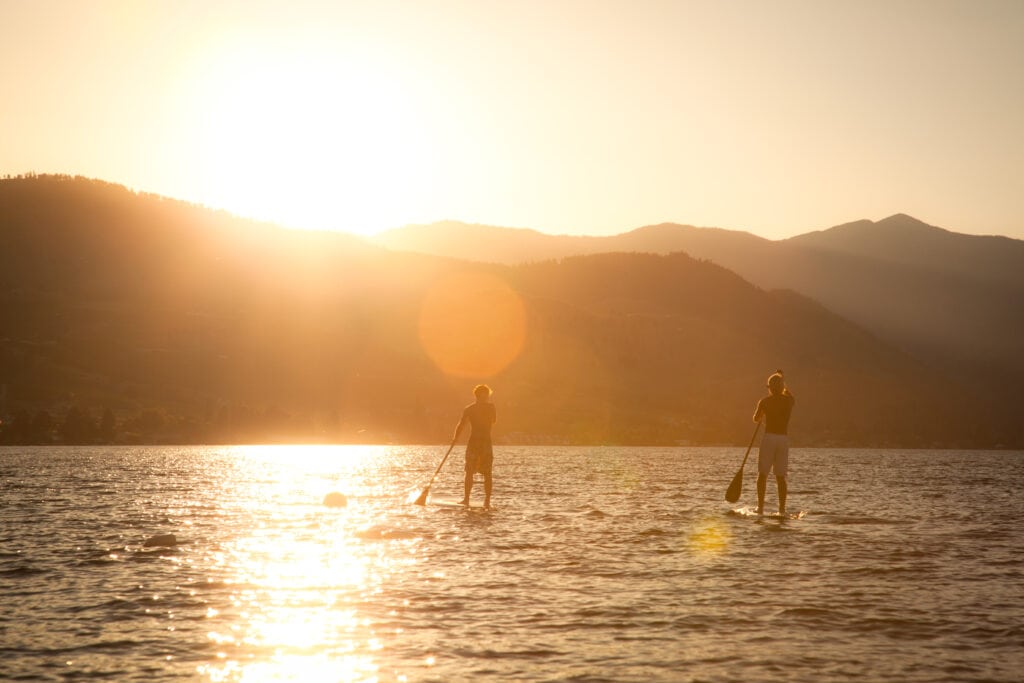 Image Credit: Lake Chelan Chamber of Commerce
Paddle Boarding, Kayaking and Other Watersports
Watersports are a big part of summer fun in Lake Chelan. Some of the resorts will provide rental opportunities right on-site (we stayed at Campbells and you can rent paddleboards and kayaks at their private beach). If you are staying at a location that does not offer them on-siite, there are rental spots in the area you can access equipment from too.
Miniature Golf
Miniature golf is one of my families favorite ways to enjoy beautiful summer days, or early warm summer evenings. There are a couple of spots in the area (one in Chelan, one in Leavenworth if you take a day trip, and putting green opportunities). Find all of the spots your family can enjoy some form of golf in the area here.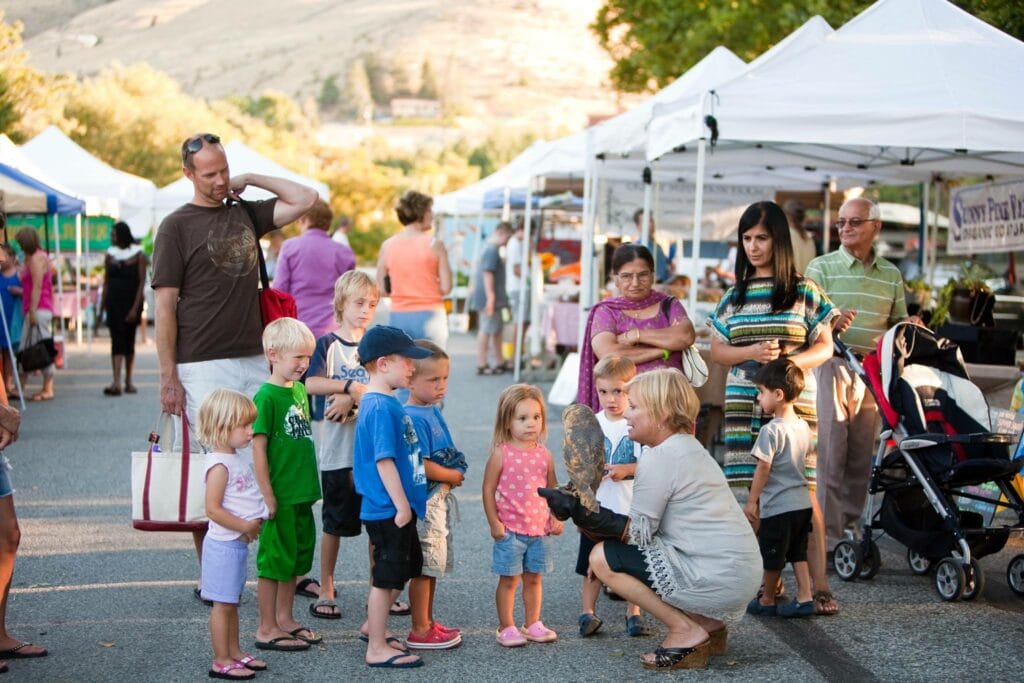 Image Credit: Lake Chelan Chamber of Commerce
Enjoy the Chelan Evening Farmers Market
Be sure to stop in and check out the Thursday Evening Farmers Market, from 4-7pm. It is a great spot to grab some local food and more. It runs from Memorial Day through first week in October.
Rent an Electric Bike, Enjoy Go Karts and so much more!
Be sure to check out LakeChelan.com here for more ideas for family fun, like renting an electric bike, enjoying go-karts and so much more.
Winters in Chelan: 
Winter is a slower season than summer, but there is still plenty of family fun to be had for all.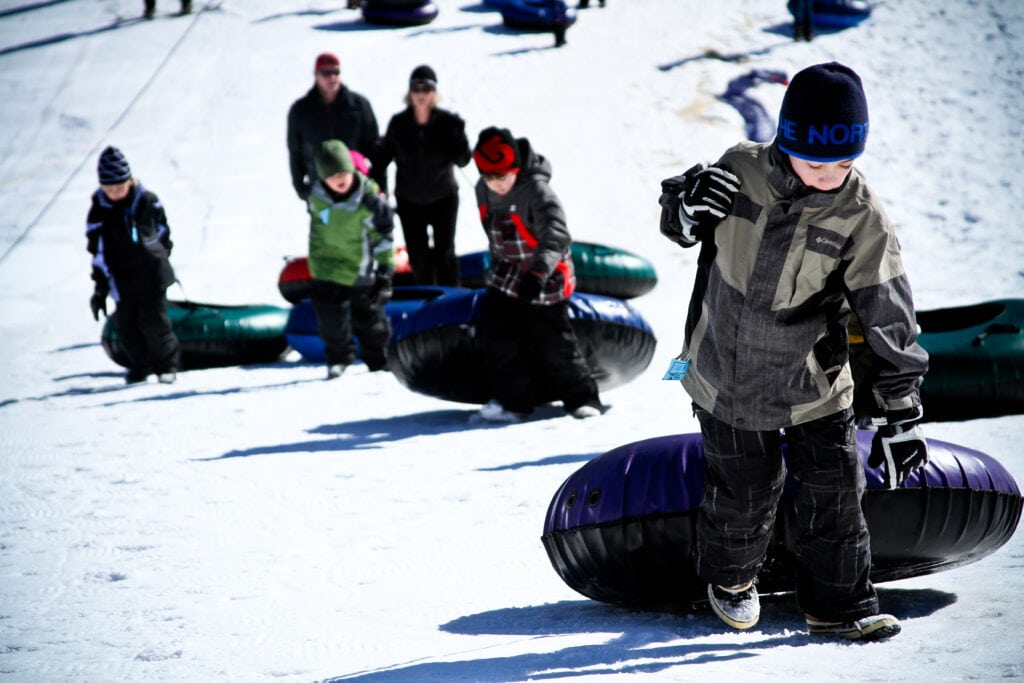 Image Credit: Lake Chelan Chamber of Commerce
 Snow Tubing & Skiing at the Echo Valley Ski Area
Tubing is a fun and affordable way to spend a winter day, during a visit to Chelan. Head up to the Echo Valley Ski & Tubing Area, there is a public tube hill to enjoy. It is one of the best deals I have seen for tubing, at $15 for an all day pass (tubes are supplied). Children 5 and under are free, and they offer military discounts too. Open weekends and holidays.
They also offer some great deals on skiing, and children 5 and under ski free too. Check out their website for more details here.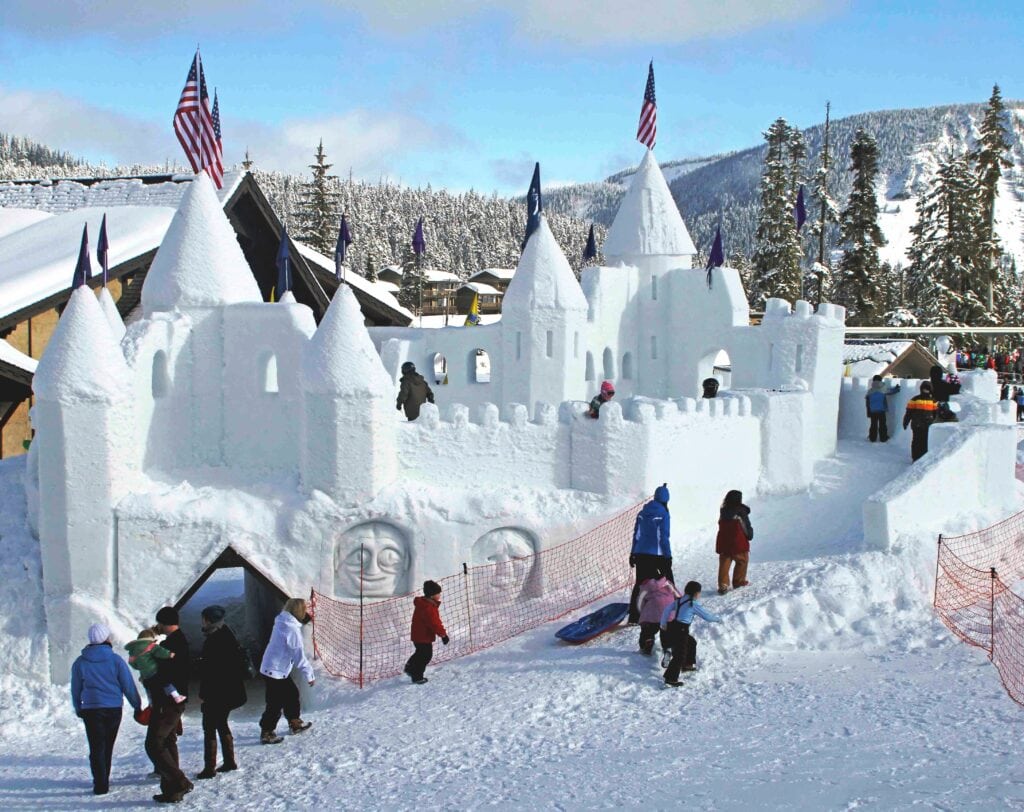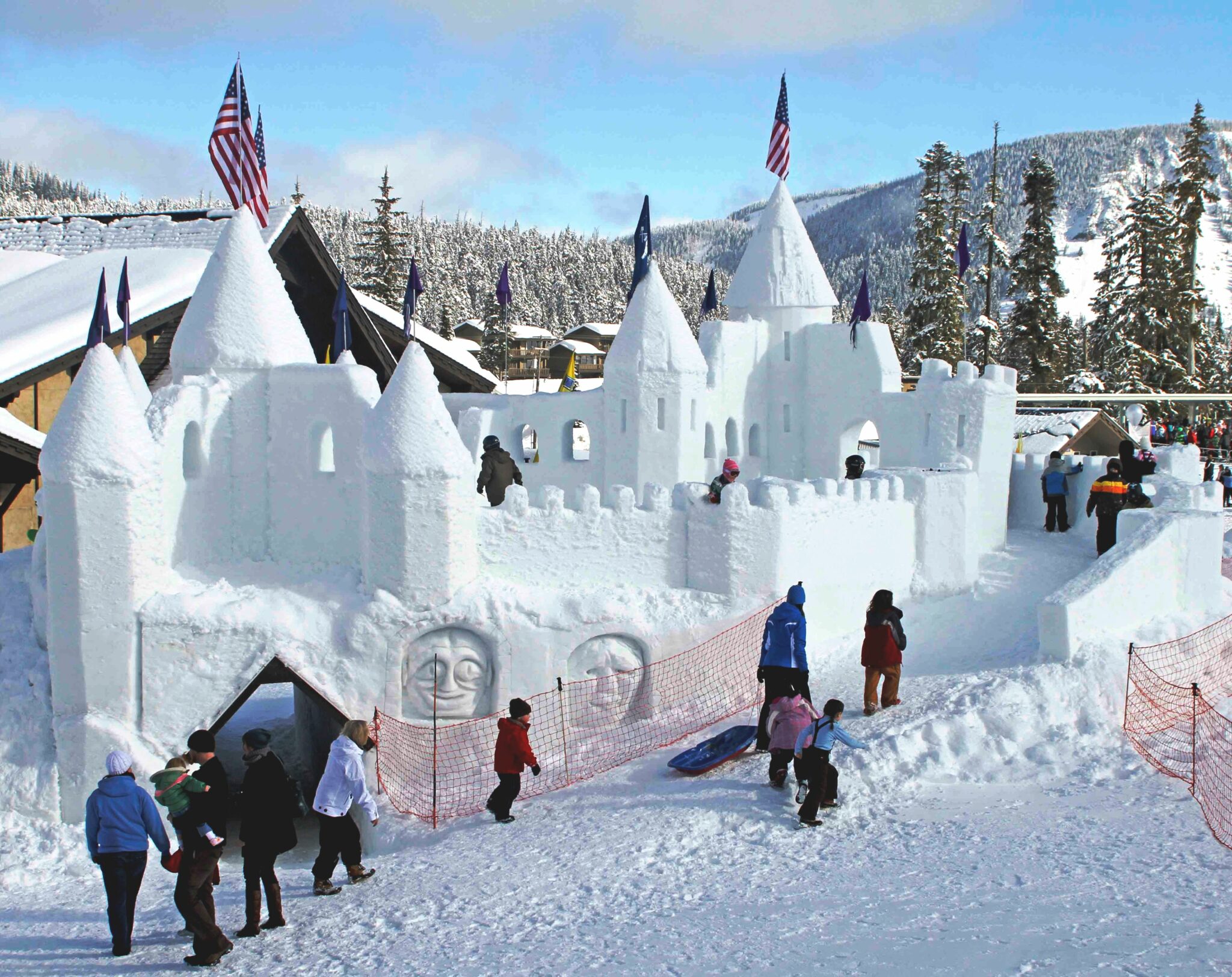 Image Credit: Lake Chelan Chamber of Commerce
Plan a stay during the Winter Festival
The Winter Festival is packed full of fun for families. It runs in January, and you will want to check in on the specific dates when you travel (and reserve where you want to stay early). It includes horse-drawn carriages, ice sculptures, live music, activities for kids of all age, fireworks show and more.
Favorite Spots to Eat in Lake Chelan for Families
We enjoyed some great food and drink right in Downtown Chelan, and the surrounding area. Here are some highlights (including great happy hour deals the entire family can enjoy)!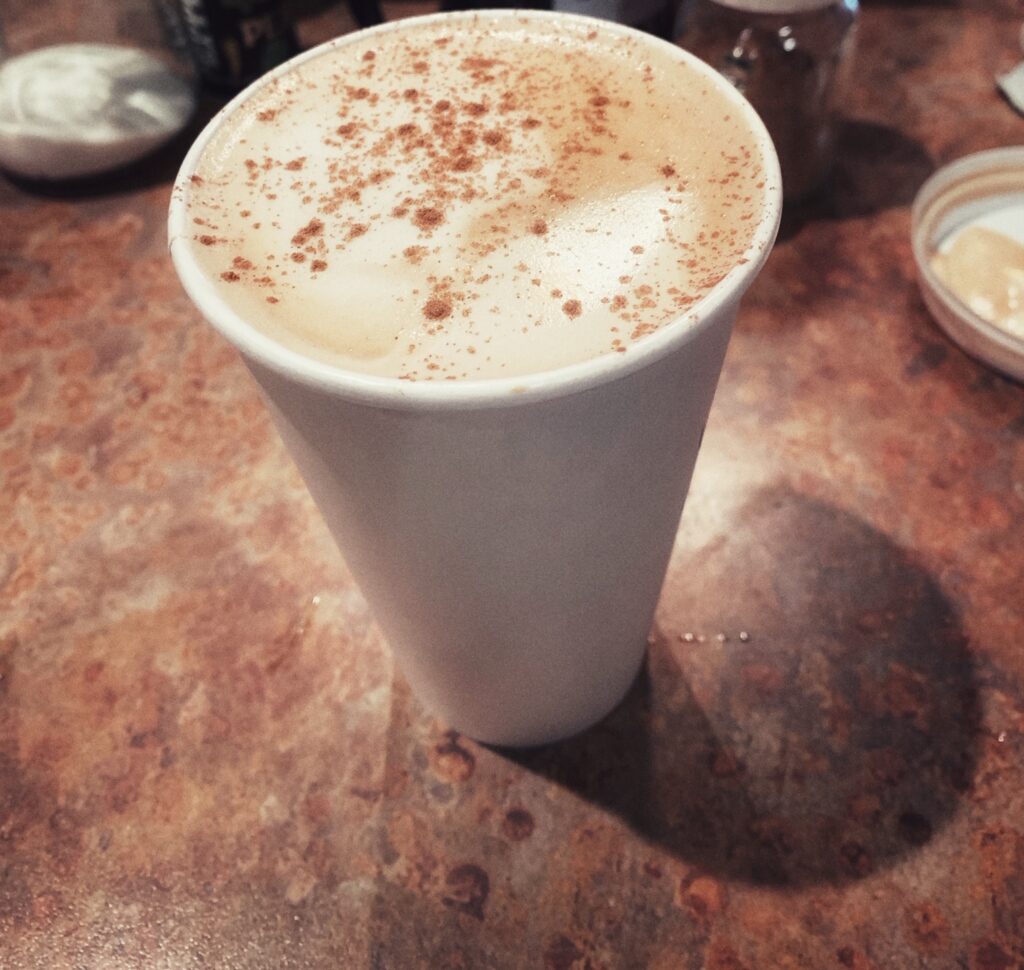 The Vogue, a Liquid Lounge
If you are looking for a great cup of coffee, be sure to check out The Vogue, a Liquid Lounge, right in the heart of historic downtown Chelan. They serve all kinds of options, including regular lattes, soy and oat milk, and more. I love a great oat milk latte, so would start my morning at The Vogue to grab one of those and head to the waterfront for a walk with my coffee. It was the perfect way to start the day.


Campbells Pub & Veranda
Campbells Resort on Lake Chelan has a popular local restaurant called Campbells Pub & Veranda. We checked out their Happy Hour specials, and loved the Flat Breads (both adults and kids enjoyed that). They were my favorite, but there was nothing we tried here that we did not enjoy. The setting is quaint, as the restaurant is located in what was the original hotel, and creates a beautiful ambiance to enjoy your meal in too. Find their menus here.
Marcela's Cocina Mexicana
Marcela's Cocina Mexicana is also located right downtown, and they are well known for making their own tortillas in house. They also happen to have a super affordable (and delicious) happy hour menu that the entire family can enjoy. We got two of the flautas shown above for $5.50, and tacos start at under $2 during happy hour! Find the full happy hour menu on their Facebook page here to see if it is a good fit for you.
If you are in the mood for pizza Local Myth Pizza is a spot many locals recommended to us. We just ran out of time to eat any more food. A couple more local recommendations we got were for the Lake Chelan Brewery, and if you are looking for fine dining, Wapato Point Cellars and Winemakers Grill.
In addition to restaurants, here are a couple of places we found great food options to bring back to our hotel to eat.
The Safeway Deli
A grocery store deli might seem a little odd to include, but honestly – we loved the Safeway deli. It was not like the deli options we find at home, and we were able to stock our hotel fridge with goodies that we could enjoy on our deck with a beautiful water view. This salad sampler was just $5, and you could pick 4 options to eat from. There were so many wonderful to go food options, that helped us save money (but that we also did not have to cook)!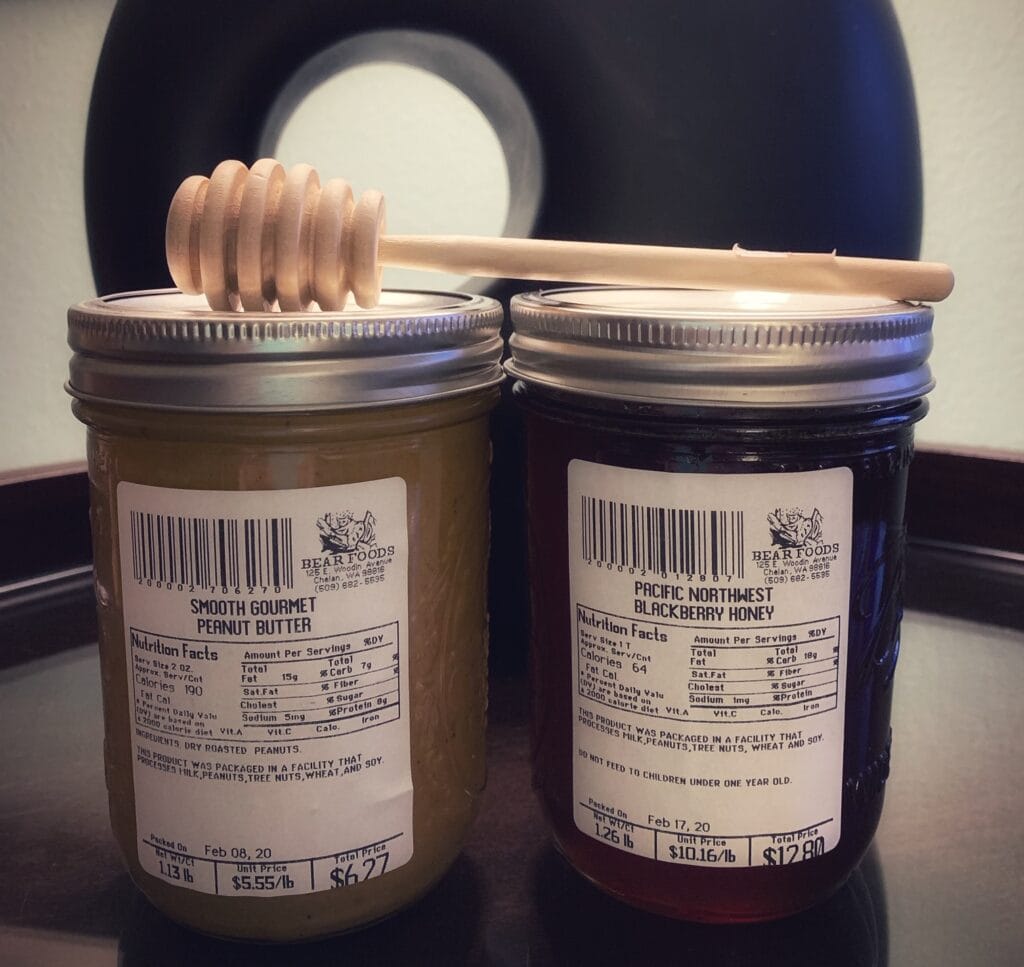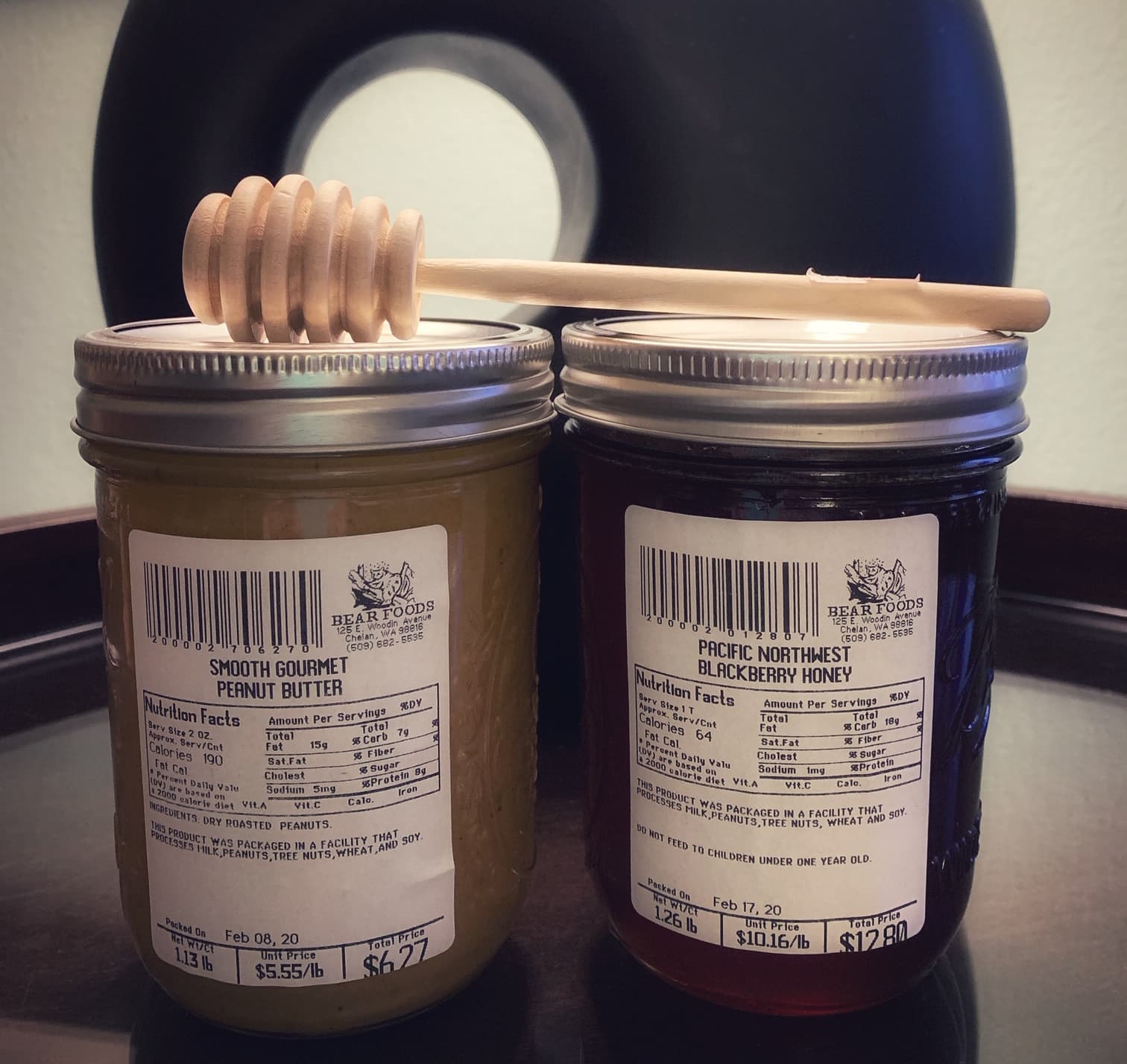 Bear Foods Natural Market
I loved this spot.  There were so many goodies in here that I was spinning, trying to decide how much I could carry back to the hotel. Their local blackberry honey, and natural peanut butter were so good. Both the adults and kids loved the PB & Honey sandwiches we could make with this. They carry fresh produce, specialty teas and everything in between. There is even a Crepe restaurant attached, that is a fun spot to stop for breakfast or lunch (they have savory and sweet options available). I highly recommend a stop in here.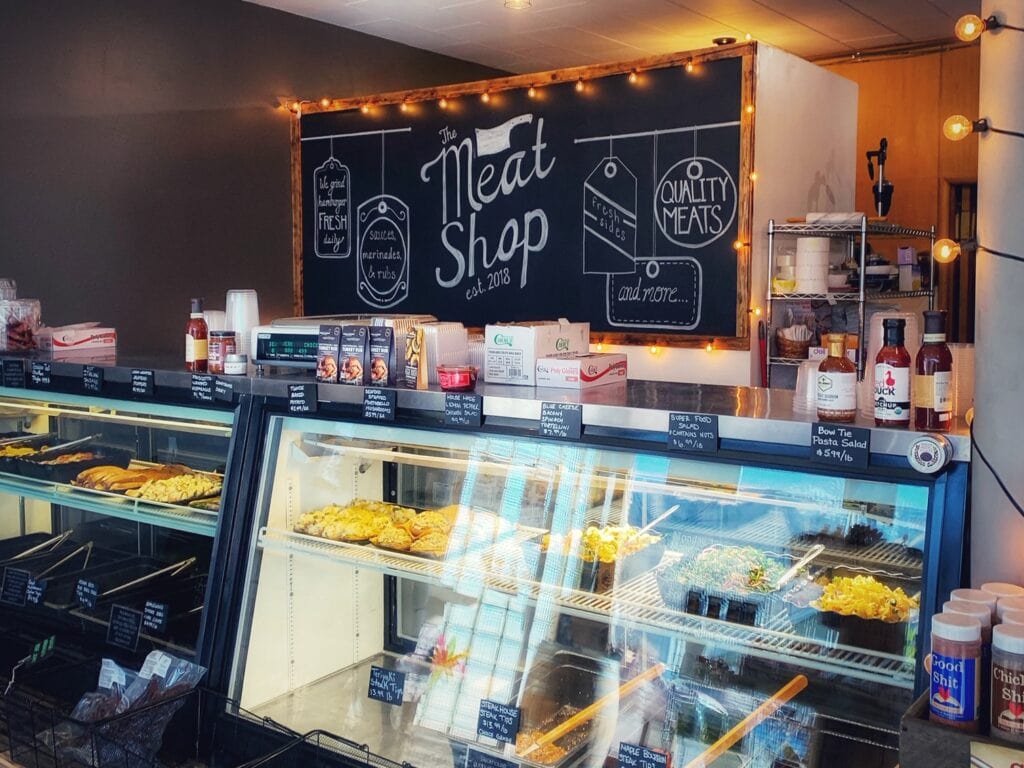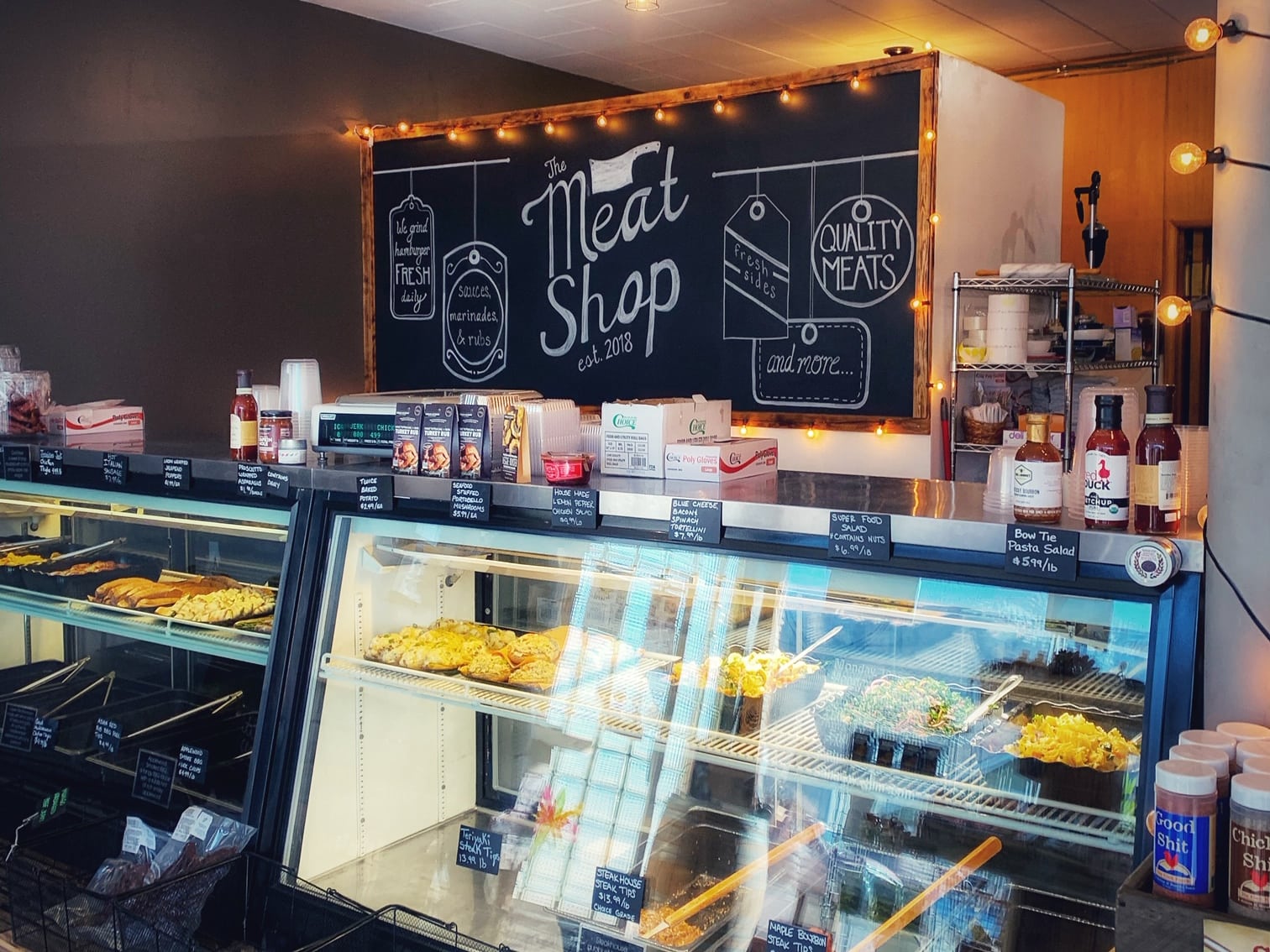 The Meat Shop
The Meat Shop is at the end of town, and is packed full of high quality meat cuts you can grill up, or grab gourmet salads that are already prepared and you can take back to eat. If you love a great meat, cheese and cracker platter this is the spot to check out. They have wonderful cheese options, specialty spreads and cracker options galore.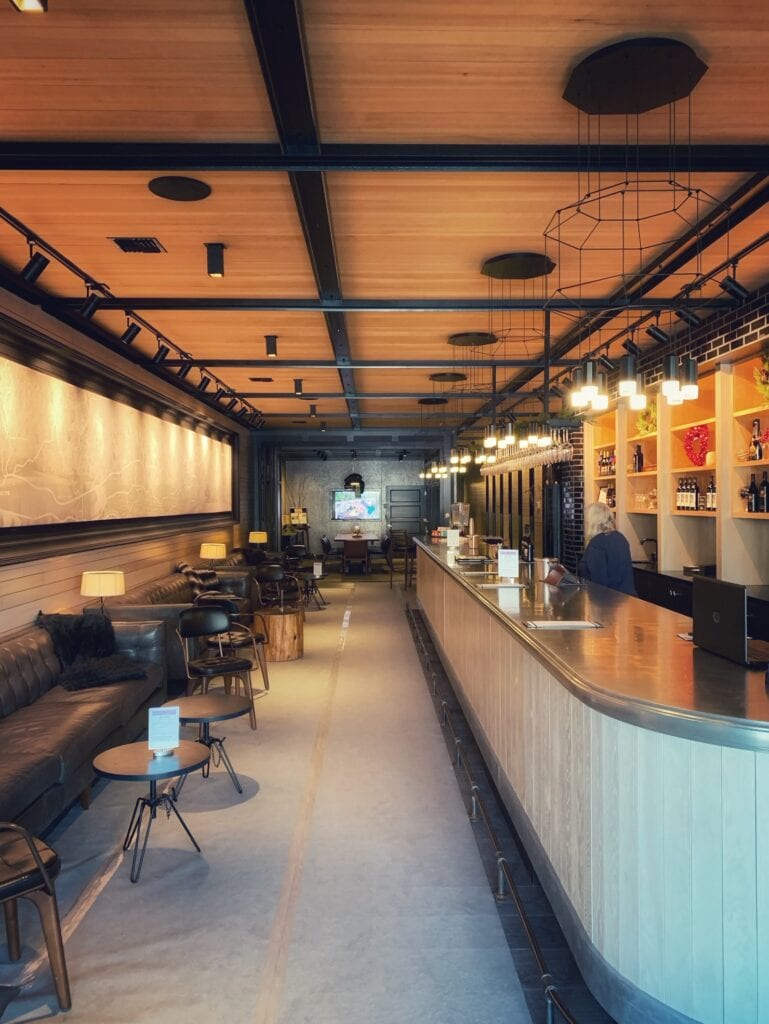 Rocky Pond Winery Tasting Room – Chelan
If what you are looking for is a great wine tasting, the Chelan area is full of those. Again, stopping in at the Chamber of Commerce for recommendations or resources is a great idea for this. There is also a spot right in town (near the Chamber of Commerce) where you can start without driving anywhere. It is called Rocky Pond Winery . If you stopped in at the Meat Shop for some great cured meats and cheeses, this is the perfect spot to stop after, to pair with a great bottle of wine.
Lake Chelan Hotels & Camping – Where to Stay?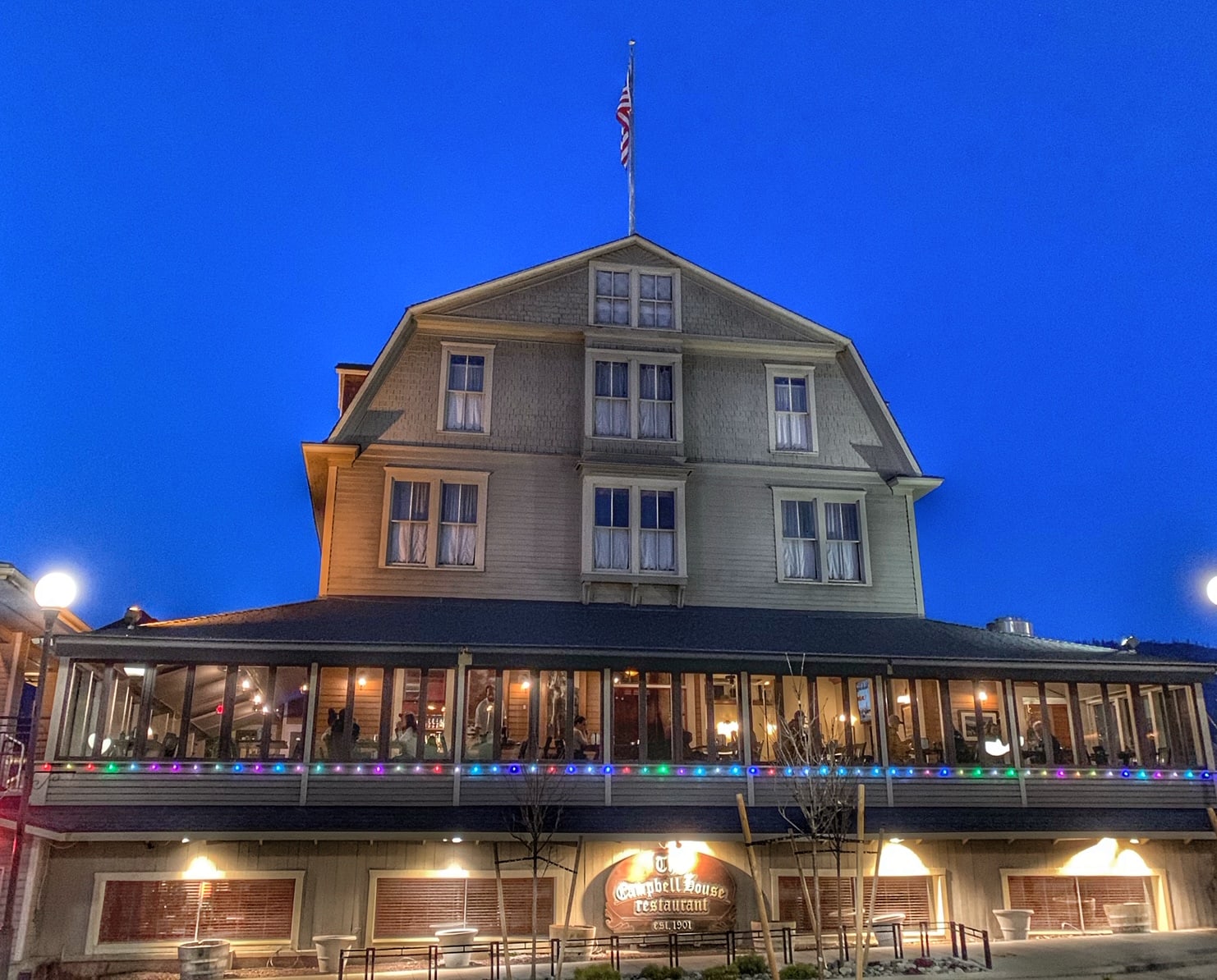 We stayed at the Campbell's Resort on our recent trip, and loved it there. The ambiance of the resort is beautiful (it is right there as you drive into town over the bridge), and boasts all view rooms! There is a restaurant on site, seasonal pools, year round hot tubs, and grocery stores and restaurants and shops all within walking distance.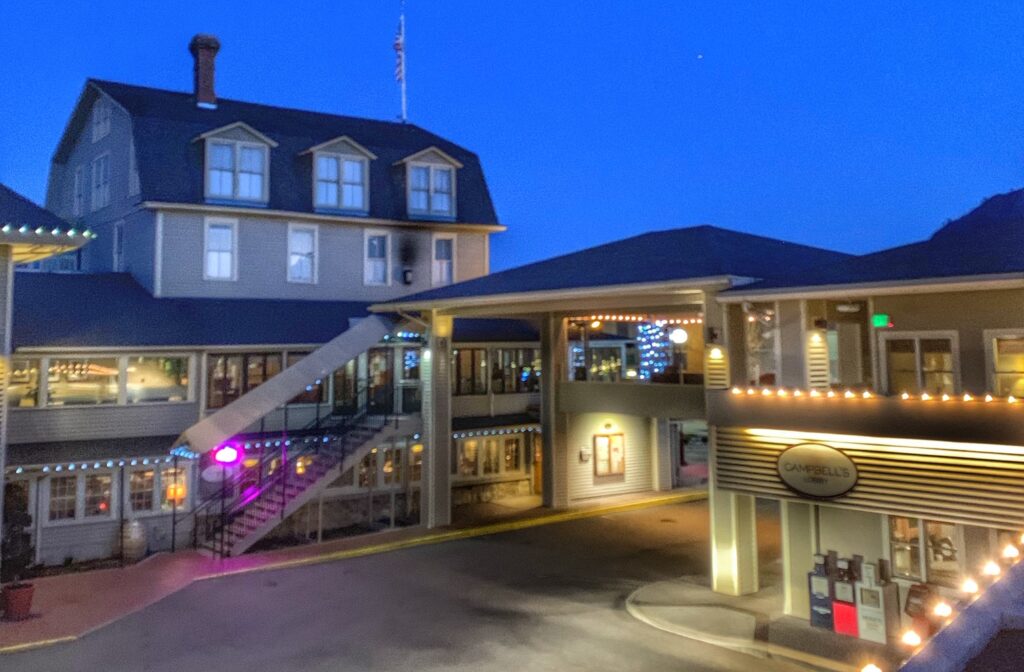 The hotel has a magical feel from the minute you drive in. It is large, and surrounds a private lake front beach area, and has pools, hot tubs, a restaurant on site and is in easy walking distance to everything in the historic downtown Chelan area.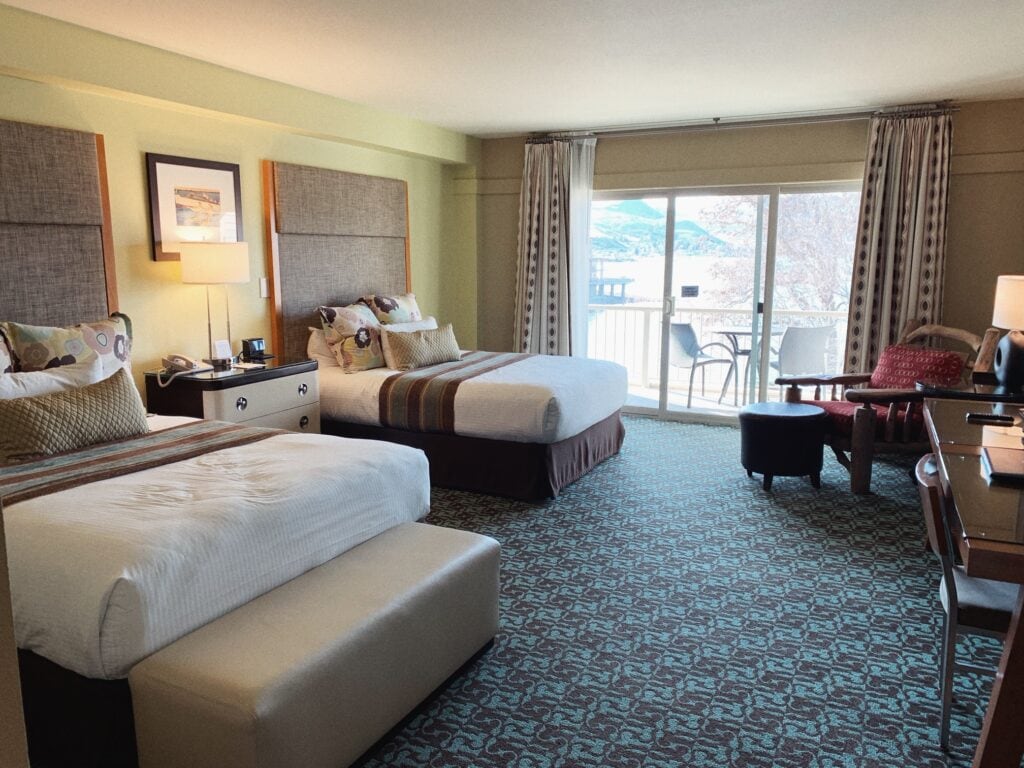 We stayed in a deluxe two queen room, and it had great space for a family. My favorite part was the huge deck overlooking the lake! We ate out there, we relaxed in the morning and evening, and it has great views of the beach as well as the water.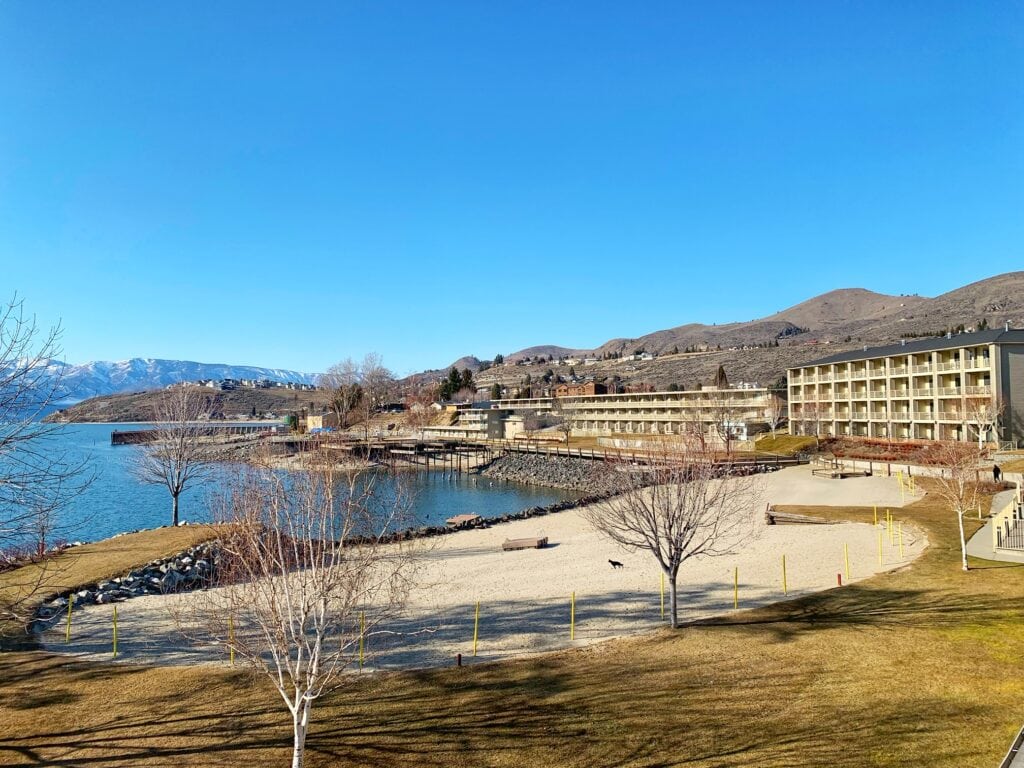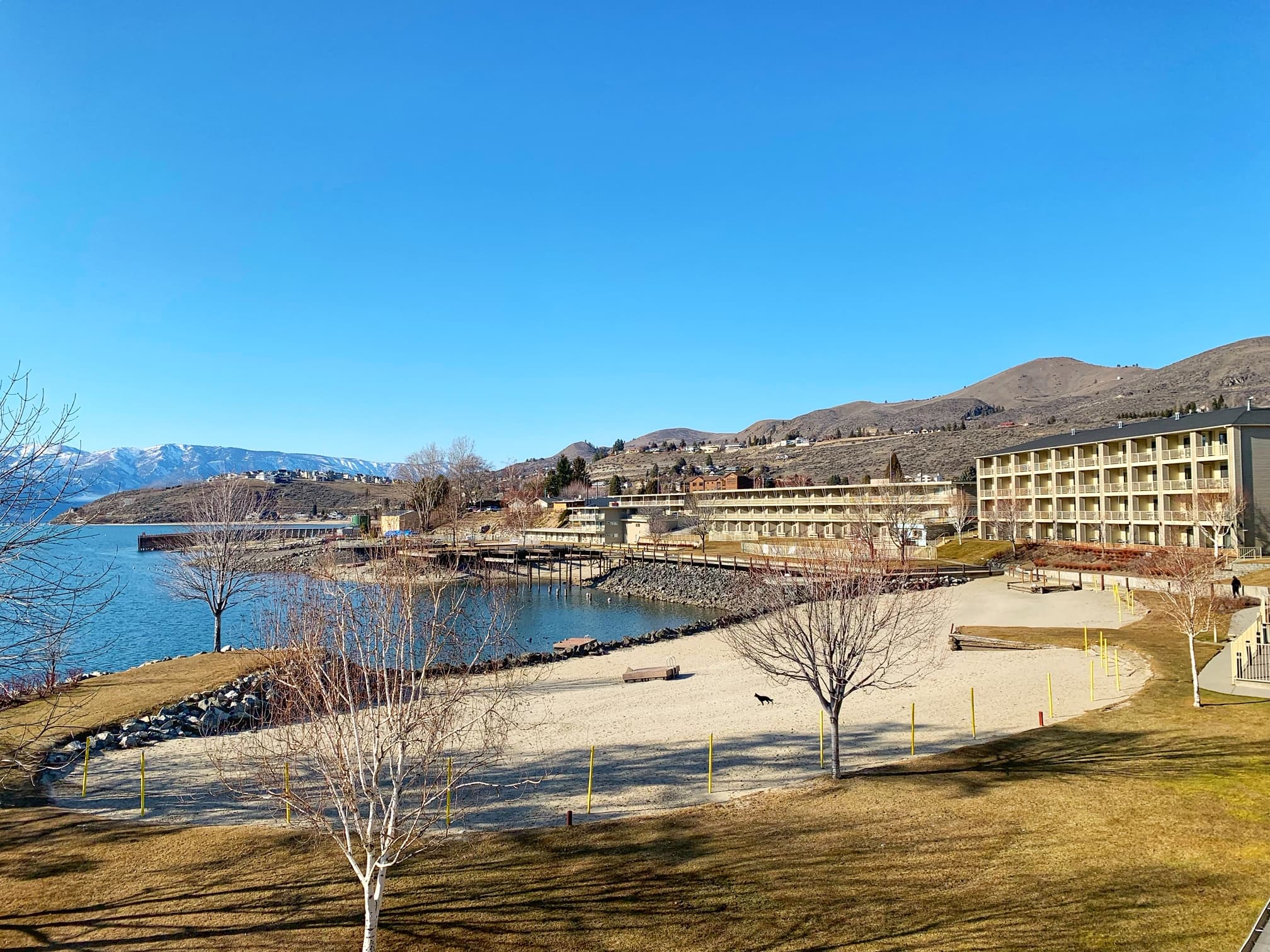 This is the private beach at Campbells Resort that is only open to their guests. We visited during the winter, so it was not swimming season, but it would be a wonderful convenience if you are staying in the summer time. You are able to rent Kayaks and Paddle Boards right on site, and there are multiple pools to access as well.
While I loved this resort, and would head back in a heart beat and stay here again, another spot that was recommended to us as maybe being a bit easier to get into during the busier months (Campbells fills up quickly I have heard) is the Wapato Point Resort. Both of these resorts offer plenty of amenities, and are great options for families.
There are a number of camping options in Lake Chelan, including two state parks, including the popular Lake Chelan State Park. Find lots of resources for camping in the area here
If you are looking for something in between a resort, and camping, be sure to check out LakeChelan.com here, with lots of additional ideas on cabins, hotels and more resorts in the area.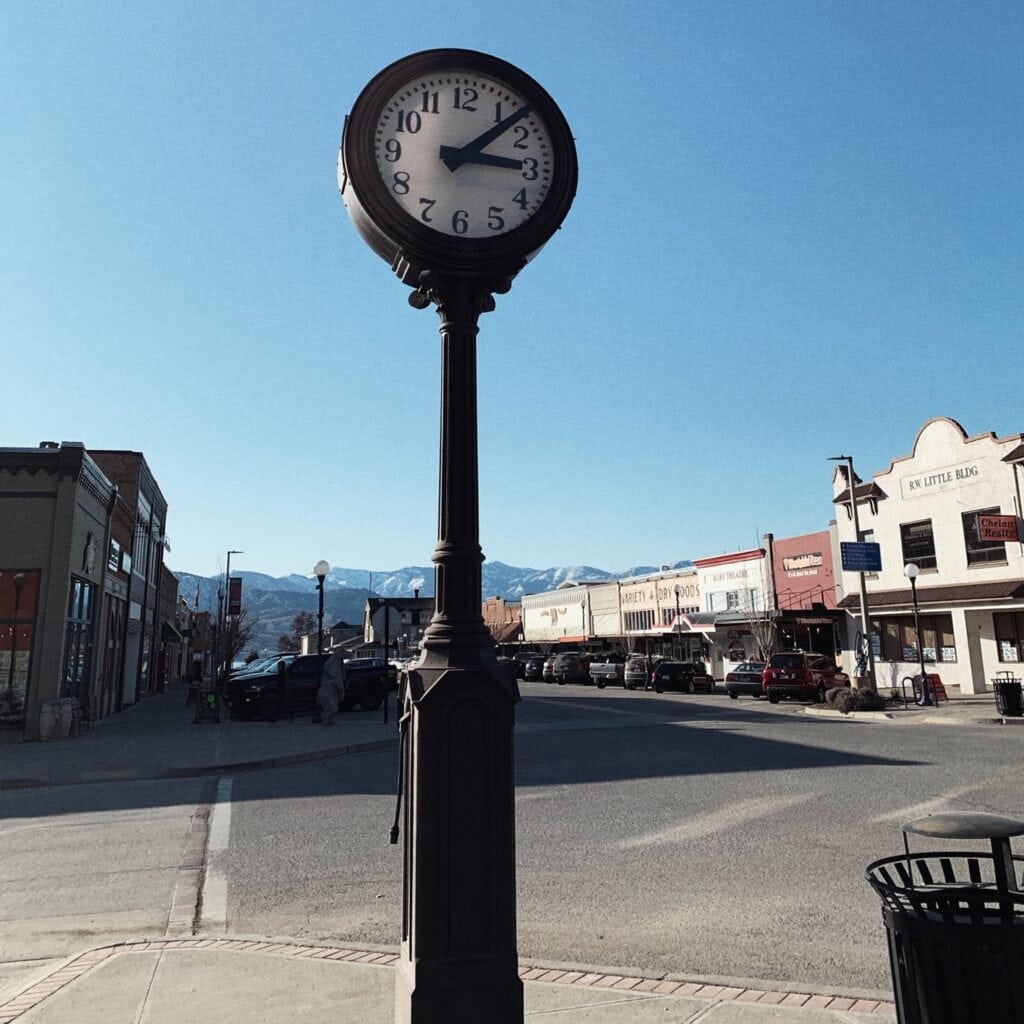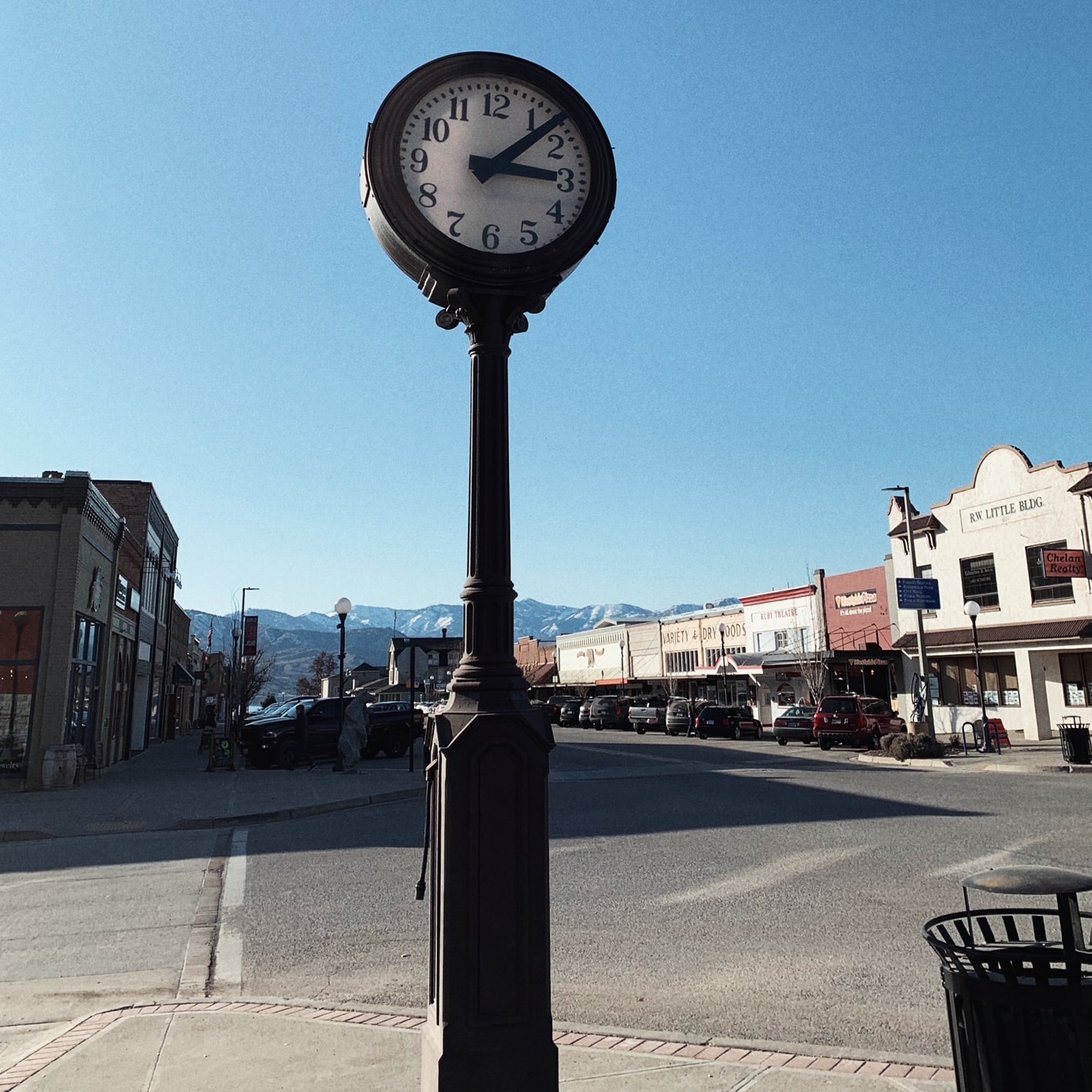 Lake Chelan Washington – How to Get There & Fun Stops On The Way
I find the trip to Chelan to be an easy one, with fun stops along the way if you want to turn it into a road trip adventure. There are a couple of routes you can take from the Puget Sound area, depending on if you live North or South of Seattle. We were coming from the South Sound area so took 1-90 to hwy 97, and then you end up on hwy 2 towards Wenatchee. If you are coming from the North Sound area you can take hwy 2 to 97A. From there, here are some fun spots you can enjoy along the way.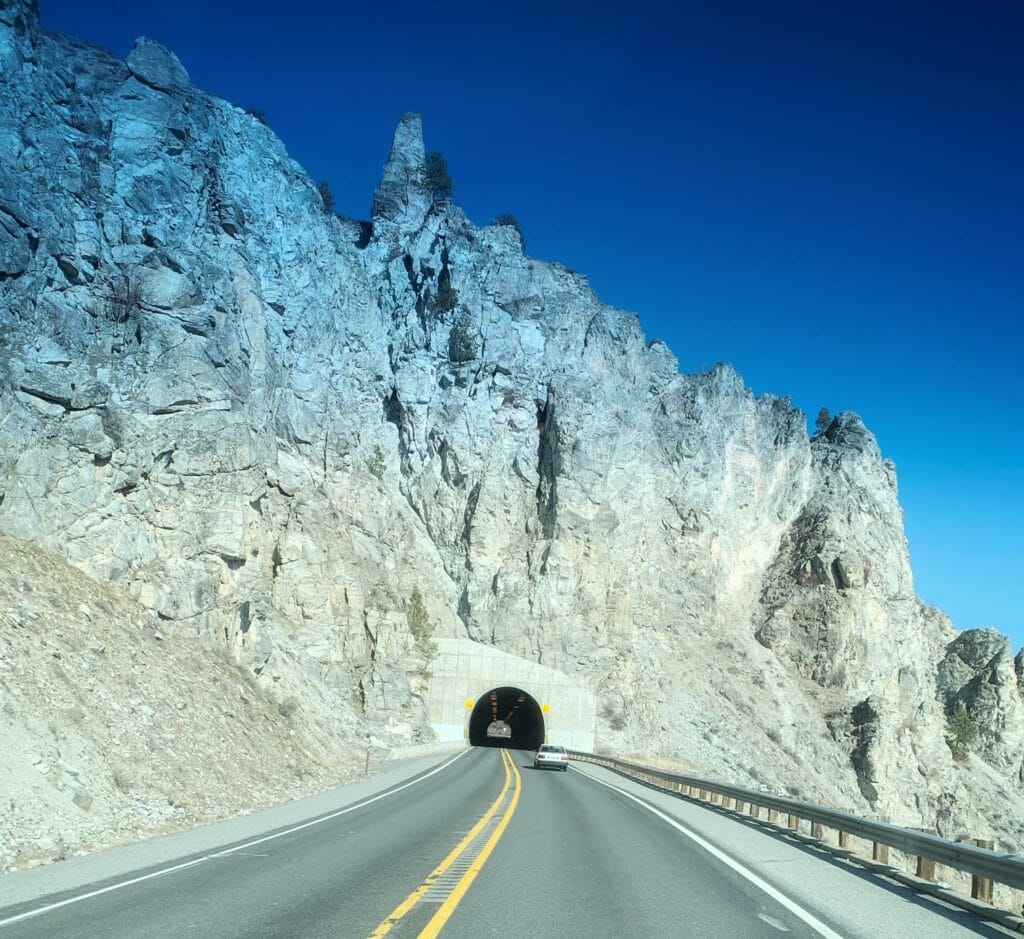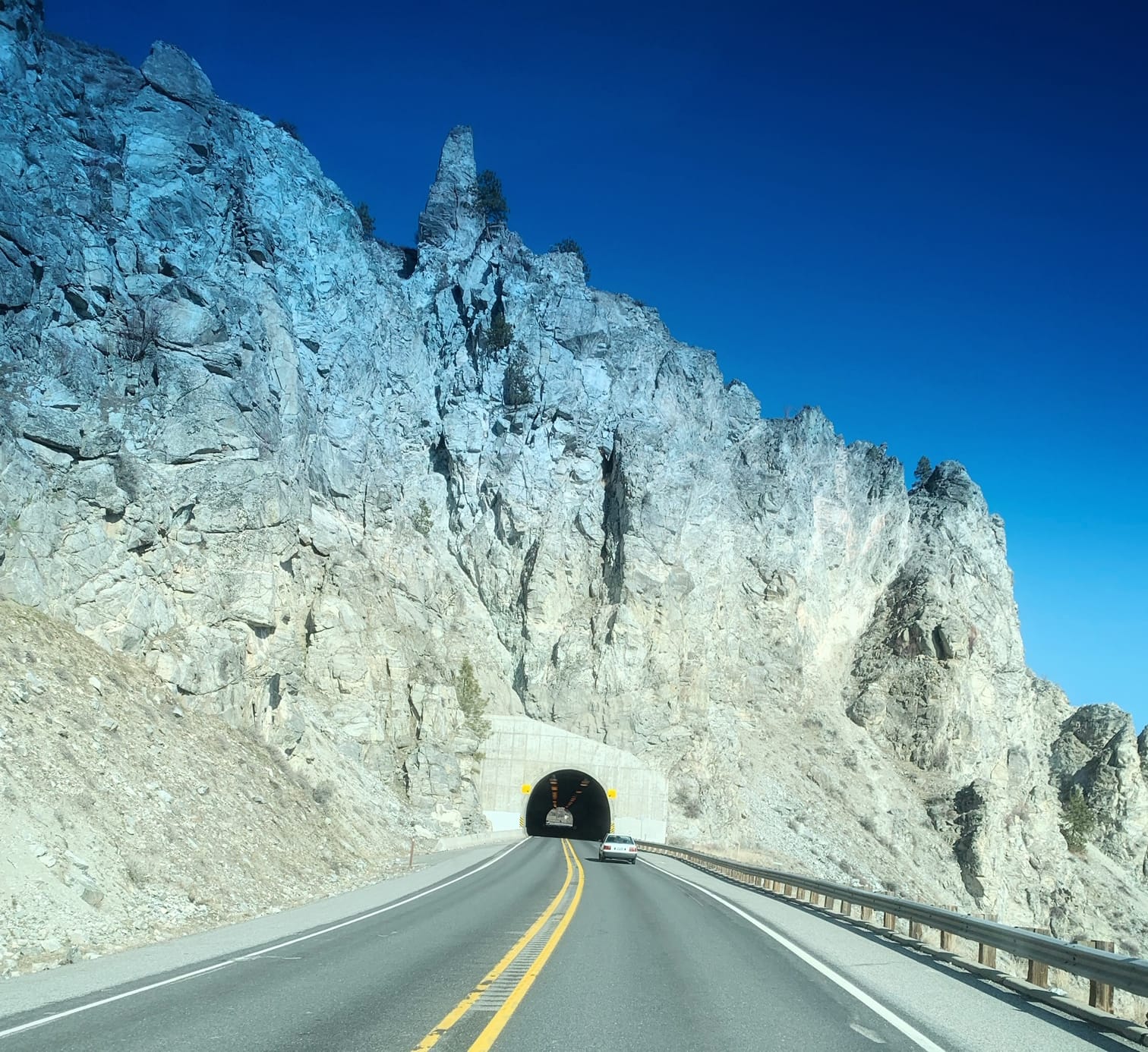 You will go through this beautiful tunnel to get to Chelan this way.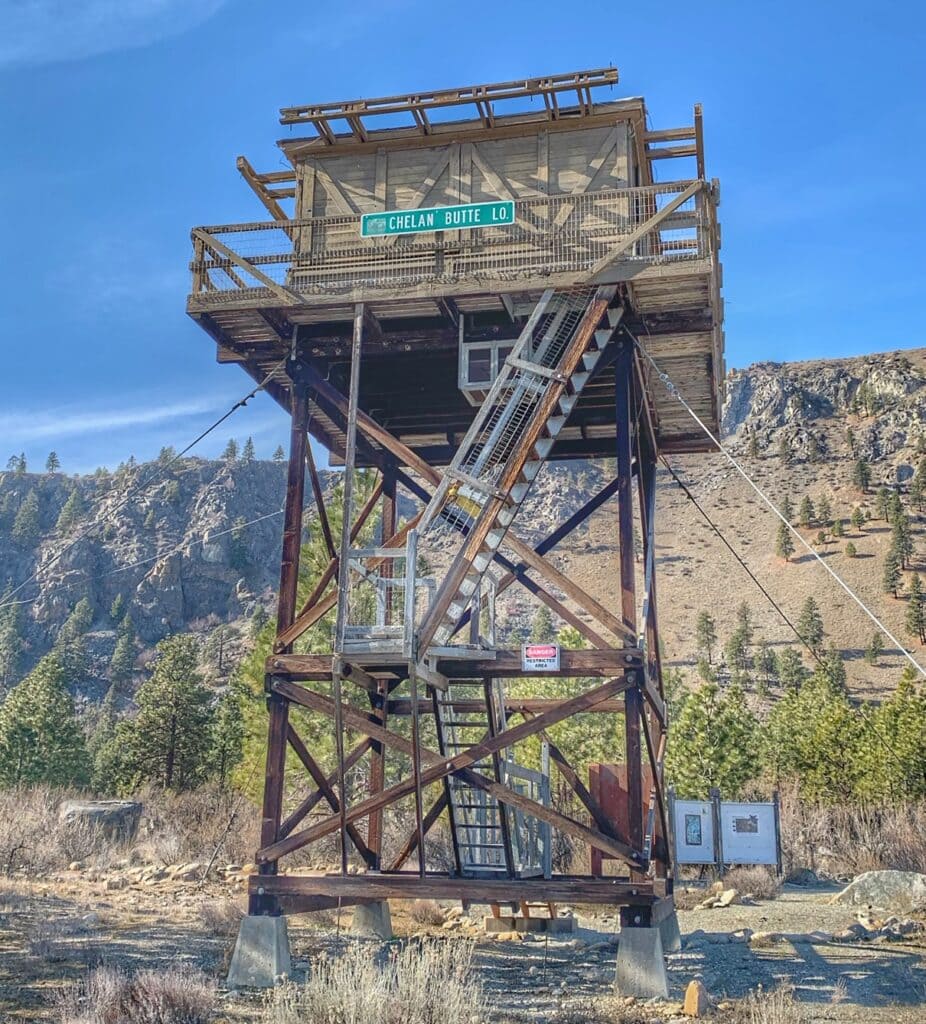 Not too far outside of Chelan you will find these Fire Towers at the Chelan Butte Lookout, that are so cool. You can stop for pictures, and there are trails to explore too if you want to get out and stretch your feet. It is only a few miles from Chelan.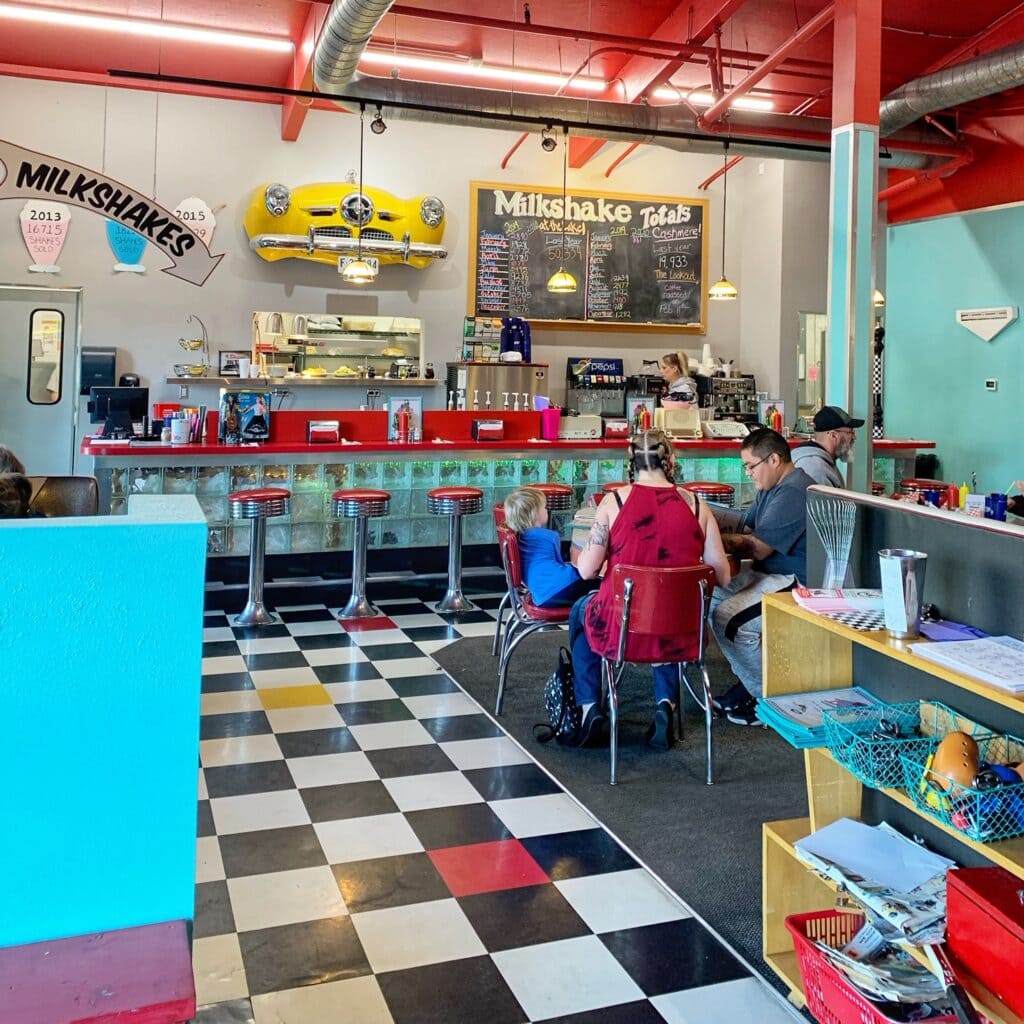 The 59ers Diner in Cashmere is a favorite stop for my kids. It is not cheap for a burger place, but it is fun and delicious (and portions are big enough that we share).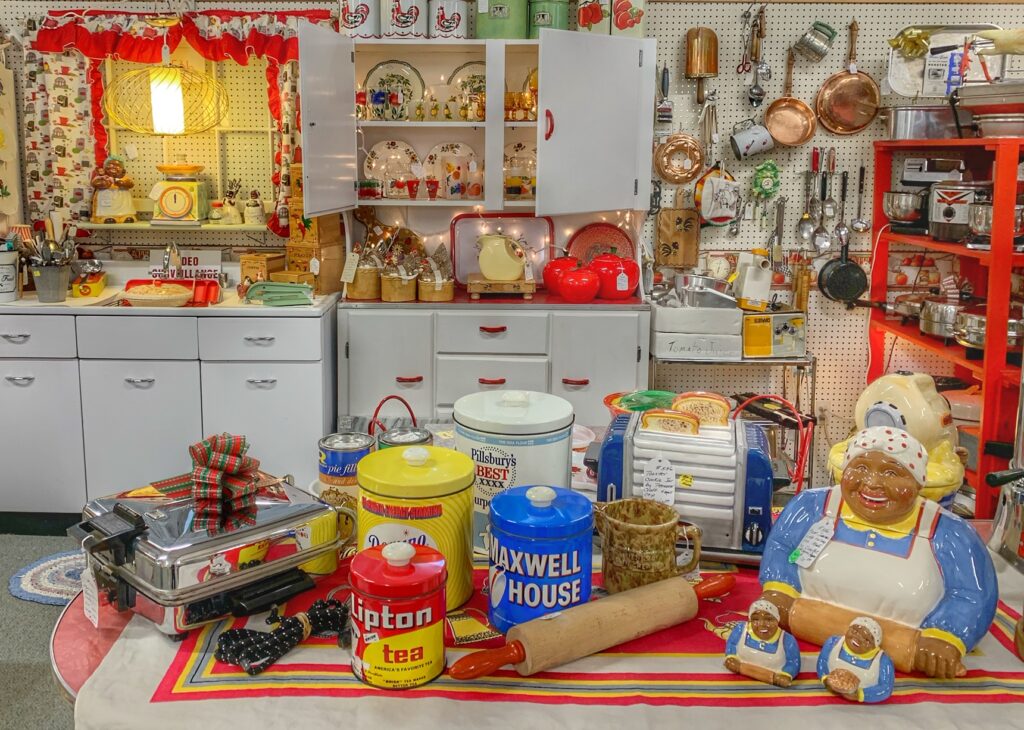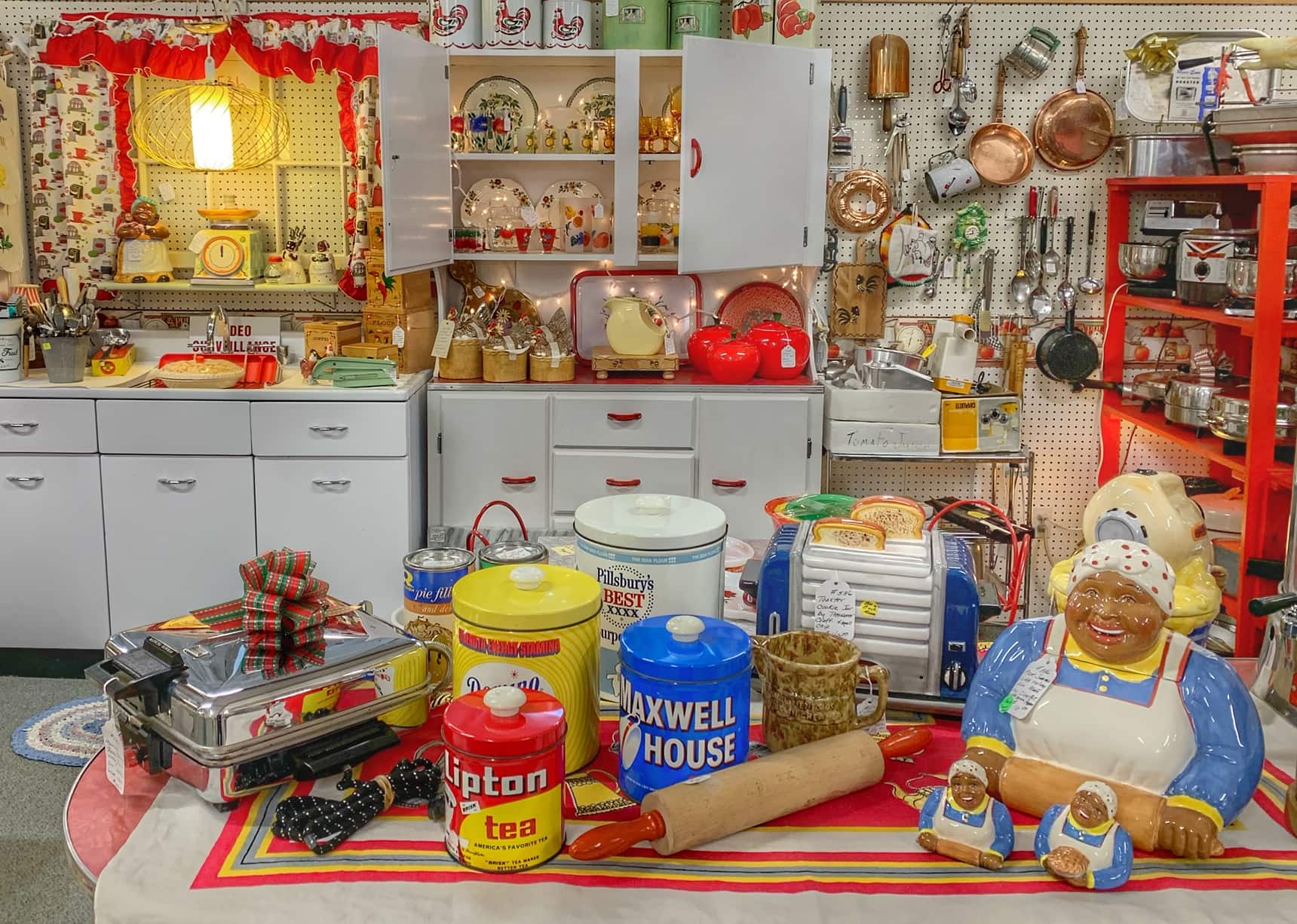 If you want to take a bit of a longer break, this antique mall is attached to the restaurant, and you could spend a short while, or a few hours exploring this spot for treasures!
More Articles You Might Enjoy:
If you really want to make it a full road trip, consider stopping in at Wenatchee or Leavenworth on your way or way home. We share ideas on what to do, and where to eat in these areas here too.