Bark Box Coupon and Discounts – Double your First Box!
BarkBox Dog Subscription Boxes are a great way to try out organic & healthy treats, unique toys & extras for your puppy. Find the best Bark Box coupon & discounts and see why it's puppy approved.
Bark Box Coupon and Discounts
We added a new addition to our family last June 2019, bringing home a 2 month old puppy to our home. Both my husband and I always had dogs growing up and we had a Golden Retriever for years before our kids were born. We had a cat for 18 years, but he passed away recently.  My girls have been begging for a dog for years, but it just wasn't the right timing. But, after discussing & researching all year, we finally brought home our new fur baby  – little Tiki! She is absolutely adorable, but boy, puppies are a lot of work! I have never had a puppy before and she definitely requires constant supervision and a lot of playtime.  Lol!
Our family is pretty excited about having a puppy in our life  & we've been looking for the best toys, snacks, food, etc to give her to keep her healthy & active & engaged (so she gets in less mischief! ;) ). So, my husband did some research & found out about the BarkBox dog subscription boxes.   They have over 2 million people subscribed, reviews have shown that they have high-quality products and are one of the most affordable dog subscription boxes as well! Check out our BarkBox post for much more information about how the subscription box process works & what we think of the boxes using it with our dog.
BarkBox subscription boxes include exclusive toys,  yummy chews, healthy, all-natural treats & other fun surprises for your pooches. So, we decided to give it a try! We've now been using BarkBox since June & everything has been a hit so far with our puppy! She has torn up some toys we purchased at the pet store, but so far, she has not been able to tear apart any of the BarkBox toys. For a very active puppy, this is a huge win for us because it gets expensive when they chew the toys up so fast.
Subscription boxes are a great way to try out different products without having to purchase a larger quantity.  We are finding that with pet treats, you can only purchase them in large quantities, but may quickly find out that your dog is not a fan, so then it is a waste. We also like the idea of trying out more organic options without the higher price points, so you can see if it's something your dog would be interested in.
You'll also find some unique toys & treats without having to scour the internet looking for the best products to try! That's what I love about subscription boxes as it saves me time because I know each of the items in boxes have been carefully curated and are the top products to be selected for the subscription box.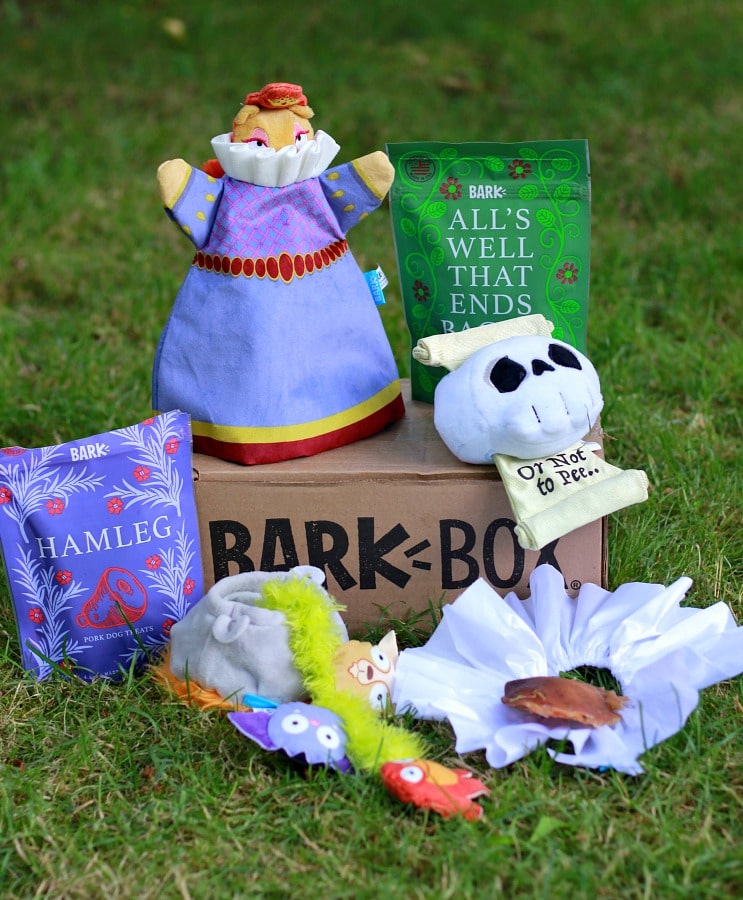 (This includes an extra toy which was part of the promo when we signed up)
Right now, BarkBox is offering a FREE extra toy in EVERY box when you sign-up for BarkBox! That means you'll get 3 toys, 1 bags of treats & 1 chews for your first box!
It looks like no code is necessary to get this special box! This offer is valid while supplies last.
This box has been well worth the cost of the box each month as the value is definitely much higher than what we would pay for individual items from the pet store or online, plus the amount of time we would have to search for items that our puppy would like.
In the box each month regularly, you'll receive 2 toys, 1 bag of treats, and 1 chew all for $29/mo (this is the plan we choose, there are different plans you can choose – boxes start at $22/box). Plus free shipping.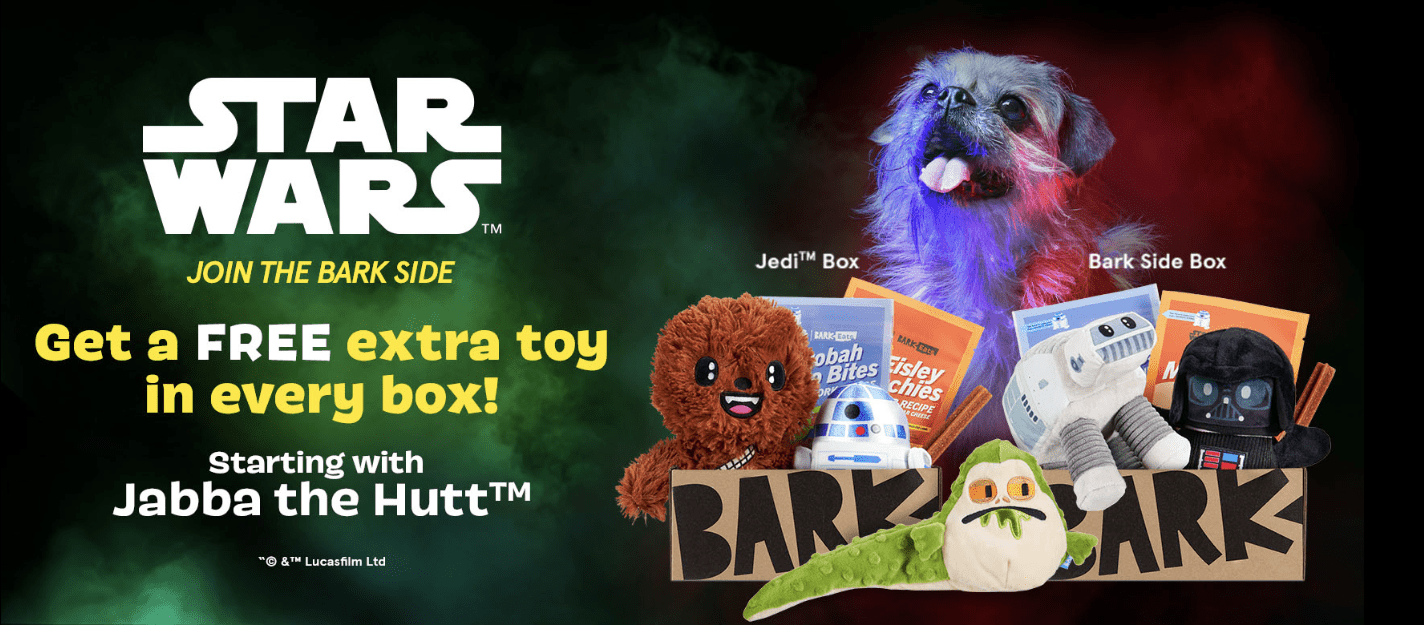 No code needed at checkout – just sign up now to get your first Barkbox with your FREE extra toy in EVERY box +  free shipping in your first BarkBox order if you sign up for the 6 month or 12 month subscription option.
Information about Renewals:
Plans do renew automatically, but you can cancel your subscription at any time.  Just log in to your account & go to the "Subscription" tab. If you want to cancel in the middle of the plan, the cancellation will take effect at the end of your plan & you will receive the 6 mos of boxes.
Make sure you know that if you do want to continue, they renew for the period that you originally signed up for. So, if you signed up for a 6 mo subscription, it will automatically renew for another 6 months,  unless you cancel before your 6 mos is up. So, just make sure to know that going in & you can always go in to your account & change it so that it is not set at that auto-renewal, but instead so you can choose when to continue or cancel .This can be done at any time.
BarkBox Reviews: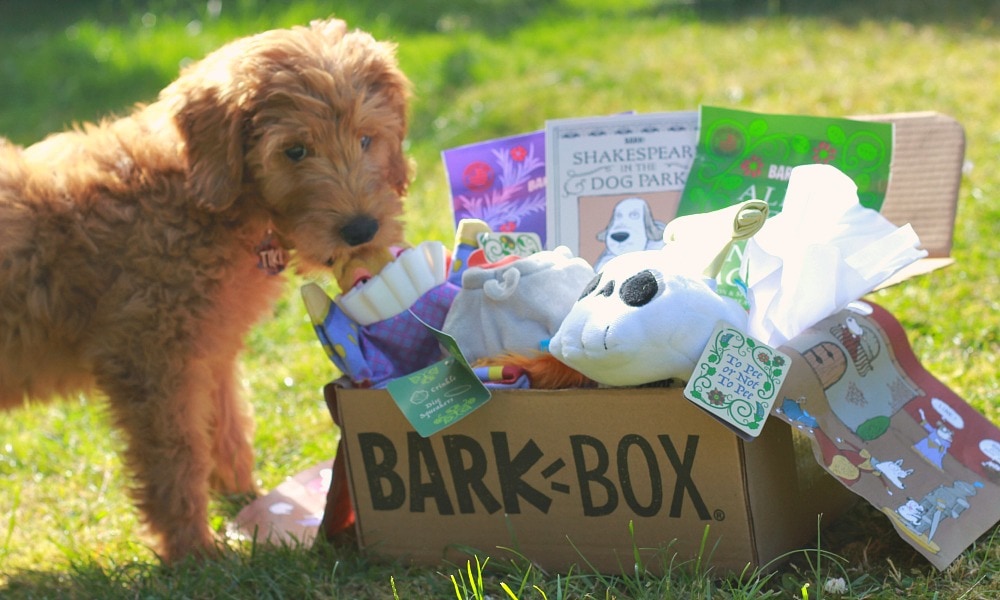 We received our first BarkBox subscription box in June 2 yrs ago & wanted to share with you all that was included. Boxes start at $22/box, depending on the level of the subscription you choose and if you find a Bark Box coupon.   We originally purchased the "small dog" size when our girl was younger & now we are purchasing the medium size box.
We also purchased this at the time that they had a promo for the free extra toy each month, so we got 3 toys (instead of 2) in her box. So, our plan is $29/mo plus an extra toy for 6 months & we got a total of 6 items in our box – 2 treats, 3 toys, a chew plus was a bonus item (the adorable Shakespearean dress-up collar).
So, that works out to just $4.83/item for our plan – which I have found is really reasonable for dog item, especially very well made, quality toys & treats. She's been having fun with the toys all day & they are tough with all her crazy puppy chewing & throwing them around.
And let me tell you, if I had known how much enjoyment she would get & how she'd wear herself out (without us having to run around with toys so much with her), I would have gotten this box even earlier. This puppy has a ton of energy so we all have tried all sorts of ways to keep her entertained & get her energy out, and boy, these toys and chews have helped so much.
Bark Box Video Review:
Make sure to check out our first Bark Box video review – we unbox the Bark  Box with our puppy,  Tiki, for the first time & you can see her reactions. Spoiler alert – she loved it!!
Items included in our box – Shakespeare in the Dog Park Theme:
Queen Grrrtrude  Pup-Pet by BarkBox-  Crinkle & Disc Squeaker  – this is a puppet toy that is a fun crinkle fabric. It is an awesome toy for a puppy because they love to bite & you can put it on your hand & she can have fun attacking it. Lol!
To Pee or Not to Pee Plush / Crinkle Toy by BarkBox–  my girls thought this one was hilarious as you can pull up the scroll up or down to choose "To pee" or "Not to Pee". Our puppy loved carrying it around as it had such fun sounds & she seemed to love the crinkly texture.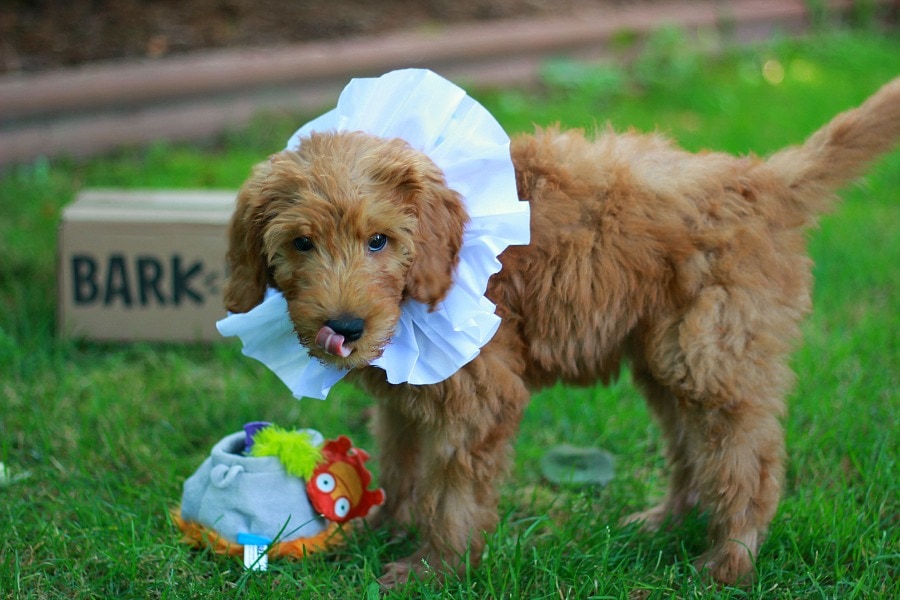 Puggle Puggle Cauldron Crinkle & Disc Squeaker Toy by BarkBox – this toy is unique in that dogs can play with it in the rounder, ball shape or they can pull out all the toys inside the "cauldron" which are all attached and squeak & crinkle. Lots of different ways for your pup to play with this & have a blast! Our puppy isn't quite skilled at figuring out how to pull the items out yet – I'm sure she'll figure it out in no time, but she loved carrying it around in her mouth & digging thru it to hear all the sounds. We also had fun hiding some treats inside for her to dig thru & find.
All's Well  that Ends Bacon & Spinach Dog Treats & Hamleg Pork Dog Treats by BarkBox – These are wheat-free, soy-free, corn-free, and grain-free (bacon treats) & wheat-free, soy-free & corn-free (pork dog treats).  These are absolutely a hit with our little Tiki puppy – she loves them! They take her a few minutes to chew too, so she really enjoys them as delicious treats & she is a fan of both flavors so far!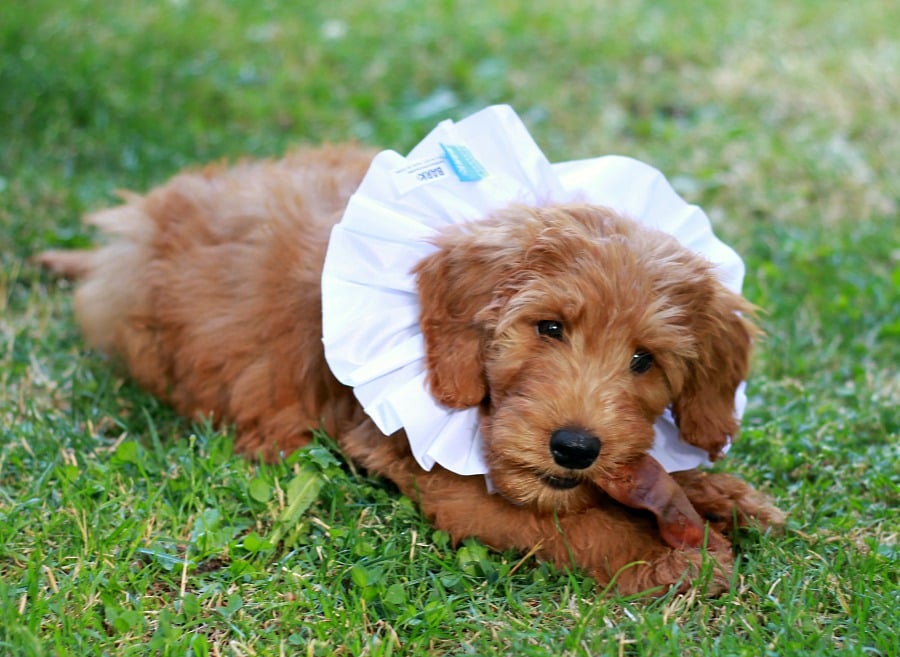 Pork Ear Chews by Jones Natural Chews – I've heard that pork ears are very popular & tasty for pups and oh boy, this was the first thing our puppy went for –  even thru the plastic wrapping, she smelled it & dug it out of the box when we first showed her the box. She was so obsessed with it, she ran around the yard & the house with it, not wanting anyone to take it away from her. She was hilarious how seriously she guarded this chew! We've been looking for something that would last her for awhile, and this looks like the perfect item to give her when we need her to settle down.
Ruff Collar by BarkBox (FREE Bonus item)  – this is a white collar for your pup to wear for silly photo opps! I was shocked that our puppy didn't try to tear this off right away & actually didn't seem to mind it, so we managed to get a few photos of her in the fun collar. We'll have to try it again for some more silly photo opps with my girls.
Have you ever tried out a dog subscription box like BarkBox for your pup? Let us know what your experience has been like!