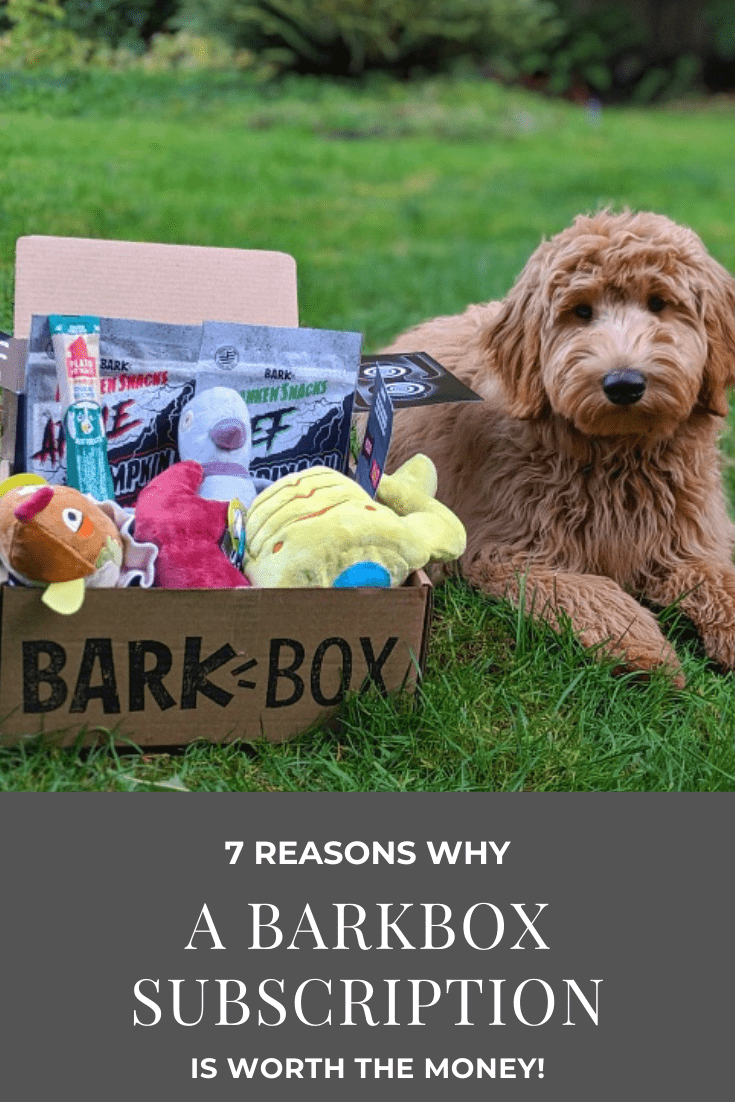 BarkBox Reviews  – Why a BarkBox Subscription Box is Worth the Money
We have been sharing about BarkBox & Super Chewer boxes over the last few months as my family got a puppy this past summer in June at 8 weeks old. She is a goldendoodle puppy named Tiki.  So, we have been doing quite a bit of research beforehand & now that she is part of our lives, all about the best products to use to keep her healthy. During our research and reading a ton of reviews,  we found that BarkBox is one of the most highly rated subscription boxes for dogs & we really liked the option of trying out new products thru a subscription box, especially with a new puppy, so that we could see what she liked & didn't like & what types of products would be best to use with her.
BarkBox has been providing dog subscription boxes since 2012 & they have become a trusted brand that many dog owners now use. In fact, 600,000 dogs now receive BarkBox or Super Chewer dog subscription boxes every month.  That definitely shows that it is a brand that is well loved by dog owners. We have been receiving BarkBox subscription boxes for our puppy since June 2019 (so this is our 5th month –  we signed up for a 6 month subscription at the time) and we have absolutely been impressed. We love these boxes so much that we will continue our subscription once we are past the 6 month subscription next month.
I wanted to share our BarkBox reviews and why we feel like it has been well worth our money to purchase this box every month (we did receive one box from BarkBox to review this past month, but we have been paying for BarkBox for 5 months ourselves & will continue to purchase these boxes). On another note, we signed up when they had a free toy promo, so we receive 3 toys (instead of the typical 2 toys per box).
Make sure to check out these posts for the latest BarkBox & Super Chewer box discounts:
And check out a video of the very first time our puppy discovered the BarkBox & what she thought of it (it's fun to watch just to see some silly puppy antics! Ha!)
What's Included in a BarkBox:
2 toys (I receive 3 in my box as I signed up during a special promo for an extra toy each month)
2 bags of treats
1 chew
In our Halloween box this month, the toys are so unique in that they are interchangeable. So, you can separate them as they have velcro & then switch them around to create a new toy. Our puppy loves to try to pull them apart & then the velcro sticks to the carpet so she has fun pulling them off the carpet,  so they have been providing hours of play for her all week since we received the box.
How it Works to Order a BarkBox: 
Sign up your puppy with his/her name & birthdate on BarkBox.com
Select the size of your puppy (this will select the size of the toys, treats & chews)
Select which subscription box plan you prefer – here are the options:

1 month: $29/month
6 month: $25/month
12 month:  $22/month
*Just know that when you sign up for a plan, you will not be able to sign up for the plan with the lowest price & then cancel – you are committed to that plan for that time period. 
1- Try New Products 
With an active puppy, we are definitely always looking for new things to keep her busy. She keeps us on our toes, so we love to have new toys to play with her and keep her entertained. However, the toy stores have had a lot of the same types of toys & not as much variety that we've found, so we signed up for BarkBox when she first came home & every month we get new toys for her to play with. She now has quite the collection & it's so nice to be able to switch out the toys (just like with toddlers – you take them away & then bring them back a week later & it's like a new toy again!  Lol!).  They send a variety of different types of toys so that she is getting all sorts of unique things to try.
For the Halloween box this month, the toys are all interchangeable with velcro so that you can attach them to each other in different combinations and it's a challenge for her to get them apart & then she plays with the different toys more.
The same goes with the treats & chews – you never know what your dog will like best & what chews will last the longest or be chewed up in less than 5 minutes. So, it's been nice to try a different variety of products to see what she responds to the most so we can then look for those items when we are looking for more chews or treats.
2 – Big Timesaver
We are a very busy family with lots of outside activities so one of our favorite reasons to use BarkBox is that it is a big timesaver for us. We just don't have the time to do research on the best treats & chews for our dog to try, as well as look at retail stores & online for the most interactive & fun toys for her. But this is an important part of puppy, as I'll talk more about below as well – that you want to keep them active & engaged (as it keeps them from getting into trouble around the house). The more fun & engaging toys we have, the more she gets worn out playing with them & she will be calm the rest of the time.  So I love that BarkBox sends me new & different toys & treats every month to try new things, but without all the time & work for me to find them.
3- Durability of Toys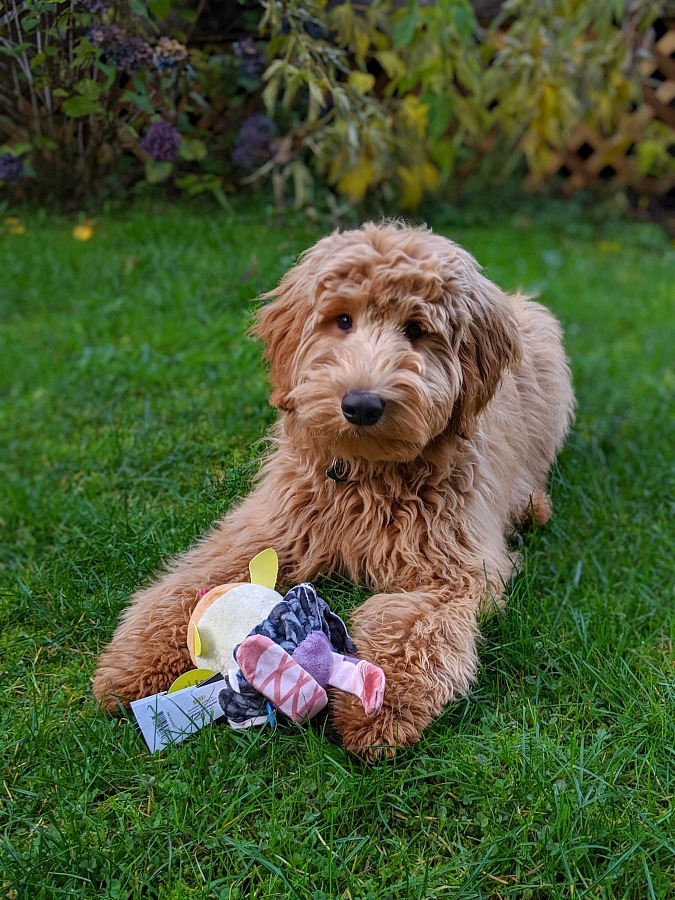 Not only do they have unique & varied toys, treats & chews, but the BarkBox toys are so much more durable than the toys we've gotten at the different retail stores. We have been receiving BarkBox subscription boxes since June (it's now October when I am reviewing this box) & I have to say that all of her toys are still in working order. We have a few toys from several retail stores & they are all in a state of disrepair or completely falling apart, but all of her BarkBox toys have withstood her puppy force. So, this alone is reason for me to keep choosing BarkBox toys, as I know they will be durable & hold up to the test of time & puppy teeth.
4 – Healthy, All Natural Treats 
It has been years since we have had a dog and honestly, it was a bit overwhelming when we got our puppy in researching what treats & chews were safe for her with all the new information about what is in the chews or treats coming from overseas, rawhide issues, etc. So, I was very happy to find out that BarkBox treats as well as the chews are all natural & made in only the US or Canada. So that definitely gives me more peace of mind & takes away the worry of having to research everything we give her.
5- Interaction & Stimulation for Your Dog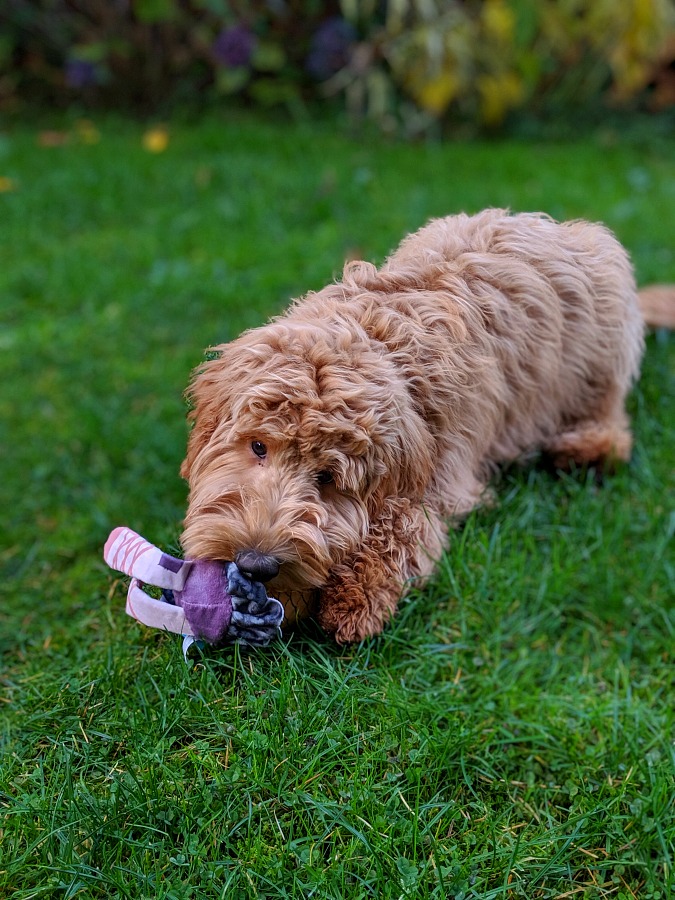 If you have an active dog or puppy, then you know how important it is to keep your pup active & engaged as well as good exercise. In addition to lots of time outside & on walks, we have found that by having a variety of toys & chews around our house definitely helps to keep her entertained more. When she has enough stimulation, then that is a win-win all around as she is having fun & happy & getting into less mischief in our down times. This is so key with dogs, especially puppies. You want to tire them out – both physically & mentally, so they are sleepy & relaxed when you are gone or taking a break from playing with them.
So, we love that there is such great variety in the BarkBox toys to keep this girl entertained & focused on play time. Plus, the chews are a great option to give her when we are gone & want to keep her happy or when we are busy at home & need to keep her entertained without getting into things around the house. The treats are great training incentives, too.
6 – Customized Boxes for Dogs

When you sign up for a BarkBox subscription, you can choose the size you want. When we started with BarkBox, we started with the "small & cute" size for our dog, so that the toys & treats would be smaller & more manageable for her as she was just 5 lbs when we first got her. However, we were able to switch the size the last two months to the "just right" size since she has now grown to around 25 lbs. It is so nice to order a size & know that all the toys, treats & chews will be an appropriate size for my dog. And I love that I can change it any month – perfect for a growing puppy so we can make sure we are meeting her needs best.
7 – Amazing Customer Service
BarkBox has some of the best customer service in a company that I have seen in a long time. We first experienced this over the summer when we had an issue with a toy not working quite properly. So, we contacted them to let them know & they immediately sent out a replacement toy (a different toy so we didn't have that issue again). However, the mail delivery had an issue with the package & it came mangled & affected the toy, so BarkBox then sent another toy right away, even though it was not their fault. We also once had a box that took a little longer to arrive (just an extra few days), so they sent a code for $10 to use in the BarkBox shop just as a thank-you for our patience. They are so fast to respond to any issue & they immediately resolve it – they want your dog to love all items in their boxes & if there is a problem, they work to resolve the issue quickly & always have gone above & beyond in my experience with how fast they take care of the issue.
Have you tried BarkBox or Super Chewer boxes? What has been your experience and BarkBox reviews?