Foss Waterway Seaport Museum in Tacoma WA + Lady Washington Tall Ship Tour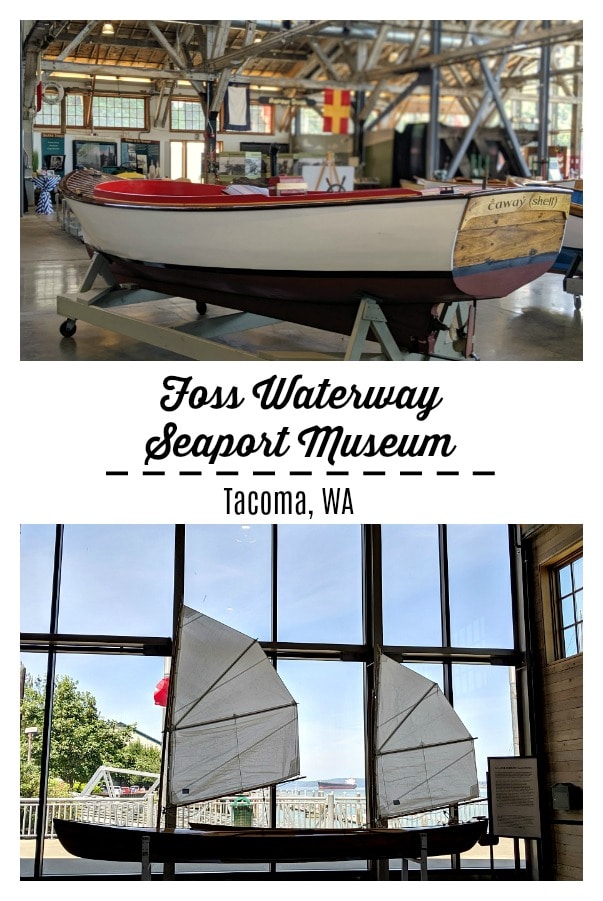 Foss Waterway Seaport Museum + Lady Washington
Update: The Lady Washington is back in port at the Foss Waterway Seaport  from Wednesday June 23rd – Sunday June 28th, 2021 and they will be offering dockside tours . This year, they are asking for a $5 donation (+ $1 online fee) per person, but it's such a cool experience, it's definitely worth it!  They also offer Adventure Sails & Evening Sails as well! Buy your tickets online here! 
Here is the schedule for other NW locations this summer:
*Carillion Point, Kirkland – June 16th – June 21st, 2021
*Foss Waterway Seaport, Tacoma  – June 23rd – 28th , 2021
*Port Plaza, Olympia – July 1st – 5th, 2021
*Port Orchard – July 8th – 12, 2021
*Shilshole Bay, Seattle – July. 15 – 19th, 2021
*Langley, WA – July 22nd – 26th, 2021
*Port Orchard, WA – July 29th – Aug 2nd, 2021
*Port Ludlow, WA – Aug 5th – 9th, 2021
*Bellingham, WA – Aug 12th – 16th, 2021
*Blaine, WA – Aug 19 – 23rd, 2021
*Friday Harbor (San Juans) – Aug 26th – 29th, 2021
***************
For Father's Day this past summer, we decided to celebrate by heading to the Tacoma waterfront to visit the Lady Washington tall ship which was in the harbor during that week. The Lady Washington was offering free tours of the ship when you purchase admission to the Foss Waterway Seaport museum.
So, not only did we get a chance to explore the ship, but we also visited the Foss Waterway Seaport Museum.  I've lived in this area for years, but this was a new museum for me to learn about and discover and after our visit, I had wished we had checked it out sooner.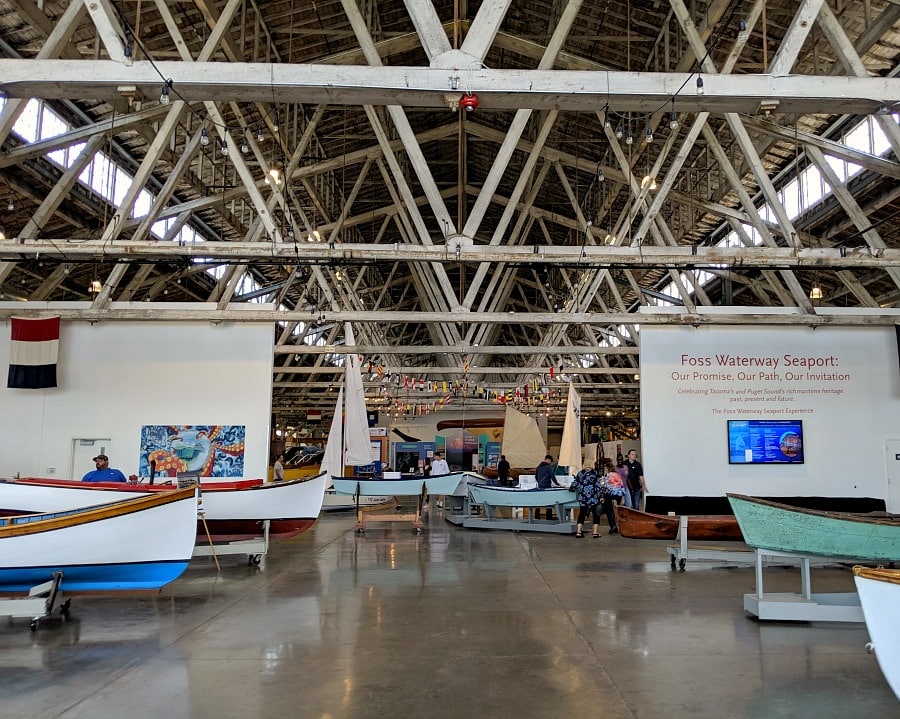 The Foss Waterway Seaport Museum is located right at the start of Ruston Way although you pass it while on 705 so it's not as easy to see. This hidden gem of a museum is located inside a huge, former 100+ yr old wheat warehouse, which they turned into this museum to honor & learn about Tacoma's maritime history.  The museum showcases the history of boat & ship building on the Tacoma waterfront, as well as the history of the transportation of trade thru the port via ships & trains.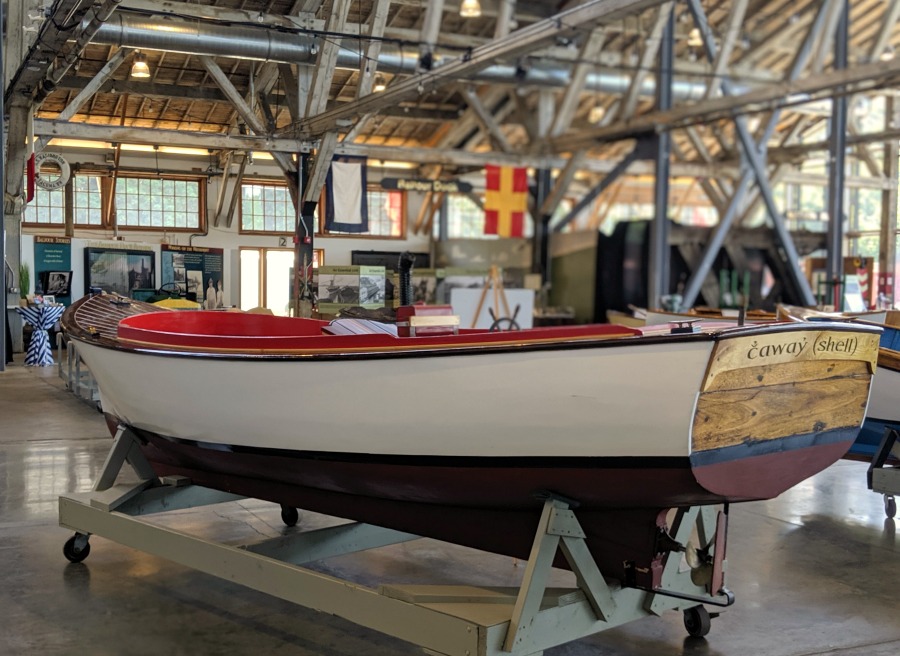 The Foss Waterway Seaport museum is a great place for history buffs or those who love boats & ships. My husband is a former Coast Guardsmen & he loved checking out the wide variety of boats & learning so much about the maritime history of Tacoma. One of the highlights is a working shop in the back of the museum where volunteers work on heritage wooden boats which you can watch when it's in action. Some of the boats & equipment you'll see in the museum are canoes from the early 1900's, early scuba equipment, vintage fishing lures,  classic recreational boats & models of ships from centuries ago as well as commercial vessels made by Tacoma shipbuilders. They also had a section dealing with the environmental crisis in Commencement Bay & the major cleanup that happened to educate people to how to keep our waters clean.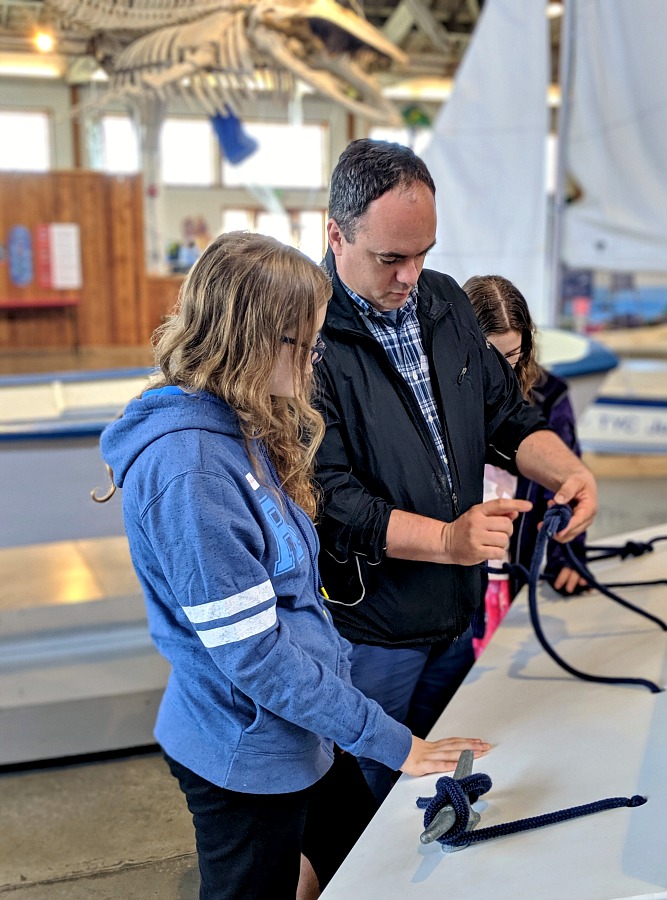 Activities for Kids:
When we first arrived, I wasn't sure how kid-friendly this museum would be, but I was pleasantly surprised to find that they had quite a few hands-on opportunities for kids and definitely a great place for kids to visit. Plus, it's fascinating seeing all of those boats up close especially for kids who love boats & ships. There was a section right when you entered to the right too, which focused on the transportation from the port & they had several areas with model trains running, which my girls always enjoy watching for awhile. And right outside the window, were the real trains running right next to the museum, so also a great place for a kid who is a big train lover.
Here are a few of the highlights for kids: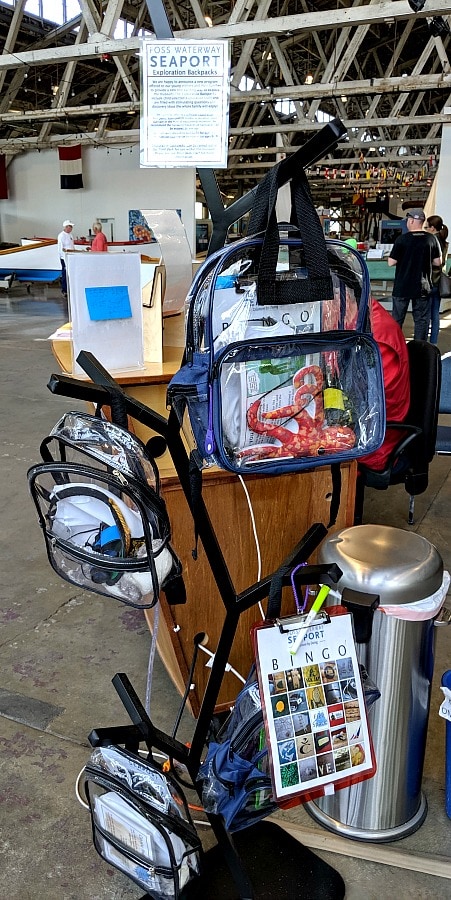 Educational Backpacks
Right next to the admission desk when you enter are these cool backpacks that we totally missed when we first arrived as my girls would have loved these.  They are called Exploration Backpacks and you can check out one of these backpacks for free to use while you're touring the museum. You just rent them from the front desk & kids can enjoy the various kid-centered exploration tools and activities inside to help them gain even more understanding from their museum visit.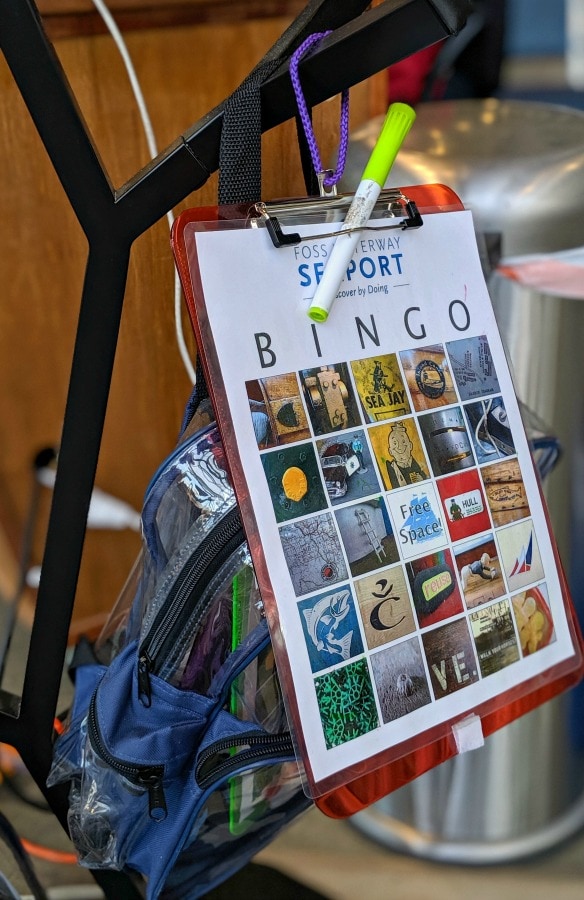 There are two different age ranges for the backpacks:
Captains Exploration Backpacks – Ages 2-5
Admirals Exploration Backpacks – Ages 6-10
Train Displays
I know there are many kids who are obsessed with trains & we were surprised to find out that this museum also has an area for the train lovers,  to showcase the process for transporting items coming in & out of the ports. We love watching train displays & they had two big train displays with working model trains that showed a piece of history & what the Tacoma wharf & docks looked like back in the day. There's a large window in this area, too, where you can see the working freight trains that are literally right next to the museum, coming by frequently so kids can get a glimpse of transportation past & present.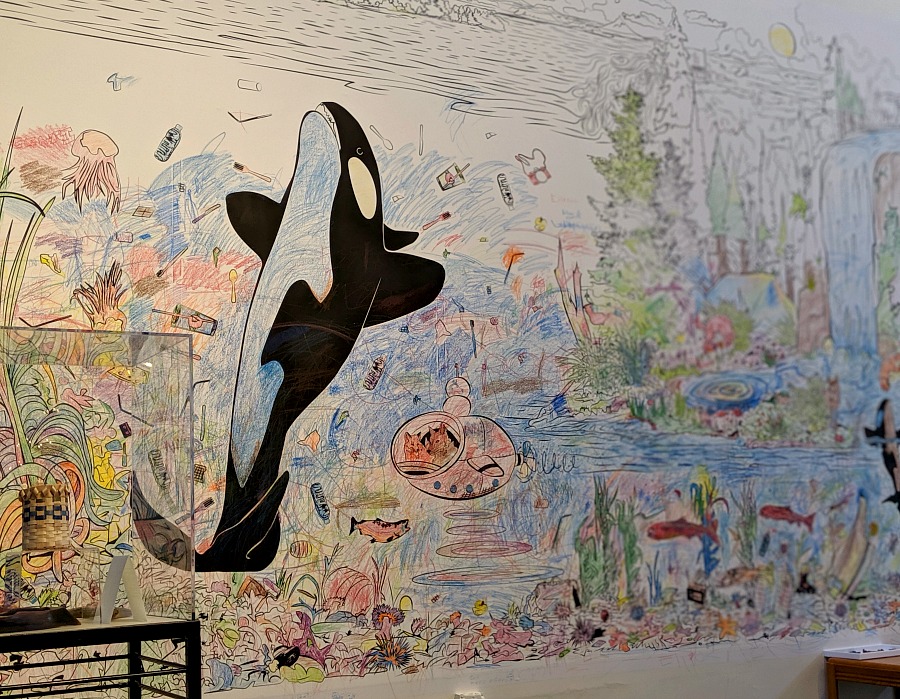 Giant Coloring Wall
This was the biggest coloring sheet I've ever seen – it filled this huge wall. It is mostly colored on the bottom, but young kids will probably still enjoy coloring on it. The older kids will probably want to wait for a new coloring wall to be added.  I just thought it was the coolest concept as I have never seen anything like that before!
Critter Touch Tanks –
 There were several touch tanks in the kids area where you could touch starfish, sea anemone & other sea creatures. This is always a favorite of my kids & most kids I know, so we loved that they had this option.
Hands On Activities & Kids Activity Center –
There were a variety of different hands on and interactive activities throughout the museum, as well as a specific kids activity center area with coloring, crafts & more. There was a fun, loud fog horn to blow by pushing down on a big accordion type of object. Kids will also love the displays like this ship to get on & explore.
Things to Know: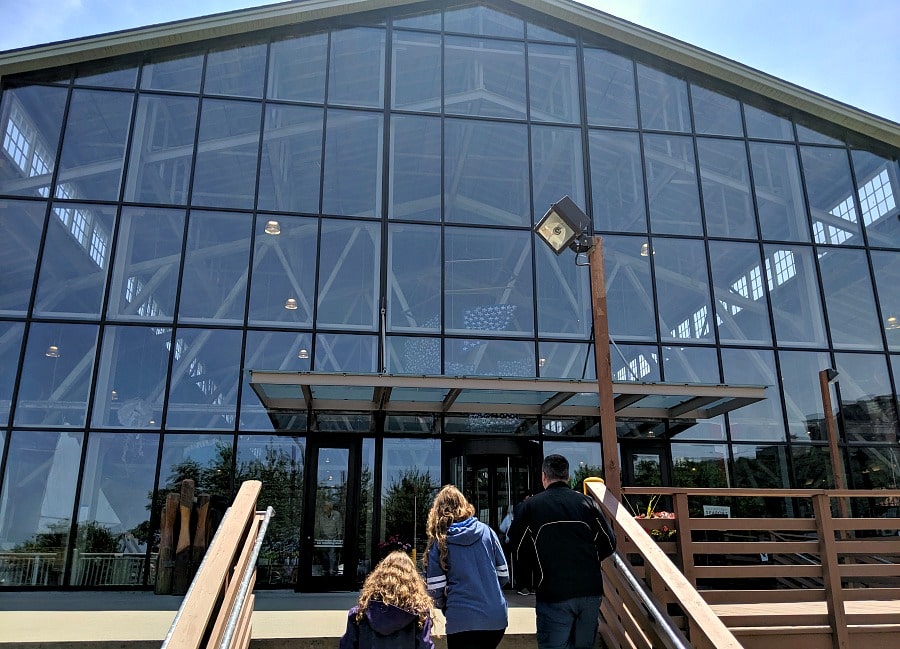 Museum Hours – The museum is not open on Mondays or Tuesdays, they are only open Wednesdays –  Sundays, so keep that in mind when planning your visit. They also have more limited hours  –  they are open 10am – 4pm Wed – Saturday and Sundays from 12-4pm.
Prices – Prices currently are $10 for adults & $8 for kids, seniors, & military. Kids 5 & under free. However, if you purchase a family admission, it will just be $25 total.
Events – there are so many fun events happening all the time at the museum.  Make sure to check out the Event calendar so you can plan your visit around one of the fun events. We visited the museum during the time that the Lady Washington tall ship was docked there, so we were able to get free tours of the Lady Washington included in our admission.  This was a huge hit with the whole family.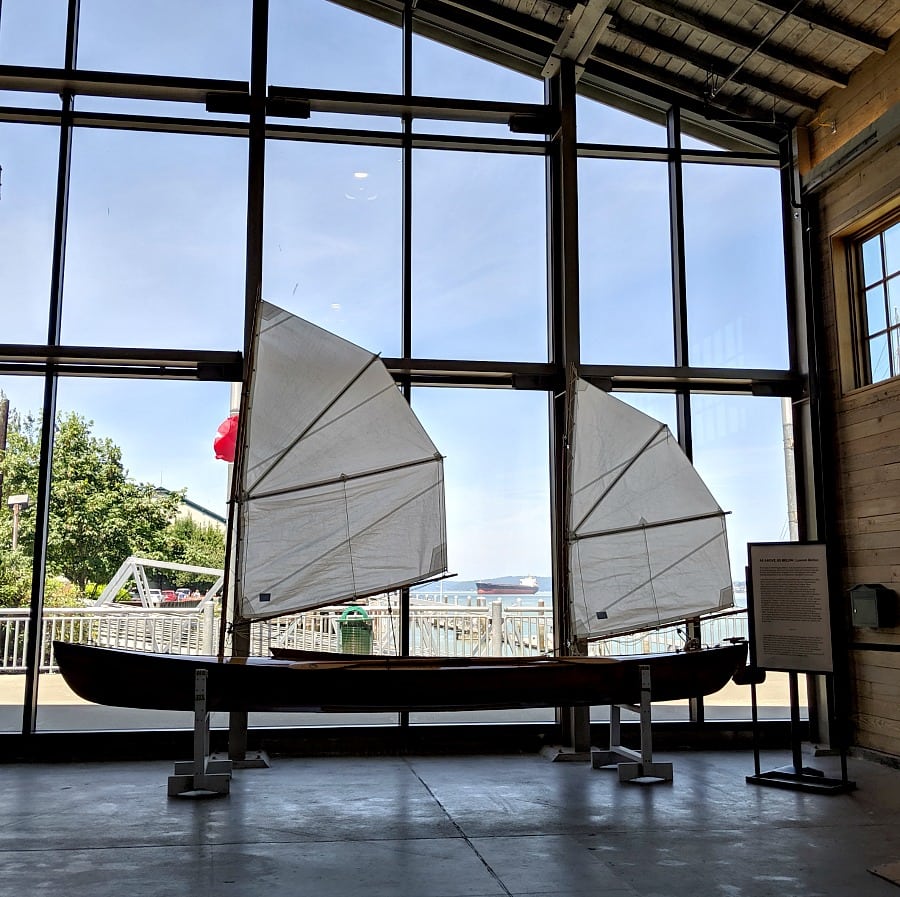 Ways to Save:
There are so many great ways to save on admission to this museum, so make sure to check out one of these ways before you head out there for a visit.
Library Museum Pass – If you are a Pierce County resident, you can check out a Museum Pass which can be used at a number of Tacoma museums, including the Foss Waterway Seaport museum. These passes are available thru Pierce County library system, Tacoma libraries,  Puyallup library & JBLM libraries. You cannot reserve these ahead of time, so make sure to get this in plenty of time before your visit. You will get free admission for up to 2 adults & 4 children under the age of 18. Children 5 & under are always free. These passes are not valid for any ticketed events, field trips or group tour visits.
Free Third Thursday of the Month – A number of museums in Tacoma are part of the "Third Thursday" program by Columbia Bank. The Foss Waterway Seaport Museum participates in this program & they are open late on the Third Thursday of the month, with free admission from 4pm – 8pm.
Blue Star Families – Free admission for active duty military & their families from Memorial Day thru Labor Day. This includes National Guard and Reserve.
AAA Discount – AAA members will get $2 off admission prices
EBT Card Discount – EBT card holders receive $2 admission for up to 2 adults & 4 kids. Just show your EBT card at the front desk.
Culture Kids Free Admission – Kids ages 0-5 who qualify for the Culture Kids program (for kids in Tacoma Headstart, ECEAP & other programs) can get free admission to a number of museums including the Foss Waterway Seaport Museum
Museum Reciprocal Membership – if you have a museum membership to a reciprocal museum, you could get free or discounted admission. Make sure to check the list of museums.
Free Admission During Special Events – There are special events throughout the year where there is free or discounted admission.  An example is the Tacoma Maritime Fest at the end of July when admission is free to the festival & the museum as well as ship tours, presentations & more. The Tacoma Ocean Fest in June also offers free admission.  Make sure to check out the Events schedule before you visit.
Special Events: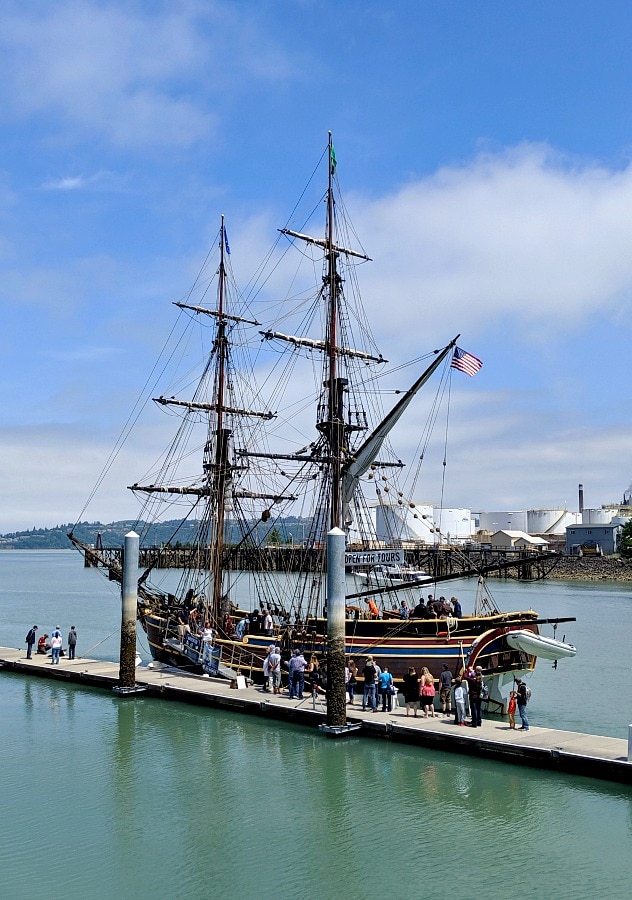 As I mentioned, we discovered the Foss Waterway Seaport Museum when we went to visit the Lady Washington. This museum frequently holds festivals as well as boats moored at the dock for tours, so there are always activities & events happening there.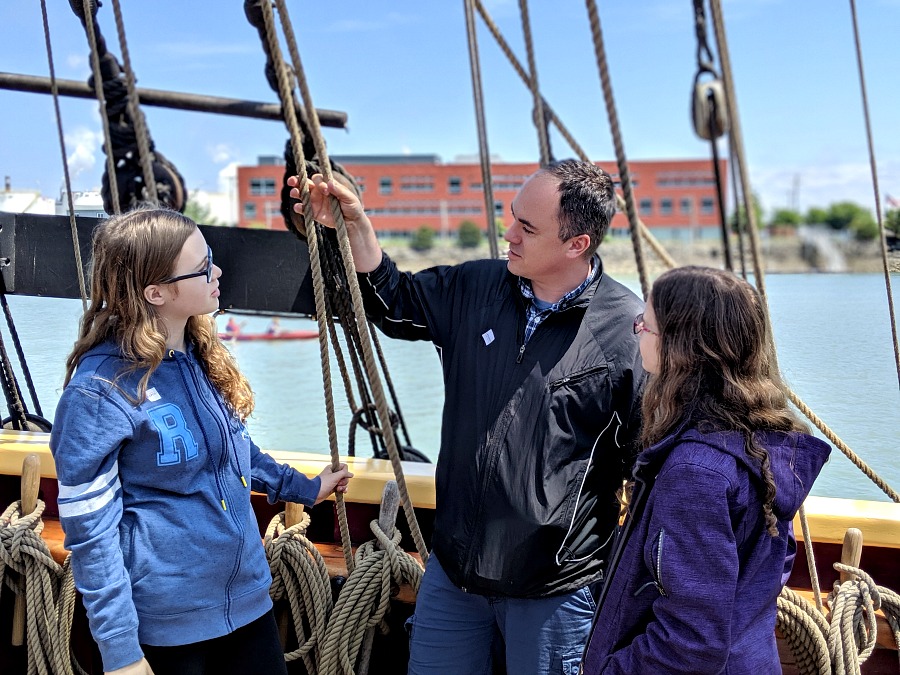 We toured the Lady Washington, Washington's official Tall Ship, during our visit & the ship will be available for tours through Sunday June 28th, 2021 (Make sure to check the times).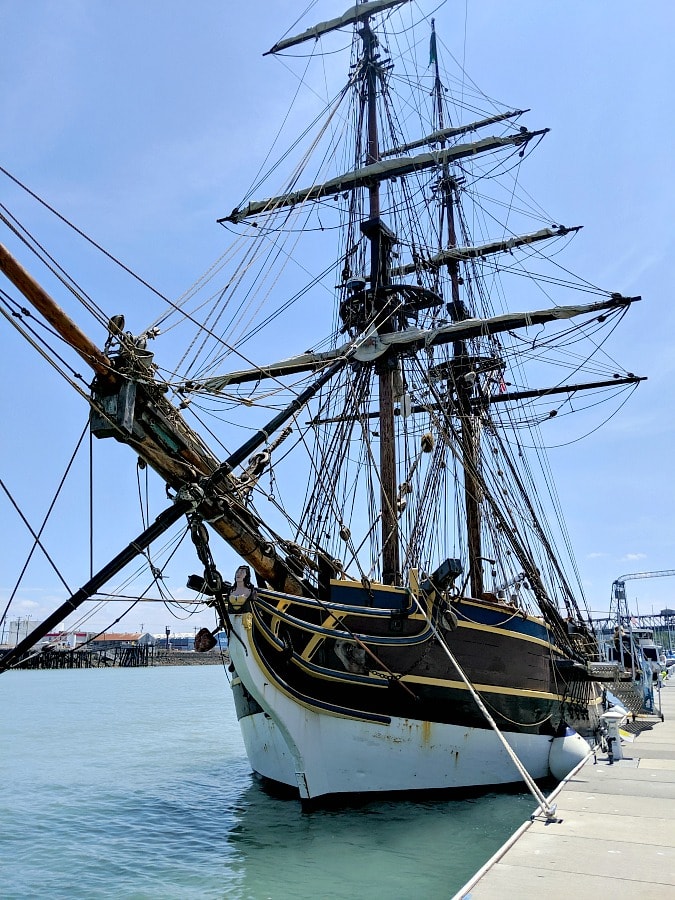 If you can't make it then, the ship will often be back for more events and for more boat tours & you can also pay to take a day or evening sail on the ship.  The ship also does tours all up & down the West Coast, so make sure to check out the schedule if you would like to find more times to visit the ship.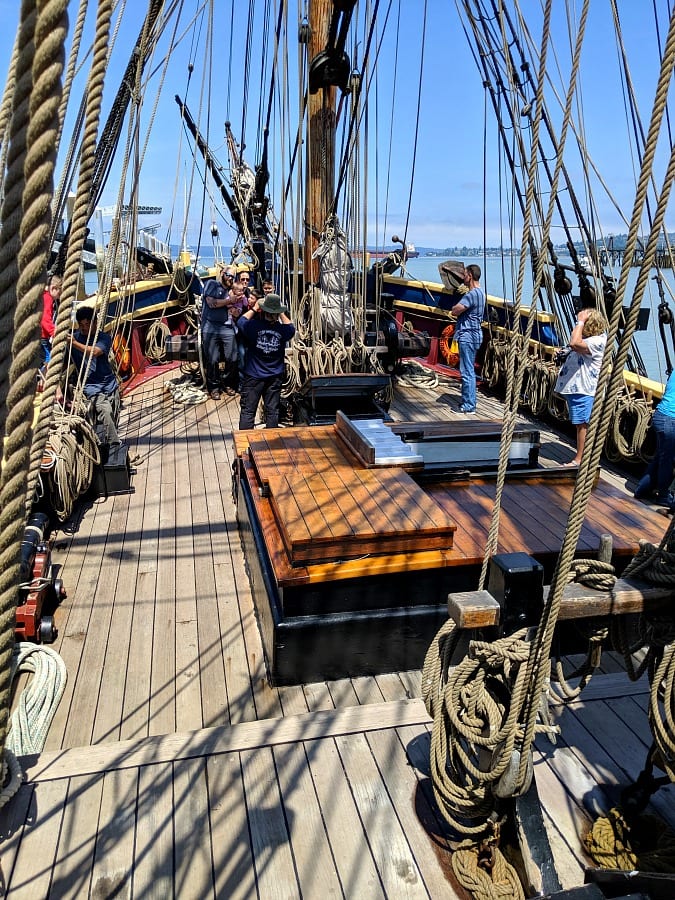 This was definitely the highlight of our visit to step on board this impressive ship as it is a replica of the ship from American Revolutionary times named after Martha Washington. The original was built in the 1750's and it was the first American ship to sail around the Cape Horn of South America & the first recorded vessel to make landfall on the Oregon coast near Tillamook. This ship has been used for filming in the original Pirates of the Caribbean movie, as well as a Star Trek movie & Once Upon a Time, as well as the Blackbeard miniseries. This is a definite must for any pirate lovers to go aboard this awesome ship!
Let us know if you have visited the Foss Waterways Seaport Museum & what your favorite thing is to see at the museum?
More Things to Do around the Puget Sound: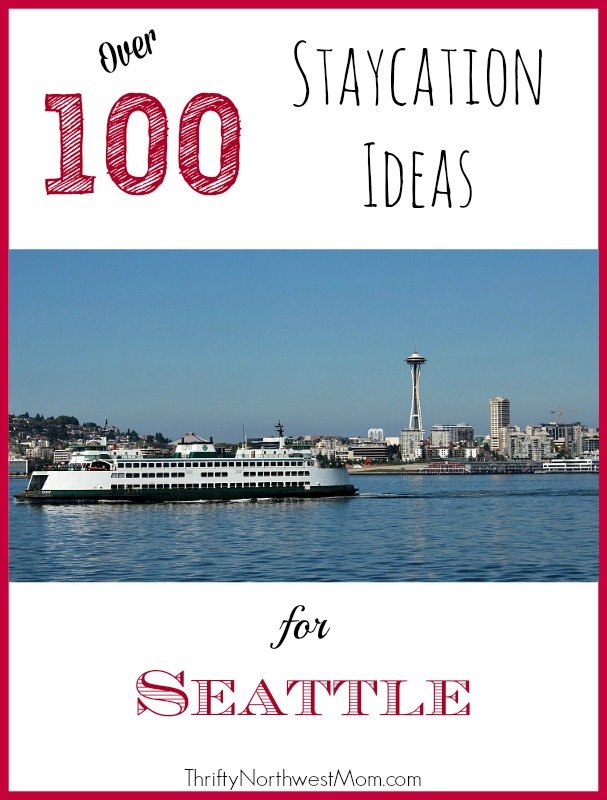 Staycation Seattle –  Over 100 things to do around Seattle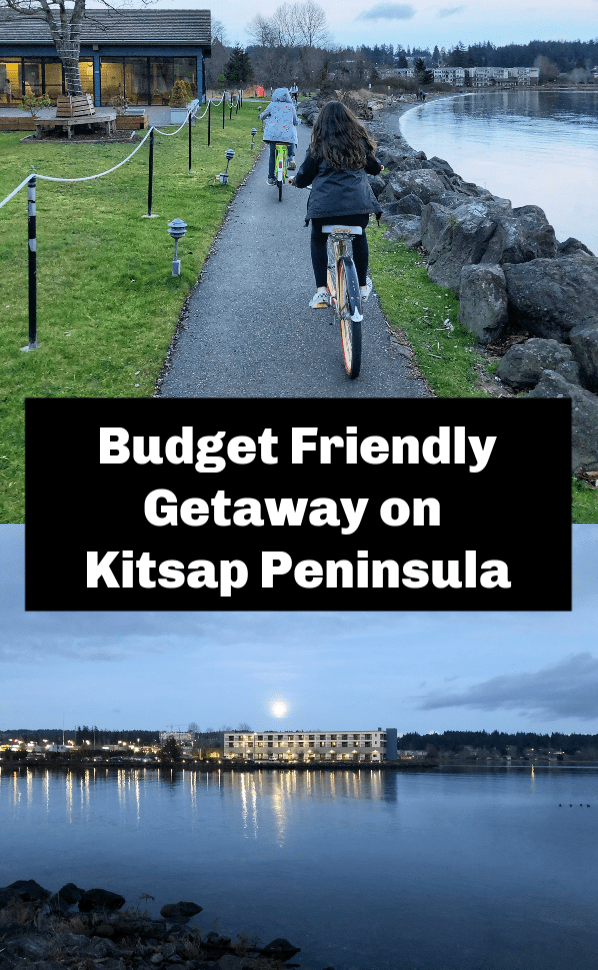 Budget Friendly Getaway on the Kitsap Peninsula (just across the Tacoma Narrows Bridge)