Mel Science Kits – 50% off for Science Subscription Boxes
Disclosure: Mel Science provided us with 2 science kits, so we could share our experience with you. This is a sponsored campaign with Mel Science. All opinions are 100% our own.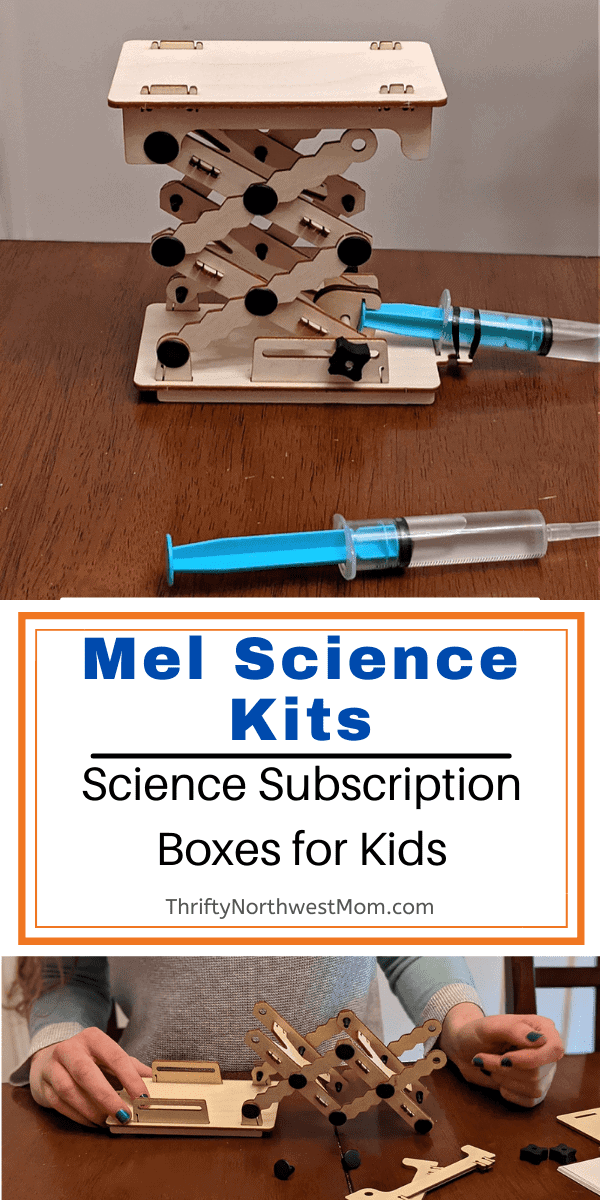 Mel Science Kits – 50% off!
Are you looking for science kits for kids? Check out this exclusive offer for Thrifty NW Mom readers from Mel Science Kits for 50% off all MEL science kits! This makes the kits just $17.45, which includes hands-on STEM projects, AR lessons & live science lessons. This is a really good deal, and it's only available thru January 7, 2022, so just a limited time. *Order by Thursday December 16, 2022 to get your first kit by Christmas!
Right now you can get your first box for 50% off!  Use promo code: THRIFTY50 at checkout. This is a great way to try it out and see what your kids think of the program!
Another thing that I like about these kits are that they include VR glasses (you can insert your phone in to watch VR videos explaining experiments, as well as live science classes with teachers and all.
When you sign up for the science kit for kids\ or chemistry kits, you are signing up for the subscription service. After the first box, other boxes will be $34.90, but you can can cancel or pause your subscription any time online. This is a great way to try the kits out to see if they are a good fit for your kids!
Here is how it works: 
Get your MEL science kit for 50% off with promo code: THRIFTY50  with all reagents and lab equipment inside.
Access VR Lessons and Live Lessons with professional science teachers immediately.
Your science experiment set arrives within 2 weeks of registration. Subsequent monthly packages will be delivered within 3 weeks of each monthly charge.
If you choose to cancel your subscription at any time, it's easy to do online from your profile.
Here are the Mel Science Kits for Kids that you can order right now: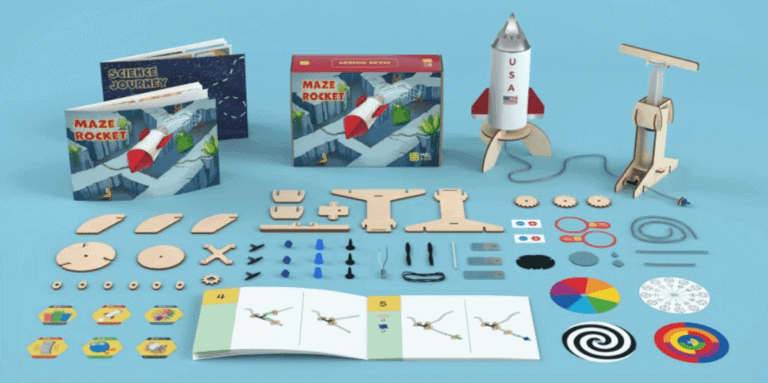 Mel Kids Science Kit  – $17.45 after 50% off with promo code: THRIFTY50
Hands-on STEM projects, AR lessons, and live science classes – all in one subscription. Ages 5–9+. Everything you need! Our kits include all the necessary components and instructions to complete a successful project.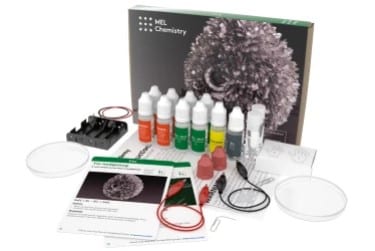 Mel Chemistry Set–  $17.45 with promo code: THRIFTY50 at checkout.
Get hands-on experiments, VR lessons, and live chemistry classes with science teachers in one subscription. This is great for ages 10 – 16+. You'll receive 2-3 experiments each month in your box.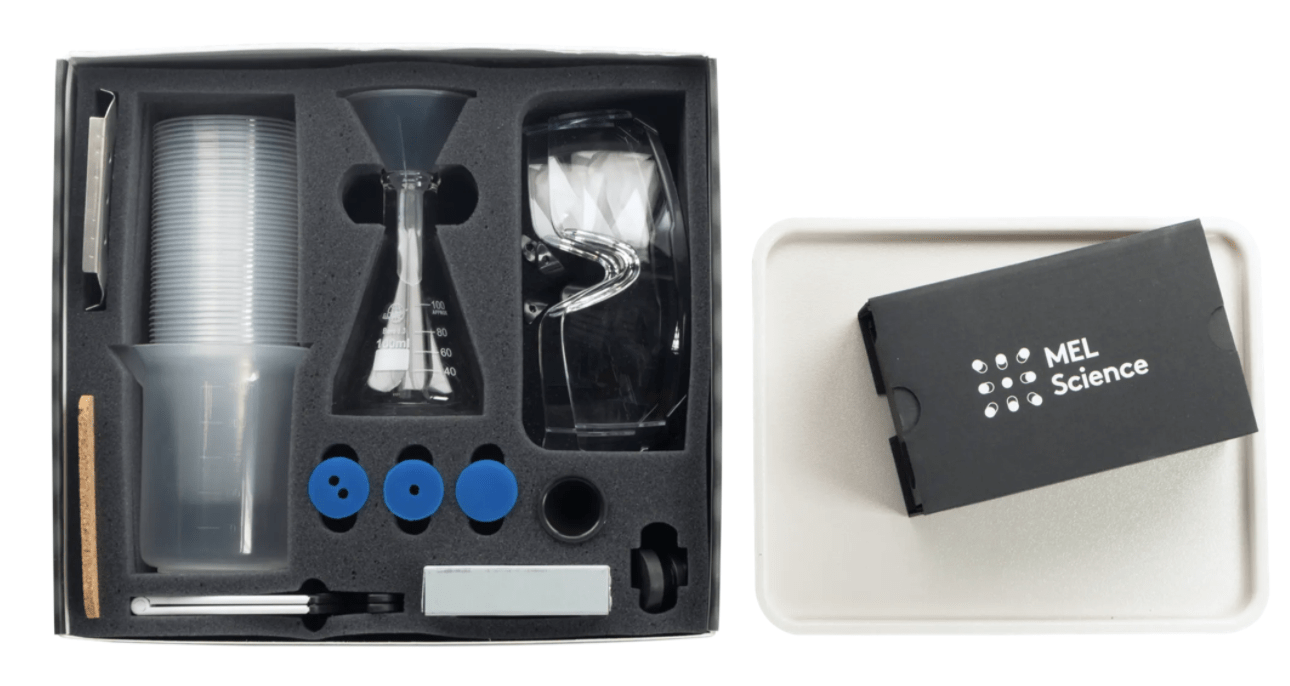 In your first box, you'll receive a free Starter Kit with 8 tools valued at over $50. This comprehensive Starter Kit contains all the equipment you'll need to conduct your experiments. It also includes accessories for your smartphone or tablet to help you learn chemistry more effectively. You'll use the items in this kit repeatedly throughout your subscription.
MEL Chemistry VR lessons:
Make chemistry visual and interactive
Cover all the basic topics of a standard school curriculum
Help to get higher scores in exams and class grades – proven by the research of New Jersey Institute of Technology
Compatible with Google Cardboard, Google Daydream, Oculus Mobile, Pico VR
Mel Physics Set –  $17.45 with promo code: THRIFTY50 at checkout.
Hands-on experiments, VR lessons, and live physics lessons – all in one subscription. Ages 8–14+. . When you sign up for the physics set, you'll get 2-3 physics experiments in your box. Physics explains how the world around us works. Your children can assemble devices we all use every day and understand how they function through firsthand experience.
Explore physics in virtual reality with our interactive 3D app! VR headset not included.
Understand complex concepts by observing the micro world, not by rote memorization
Over 30 VR lessons and tests covering a standard school physics curriculum
Called the best science app by the best teachers worldwide
Mel Science Reviews: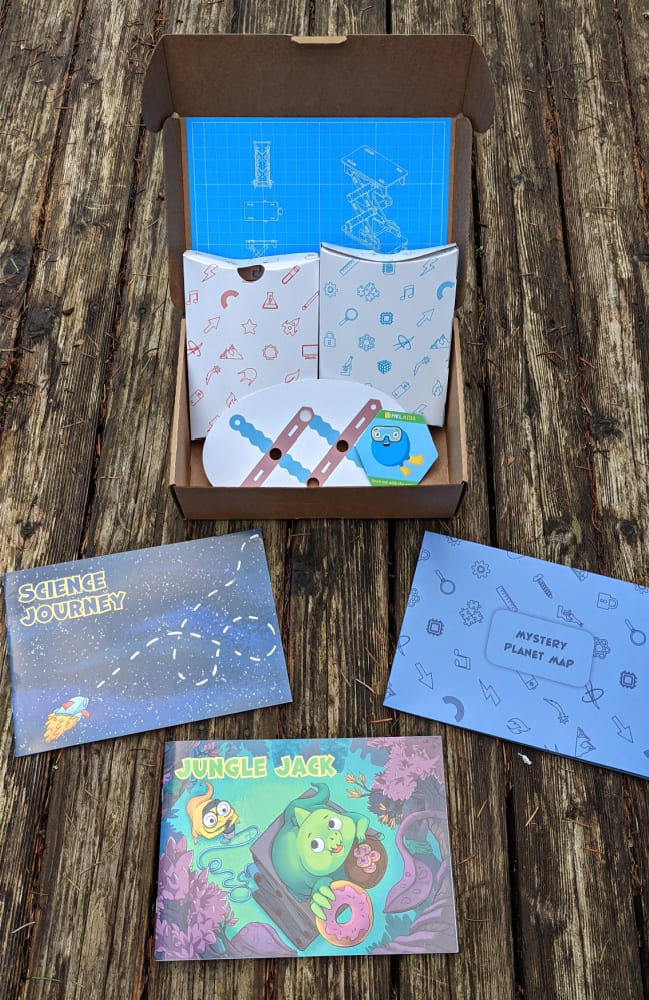 We partnered with Mel Science to try out the Mel Science Kits to see what was included & what it was like. The first option we received was the general Mel Science Kit, which is geared towards kids ages 5 – 9+. They also have the Chemistry & Physics sets available too.
Mel Science General Kit:
My daughter is 13, so the booklet was definitely geared more towards younger kids, but she had fun with the actual experiment, so I think these could definitely work for all elementary/early middle school grades.
The box arrived in about a week and a half from when we ordered. It has all of the materials you need to do the science experiment including a booklet with a little cartoon story explaining more about the type of experiment, as well as step by step photos to show kids how to put together the experiment.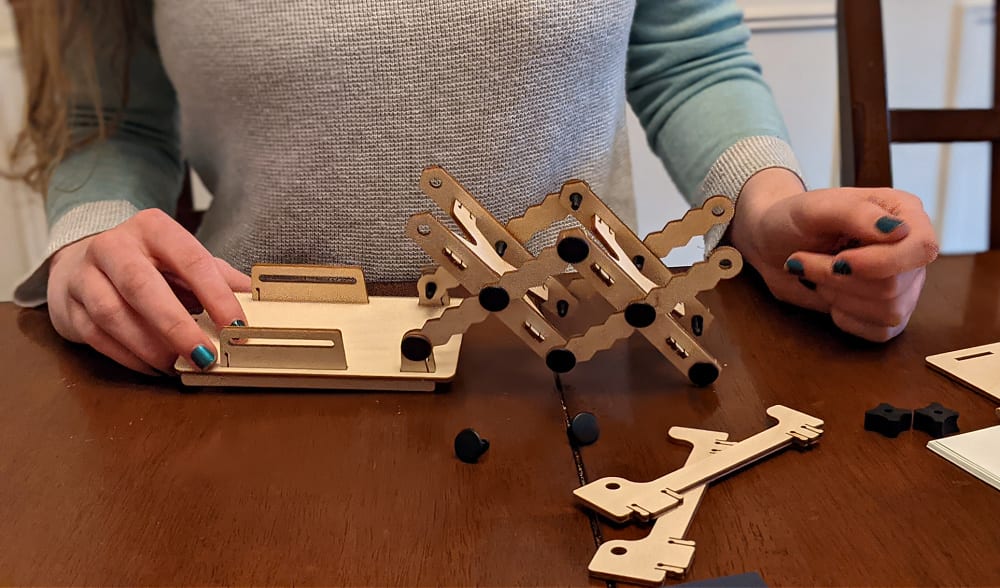 The kit that we received was for a hydraulic lift & the only item you needed from home to complete the set is water! Everything else is included. There is also a Live Science Lesson with different times they offer the lesson so that kids can do the lesson at the same time with the teacher to learn the science behind what they are doing with putting together the kit.
There is also a card that you can scan to use the app for an AR experience to go along with making the kit, for even more interactive fun for the kids. The project on the app is animated & gives a very detailed description of how the project works for another way to explain it for kids to understand.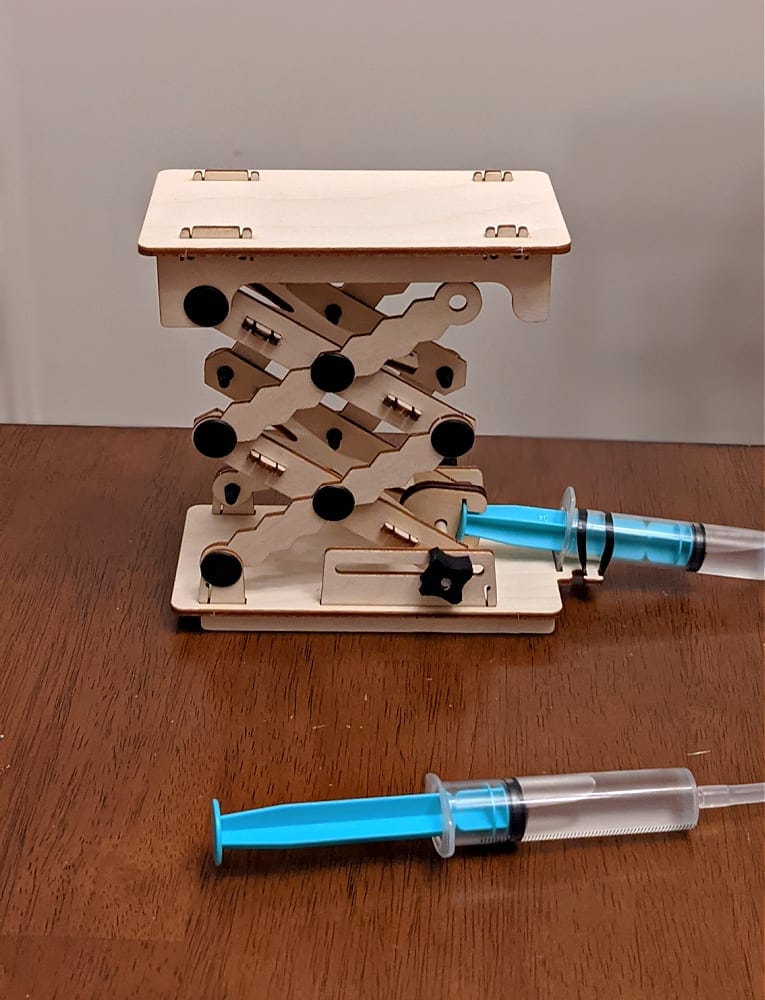 The box includes 2 separate little boxes to keep the parts separated – one box contains the parts to the lift & the other box contains the parts to the actual hydraulic system. The booklet does not have any words, but the pictures are very easy to follow & self-explanatory. My daughter first put together the lift following the simple instructions & the pieces fit well together. Then she got out the pieces for the hydraulic system & was able to easily add this to the lift & get the hydraulic system going quickly. She was thrilled with the way the system worked so well when she had it all put together!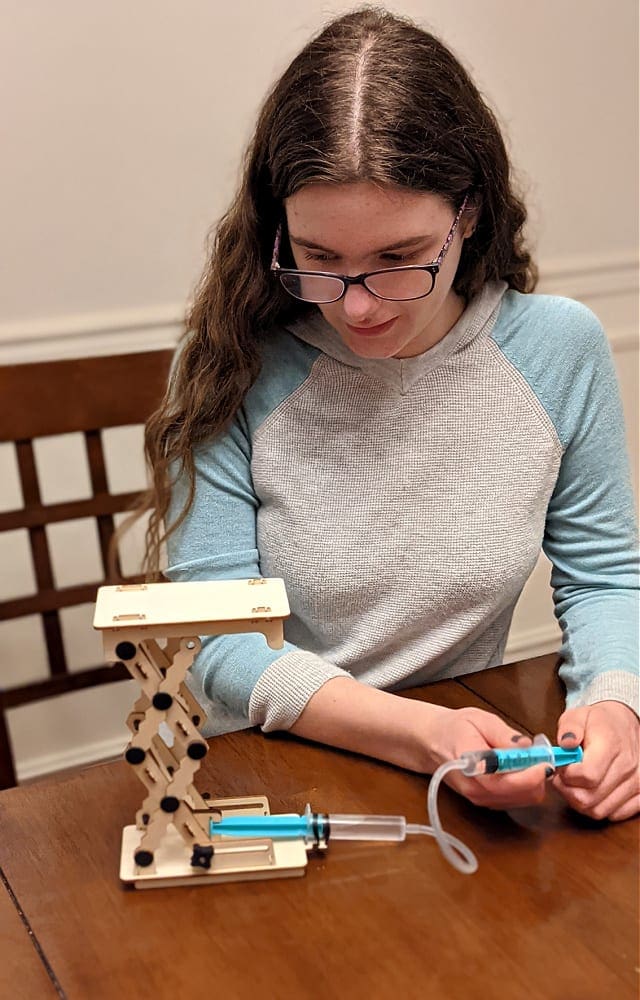 I loved that the booklet also explained the different ways that hydraulic systems are used in everyday life, with picture examples such as bicycle brakes & even the heart in our body. This helps kids to have more connection to the science experiment that they are doing at home to understand how it relates to larger things that work in our world. Definitely a great science lesson for my daughter & I love that they have multiple ways to learn not just thru the hands-on science kit, but also thru the live science lesson & the AR experience on the app, too, to reinforce the same scientific concepts.
Mel Physics Kit: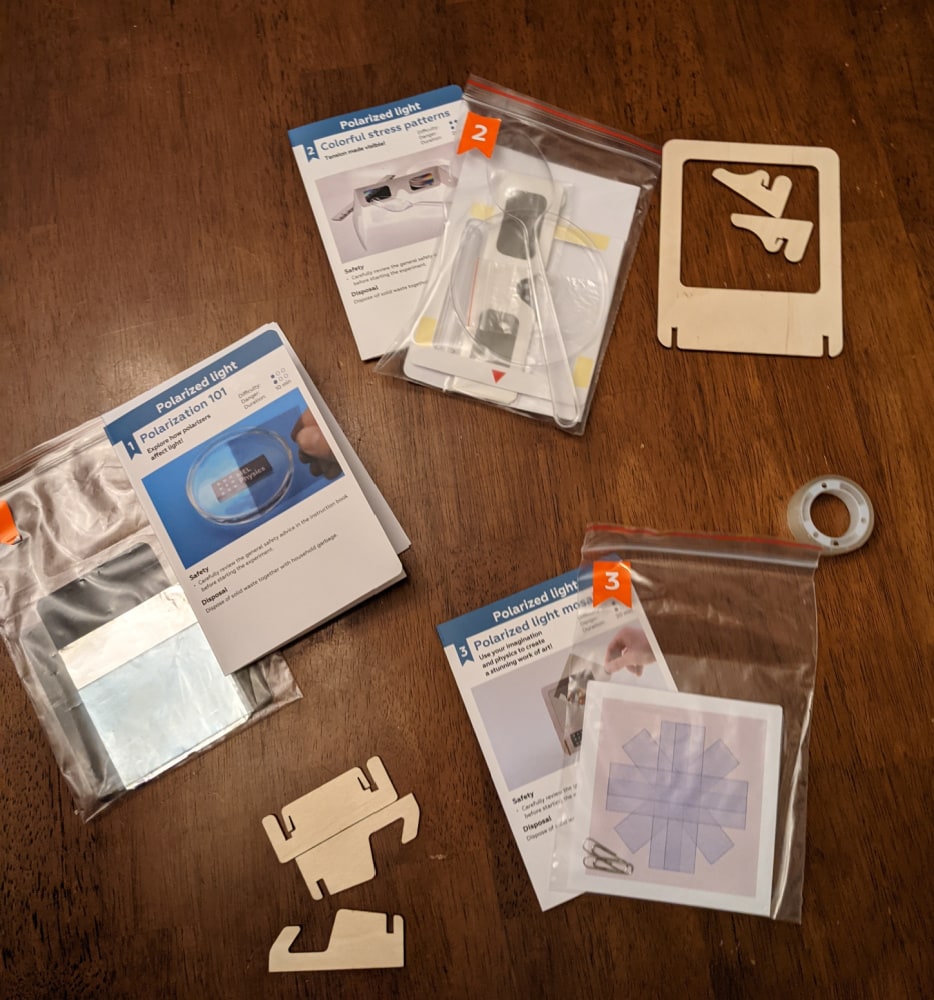 We also received the Mel Physics kit, which included 3 experiments to learn about Polarized Light. They numbered each pouch with the materials along with the numbered instructions so you could easily tell which materials went with which project.
The instructions use both written instructions with a lot of images to show you how to put together the experiments with the materials you are given. They give you all the materials you need, even tape was included with the last project, so you don't need anything else except what is in the kit.
The first project was called "Polarization 101" to learn how polarizers affect light (all you need is a cell phone with the materials for this project). There are several dark films that are the polarizing filters to look at the differences in transparency between the different films. On the back of instructions, they provide a little lesson about how polarized light works & how it differs based on the materials that are reflected.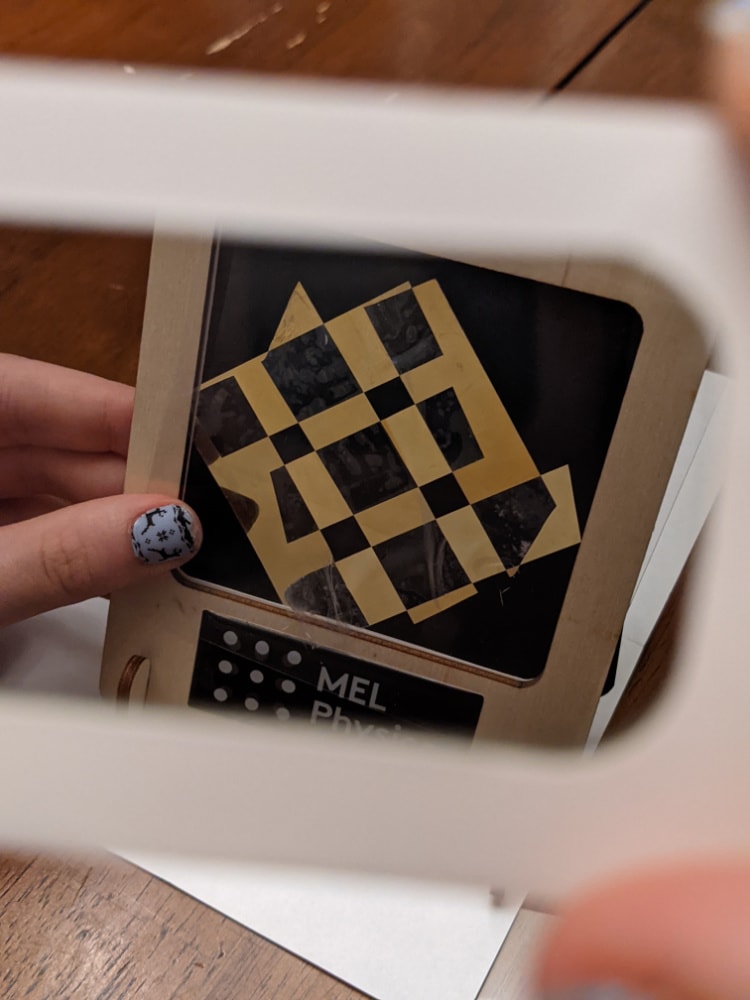 The 2nd & 3rd projects are using polarized light & polarized glasses to create colorful stress patterns & polarized light mosaics.  My daughter loved the 3rd project the most as you just used tape to create special patterns (using tracing cards) and then when paired with the filter & the polarized glasses, they would create such unique & pretty mosaic artwork/ images.  This was so fun as you could keep making up your own patterns & then once she finished with the different patterns, she then put all 3 patterns together for such a fun & interesting mosaic!
I love when there are ways to make science come to life & more interesting & fun for kids & these Mel Science kits definitely bring science to life more for kids & help them to understand harder concepts with easy to create projects. I love that everything is included in these kits, so my kids can do these kits on their own & follow the simple instructions to set it all up, so it involves no prep from me but we can just enjoy the experiment together!