Fun Things To Do In Wenatchee Wa. – A Perfect Weekend Getaway!
This post may contain affiliate links and I may be compensated for this post. Please read our disclosure policy here.
 stDisclosure : We were hosted by Visit Wenatchee to share here. All opinions are 100% my own.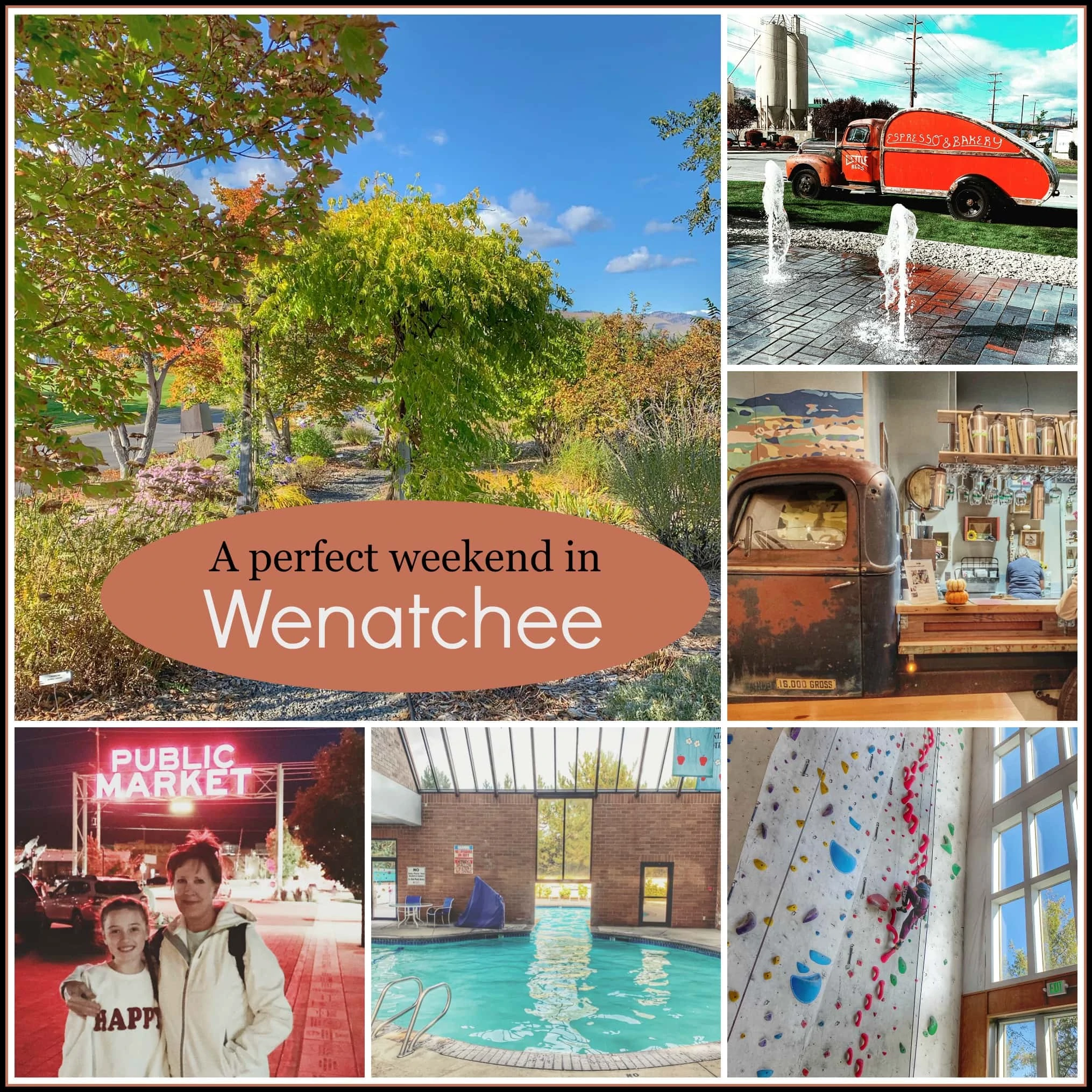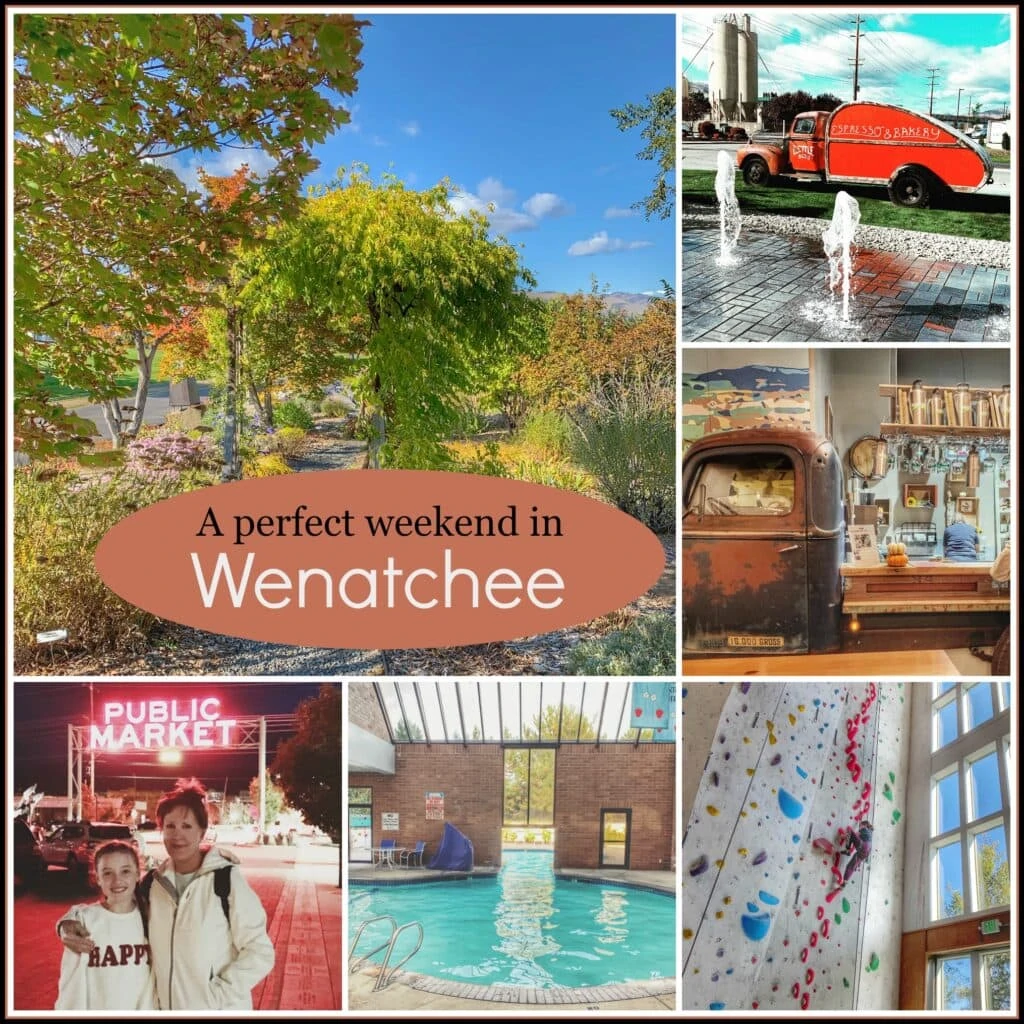 Fun Things To Do In Wenatchee Wa. – A Perfect Weekend Getaway!
What To Do in Wenatchee, Where to Eat & Stay!
Wenatchee is a fun getaway anytime of the year. It is warm in the summer, can be snowing in the winter, and more affordable in the shoulder seasons of fall and spring (both of which can have beautiful weather too). We share lots of ideas of fun things to do in Wenatchee Wa. year round, but fall is one of my favorite times to visit.
In the summer you can get outdoors and experience the beauty of the area with local hikes, bike riding and more. In the winter consider making it a ski trip.
Fall is one of those seasons where I really want to be where there is beautiful foliage, great restaurants, and things to do in walking distance to where I am staying. I love to be out and take advantage of the crisp weather, before it gets too cold. Wenatchee hit all of those points for us, and is why I think it makes a wonderful fall weekend getaway!
What to do in Wenatchee
Wenatchee makes a wonderful weekend getaway, as it is not a long drive from the Puget Sound area, and you can easily reach it from many northwest locations. Plus, it sits near other popular tourist destinations like Leavenworth, so you can make it a quick overnight trip, or spend an entire week exploring.
Enjoy the outdoors, shop, eat or do tastings around town. It is perfect for families or a girls or couples getaway, as there is a little something for everyone to enjoy. Here are some of our favorites.

The drive over was stunning, the food and drink wonderful, and there was more to do than we were able to pack into one weekend. We made it a family trip, with three generations – grandma, mom and kids. It would also make a really fun girls trip, or couples trip, if you like tastings, and seasonal foods. We enjoyed great eats, leisurely walks along the river, challenging rock climbs, shopping and more in our short visit. I think I will want to make this trip an annual one. It was such a wonderful weekend to enjoy many of my fall favorites.
In addition to our recommendations, be sure to check out the Visit Wenatchee site, for more ideas and current events that will be happening when you plan to travel.
Things to Do in Wenatchee Wa. – The Perfect Weekend Itinerary ::

Check out the Riverfront Park!
Enjoy the Riverfront Park! It is a beautiful area to walk, and you can enjoy beautiful fall foliage this time of the year. We spent some time here on Saturday, and saw many families out exploring too. It runs along the Wenatchee river, and has paved walk ways, garden trails you can walk through, play grounds and we even ran across live music. Coming from the Seattle area, we kept commenting on how clean this park was kept, it really was impressive. Here are a couple more things you can do here.

Catch a Train Ride
One of my girls catching a quick rest after we spent some time walking along the river for the day! When you come down from the downtown area, there is a small set of train tracks. You are able catch a train ride for just $2 here, certain dates throughout the year. Find the schedule of when those days are happening here.

Enjoy the 20 Mile Apple Capital Loop Trail
You can also bike it. There is a 20 mile Apple Capital Loop Trail, that is a great biking options, and makes for a beautiful afternoon outdoors. There are bridges that will take you across the river, and you can even rent bikes from inside the Pybus Market, right off the trail.

Spruce and Willow in Downtown Wenatchee
Shop in Downtown Wenatchee
Right across the street from our hotel, is a small historic downtown area, that was full of some cute shops, restaurants, tasting rooms and more. We loved spending some time here, exploring stores and grabbing coffee.
I think we spent an hour in the Spruce and Willow store, and found the prices here to be much better than we find in Seattle, so it was a great way to get some fun treasures for a deal. I found a fall decor item for just $1.75 (an owl that lights up), and a set of 4 lunch trays from the 50's for just $24. If you like to shop for treasures or fun up-cycled items, this is a great spot to do that. We could have spent an entire extra day here doing this – we just ran out of time to see all that we wanted to.
If you like antique shopping, this is a great spot for that. Here is a list of some of the antique stores you will find in the area.

OWL Soda Fountain and Gifts
This spot is reminiscent of the old soda fountains you would have found in drug stores of the past, like Woolworths, so it is a fun stop for the entire family. The kids are sure to find something they want, or get a good old fashioned soda fountain or milkshake drink to keep you refreshed for more shopping.

Visit Pybus Market
Pybus Market is fun during the day, or evening. It is an indoor market with local artisan products, restaurants, live music on the weekends and more. You will find things like an entire store of specialty olive oils, specialty cheeses and homemade soaps, and much more. Stores can close early, so if you are going to shop head there during the day. The restaurants stay open into the evening, if you are looking for someplace to hang out then too. We share more about our dining experience at the Pybus Market below.
The market sits down by the river too, so it is a great spot to combine with a walk along the river. Grab a cup of coffee at one of the trailers parked out front, and take a morning stroll to start your day off right.

Sip Your Way Through Town – Lots of Tasting Rooms
We found tasting rooms all throughout the downtown Wenatchee area, along the waterfront, and in Pybus Market. If you want to sip your way through town, they make that easy. Most where offering tastings of local spots too. Right across the street from the Coast Wenatchee Center Hotel, where we stayed, is the Wenatchee Valley Chamber of Commerce and Visitors Center Tasting Room (shown above). They have used this fun old truck and beautiful wood, to create a wonderful ambiance for this spot. They even had live music playing inside the weekend we were there.
If you prefer breweries, check out Brewer's Row: An infamous district in Wenatchee with four great breweries within just over a mile of each other, Brewer's row is a great place to spend part of your afternoon or evening. Enjoy the unique flavors and styles of each brewery and get your beer passport stamped to bring home a stainless–steel pint glass as your souvenir! 

Here is spot we found down along the riverfront area. They had live music available to relax at in the afternoon on the Saturday when we were there. I loved that although it was October, we were still able to enjoy so many outdoor activities in Wenatchee. So many spots are set up with both indoor and outdoor seating, which was perfect for the early fall we were able to enjoy!

Take a Day Trip to Leavenworth
If you have never been, Leavenworth is a Bavarian themed village nestled in the Cascade mountains, and is beautiful. It is about a 15 to 20 minute trip from the downtown Wenatchee area. Oktoberfest usually runs during a couple weekends in October, so it is a festive time to take a day trip into Leavenworth while visiting Wenatchee. The Coast Wenatchee Center Hotel, where we stayed, offered a shuttle for a fee during these weekends too, so you do not have to drive yourself if you do not want to.
We built our visit into our trip home. I do recommend stopping in on either your way too Wenatchee, or from Wenatchee, as it is on the way if you live in the Puget Sound area, and that way you can maximize your time in Wenatchee too.

Fall is one of my favorite times to visit Leavenworth. Not only are there the festivities of Oktoberfest, but the colors in the city and on the way are just gorgeous. Nothing screams a perfect fall day like beautiful foliage, a great German Brawt, and some cider. That sums up my perfect fall day! It can be a bit crowded this time of the year, but since the town is not huge, you can still easily enjoy a day of browsing shops, fit a great meal in, and even enjoy some putt putt golf if you want.

I love to take the kids rock climbing, as it is not only great exercise for us all, but it is lots of fun. It is also a wonderful activity to plan, if you are not sure about what the weather might be like outside. Fortunately for us we had perfect weather during our weekend visit. It was still worth heading inside to enjoy the Riverfront Rock Gym. Kids can get a day pass option too (so the price of a movie)! Equipment rentals are extra if you need those. Save yourself some time, and fill out the online waiver here (you will need to complete this before climbing).
These guys have over 14,000 square feet of climbing space, and is perfect for family fun!

This one is me, attempting to scale the 50″ wall (and getting around some of the obstacles sticking out from the wall). I barely made it to the top, and was out of breath when I hit the floor afterwards. It felt great to challenge myself to do something I was not sure I could do! The thing I love about rock climbing, is that it is a fairly safe sport when you are in the gyms. We met an 85 year old gentleman who was still in there climbing regularly. Our family had three generations in our party (my kids 11 and 12, and my mom in her 60s – and me). We all where able to do some climbing, as this gym had something available for all age and skill levels.
My kids always show me up. I don't think we threw a single challenge at them here, that they did not step up to. They always amaze me when they climb. I think it is a great confidence building activity too. I have one kiddo who has tended to be afraid of heights, but once she started climbing I have not been able to get her to stop. She takes on the highest walls, and at least puts an effort to some of the tougher climbs now. I think the security of the harness, and knowing she won't fall has helped her to face some of these fears, and built some great confidence in addition to strength in her.
This was grandmas first time ever, and she was able to do some climbing on these walls. They also have small climbing walls with pads under them, that are perfect for kids and if you don't want to rent all the equipment.

Slime Making at the Wenatchee Valley Museum and Cultural Center
Take the kids to the Wenatchee Valley Museum and Cultural Center
The Wenatchee Valley Museum and Cultural Center, is a perfect stop if you have younger kids with you. It is pretty affordable, and be sure to check out the free First Friday days there monthly too. They even put out a table of free refreshments you can enjoy around the 5pm hour! It is not huge, but there are various hands on activities. It is really a great spot if you have pre-school or young elementary age kids.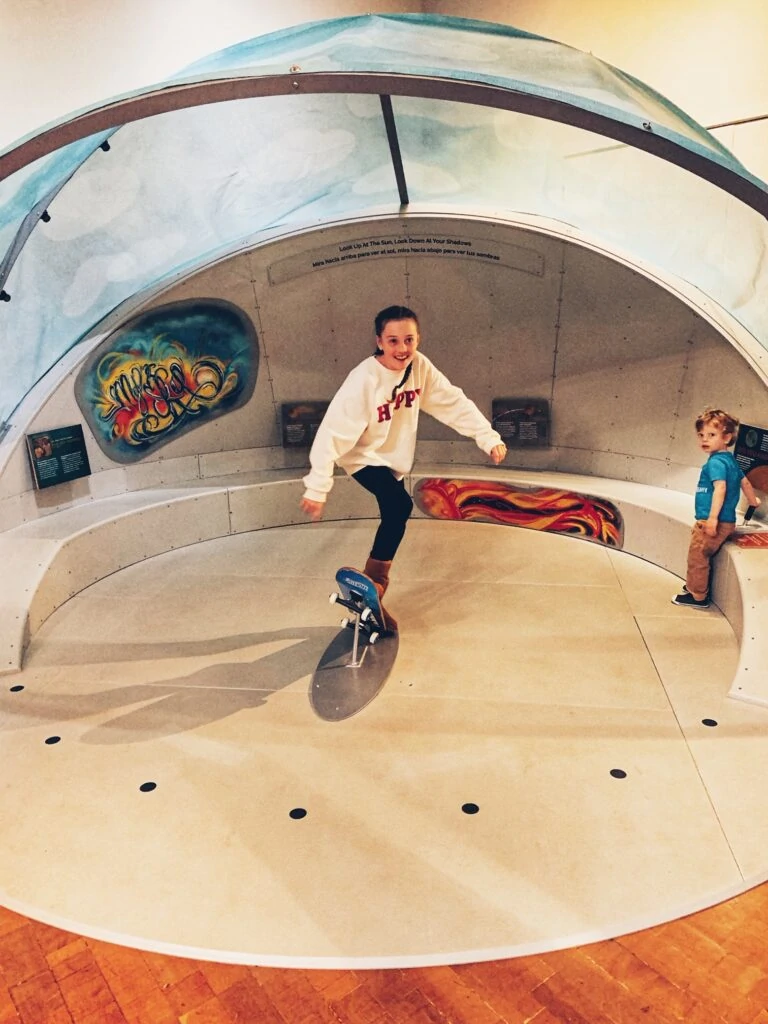 In addition to their regular exhibits, they also offer special exhibits. Right now they have the MY Sky Exhibit @ Wenatchee Valley Museum and Cultural Center, where kids can explore the sun, moon and stars, in a hands on way.
There are a number of hands on activities that they guide kids through on the lower level. They were offering slime making, robotics and crafts downstairs during our visit.
Enjoy a hike in the outdoors
Get out and hike Dry Gulch  to explore more outside of just the downtown Wenatchee area. Just several minutes from town, this 2 to 3.5–mile hike overlooks the Wenatchee Valley. The beautiful rock structures and surrounding wild lands are stunning, making this quick adventure a must-do for everyone visiting Wenatchee.
Wenatchee Restaurants and Recommendations – Where We Loved Eating ::

Melas – great for coffee and weekend breakfast
Our favorite coffee spot was Melas. It had great coffee (a little pricey) but the best we found while we were in town. They serve Oat Milk Lattes, as well as other types of milks if you are looking for something a little different. Be prepared to wait though, it is a popular spot on the weekends, and like many great coffee spots, they do not rush their coffee making process. Their weekend breakfast also seemed to be very popular, if you are looking for a breakfast spot. You will find Melas on the main shopping strip in historic downtown Wenatchee.

McGlinns Public House – Perfect Lunch Spot!
A few blocks over and up from the main road in downtown, is McGlinns. It had been described to us as having a bit of a Portland vibe, and that rang true to us. It had the farm to table freshness, and lots of delicious food and drink offerings! Depending on the weather, there is this very cute outdoor seating spot, but it was a bit cool so we chose to eat inside. With lots of woods, and fun lighting, it has a bit of a pub feel indoors.

There were so many great options to eat, I had trouble deciding. I went with the crab melt (yum)! We also ordered wood fired pizza, pasta and sandwiches at our table. Everything was tasty.

Eat at Pybus Market for any meal. Dinner Especially Fun!
There are 7 spots to choose from to eat at in the Market, and they all looked good. We enjoyed the market so much, we ate here more than once. The first night we had dinner at Fire, and dessert at Ice, and it was a a great evening. It was still warm enough that we were able to sit outside, under heaters and fun evening lights.
We could hear the live music playing in the market on Friday evening, and catch the sunset as we ate, so we took our time eating and relaxing here. Our evening started at the Fire restaurant, but we were able to order dessert from the Ice gelato shop next door, and they brought it to our table. We sampled pumpkin pie gelato (combine it with the panna and it is like pumpkin pie with whip cream – yum!). The second day we came back for more gelato at Ice (the kids loved that spot), and a cheese and meat platter for lunch.

Here is a list of the spots to eat at Pybus Market:
All day options –
South for South American
French flair @ Pybus Bistro
Fire for great salads and wood oven pizza
ICE for crepes and gelato
Wenatchee Valley Brewing for local hand-crafted beers,
Breakfast and lunch choices include (these close by dinner time) –
Café Columbia is just darn good food
Little Red's Espresso & Bakery is true to its name, great coffee and
bakery items.

This is the cheese and meat If you are just looking for a snack or light lunch, we ordered this fun cheese and cracker platter from the Pybus Cheese shop (and a big pretzel for the kids too), and they delivered it right next door to the Jones of Washington Winery area (kids are welcome), so we could pair it with a glass of wine for the adults.
Wenatchee Hotels – Where to Stay When Visiting ::
You can start by checking out all the current rates in the Wenatchee area here. We often find great options for under $100 a night, which is getting harder to do these days.

The Coast Hotel Wenatchee –
We stayed at the Coast Wenatchee Center Hotel, mainly because I had heard about their indoor /outdoor pool that the kids would love. My family loves great pool options, and this was one we have wanted to check out – so it was the perfect spot for our family trip here. It is a three star hotel, and has great value for that.
A couple of highlights about this hotel include: 
It is close to everything in the historic downtown area – so we could walk just about every place on this itinerary. I love when I can park, and just enjoy my weekend without having to get back into the car. Plus, parking at the Coast Hotel is complimentary!
The pool was lots of fun for the kids. We visited when things where cooling down, so it was a bit chilly with the outdoor pool, but it would be perfect in the summer. There are two hot tubs you can warm up in as well.
The Hotel has a sky bridge connected directly to it. You can take this walking bridge right to the convention center, and from there head right outside and there is another walking bridge from the downtown area, to the waterfront (shown below).
If you want to balance budget with amenities, I thought the Coast Wenatchee Center Hotel was a great balance of those two things. The hotel itself is comfortable, there are a number of restaurant options in walking distance, and they do have a roof top lounge that we thought was a good spot to stop for a happy hour drink if want to enjoy views of the river, and get a craft beer for just $3.50!
There is a fireplace in the comfortable lobby area. You can come down in the morning or evening for complimentary coffee or tea, and unwind by the fire. All in all, we really enjoyed our stay at the Coast Wenatchee Center Hotel, and I would recommend it as a wonderful family option!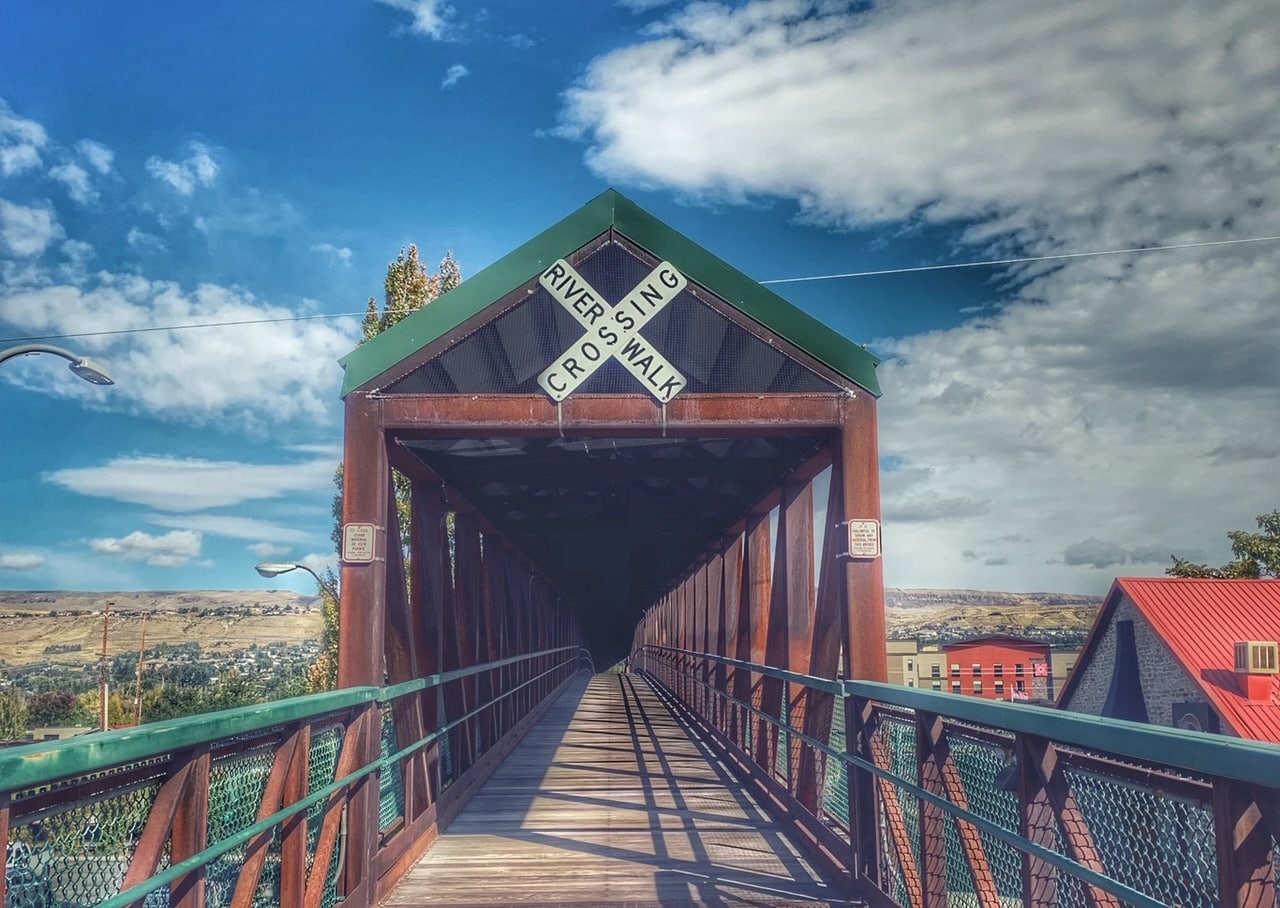 This is one of the walk ways from the downtown area to the waterfront area. It made moving between all of the sites listed above so easy, and the walk was really beautiful. You get some great views of the surrounding mountains, and more of the city, as well as the river.
Find more details on the Coast Wenatchee Center Hotel here, if you want to see if it will be a fit for your family too.
Hilton Garden Inn Riverfront
There was a newly built Hilton Garden Inn, if you want to stay on the Wenatchee Riverfront, and walk into town as well. This looked nice, and sits down right on the river, and is a reasonable walk up to town and over to the market.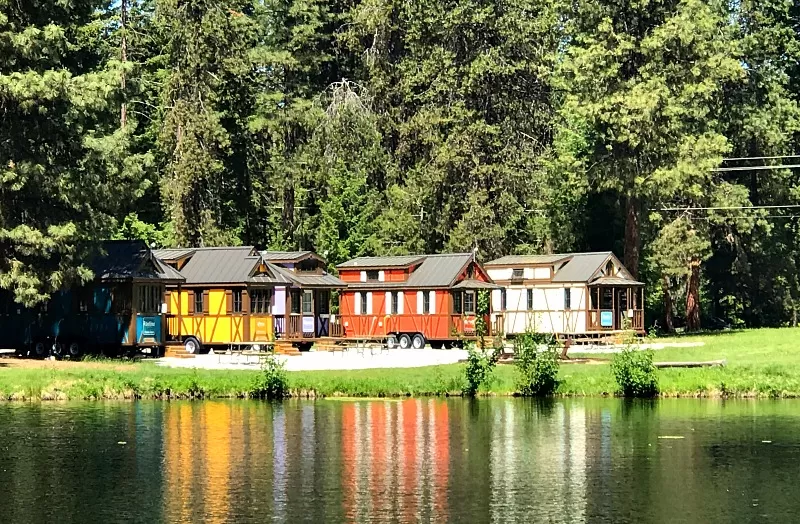 Tiny House Village Leavenworth
If you want to stay along the river nearby, and drive into town to explore Wenatchee, another fun option is this Tiny House Village. I think glamping and the vibe of Wenatchee go hand in hand, if you do not mind driving in and out (vs. being someplace where you can walk to explore much of the city). Plus, it sits near both Leavenworth and Wenatchee for easy access to both places.
Find more option for where to stay in Wenatchee here too. 
More Articles You Might Like::
Weekly list of Northwest Budget Friendly Getaways